A right hairstyle for boys with short hair not only improve the way that they look but will also boost a boy's confidence and improve how he feels about himself.
By now most people know that a great haircut can improve the way a boy looks and is treated, which is why boys need to find the best haircuts when changing their style.
Unique Short Hairstyles for Boys
The great thing about the perfect boy's short haircuts is that they are ideal for all situations.
From spending time in the classroom, playing on a sports team, or even going out with friends, a great haircut will ensure that a boy looks and feels his best.
1. Slick Mohawk with Designs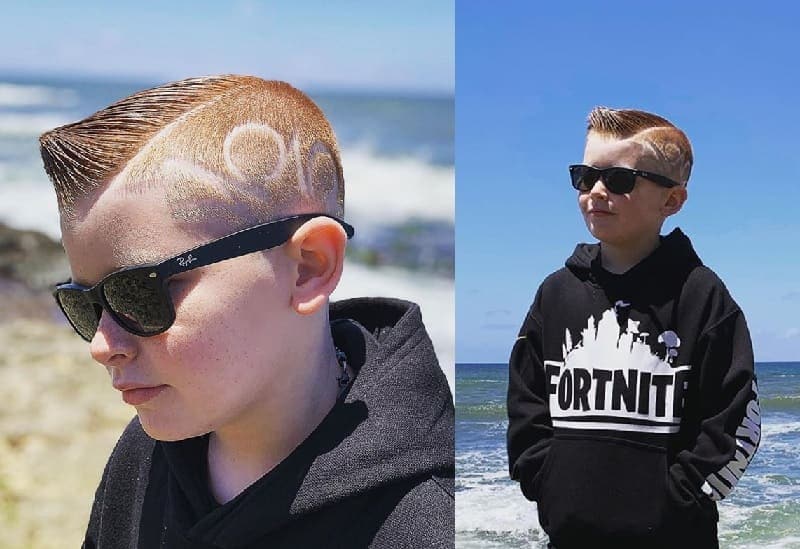 There's nothing like a mohawk to make any boy feel instantly cooler and tougher. This short haircut has been popular for years and looks great on boys of all ages, as long as it is cared for and styled correctly so that it doesn't look messy.
Plenty of product is key and adding in some designs on the side of the head help to set this mohawk apart from others on the street, drawing more attention.
2. Medium Fade with Hard Part
This is one of the most popular & simple short hairstyles for boys . A medium fade with a hard part on the side and plenty of thick volume on top looks great on most boys.
3. Undercut + Top Swooped to the Side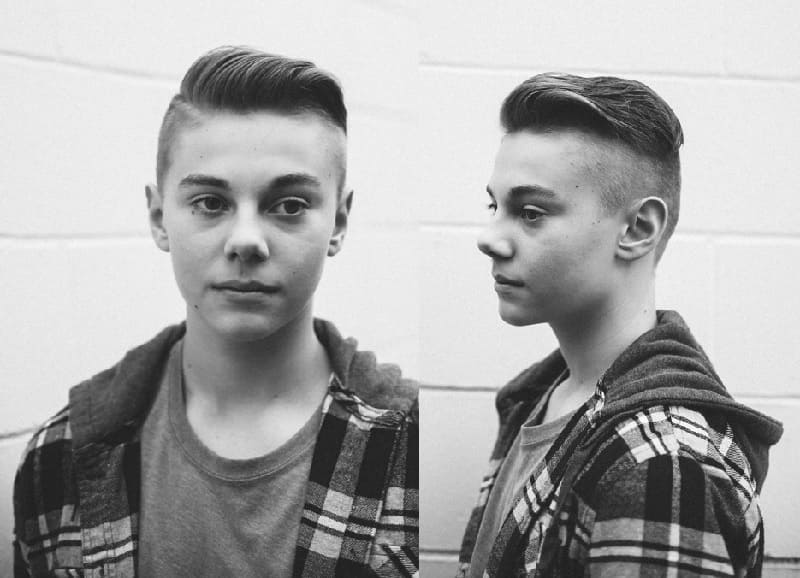 A longer top that swoops to the side is a fairly common cut, but boys who want to make it unique can easily take it one step further.
Adding an undercut to this boy's hairstyle gives it plenty of body and volume and allows the sleek side to be the focal point.
4. Fauxhawk
A thick fauxhawk looks right at home on little boys. Keeping the front of the fohawk as wide as the eyes and allowing it to narrow gently on the neck build up the interest and make this short haircut a lot of fun.
As long as the hair is spiked up so that it has plenty of volumes and doesn't fall flat, then it looks great.
5. Longer Bangs in Front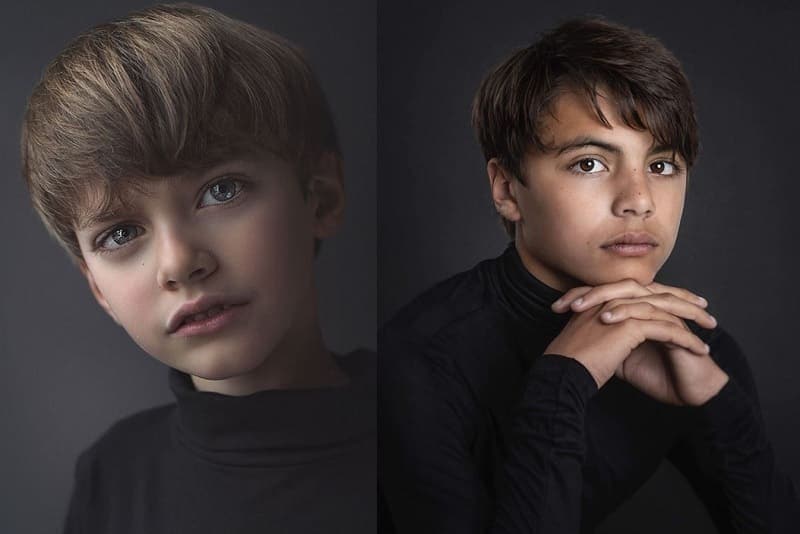 Boys don't have to cut their hair very short to look amazing, as this slightly longer style shows.
The bangs rest on the forehead but are cut short enough so that they don't get in the face, which is key to making sure that boys look their best.
It's cut up and over the ear but doesn't have any fade, which gives it a slightly softer look that is perfect for boys of all ages.
6. Top Swept Forward
Longer hair on the top of the head looks great when it is pushed up slightly in the middle and swept forward to give movement and style to the cut.
The fade on the side is very gradual, which makes it ideal for younger boys who wouldn't feel as comfortable with a more extreme cut.
Adding some designs in the fade helps to set it apart from other similar styles and gives it a bit of personality.
Coolest Straight Hairstyles for Boys
7. Medium Top with Definition
As this style shows, the sides aren't faded very much, but still, provide a bit of a difference between the sides and the top.
The short hair on top of the head makes it easy for boys to enjoy the look and feel of natural volume without having to use a product.
8. Sleek Hair with Skin Fade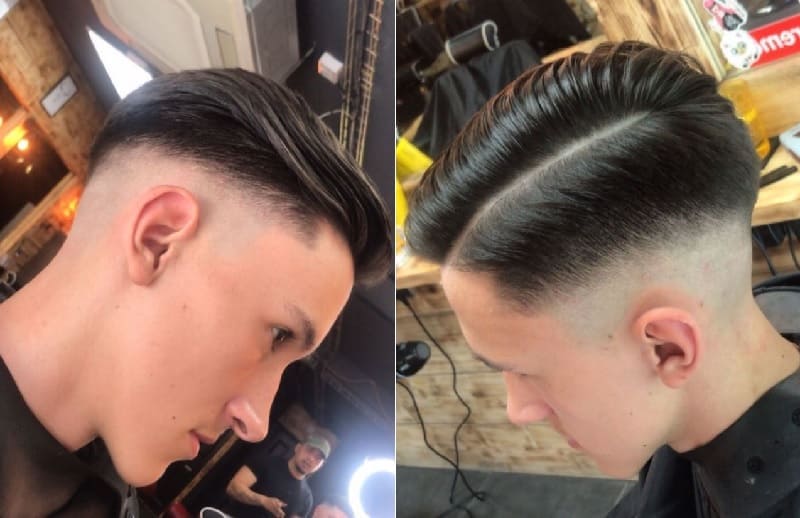 A skin fade is shocking and looks especially great when it is paired with shorter hair that is sleek on top of the head.
An impressive side part and gentle fade on one side with a higher skin fade on the other create an asymmetrical look that is very trendy and modern.
Keeping the longer hair pushed to one side and using plenty of product ensures a sleek look.
9. Short Quiff
Quiff is one of the best short haircuts for boys and  also very simple style, which is why it's such a popular option among boys of all ages.
This cut doesn't have an extreme fade, although some fade is necessary to help offset the longer hair on top.
Pushing the bangs up in the front of the face adds some interest to this style and creates a unique silhouette.
10. Tapered Undercut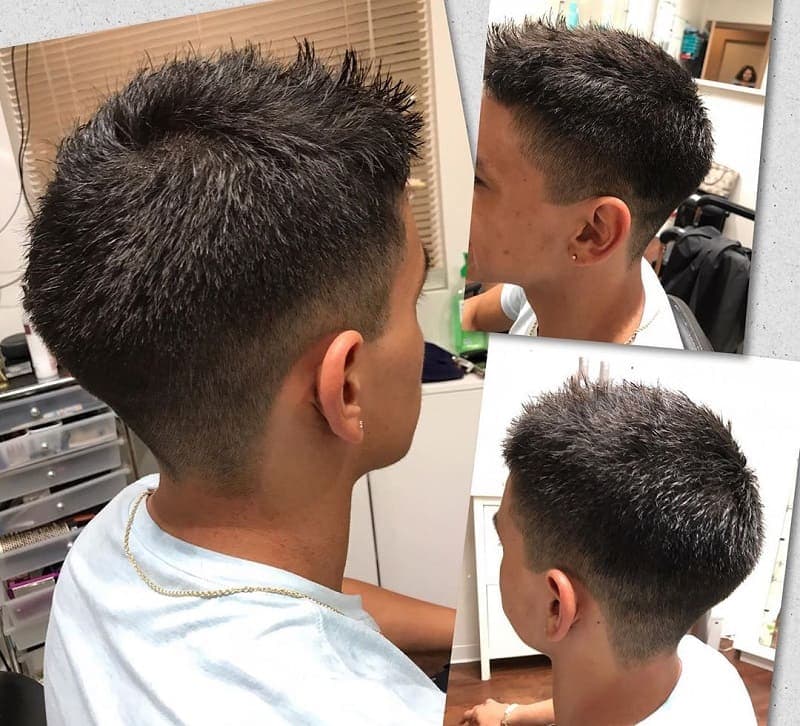 Trimmed hair is a wonderful way to offset a bit more length on the top of the head. This fun look involves short hair being pushed up and away from the head so that its volume can really shine.
Using a bit of product to piece out the hair so that it looks spiky, but not greasy, is key, and results in a cut that is fresh and trendy.
This cut has a great fade on the sides and the back so that the only length is directly on top of the head.
By spiking up top hair, boys can add volume, as well as interest, to their style and prevent their short haircut from looking boring.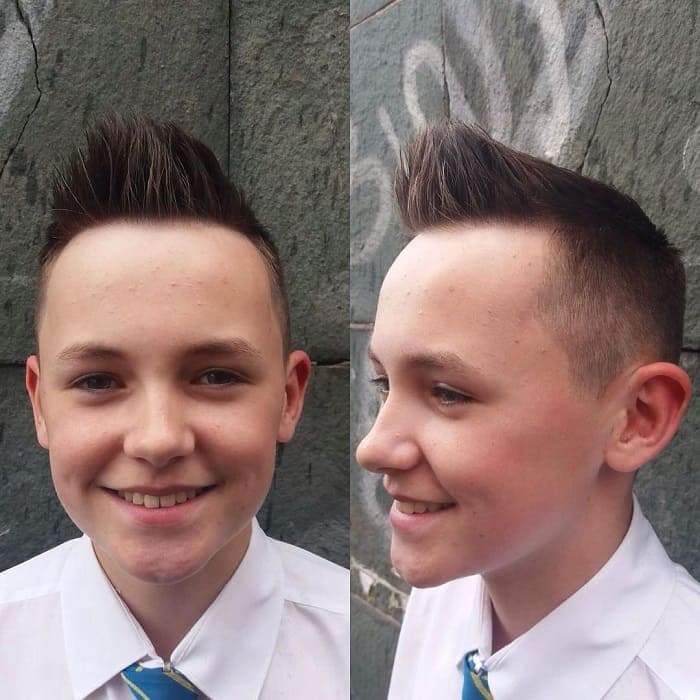 A short fade around the ears looks great when offset with longer and thicker bangs. These bangs are pushed up from the face, but since there is so much volume, the end result is very full and appealing.
Leaving the rest of the top a little flatter allows the longer bangs to be the real focal point of this short hairstyle.
13. Curly Bangs in Front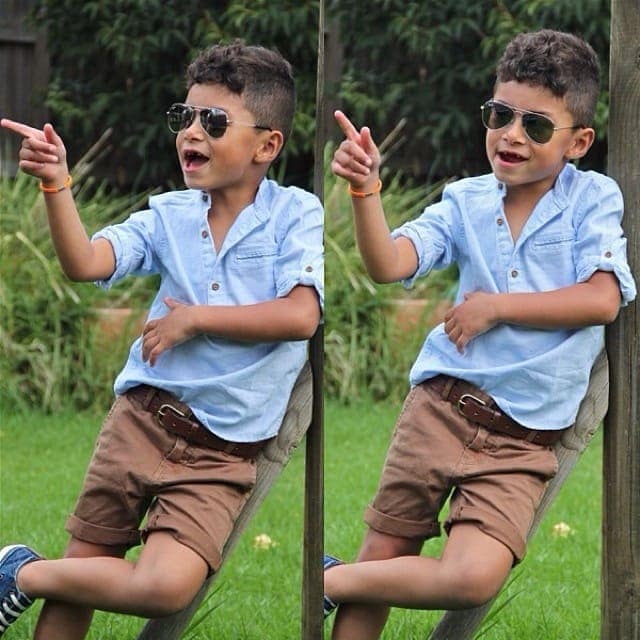 Boys who are lucky enough to have curly hair will want to consider showing off their curls as a part of their style.
Some boys don't want to have curls all over their head, which is fine, as this cut shows off the movement and shape without a lot of weight.
Cutting all of the hair shorter, but leaving some length and volume in the bangs, shows off the curls on the front of the head.
14. Classic Length All Over
There's no intense skin fade on this short haircut, nor is there any wild spiking or volume, but it is still one of the best cuts available.
This style is simple, but classic, and involves keeping the hair close to the same length all over the head.
A bit of product is used to hold the hair in place and to keep the bangs off of the forehead, resulting in a clean style.
Trendy Hairstyle Ideas for Tween Boys
15. Great Fade with Natural Ringlets
A perfect fade is one of the best ways to show off ringlets. Great hairstyles for teenage boys with short hair work with the movement of the hair, not against it, and this style is a perfect example of this.
The shorter ringlets are massed on the top of the head and look gorgeous thanks to their shape and thanks to the wonderful fade on the sides and back.
16. Spiked Stripe with Designs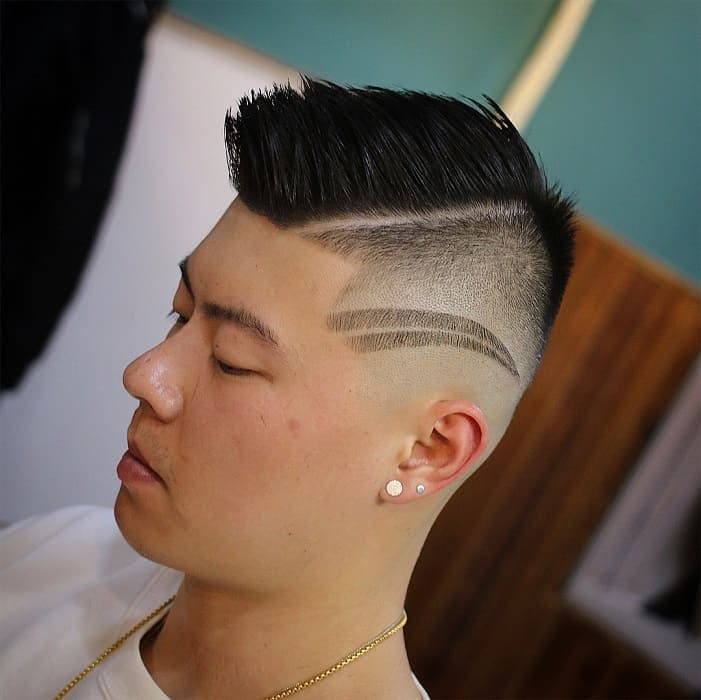 A simple stripe on the top of the head can be easily spiked up for interest and fashion, but there's a great way to take the style a bit further and add more interest.
A wonderful fade and some designs that aren't cut in, are sure to attract attention because the sides of this style are so unexpected.
17. Sleek Hair with Zig Zags
Short hair pushed to one side looks great with a fade, but this is a new take on this style.
Allowed the sides of the head to have much longer hair than with a traditional fade means that when the designs are cut into the hair they will stand out more and be even more impressive and shocking.
18. Skin Fade to Natural Curls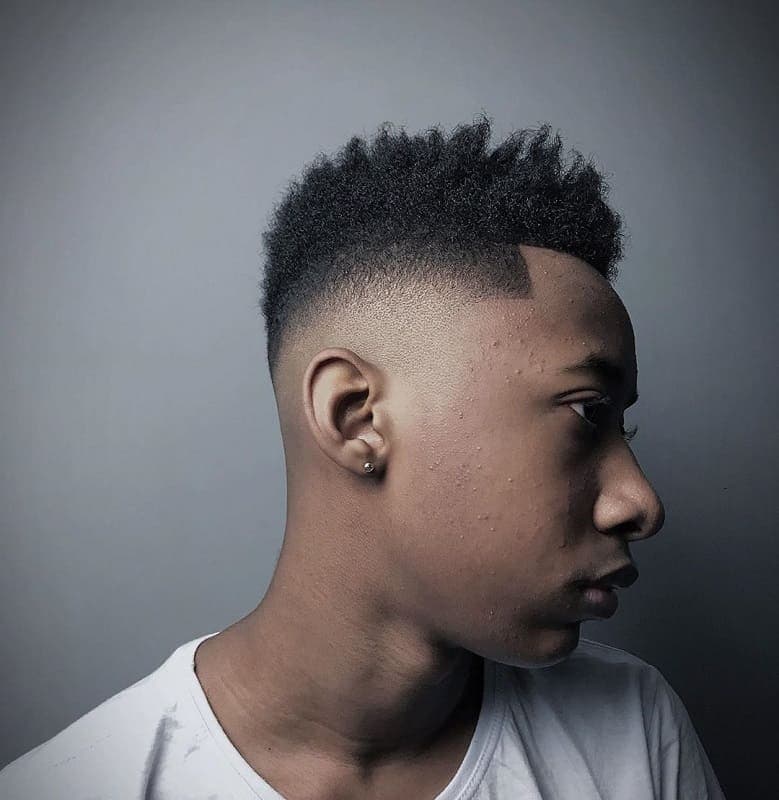 To really finish this style perfectly and make it as eye-catching as possible, boys will want to allow their hair to have some natural volume thanks to their curls.
This is a great short curly haircut for black boys who want a sleek and defined look that is still a bit playful thanks to the volume on top.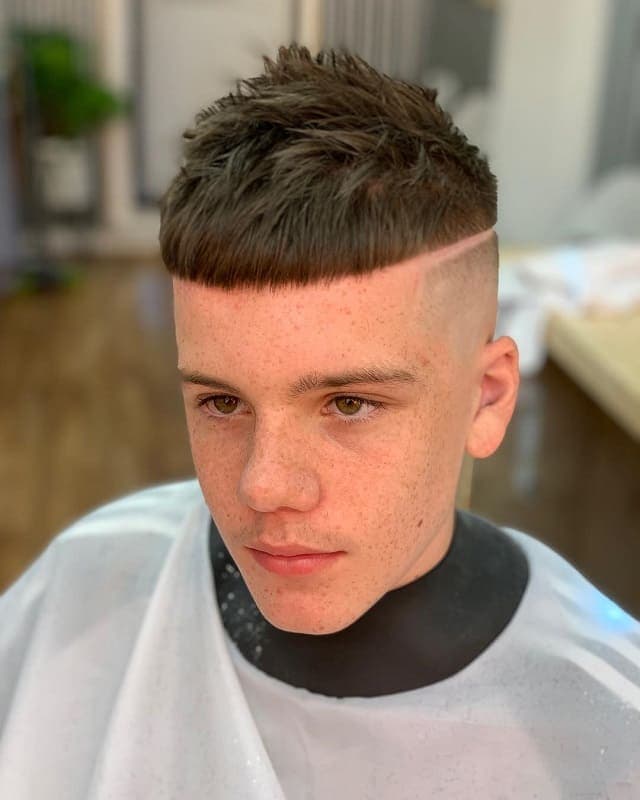 A tight line all the way around the temple that separates a bald fade and short hair is a statement and one that will attract attention.
The longer hair on top should be spiked up some with the product so that it doesn't rest completely flat on the head, which can make this style look messy and unkempt.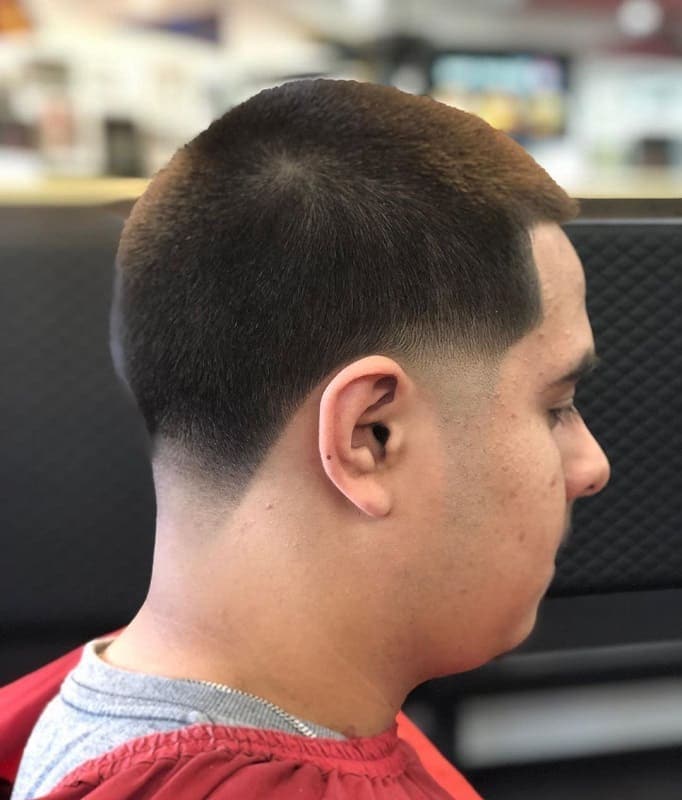 One of the boys short haircuts that are easiest to care for is a simple buzz all over the head. Having the hair all one length is a great way for boys to get used to shorter hair or to prepare for a more advanced style.
It's also a very simple look that makes getting out the door in the morning fast. With a small fade on the nape of the neck, it looks very clean.
21. Gentle Undercut with Product on Top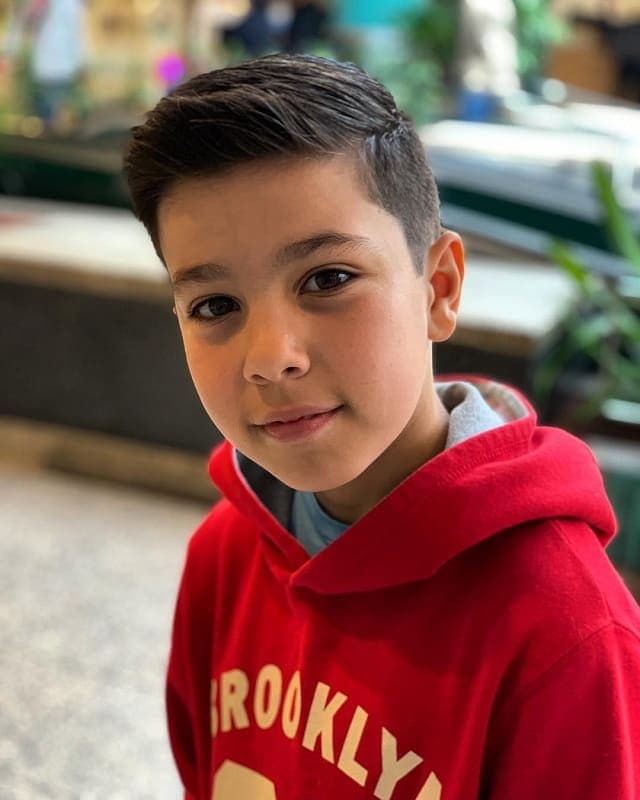 A gentle undercut that is a bit longer is appropriate for younger boys who don't want to show any skin.
This look is then topped off with thick hair that can easily be controlled and pushed to one side with the product. Using some product to spike up the bangs finishes the look.
22. Short Spikes on Top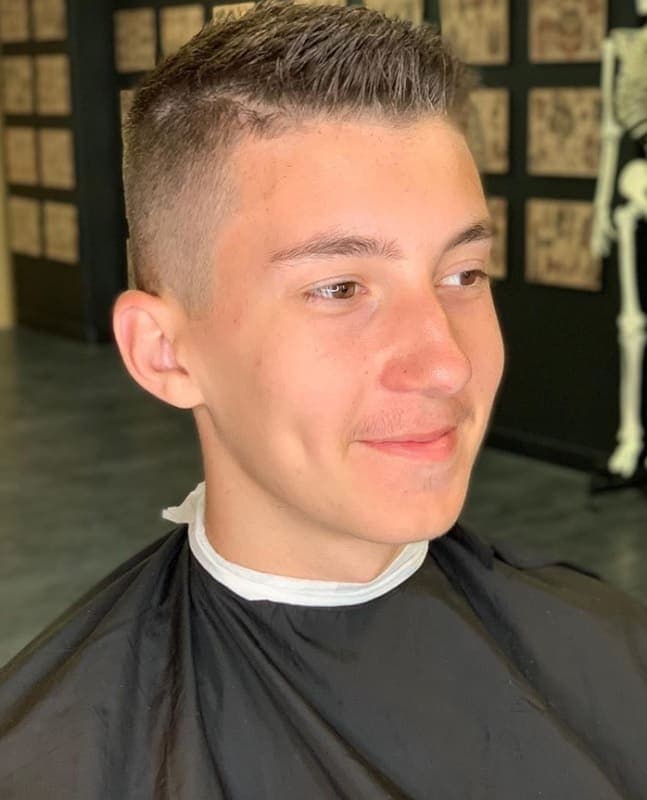 Shorter hair on top can all be spiked up without looking out of control.
The key to this look is to make sure that the bangs are as short as the rest of the hair on the head and that there is a great fade on the sides. This prevents the style from looking messy.
23. Bleached Tips with Designs
Boys who have dark hair and want to add a lot of contrast quickly will want to consider bleaching their tips. This is a great way to show off the lines and shape of a style.
A fade with plenty of designs cut into it, as well as a fuller and thicker top, create a unique look that will make any boy look and feel amazing.
24. Great Designs and Skin Fade
A skin fade that extends high above the ear is the perfect start to a crisp cut. Cutting designs into the hair helps to define the line between the fade and the longer hair on the top of the head.
This style looks great on all boys with short hair, but especially ones who are lucky enough to have some natural curl in their hair.
Vibrant Hair Color Ideas for Boys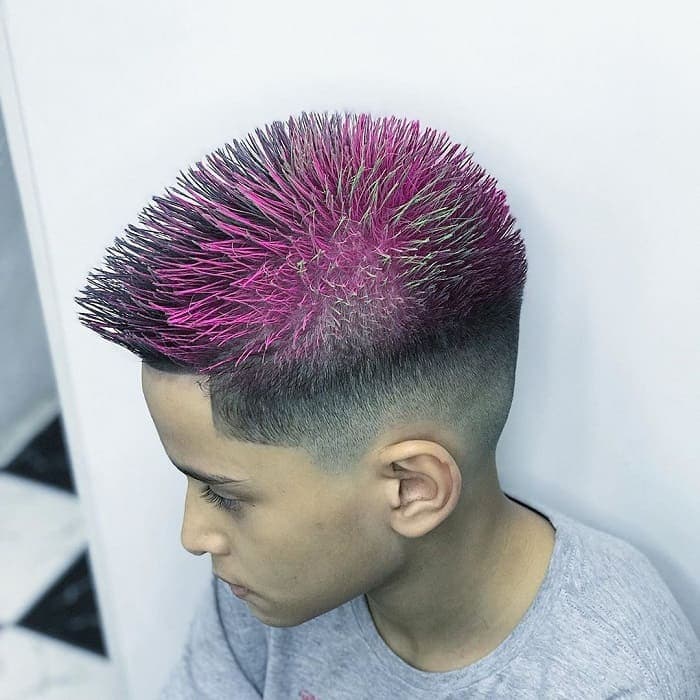 Boys who really want to take their style to the next level will want to consider dyeing their short hair. This shocking pink is eye-catching and goes perfectly with the spiked look of the hair.
A smooth fade from the skin to the longer top allows the hair on top to be the focal point, which is important with such a bold fashion choice.
Choosing the best short hairstyles for boys can be intimidating, but with a little work, any boy can look his best. It's important to consider hair color, length, and how thick the hair is when choosing a style.
This will help boys easily find the right one for them and will ensure that they enjoy the boost of confidence that they deserve.