Black boys with curly hair who want to tame their hair, but still allow it to have some personality and movement need to be careful when choosing their style.
Great curly hairstyles for black boys not only help to control curls that may otherwise be difficult to handle, but also make it easy for a boy to get out the door in the morning without a lot of work.
Trendy Black Boy's Hairstyles with Curls
By thinking about their personality, how active they are, and what message they want their hair to send, black boys who are lucky enough to have curly hair can easily choose the best cut and style for them.
Carefully considering available options will help all black boys find the right one for them.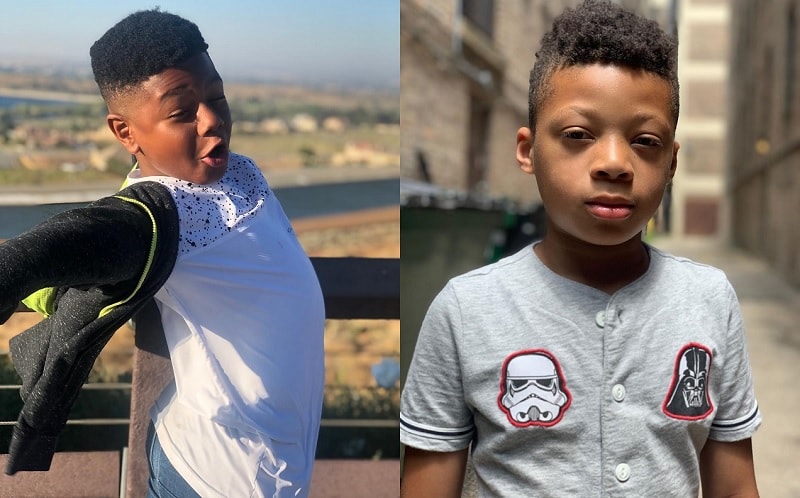 A professional side fade is a wonderful way to cut down on the volume that curls offer and allow a boy to stay cool during the summer.
This side fade has a longer top, allowing black boys to show off their curls without worrying that they will appear out of control or suddenly be difficult to tame. This is a fresh and clean look that always looks great.
2. Short and Simple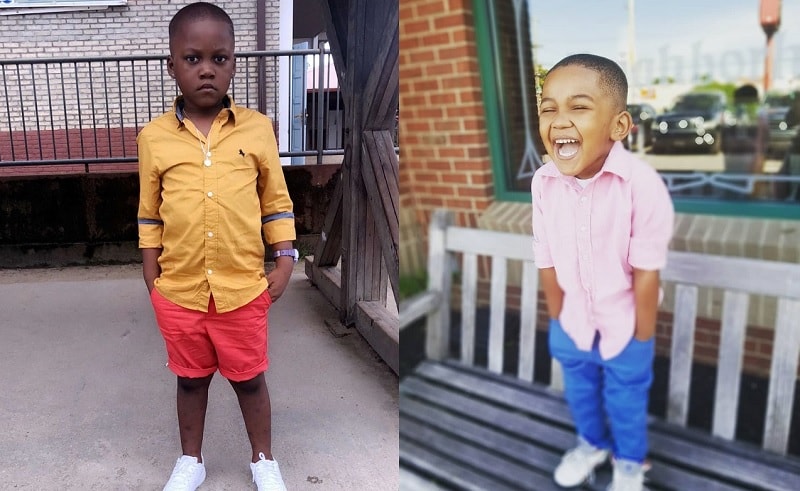 There's no reason why boys who are on the go have to show off any of their curls, as this great cut shows.
Keeping the hair very short to the head not only allows boys to stay nice and cool but also means that they don't have to worry about their hair before they head out the door.
It's a chic and easy haircut for black boys with curly hair that is great for all ages.
3. Allowed to Have More Volume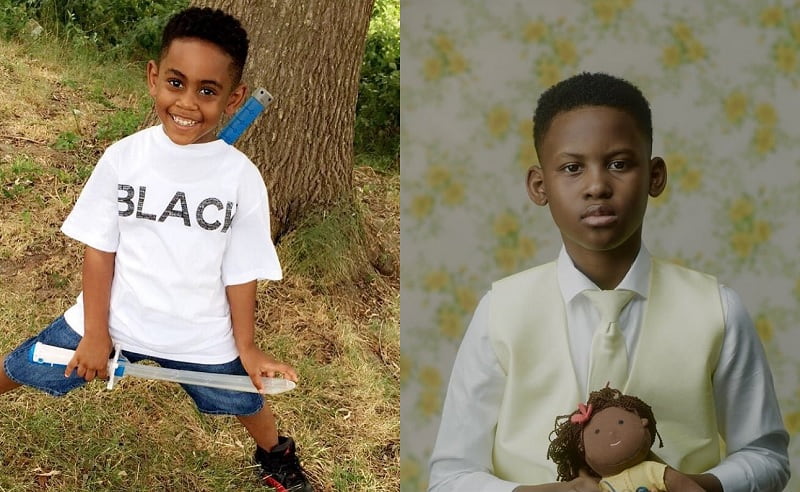 A bit more volume adds interest to a cut and allows some of the movement of the curls to be seen. This black boy's curly hair look has shorter sides and a fuller top.
Leaving the top just a bit longer than with other shorter options makes it possible for boys to show off their curls easily and without a lot of work. It does require regular upkeep to keep the ends trimmed.
4. Mini Afro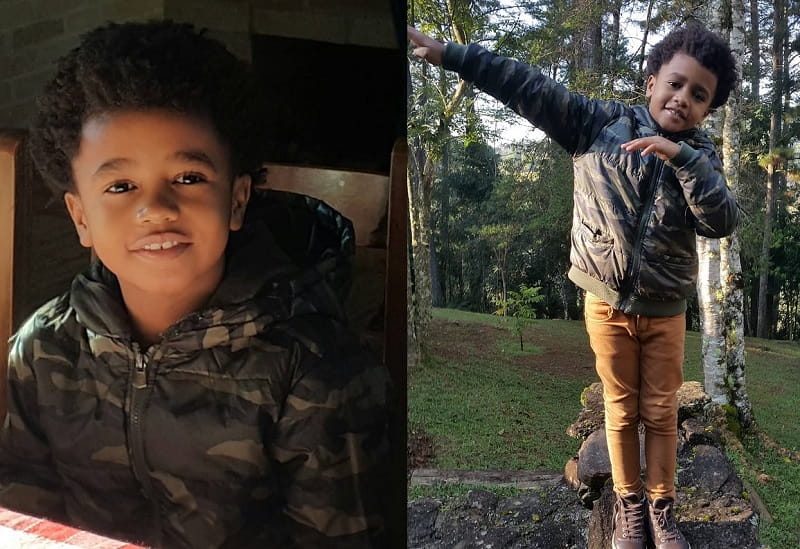 Any black boy who wants fuller and thicker hair without all of the work that comes with a full afro will want to consider a mini one.
This curly hair is left a few inches long, which is more than long enough for some of the body and movement of the curls to be seen. It's kept up and away from the eyes and face, allowing boys to play and learn.
5. Cornrows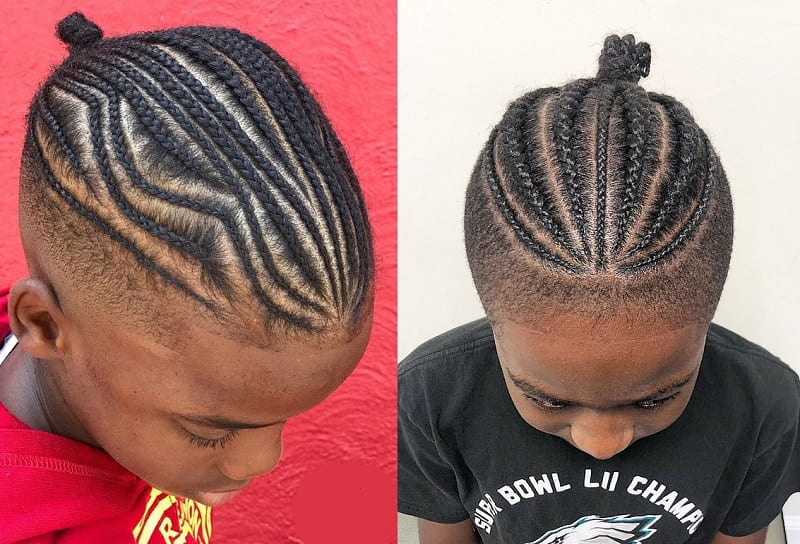 Tight braids that control curls are one of the most popular curly hairstyles for black boys since they are so easy to take care of.
They require very little upkeep and look effortlessly cool. Combining braids on the top of the head with faded sides helps to set this look apart and will make it more eye-catching.
6. Loose Curls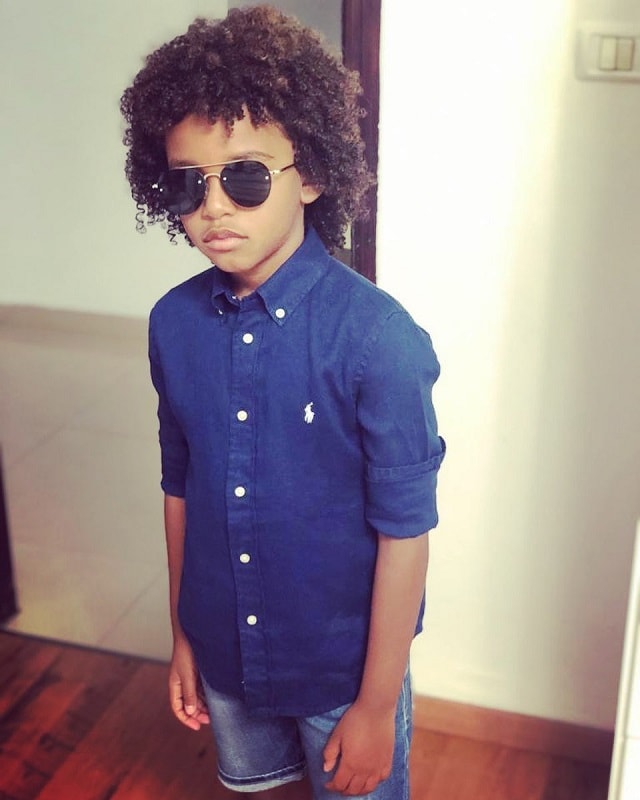 Curls look their best when they are allowed to grow a bit longer so that their movement can really be seen. This is a favorite among little black boys who want to show off their curls and who don't mind a little work.
Keeping the hair around the face shorter and adding plenty of layers to the cut allows there to be a lot of volume with this style and allows black boys with curly hair to easily see.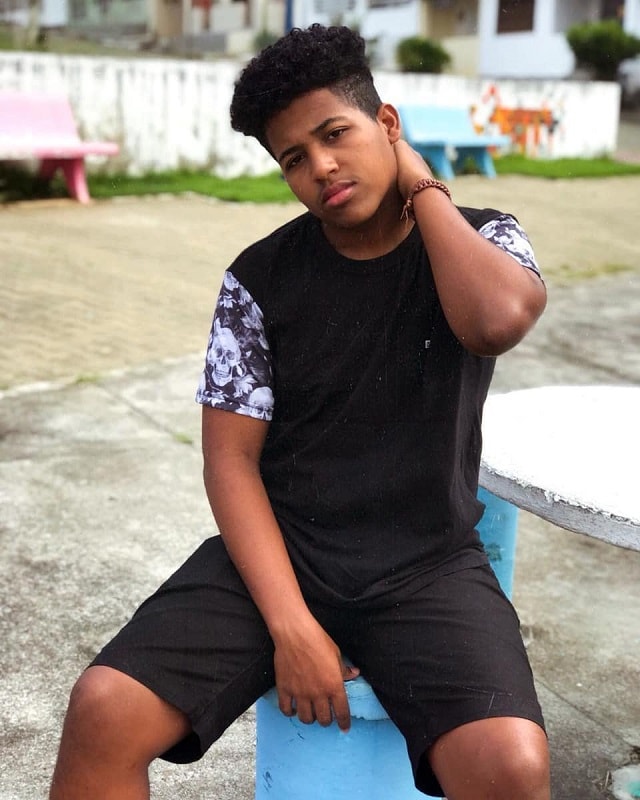 A curly top that isn't shaped perfectly to the head has a lot of interest and is a great way to start growing out curls.
This look is made even more impressive thanks to the professional undercut on the sides and the back, which show off the hair on the top of the head. This curly hairdo is a great option for older black boys looking for an easy cut.
8. One Length All Over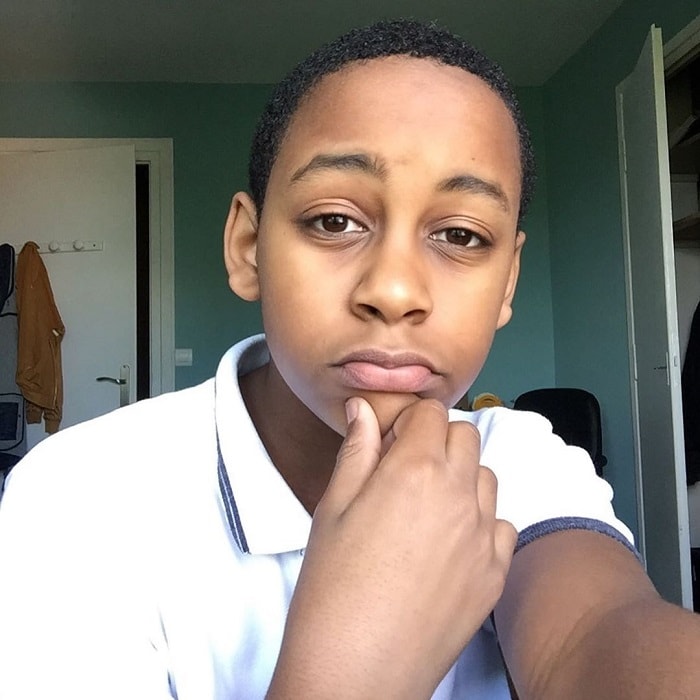 Keeping the curls a single length makes them incredibly easy to take care of. This black boy's crew cut involves cutting the curls very short so that they rest on the head and don't hang down around the face.
It's a professional look and one that is appropriate for the office, school, or sports. It has plenty of interest and movement, thanks to the shape of the curls without any of the volume.
9. Mini Curls Adding Volume
Mini curls add a lot of volumes, the hairstyle show off this volume and movement.
The mini curls are styled so that they stay out of the face, adding interest without being frustrating. The rest of the hair is kept very short as well, as the ears are cut out and the hair doesn't reach down to the shoulders.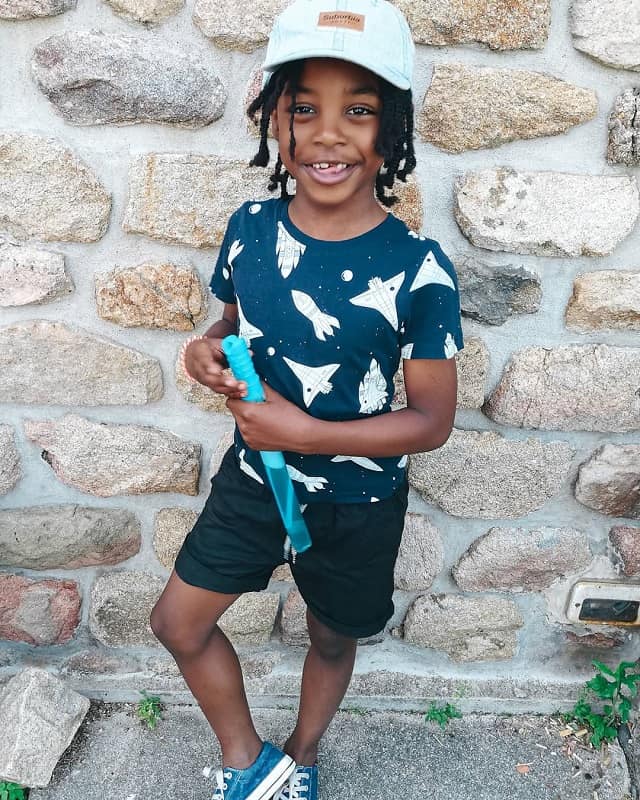 Longer braids don't have to be kept tight to the head but can be allowed to hang down around the head and the face for interest and movement.
This is a great option for little black boys who have curly hair and want a style that has a lot of personalities and will be fun for them to wear.
The varying lengths of the braids add even more interest to the look and prevent it from being boring.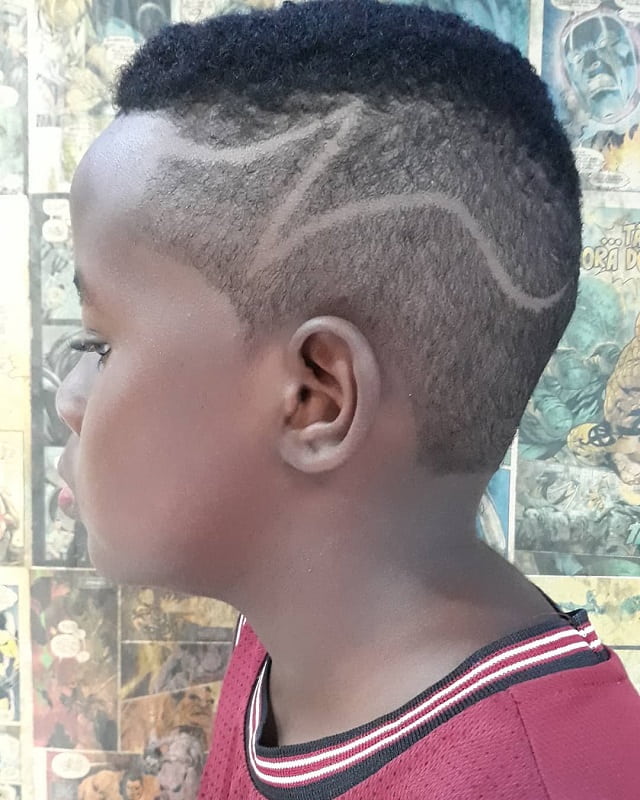 A mohawk is always a favorite among boys of all ages, and the curls in this mohawk add interest and elevate it. The faded sides and back are the perfect canvas for adding some designs to this cut and personalizing it.
This curly haircut is easy to take care of and a great way for black boys to express themselves when they have shorter hair.
12. Small Dreads with Beads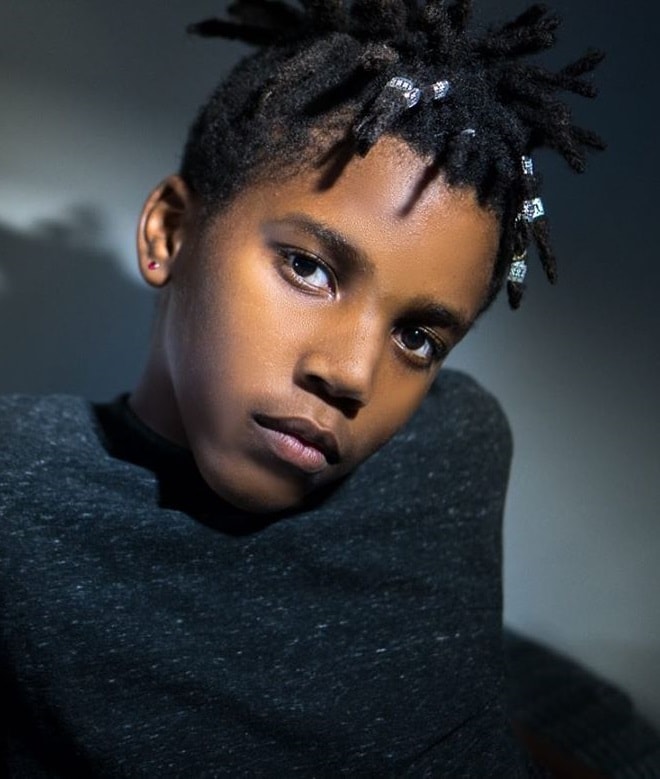 Black boys with curly hair can put small dreads in their hair as a way to control their curls. This style looks great when paired with a high fade that leaves the bulk of the hair just on top of the head.
Adding some beads to the dreads brings the focus to them and adds a pop of color to the style without resorting to dye.
13. Short and Chic
Short and chic, this style allows the curls to be seen but is cut so short that the skin can also be seen in some parts.
Strong lines around the face help to define the style and prevent it from looking like it was accidentally cut this short. This is a chic style for black boys that is great for hotter summer months.
14. Wild Curls with Bandana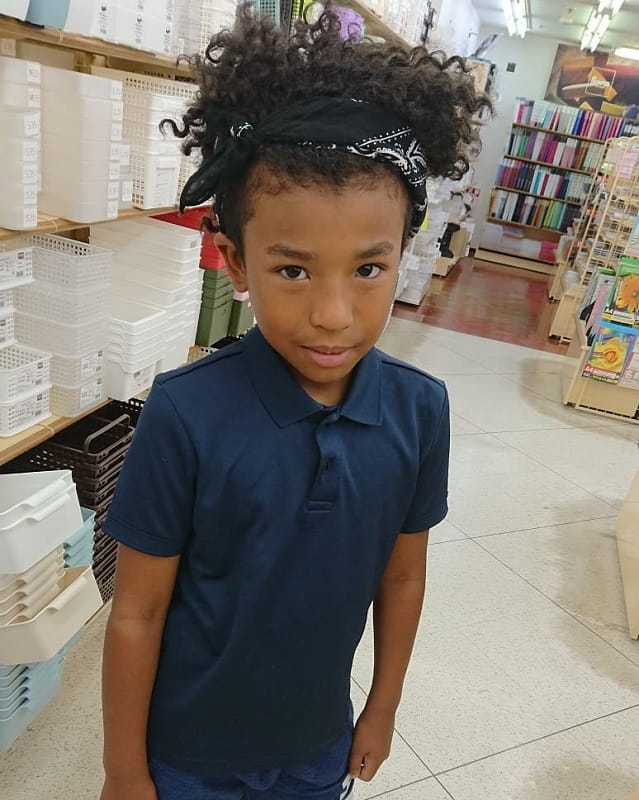 Very wild curls that are allowed to grow longer need to be tamed so that they won't be in the way. This look is great for black little boys who really love their curls and want to show them off.
Using a bandana to push the hair off of the face and hold it back helps to tame the look while still allowing the curls to have plenty of movement and volume, which looks great.
15. Allowed to Have Tons of Body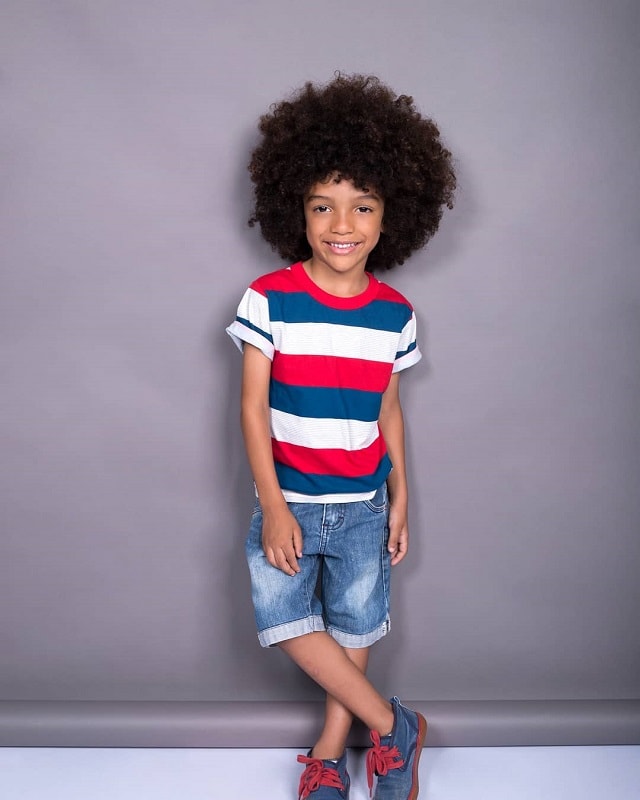 Tons of length and body make this a natural afro that boys can be proud of. It does take a lot more daily care than other curly hairdos but is one that any black boy can be proud of.
Regular trims will ensure that the hair is all the right length and will keep it from looking unkempt or out of control.
Black boy's curly haircuts not only look great but are easy to take care of. They are an incredible option for any boy who needs a fresh style and who wants to look great.
Choosing one of these 15 cuts is sure to help a boy find his personal style and will ensure that he feels and looks great in his new cut.