If you are unaware, the crew cuts for boys trend is very much alive. The crew cut is a classic trend that's paved the way through generations of men and boys. Traditionally what once was a military hairstyle is now styles and sported by men and boys over all counties.
Even though these are originally short haircuts, there have been significant variations that have been discovered over the years.
Trendiest Crew Cut Styles for Boys
Following are 20 styling ideas for boy's crew cuts that we have shortlisted for you.
1. Crew Cut with High Skin Fade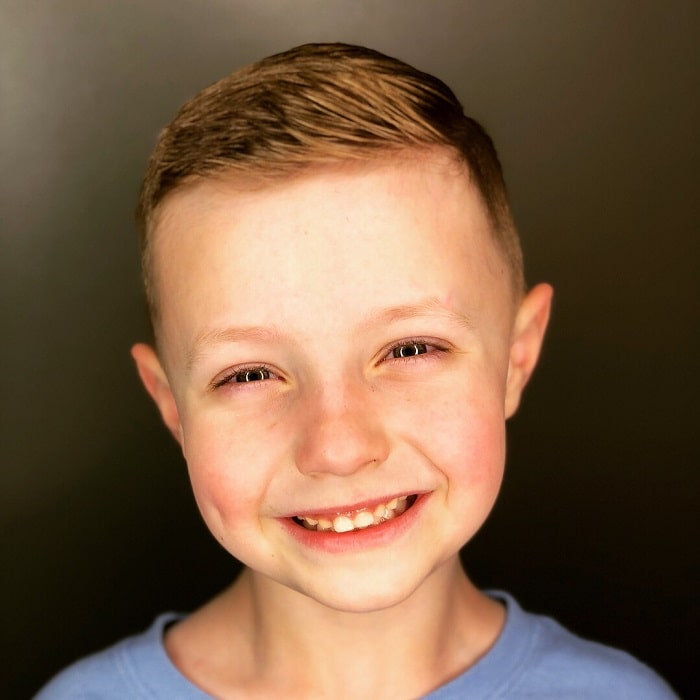 Fades look amazing with crew cuts. They make the crew cut go up a notch in terms of style and sleekness. Here the boy's crew cut haircut is paired with a high skin fade.
Where in the fade starts significantly higher, exposing your actual skin. It looks perfect with the textured hair on the crown. This little boy's straight hairstyle is perfect for any and all occasions.
2. Hard Part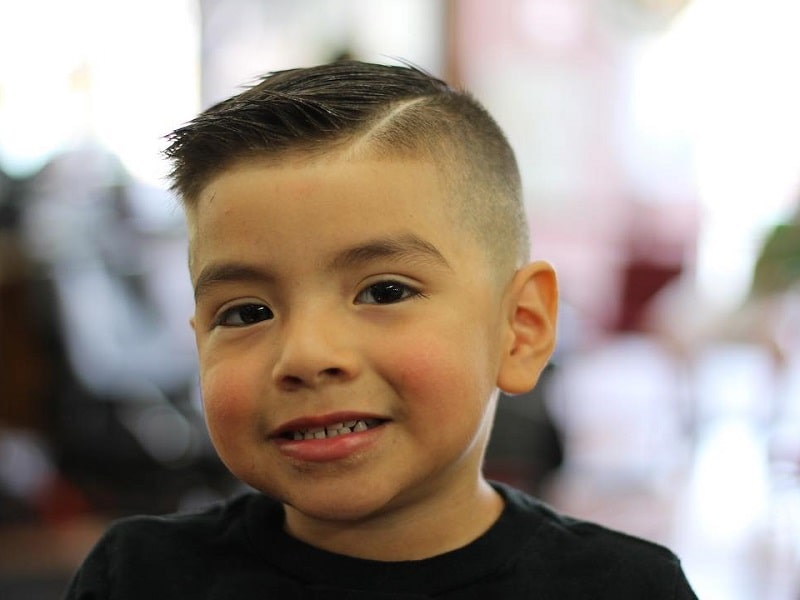 Hard parts are parts, which are made prominent on purpose. This way you don't have to part your hair each time, the hard part does it for you anyways. Hard parts are perfect for boys who prefer their hair parted. Pair the hard part, with a fade and crew cut, and there you have it- a stylish vogue haircut!
Amazing Long Hairstyles for Little Boys
3. High and Tight Fade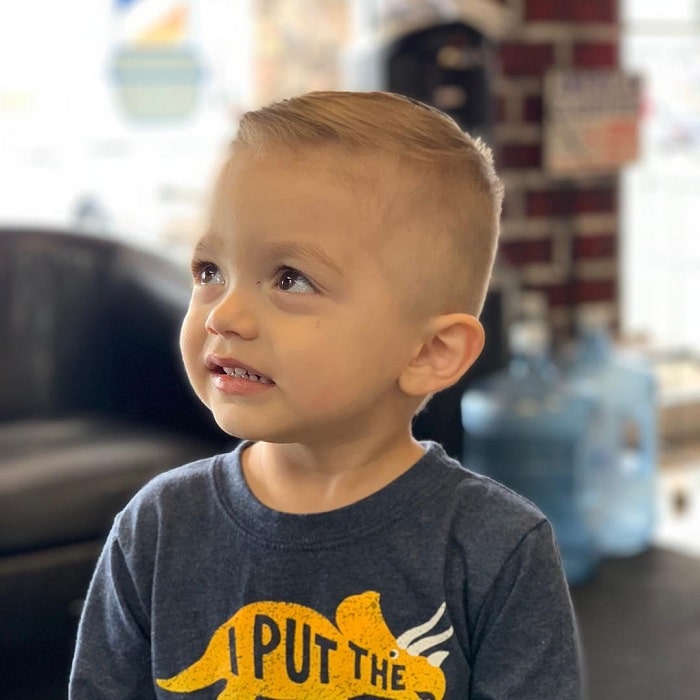 The high and tight fade is a great variation or option you could opt for if the skin fade is not something you want your boy to have. The high and tight fade is exactly as its name suggest.
The fade starts high, and the hair length is tight, which refers to extremely short. You can pair this crew cut for you boy with hair combed over to one side.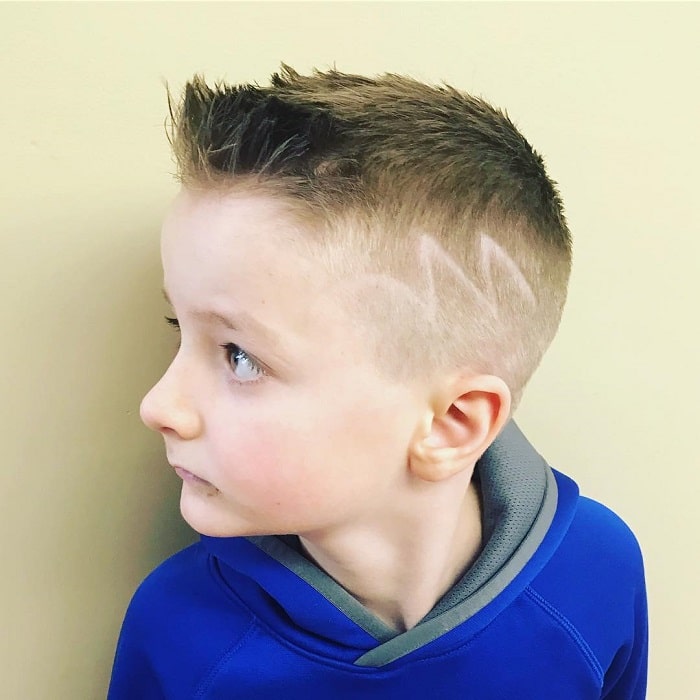 This little boy's crew cut hair is more on the spikey and textured side rather than the clean comb over one. This type of crew cut it edgier, if you do want to turn it up a notch, you could have details.
Details are razored designs on the faded area of the haircut. If your little boy is bold and loves standing out this haircut is perfect.
Top Curly Hairstyles for Toddler Boys
5. Classic Crew Cut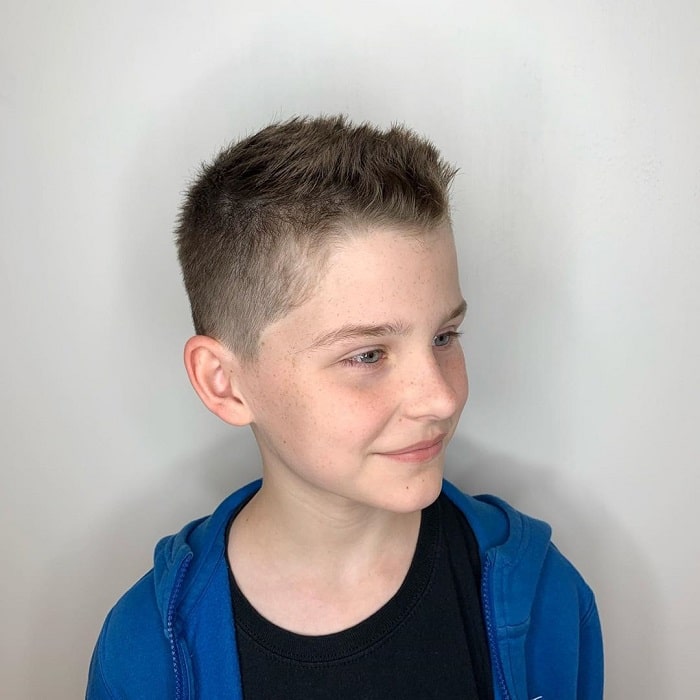 This crew cut for boys is an original classic. It has the short textured top with the sides short throughout. This haircut is perfect for 9-year-old boys if he likes more of a safe haircut that's not too over the top.
6. Tapered Crew Cut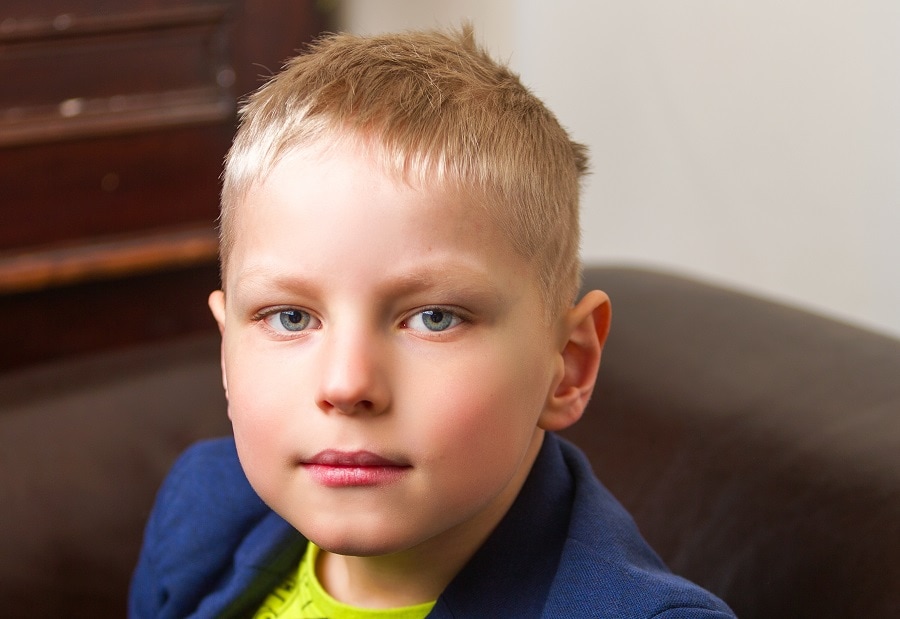 This style shows how much you can customize your boy's crew cut. This is an easy style that has tapered chopping on the top. As a result, the hair on the top is longer than the front side near the hairline.
Here, the sides are made with a clean skin fade, and a few streaks of designs are added on both sides to get style points.
7. Plain Bowl Crop with Fade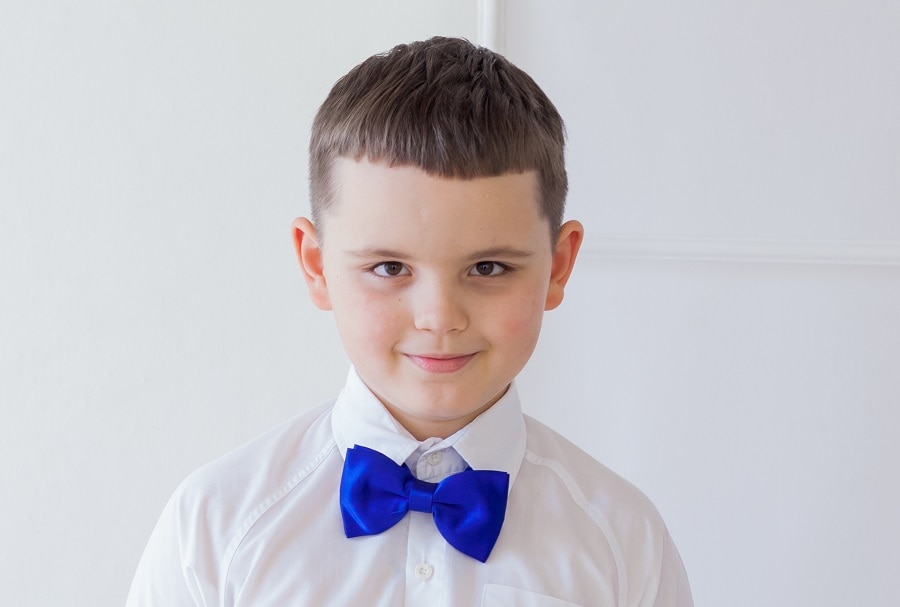 When you have a special occasion knocking on the door, your boy must look cute and handsome. A proper and neat haircut will make them more expressive.
Transform his hair into a plain bowl crop and add razor fade on the sides and the back. This crop gives a plain and clean style for your little boy.
8. Textured Spikes Cut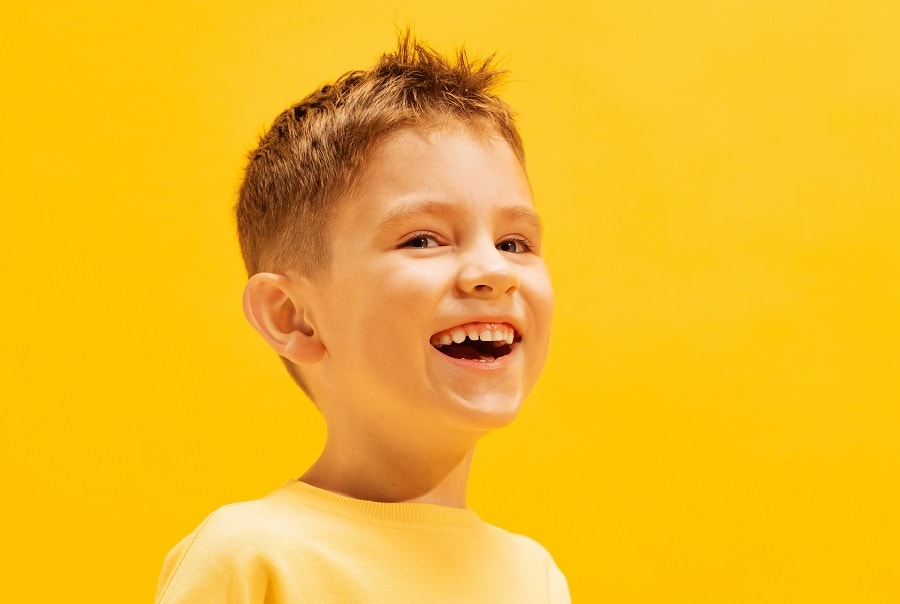 A cute textured crew cut for boys will be a detailed look for your little boy's textured hair. Low spiked hair adds edginess to the cut, which is the spotlight point of the total cut.
The side faded area is differentiated into two sections, adding boldness, and we love how outstanding this haircut is.
9. Shortened Hairstyle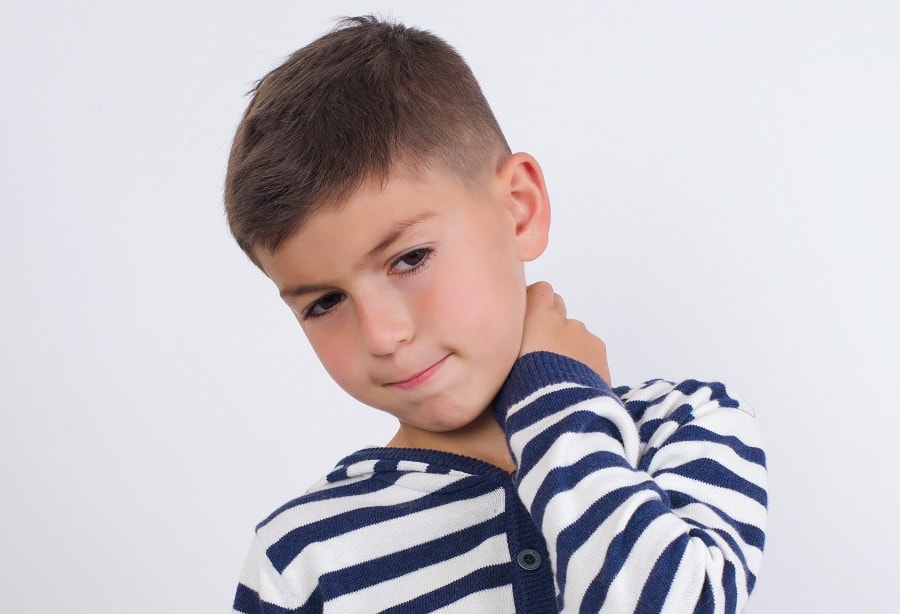 If you are searching for a cool hairstyle that is practical and has style, try this classic short style for your boy.
This style features a short top with trimmed sides. This timeless classic will be a perfect match for your boy, which is comfy and stylish.
10. Crew Cut for Natural Hair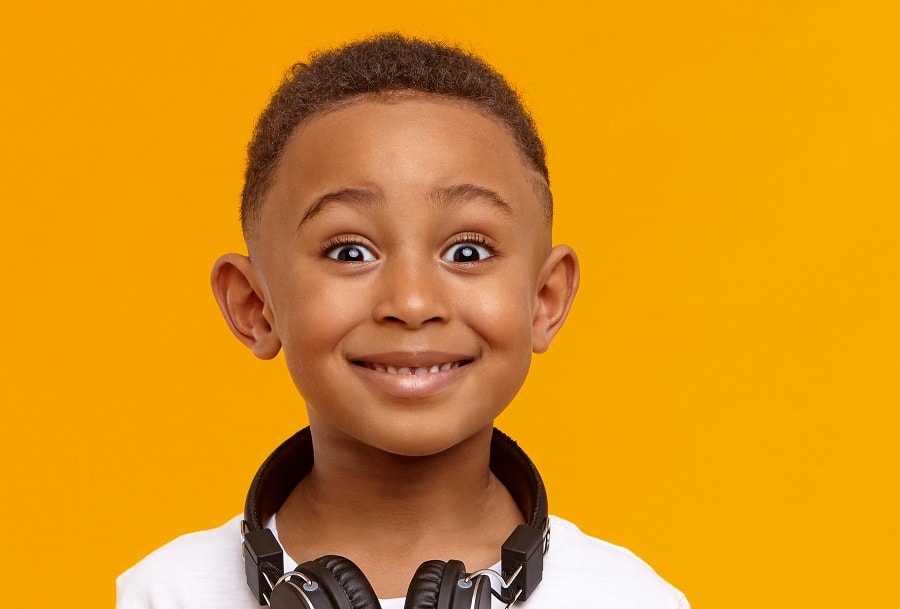 Your boy cannot go wrong with this simple and elegant hairstyle. This style allows your boy to wear his natural hair without any hassle.
Trim the textured hair into a two-inch high top and give the sides a clean shave. You can add sharp designs to the fade if you want to spice it up.
11. Asian Crew Cut
Usually, Asian kids' hair is silky and will not stay in place when styling it. The smooth texture will make the hair fall apart while styling.
Instead of struggling with the silliness, try this minimal-trimmed style on your kids' hair. The hair's natural texture will make it look perfect for all occasions.
12. Even Trim And Design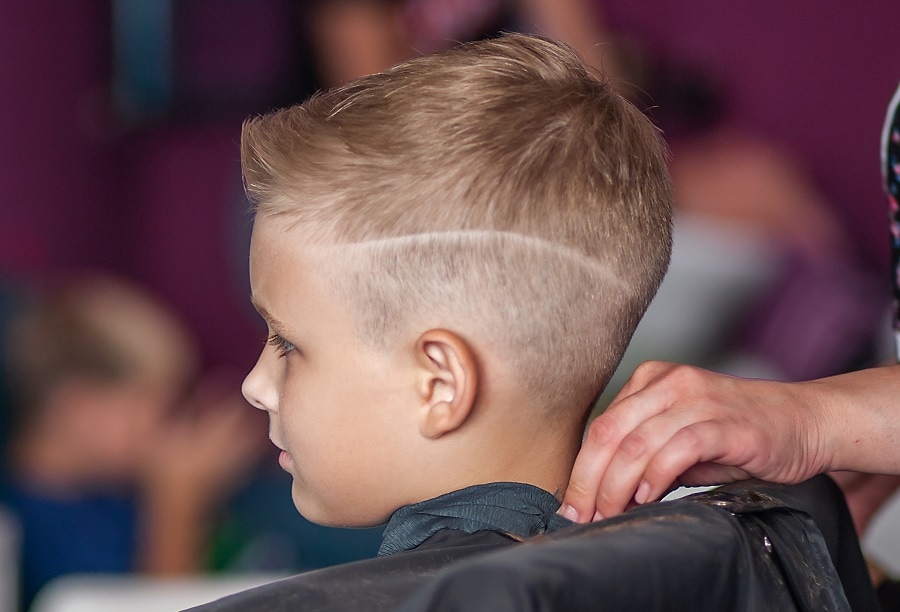 For a more classic approach, try an even trim on your kiddo's hair. This even-trimmed boy's crew cut is minimal and trendy.
The low texture and volume are perfectly balanced with this style, and the sleek cut design adds detail to the style.
13. Pointy Side Swept Style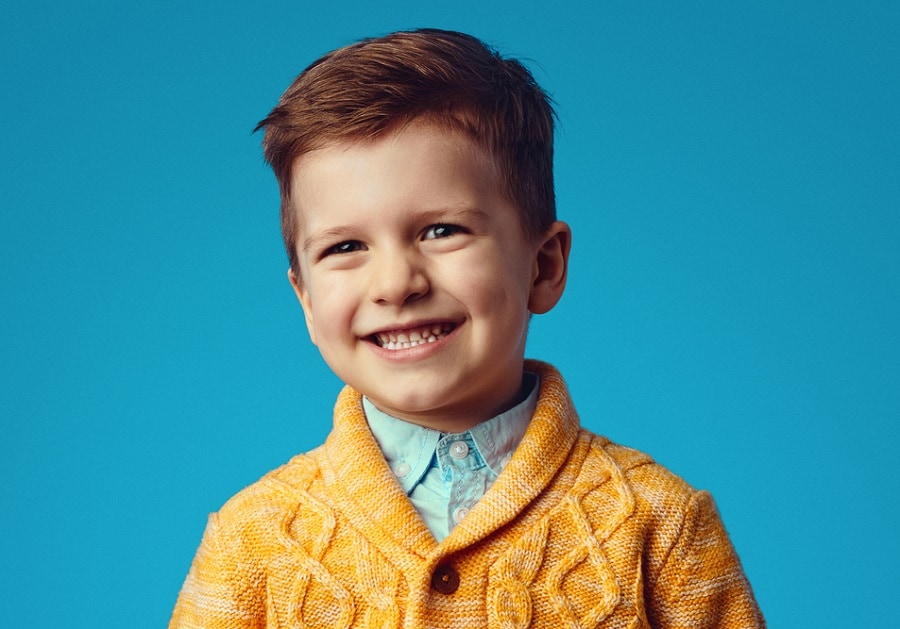 Many children are afraid of trimmers, and using them to cut their hair will be hard. So instead of trimmers, you can use a pair of scissors to get this sweet pointy style.
Give gentle trims to the hair and swipe it to one side to get this look. You can add hair gel to get those pointy tips easily.
14. Blunt Crew with Design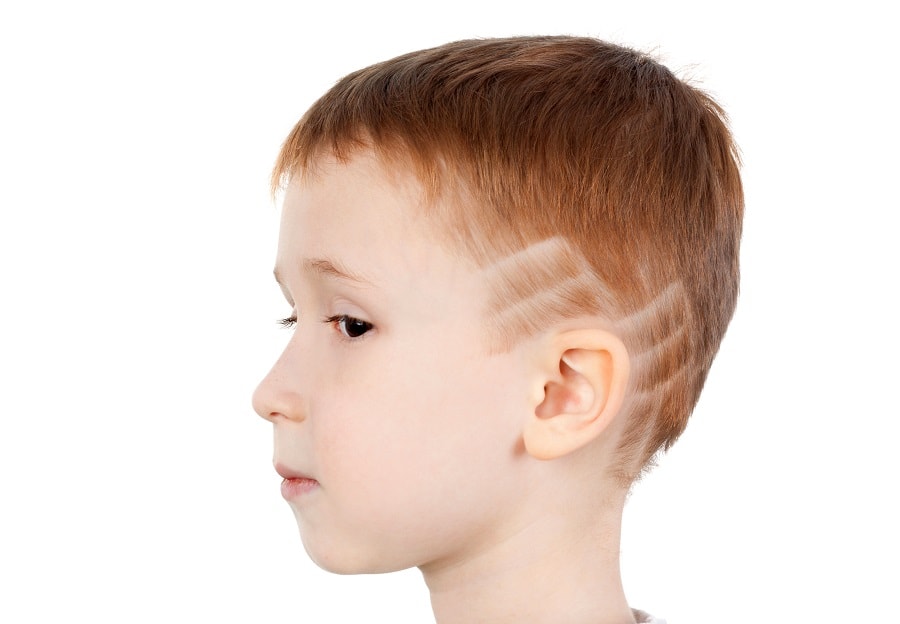 Crew cuts do not have to be pointy and tapered all the time. Even with blunt edges, this cut will look appealing to little boys.
Combed-down hair with blunt edges is a customized style, while a fresh and geometrically pretty design is added on the faded sides.
15. Long Chopped Style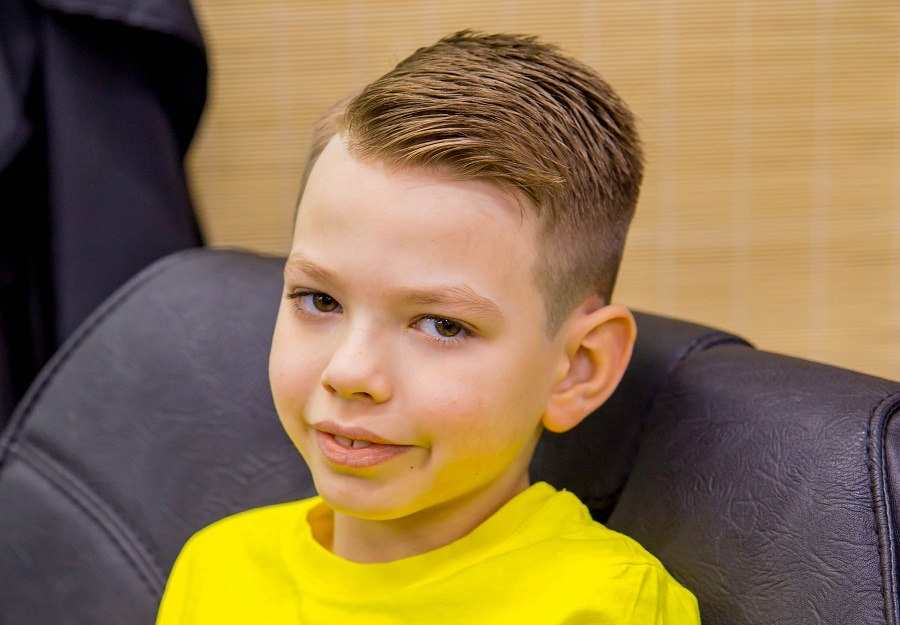 This style incorporates long hair chopped into tapered ends with a clean fade on the sides. This is also an easy-maintenance style with a lot of cool texture.
The sides are given an even fade to keep it minimal and tidy. It is trendy and works well for a party or classic occasion looks.
16. Plain Spikes Look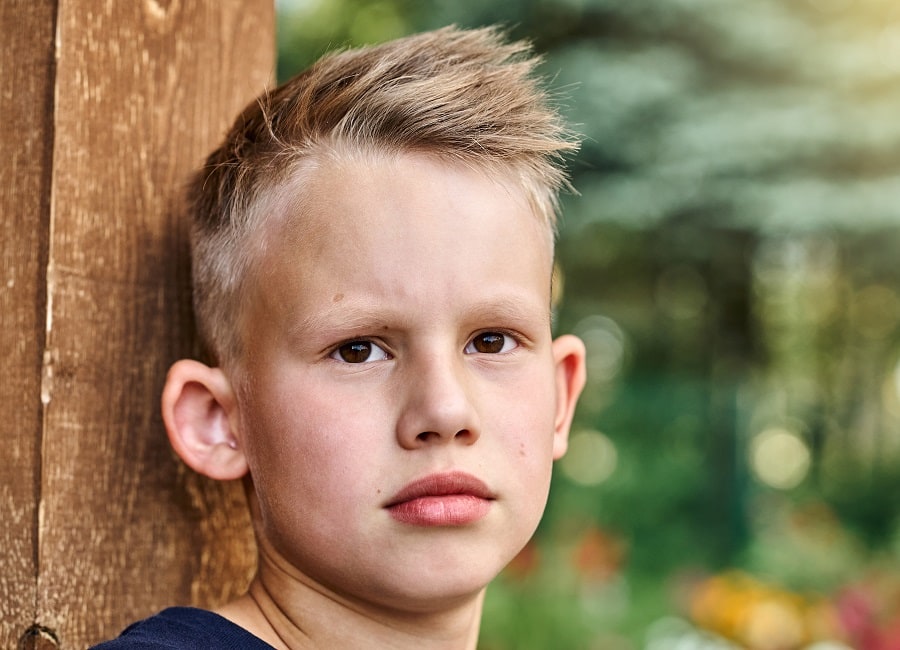 Spikes had been around for a while now. However, this is different from trying with a crew cut for boys.
The spikes are flattened to one side to ensure it does not look too sharp and edgy. In contrast, the other sides are given plain trim to compliment the flat spiked look.
17. Shaggy Curled Cut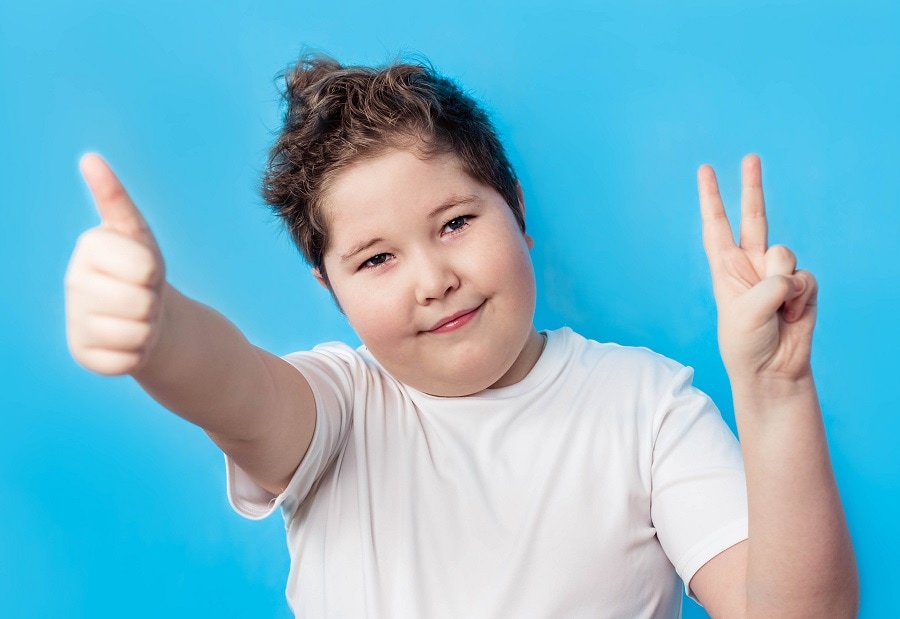 Does your little fellow like to have the volume on the top, and you decided to get a minimal trim?? Well, we have the best style to match your requirements.
The shaggy top has the volume your boy loves to have, and the sides are trimmed short for easy maintenance.
18. Curled Cut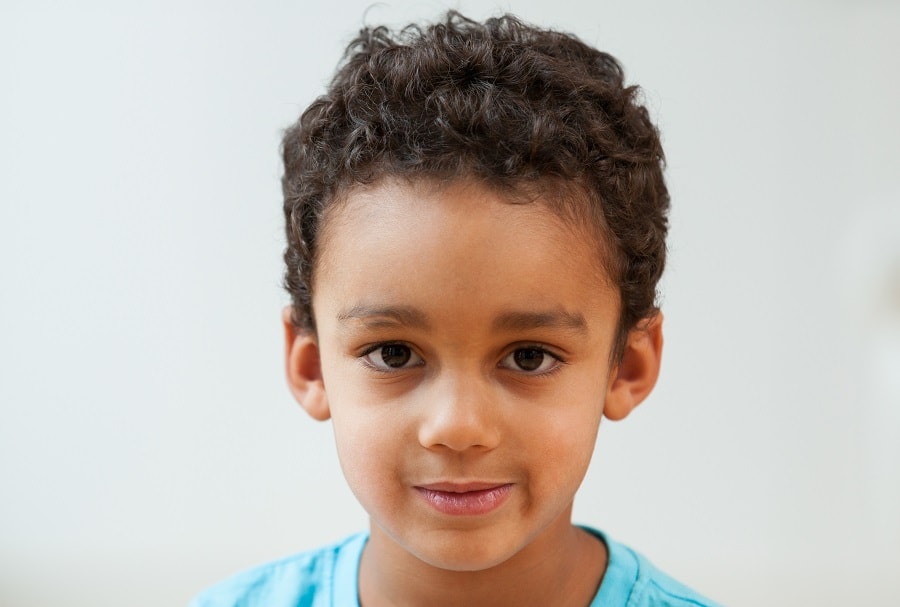 You can style your boy's afro head with small chops into a tidy crew cut. The sides are made short and have less volume than the top.
Your boy's thick hair has multiple styling options, so it's up to you to frame the length of their hair for a dazzling cut.
19. Tidy Cut for Fine Hair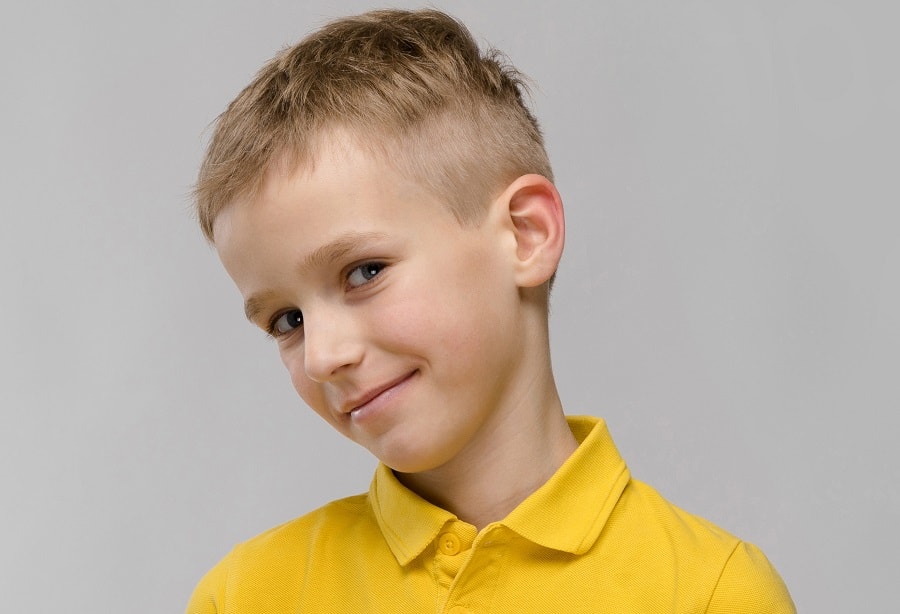 If your cute pal naturally has fine hair, you don't have to do anything fussy. Instead, get a tidy cut with a layered top; it will look super good.
The layers add dimension to the cropped top. For enhancing, add hair gel or serums for extra shine.
20. Vintage Quiff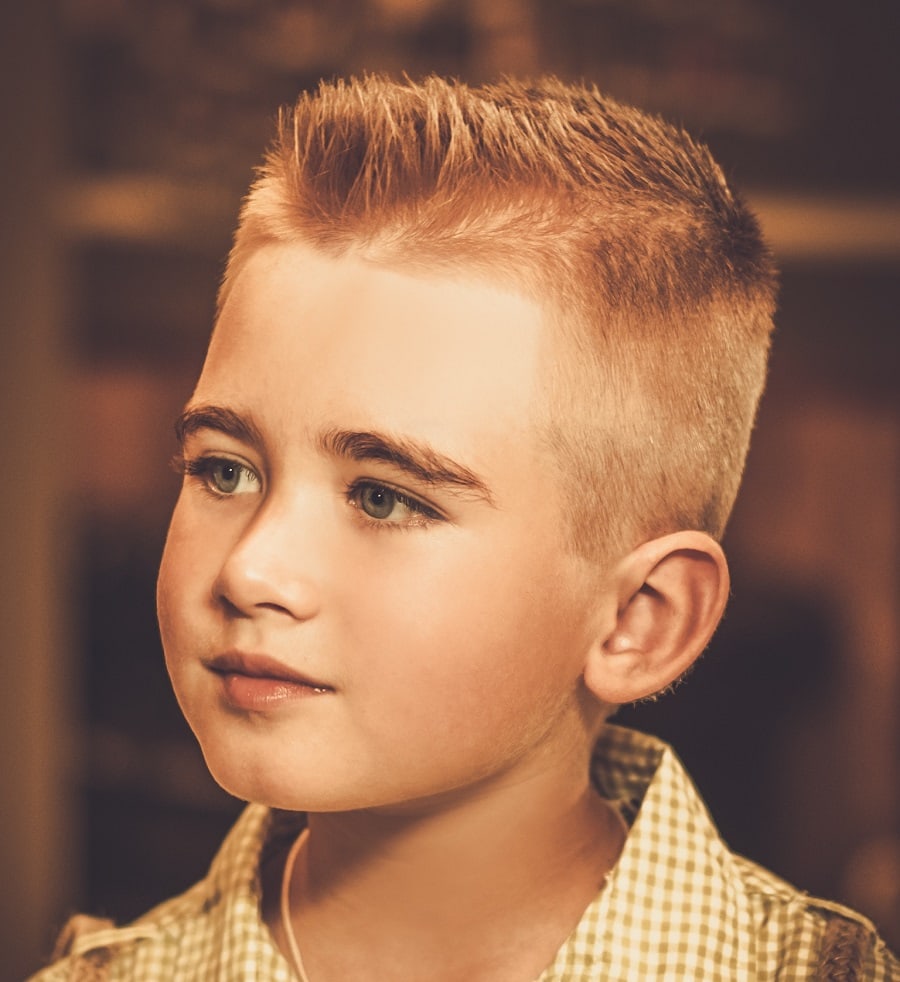 Does your little fella have dense hair?? Then getting a textured quiff is easy. Buzzed sides add dimension, while the straight quiff is the center of the spotlight.
This restrained hair design has a vintage twist to the style. Yet, it is such a relaxed style for your kindergarten boy.
Boy's crew cuts have been gaining a lot of attention and momentum. The reasons are quite simple; they could wear it at school and yet look good and stylish in it. It is low maintenance and hence, manageable for mom's as well.
Some of these crew cuts are as simple as having to do nothing. The ones where effort is required it's minimal. It's the perfect trendy haircut your boy should go for.