9 and 10 year old girls have the benefits of being able to experiment with their hairstyles – a lot. It's understandable – they are socially inclined to look beautiful and presentable at all times or whenever possible after all.
They are still so young and innocent, but it is at this age that girls start to show more interest in beauty and hairstyles. Here are some beautiful 9 and 10 year old girls hairstyles that you should definitely consider!
Attractive 9 and 10 Year Old Girl Hairstyles
Girls between 9 to 10 years old will want to try out various hairstyles, but they have one issue – school regulations. You might have several really nice hairstyle ideas that you want to try, but you could be penalized for it!
This is why we have compiled a list of hairstyles that requires no cutting, no weird styles that will stand out, and most importantly, are safe for school. Let's take a look!
1. Side Braids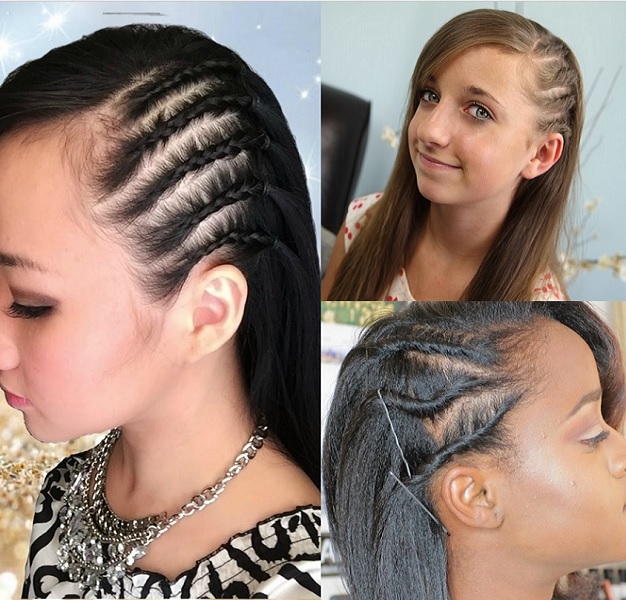 Side-shaves may be a tempting hairstyle, especially for little girls and teenager even young adults. However, shaving is one big responsibility – what if you regret? Well, you can create a similar or identical effect with braids, and it's possibly an even cooler style!
All you need to do is to braid up the sides a little – a few braids that you can later connect to the rest of your hair at the back, as an example.
2. Colorful and Patterned Tie-Ups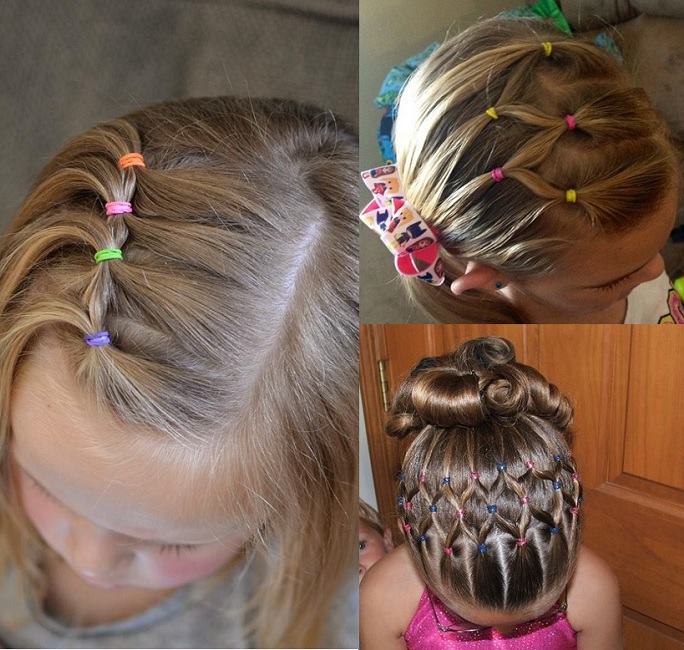 If you look at these photos up there closely, you will notice that these seemingly complex 9 year old girl hairstyles are actually made up of simple ties and colorful hair bands.
Coordinate each section well and you will have yourself a unique pattern that most parents will not even dare to attempt! This is definitely one of the beautiful hairstyles for young girls that can fool people about its complexity.
3. Pony-Braid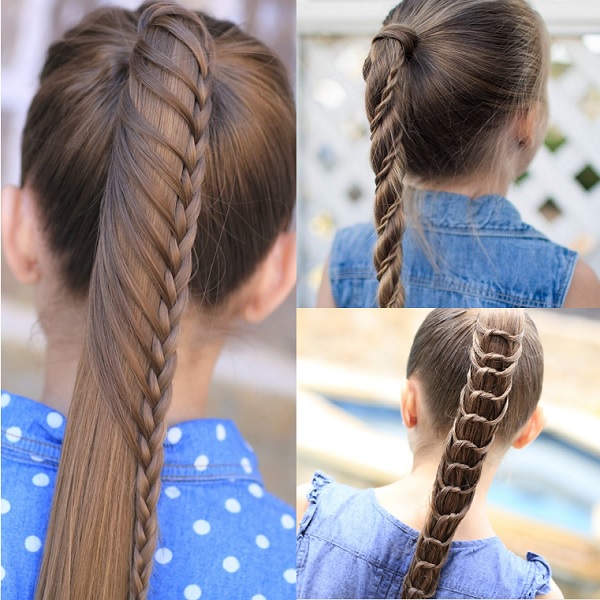 Can't decide between ponytails and braids? Here's your solution! You can style braids along your ponytail, or implement it all the way to the bottom with twists and turns.
This might require a YouTube tutorial or two, but we are sure that the expert hairdressers will have no problem replicating these looks for you.
Check out these Indian Baby Hairstyles Too
4. Lovely Curls & Braids
Loose curls are always the way to go for girls! When you pair these lovely locks up with a few simple braiding patterns, you will have yourself a graceful, beautiful and princess-like 9 and 10 year old girl hairstyle that will amaze everyone. If you are attending a dinner or a dance party, this needs to be one of your top choices!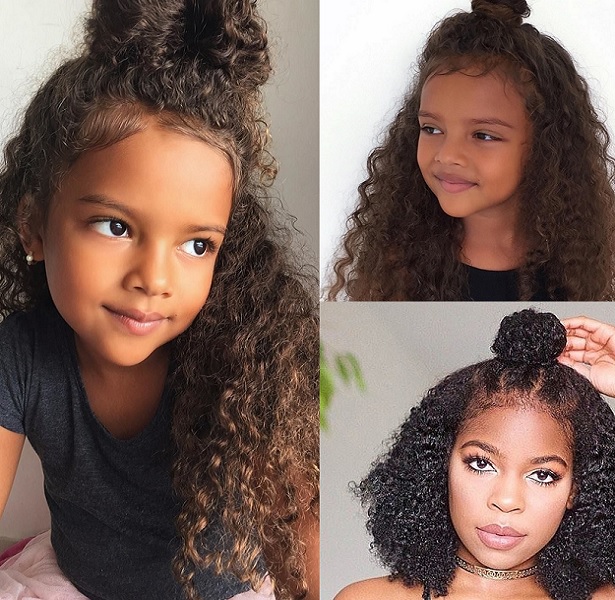 Whatever the length of your curls, you can definitely count on getting them away from your face simply by tying them up into a bun at the top.
Just pull up any sections of hair that might hinder your sight or cover your forehead in general, and tie it up in a bun at the top! The rest of your hair can be left to flow free to your own liking.
6. The Side Ponytail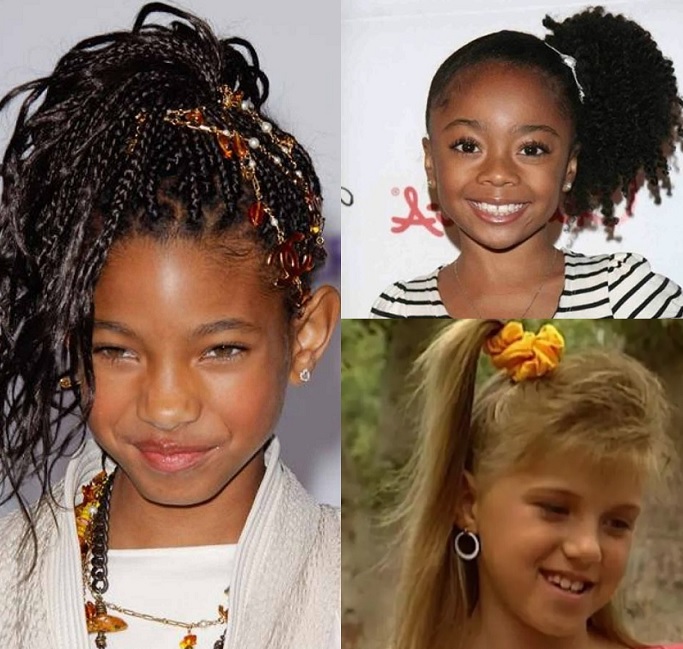 How do you like your side ponytails? If you like it simple, you can just tie it up towards the side, but quite high up as well. You can up the ante by tying up little braids before you create your side ponytail look.
The beauty of this style is that you can make this look as simple or complex as you want it to be – pair it up with accessories and complex braids or none at all!
7. From Braids to Loose Curls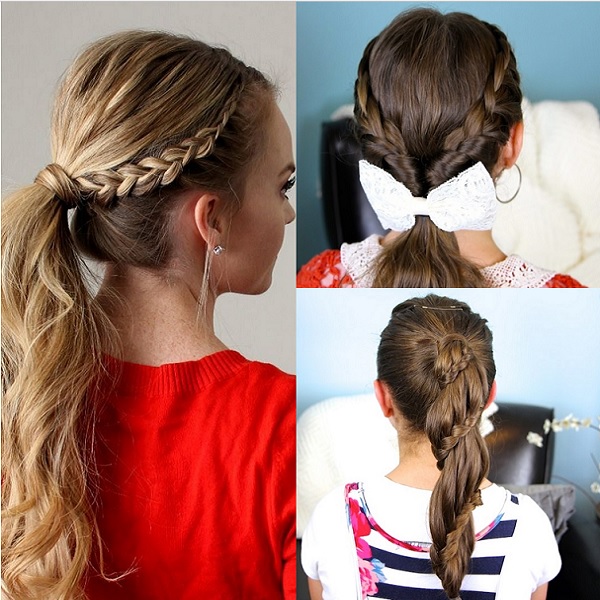 One of the more popular hairstyles among young girls, you can create huge braids along the sides of your head and tie it up into a ponytail at the back of your head. The loose curls will release its charm as it is without any other necessary actions from your part. Such a charming look for young girls, isn't it?
8. Braid It All Up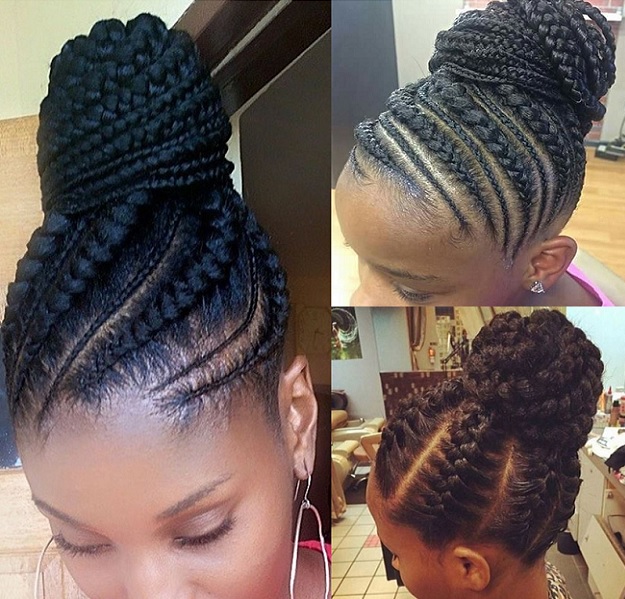 9 and 10 year old girls might appreciate this hairdo quite some. You can be sure that the attention is going to be all focused on the hair and nowhere else! This complex braiding design is going to require a lot of effort, but as you can see from the images above, the results are no less than worth the efforts.
9. Colorful Undercut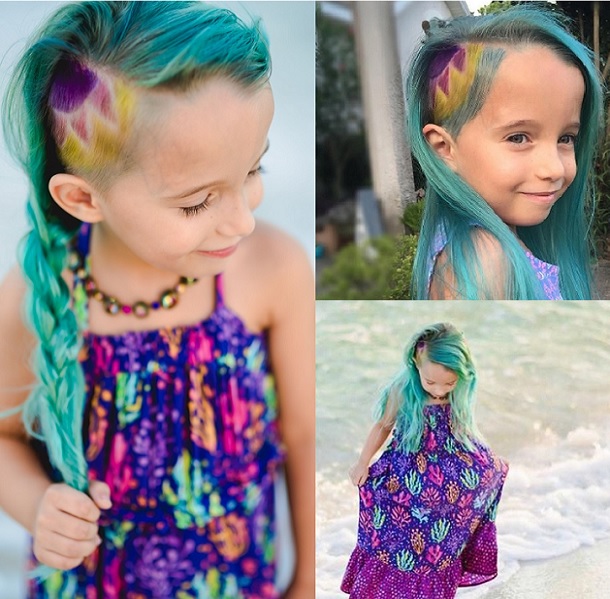 If you are a really open-minded parent, you can definitely look into getting this hairstyle for 10 year old girls! The colors and shaved sides bring so many new opportunities for your young girl, and she can bask freely in the attention that she most definitely deserves with that beautiful crown of hair. These gorgeous locks deserve to be shown off!
10. A Simple Crop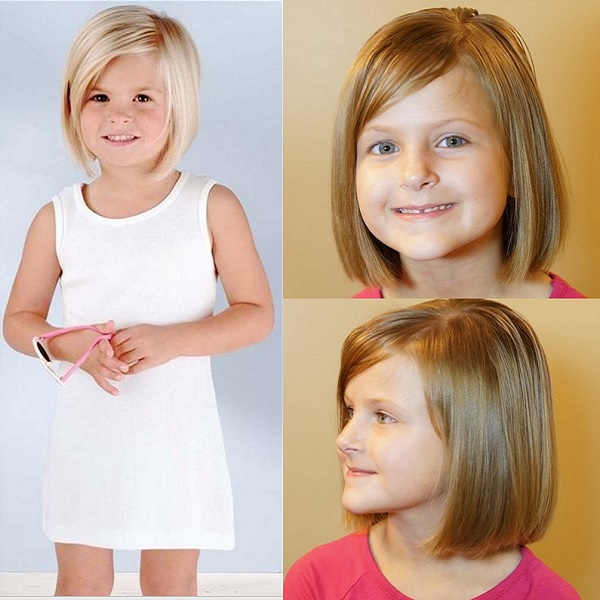 Bangs to the side, short hair at the back. Isn't this one of the must-have hairstyles for young girls? 9 to 10 year old girls with this hairstyle will be abundant wherever you go. That's how common this hairdo is! It's also neat and easy to maintain.
You can be sure that this is one of the approved haircuts in school and it will be welcomed by both teachers and students!
11. A Braid Like A Hairband
Want your fringe out of your face? You can use this 9 year old girl hairstyle! It requires only a simple, big braid for you to get started. Use the hair around your fringe to create a braid and hoop it all up along the sides until you have completed the braid from one side of your head to the other. Beautiful and elegant!
12. Thick Braids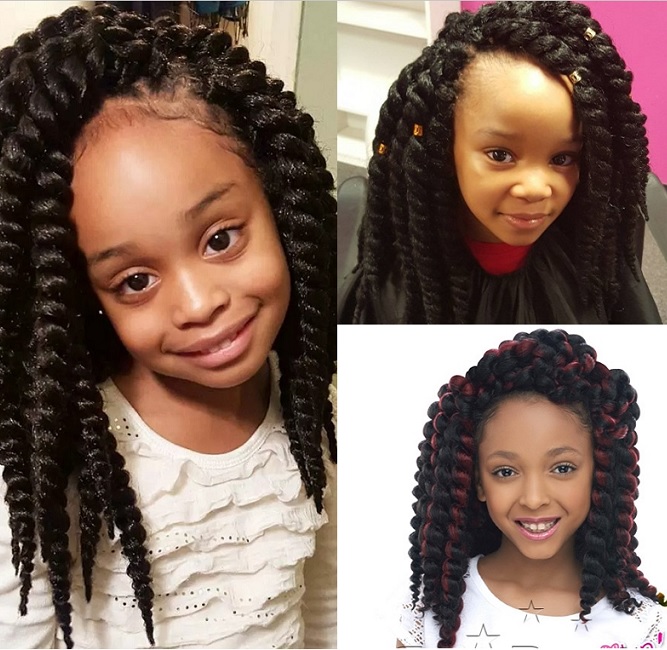 It's alright even if you don't have hair this thick – you can always add your own hair extensions! This heavy head will definitely be worth the number of eyeballs that you are going to get with this beautiful, elegant look.
It's nothing against the rule book either – what's wrong with a head of braids? 9 and 10 year old girls are bound to love this look!
13. A Braid Across The Back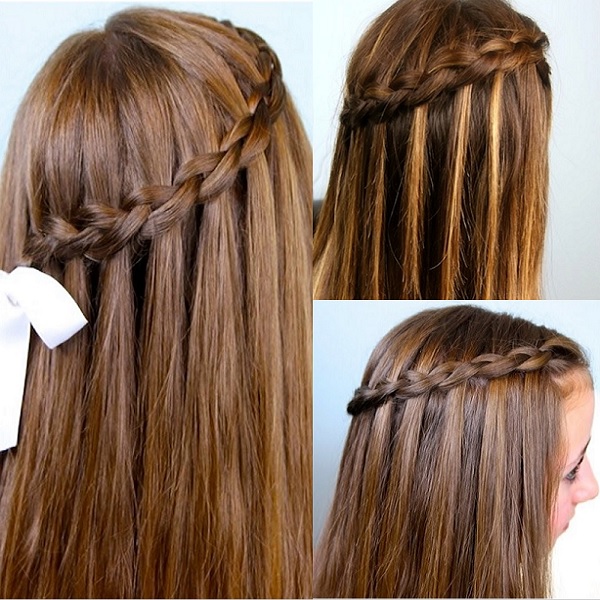 Simple braids too mainstream for you? Try this look instead! Amidst the simple braids, sections of hair are braided into them as well, creating a lined-up look. Isn't it just lovely?
This hairstyle for 10 year old girls might look simple, but it's not as easy to make as it looks! You will need good coordination and organization of hair sections to pull this hairstyle off.
14. Curled Up at the Ends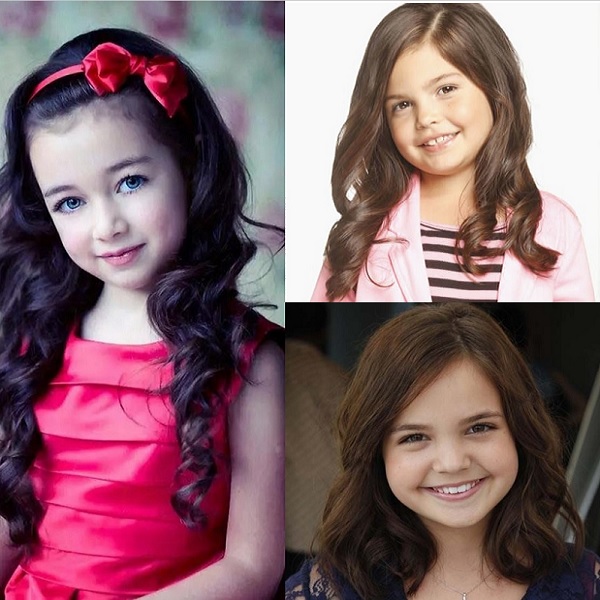 If we were to put priority to these hairstyles, this is definitely one of the must-have hairstyles for 9 and 10 year old girls. Guess why? Do these hairstyles not remind you of your childhood fairy tale – Snow White, or perhaps other princesses?
This hairstyle makes any young girls look like a graceful princess – a dream come true!
15. Braids or Pigtails?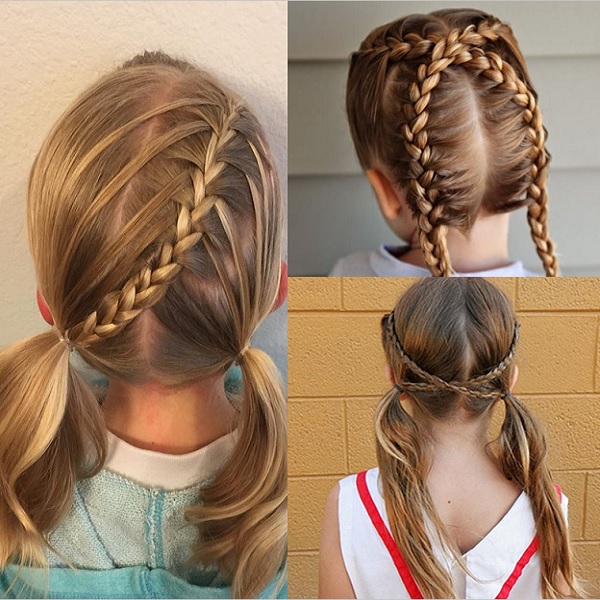 Some of us are quite indecisive, and that's okay! Get both braids and pigtails together in this unique, combined hairdo. You can braid your hair up any way you like – in a cross, down the sides into pigtails, or just a diagonal braiding design. It's all up to you, and the end results will look just as fantastic!
16. Short Cornrows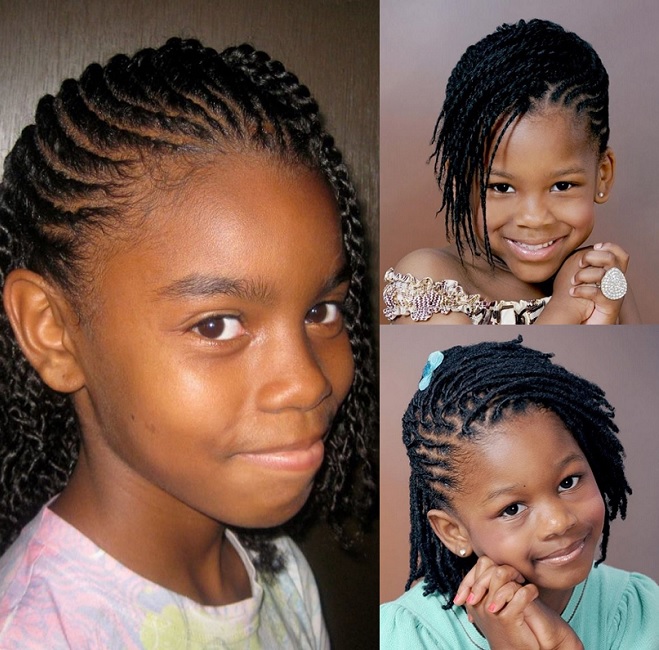 Long cornrows too much for you? You can get yourself a cooler, shorter version! Medium-length hair is enough to create this hairstyle – there's no need for a longer one. Make lots of short braids, and braid them along the direction that your hair naturally swings toward. Cornrow is one of the preferred hairstyles for black little girls.
17. Braid the Bun Up!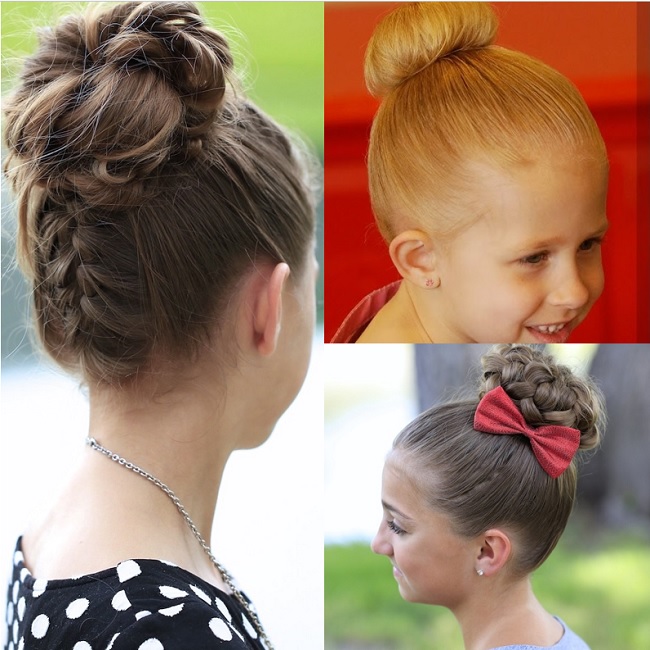 9 and 10 year old girls can look just as elegant as other ladies during a wedding with a bun. Despite how easy this hairstyle looks, it is actually not a simple task to bun up neatly! There are special accessories that can help you to create a simple bun that you can purchase at the shop.
You can also request your hairdresser to braid up your hair at the back and tie the braid up into a bun! Add accessories such as a ribbon clip for best effects
.
18. Cool Girl with Shaved side
Want a punk-like hairstyle? That's doable even for 9 to 10 year old girls! A simple shaved side can do the trick. It might be a good idea to shave a little lower at the sides, however. This is so that you can still cover up the shaved portion easily should there be a need to, especially at school.
19. Like a Unicorn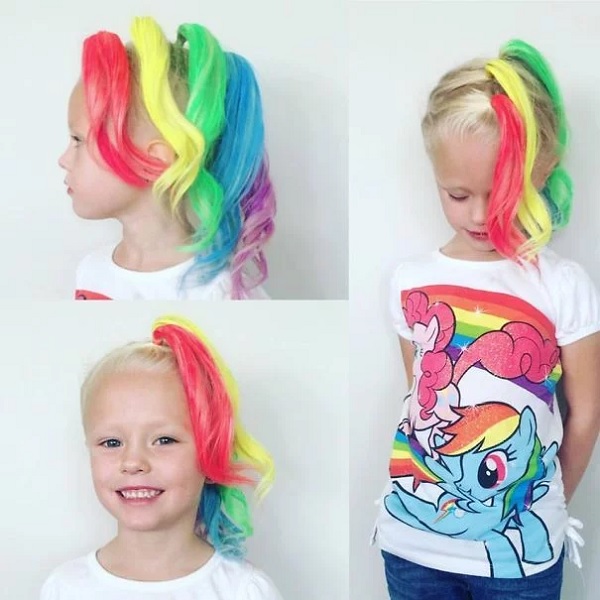 Ponytails are simple, but they can be too plain for some young girls. Get your game up with colorful hair extensions! Hair extensions can be easily disguised with your natural hair, so just tie or clip these hair extensions to create a unique ponytail! It's usual 9 year old girl hairstyle.
20. Box Braids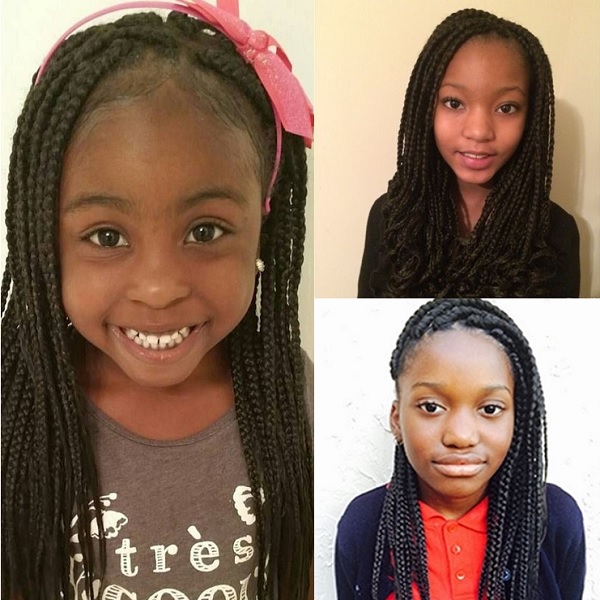 Why just leave your hair hanging as it is when you can braid it up like this? A braid or two might not create a good look on its own, but with dense braids like this, you have yourself a textured hairstyle for 10 year old girls that most will not dare to even attempt.
21. Red Layers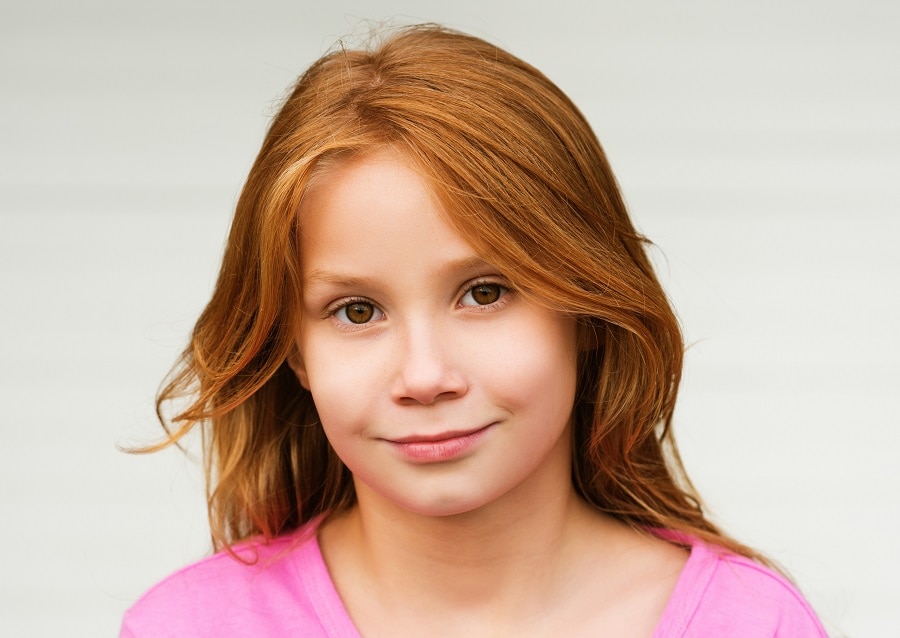 It doesn't take a lot of complex styling to make red hair look its best. The color is already so eye-catching on its own. Add some layers to give the hair body and ensure some frame the face.
22. Headband and Bangs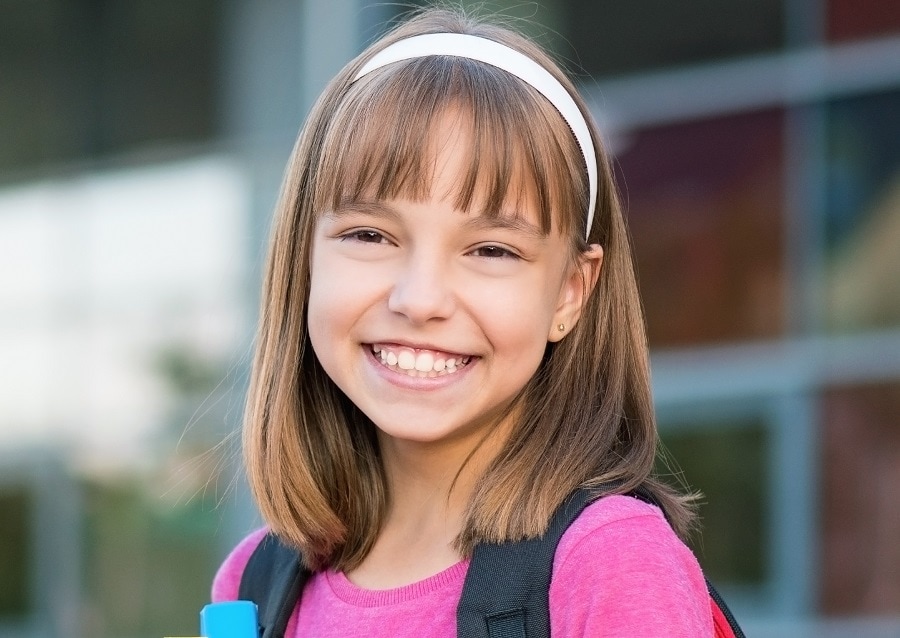 Little girls always look so sweet with a long bob and bangs. The bangs are full but wispy as there are large gaps in them. A headband keeps some of the hair out of the face and it's a great accessory to use.
23. Long Curls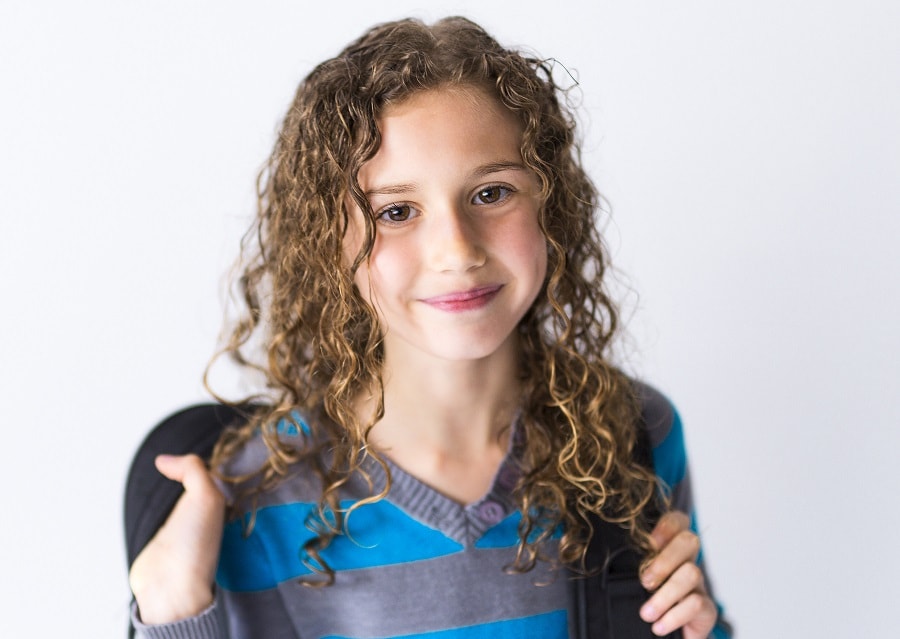 It takes dedication to learn how to make curly hair look its best. Use curly hair products and hair styling techniques to make your little girl's hair tame. Consider following the "Curly Girl Method."
24. Space Buns
People of any age can absolutely rock space buns. The ones above are made for long hair as they're large.
The hair wraps around each bun high on the head to form a tight style. The hair's parting is slightly to one side, but the style is even.
25. Half Up Bun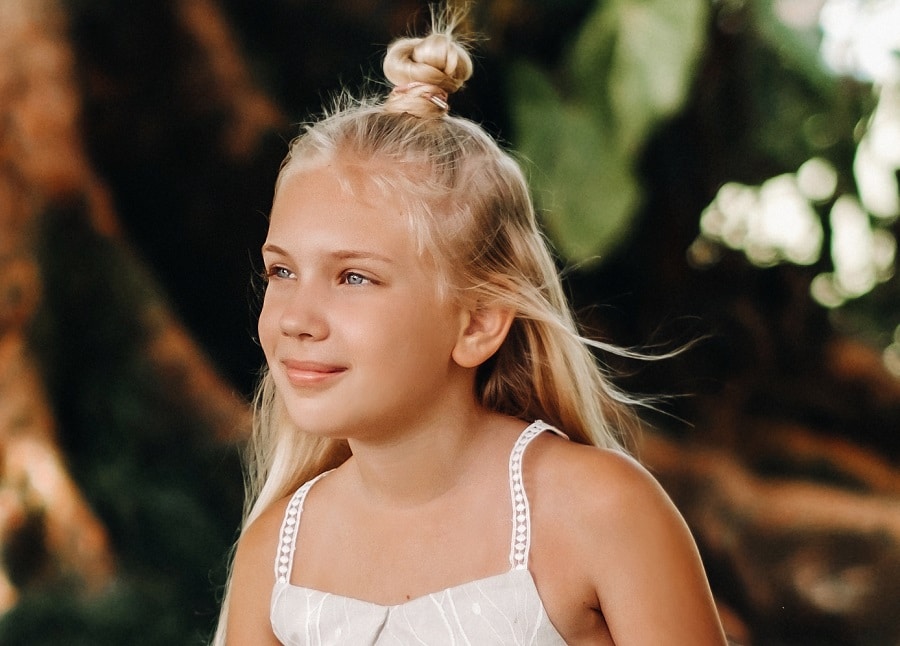 When your 10 year old girl has long hair you should choose a hairstyle to show it off. Let her tresses cascade down her back as you can see here.
Add some variety by taking the front layers and creating a bun on top of the head.
26. Blunt Bangs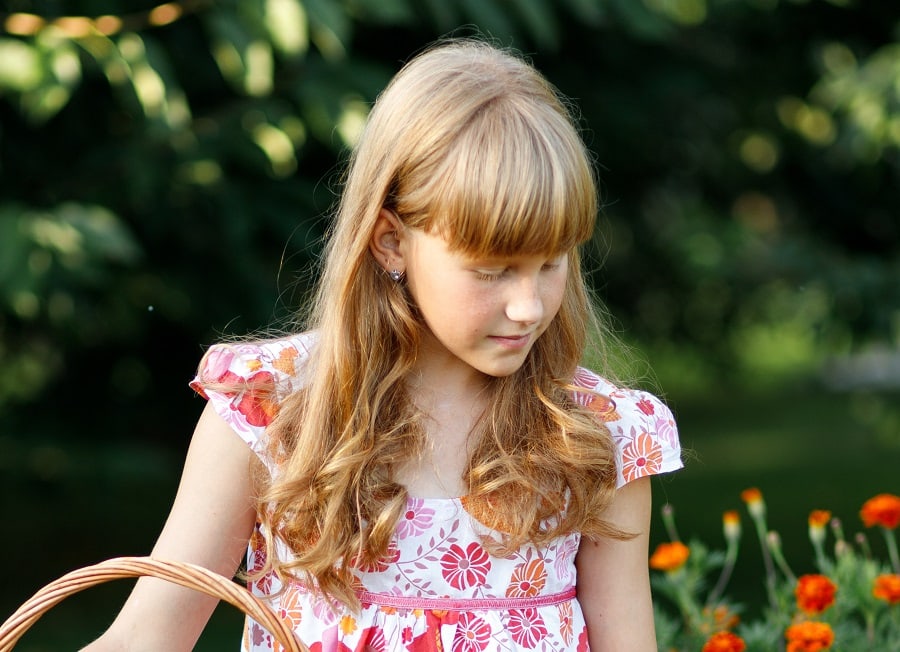 There's something about blunt bangs that always looks incredible. They help bring the focus lower down on the face.
The rest of the hair falls over the shoulders with curls at the ends. It's thick like the bangs so this would suit a little girl with lots of long hair.
27. Beaded Cornrows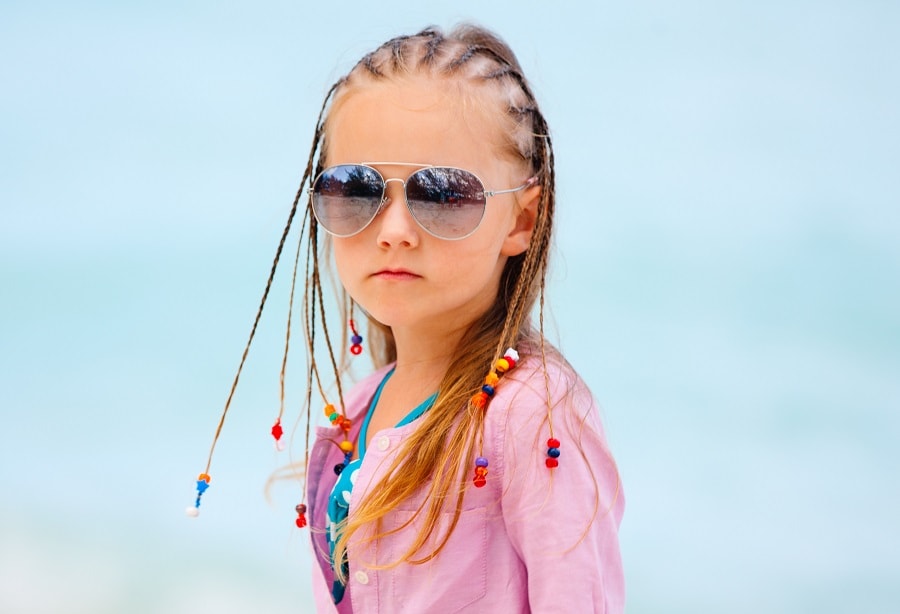 Many 10 year old girls like getting a braided cornrow hairstyle when on vacation. It's common to adopt this look in countries like Spain.
Only the top layer of hair is braided and the rest is straight and loose. Multi-colored beads decorate the ends of all the braids.
28. Elegant Blonde Waves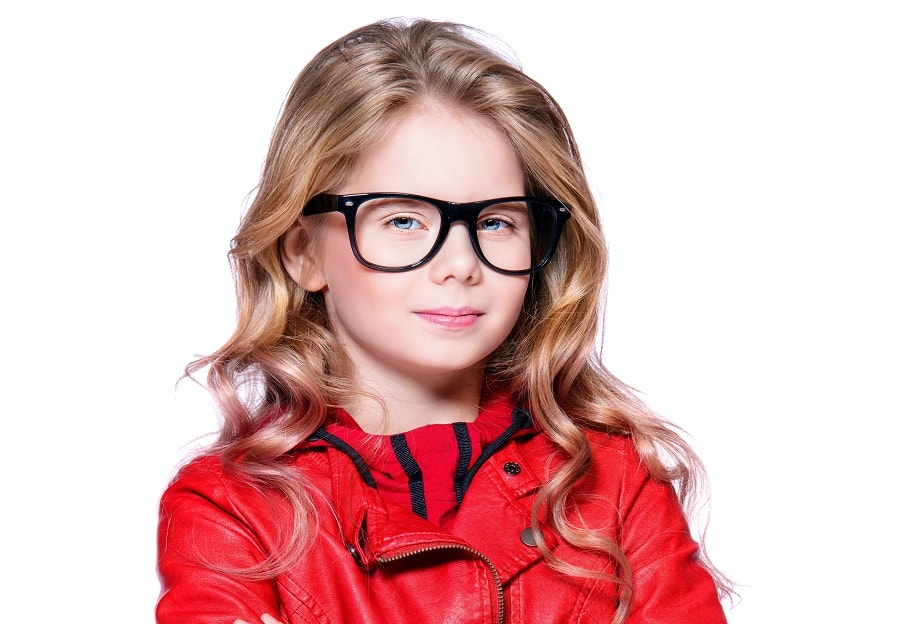 Little girls with naturally wavy hair should get some layers to add more movement to their locks. You can also achieve this wave pattern with a curling want at home.
Give your daughter a slight side parting and ensure there's lots of volume at the front of the head. It's a mature look that your little girl will love. She'll feel so confident!
29. Afro Pigtails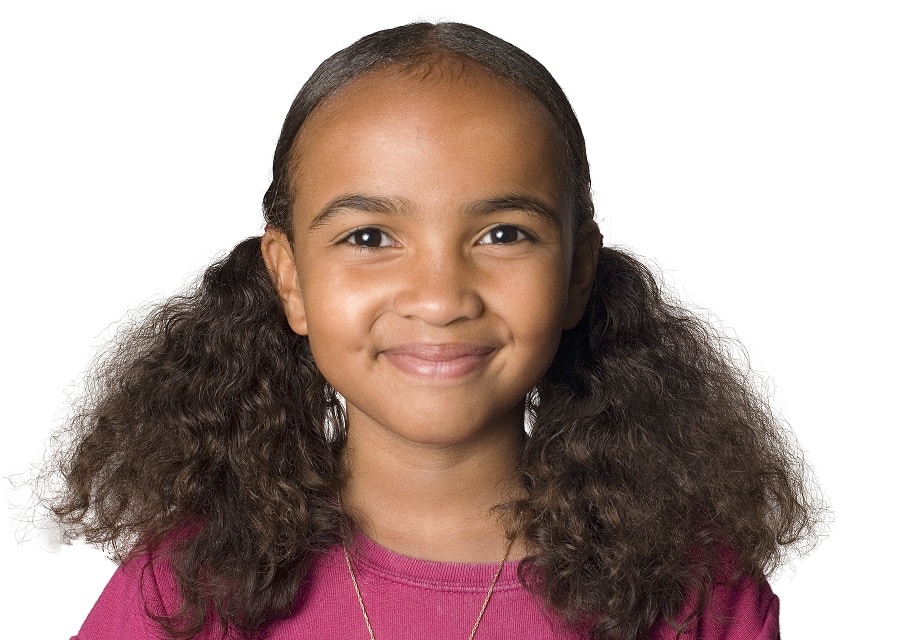 Natural hair on black and mixed race girls truly has a gorgeous texture. Show it off by forming two pigtails low on the head.
Smooth down the hair on the scalp to make the pigtails stand out more. Make sure you use products that will help define the curls and kinks of the natural hair.
30. Retro Crimps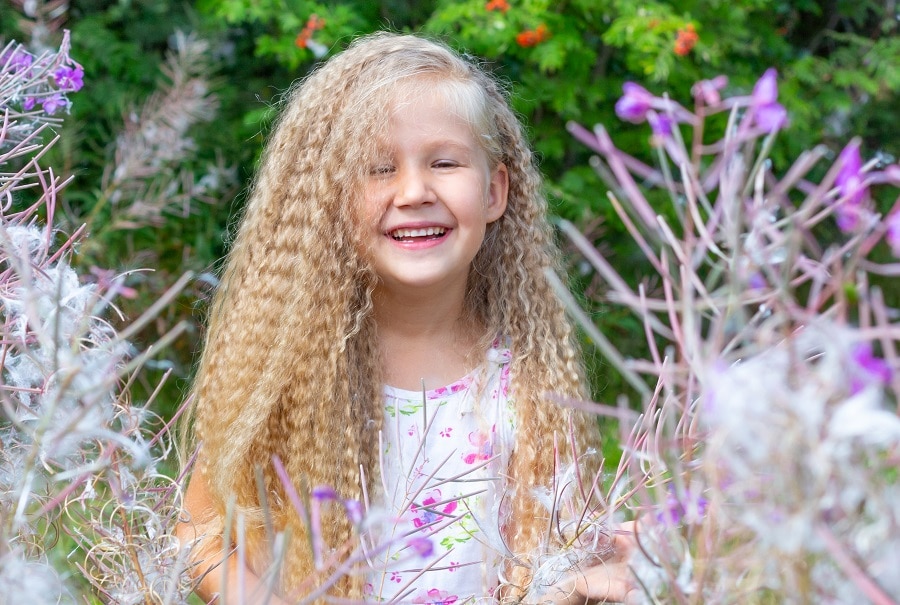 Crimped hair was very popular in the 2000s. It has now become a retro style. Get a crimping iron and create this texture on all of your daughter's locks. It creates tons of volume she'll love.
Try minimizing the crimping near the hair's parting. This will make the look easier to control.
Try showing this post to your young girl at home, and ask her which hairstyle she likes best! You can bring these pictures to your hairdresser as a reference if you are unsure of how to describe this hairstyle that you want.
We hope that you like our compilation of hairstyles for 9 and 10 year old girls! If you did, do share it with your friends and family, or bookmark our page so that you can always access other posts that we have for you.