No quotes can express what a mother feels after losing her son, that's a fact. But sharing some sympathy quotes on a mother grieving the loss of her son that echo your feelings can help others around you understand your experience.
We are sorry that you experienced such loss, and can only hope that these quotes resonate with your experiences well enough that you can share them with loved ones around you.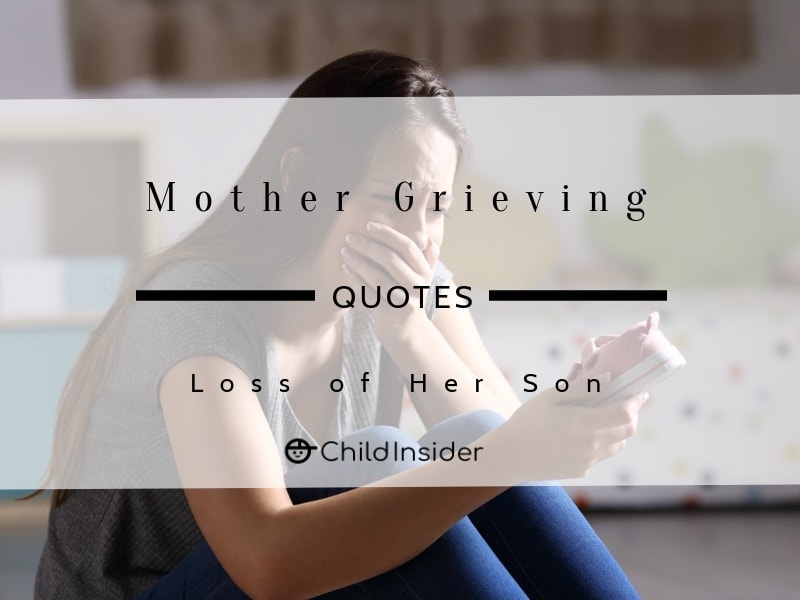 A mother should never have to grieve for the loss of her children. It's truly a sad tragedy when a mother's own offspring have to be buried before the parents pass into the next world.
Even so, accidents and misfortune just happen all the time, and we can only put more faith in God, believing that He has His reasons for taking our loved ones away from us at such a young age.
Mothers grieving the loss of their sons will be at the lowest point in their lives – they lost someone that they had a special mother and son bond with, and no bond with any other child will be the same.
Mother Grieving The Loss of Her Son Quotes
We understand that mothers will never be able to fully move on from such an experience, and we too grieve the loss of the beautiful, loving boy that mothers around the world have lost long before their time was due.
Here are some mother grieving the loss of a son quotes that will surely touch you deeply, reminding you of the loss that you faced. Hopefully ,at the same time, you will also be able to sympathize with many other mothers around the world who face the same tragedy and offer them comfort. We hope that your little angels are resting peacefully in heaven.
1. No one will ever feel a bigger grief than a mother who lost her son too soon.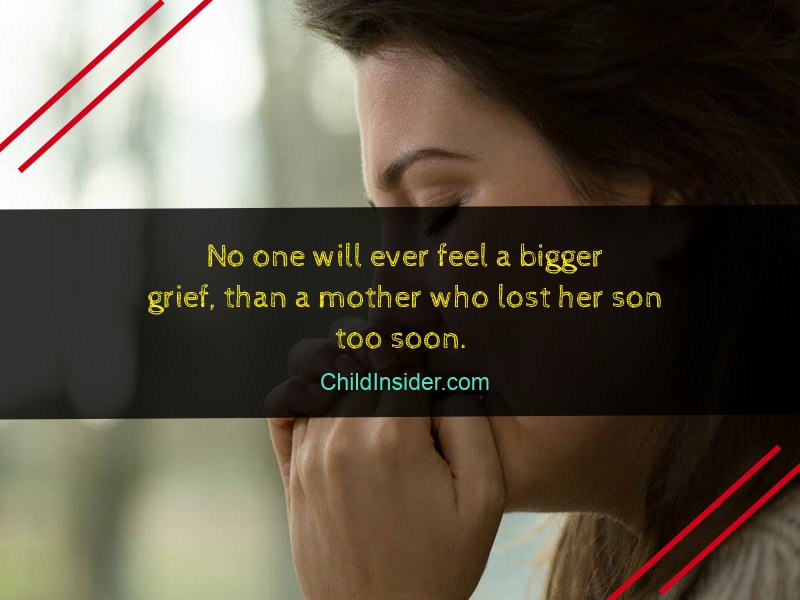 2. I don't need anything in this world, but to see your lovely face once again. You left me too soon, my son, and I'll miss you forever.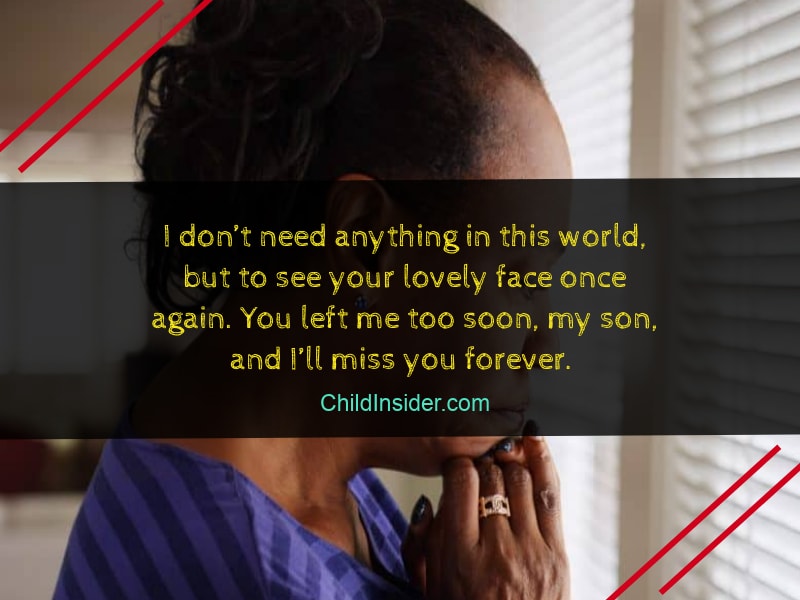 3. To my son who left this world too early – I will keep the memory of you alive and I'll never stop being angry at life for driving us apart.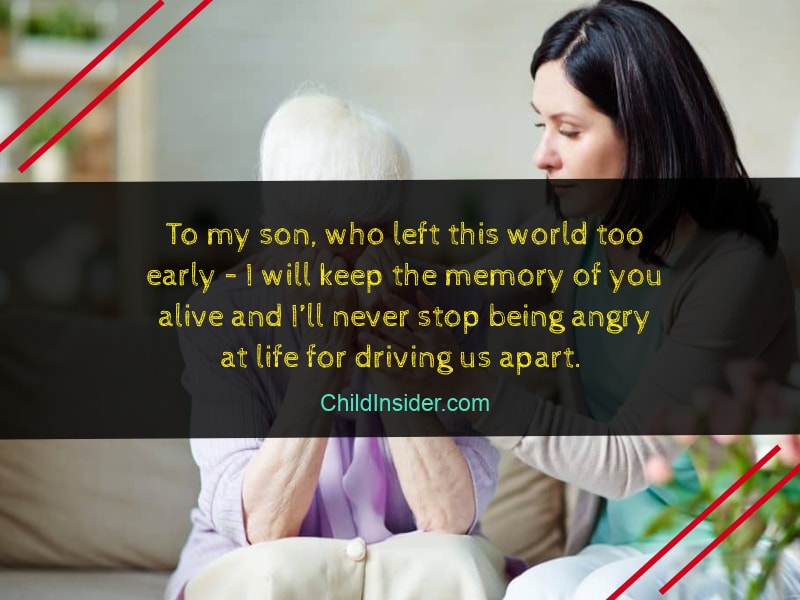 4. The agony of losing my son is excruciating. I hope that wherever you are, angels are by your side, keeping you safe.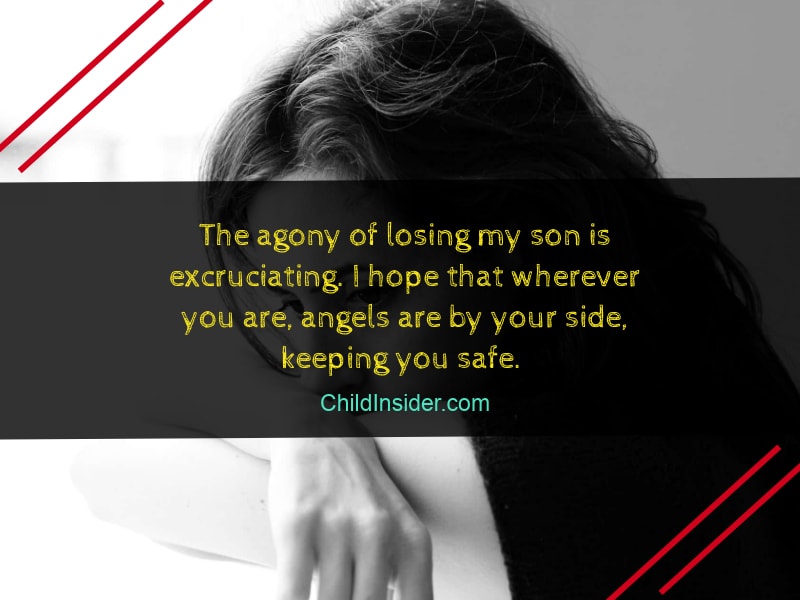 5. I cannot bring you back, my son, but I can pray that you are smiling in heavens, knowing that your momma loves you always!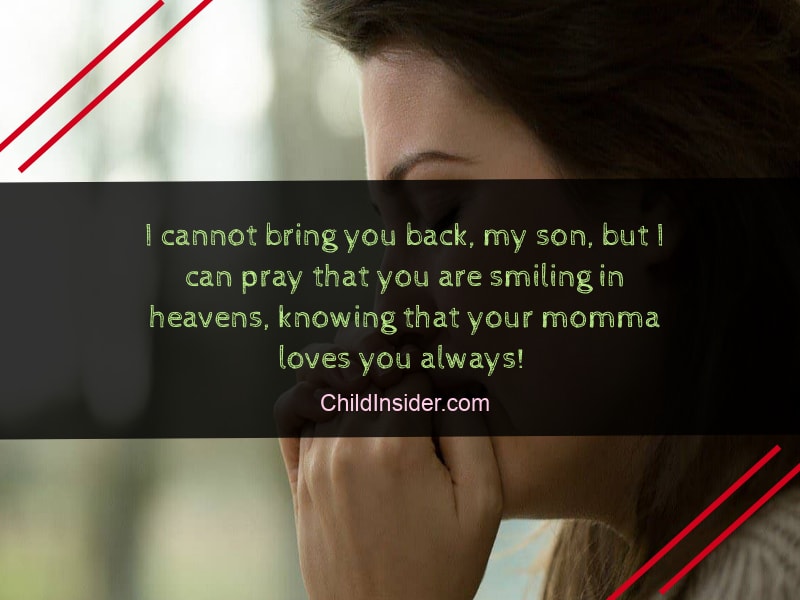 6. My son, I will never forgive myself for not being able to protect you when you needed it the most. I miss you every day, and my heart is broken forever.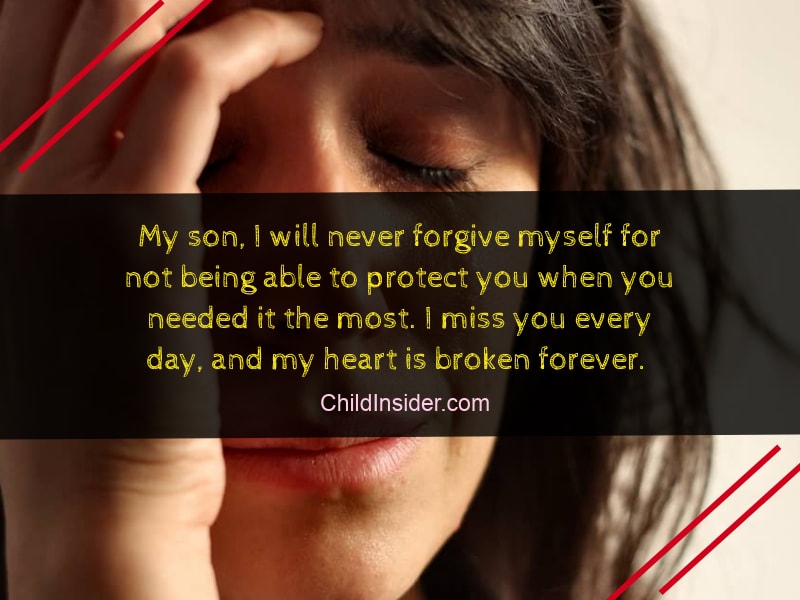 7. As a mother, losing my son meant losing a piece of my soul for good. I will keep praying that you are now safe from harm and smiling once again. Love, Mom.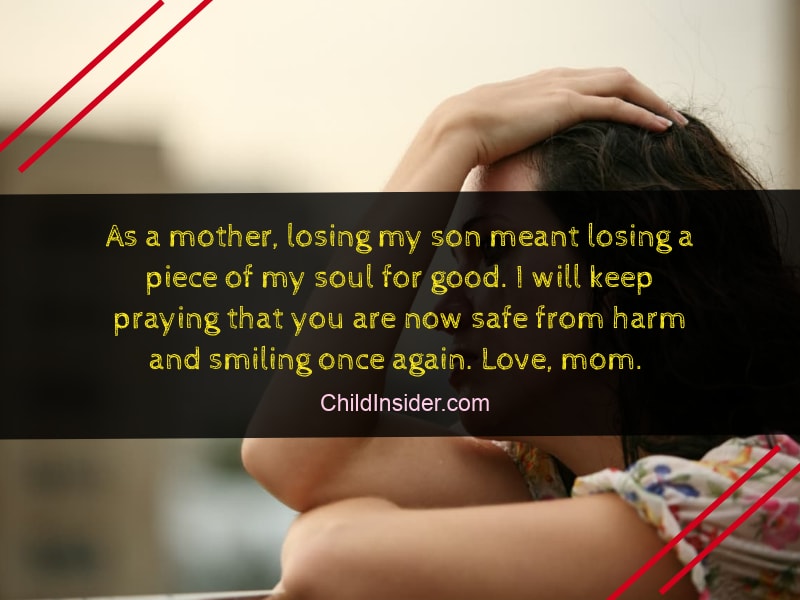 8. You are forever missed, my boy! This emptiness I feel will never go away, but I'll try to find comfort in knowing you cannot be harmed again.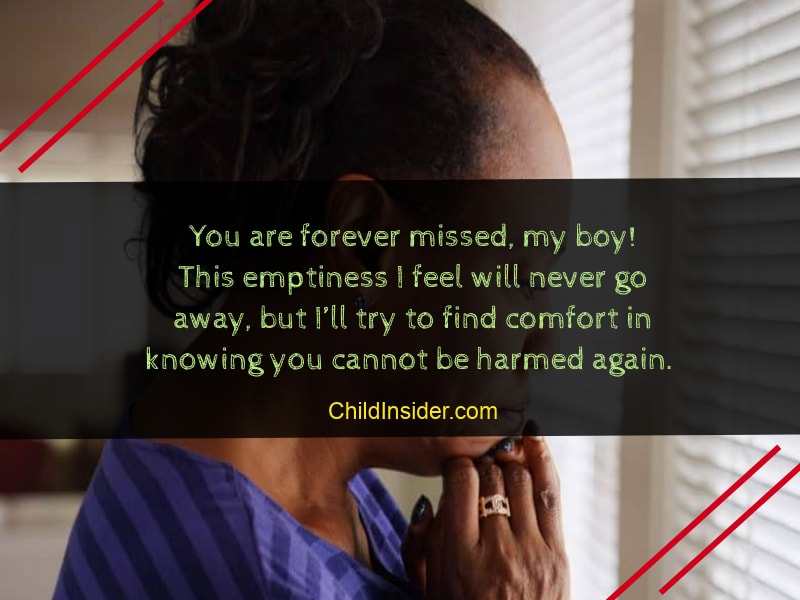 9. I pray to God to bring you back, but I know my prayers will be in vain. My son, know your momma misses you every moment of every day.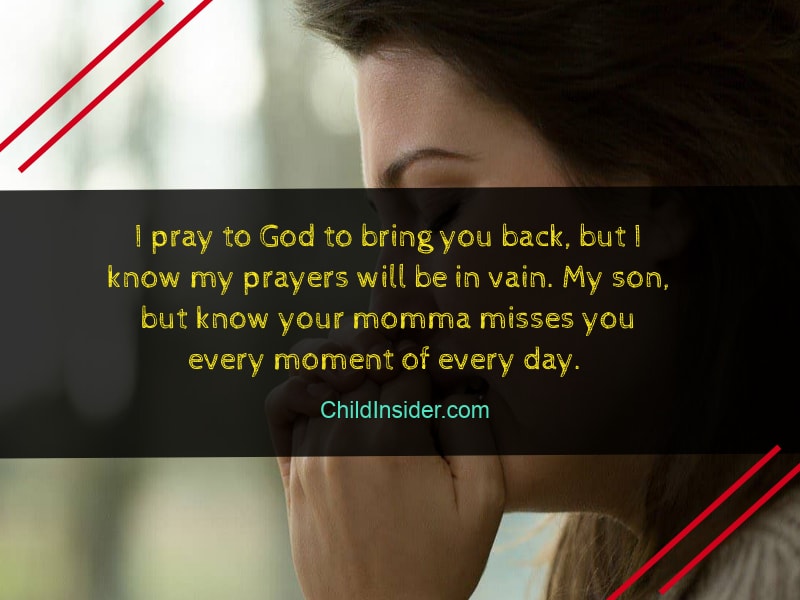 10. I try hiding my pain from everyone, but at night I think of your sweet face, and I wonder why death was so selfish to take you away. I miss you, my boy!
11. Ever since you passed, I feel a piece of my heart is missing. I know I'll get it back when we are reunited some day, my son. I love you always – Love, Mom.
12. My heart hurts after losing you, my son, but it gets a little easier every day knowing you are safe and at peace. Sending you virtual hugs and love.
13. I am jealous of all the angels that get to hang out with my son, but I at least know you are resting at peace. Missing you dearly.
14. I'll never know how I am able to move on after losing you, my son. The only thing that brings me comfort is knowing you are safe from this crazy world. Love you and miss you – Love, Mom.
15. The world is a little sadder without you here, my dear son, and our house is quieter. We miss you so much and will never stop loving you.
16. I watched your favorite movie today, my sweet son, and it made me miss you more. I hope you are at peace in heaven. We think of you every day.
17. Was that your star I saw shining so brightly in the sky last night? Wherever you are, I know you are resting peacefully. I miss you so much every day.
18. My sweet son in heaven, our bond was like no other. Being your mother was the greatest joy of my life and I look forward to being reunited with you. Love, Mom.
19. I really miss being able to hug you and make you your favorite meal, my sweet boy. Knowing you are at peace in heaven brings me a little comfort. I love you always. Love, Mom.
20. The house is too quiet without you around to fill it with laughter from your jokes. I wish I could hear that sweet sound again. Be at peace, my sweet son.
21. Dear Son, you are missed so much down here. We all wish we could spend just one more day with you doing your favorite things. Wherever you are, know we love and miss you.
21. Life was cruel to take you away from us, my sweet son. I know everything happens for a reason, though. Maybe you were just meant to be our guardian angel. We will never stop loving you.
22. Living the rest of my life without you in it is the biggest challenge I will ever face. Rest peacefully, my son. I love you.
23. You were without a doubt the biggest joy of my life. May your light shine forever on us from heaven. Loving you and missing you dearly, son.
24. A piece of our family is missing, but I know we will be together again some day. Rest easy, my son. You're with the angels now.
Losing a child is never easy, which we reflected in the above mother grieving the loss of a son quotes. If you know any other mothers who have lost a son, you can share these quotes with them to show you know how they are feeling, and continue to care for them as well.