A birthday wish with a beautiful message from the mother is much more meaningful to a son than wishes from the others. A mother's unconditional love for her son would give him the purest, more sincere wishes. Most of the time, you can expect these wishes to be filled with plenty of love for her beloved baby boy as well.
The following birthday wishes and messages for son from mother can be easily personalized for the birthday boy, celebrating his special day in a way that only a mother can. A mother knows her children best, and this same mother would know what is best for her son.
Birthday Wishes for Son from Mother
When you read the beautiful quotes and wishes from a mother to her son on his birthday below, remember to share them with your friends and family! This simple gesture could touch a family member's heart as they feel nostalgic for their own experience with their mothers.
1. You gave my life a purpose when I needed it the most! Happy birthday my son, your momma loves you dearly!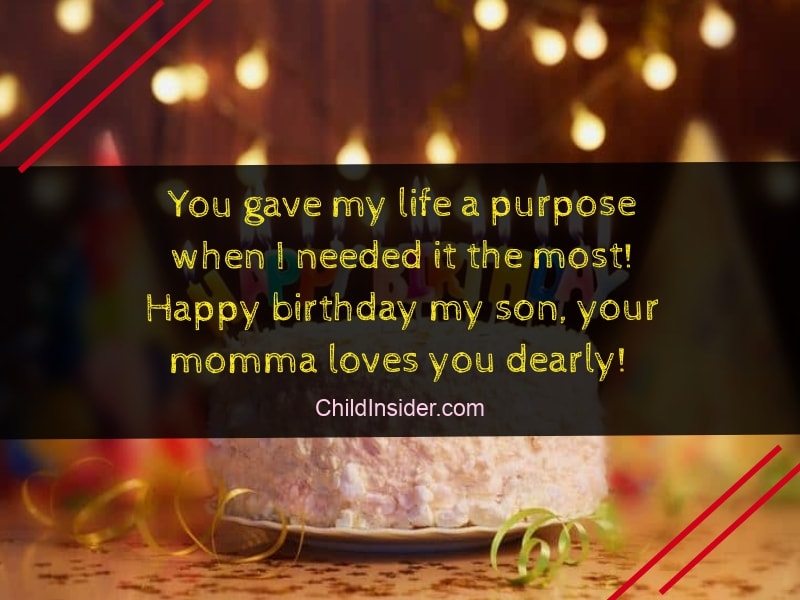 2. Happy birthday to the boy who makes my days brighter and my nerves thinner! Love, mom!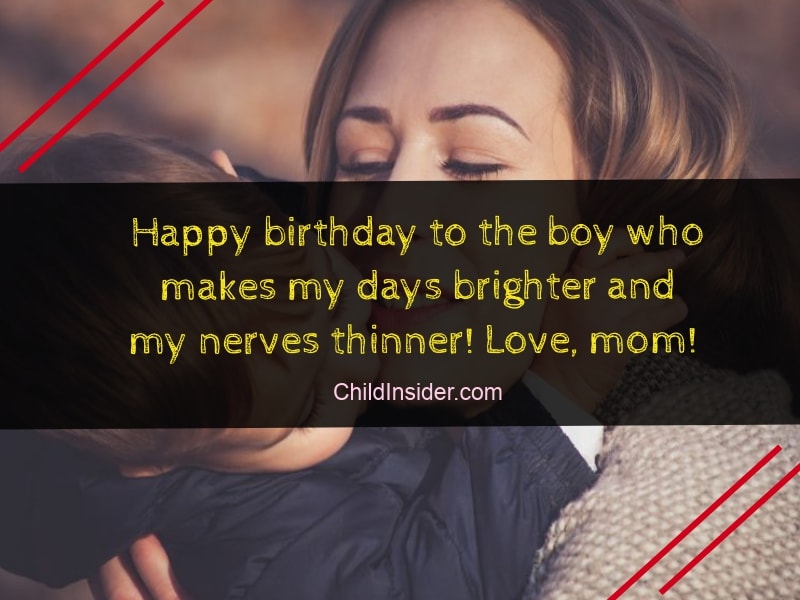 3. Years ago on this day, I saw your sweet face for the first time and I was in love! Happy birthday, my boy!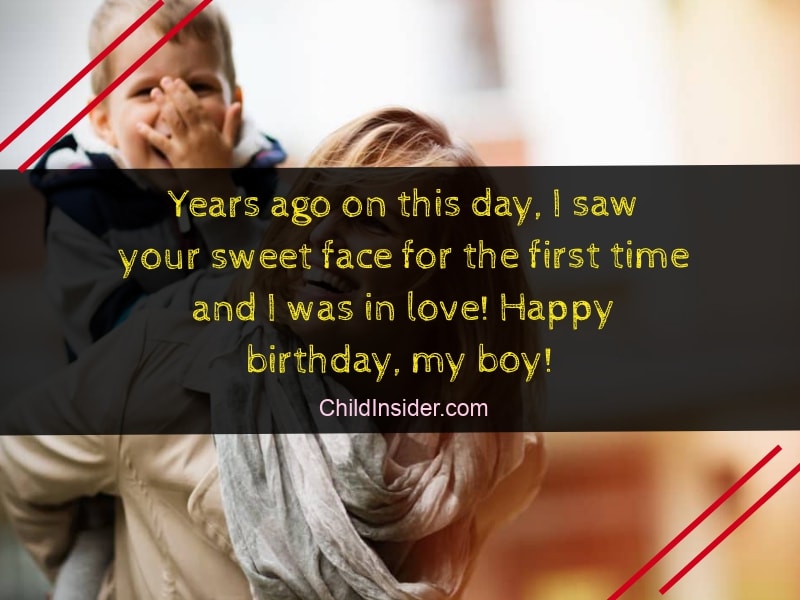 4. Happy birthday, my son! You made me the mother of my dreams, and I love you to death!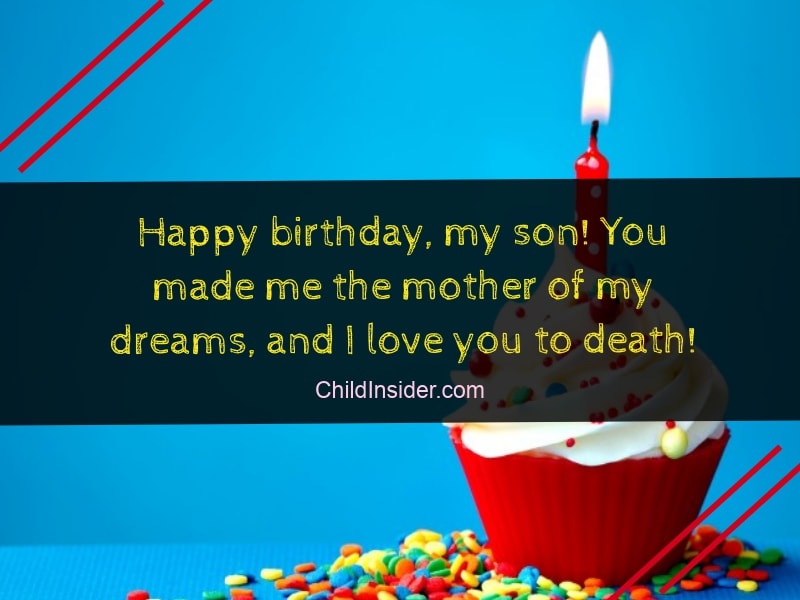 5. Happy B-Day to the boy who likes dinosaurs, fast cars and lollipops! You make me one lucky mamma!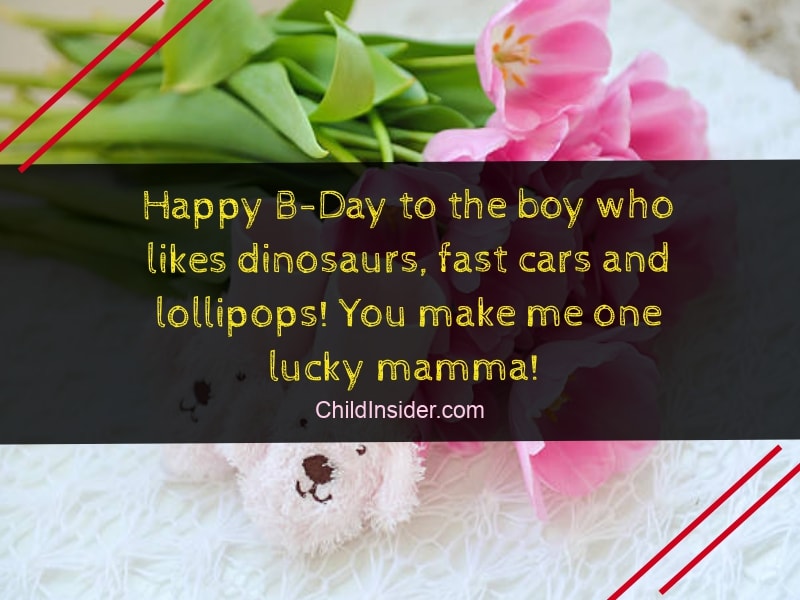 6. Happy birthday my angel! Being your mom is my favorite thing to do!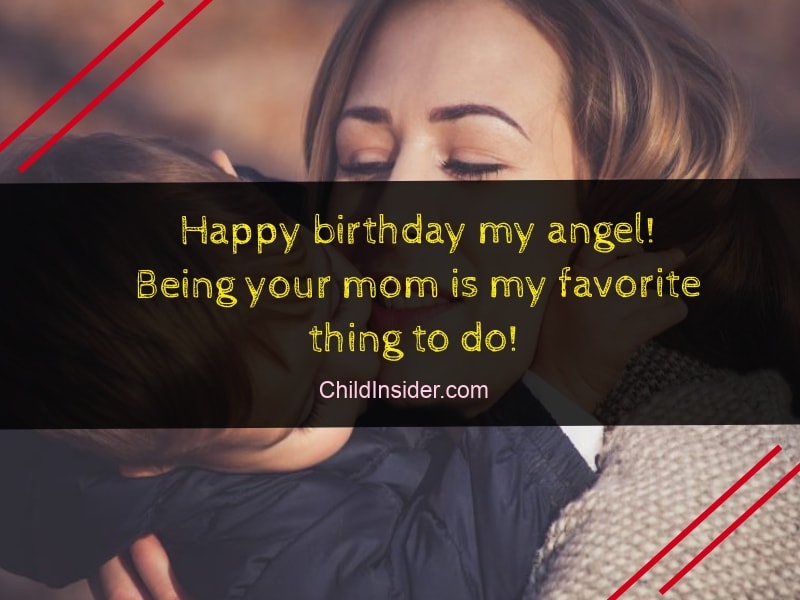 7. The happiest of birthdays, my son! I thank God for making me your mom – you are my favorite boy in the world!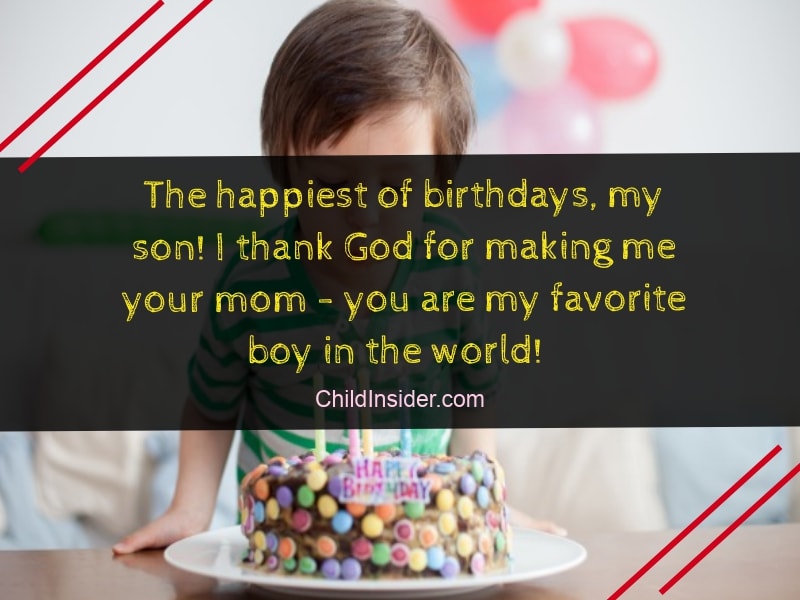 8. Happy birthday, buddy! You make me proud, and you make my role as your mom the easiest thing to do!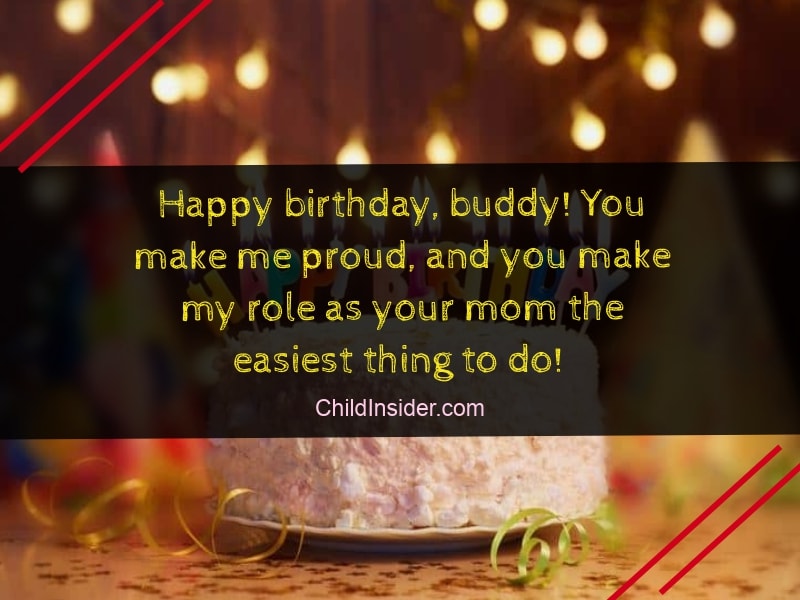 9. Every day I get to hug you, is a day well spent! Happy birthday to my son, I wish life gives you all its blessings!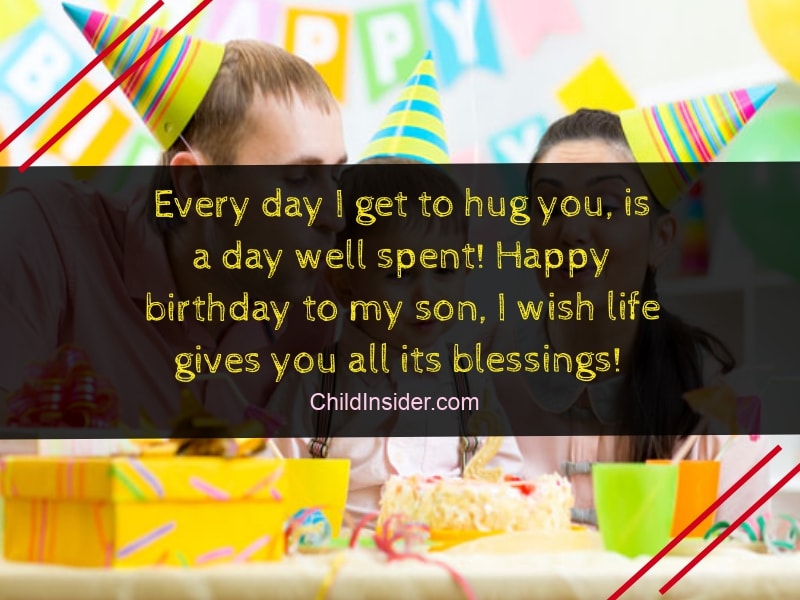 10. Happy Birthday, My Baby Boy! You are my first love, my perfect baby boy, and my biggest achievement as a mom!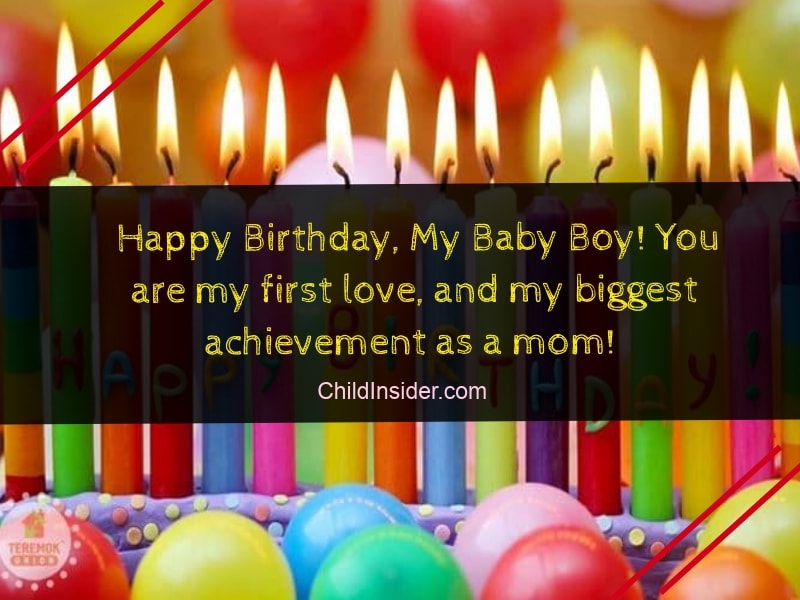 11. Happy birthday, son! As your mom, I'll always have your back love you no matter what!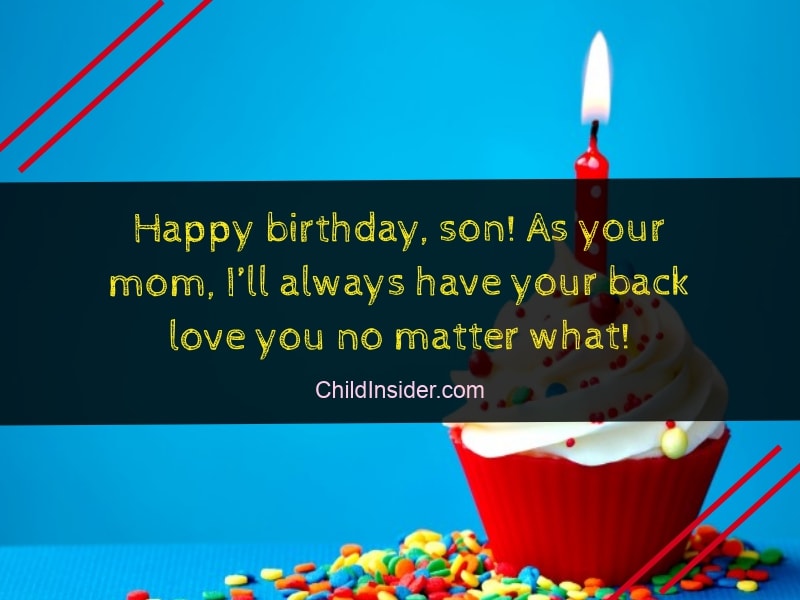 12. What a joy it is to see you grow into a fine young man! Happy birthday, sonny, mom loves you the most!
13. You, my son, are a true rock star. Happy birthday, I hope you get everything you dreamt of!
14. To my son, who made me the happiest mom on Earth – Happy birthday, you are one in a million!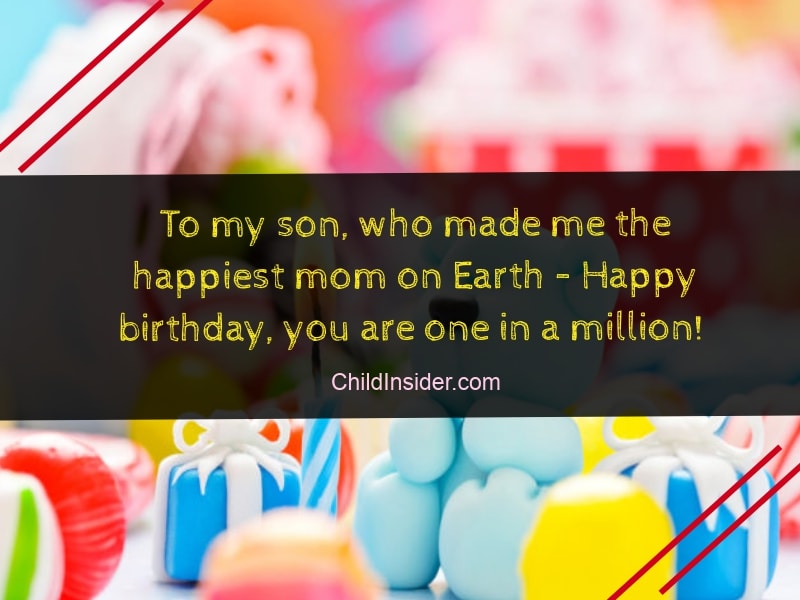 15. I would go the distance for you, even if it means checking up on you at 3 am! Happy birthday, son!
16. Happy birthday to my son, whose smile makes my heart melt! I hope my homemade apple pie is still your favorite!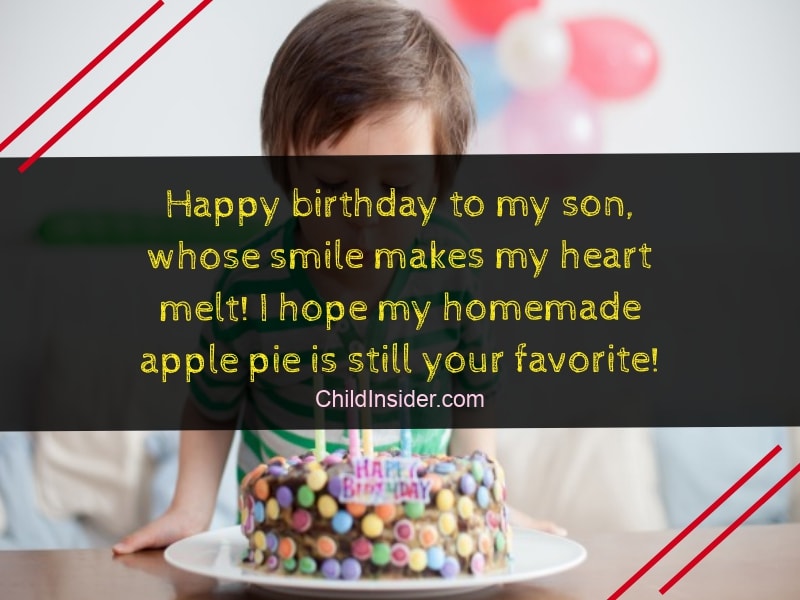 17. On your birthday, I wish that love, patience and hopefulness find their way into your life!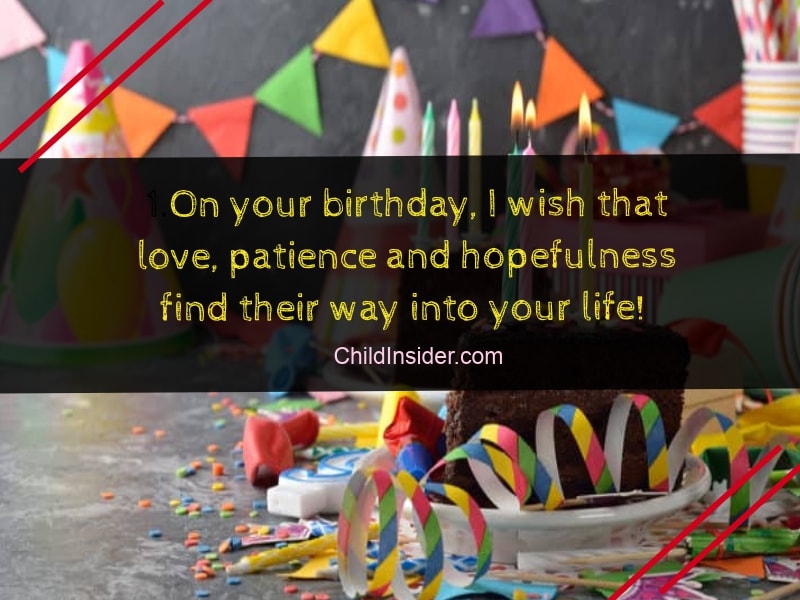 18. As a mother, I cannot ask for a better, more loving and more devoted son! Happy birthday, baby boy!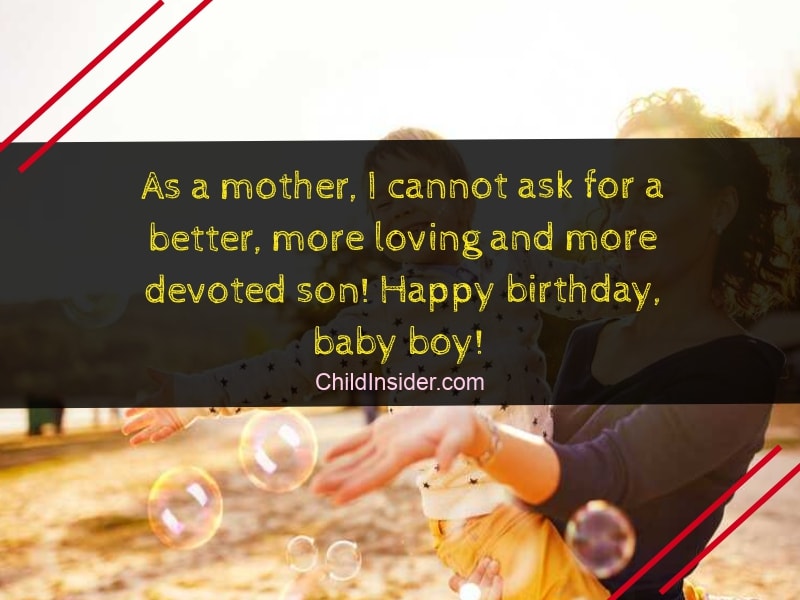 19. I wish you all the goodness of this world, and I hope you know how much your momma loves you! Happy Birthday!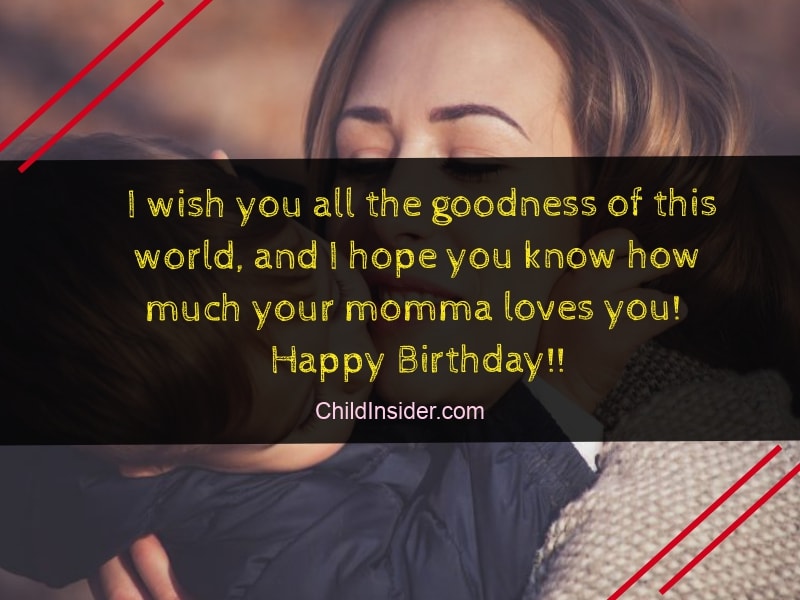 20. You are my angel, my miracle, my biggest dream come true! Happy birthday son, I am so proud of you!
21. Kiddo, you made me a mom when I thought I could only be a great aunt! Happy birthday, my son, you are my shining star!
22. You may be a year older and away, but you'll always be on my mind! Happy B-Day to my son, who turns my world upside-down!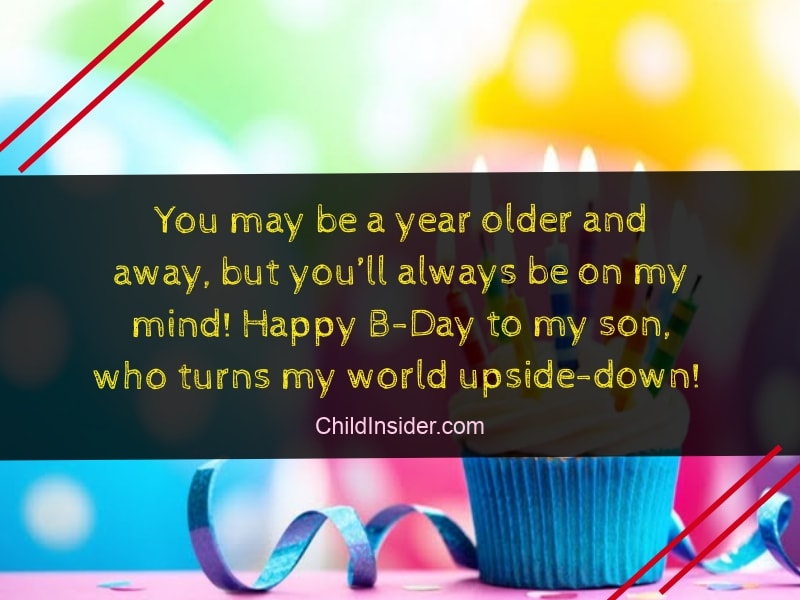 23. I wish all mamas out there could have a son like you! Birthday boy, may you be happy, fulfilled and blessed!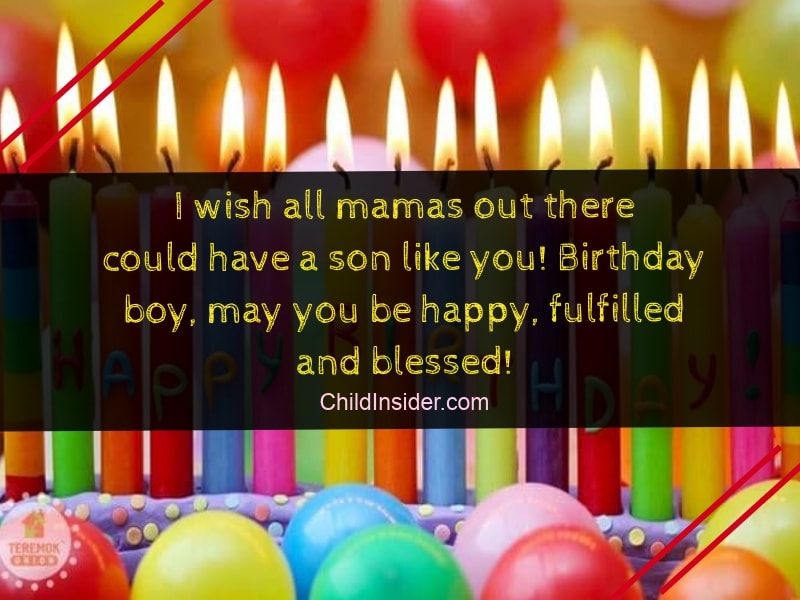 24. Delivering you was hard, but raising you was the easiest thing to do! Happy birthday, my son, I love you more than words can say!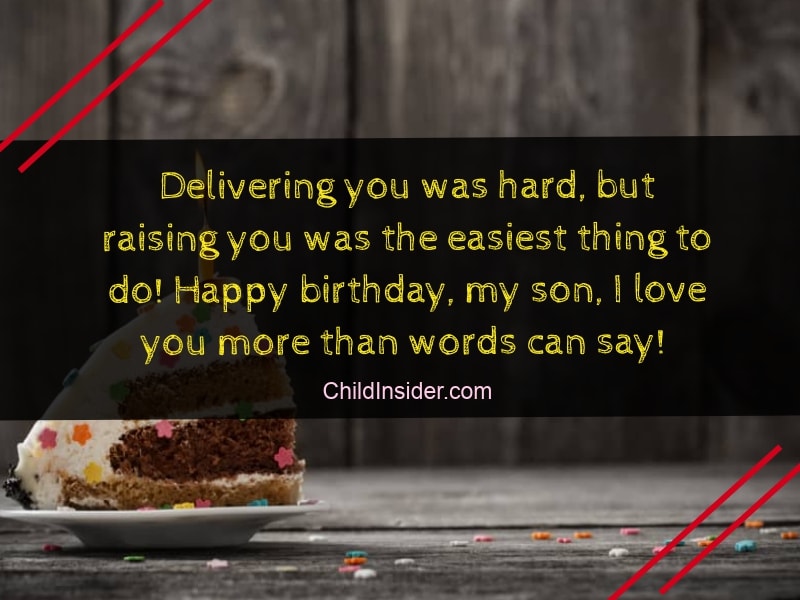 25. Birthday boy, you stole my heart from day 1, and I am proud to call myself your mom! Love you for eternity!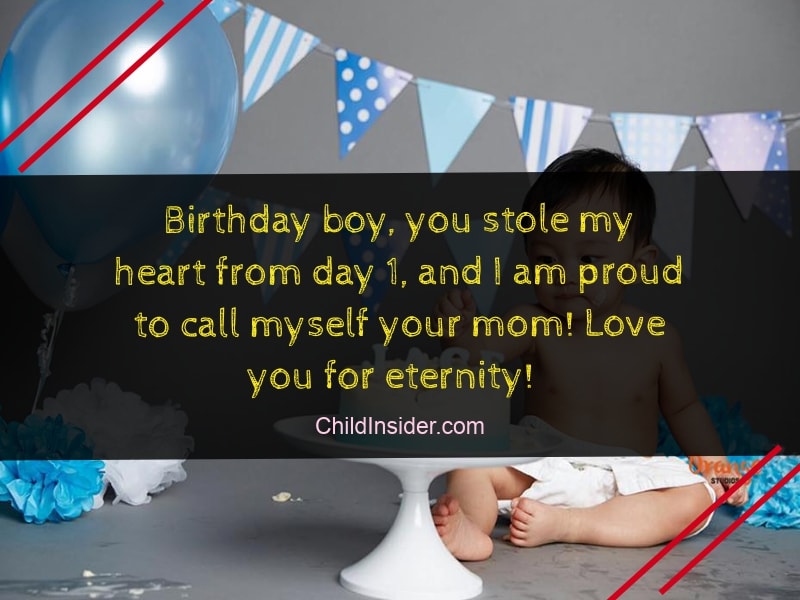 Beautiful Quotes from Mother to Son on His Birthday
Why wish your son a happy birthday with a beautiful message? Why not! Who else would open her arms to welcome her son back, even when she's old and frail? Only a mother would provide love so true and pure. This is why the wish quotes from a mother to her son on his birthday is so meaningful. He may be out having fun with his friends on his birthday as he gets older, but it's his mother that would welcome him home with a well-cooked meal. Here are some more happy birthday son quotes and messages with images to wish your son as a mother. Wish happy birthday to your son like the best mother in the world!
26. My dear son, you've grown! You're a boy that I am proud of today. Happy Birthday, My Boy!
27. Sons grow into men with every passing year but in my heart, you will always be my little boy. Happy Birthday, Son!
28. I cannot be prouder of you than I already am today. Happy birthday, my son, and may God bless you .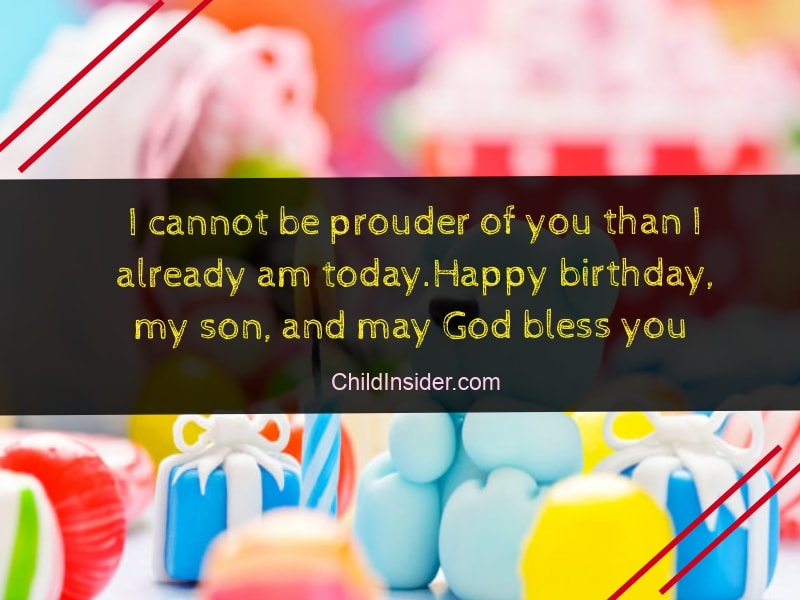 29. You've grown up to make me such a proud mother today, and I love you for that. Happy Birthday my son!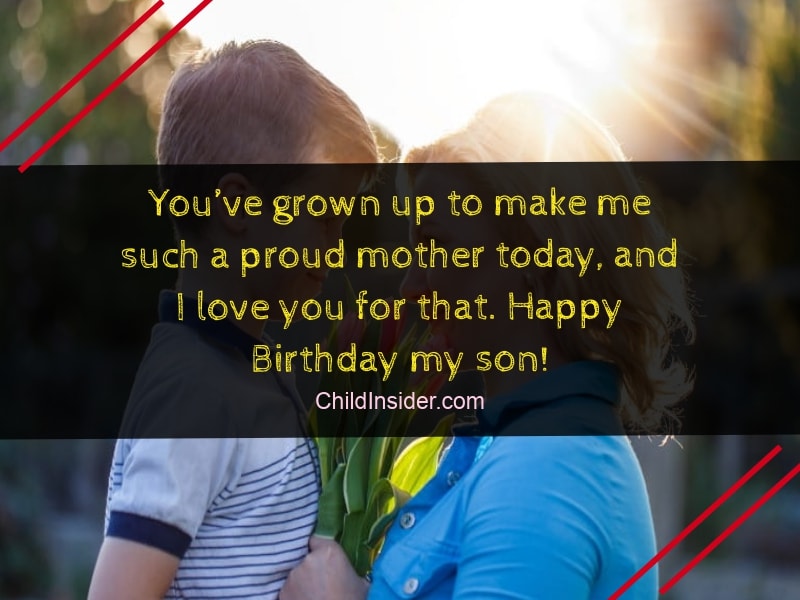 30. Dear son, you're growing up! Happy birthday to you, and may you be blessed with an abundance of joy, laughter and love in your life.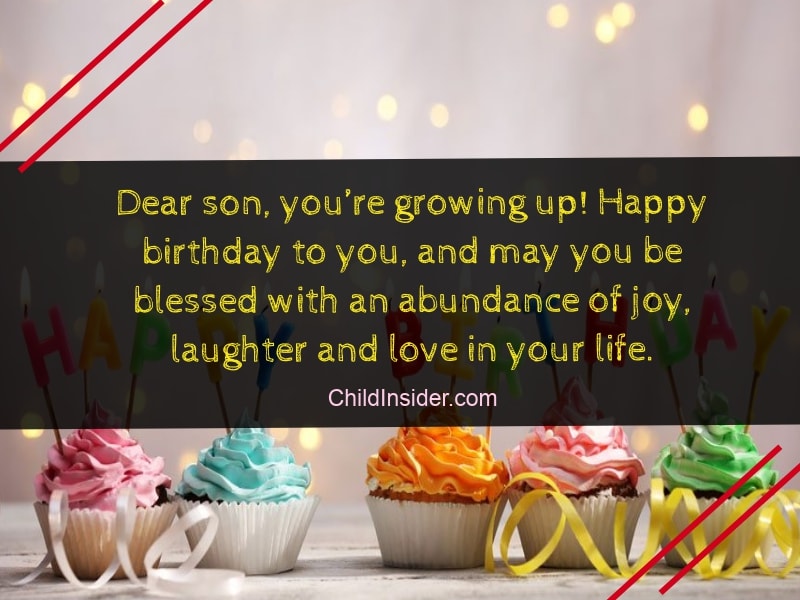 31. H appy birthday son. As always, I will wish you the best of everything and success of life.
32. Son, you have brought me so much joy and laughter. I hope that you will be blessed with the same happiness that you have given me.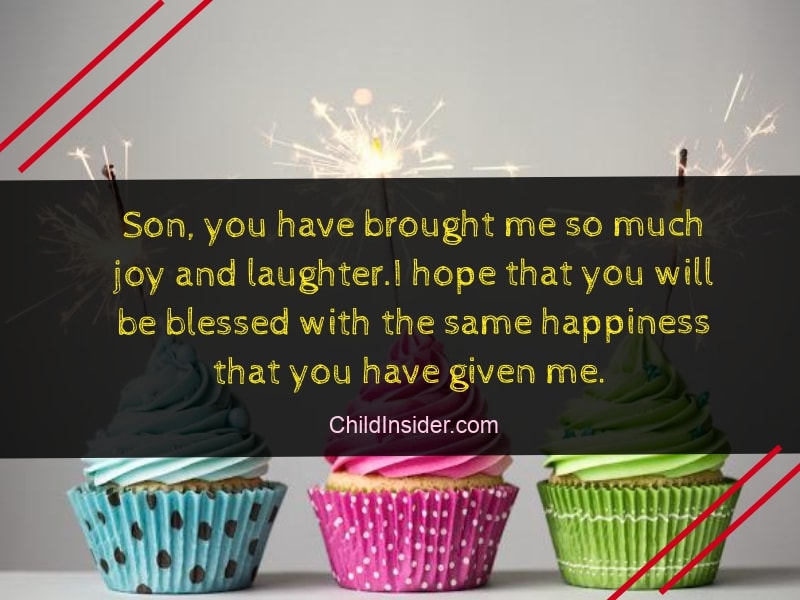 33. You are loved for the bright little boy you were, the wonderful man that you are now and the best son that you will always be to me.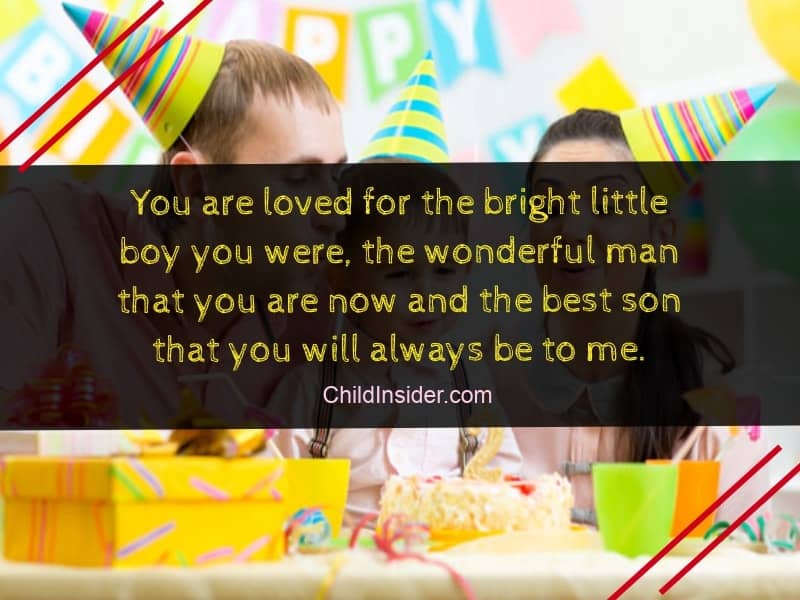 34. Here's to the best son that a mother could ever wish for! May all the choices that you make in life lead you to great bounds of joy.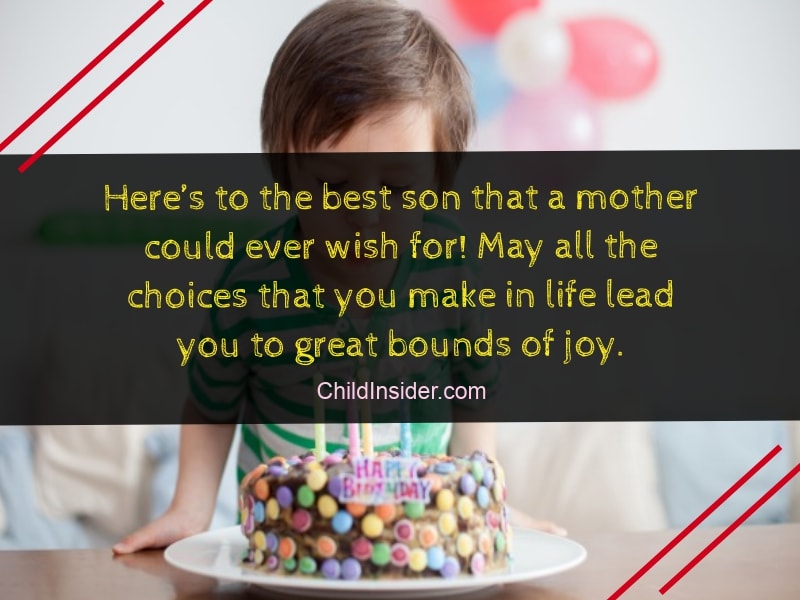 35. For your birthday, I wish you strength to face challenges and the emphatic heart to be kind to others.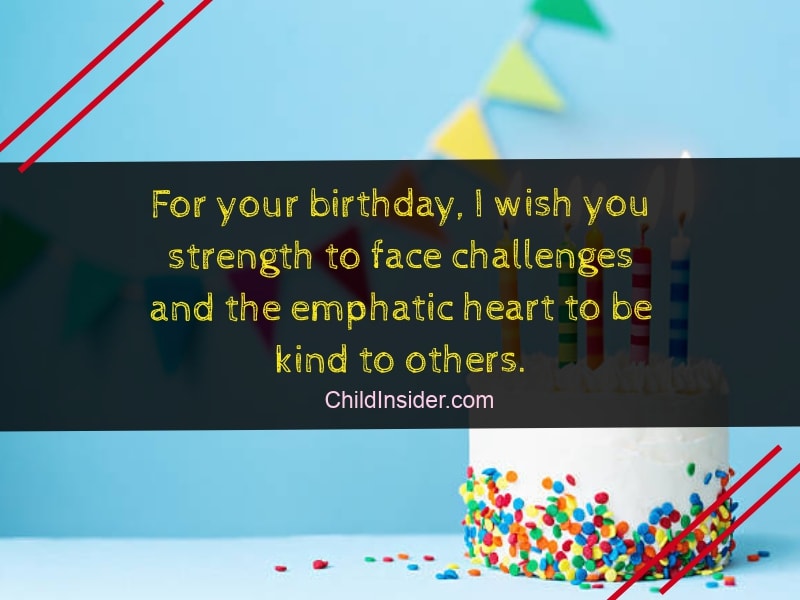 More Birthday Messages With Images for Your Son
Even if the son may not be aware of how his mother is doing the best for him, she always is. She will show her love to her son through simple gestures, loving and well-thought birthday wishes, to list a few. In this article, we'll share with you some amazing birthday quotes for son from a mother to express your love and wishes in the most lovable words possible.
36. Every passing year reminds me of that blissful moment when you became my son. I love you.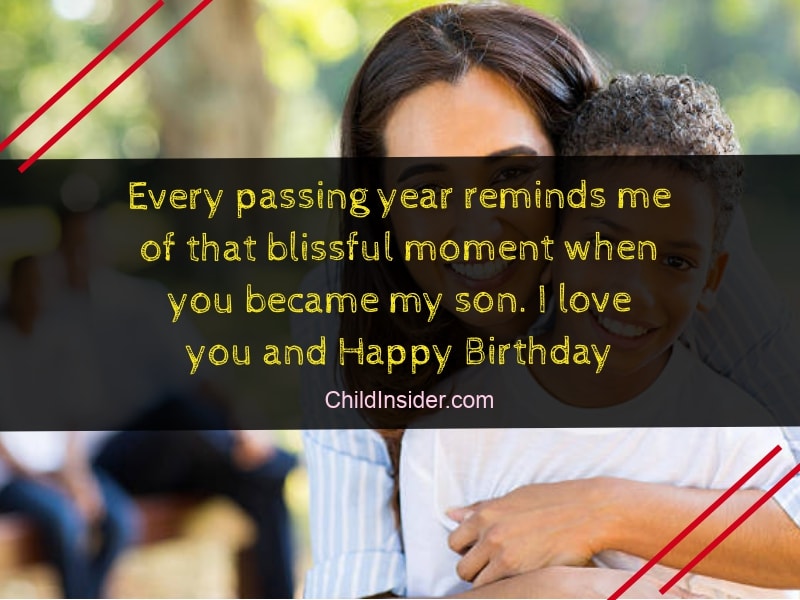 37. My dear son, being a parent is a hard task but you have made it so easy for me!H appy Birthday My Sweet Boy!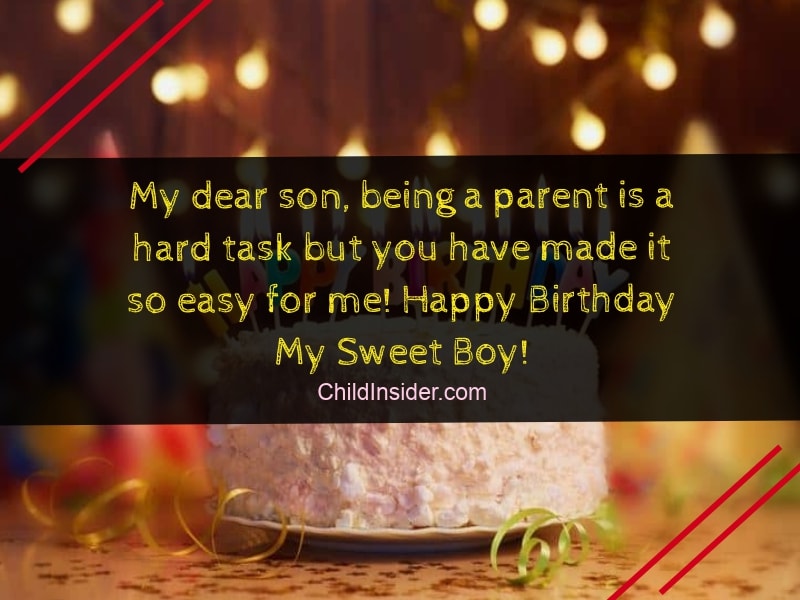 38. Praise the Lord for he has bestowed this wonderful blessing upon me. Happy birthday son, and I hope that this will be the best day ever for you.
39. In more ways than one, you have taught me the art of tolerance and forgiveness. Happy birthday my son.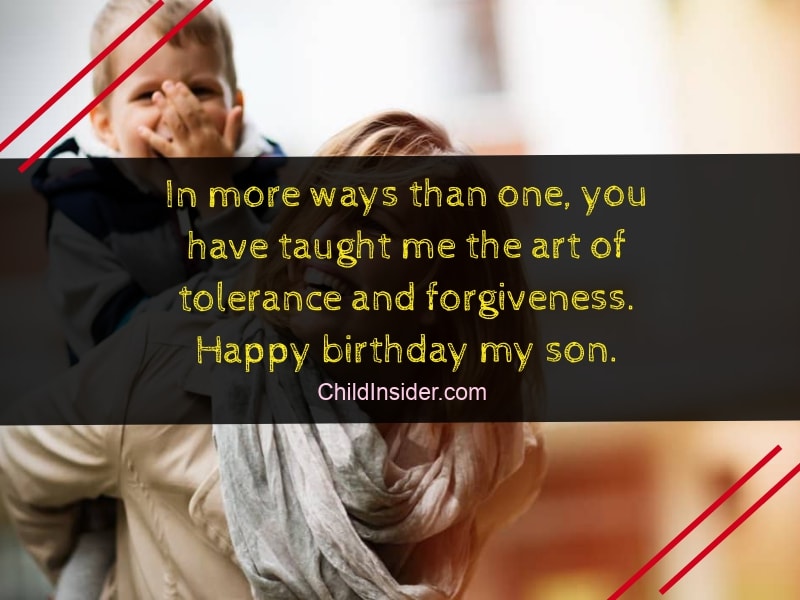 40. Your birthda, is a reminder that you are the reason why growing old has been so easy for me. Happy birthday my dear son.
41. May you get everything that you wished for, with your heart pure and your courage burning strong. Happy birthday dear son!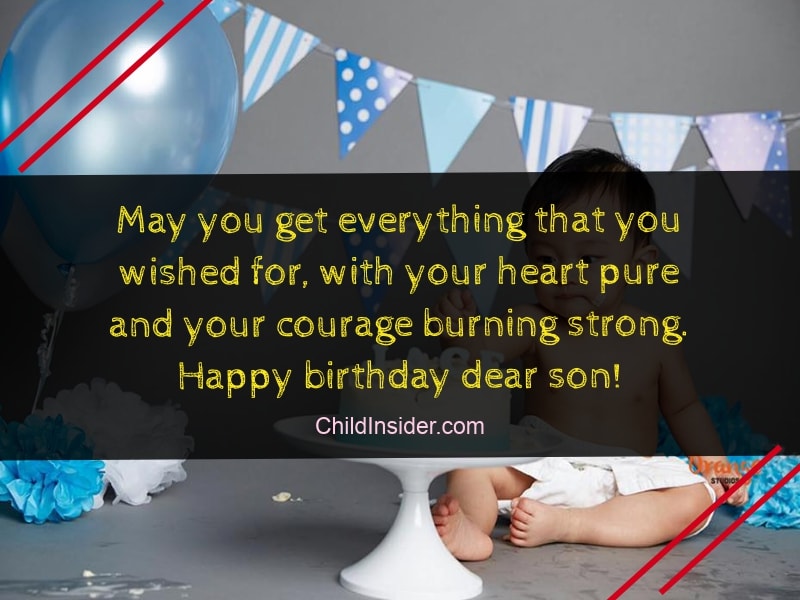 42. How can I be so lucky to have a wonderful gifted son like you? Happy birthday and thank you for being such a good son to me.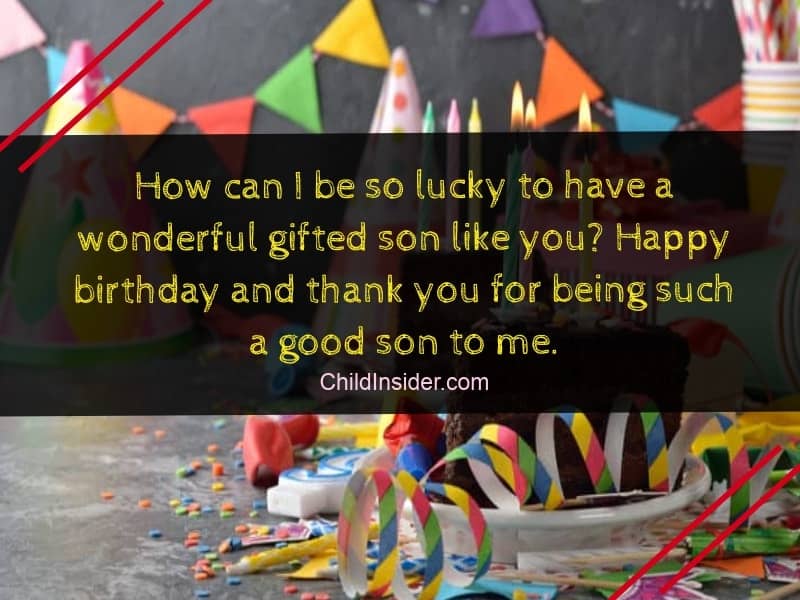 43. Whether you succeed or if you fail, always remember to give life your best shot. Best wishes and blessings to the star in my life.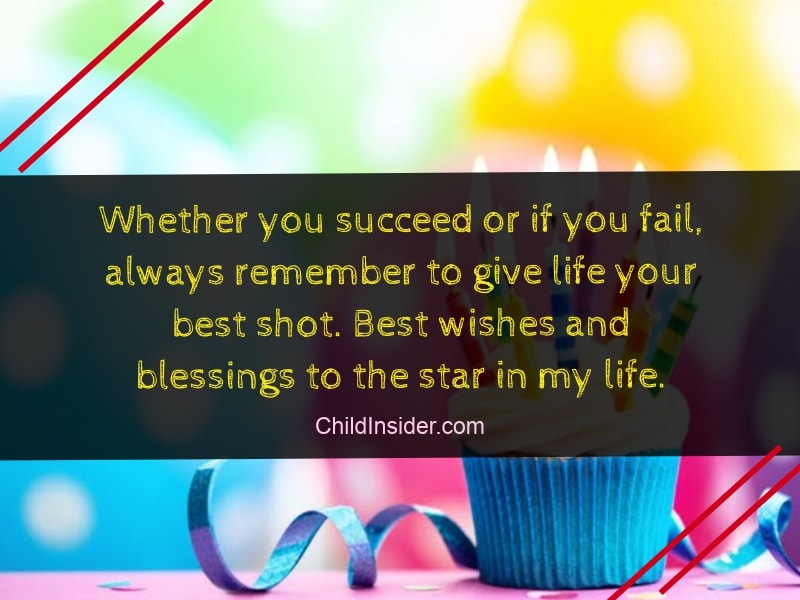 44. You made me so happy when you realized my dreams on the day you became my son. Cheers to another great birthday celebration!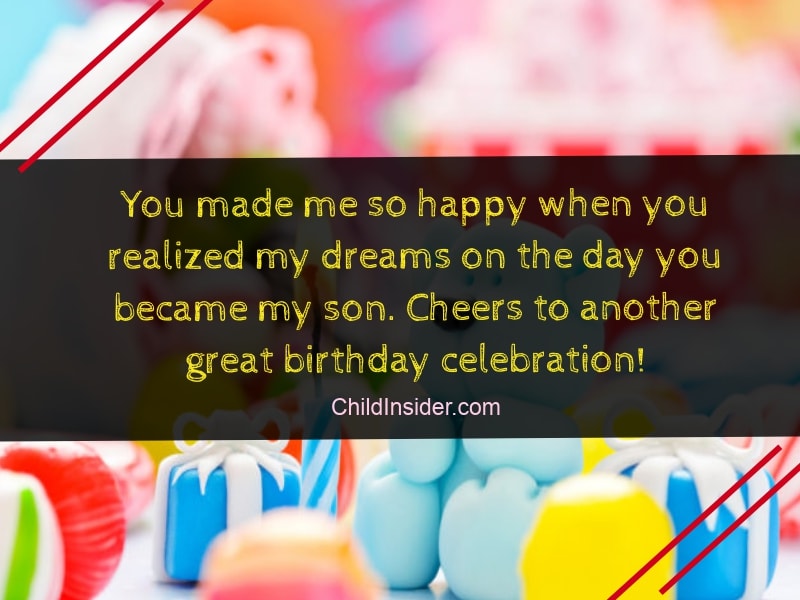 45. I'm so proud of everything that you have achieved all these past years my son, Happy Birthday!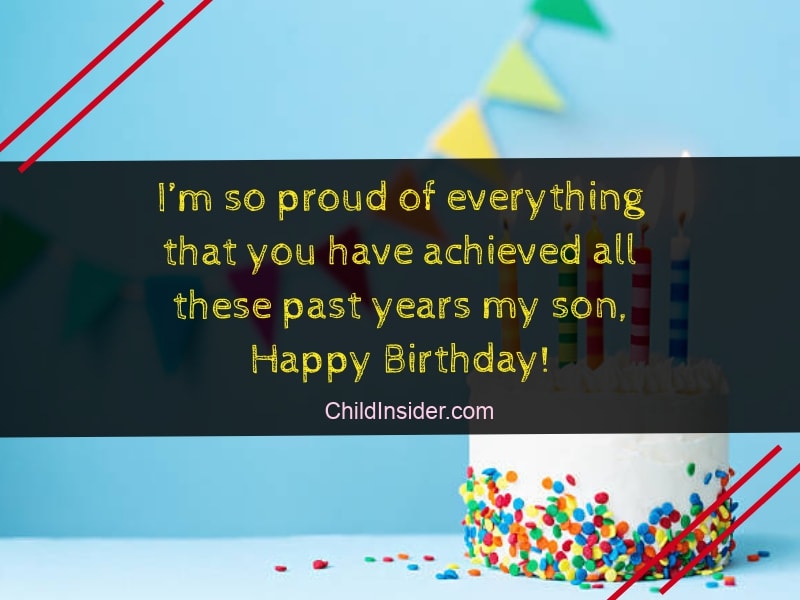 46. You are one of the greatest proofs that God answers prayers. Happy birthday my beloved son!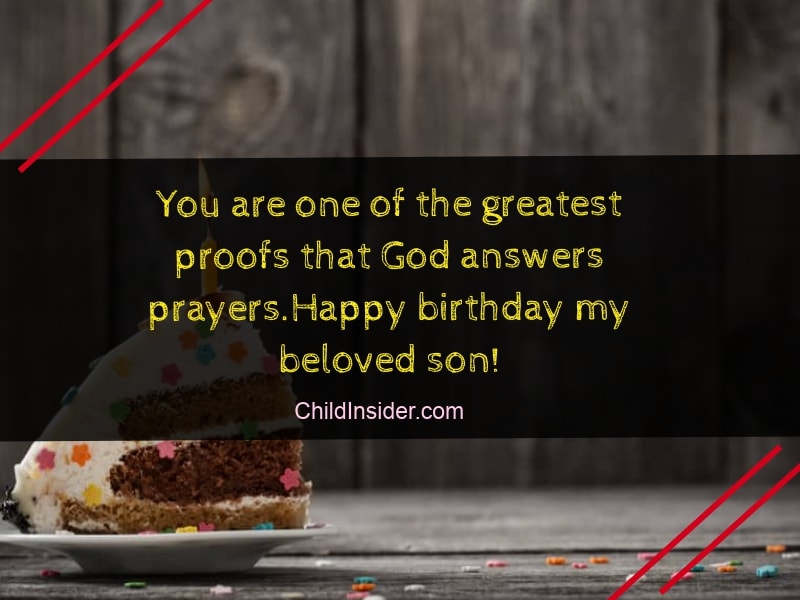 47. I didn't teach you to be the perfect son, but you have taught me to be the best mother that I can be. Happy Birthday My Son!
48. Happy Birthday, My Boy! God sent an angel down my way 10 years ago. That's a blessing I'm always thankful for.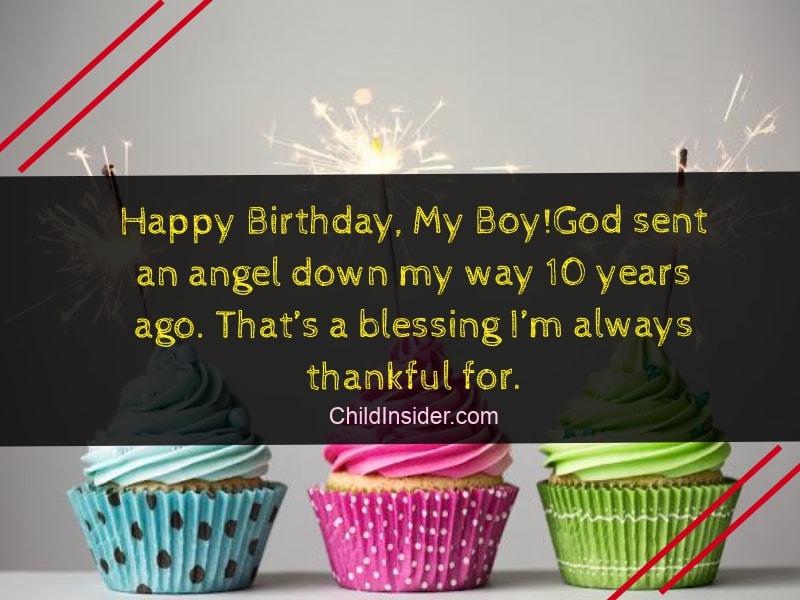 49. Happy birthday to my dearest boy. Not a day goes by, without me thinking that how empty my life would have been if not for you.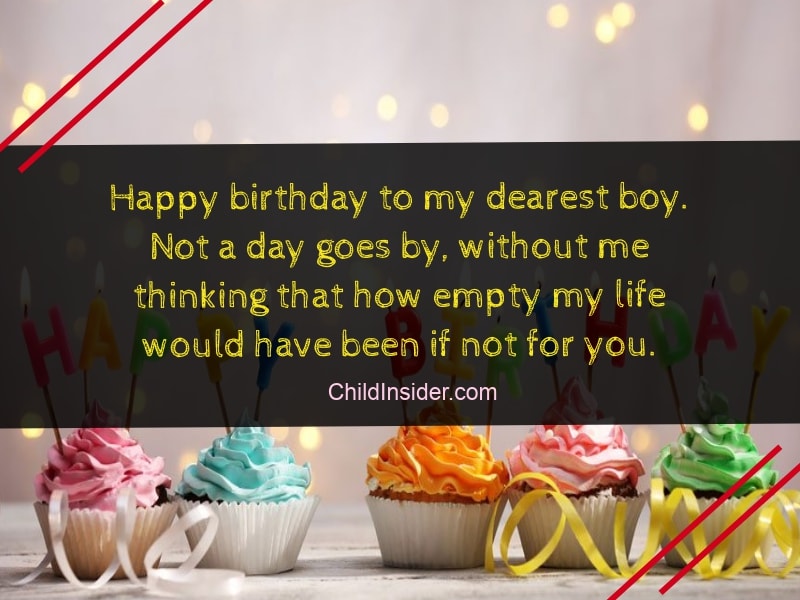 50. I will always be proud to call you my son. Happy birthday!
Which of these 50 quotes from a mother to her son on his birthday touched you the most? Let us know in the comment section, or simple share it on your social media pages! Maybe another mother would find it an inspirational message for her own son next!