Sometimes boys do seem to have it much easier; their haircuts are simple, stylish and extremely practical which may be why you are searching for boy haircuts for girls.
Girls are getting wise to the fact that boy haircuts can be so much easier to maintain and convey heaps of personality.
So whether you've got a tomboy on your hands or just a cool chick who knows her own mind we'll sure you'll find something to suit.
Trendy Boy Haircut Ideas for Girls
If you are a short hair lover girl, this list of girl's boy haircuts is only for you.
1. Shaved Sides with Longer on Top
For those who still want a bit of length on top to style, but are bold enough to brave the clippers this style offers the best of both worlds. With the addition of shaved haircut in patterns, it packs tonnes of personality into a very practical and wearable hairstyle.
2. Shorter Sides and Long on Top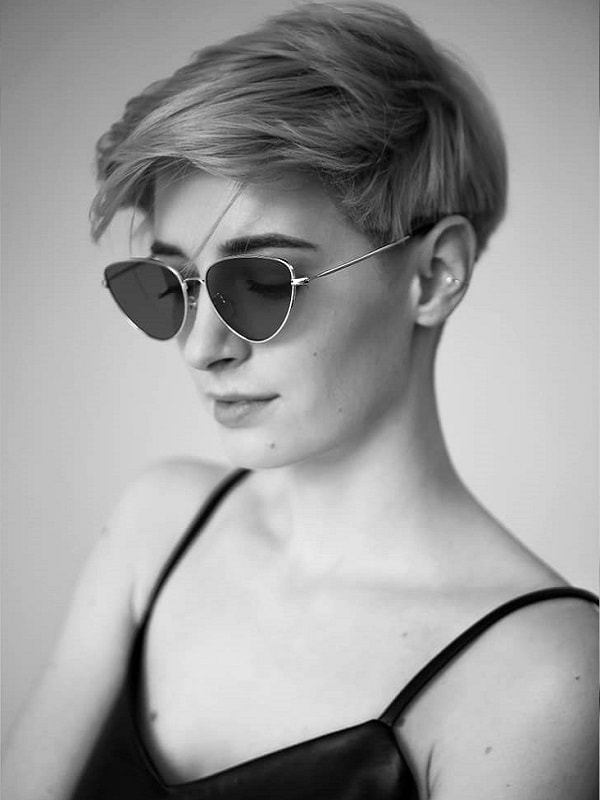 This style packs in tonnes of texture with varying lengths that can be styled as the wearer want, a nod to a comb-over here, but with plenty of volumes. This girl's boy haircut is super easy to style and gives off a really laid-back vibe.
3. Quiff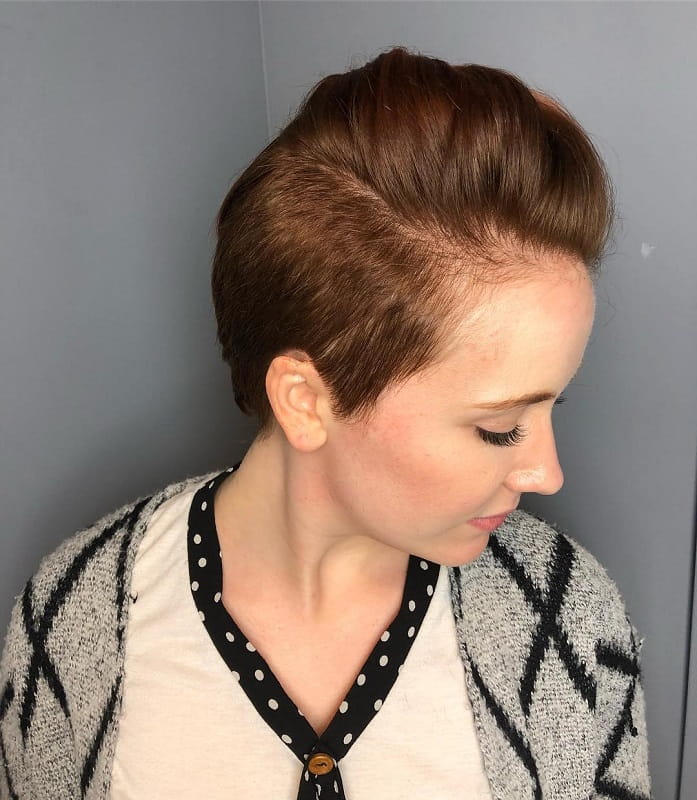 Keeping the sides short makes this boy cut hairstyle super practical and low maintenance whilst the longer lengths of the quiff on top give something to experiment with and style. The volume afforded by the quiff also adds a little femininity and softness to the look.
4. Same Length All Over Curls
Cropping curls so that they sit well takes skill, but this style makes curls much easier to manage and keeps them looking neat. Boy haircuts for black girls are super trendy and curly hair doesn't need to exclude anyone from choosing these styles.
5. Short Blue Hair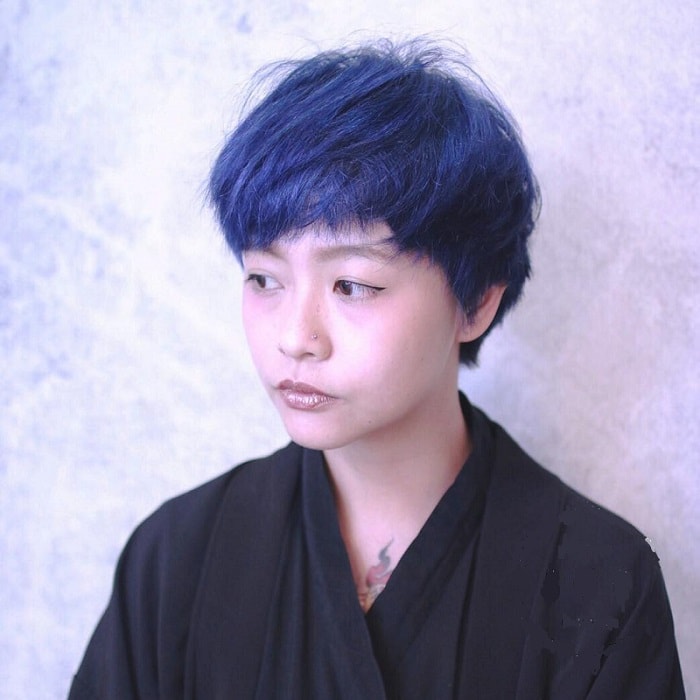 A short haircut doesn't need to be boring! Adding pops of color whether with a permanent dye or temporary sprays and chalk can add interest to a shorter style.
Here the texture of the hair and the color work together really well to give a wispy, ethereal look.
6. Messy Quiff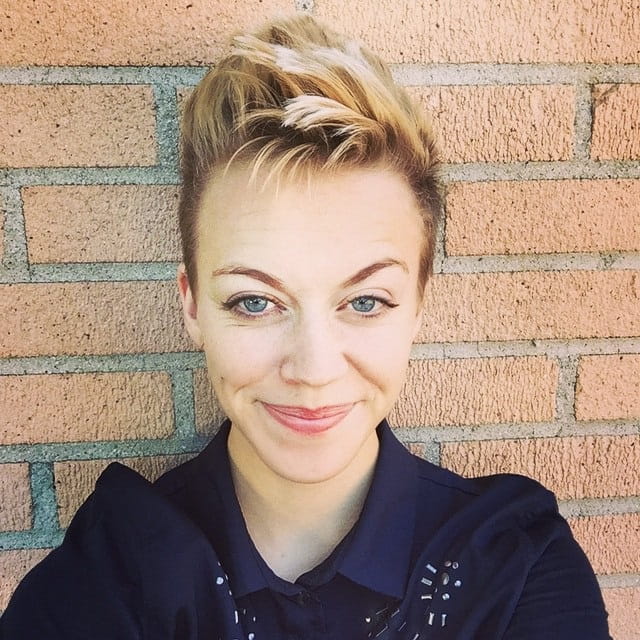 Boy haircut for girls can be really edgy and this is a great example of that. Using the longer lengths of the quiff and lots of product a spiky, straight-up look can be achieved.
You'll need to experiment with different products to see what works with the texture of your hair to give the hold you need, but when you get results like this it's definitely worth a bit of trial and error.
7. Undercut with Longer Front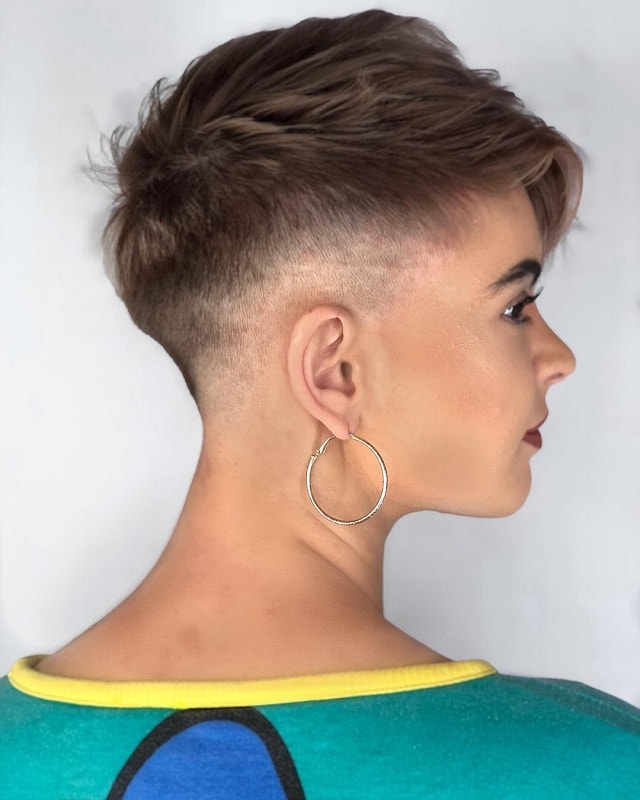 The graduated nature of this undercut and the fading adds some femininity to the look, as does the soft, longer front to the hair.
This is a style that can really enhance and highlight the bone structure of the face by keeping the sides of the hair well out of the way, which again plays up the feminine aspect.
8. Short Layered Pixie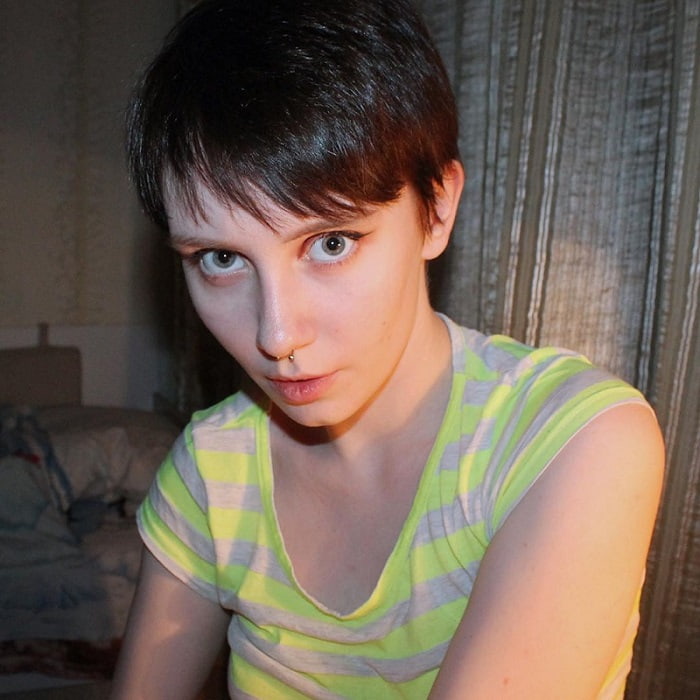 Short layered hair can be really useful in boy haircuts for girls. Even when hair is pretty short layers are still possible, and they add volume and interest to the hair and allow it to sit more softly around the face.
Layers can also be used to blend around the ears to disguise them somewhat if they are prominent.
9. Showstopper Shaving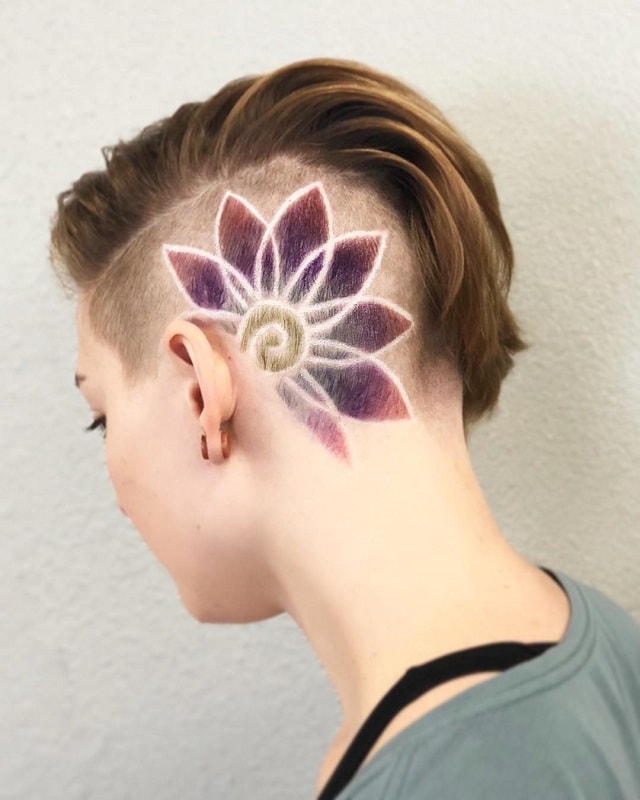 If you're after a real statement of a boy hairstyle this may be it. As well as long lengths on top which can be styled as you wish, and short shaved sides this style features a showstopper of shaved patterns and combines this with color to add a real wow factor!
This style is best suited to those with heaps of confidence who don't mind talking to passers-by and commenting on how amazing it is.
10. Textured and Messy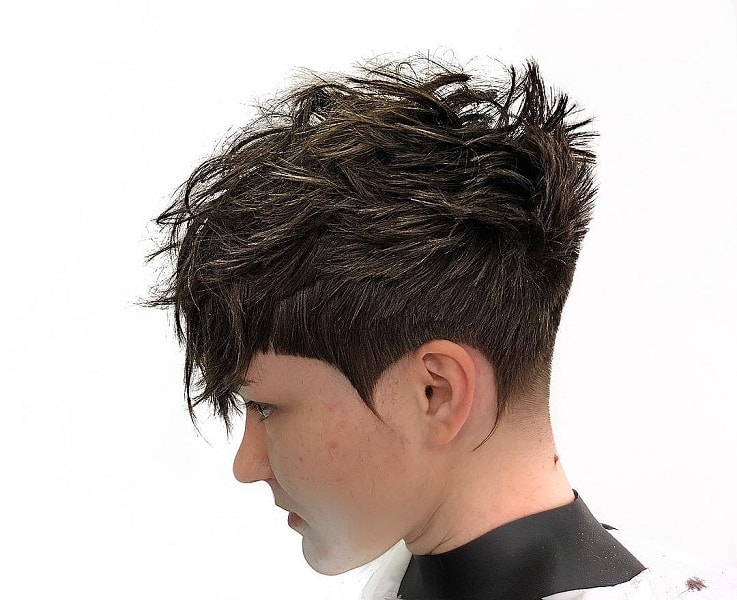 There's a lot going on with this style; this boy cut hairstyle for short-haired girls can pack in a lot of different style elements.
Notably, the pointed detailing around the ears adds a real uniqueness to the style and compliments the long lengths and textured look, and juxtaposes the shaved edges.
11. Comb Over Quiff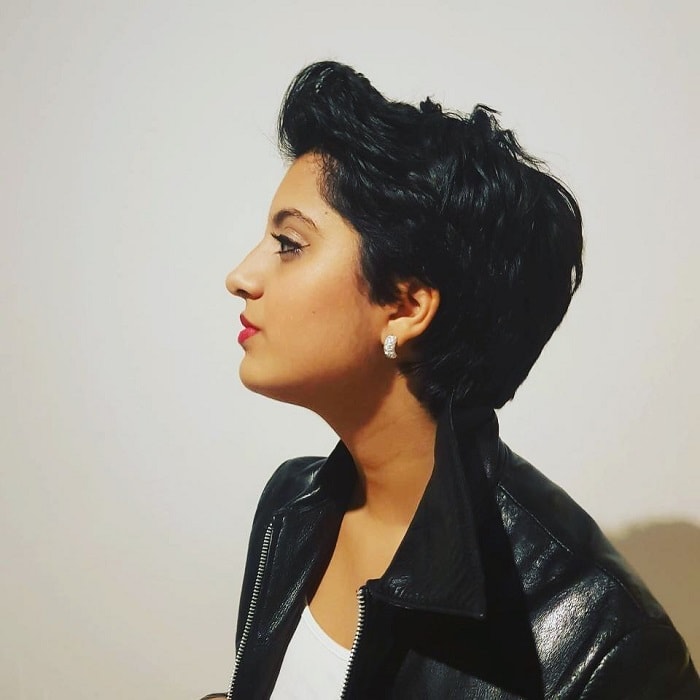 This stylish look does require a bit of time in the morning, but it can easily be achieved using just your fingers. The extra length towards the front of the hair is styled using hair product to stand upwards and is then brushed over to one side, this achieves a voluminous look without being spiky.
12. Longer Pixie Cut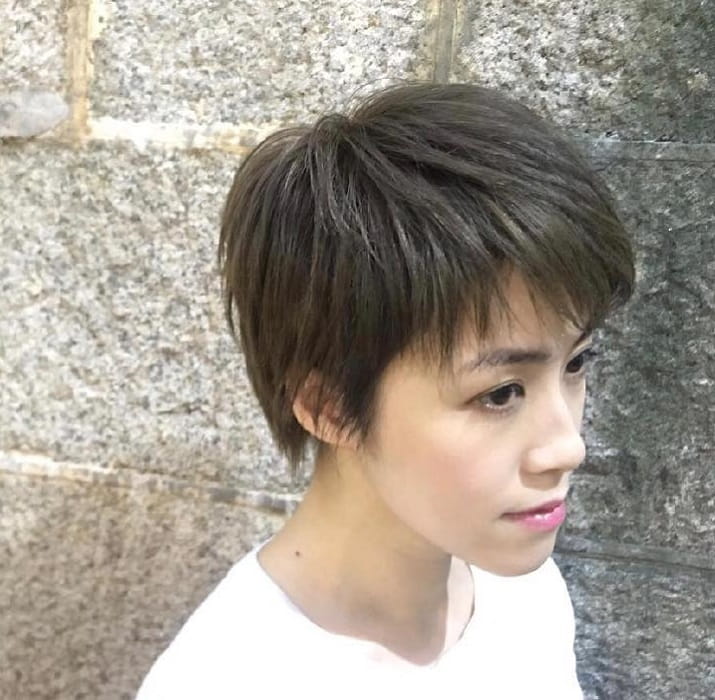 Before the pixie cut became popular this would have been considered a boy haircut, but the pixie popularised haircuts for girls and is still an absolute classic style.
13. Casual Look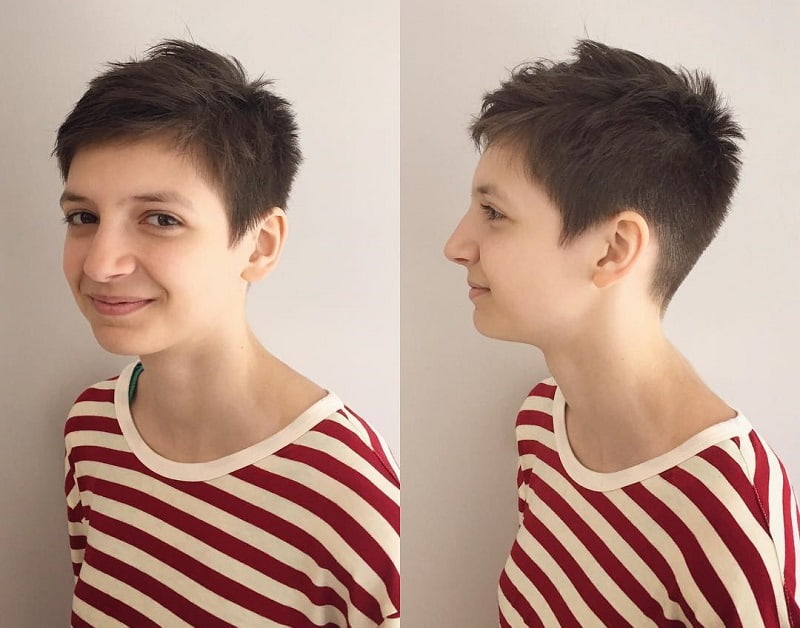 This short hairstyle look can be dressed up or down as you wish. On the one hand, it can be a super casual just rolled out of bed look, whilst on the other, with a bit of product and careful styling it can be suitable for a special occasion look too.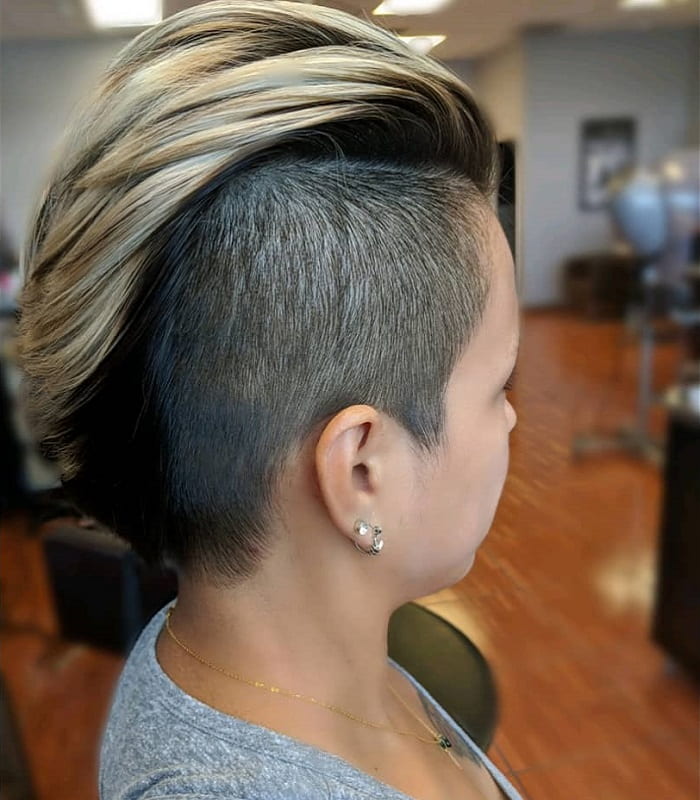 With it's shaved sides and a long strip of hair on top, the Mohawk is easily recognizable and iconic. It started life as a boy's haircut but is gradually making the shift into the trend of hairstyles for girls and rightly so!
It has heaps of personality and looks as trendy on girls as it does on boys.
15. Buzz Cut with Fade
As it sounds the 'temple fade' style involves fading the hair around the temples. This adds interest to a shorter shave look or can be used around the sides with longer lengths on top. It also looks really lovely on girls with curly, textured hair.
16. Mohawk with Shaved Sides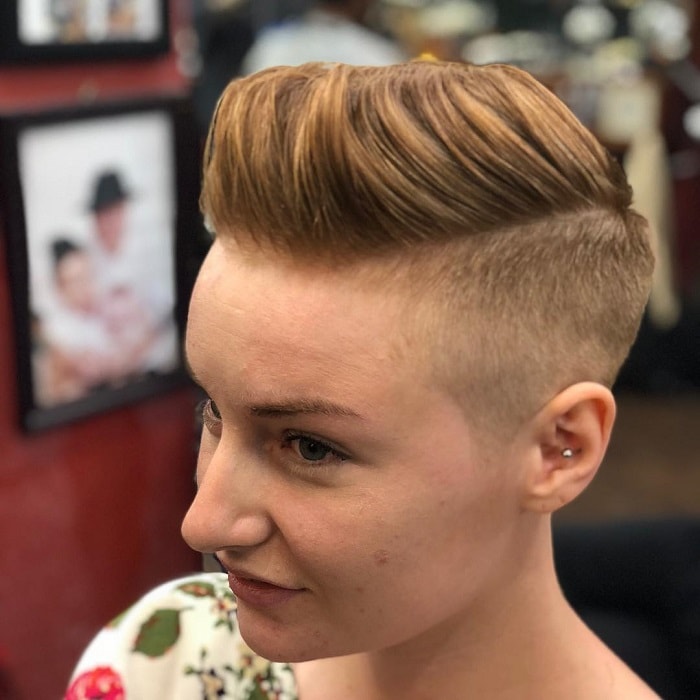 Another twist with the hipster hairstyle, using clippers on the side to exaggerate the look, this mohawk is wide and carries on back.
Lots of product will be required to hold the upright look, but styling can be done pretty quickly with some practice, with the buzzed sides all of your time and attention can go on getting the quiff into shape.
17. Buzzed One Side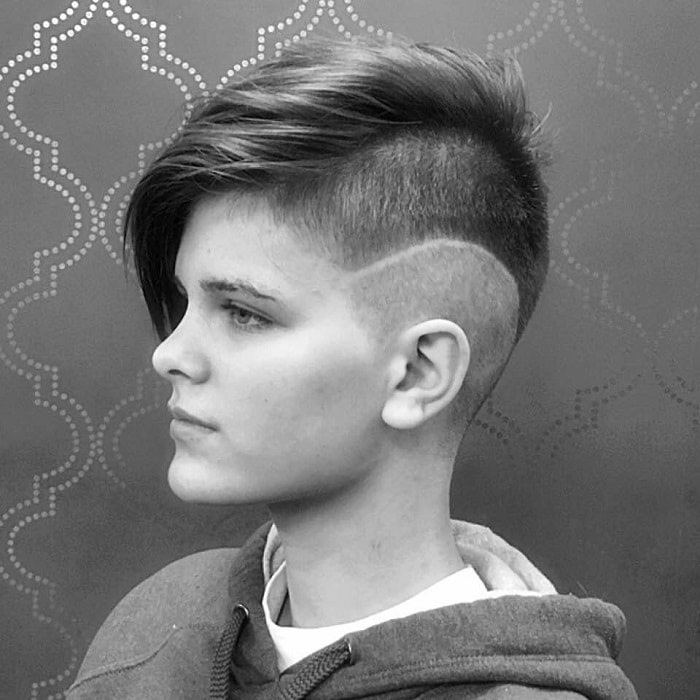 A look of two halves; taking the clippers to one side of the head and shaving it super short before fading back into long lengths on the other side of the head is an effective way of combining the best of both worlds!
This girl's boy haircut aims to do just that, often putting a feminine twist on a traditionally male style.
18. Curly Lengths on Top
Short sides and longer lengths on top is a popular look for both boys and girls and if you have curls that need showing off then it works even better. The texture of curly hair lends itself to this style making it look softer and more feminine.
19. Pixie with Asymmetric Fringe
This boy haircut for girls was super popular with the 'emo' look of the 00s and the asymmetric fringe has lived on because it can be super flattering whilst also seeming very on-trend and edgy.
20. Colored Mohawk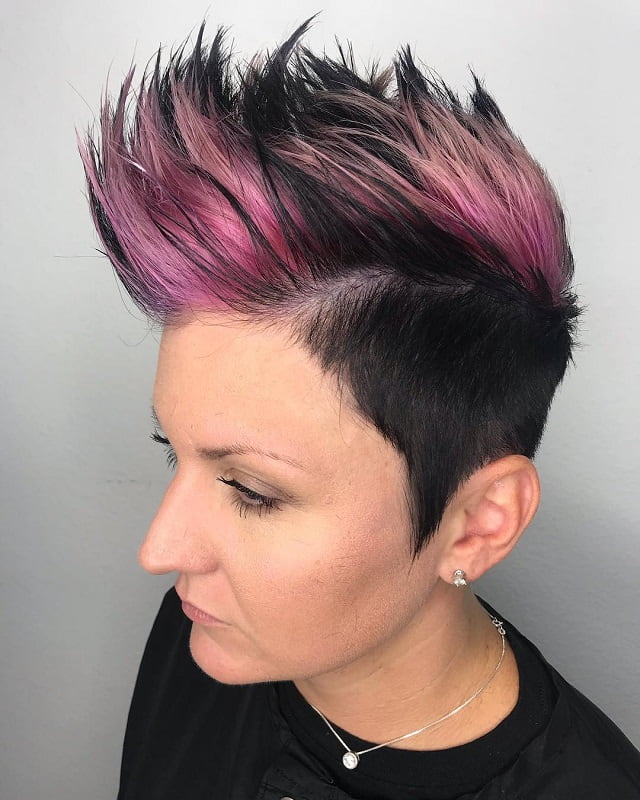 As if the Mohawk wasn't statementing enough in itself! If you want more of a wow then add in some color and you are sure to turn heads; this is a bold statement of a style, perfect for big, bold personalities.
Boy haircuts for girls can be super edgy statement styles, or, with a little feminine twist on a classic boy style, they can be soft and girly highlighting feminine bone structure and beauty. Whichever look you are going for you are sure to find the style to match it.