Sure, long flowy locks can look adorable but when it comes to convenience, short haircuts for little girls are where it is at!
Between tangles and the maintenance required for long hairstyles to look their best on children who are often too young to take care of them themselves, it is no wonder why parents often opt for shorter styles.
That said, short doesn't mean boring!
Just because her hair is shorter does not mean that your little girl will not be able to express her personality.
On the contrary, most haircuts for a little girl's short hair are the ideal set-up for adorable accessories to match her every mood and outfit, like hair bows, barrettes, and hairbands.
Not only your little girl will feel just as cute as her long-haired friends, but those accessories will also make her life so much easier.
You can even follow the trends and add a little temporary color if your daughter is up for it: so cute on a classic hairstyle!
Cute Short Hairstyles for Little Girls
The texture and the body of your little one's hair will undoubtedly play a determining role in what kind of haircut is best for your little girl.
However, there are so many to choose from that you and your daughter are sure to find one you will both love.
From romantic bobs, as long or short as you (or they!) want to mischievous pixies or edgy styles, there is something for everyone.
Here are some of our favorite short haircuts for little girls.
1. Graduated Pixie Cut
This sweet short hairstyle is perfect if you want your little girl to keep some longer strands to frame her face. The side bangs provide the length needed around the face whilst the layered back has tonnes of texture and needs very little doing to it on those rushed mornings!
2. Bob With Side Swept Fringe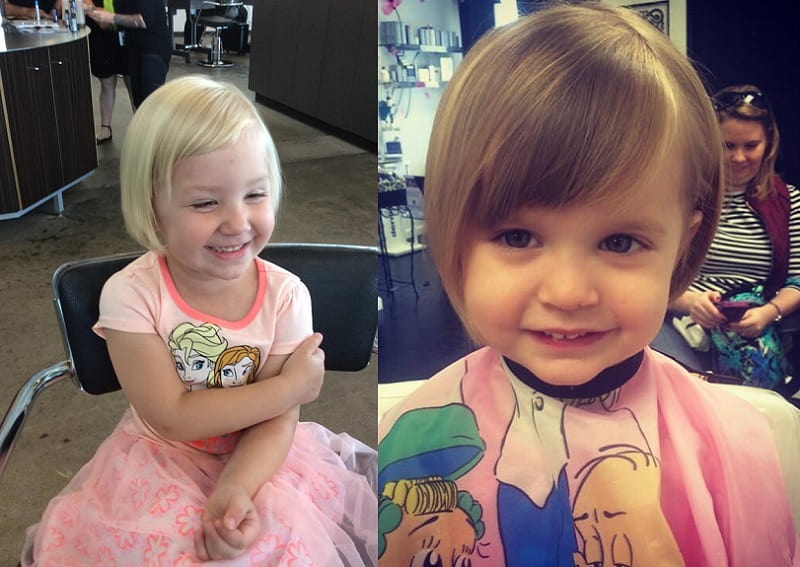 The bob is one of the most classic haircuts for little girls with short hair because it is so simple and sweet. A side-swept fringe like in these photos adds some extra interest and length around the face; it is also super-trendy!
3. Tamed Curls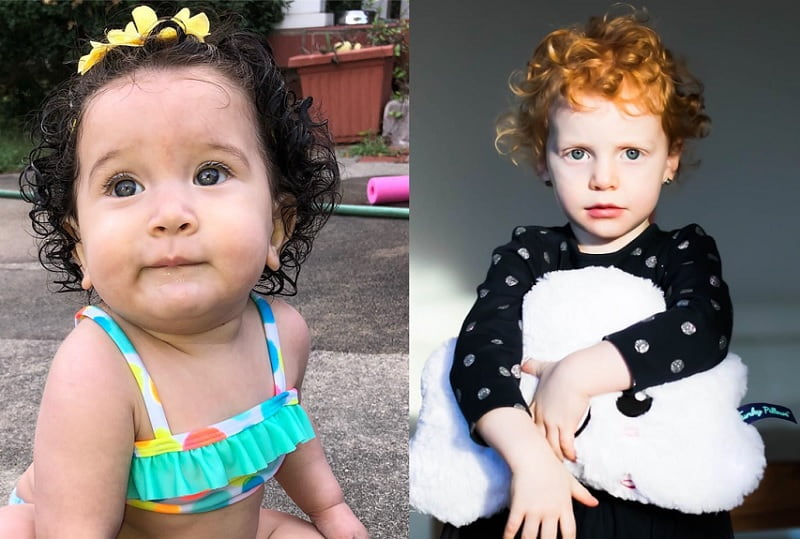 If your little girl has natural curls don't shy away from them! As beautiful as they are, curls do have a tendency to get messy and tangled which is one reason that a shorter cut may be ideal.
Short hairstyles for little or toddler girls with curly hair will neaten up their look and without the weight of long hair pulling the curls out your little one's hair is likely to look even curlier.
4. Waves with Highlights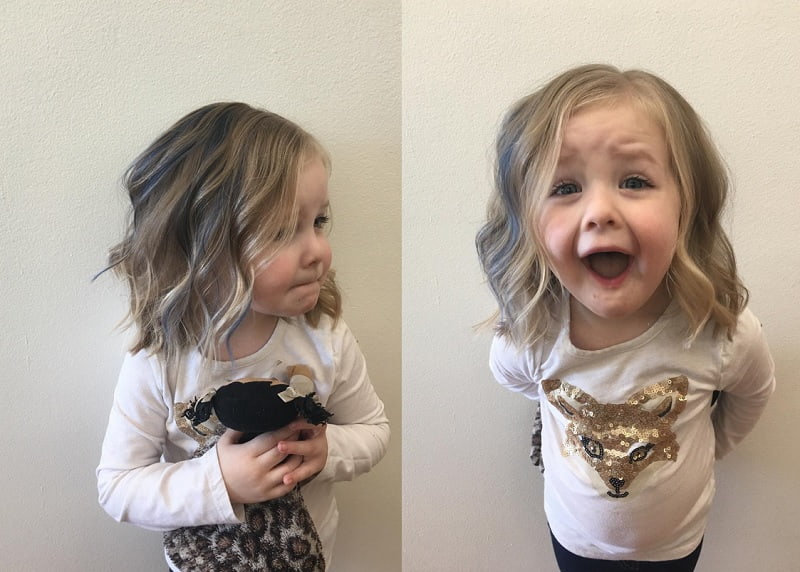 Add texture to little girls short hairstyles by adding, or embracing waves. If your little girl has naturally wavy hair then allowing it to air dry is all you need to do but if your little one's hair is naturally straight you can curl it in the same way as your own with a wand, straighteners or curling tongs.
However, if you don't fancy using heat on your little girl's hair, leaving it in chunky braids overnight may have the same effect.
5. Long Bob
Short haircuts for little girls don't come much cuter than this trendy long bob. The long bob became popular amongst mums with good reason; it looks great but is super easy to maintain.
6. Pixie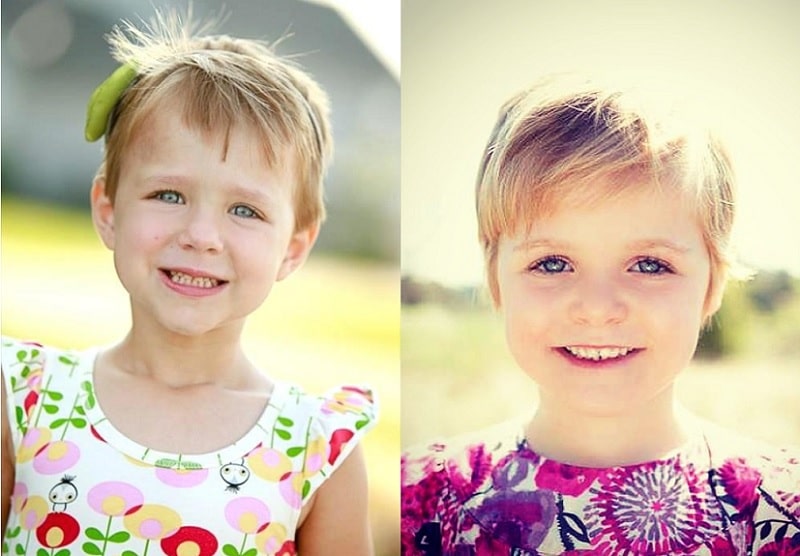 The pixie cut is a popular haircut, although it is quite a short haircut that little girls can sport and some may worry that it will look too severe on a younger girl. A talented hairdresser can add texture with layers to soften the look, and it is an extremely practical cut for young girls.
7. Graduated Bob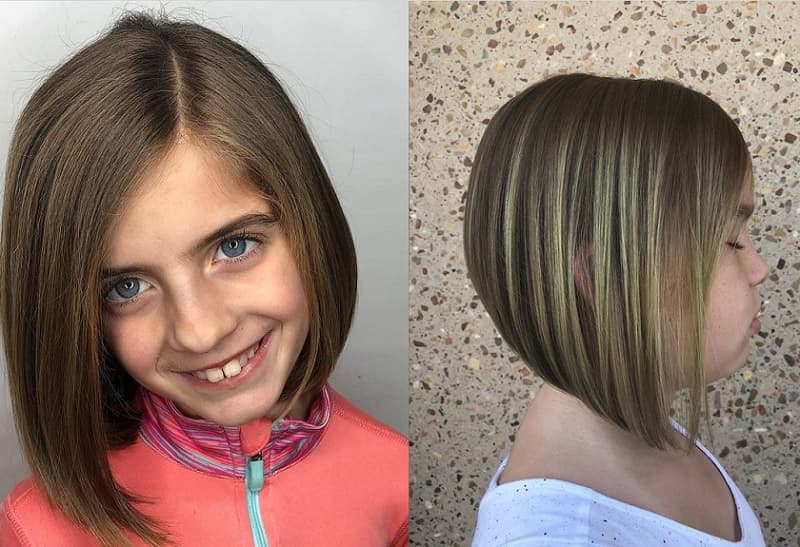 The graduated bob is quite edgy and yet many little girls can pull it off better than their adult counterparts!
Again, like many of the haircuts for little girls, this style leaves some longer hair around the face whilst gradually getting shorter towards the back.
8. Piggies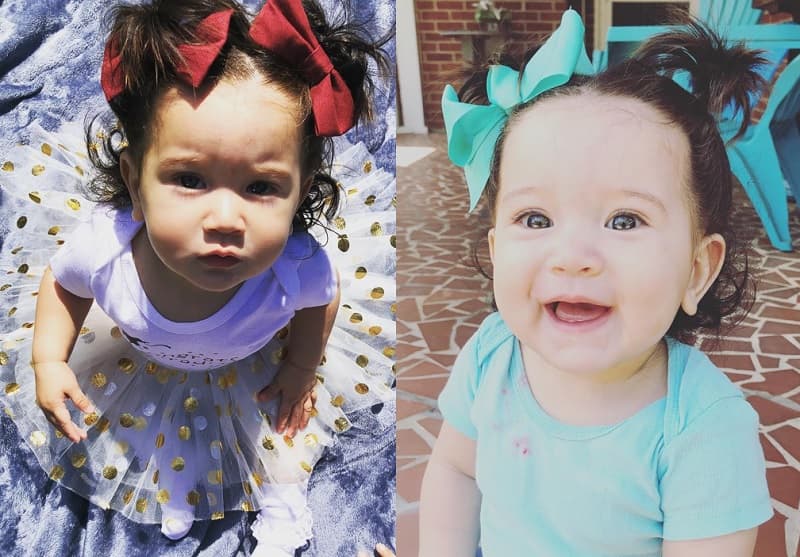 As your toddler girl's hair starts to grow it often reaches a stage where it's long enough to get in their eyes (and mouths!) but isn't long enough for a proper ponytail or braid; here is where you can use piggies.
There's no need for perfection, some elastics or soft hair ties can be used to secure the hair in little pigtails on top of the head; you don't need to get all of their hair into them and you probably won't be able to. Accessorise with sweet bows or sparkly slides.
9. High Ponytail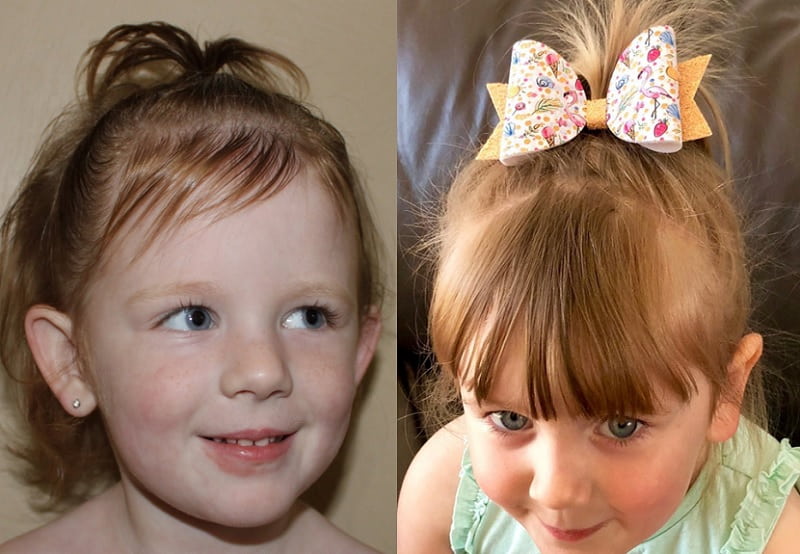 A super high ponytail can be used to keep little girls short hair out of their eyes. The height of the ponytail means that the hair falls down sideways like pineapple leaves and looks completely adorable. You can make it seem more put together with hair accessories like a pin.
Delightful Toddler Girls Haircuts with Bangs
10. Side Swoosh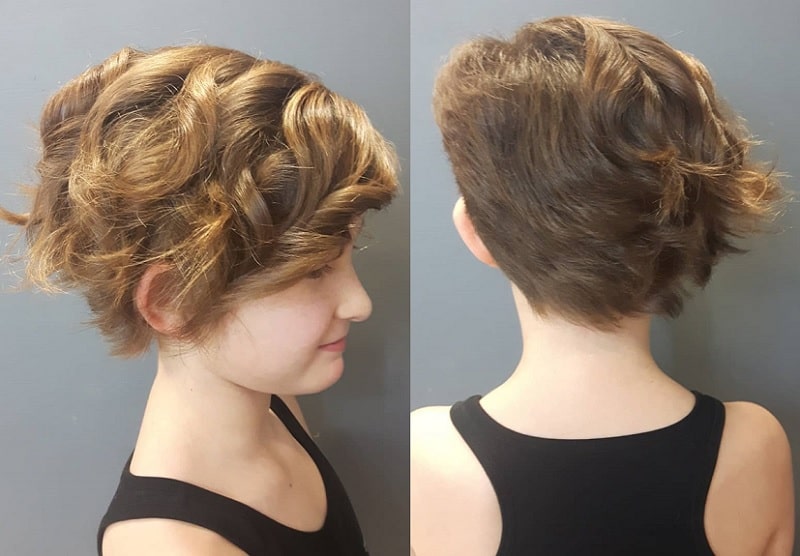 Cutting hair with an emphasis to one side is another very trendy option to leave a little length on a short haircut for 9 to 10-year-old girls. With the extra length, you can curl, tousle and tease to get the look that you, and your little girl, like.
11. Twists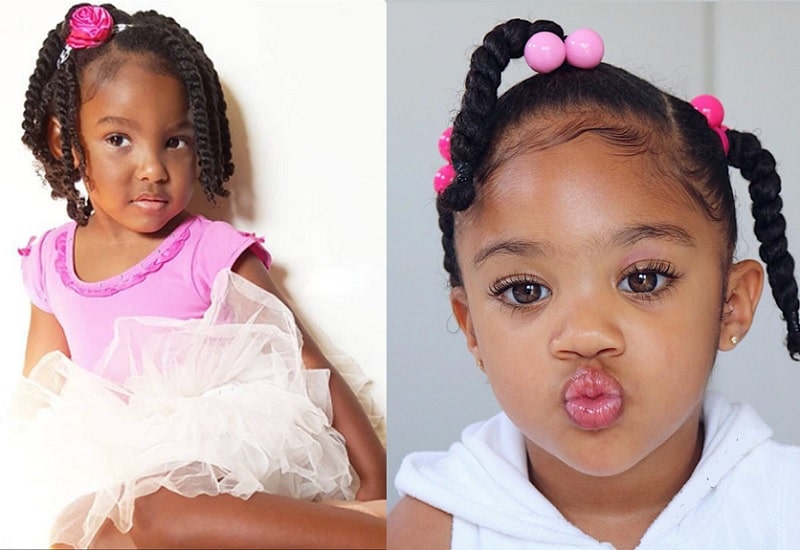 Doing twists in a little girl's short-length hair is another very popular option as there are tonnes of different twist styles and patterns that can be used; finding the one that suits your daughter's hair can take a little trial and error. Accessories can be used to dress the look up a little if desired.
12. Rock Chick Pixie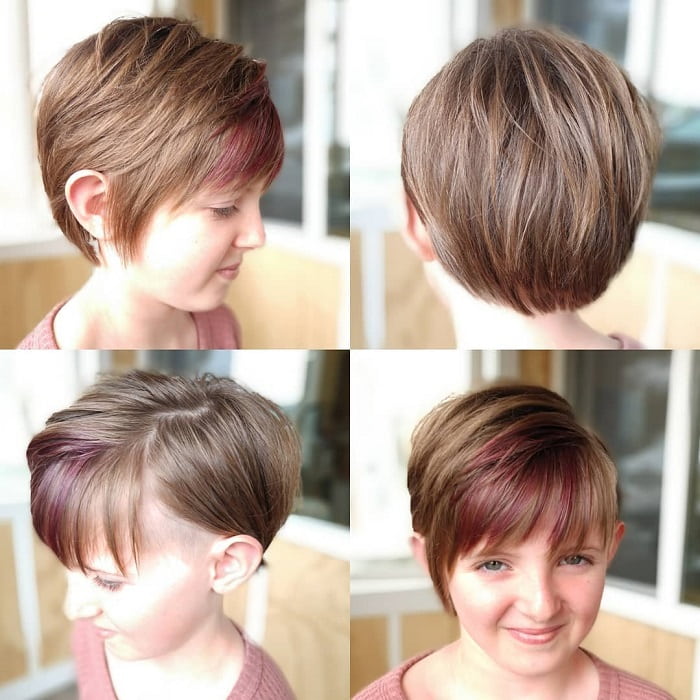 A longer pixie cut with texture and layers can be a perfect hairstyle for little girls. Talk to your hairdresser about leaving a fringe to frame the face and what kind of parting will suit your little girl best. If your little girl has an edgier side, hair chalks can be used to add a pop of color to this style!
13. Buzz Cut Accents with Side Shaved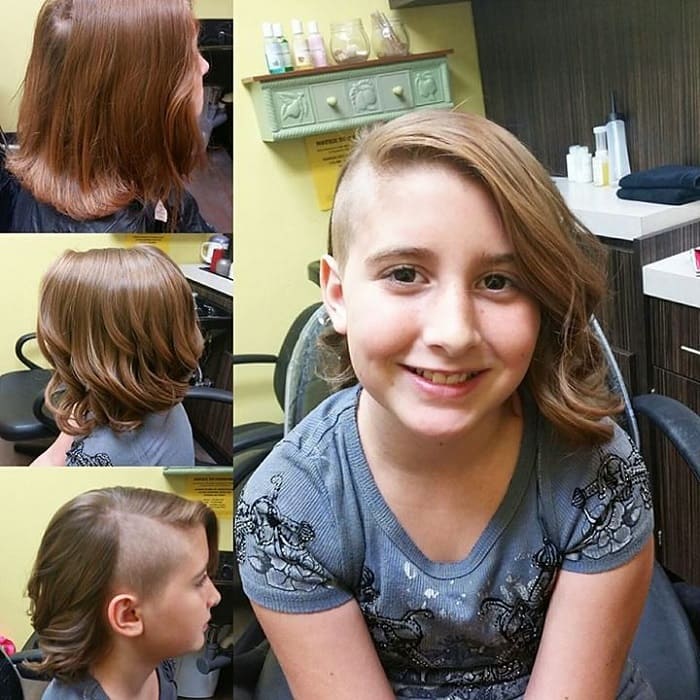 If your little girl is desperate for a buzz cut but wants to keep a bit of length maybe this is the compromise.
Using clippers to shave just some parts of the head and keeping the rest of the hair long and super feminine provides a really cute contrast and is actually right on trend at the moment.
If your little girl later decides to grow the style out, longer hair can be flipped over and used to disguise regrowth.
14. Half Braid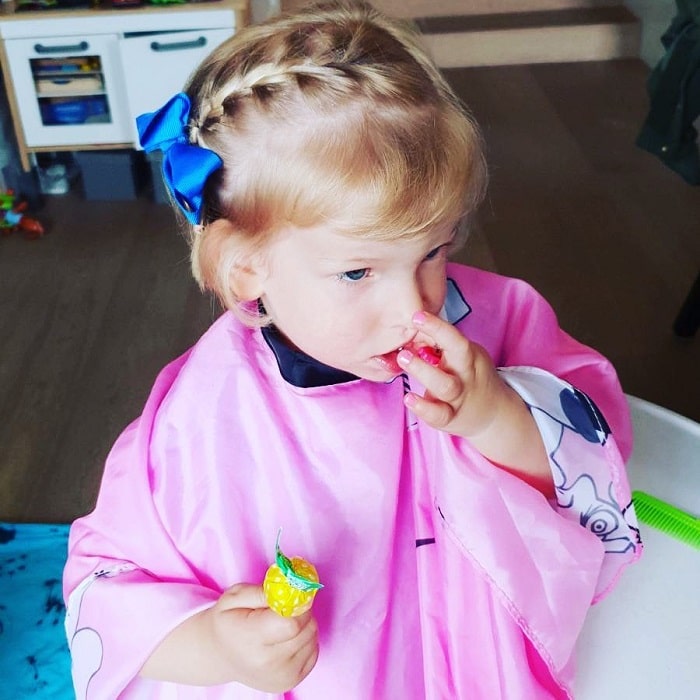 Using braids on a little girl's shorter hair can be a little tricky, especially if you aim to braid the entire length of the hair. But a braiding technique can be used to keep hair out of your little girl's eyes and add interest to a short style.
A French braid, such as the one shown, is a style that pleats the hair under itself.
15. Multiple Ponytails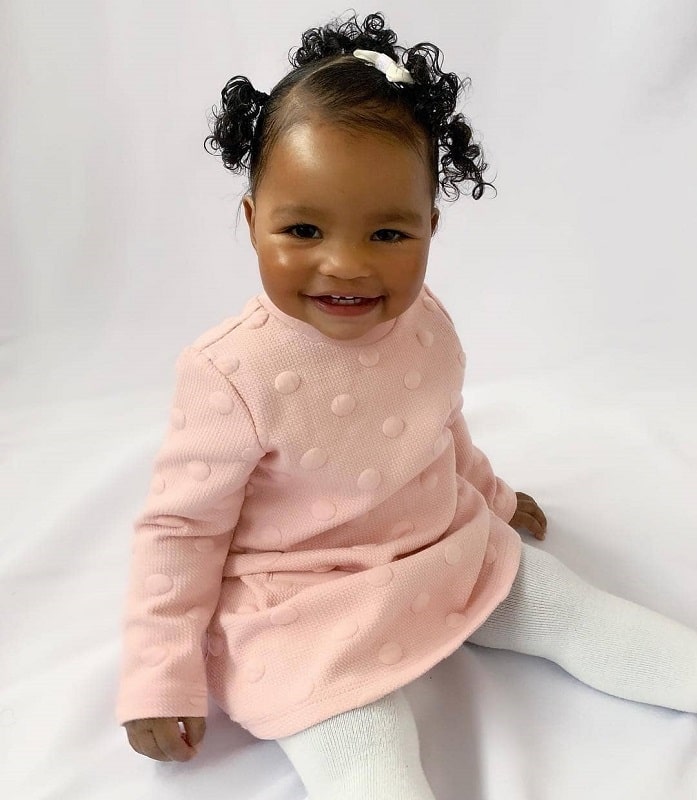 Similar to toddler piggies, ponytails can be used to secure hair that is mid-growth away from your toddler's face. There's no set number of ponytails that you have to use, just go with what works for your little one's hair.
The novelty of extra ponytails actually just makes the style extra cute. A cutesy short haircut for black baby girls.
16. One Side Buzzed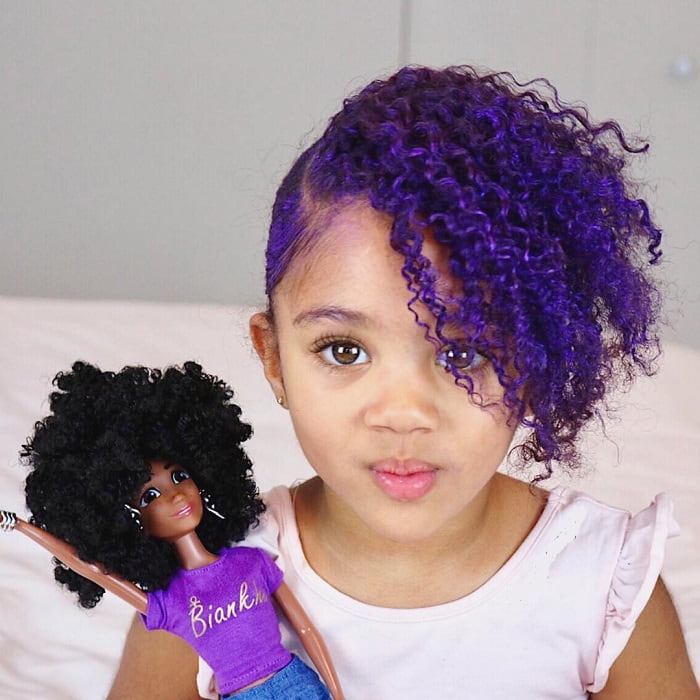 This short haircut for little girls is super cool; especially with the addition of color achieved by spray or hair chalks. The clippers shave one side of the head whilst lots of long hair is left and swept to the side.
If you don't fancy taking your little one's hair down to the scalp then you could always fake the look by tying it off to one side and plastering the hair close to the scalp with lots of hair gel!
17. Cornrow Mohawk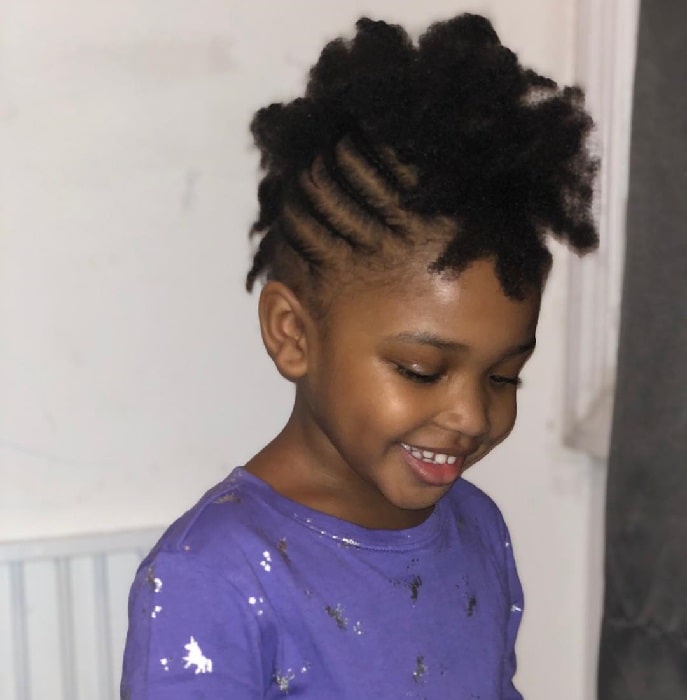 Using cornrows to achieve a shaved look to the side of the head and then leaving hair long and loose in the center gives the look of a mohawk hairstyle.
This is a very trendy short hair look for a little girl but doesn't permanently affect the hair in the way that a real mohawk would, meaning that you're not left with an awkward growing-out stage.
18. Graduated Bob with Curls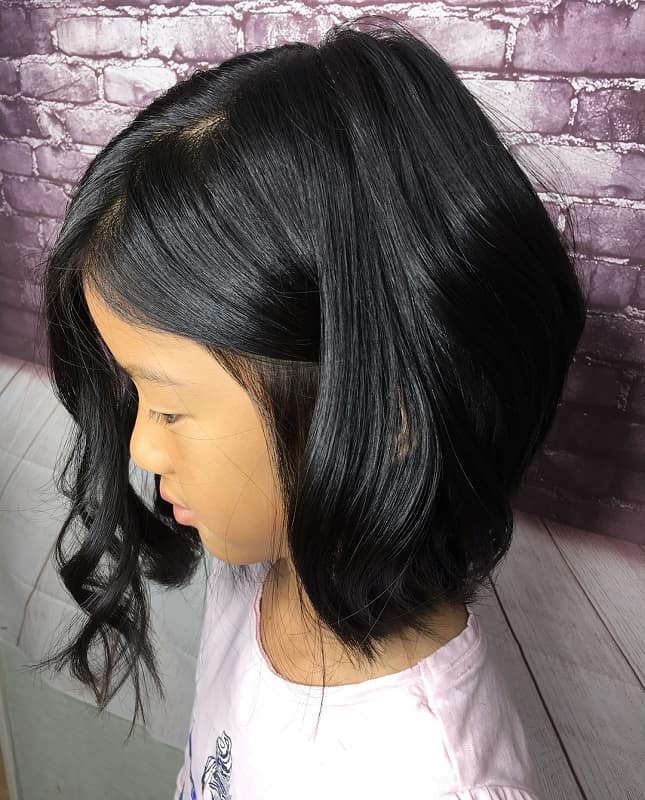 The graduated bob is a great hairstyle for little girls with short hair as it's very versatile and can be adapted to suit the needs of your little girl's hair and the occasion.
Here some curls and waves have been added to the front using heat for a slightly more dressed-up look.
19. Hair Accessories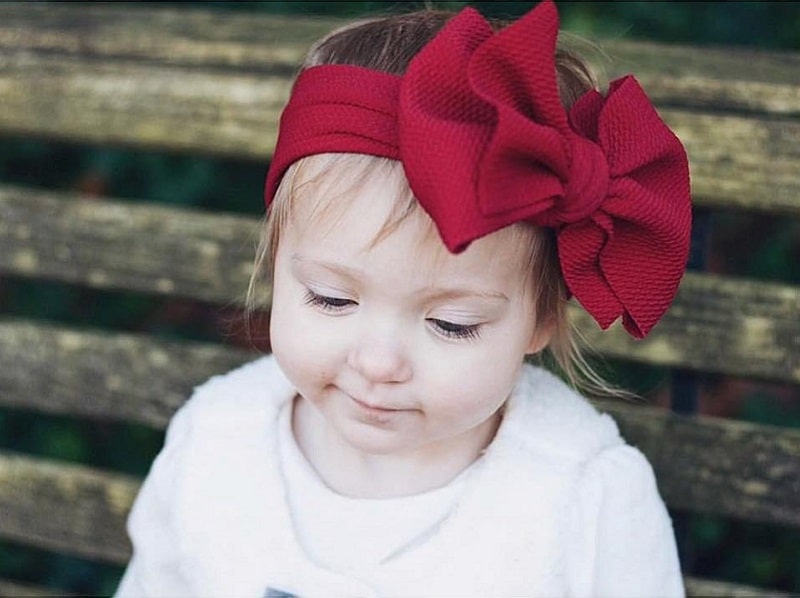 Using accessories like clips, bands, bows and wraps to hold your little girl's short hair back or add interest to it while it grows out a bit more is really easy to do. There are so many options on the market now that it's pretty simple to find something that matches their outfit.
20. Springy Curls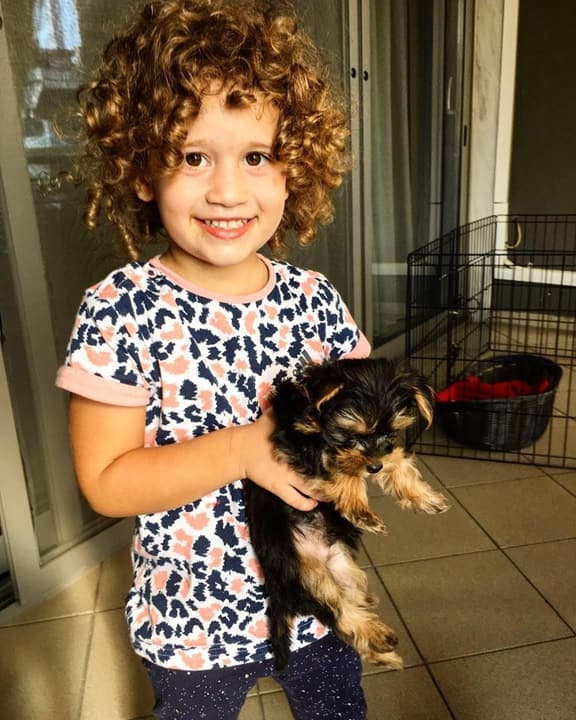 If your little girl has curls that are growing outwards; let them! Take care of curls by using specific methods of hair care, and products to keep them shiny, but on the whole, it's best to leave them alone.
Find a hairdresser who knows how to cut curly hair (it's different from straight hair!) and keep it maintained with regular trims.
21. Classic Bob with Straight Fringe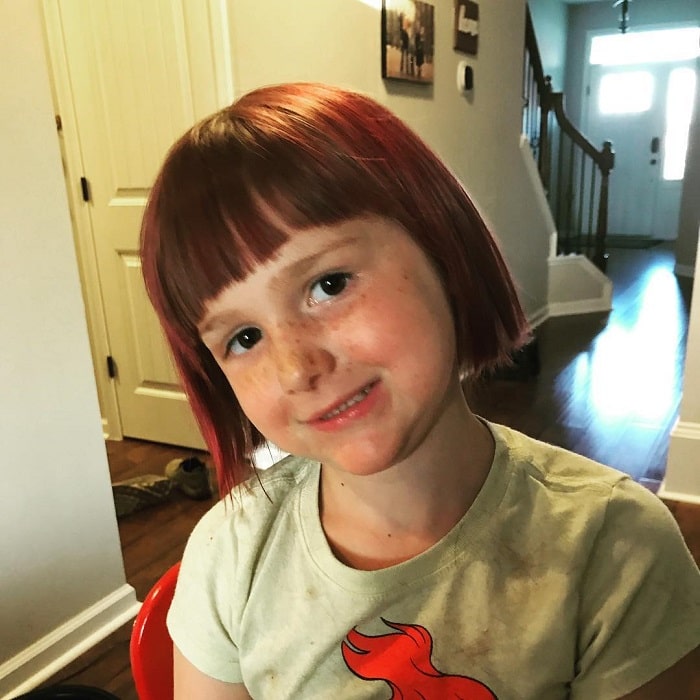 The most classic of all short haircuts for little girls, the bob with a straight fringe, is also one of the prettiest short hairstyles for little girls. It is simple, sleek and so easy to maintain.
The bob with straight blunt edges and a matching fringe is unlikely to go out of style since it has been used more or less continuously since the 1920s. If you're after a style that will last then this could be the one.
Short haircuts for little girls range from the classic and classy to the edgy and funky and there is sure to be one that would suit your little girl's style.
So, if the ease of a low-maintenance short hairstyle appeals to you then you have a wide range of styles to choose from!