Braided hairstyles are perfect for those little girls who want to be able to run around and play while still channeling their inner princess. Although long hair on little girls can be super cute, these luscious locks can be hard to tame and keep neat, especially if your little one is the active type.
Of course, you can keep a brush on hand and attempt to get everything under control whenever possible… But which busy mom or dad wants to wrestle a reluctant child when there is so much more to do, both for you and for her? Hair accessories, as pretty and useful as they can be, disappear way too easily after a few moments at school or on the playground.
And let's not talk about the tears when a favorite bow or headband is nowhere to be found! Thankfully, there is a way for your little girl to enjoy a healthy and energetic lifestyle without having to sacrifice her enviable mane to the hairdresser's scissors: braids!
Here are some of our favorite braided hairstyles that are perfect for little girls!
How To Braid Little Girls Hair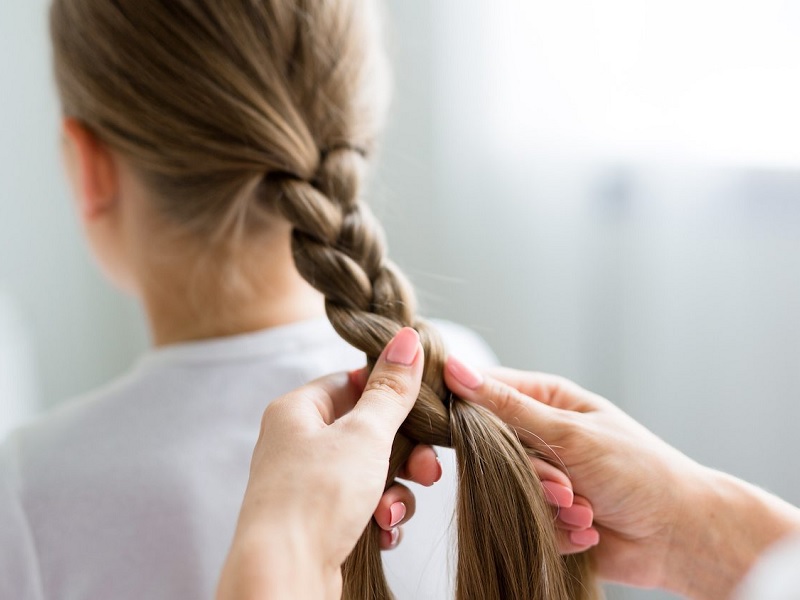 There are lots of tutorials and how-tos available on how to braid girls hair, the best tactic is to practice and to take your time, but there are some tools that might help.
Depending on the age of your little girl her hair may still be fine, growing in at different lengths and prone to flyaways. A good hairspray, or even just water in a spray bottle can help you as you go along, keeping everything smoothed down is key to a professional finish.
A long-ended comb is perfect for separating hair ready for braiding, and the long tail end can also be used to flip hair over or tuck it through small spaces when your fingers are not nimble enough.
Hair elastics will be needed for tying off the ends of braids, and are integral to some types of braids. Choose ones that will hold tight with minimal damage to the hair itself, and have a selection of clear and colored bands at hand as different styles will call for different elastics.
Braiding is time-consuming, and sometimes for little girls sitting still can be deadly dull! Even if you're usually anti-screen this might just be the time to break out the TV or I-pad.
Watch the Following Video on How to Do Simple Braids on Little Girl's Hair
Gorgeous Hairstyles for 9 And 10 Year Old Girls
Adorable Braided Hairstyles For Little Girls
Although braids can be intimidating for a first-timer, most hairstyles are actually quite simple. With a little bit of practice and patience, you will soon be able to get your child ready and out of the door in no time, all set for a day full of new adventures without having to worry about her hair getting in the way, while still looking cute and picture ready if needed.
Check below some lovely braided hairstyles for your little girl!
1. Dutch Braids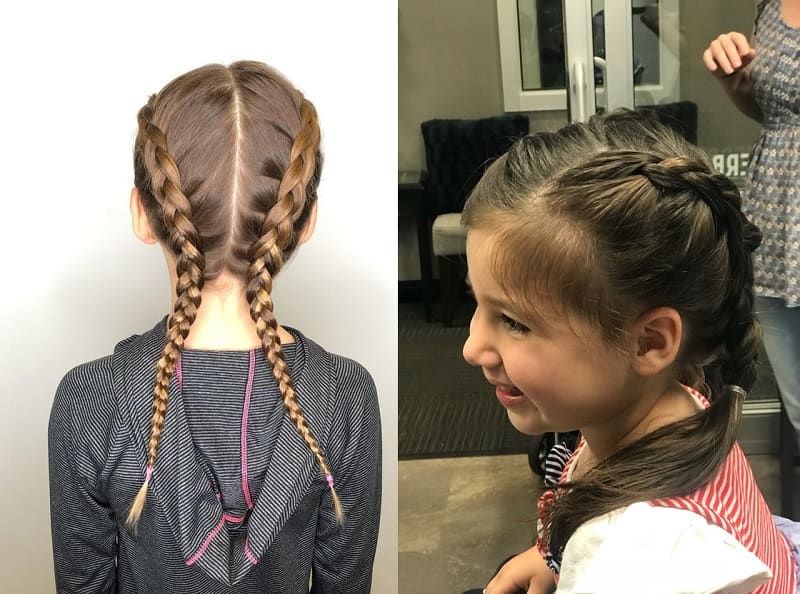 This braided hairstyle is an absolute classic for little girls and a great place to start if you're just learning how to braid. See some great examples at Hairstyle Camp. In Dutch braids the braid appears to sit on top of the head, adding height and volume; the opposite is French braids in which the braid is tucked underneath the hair.
Two Dutch braids hold the hair neatly back whilst looking oh-so-cute!
2. Advanced Rock Chick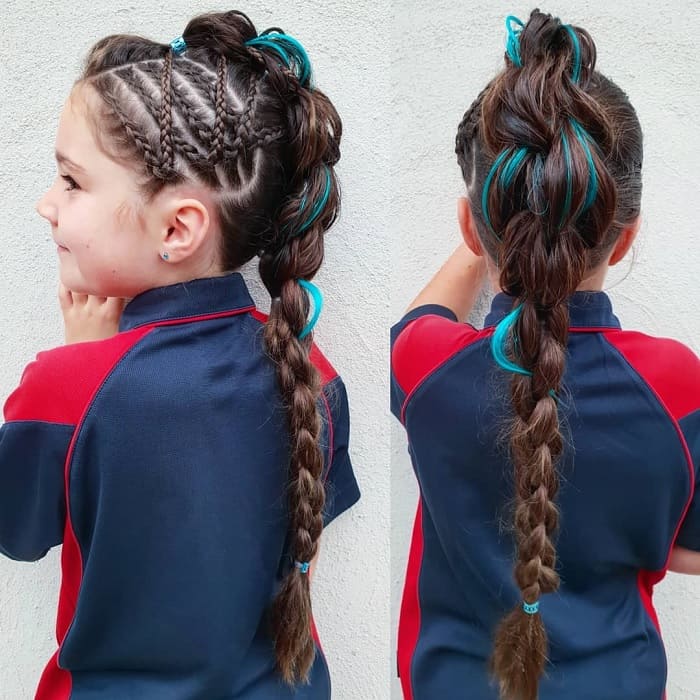 This incredible style requires some real mastery; crisscross braids lead into a volumized braid with tonnes of texture. Then add some funky colored hair chalk and salt spray for a look that's as unique as your little one's personality.
3. Twisted Rows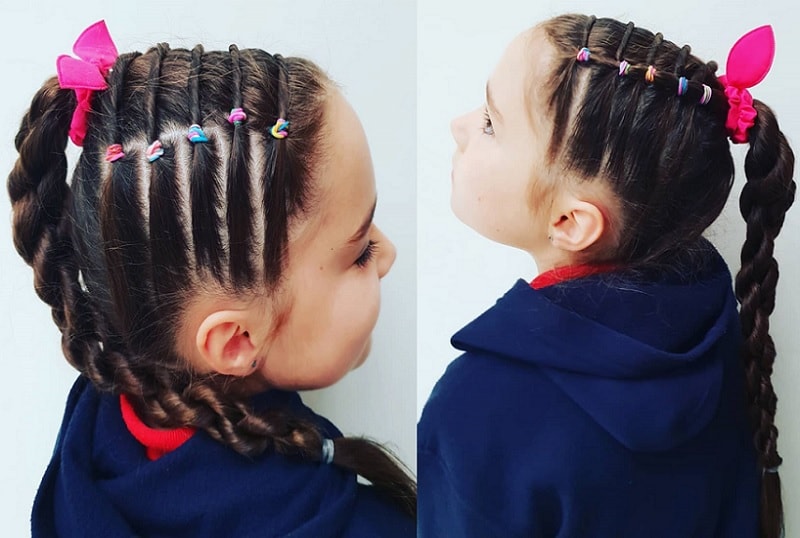 This little girl's braided hairstyle utilizes twists instead of a classic three-strand braid, so if you struggle with the whole over-under- over a thing, this could be the one for you! As well as being pretty simple to achieve this style looks ultra- impressive! Colored elastics and pretty scrunchies can be used to personalize and complete the look.
4. Braided Double Bun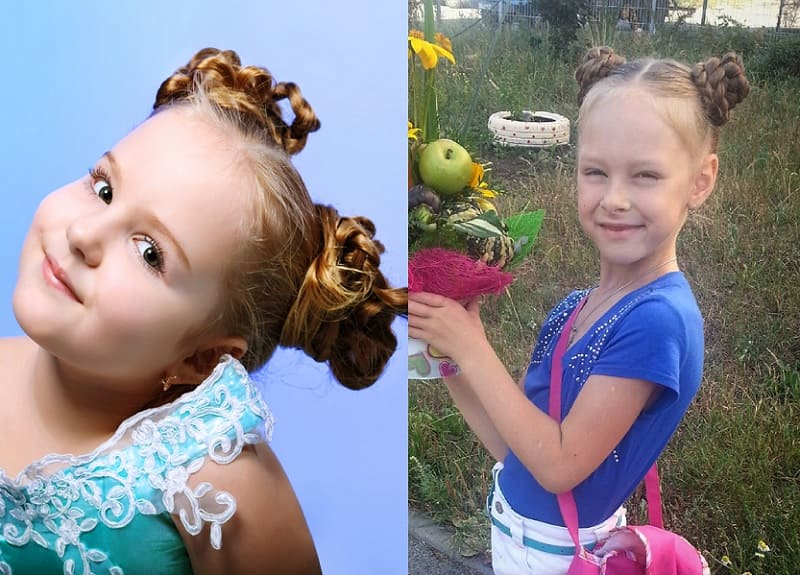 Combining the art of braids with the simplicity of buns, this look is perfect for hot summer days when your little girl wants to keep her hair up and off her neck to stay cool. This is one of the braided hairdos for little girls that can easily be used for dance and gymnastics classes too.
Ravishing Bun Hairstyles for Little Black Girls
5. Love Heart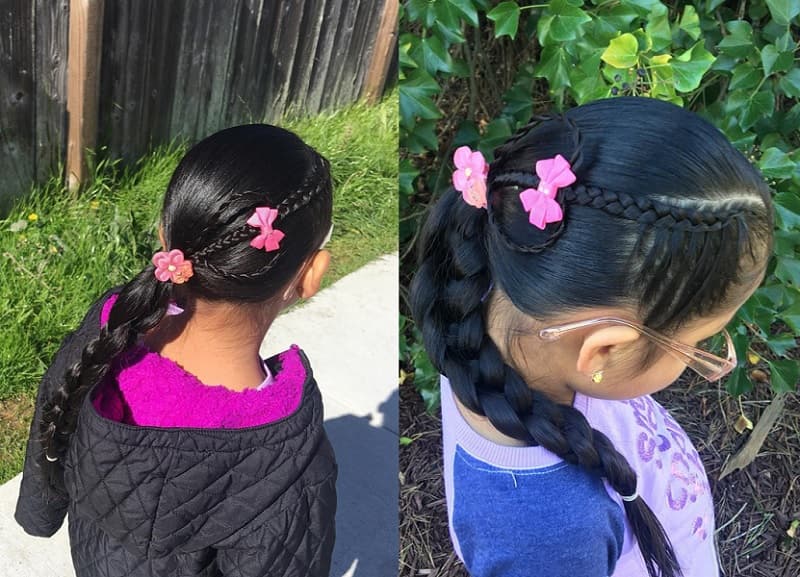 This has got to be one of the cutest braided hairstyles that little girls can sport out there! Using braids to create a heart shape before leading into a lovely thick braid, this is a really sweet look. The use of hair accessories to hold everything in place also adds a pop of color and is very practical.
6. Jumbo Plait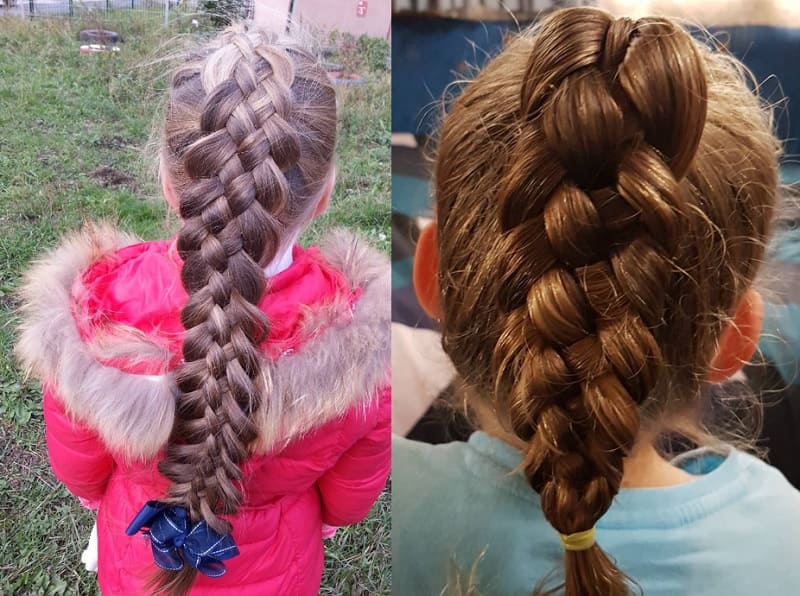 A fun twist on a traditional 3 strand plait, a pleat uses four (or more if you're feeling especially ambitious!) strands of hair to weave a beautiful pattern.
It looks so complex but uses the same over, under, over pattern as a traditional braid so is actually quite simple to master. This braid style is great for little girls with thick hair.
7. Valentines Special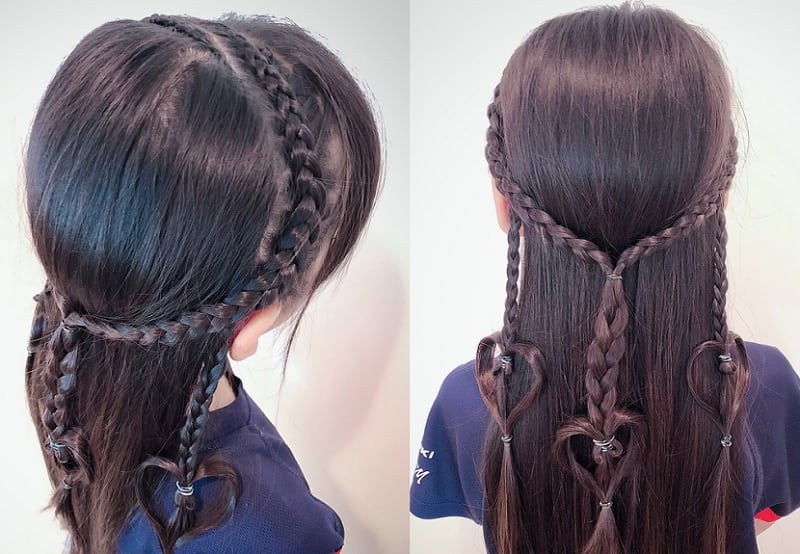 Not necessarily an everyday style these braids with heart shapes certainly have the wow factor! Perfect for valentines day or a special birthday party, the crown element is especially princess-like. Use clear elastics or color coordinates with a special outfit.
8. Half Moon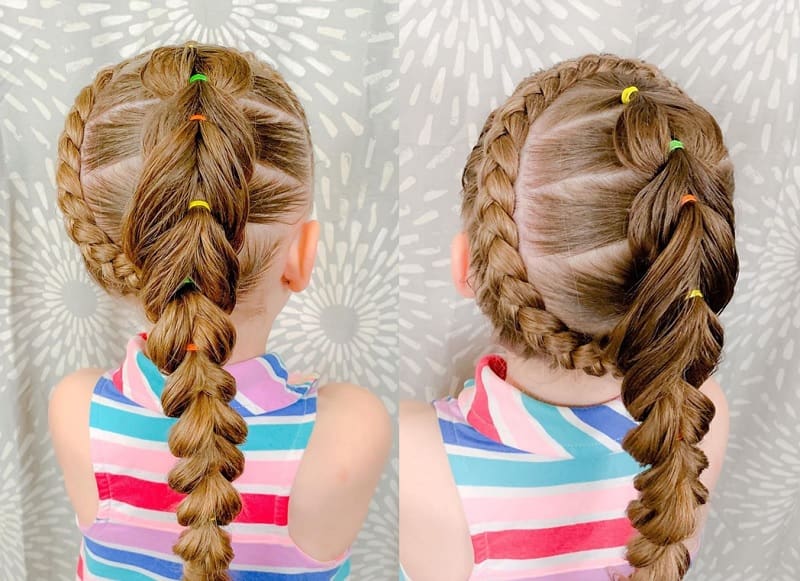 This style combines a neat Dutch braid, in a half moon shape with a two-strand braid supported by hair elastics. If you struggle with traditional braiding you could skip the Dutch braid element and centralize the two-strand braid.
For more confident braiders, however, this showcases two forms of the braid. Beautiful braided hairdo on little on girl's hair.
9. Unicorn Horn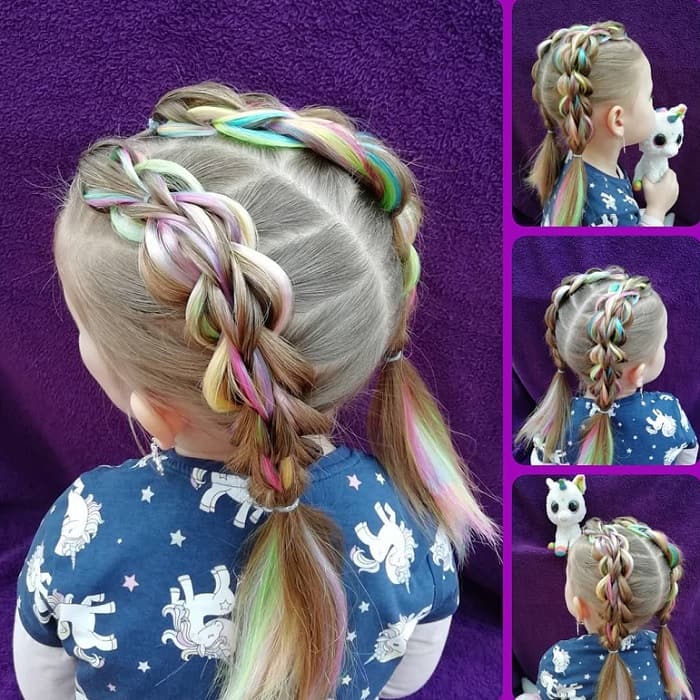 What little girl doesn't love unicorns? Out of all the braided hairstyles for little girls, this is going to be extra requested. Inspired by all things mythical the beautiful pastel colors are achieved with the help of hair chalk; which washes out easily!
10. Hairbow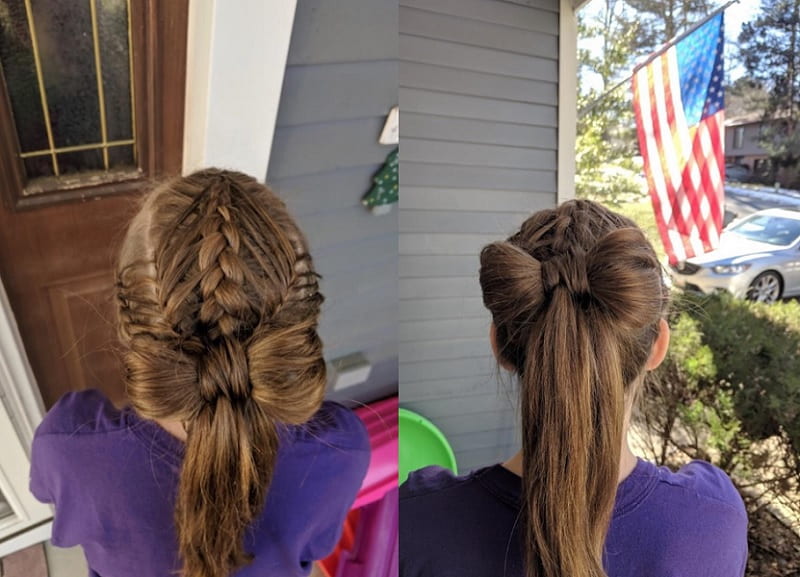 Rather than adding a hair bow as an accessory why not create a bow out of hair!? Using a triple braid to bring all of the hair back to a central point, keeps it very neat and adds interest to the front of the style. Crafting the bow itself is relatively simple, though some additional elastics and hairpins may be required. Creative braid styles for little girls.
11. Braided Bun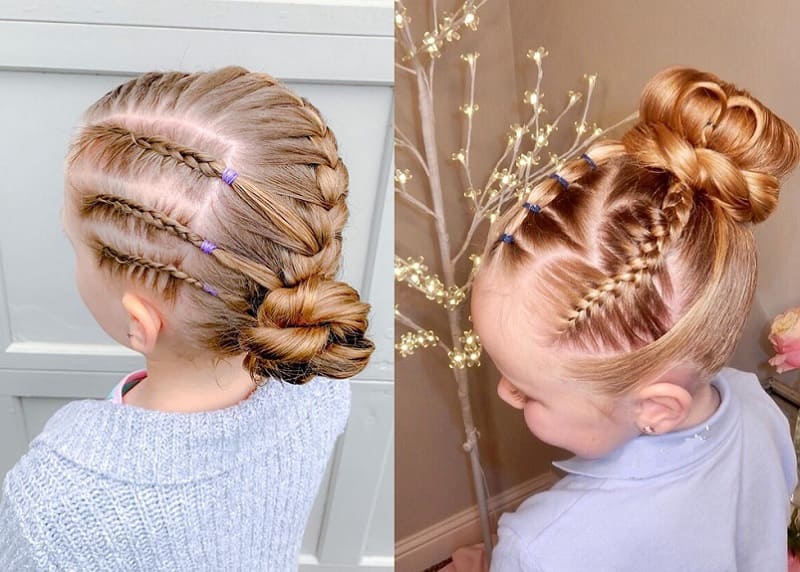 Here are a couple of options for combining all sorts of different braids with buns. Buns are favored by gymnastics and dance classes, and in shows and competitions as they allow the audience to see the lines the girls are making with their bodies without hair in the way.
Braiding the hair in the bun adds interest and volume to the little girls braided style and the braids at the front keep different lengths of hair neatly fastened away.
12. Double Crown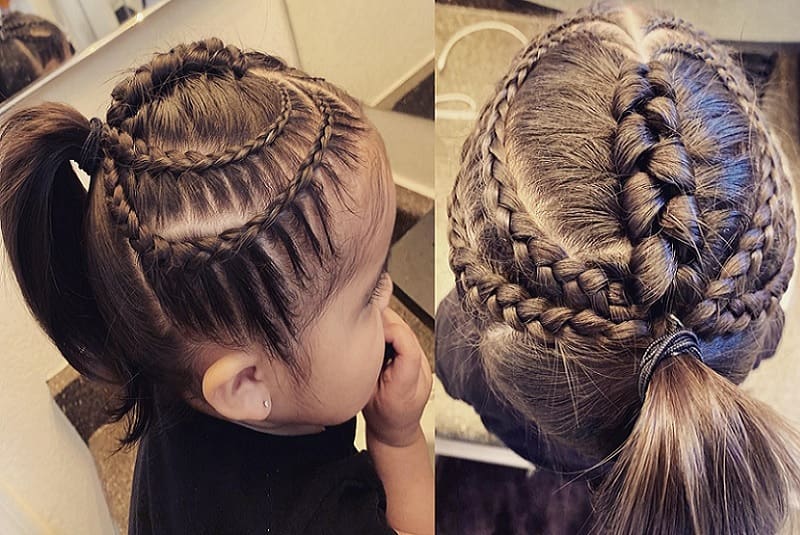 Not one, but two, braid crowns make this style extra regal, the suspended infinity braid in the middle gives you the chance to show off another braiding style. This braided hairstyle on little girls hair is super neat, keeping all the hair back off the face and ideal for long days at preschool or daycare.
13. Double Dutch and Pull Through Braids
Pull through braids are a great option if you want the extra support of hair elastics; they're pretty simple to achieve and look great! This little girl's braid hairstyle combines the simplicity and volume of the pull through braids with tight, neat Dutch braids curving around the head.
14. Embellished Dutch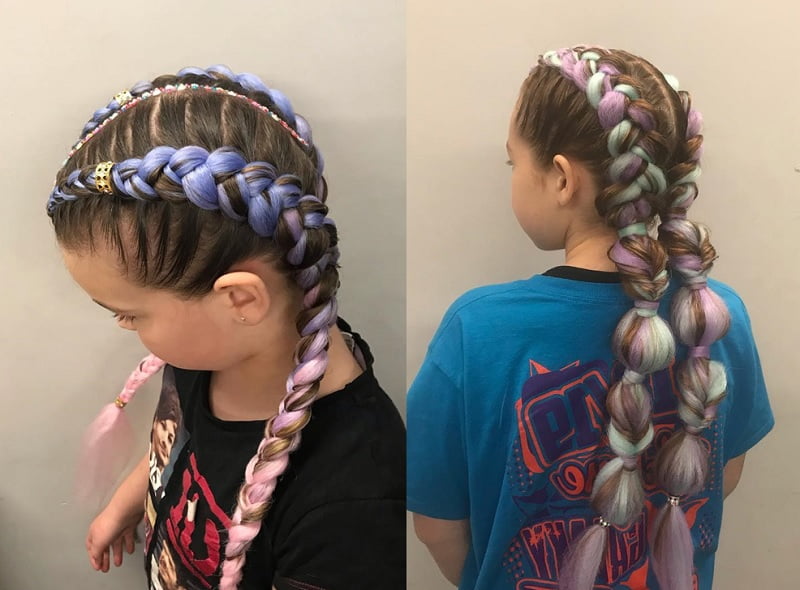 Once you've got the hang of the Dutch braid there is so much you can do with it. Here you can see these braided hairstyles for little girls are largely based on Dutch braids but have been added to with hair chalks and embellishments to really spice up the look.
You can also tie off the braid once you reach the nape of the neck and have all the hair gathered and do something else altogether; like in the second picture here. Simple tuck and twist technique using hair elastics can speed up the hairstyle, especially useful if your little one has extremely long hair!
15. Half Corn Rows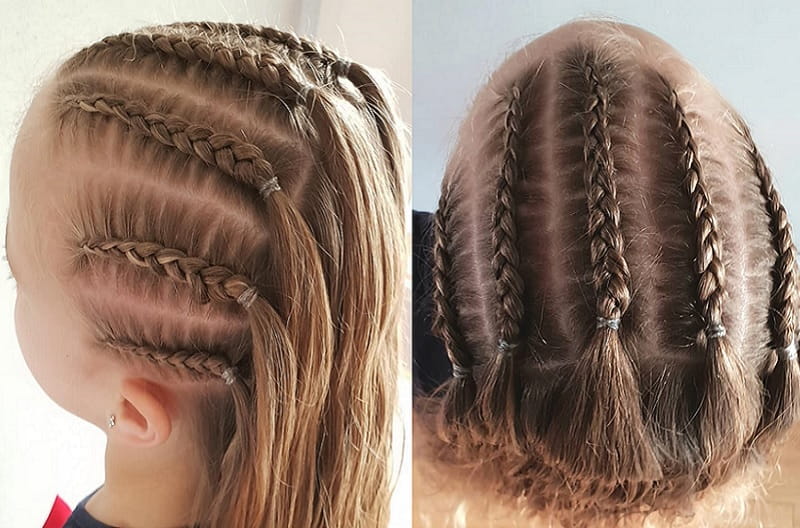 Super neat with super straight lines this braided hairstyle is ideal for school. This little girls hairstyle involves dividing the hair up into neat, even sections and Dutch braiding before tying off the braid with an elastic about halfway back. This means that your little one can still show off her hair with it loose in the back but it is held right back from the face.
10 Elegant Hairstyles for 12 Years Old Girls
16. Triple Braid with Baubles
This style looks very complex, but it isn't necessarily so! If you can Dutch braid you're halfway there. The front half of the hair is divided into 3 sections which are then braided backward to the top of the head and secured in a ponytail. The ponytail is then turned into what is sometimes called "Baubles" by using hair elastics to tie off sections an inch or two apart and teasing the hair in between to create volume. In our picture, colored hair chalk gives the style some extra flair.
17. Big Braids and Little Braids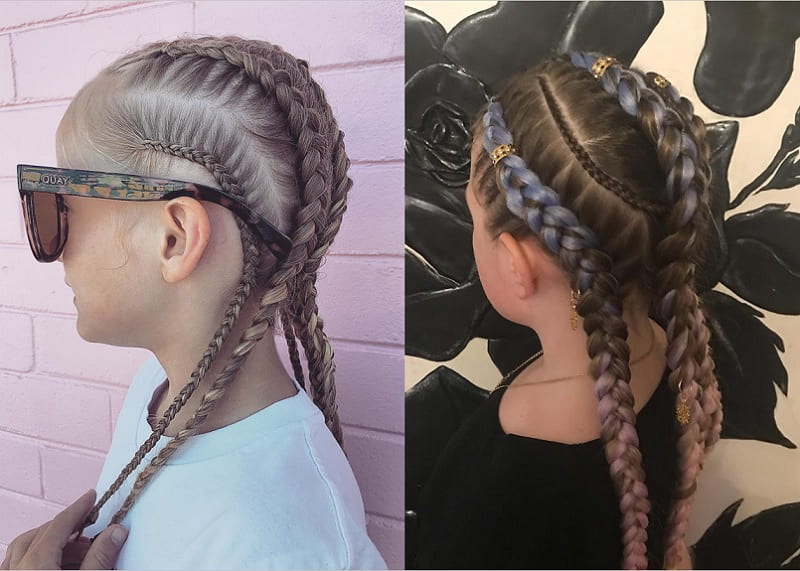 Utilizing the simple dutch-braiding technique, this little girls braided hairdo mixes thicker braids with thinner ones in whatever pattern you desire to add interest to the look. You can braid in straight lines or curve around depending on the finished style you desire.
18. Double Dutch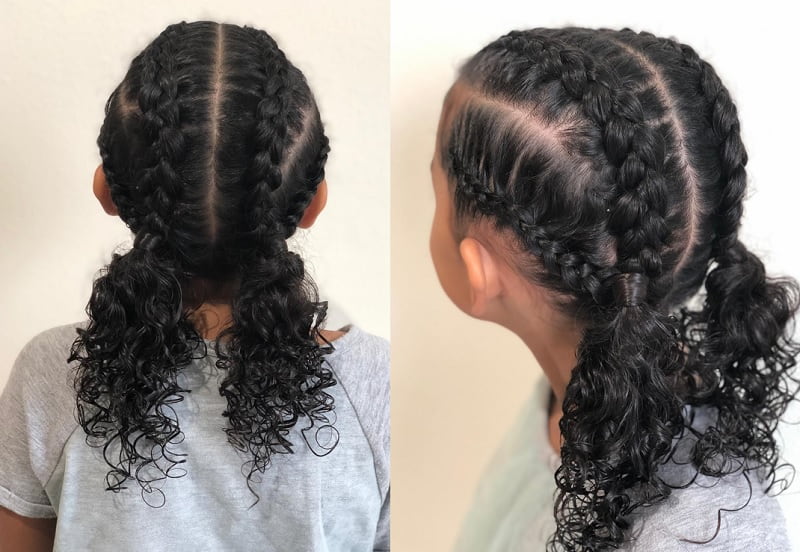 Double Dutch braids into sweet pigtails. Once you've mastered Dutch braiding the world of braided hairstyles for your little girls really is your oyster!
This braiding technique is so versatile and can be used to create so many styles; this one, pictured, uses 4 braids to secure the hair back into pretty pigtails.
Hair elastics can be hidden by wrapping hair over them and tucking them in or pinning underneath with a bobby pin; this gives a sleeker, more professional finish.
19. Cornrow Ponytail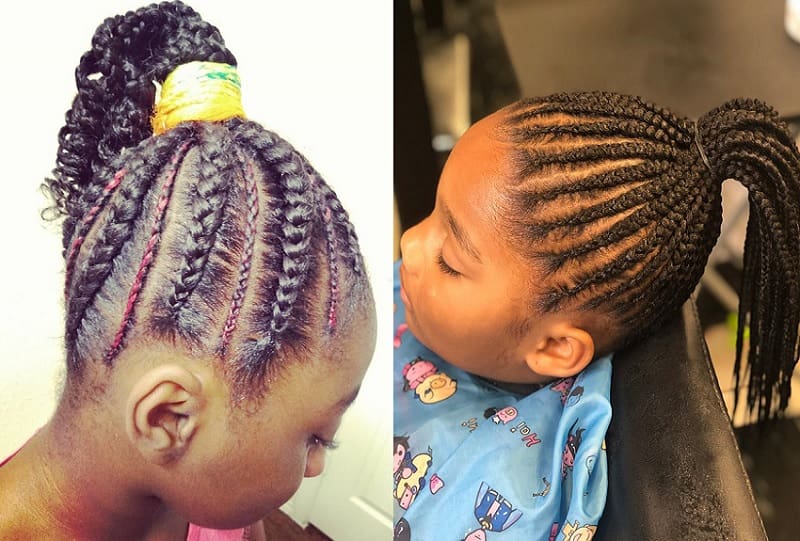 This braided hairstyle with little girls hair use es neatly divided sections of hair to braid back towards a central point so that hair can be secured into a ponytail. This is perfect for when you need the functionality of braids but your little girl loves having a ponytail to swish around.
20. Pull through Braids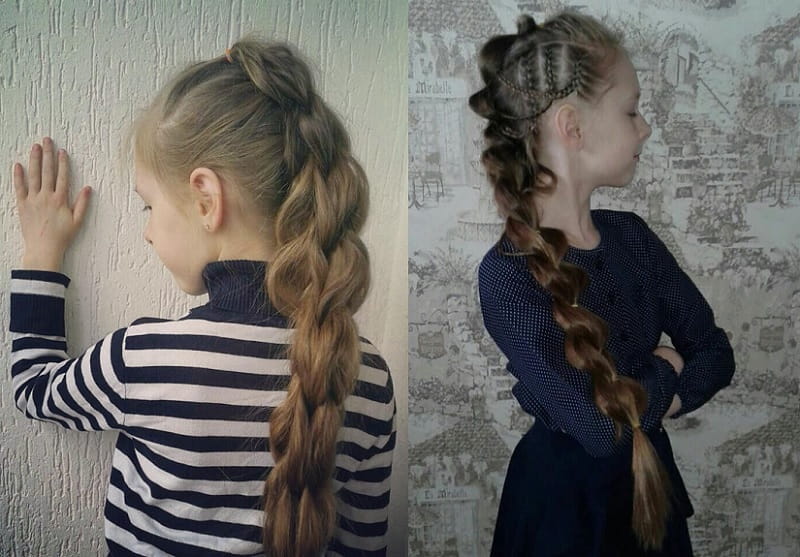 Pull through braids can be super simple by using hair elastics to secure as you go, or can be more advanced by braving it without! Experimenting with technique and practice, practice, practice will help you understand which way works best for you and which gives the better finish on your little girl's hair.
You can add interest to the front of the head by adding smaller braids and crisscrossing them back into the main braid if you're feeling especially skillful!
21. Face Framing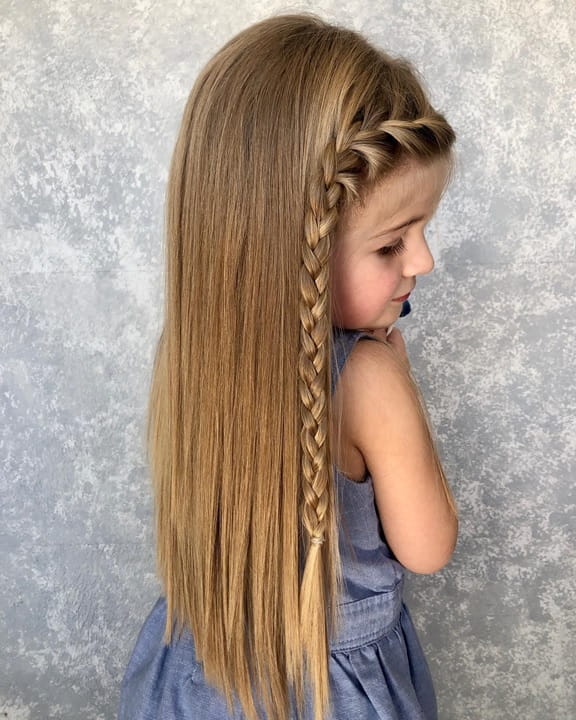 If your little girl loves to wear her hair down and you want to showcase her lovely locks, a simple braid around the face might be the way to go.
This has the benefit of acting as a built-in hairband, holding hair out of your little girl's eyes, but still leaving the rest of the hair loose. A clear elastic used to secure the braid at the end keeps it super simple.
22. Sunburst
Using the crown of the head as a central point to divide hair creates a sunburst or star effect with the scalp. Pretty, colored elastics can be used to secure the hair and then braiding it into a crown around the edge of the head.
Finishing with braided pigtails will still showcase the length of your little girl's hair but keeps everything together. A cutesy braided style that little girls love.
23. Fishtail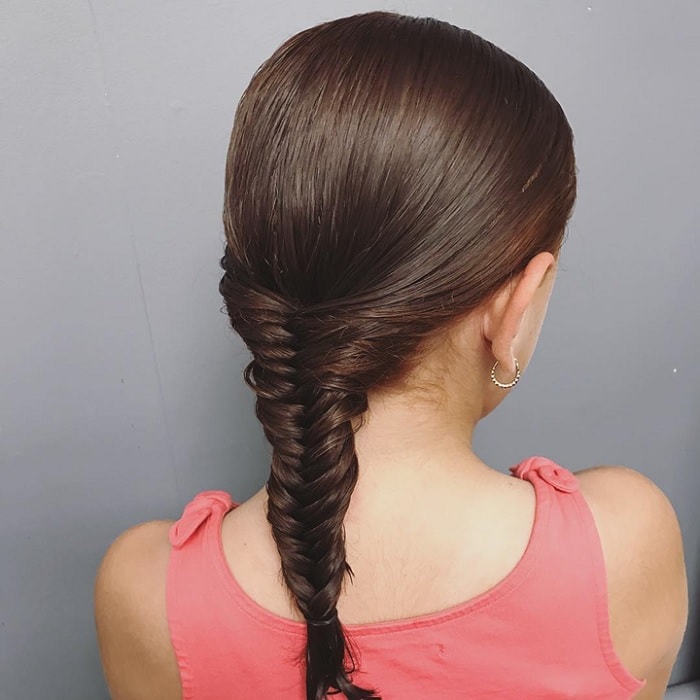 Another style of braiding is known as the fishtail, or mermaid, braid. This little girls braid hairstyle looks very neat and complex but is actually very simple to achieve.
Using two sections of hair it is a simple cross-over technique, with no complicated twisting which makes it a brilliant technique for beginners.
24. Braids and Buns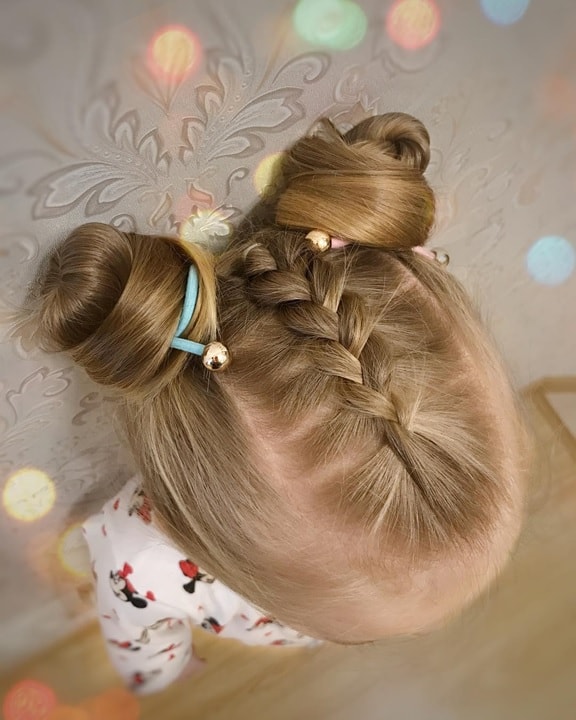 This braided hairstyle that little girls will love is super simple to achieve. The central braid brings hair back off the face and the two buns secure the main length of the hair up off of the neck, making this hairstyle ideal for holidays, summer and hot weather.
Especially when your little one is running around at school or the park in hot weather it's important to keep them cool.
25. Simple Plait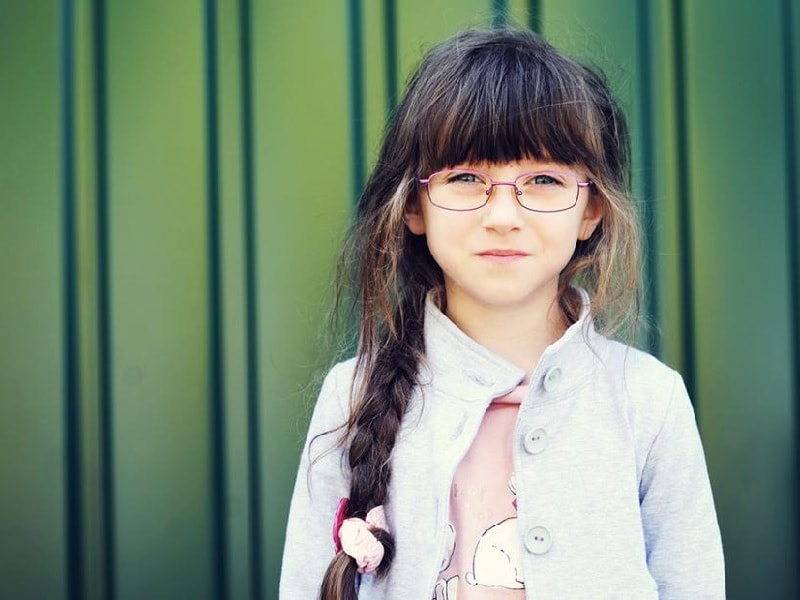 Out of all the braided hairstyles for little girls, this one is perhaps the simplest. A plait can start at the nape of the neck, simply by dividing the hair into 3 sections and weaving it using the classic over-under-over pattern.
Plaits are so versatile as they can be tweaked to suit your little one's personality and activities that day; for example, you could braid very tightly and secure with a clear elastic for a super-neat, simple look, or you could go for a more casual look with a looser plait and a scrunchie to hold the end.
26. Dancer's Infinity Braid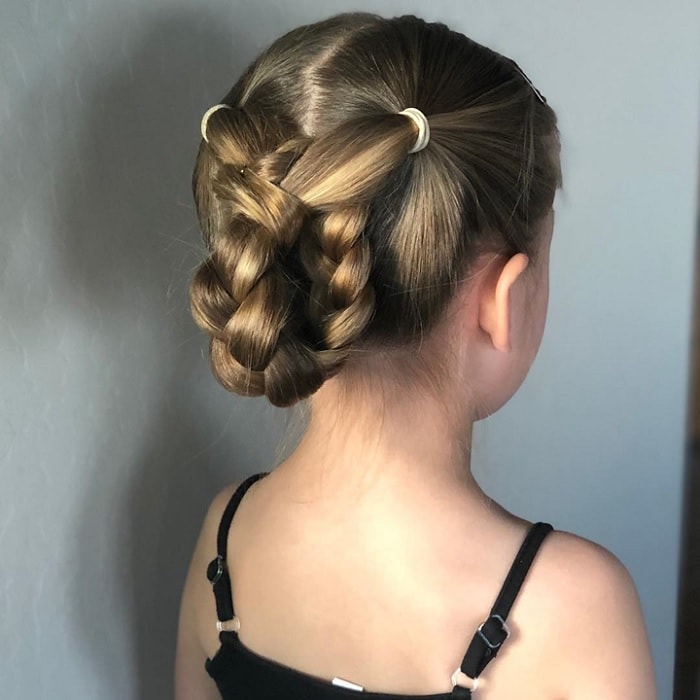 This little girls hairstyle with braids is rightly very popular with dancers. It's beautiful but so neat and not too hard to achieve. Using pigtails to secure hair back and then braiding from there makes it easier and less fiddly than some of the braids that require all of the hair to be braided.
This makes fly-aways less likely which is important for dance exams and the like. The braid itself is then tucked underneath and brought back round to be tucked into the top of the braid. Using a bobby pin to keep this extra-secure can be helpful.
27. Under Braids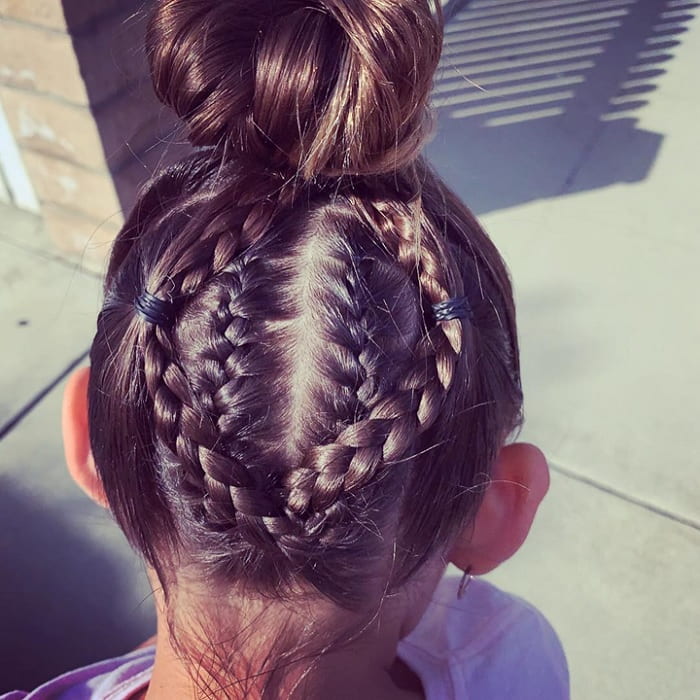 Using braids underneath a bun or ponytail is a great way of adding interest to a very simple hairstyle. Using braids in this way requires you to braid backward, starting from the bottom and braiding upwards. Having your little girl bend her head down, and standing in front of her makes this easier to achieve!
28. Spiral Column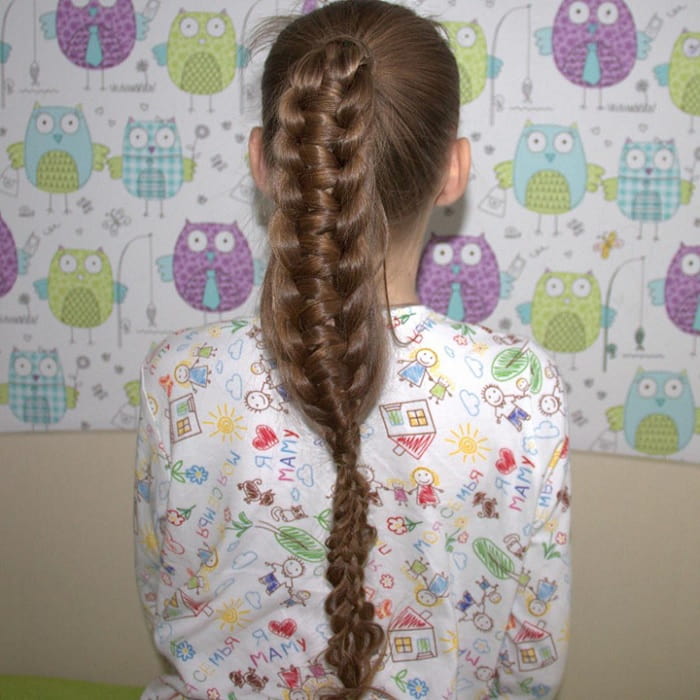 This little girl's braided hairdo is completely breath-taking! It is quite complex and requires great fine motor skills to get in place. The braid within a braided look is just so impressive.
The central braid is a different kind of braid called a pipe braid which involves wrapping and twisting hair, and ultimately tying it around a central piece. It's tricky to get right so try it when you have lots of time and a compliant child!
29. Half Plaits
These sweet little half plaits are the ideal solution for keeping hair out of the way but maintaining a casual look. They don't look too formal or try hard but keep little girls hair tied back. Plus, this braided hairdo for little girls is easy to do and adorable!
30. Side Braids into Pigtails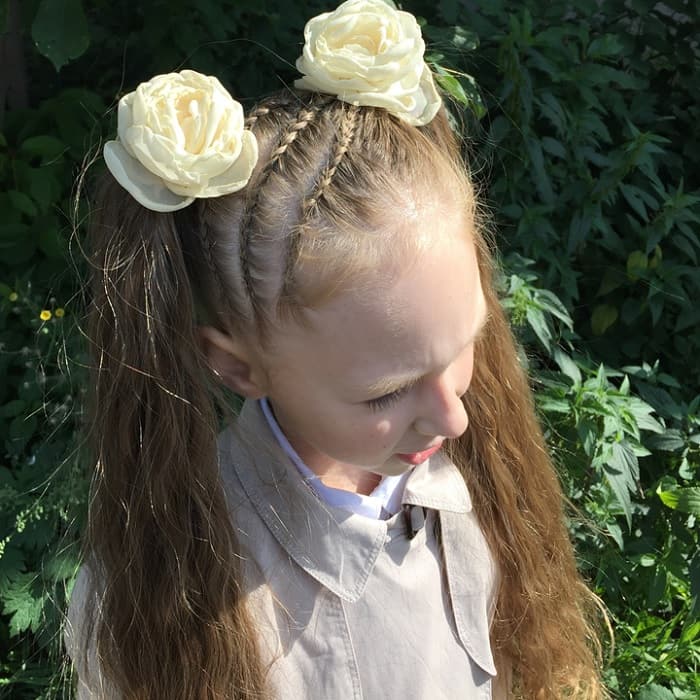 Use pretty side braids to add interest to a simple style like pigtails, by braiding up and over the head from one side into the elastics securing the pigtails. Using hair embellishments like scrunchies or hair ties can take a very simple style to the next level.
31. Double Braid Face Frame
If your little girl has curly hair or shiny straight locks, don't hide them away! Instead, make the most of them by leaving them loose. Just braiding around the face keeps hair back out of the way; little girl hairstyles with braids don't always have to involve all of the hair if that's not your style. Here a double braid helps to show off the girl's eyes without hiding her stunning curls.
Whichever braid style you choose for your little girl be assured that other parents will be impressed! Braiding takes patience, skill, and creativity but many love showing off elaborate braided hairstyles for little girls, so are willing to let you practice. Good luck!