The trendy boy's undercut is a fresh way to liven up any hairstyle and instantly make it more unique which people will notice. While not all boys will want to wear undercut hairstyles for boys, these styles are perfect for any boy who wants to put a spin on a traditional style.
For that reason, undercuts are commonly worn by boys of all ages and with all different types and colors of hair.
Creative Undercut Hairstyle Ideas for Boys
One of the best things about the boy's undercut hairstyle is that they can easily make it personal so that it fits their personality and matches their lifestyle. Adding color, designs in the side, and changing up the length of the hair on top of the head will all help to create a new style that can evolve as a boy grows and matures.
Below are some of our favorite undercut styles for young boys to try in 2023.
1. Bangs Swept to One Side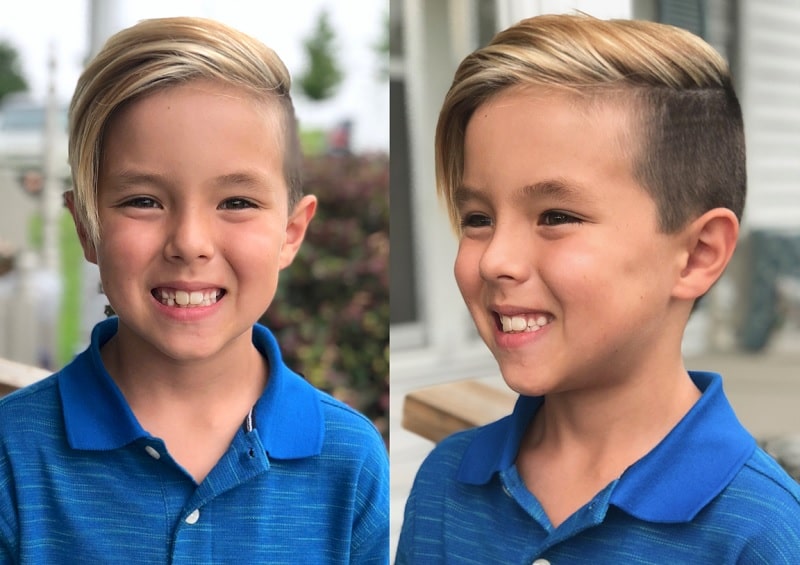 Very long bangs will be a distraction if they are allowed to hang down in the face, but simply pushing them to one side so that they add volume and movement to the top of the hair will easily take care of this problem.
Leaving these bangs as long as possible is the best way to create a huge contrast between them and the shorter sides of this hard part haircut for boys with an undercut.
2. Bright Red Hair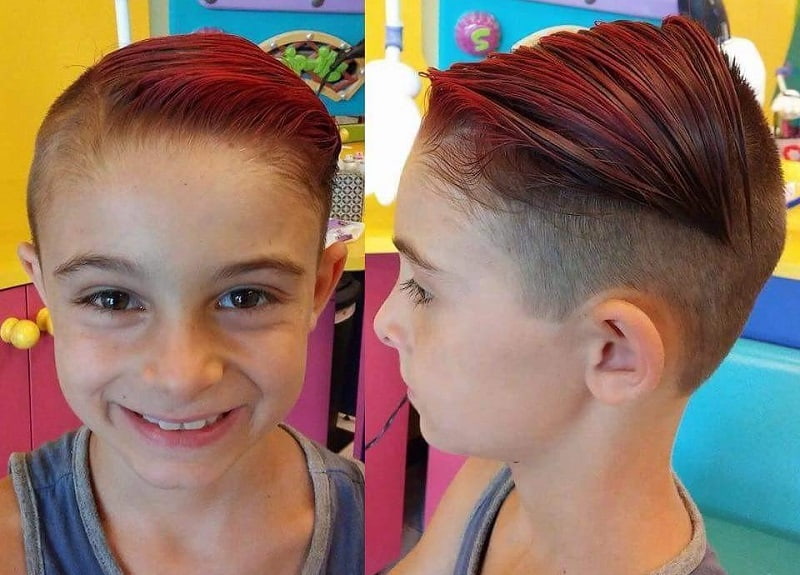 There's nothing quite like a bright dye job to make people stop in their tracks and turn to look, and that's exactly what this bright red hair manages to do.
It's a bold color, and since the sides are cut so short, it really is the focal point of the style without having to compete with hair of another color. A high cut in the back completes the boy's undercut look.
3. Longer Bangs Pulled Forward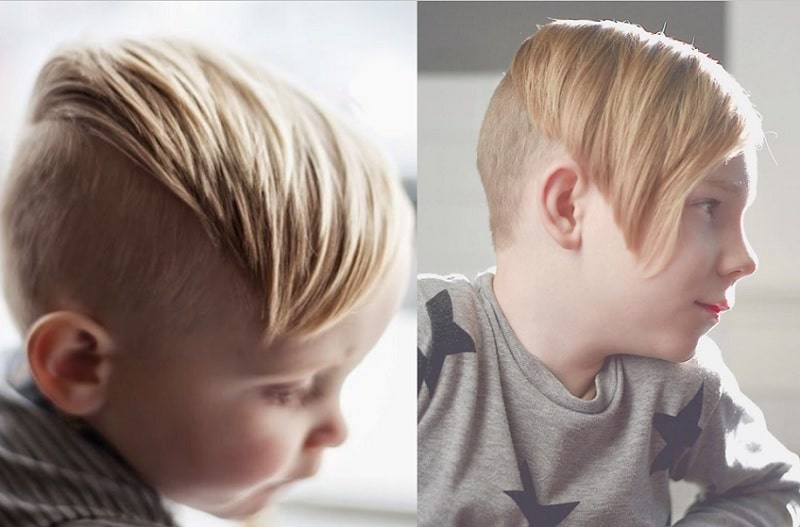 Longer bangs that are pulled all the way from the back of the head create a thick top that looks great with any undercut. This style is best on boys who have incredibly thick hair so that the top of the head won't look thin and unimpressive. It's best on boys who are willing to take some time to learn how to train their hair to go this way.
Amazing Crew Cut Styles for Boys
4. Two-Tone Undercut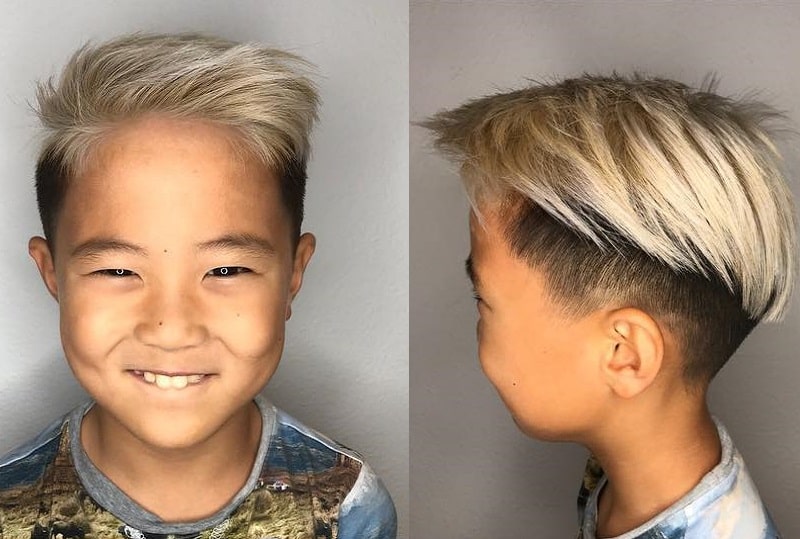 A two-tone undercut is fun and trendy, which is why dyeing or bleaching the top hair is such a popular option. This boy's undercut is fun and updated, and the bleached hair creates a gorgeous contrast with the darker natural hair. Leaving the top longer ensures that the contrast is easily seen.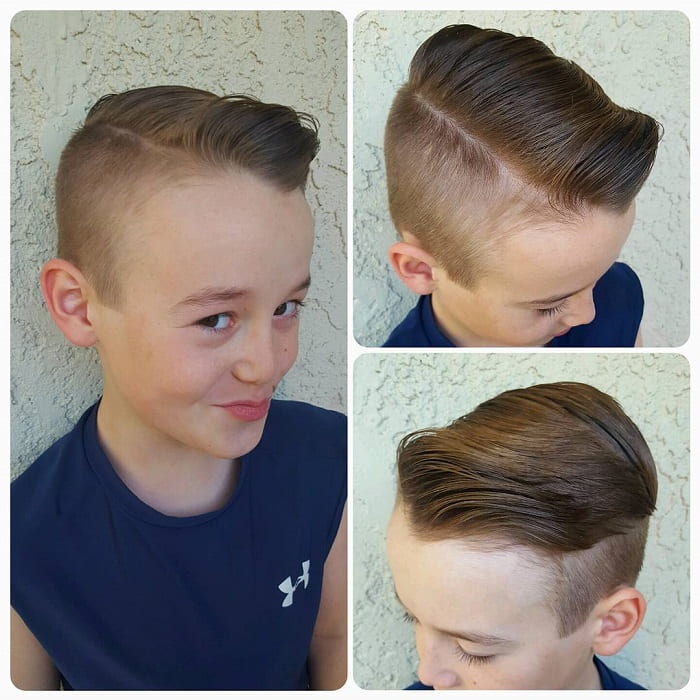 Sleek hair on the top of the head of boys looks amazing with an undercut, so boys will want to use plenty of product to mimic this style. It's a slightly chicer look and does a great job keeping boys from looking messy and unkempt, making this a great style that is perfect for church, school, or hanging out with friends.
6. Shocking Purple and Added Designs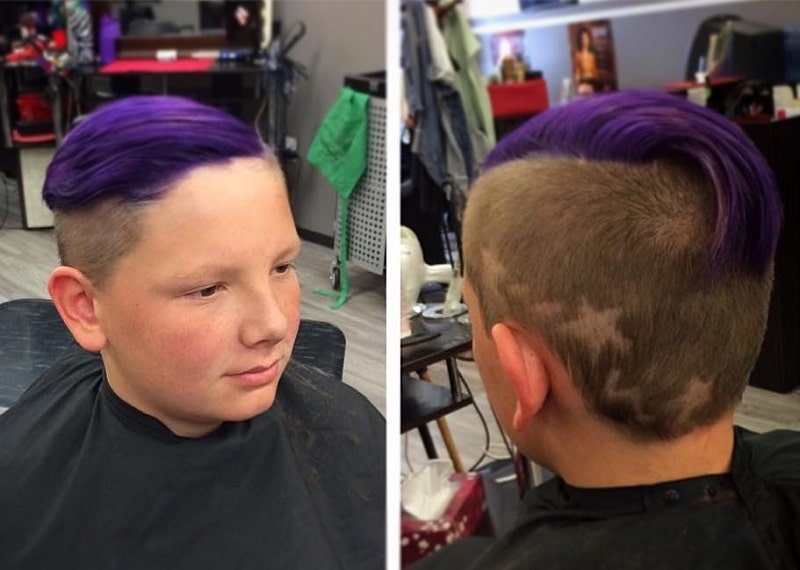 Boys have been dyeing their hair for a long time, so adding an unnatural color to an undercut style is nothing new, but the shocking purple color is sure to grab attention.
Combined with some stars or other design that is cut into the fade on the sides and back of the head, this undercut hair design instantly becomes much more exciting and personalized.
7. Blues and Purples with Darker Hair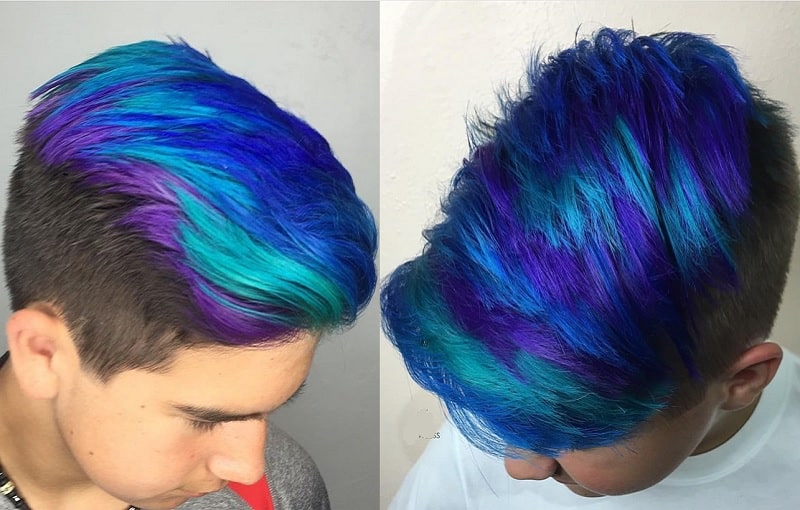 If a single unnatural color isn't enough for a boy to use, then he will want to consider using multiple colors to really get an amazing effect. The blues and purples used to dye this longer hair flow together perfectly.
Keeping them bold and bright will take some work and regular dyeing, so it's not for a boy who wants an incredibly easy style. The darker natural color of the hair is a great contrast.
8. Rainbow Hair with a Low Undercut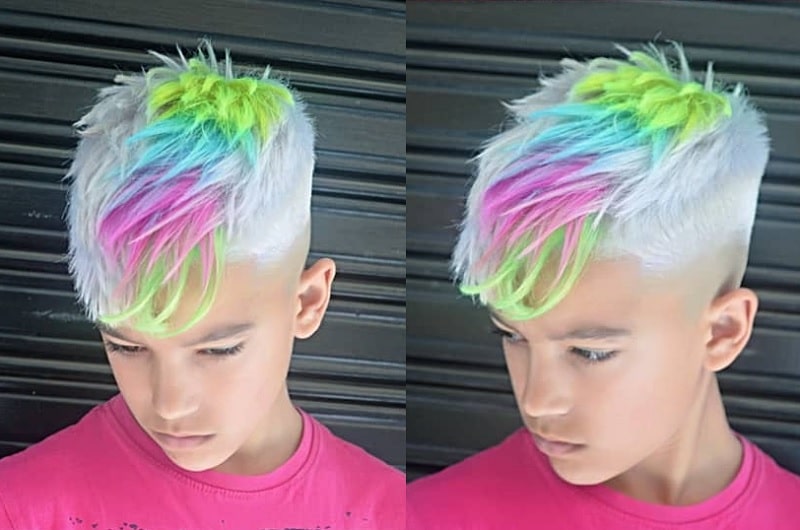 Bleaching hair is the best way to get a blank canvas for dyeing it, as this bleach job shows. The multiple neon colors added to the hair create style and depth.
Additionally, spiking the hair forward and piecing it with some product ensures that it doesn't look like a solid area of hair, but instead has a lot of bodies, volume, and movement, making the undercut for boys unique.
Super Cool Mohawk Hairstyles for Little Boys
9. Pop of Color on Thicker Hair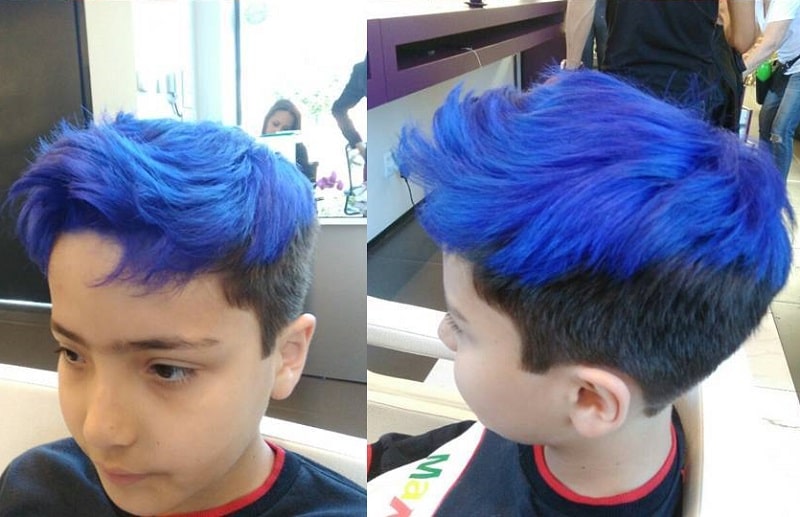 Very thick hair often needs an undercut to simply remove some of the volume or weight of the hair. This deep blue hair is incredibly thick, which allows it to have a lot of movement and volume without a lot of product.
The longer hair on the sides of the head makes it look more like a fade, giving it the appearance of a more traditional boy's haircut with an undercut.
10. Spiky Hair with Design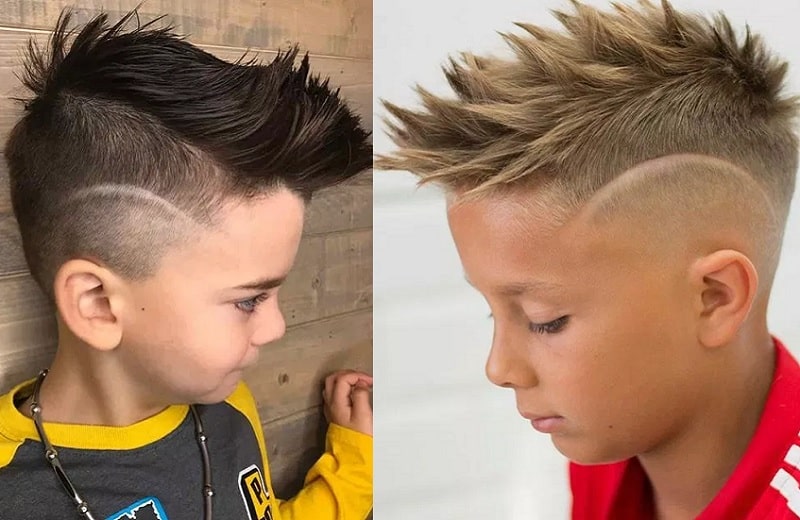 Spiking up the hair on the top of the head is a fun way to add volume and personality to an undercut. These undercut hairstyles for boys are great for boys who want to enjoy hair that is fun and unique.
Adding a design to the side of the head adds even more visual interest, making this a great look for boys who want their hair to be exciting.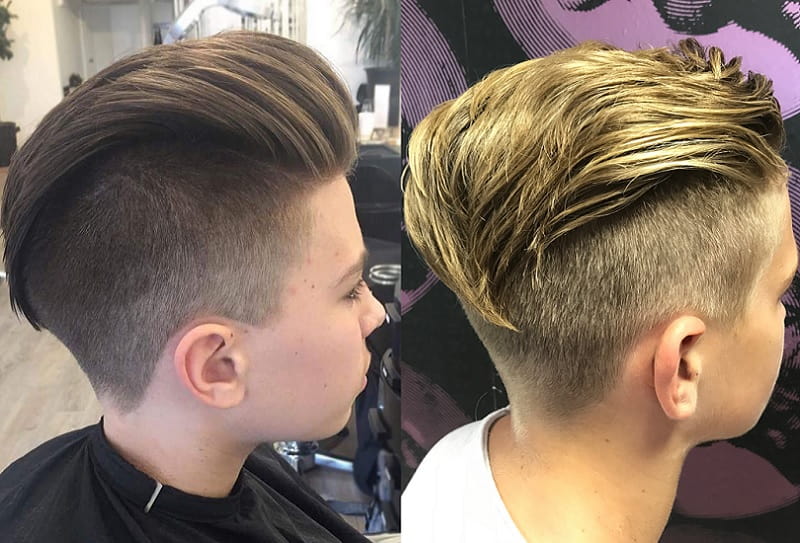 Significantly longer hair always looks stunning with an undercut, thanks to the contrast between the long and the shorter strands. What's great about this boy's undercut hairstyle isn't just the difference in length with the hair, but also how the longer hair extends down the back of the head when it is pulled back from the face.
12. Sleek Top with Plenty of Lengths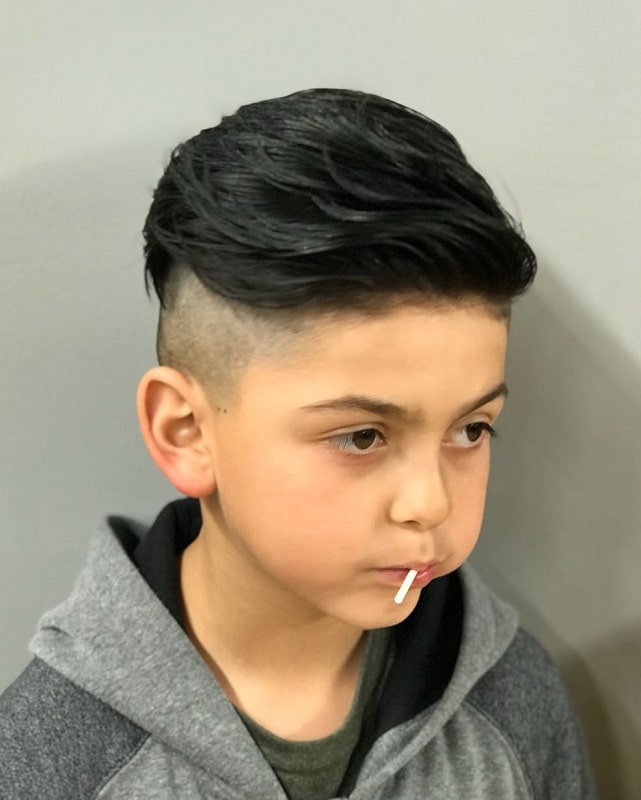 A sleek top where the hair is swept to the side and pulled back from the face looks great when it has a lot of lengths. Rather than keeping the top of this undercut really short, allowing it to grow longer really adds interest and movement to the cut. The high undercut is partially hidden due to the length and the volume of the hair on top of the head.
Eye-catching Hairstyles for 9-year-Old Boys
13. Ponytail with Undercut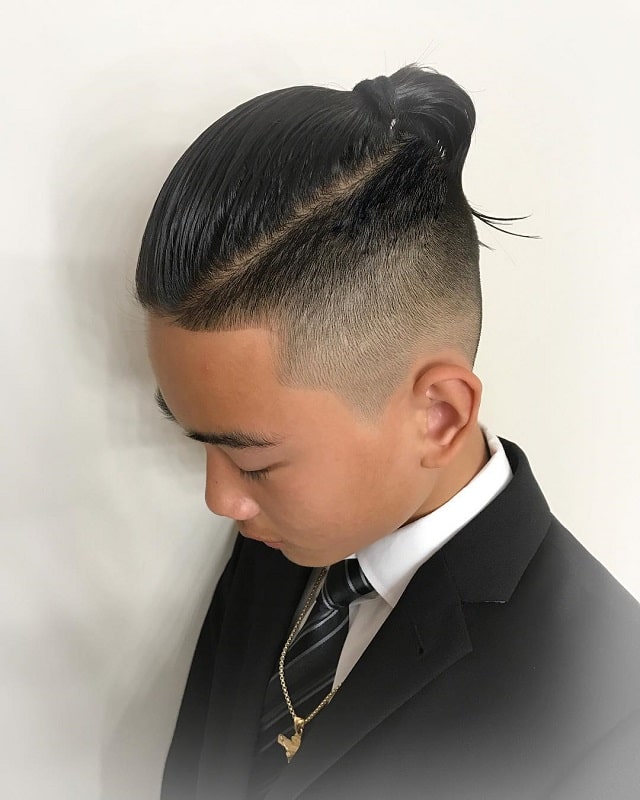 Sometimes, boys need to make sure that their long hair is kept out of the way, and pulling it back into a ponytail is one of the best ways to do that. This little boy's straight hair with an undercut is a sleek and chic look, made even more professional due to the use of the product, as it will prevent any flyaways from occurring.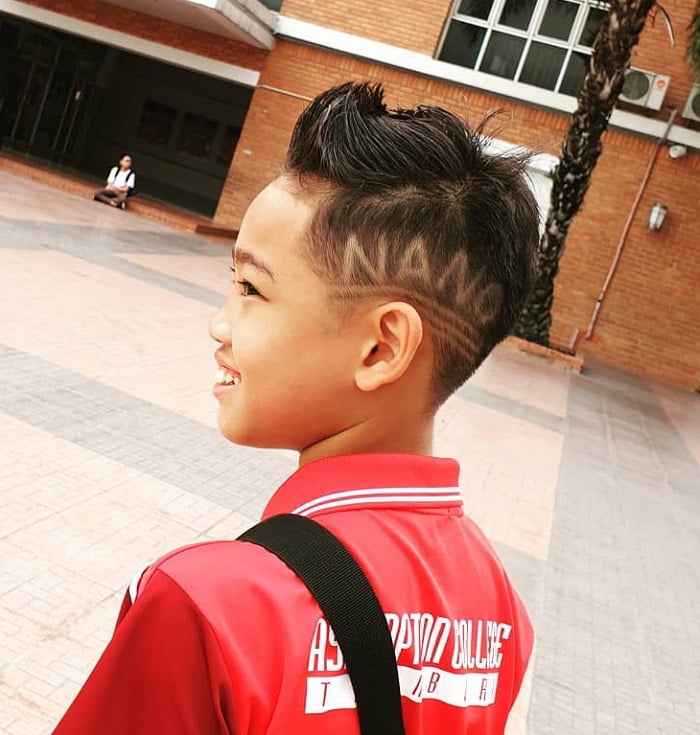 Mini fauxhawks look great on their own, but giving them an undercut makes them pop even more. To add a bit more style and personality to this boy's undercut, you can opt for a custom design on the side of the head. It's a great place to write a word, draw a small picture, or simply add movement with lines.
15. Dyed Hair Swept From the Back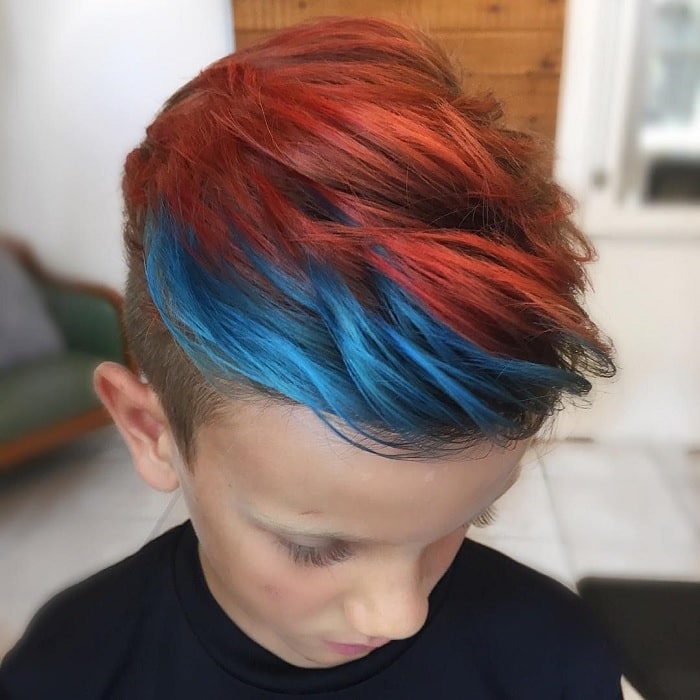 Deeply dyed hair looks impressive enough, but it is even more gorgeous when the long hair is swept to the front of the face from the back. Adding in a number of layers to this cut keeps it from looking boring and allows it to have a bunch more movement than it would if all of the hair were the same length.
There are lots of great hairstyles out there for boys to choose from, but a boy's undercut haircut is the perfect blend of classic and trendy. It's a very fun style that boys who want something eye-catching are sure to love.
Opting for one of these 15 ideas will help a boy come up with his own personal style that makes him feel the most confident.