Here's what you need to know – braids are not exclusively for girls. In this era, there are also plenty of amazing little boy braids styles to wear! One of the best things about braid styles is that there are many, many ways to style them! You can wear them in a simple way if you prefer simplicity.
However, you can also wear them in an artistic twist if you like! There are so many possibilities that it'd be a huge pity if braided hairstyles for little boys isn't a thing.
The Best Little Boy Braids in 2023
It's 2023 – let's all stop gender stereotyping hairstyles and appreciate the beautiful braids below! If you aren't sure how little boys' braid styles look like, you are going to learn it all today! A warning though – you're going to need some skills for this! Of course, you can bring these pictures as a reference to your hairdresser.
Like most people say, 'pictures speak a thousand words'. Similarly, these pictures will be able to accurately depict your preferred braid style for little boys! Let's take a look at the fabulous little boy braids below for yourself!
1. All Lined Up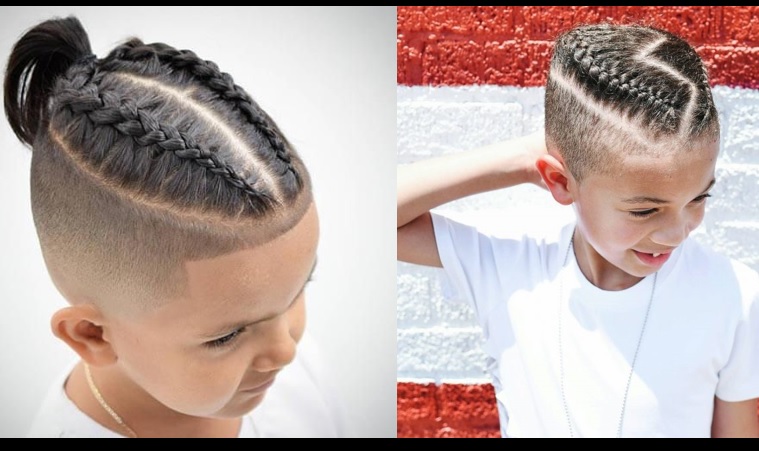 Your braids can be tied up along the top of the head. This creates a pattern like the left image. If you manipulate the length of your braid in different areas, you will create the results in the right picture! The zig-zag pattern is created by careful segmenting – lots of planning and effort is required!
2. Uniform Square Segmenting
If the little boy has long straight hair all grown out, you can create this look! This segmented braiding appearance is made by creating little braids using hair in one 'square'. Just repeat on different areas to complete this look! Depending on the size of these squares, the braid size will differ too! Adjust the braid size according to your preference!
3. Thin, Complex Designs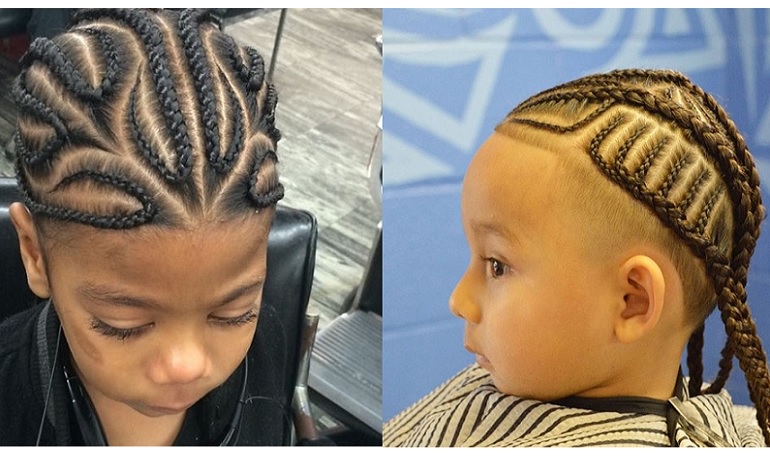 Most of us will definitely need to resort to a hairdresser for this! Look at those patterns! Once you have these braids done, you can give it really good maintenance measures so that the braids continue to look super defined. You can be sure that the eyes are going to be on you with this awesome style!
4. Thicker, Simpler Patterns
Thinner designs tend to come with bigger gaps between braids. You can prevent this issue simply by utilizing thicker braids instead! This little boy braids will project the feel of having a thicker head of hair, even when it's all compressed up with braids like this!
5. Zig-Zag Braids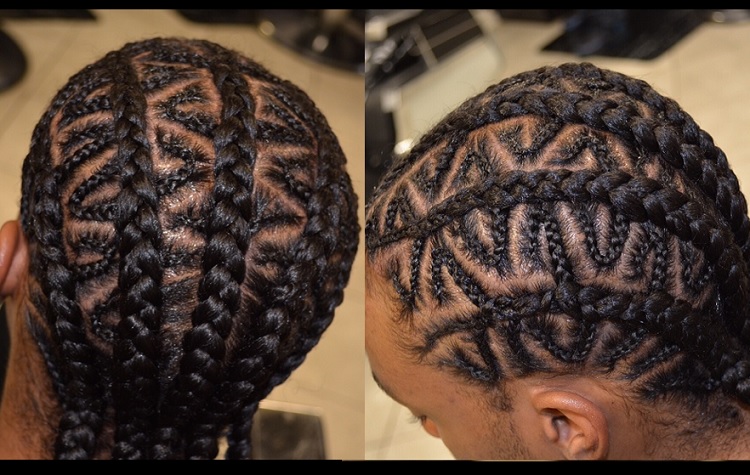 Definitely one of the more unique braid styles for little boys, this one has a mix of patterns embedded into the hairstyle. You are looking at short, zig-zagged braids crossing with longer, thicker braids between the sections. It's no easy feat, but the end results are definitely worth it!
6. All Spiraled Up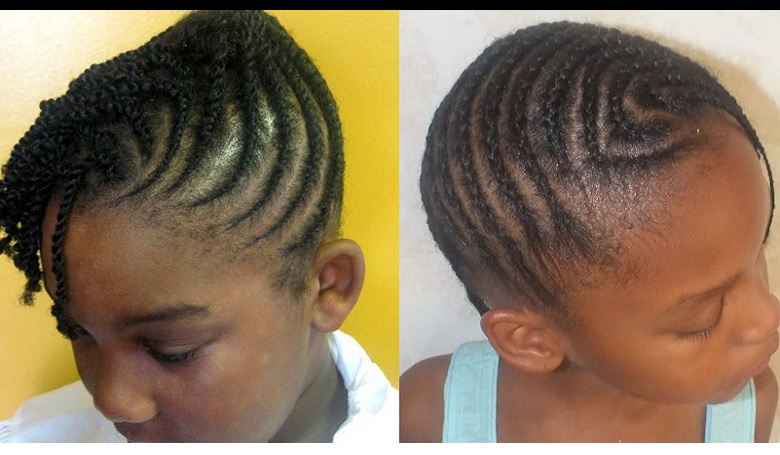 Some of us prefer a more natural look with braids. This would be one of them! You can have your braids spiral toward one direction. If your hair is long and you don't want to braid them up, the spiral can end at one common point where the remaining hair is tied up like a ponytail of braids!
7. Funky Braid Styles
Yes, embedding a dollar sign or an alien-looking X-sign is not impossible! This braid style for little boys might not be the best one to go to school with.
However, you can be sure that it will be unique enough to shine through during festivals or other events. You know very well where the audience attention is going to be!
8. Spiral Up & Bun It Up!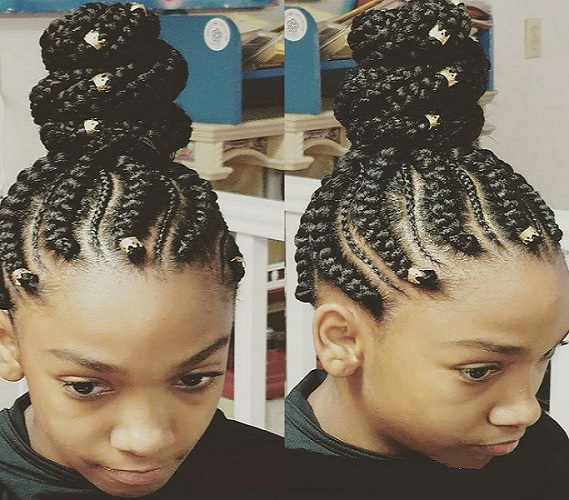 It'd be a pity to chop off your long hair to create beautiful braids. What you can do instead is to create braid designs towards the top-back of your head first.
Afterward, you can braid up the remaining hair away from the scalp, and bundle the braids together in a gorgeous bun! Isn't this a beautiful braided hairstyle for little boys?
9. Classic Braiding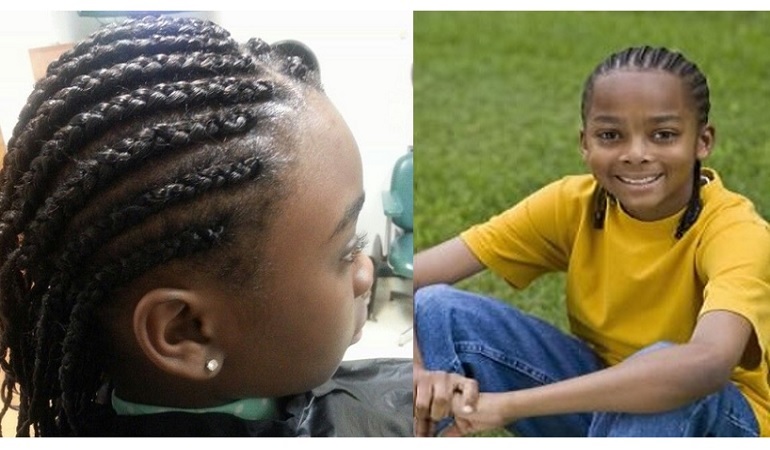 Here's your no-nonsense simplistic braiding style. Simply braid up your hair from the front to the back, and let the ends of the braid swing free! This amazing little boy braids is much more natural than some others in this list.
It would look just like normal hair brushed backward, except with the braids looking like super magnified hair strands!
10. Huge Side Braids with Center Designs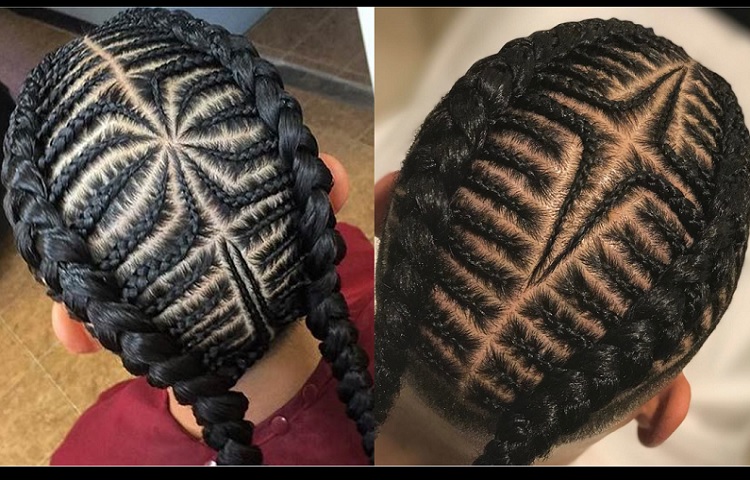 You can't look away from the center-focused braided design for your little boy, can you? Well, neither could we. You guessed it, these braids start from the center. As the design flows outwards, the strands along the sides can be combined to create bigger, thicker braids. If your hair is long enough, you'll find yourself with braid pigtails! Certainly, a unique braid style for young boys, don't you agree?
11. Braids & Shape-Ups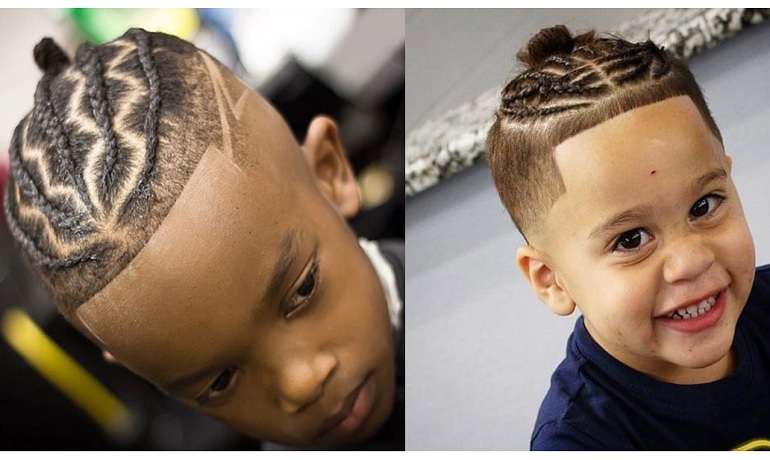 If your baby boy has short hair, this is what you can do. Create little braid designs along the longer top part of your hair, and tie it up in a mini man-bun. As the for sides where it's too short to create any braids, just trim it into a fade and glam it up with clean-cut shape-ups! Look at how defined the lines are along the forehead!
12. An Eyeful of Braid Design
Create braid designs that will capture attention from all angles with this braid style! This braids style for little boys is also quite popular among older adults due to its interesting concept and design. Of course, the pattern can vary, but you get the idea. It's all about the designs all over and the tiny braids at the back!
13. Short Braids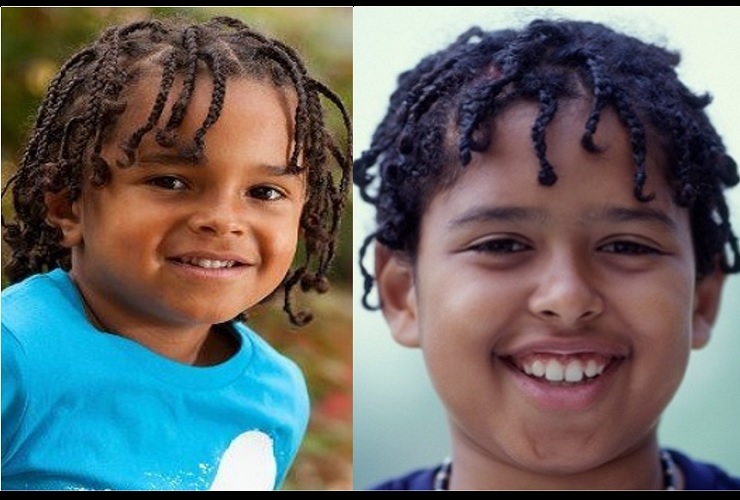 If you don't fancy long braids on your kids, that's fine too! As you can see from the pictures above, even short braids can be a suitable hairstyle for little boys. Of course, some length of hair is still required. This will definitely be easier to maintain than long braids anyhow, so there's that!
14. Lined-Up Rows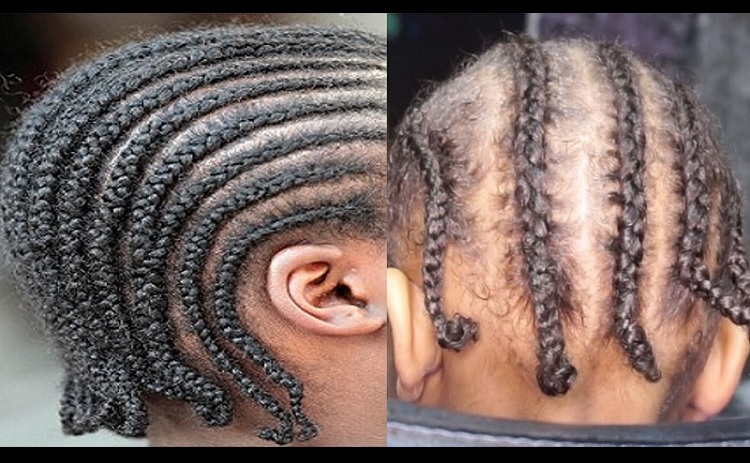 Depending on the amount of hair your little boy has, you can have compact or loose braids. The image on the left depicts braids lined up close together. That would look beautiful if you have a thick head of hair. However, if you have thin hair, you can leave bigger gaps between braids.
15. Even for Toddlers!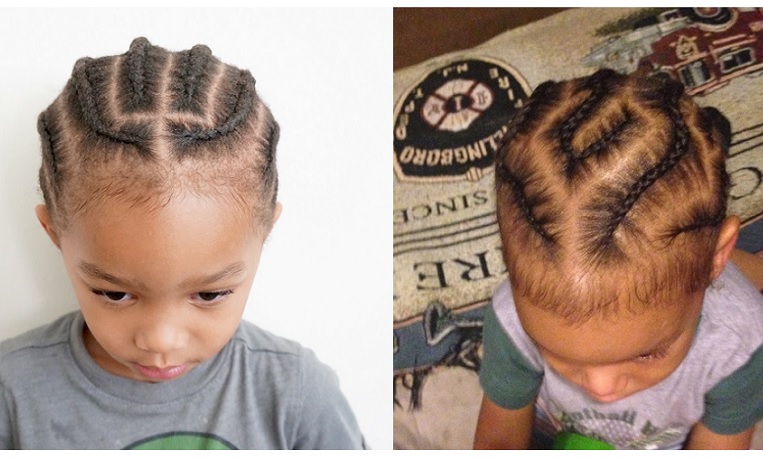 Braid styles for little boys can also be adapted by those as young as a toddler! Due to the age of these little boys, they might have very little or very thin hair. It's not fully grown yet, after all. As such, you can expect the braid to appear smaller with bigger gaps in between. As your little boy grows, so would the braids!
16. Patterns & Buns
Your little boy's hair length can differ in different spots. In that scenario, you can small, short braids where there is less hair. Where there is more, simply tie up longer braids! These longer braids can later be connected into a bun at the top, or folded into itself to create the unique look as you can see in the left picture!
17. Long Braid Style at the Back
Little boys blessed with a beautiful, long crown of hair can take advantage of this braid style. This looks simple enough, but you will soon see that it still takes lots of effort! Perhaps due to its simple patterns, many would wear this little boy braids hairdo in public for any occasions. Talk about convenience, even for little boys!
18. Barely There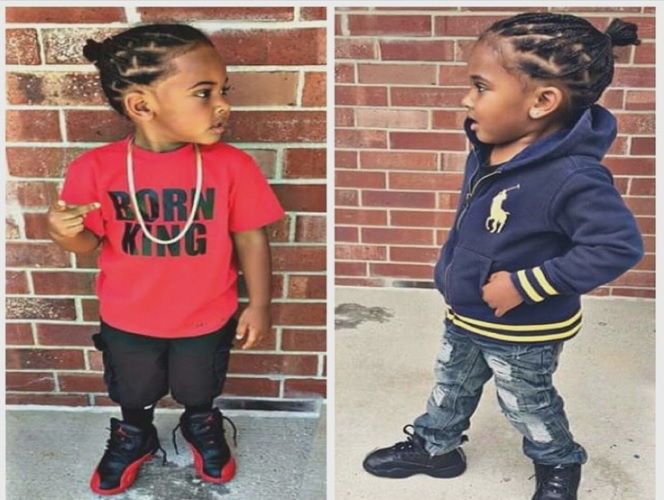 This type of braid looks so natural that you would barely notice that they are there until you take a second look! In this style, braids are tied up at the back into a little bun. You might notice small braids around the head if you look closely. Indeed, this is another braid style for little boys, whether it's short or long!
19. Mohawk Braids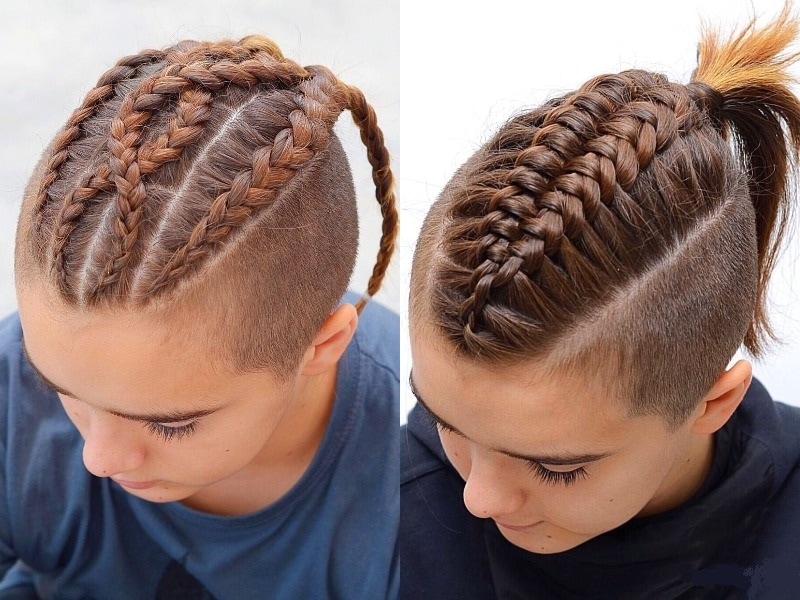 The different styles of braids you can create with a mohawk haircut show how versatile the style is. Little boys will love not just the faded sides, but the cool added braid detail at the top.
20. Braid Extensions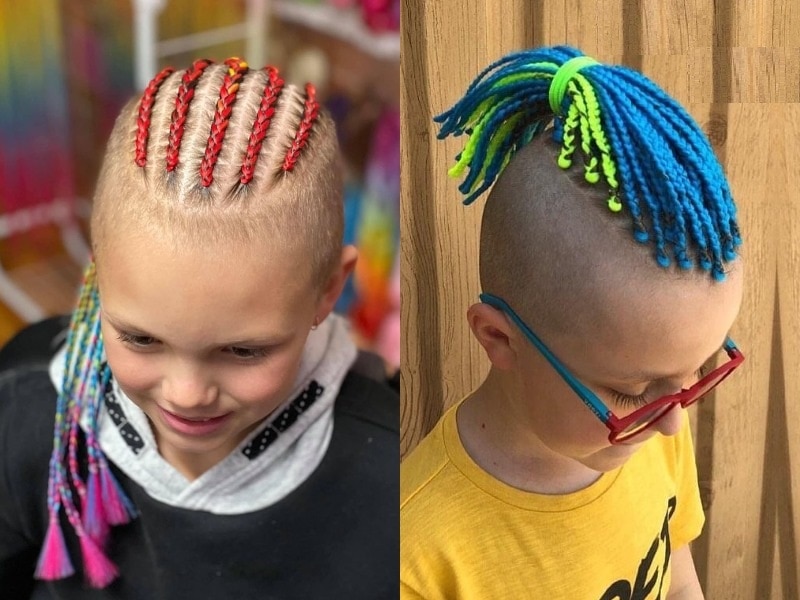 If your little boy is dying to try braided hairstyles but his hair isn't long enough, try braid extensions! They come in many colors and lengths, so have fun looking through all the options before he decides which colors he'd like to try.
21. Tiny Braids for Thin Hair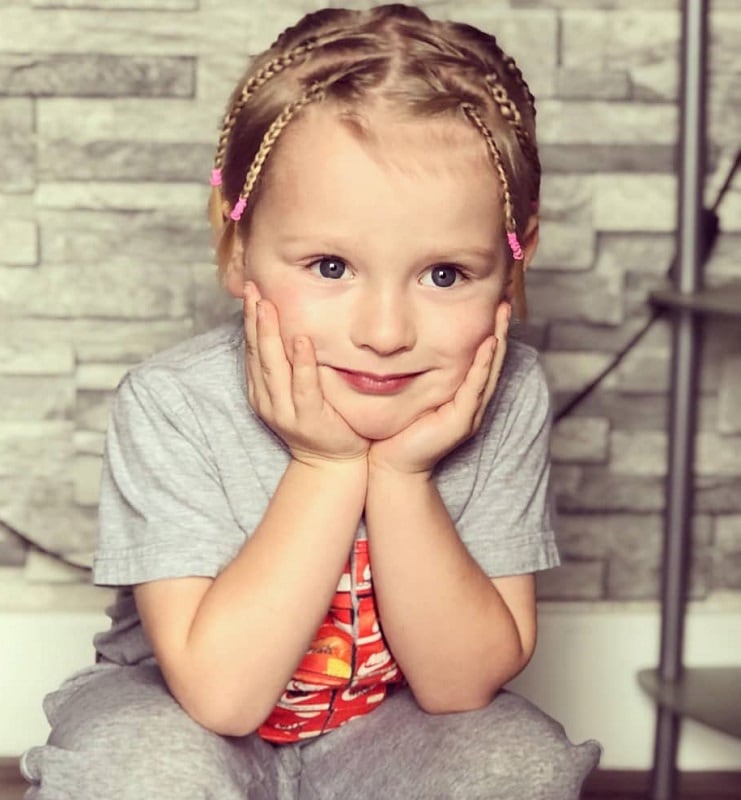 Tiny braids in a zig zag pattern distract from how thin this little boy's hair is. You can either use this pattern or do a center or off-center part before braiding to switch up the look.
22. Shaved Ponytail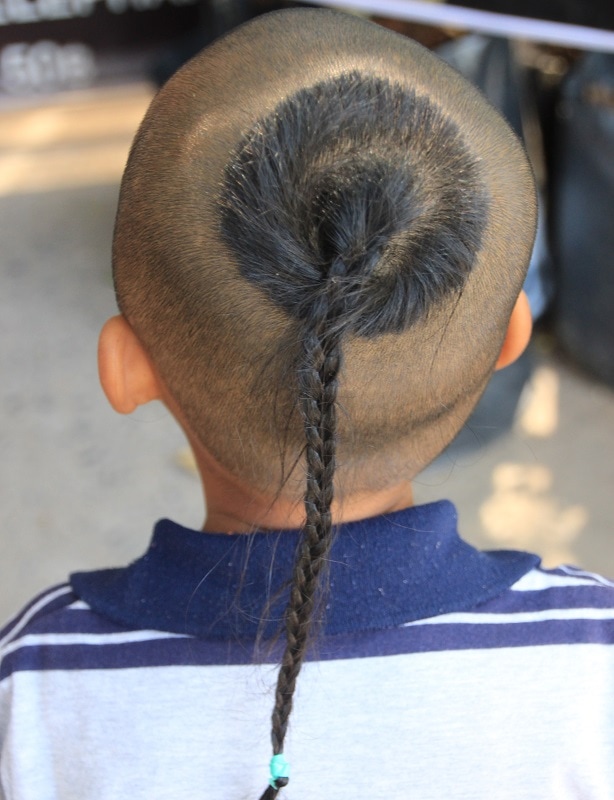 Whether you're trying to restart healthy growth on your little boy's head of hair or he just wants a super cool punk-looking hairstyle, a shaved head with only a circle on the crown for a long thin braid is a great choice.
23. Braids with Beaded Ends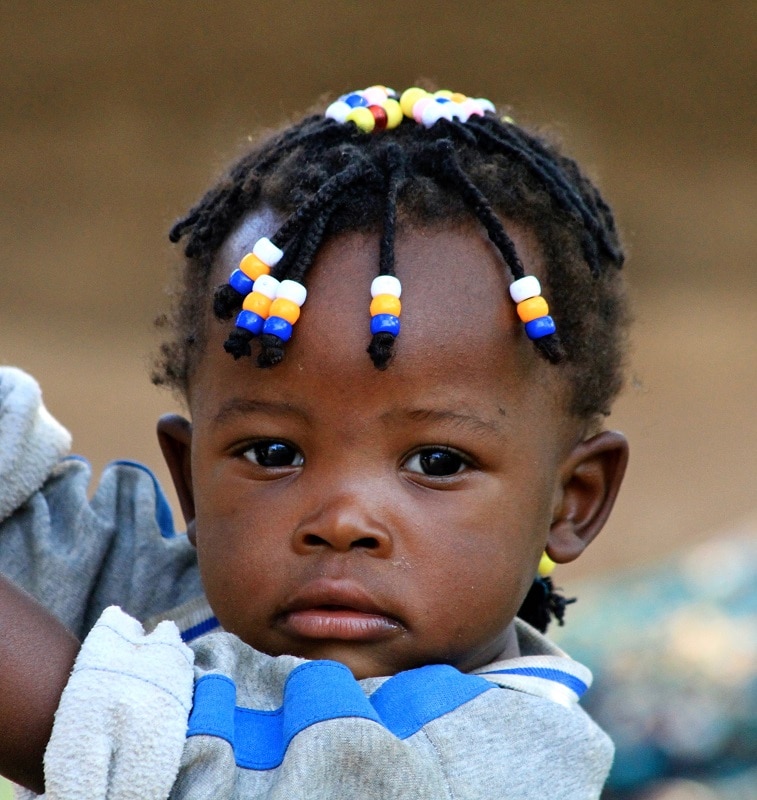 These short thin braids stacked with colorful beads are adorable on this little boy. This is a great protective style for natural black hair too.
24. Symmetrical Braids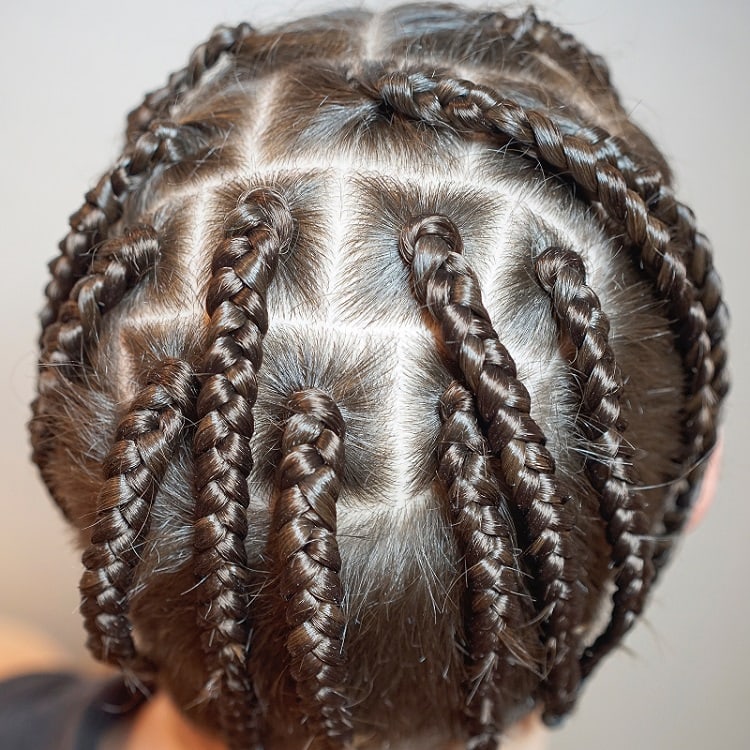 Another option for short hair braids is to create small sections, like pictured above, that are shaped like boxes before starting your braid. The round loop at the scalp is easy to get with a technique.
25. Half Braids for Long Hair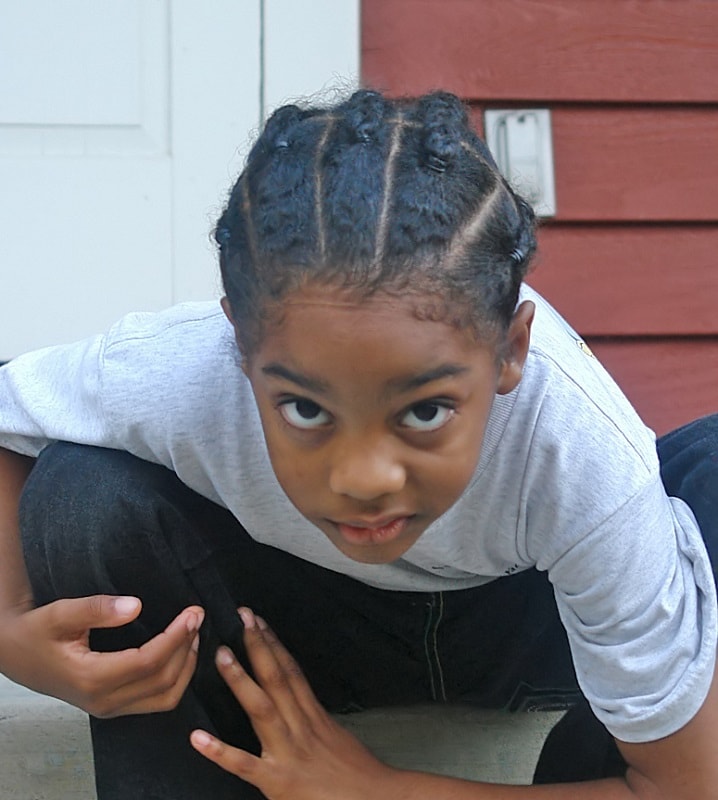 To sport a mix of natural hair and braids, create five sections of hair halfway down the scalp, then begin the braid and continue to ends.
26. Himba Boy Braids with Undercut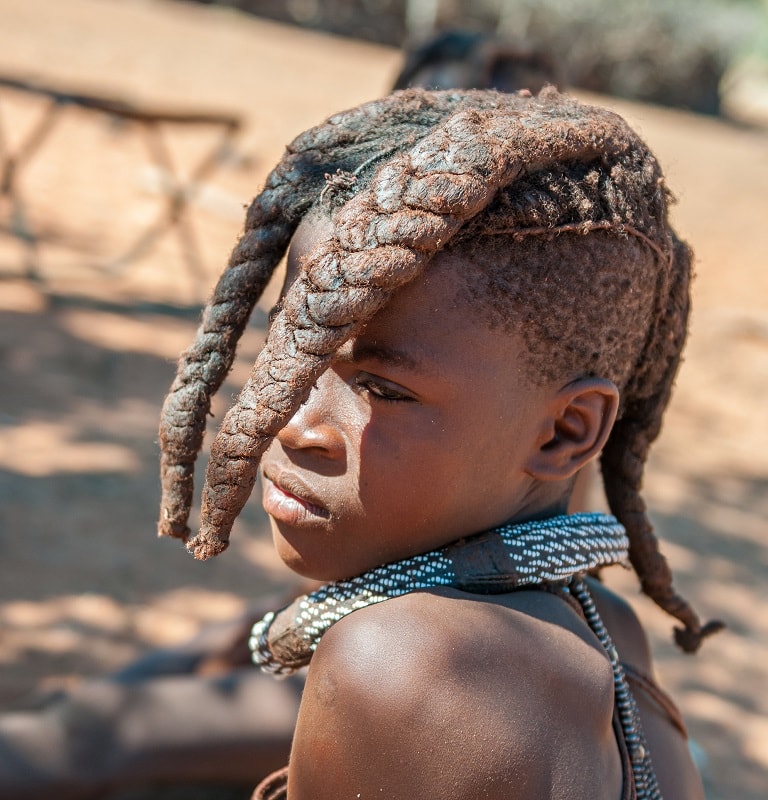 We love this mix of jumbo braids and undercut! The curly undercut's framing is a handsome touch, while the mohawk style braids express his ethnic personality.
27. Rattail Braids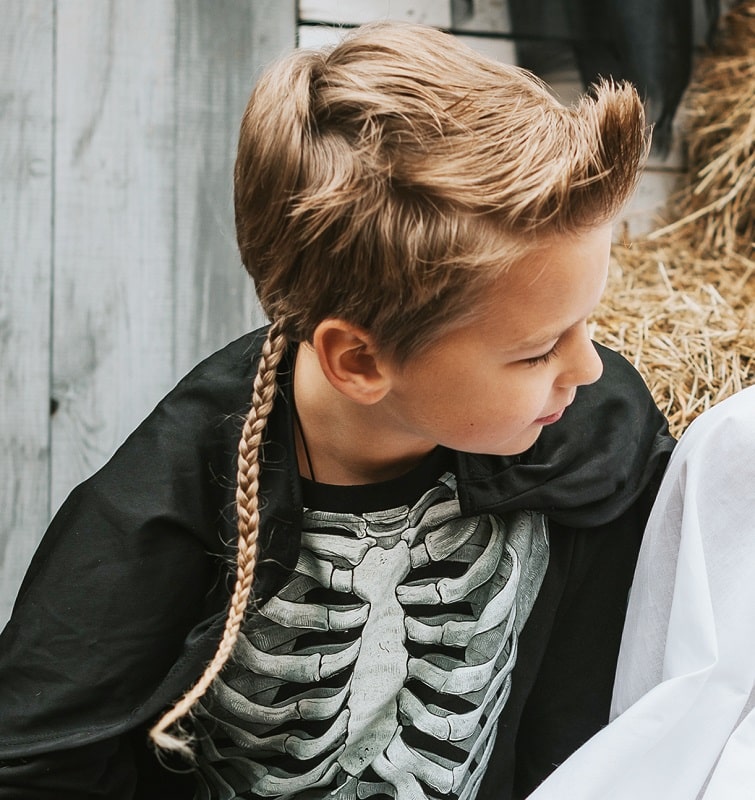 On this long somewhat spiked haircut, a long rattail braid comes past shoulders. If your little boy's hair isn't this long, try a braid extension.
28. Tie-less Braids on Natural Hair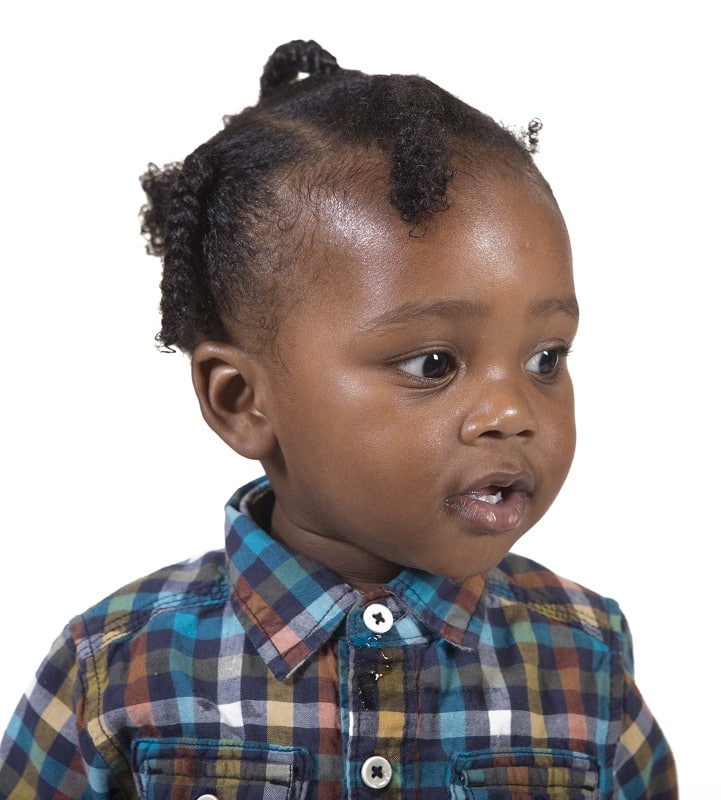 We love the seamless look these short braids have on this toddler boy's natural hair. If you're not comfortable having your child wear tiny hair ties, try braids that don't require a hair tie at the end.
29. Thin Mohawk Braid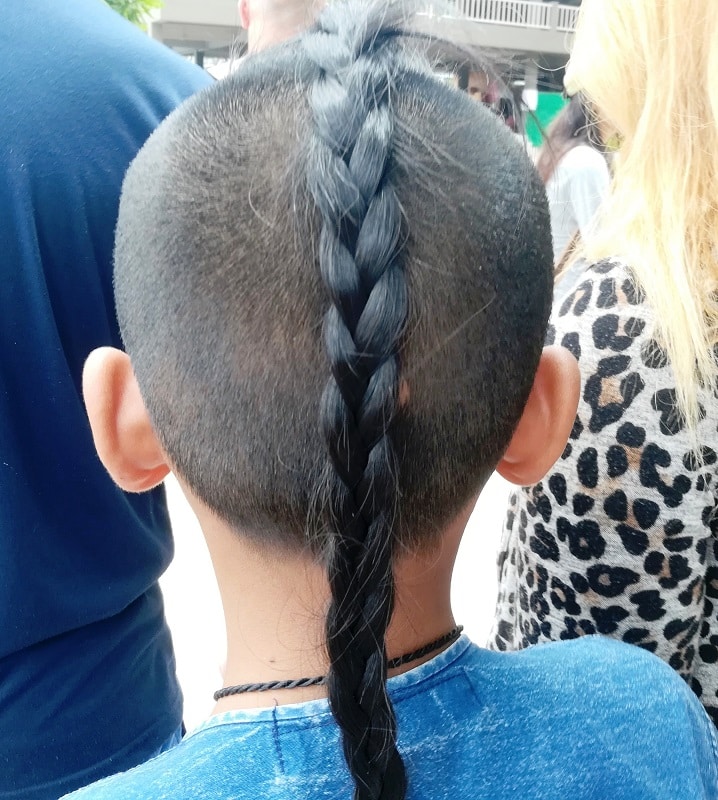 If your little boy managed to grow his hair out but now he wants to try something different, see how he likes this mohawk braid.
30. Micro Braids on Natural Hair
We've said it before and we'll say it again: micro-braids are one of the cutest styles for little boys. They'll last several weeks, take no time at all, and are perfect for summer style when the weather is hot!
So, there you have it! These are beautiful braided hairstyle ideas for little boys that you should definitely try out next. Remember, braids are one of the few essential hairstyles and they definitely should not be constrained to a single gender!
As you can see in this post, there are many ways that you can style this basic hairdo component to create your own unique look. Keep an eye out for our upcoming posts about hairstyles for little kids!