If your little boy has curly hair, you have a palette to play with! little boy's curly haircuts look just awesome. Every mom wants her child to look cute and stand out of the crowd. You have to work on their clothes, shoes, cleanliness and, not to be forgotten, hairstyle! A good hairstyle can add an entirely new dimension to your little boy's avatar.
Does your little boy have curly hair? Those are a mess to deal with, aren't they? Well, not anymore. We have made a curated list of the coolest and funkiest curly haircuts that you must try for your little boy.
Lovely Little Boy Haircuts for Curly Hair
Creating funky hairstyles for little boys with curls has never been so much fun before. Little boys create a lively air in the house and to add to their liveliness, a funky hairstyle goes a long way. Try following curly hairstyles for your little boy for a cool look.
1. Curly Rainbow Hair
A curly rainbow 'hawk is a blend of a cool haircut and a palette of funky colors. Tell the hairstylist to give your little boy a fohawk haircut. Then dye divided sections of hair with different colors.
This little boy's curly haircut is an ideal choice for mischievous ones as it explains this trait well. Also, this style requires very low maintenance and is the perfect choice for busy mothers.
Alluring Curly Hairstyles for Toddler Boys
The cherubic accentuates the innocence of little boys. If you want your boy to look decent and innocent, a cherubic cut is a perfect choice for you. In it, the length of the hair is kept short, giving your boy a neat and trimmed look.
This little boy haircuts for curly hair is especially good for school-going boys as you have to take care of the school's rules and regulations as well.
3. Curls with Low Fade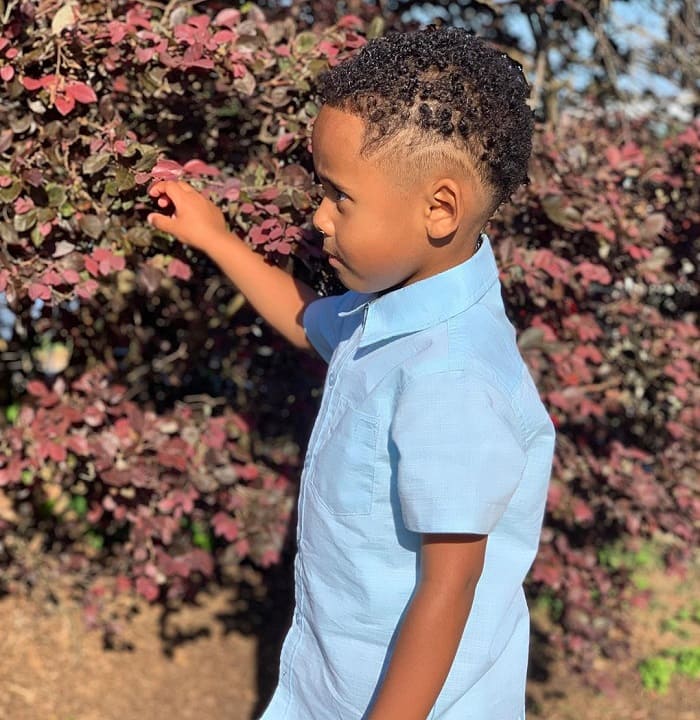 Afro and tightly coiled curls are known for their unruly character and the hard time they give to mothers while styling. But, having a child with tight curls is now very interesting.
You can try unique hairstyles like fade cuts. Low fade with short trimmed top hair is a very subtle style for little boys with curly hair. It makes hair manageable and neat.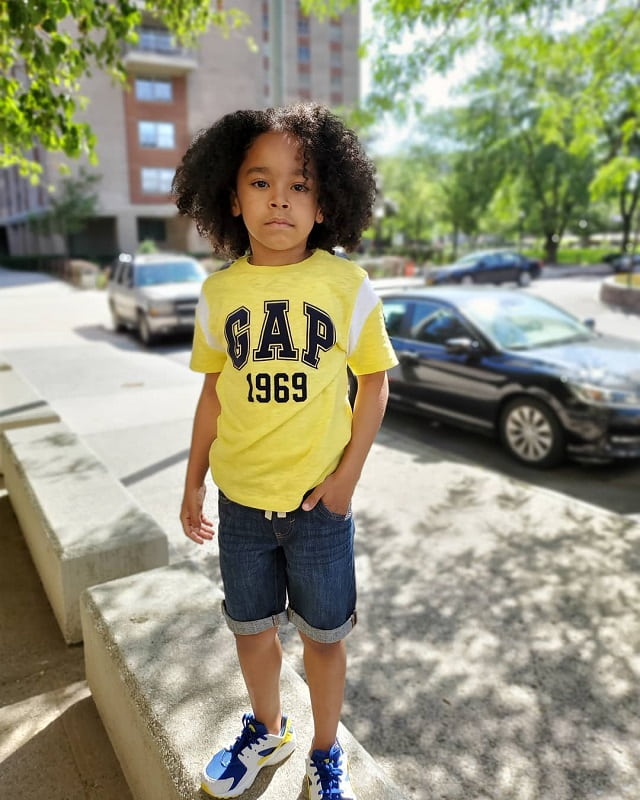 Does your child have an afro? Those unruly locks create a lot of mess, don't they? Well, not anymore. The best way to deal with a long afro is to leave them alone!
Create a center partition in the hair, brush them and apply some hair spray to hold the hair in place. Your child is now ready-to-go.
5. Wavy Manbun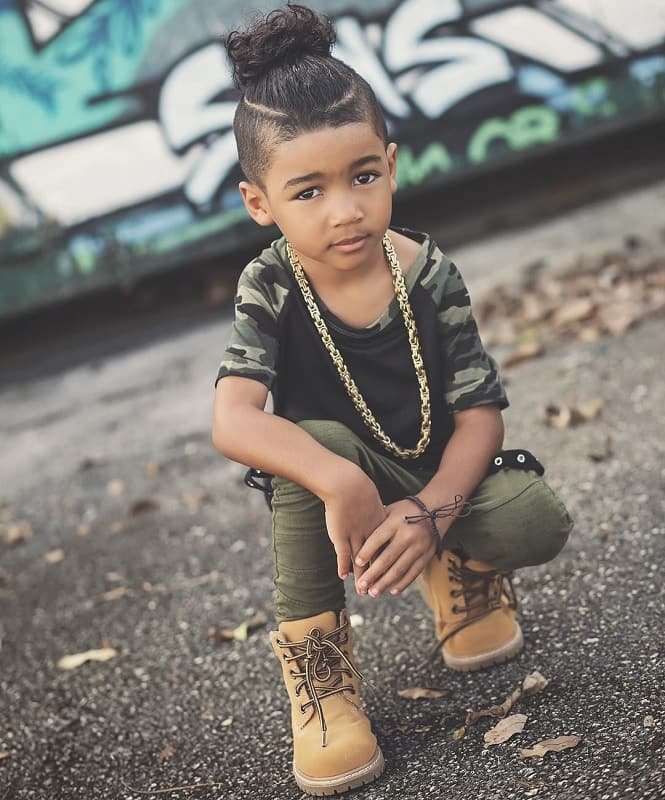 The man bun has come a long way. A lot of variations have been introduced to this curly hairstyle for kids but the style and coolness never reduce. Get your boy a wavy mohawk cut with shaved sides and long top locks.
Tie the top locks into a bun on the back. This hairstyle gets funnier when done with wavy hair. So, if your little boy has wavy hair, this is a perfect option.
Cutest Braided Hairstyles for Little Boys
6. Curly Undercut
An undercut is what fashion hype is all about these days. It is combined with straight, wavy, curly hair and even afro. A curly undercut with contrastingly long top curls will give a very dramatic and cool look to your child.
Where it is a good style to hold little boy's curly hair in place and easy to handle, it also adds creativity to the overall look.
7. Messy Waves
Waves are as complicated as little boy's curly haircuts. Therefore, they are dealt with likewise. However, wavy hair gets a fair share of some sleek hairstyles as well. Messy waves on medium-length blonde hair are easy-to-get and need very less frequent maintenance.
As clearly obvious, curly hair is no more a challenge to style. Rather, the fashion industry has introduced a variety of little boy haircuts for curly hair. If your little boy is curly-haired, you have a plethora of styles to try.