If your little boy has curly hair, you have a palette to play with! little boy's curly haircuts look just awesome. Every mom wants her child to look cute and stand out from the crowd. You have to work on their clothes, shoes, cleanliness and, not to be forgotten, hairstyle! A good hairstyle can add an entirely new dimension to your little boy's avatar.
Does your little boy have curly hair? Those are a mess to deal with, aren't they? Well, not anymore. We have made a curated list of the coolest and funkiest curly haircuts that you must try for your little boy.
Lovely Little Boy Haircuts for Curly Hair
Creating funky hairstyles for little boys with curls has never been so much fun before. Little boys create a lively air in the house and to add to their liveliness, a funky hairstyle goes a long way. Try following curly hairstyles for your little boy for a cool look.
1. Curly Rainbow Hair
A curly rainbow 'hawk is a blend of a cool haircut and a palette of funky colors. Tell the hairstylist to give your little boy a fohawk haircut. Then dye divided sections of hair with different colors.
This little boy's curly haircut is an ideal choice for mischievous ones as it explains this trait well. Also, this style requires very low maintenance and is the perfect choice for busy mothers.
Alluring Curly Hairstyles for Toddler Boys
The cherubic accentuates the innocence of little boys. If you want your boy to look decent and innocent, a cherubic cut is a perfect choice for you. In it, the length of the hair is kept short, giving your boy a neat and trimmed look.
This little boy haircut for curly hair is especially good for school-going boys as you have to take care of the school's rules and regulations as well.
3. Curls with Low Fade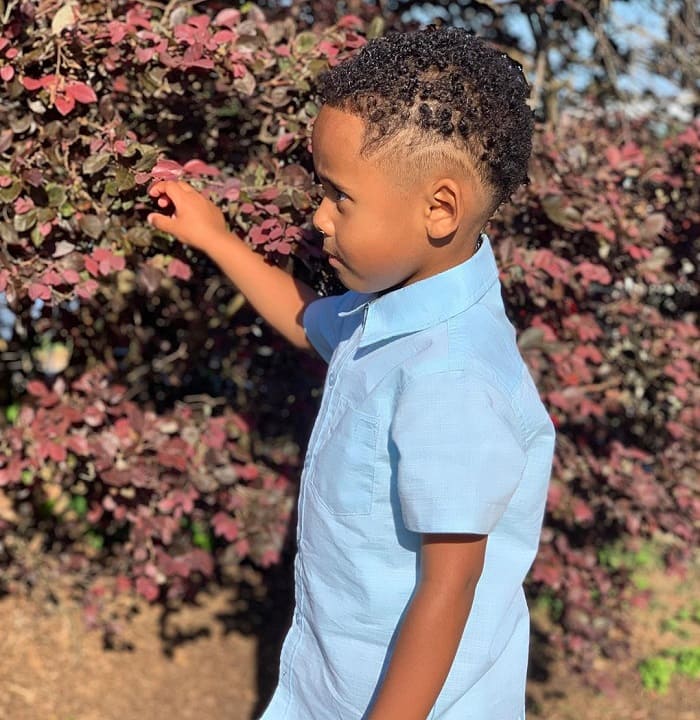 Afro and tightly coiled curls are known for their unruly character and the hard time they give to mothers while styling. But, having a child with tight curls is now very interesting.
You can try unique hairstyles like fade cuts. Low fade with short trimmed top hair is a very subtle style for little boys with curly hair. It makes hair manageable and neat.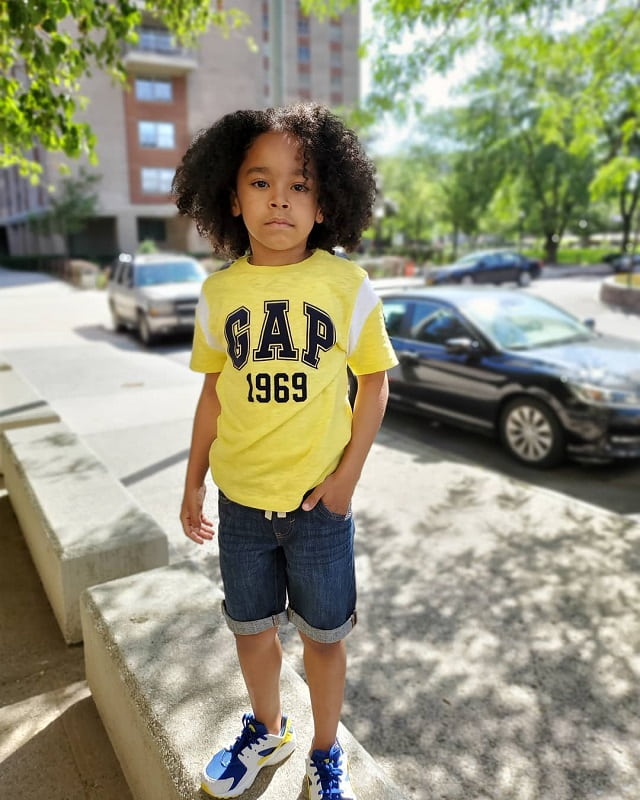 Does your child have an afro? Those unruly locks create a lot of mess, don't they? Well, not anymore. The best way to deal with a long afro is to leave them alone!
Create a center partition in the hair, brush them and apply some hair spray to hold the hair in place. Your child is now ready-to-go.
5. Wavy Manbun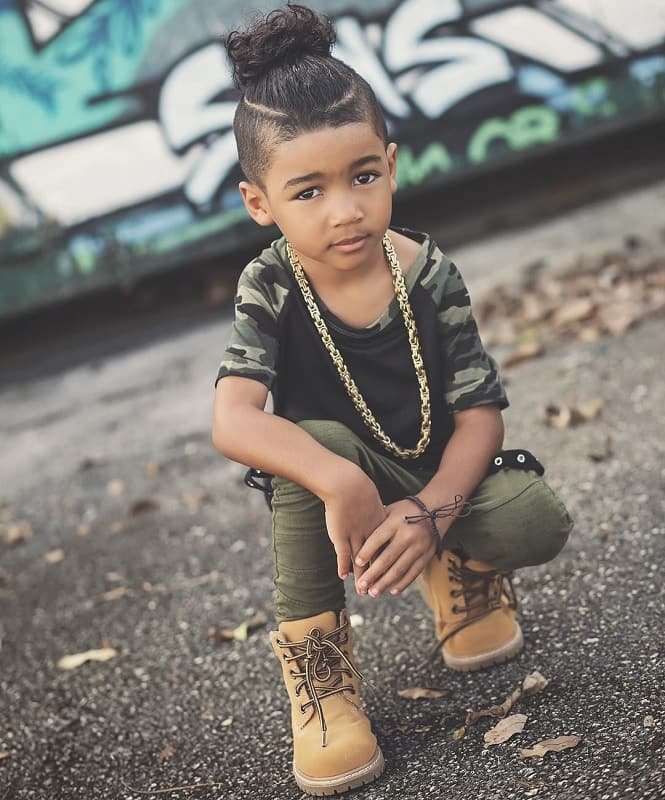 The man bun has come a long way. A lot of variations have been introduced to this curly hairstyle for kids but the style and coolness never reduce. Get your boy a wavy mohawk cut with shaved sides and long top locks.
Tie the top locks into a bun on the back. This hairstyle gets funnier when done with wavy hair. So, if your little boy has wavy hair, this is a perfect option.
Cutest Braided Hairstyles for Little Boys
6. Curly Undercut
An undercut is what fashion hype is all about these days. It is combined with straight, wavy, curly hair and even afro. A curly undercut with contrastingly long top curls will give your child a dramatic and cool look.
Where it is a good style to hold little boy's curly hair in place and easy to handle, it also adds creativity to the overall look.
7. Messy Waves
Waves are as complicated as little boy's curly haircuts. Therefore, they are dealt with likewise. However, wavy hair gets a fair share of some sleek hairstyles as well. Messy waves on medium-length blonde hair are easy-to-get and need very less frequent maintenance.
8. Curl Chops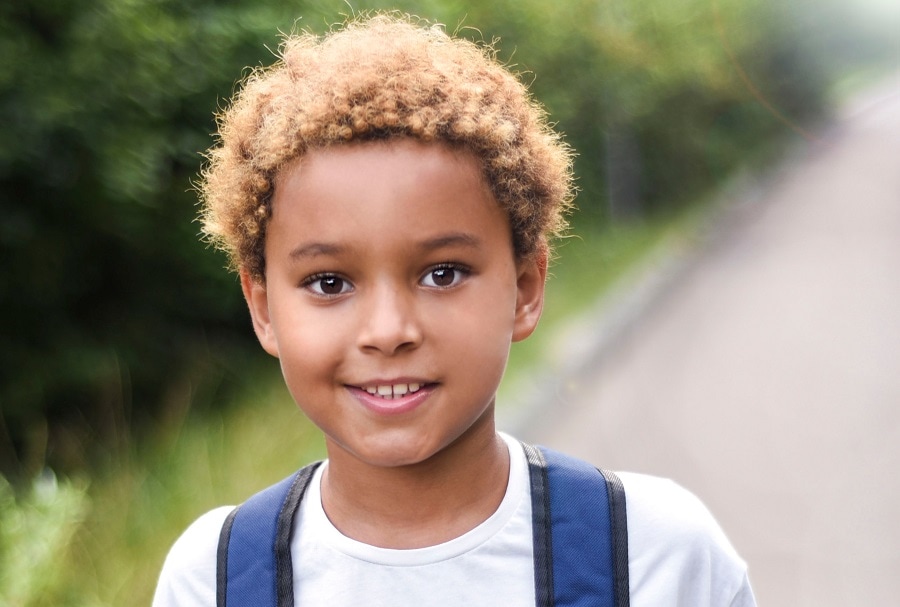 This curly hairstyle enables your little boy to experiment with his tresses without employing a hairbrush. In addition, most situations require no hair solution to define his ringlets.
If your child's locks are naturally rigid, leave them simple and narrow, so they don't come all around his face. They're simple, effortless, and stylish.
9. Afro Bloom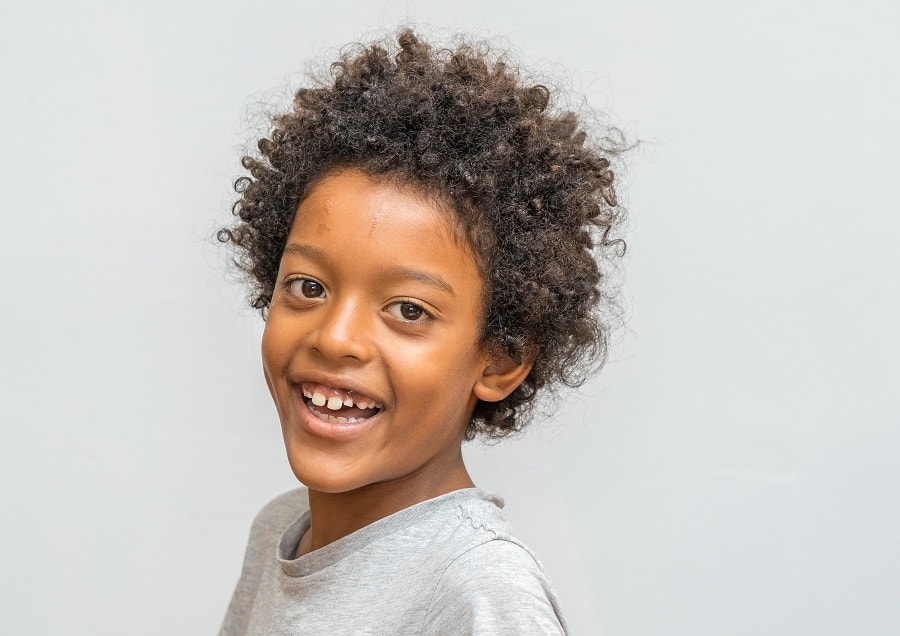 A genetic afro styling is among the haircuts that anyone can wear. However, also those hairdos necessitate several styling from the future.
If your kid has the appropriate tresses, you should give him this new hairstyle. The afro is an iconic curly hairstyle. We adore it, or if only we could, we'd have it for every straggly kid on this globe.
10. Medium Blonde Waves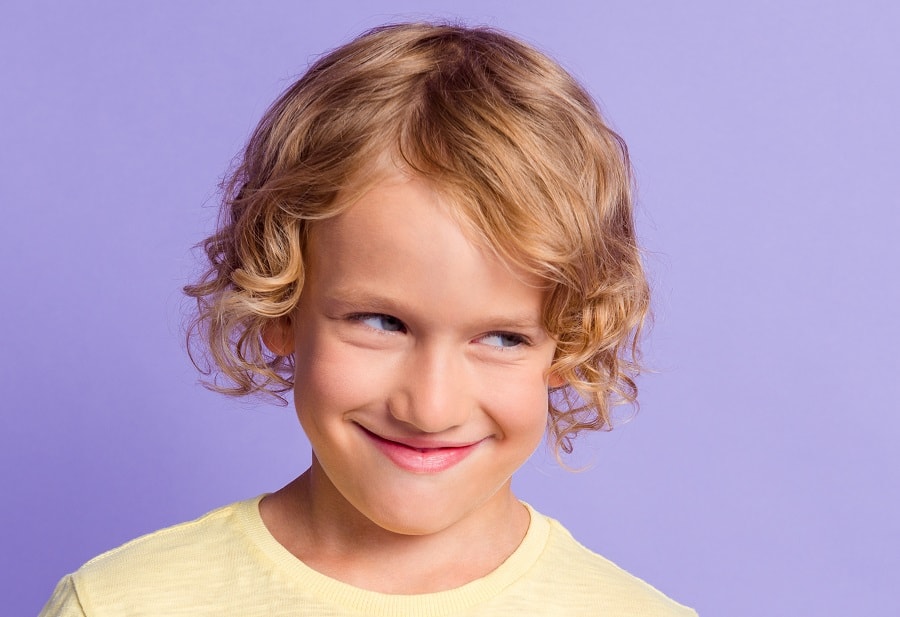 Undoubtedly perhaps one of those styles that are so simple to uphold while remaining as whimsical as it's ever been. Of course, you also might add slight bangs.
Everything that you require to do just after bathing your kid is to use a small amount of texture spray to the bottom of his tresses and squish it up.
11. Little Militant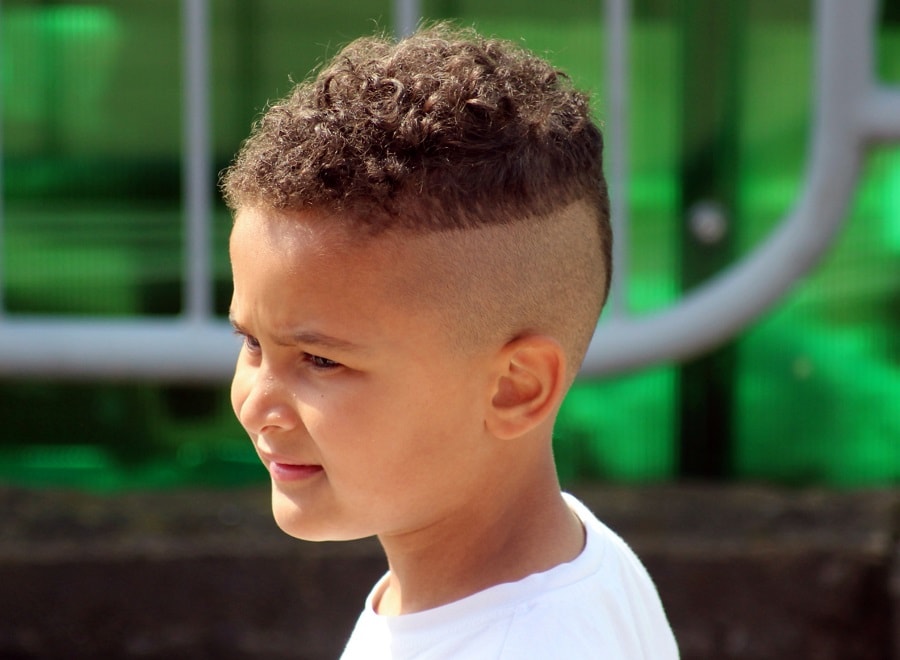 This toddler's hair texture will make him the center of attention wherever he passes. Keep the ringlets intricate and shaved side brief to form a clear distinction.
There's nothing more adorable than a young boy with an adult haircut. Take a small amount of hair lotion to form and shine the curly hair.
12. Twisted Tales
This curly blonde haircut is blissful down to the final layer of tresses. Of course, it's ideal if your kid when you are in a rush to squeeze in some styling product before he departs.
It's natural, playful, and allows you to express your free spirit. This will accentuate their natural trinkets and add to one's sly allure.
13. Long Wavy Style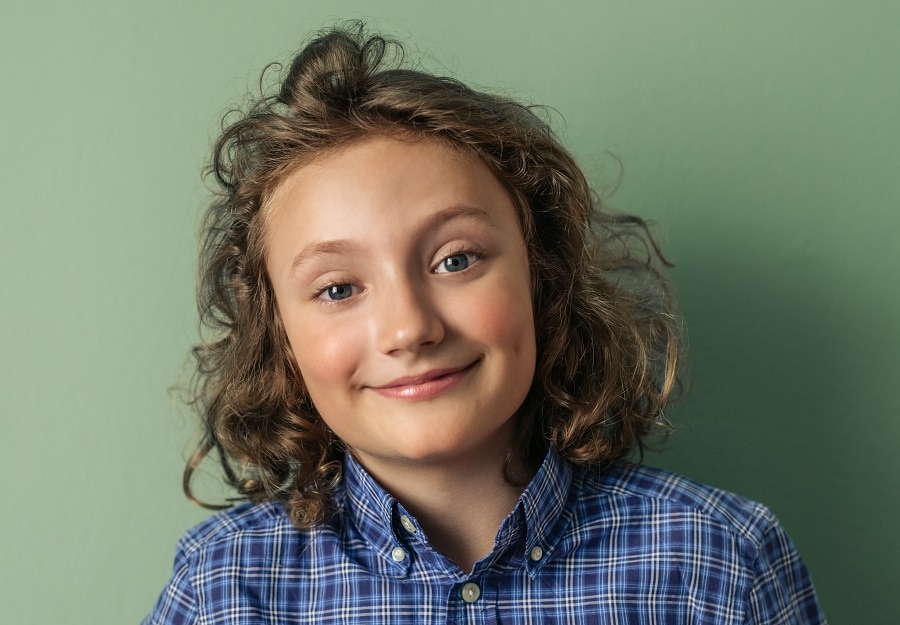 A sweet innocent little boy haircut idea for those who have curly hair. We promise this style will attract the other boys' attention, who may not have curly hair but rather waves of a fairly long length.
Flawless and classy. The glance is so cute and enchanting for a little kid wearing it. It is a simple look that requires little tailoring.
14. Stringing Curls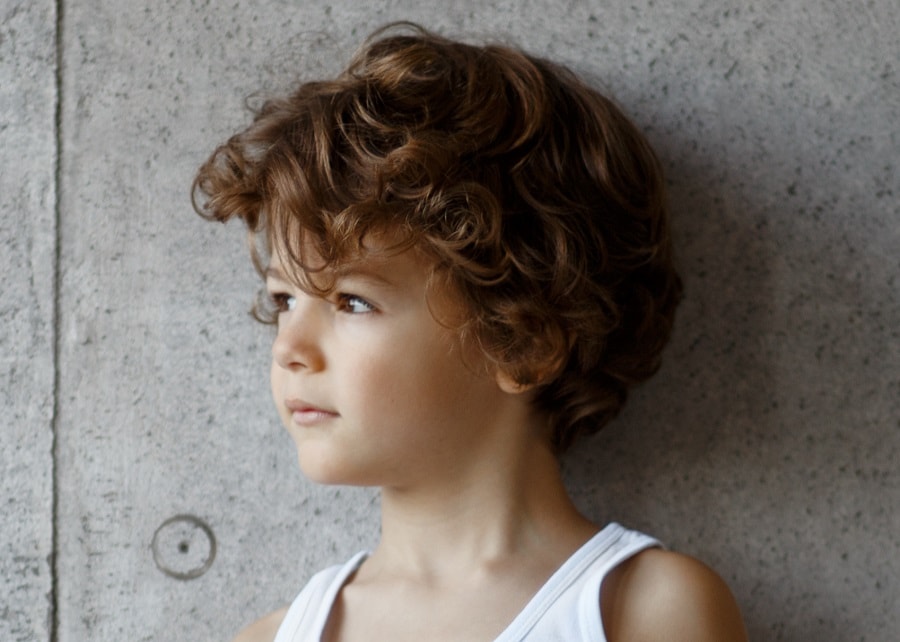 If your child has big, curvy tresses, don't be afraid to display them off—a fantastic longer haircut for kids with wavy hair.
Not all of us are blessed with such gorgeous, intuitive, and gorgeously patterned curls. This hairstyle is ideal and convenient to keep and take care of.
15. Voluminous Crop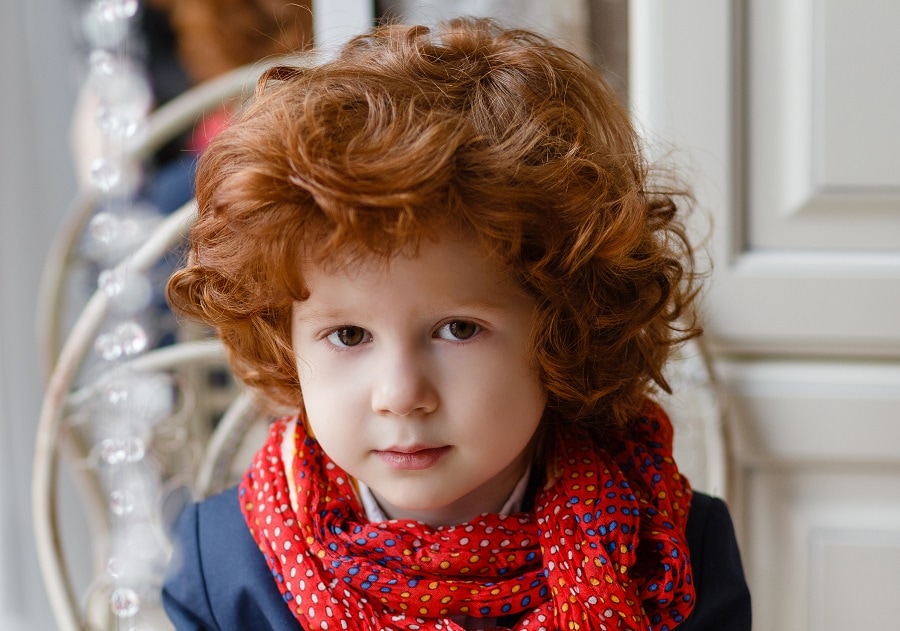 Rock stars will dig this reddish curly haircut. If your child's curly hair is small but numerous, this really is the view for them.
It wouldn't be too lengthy, making him look gorgeous. We adore this swirly styling on young boys. It's stylish, soft to the touch, and a lovely mess.
16. Quiff Bouffant
Kids with natural curls will appreciate an afro quiff undercut since it will make their face shape slimmer and much more stylistic.
However, this hairstyle does not need to be modeled as accurately or as often as you may believe. For example, you could let it develop fairly longer on the top while keeping the side part short.
17. Rigid Ringlets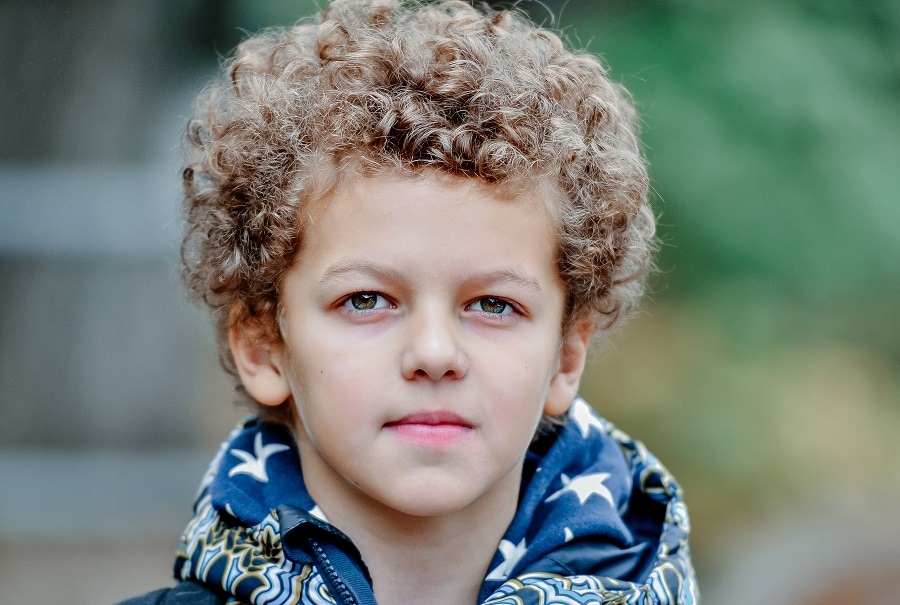 Although this straggly haircut for black children may not be suitable for all of us, it embodies the positive vibe in every manner. It is simple to develop a tone that is also easy to retain.
You might not be able to put your finger on it, but a certain aspect of this hairstyle makes your kid happy. These curls are the epitome of adorableness.
18. Medium Afro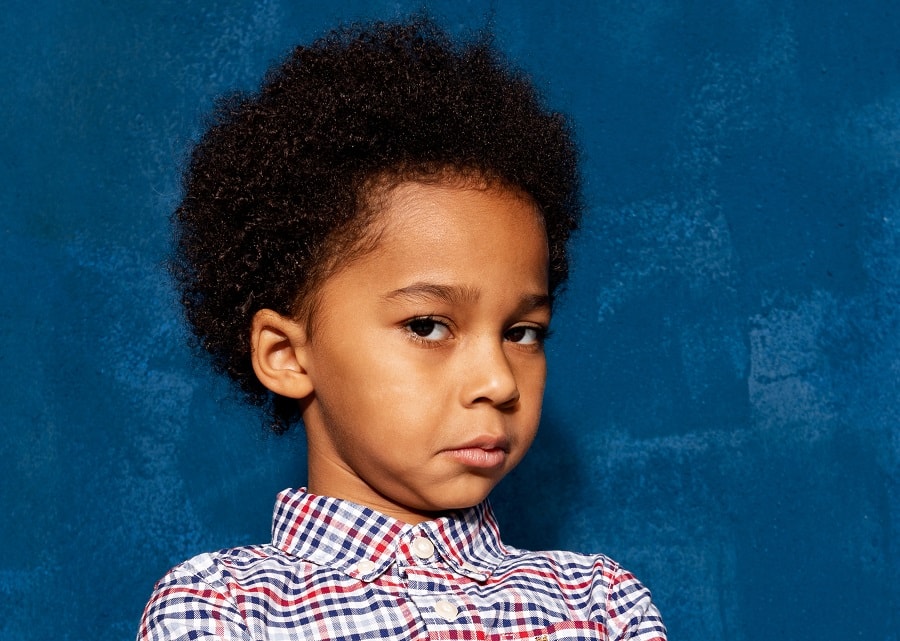 A quintessential wavy haircut for boys comes in a variety of styles. If the strict afro ringlets suit your individuality, opt for them.
Even though ringlets seem to dry out, nourish them with oils. And although their hair appears to be changing little and developing steadily, snip the edges every few months.
19. Tousled Baby Mane
Among the most adorable moderate hairstyles for tiny boys. Once your child's hair is this span, it's a great thing to go with a mid-length style.
It has a sloppy appearance but can be cast wisely when necessary. You must recreate this style. It may take some time to get laid, but we guarantee it will be amazing.
20. Shorter Waves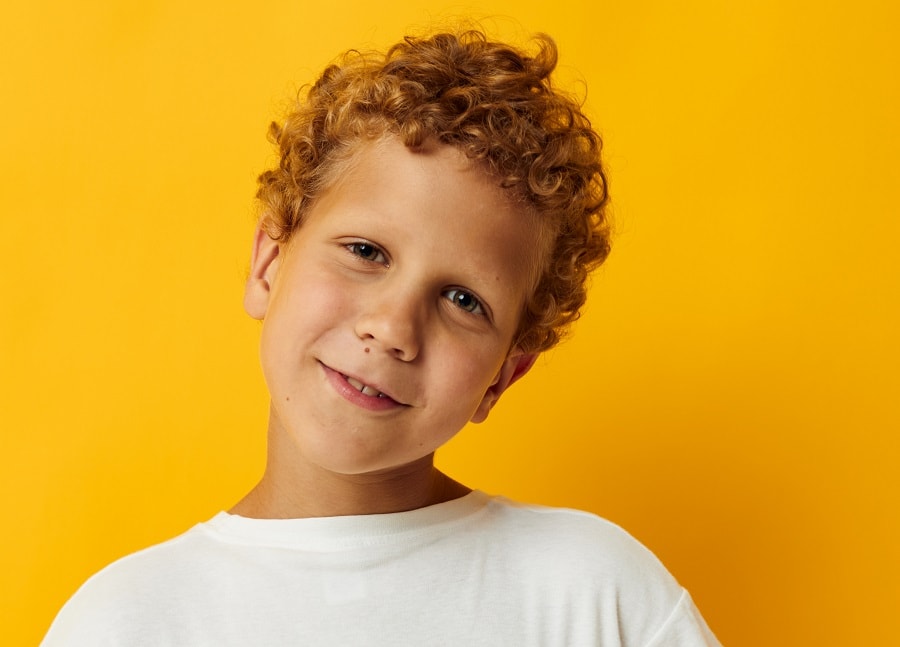 There's no means to go incorrectly with narrow waves. They are tidy, stylish, and simple to preserve, requiring almost no styling.
Your kid can carry it swept back or trim it narrower on the edges, depending on his facial structure. It's no secret that it raises the adorable factor to an entirely new level.
21. Low Taper Fade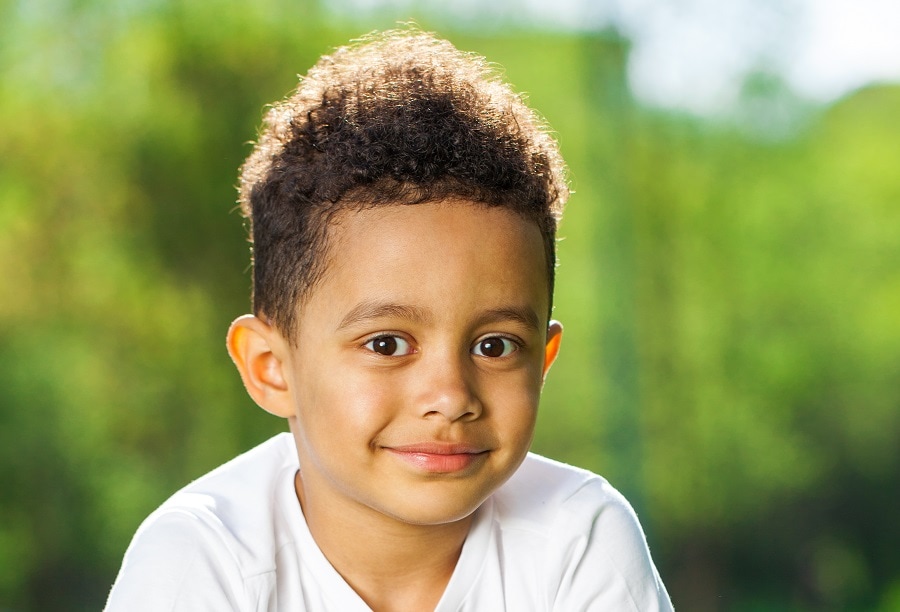 This styling is a mash-up of several frizzy haircut methods. The wobbly ringlets add an amusing, copious aspect to the style, while the undercut taper fade adds a polished look.
Trimmed the side part and rear end very narrow, leaving the upper half a few inches in length.
As clearly obvious, curly hair is no more a challenge to style. Rather, the fashion industry has introduced a variety of little boy haircuts for curly hair. If your little boy is curly-haired, you have a plethora of styles to try.