As the 90s steadily continue to experience a variety of fashion comebacks, one that has taken kids fashion by storm is the bowl cut for boys. From straight hair to curly hair textures, from platinum blonde to jet-black, the bowl cut suits all hair textures and colors.
It is the perfect haircut for your boys as it will allow their hair to grow, yet at the same time keep them away from their eyes. It suits boys with any face structure and if not anything makes them look even more adorable than ever.
Trendiest Bowl Cut Ideas for Boys
Check out these amazing boy's bowl cut ideas that are making a come back in 2023!
1. Classic Bowl Haircut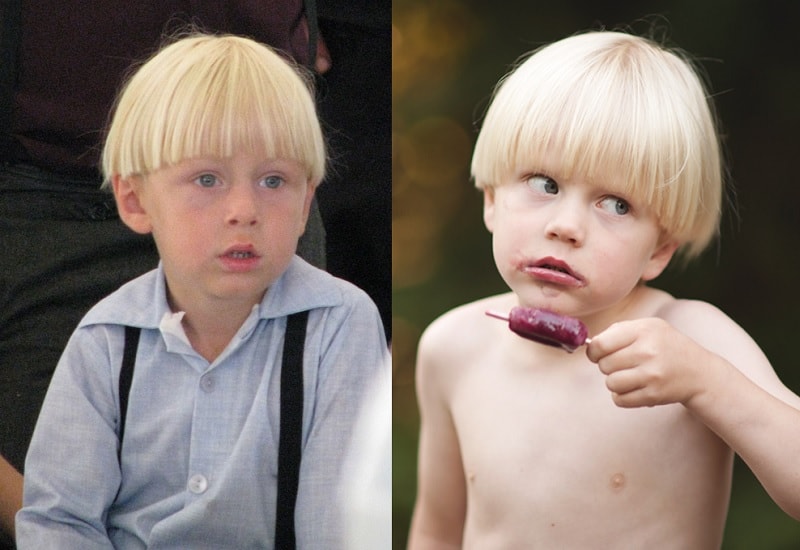 This is one of the bowl cuts for boys that you absolutely cannot go wrong with! It is easy to manage and at the same time, allows your kid to have a decent amount of hair length. If your boy fusses about cutting his hair way too short, this straight haircut for little boys is something you can opt for.
It practically takes no time to style or comb. The cut itself will have the hair fall perfectly around your baby boy's head, making him look chic and ready for any occasion.
2. Asymmetrical Haircut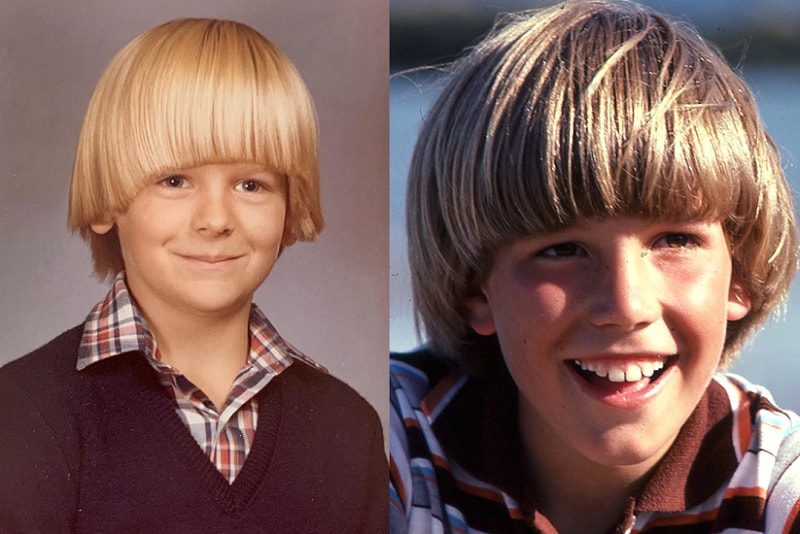 This boy's bowl haircut has a minute variation as compared to the bowl cuts that is the same length all around. For this haircut, the front fringe porting is short, but the hair gets longer as it goes towards the back of the head. This haircut is perfect for 9-year-old boys for school; it won't be a huge hassle to get it ready as well.
3. Bowl with An Undercut
If you want your kid's hair to be a classic with a little blend of modern, this bowl cut with an undercut is a great option. Instead of having the hair long and all down the forehead, this haircut comes only halfway.
Allowing the hair to be shorter and more manageable. The modern element to this haircut is the undercut. This allows the cut to look more sleek and put-together. If your boy isn't willing to opt for a full-blown bowl cut, this variation is perfect.
Buoyant Long Hairstyles for Little Boys
4. Blunt Cut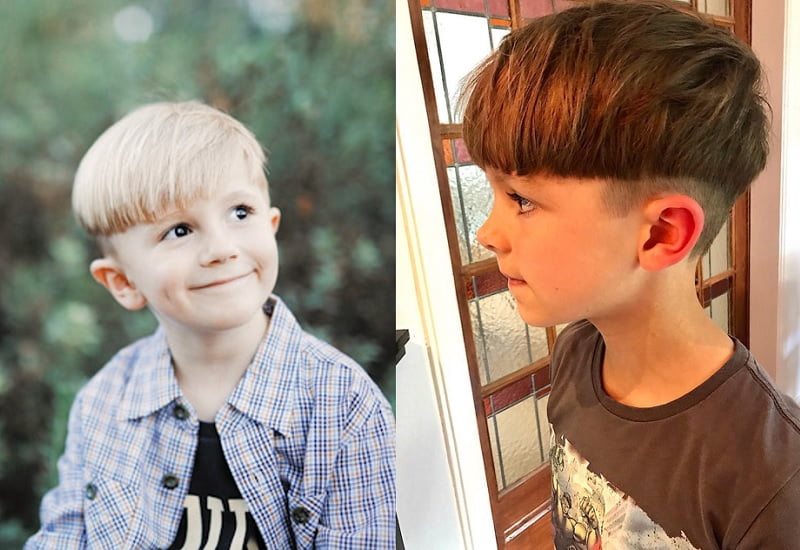 If the blunt bowl cut isn't something, you or your toddler would like the point plus undercut on bowl haircut for boys is yet another variation. The pointcut allows you to have less volume and bluntness.
Thus, making the entire look more edgy and neat looking. It is perfect for your boy if he's insistent on looking modern-day stylish.
5. Bowl Cut for Asian Boys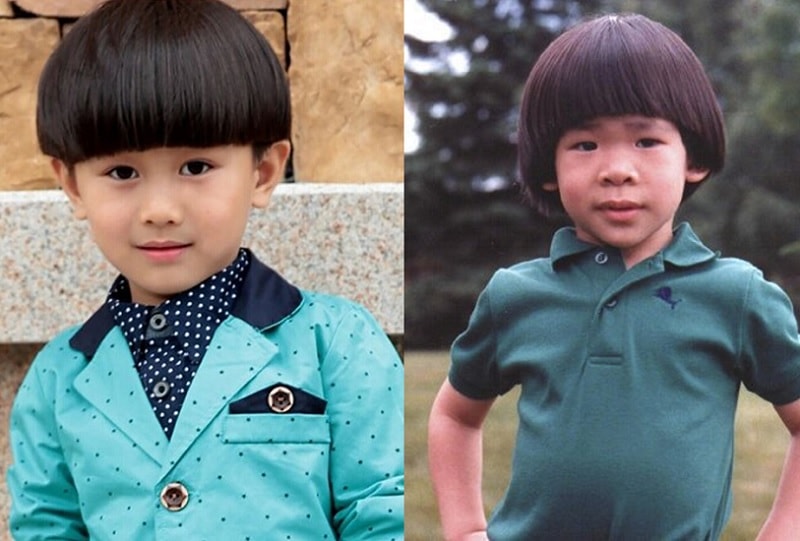 If your little boy has blessed with pin-straight hair, thick or thin, the bowl haircut is perfect for baby boys. This haircut- bowl cut for boys, allows the hair to fall perfectly around the head. Thus, making the face look much more innocent. It won't require much maintenance except combing it daily.
6. Blonde Bowl Cut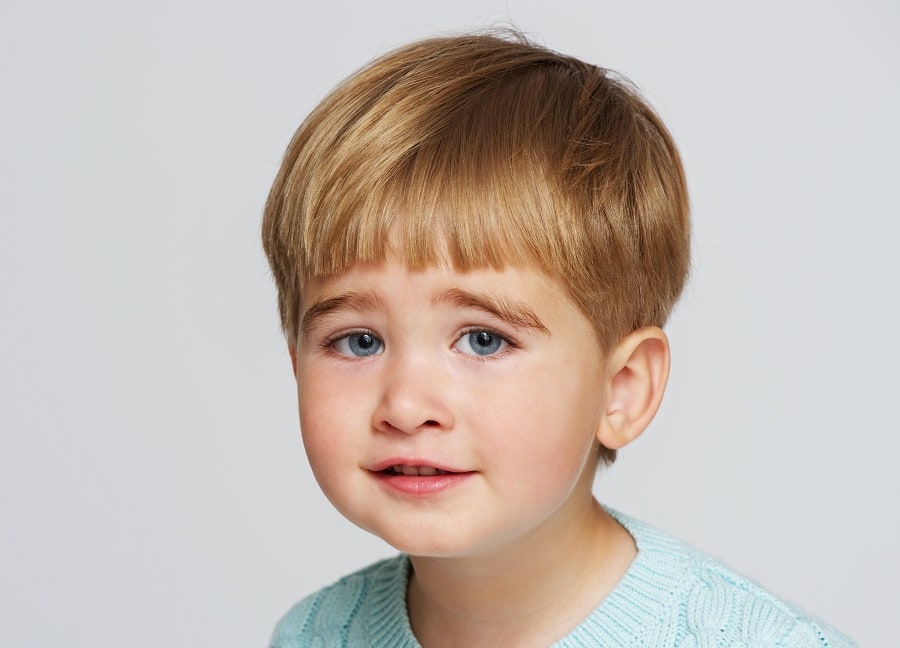 Bowl cut comes with all hair length options. Here is a cute medium-length bowl cut for boys. Comb the hair forward to create a loose fringe effect.
This cut will match little boys with round and angular face cuts. It will balance the facial features and highlight the cheekbones.
7. Uneven Locs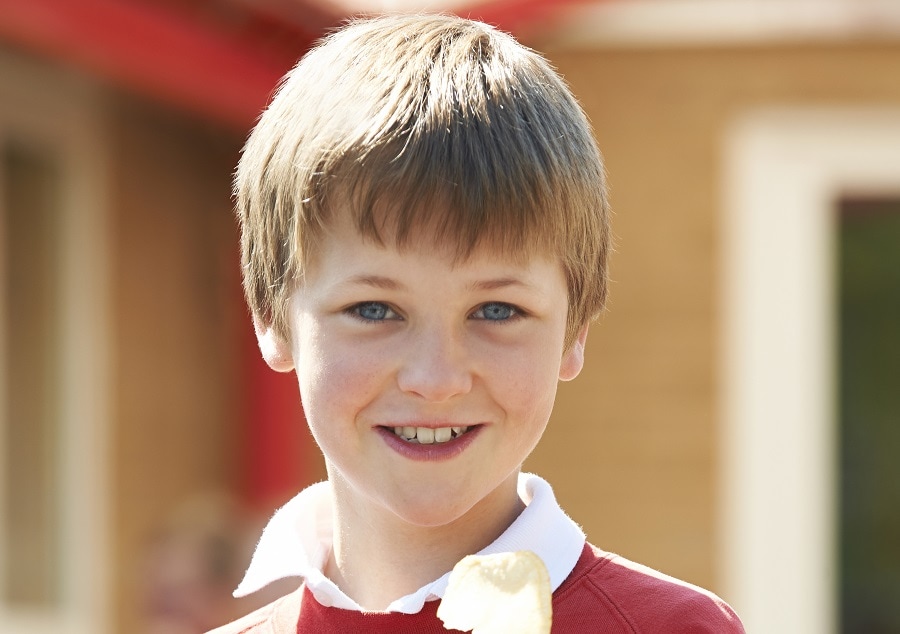 The uneven locs of hair will be the ultimate addition for styles like these. This style is a classic variation of the original style to add a modern vibe to it.
This style will be the best pick if your little fella has thick hair. The uneven locs will gather the attention of people instantly.
8. Long Nape Bowl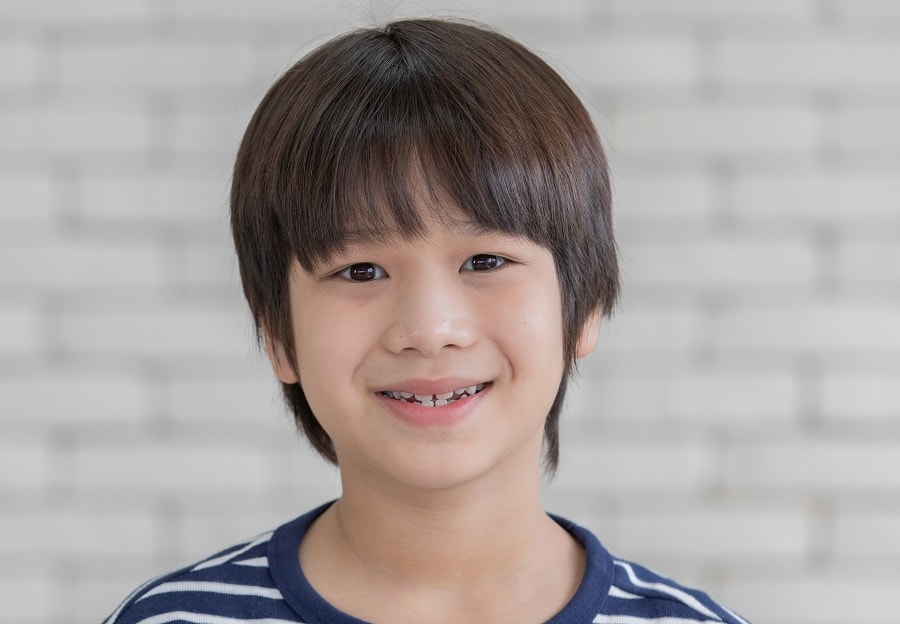 This is the old-school classic neck warmer style from the 80s. It has a dense volume at the nape to keep it warm.
Simultaneously, a thick solid cut with a vintage appeal has loads of structure to frame the hair shape. So if you are looking for an old-school style for your boy, you should consider this.
9. Bleached Bowl with Undercut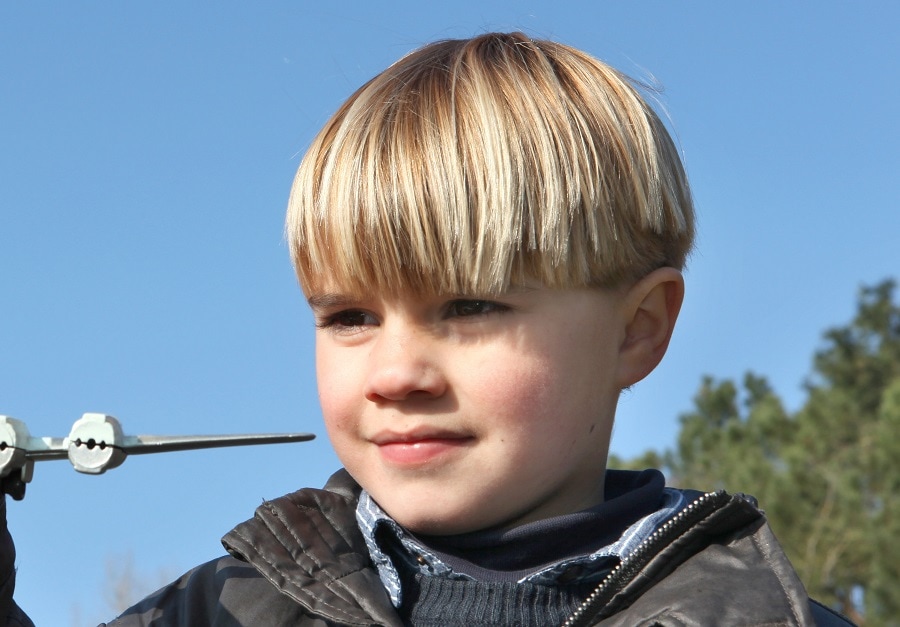 We can't get over the idea of bleaching the hair. A bowl with bleached hair and warm under color puts your little boy on the hair trend.
The top has clear chopped hair with warm highlights for a bold look. This could be some cool makeover for a fresh back-to-school look.
10. Curly Bold Cut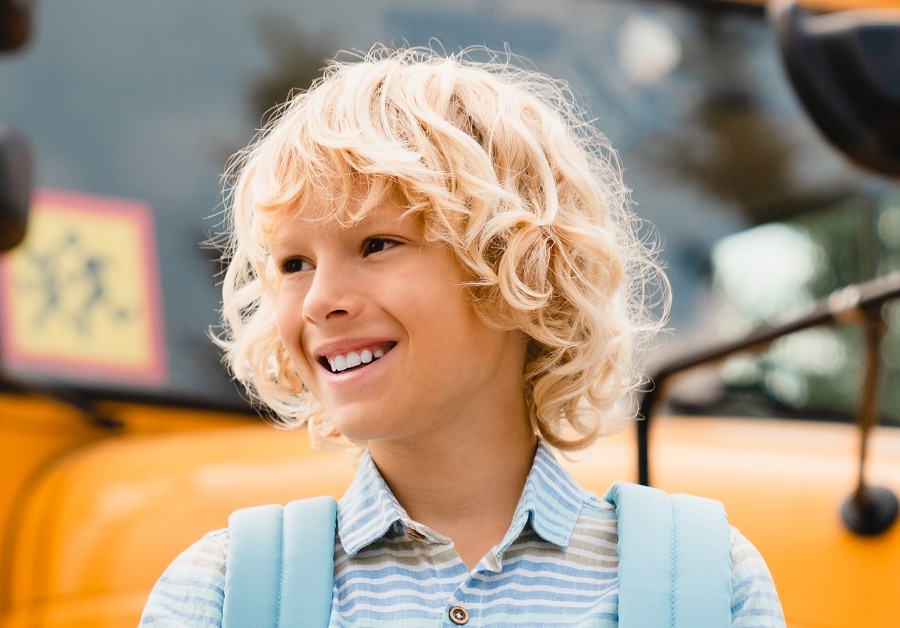 We see no other way to enhance your cute boy's natural hair. Layering the curls added more volume to the cut.
Although it might be a little messy, it will surely give a sharp and bold look. In addition, the texture will be a good addition to the curly cut.
11. Sleek And Long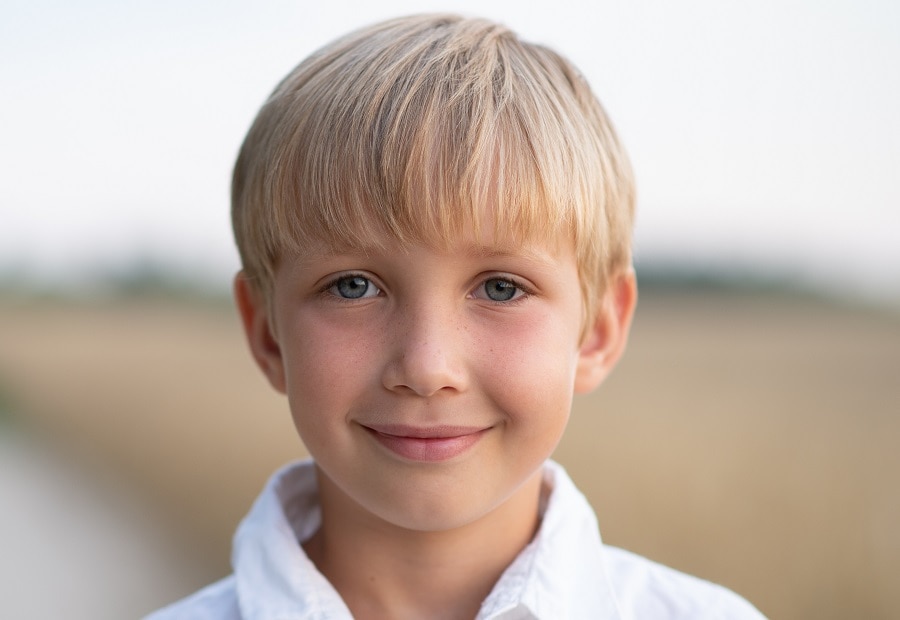 If your little guy has super sleek hair and it is anywhere near his eyebrows, check out this style.
Blonde tresses are evenly chopped to get a sleek finish, and the hair falls freely with a blended-in look. The longer and sleeker the cut is, the more it can shine under the limelight.
12. Classic Mushroom Cut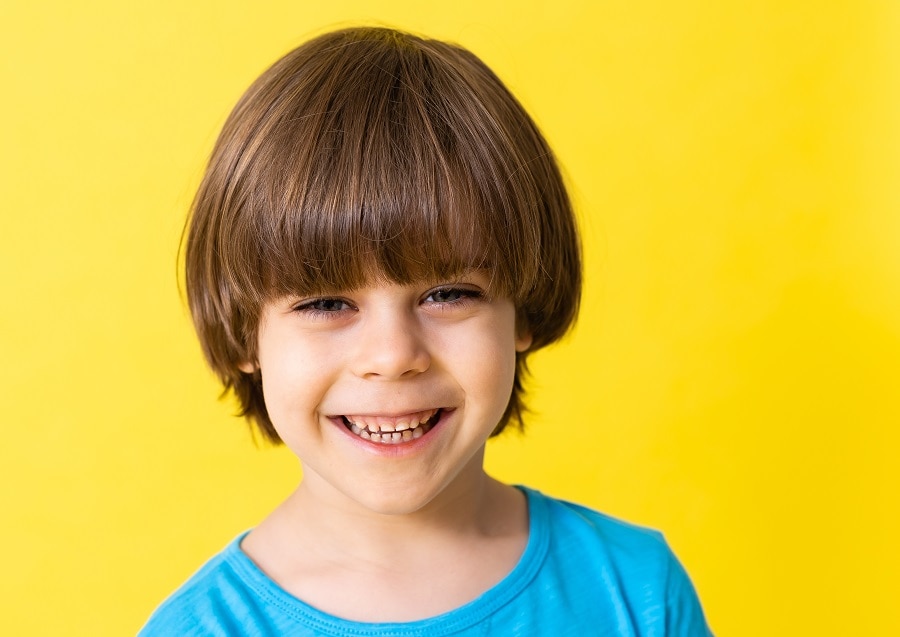 Bowl cuts are super versatile and will be perfect for any hair length. This cut will be a standout choice for boys with thick and long hair.
This includes a cool retro beat with a soft modern vibe to it. The long sleek head will draw attention to the boy's face instantly.
13. Long Caesar Cut
Mixing two formally high-end haircuts will give you a superior style. This style is an elongated caesar cut made into a bowl.
Sleek and blonde-haired toddlers will look extra cute and pretty in this style. So why don't you try it on your baby boy?
14. Cropped Fringe Look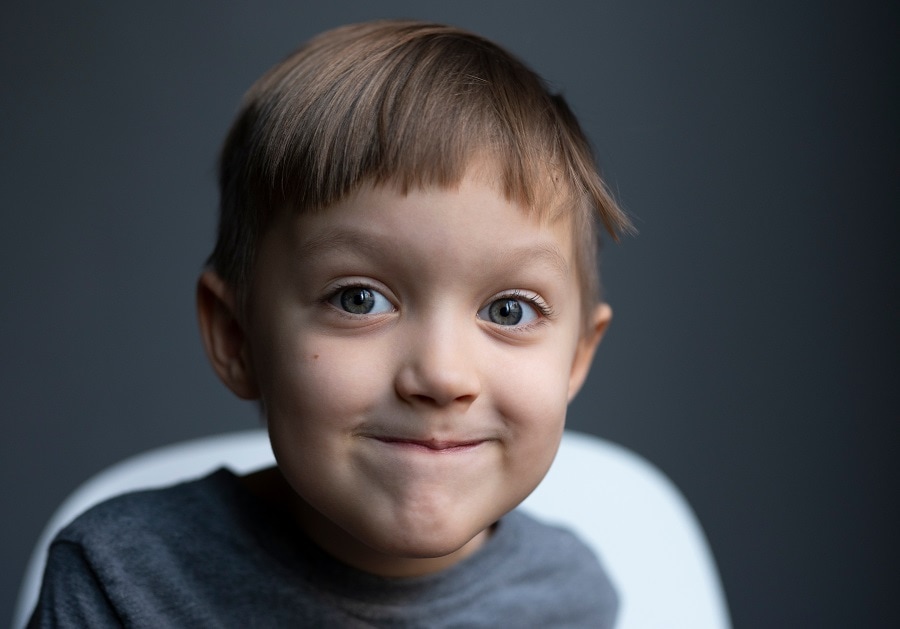 A cropped fringe associated with a bowl cut for young boys offers a cute look. However, the uneven chop is the best partner for the spotlight elements.
It is an easy maintenance style that will not wash out easily. The chop will hold the hair in place and will not easily look messy or awkward.
15. Chilled Bowl Cut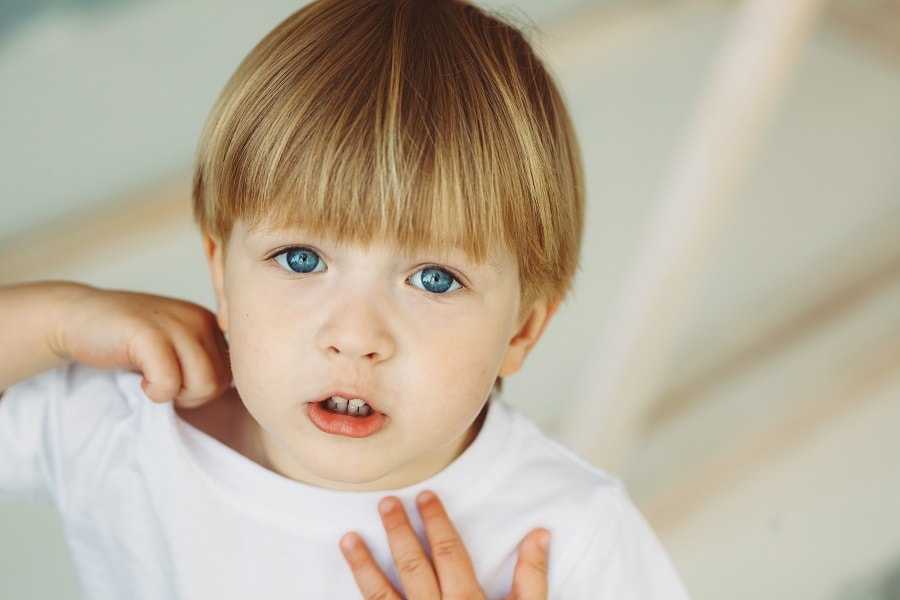 If you are wondering how to style your cute toddlers' thick hair, here is a style for your boy. The straight locs will enhance the cutest features of your toddler's face.
This is a cool, vibed modern cut that gives a contemporary look. You can add hair wax or serums to finish the glossy top look.
16. Straight Umbrella Style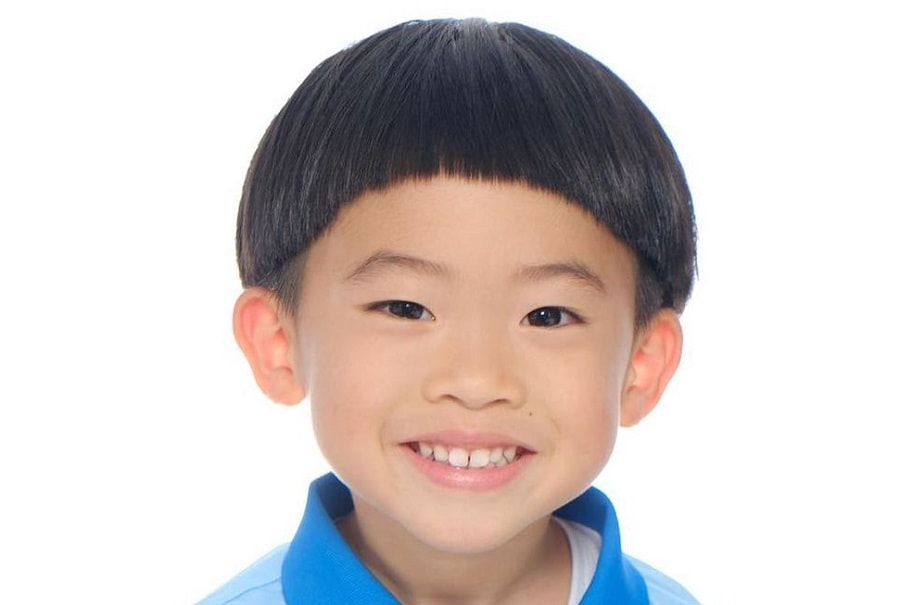 This style is for Asian boys with thick black hair. This is a perfect style to show off that black tress. This one has long hair on the top, while the sides are trimmed short to differentiate.
Irrespective of your boy's age, this style can give a standout impression and a well-framed look.
17. Funky Colored Bowl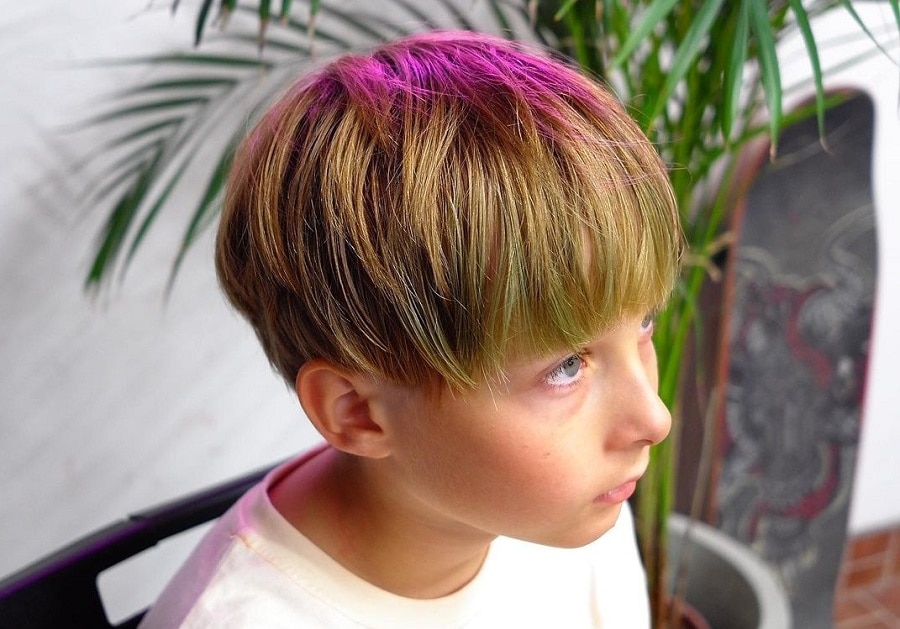 A straight bowl cut for boys is a great piece of canvas to work on. You can section the hair and add funky colors for a bold and edgy look. You can use two or more colors too.
As a result, the style looks uniquely beautiful and can add contrast to your boy's hair. In addition, you can choose colors according to your little boy's liking.
18. 90's Bowl Cut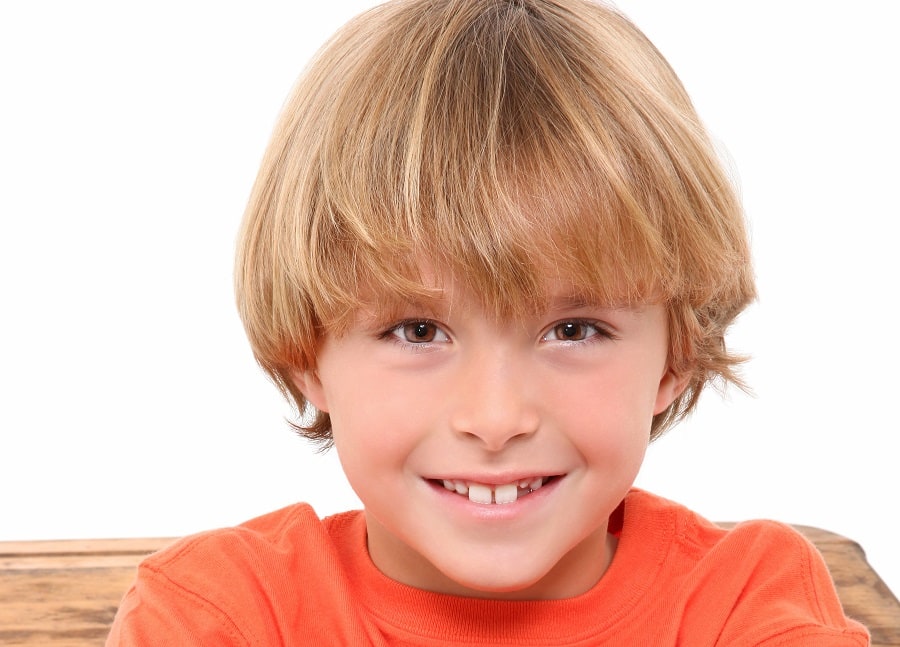 If you have a kid obsessed with Jim Carrey's character's blunt hairstyle looks, this is the big chance to give them their favorite haircut.
Perfectly placed piecey hair with blunt edges will make an unforgettable appearance. Blow dry the hair to get a fluffy and free-volume look.
19. Sleek Top with Undercut
And here is another sleek top look for Asian boys, which is made a little spicier with an undercut. The undercut is trimmed using a normal trimmer to have extremely short hair.
Undercut will allow your boy to have irritation-free playtime in hot summers. The top has long hair which is glazed to the eyebrows.
20. Short Crop with High Fade
Adding fades or undercuts will hype up the sassiness of any hairstyle. So instead, the top has roughly chopped edges that are sharp and sleek.
The sides have a high fade, which is achieved by half trimming and half shaving.
21. Messy Top Look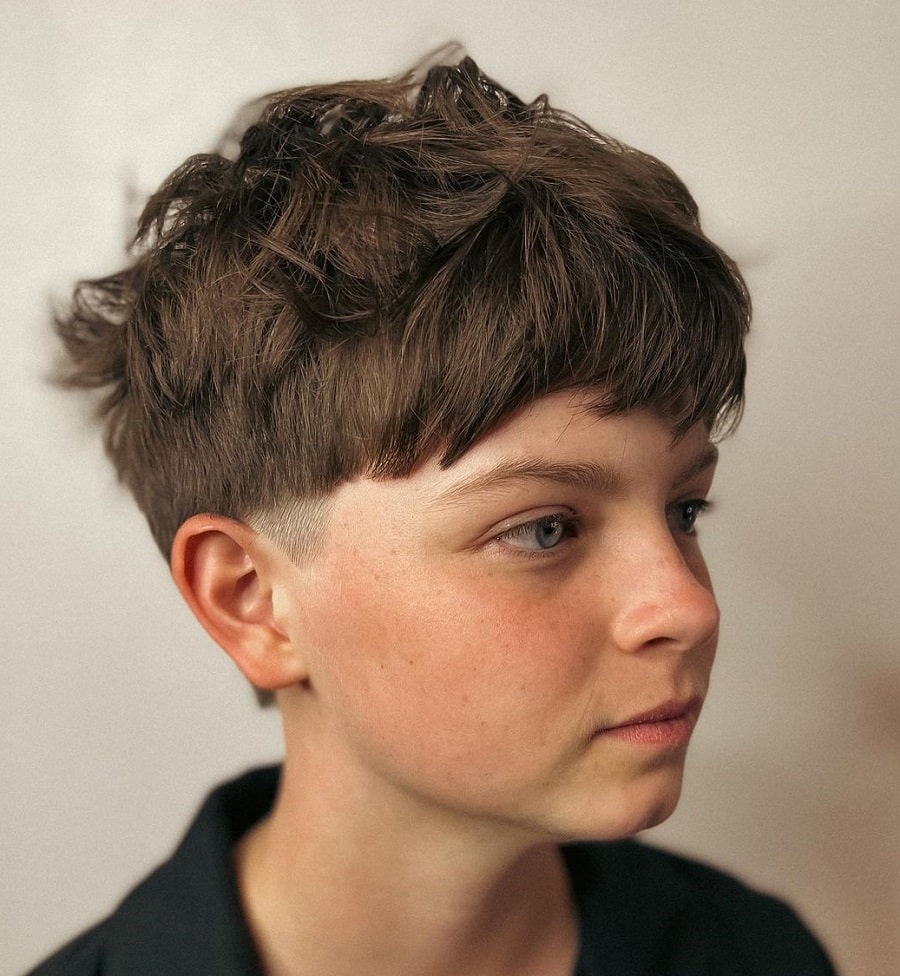 This style is achieved by part sectioning the hair into two. For example, the hair in the front is taken into one section, and the crown region's hair is taken into another section.
Each section is given textured chops of various lengths to achieve this messy top look. This will suit your boy if he has thick, voluminous hair.
22. Trimmed Bowl Style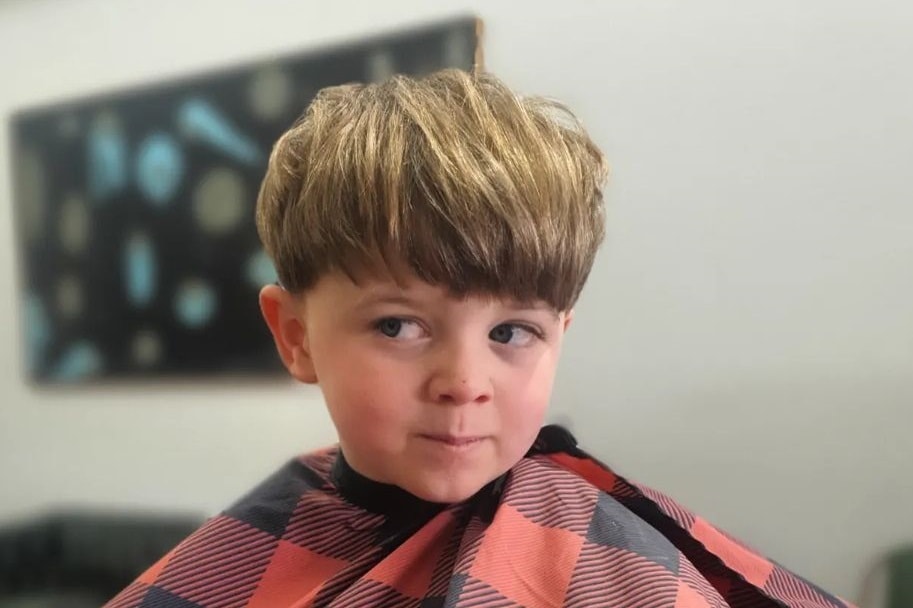 This is an easy style to achieve. Although we all know that toddlers find it extremely difficult to stay in one place, this haircut is simple and takes only a few minutes to complete.
The hair is brushed down into the front and trimmed using scissors. This is an effortless style.
23. Blunt with Undercut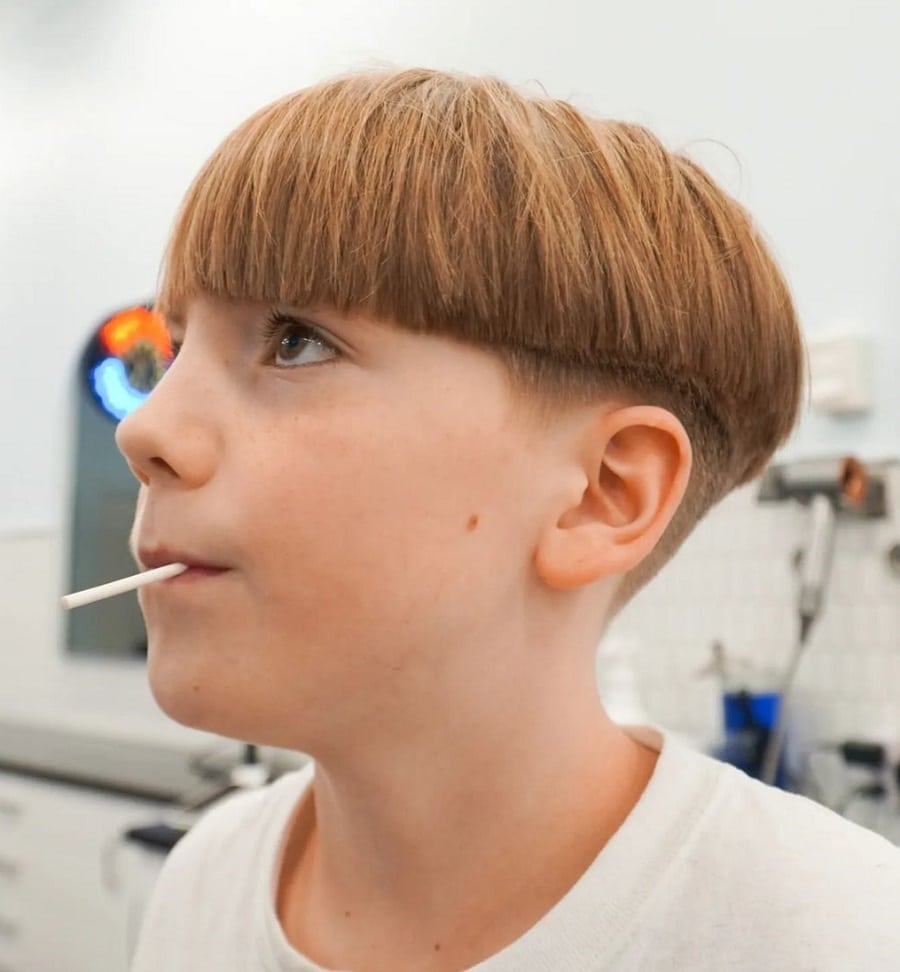 This style is for young boys or teenagers with long straight hair. The hair is chopped into a blunt top while the bottom is given an undercut. It will best suit boys in their teens or even older guys.
24. Eyebrow Glaze Crop
It surely has a mesmerizing gloss and texture when talking about how glossy this eyebrow-glazed crop is. This will make everyone stare at it for a pleasant soothing image.
If your little fella also has sleek hair, it's time to add gloss to it with an eyebrow glaze style.
25. Boxed Hairline Trim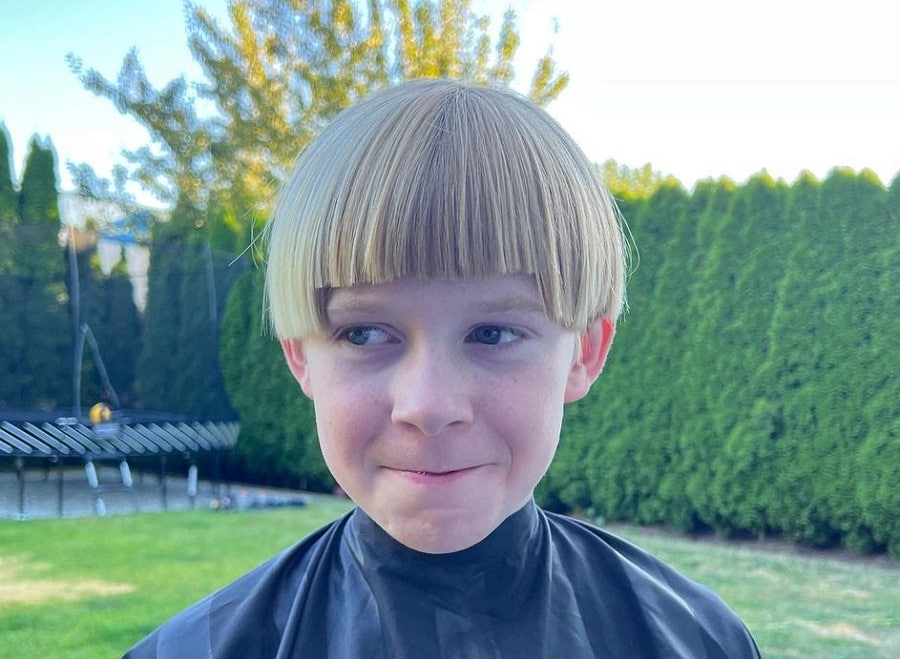 You can change the hairline of your little guy without actually changing it. Just add an angled trim to your boy's flat cut. These angles will serve as a faux hairline as well as distinctive elements for framing the face shape.
The bowl cut for boys is definitely a safe bet. It is trendy, stylish, and convenient. Right now, It's the perfect timing to have your boy's hair cut in the bowl shape cut. If you haven't gotten this cut for your boy already, get him one today!