While there are a lot of styles to choose from, no style is quite as ubiquitous or popular as the boy's fade haircut is. Any boy who wants to look his best knows that his hair has to look great.  These fade cuts look great on most boys, no matter their age or their personal style.
Latest Fade Haircuts for Boys
The great thing about fades for boys is that they can be paired with braids, designs, different colors, and short or long hair.
This makes using a fade a great choice for any boy who wants a style that is uniquely theirs, as well as comfortable and easy to take care of.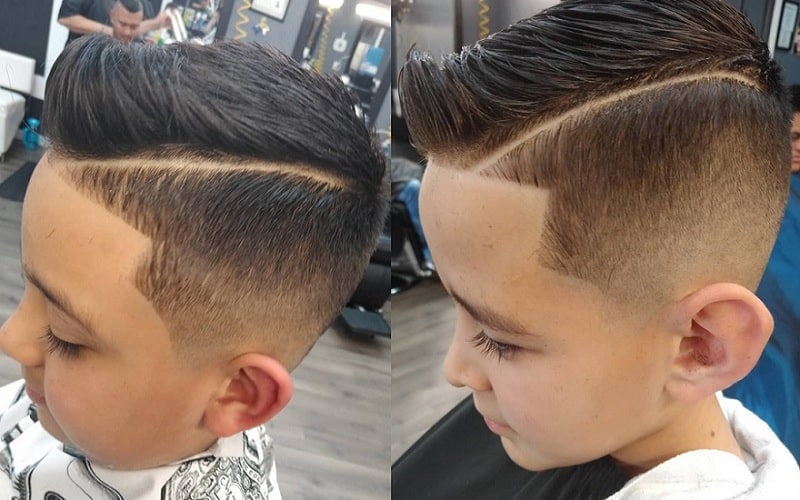 Really strong lines around the face help to make this little boy's fade haircut pop. The longer hair on top of the head, as well as the gentle medium fade, work together to create a look that is unique and layered, ensuring that it is one that people are going to remember.
2. Angled Bangs with Medium Fade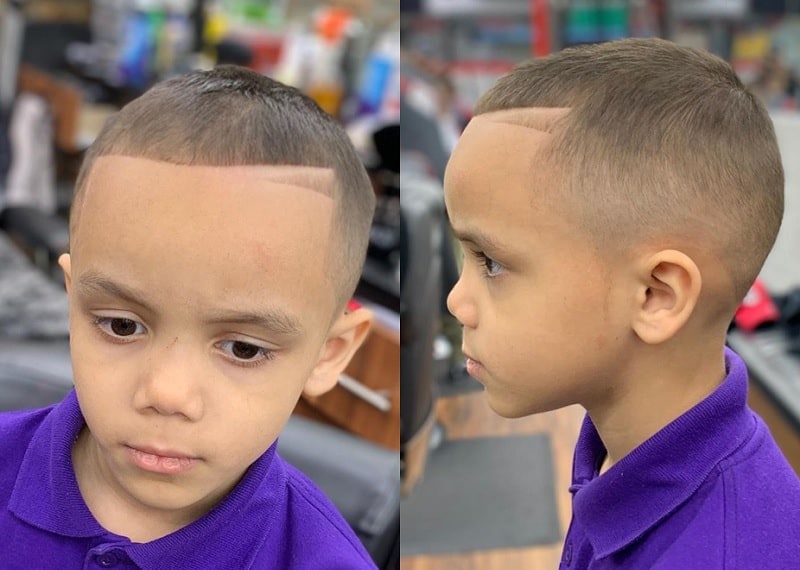 Adding angles to any cut is going to make it instantly more interesting, which is exactly what the angles on these bangs do.
The medium fade extends higher than the ears, which prevents the cut from looking visually heavy and weighed down. The hair on top is longer, but not by much.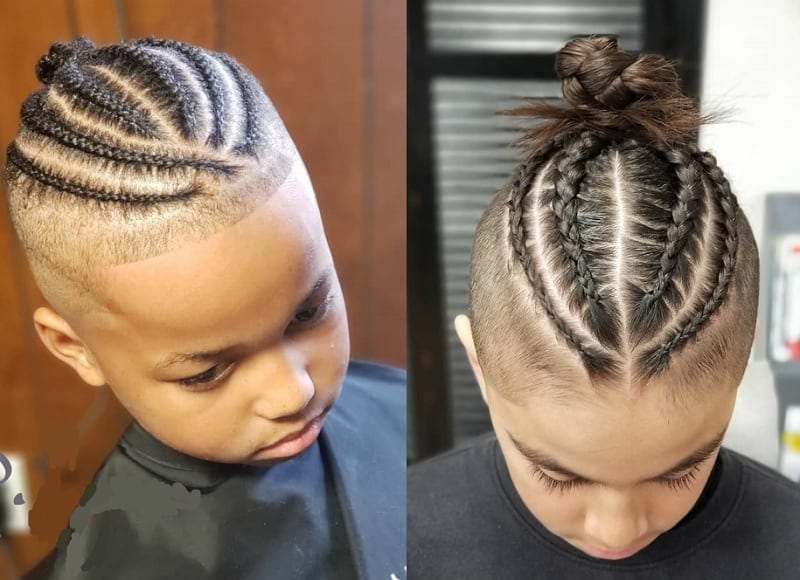 A strong fade on the sides and back of the head really pops when there are braids on the top of the head. These braids can be as thick or thin as the boy wearing this faded hairstyle wants, but they must have enough volume to really offset the high fade.
4. Skin Fade with Longer Top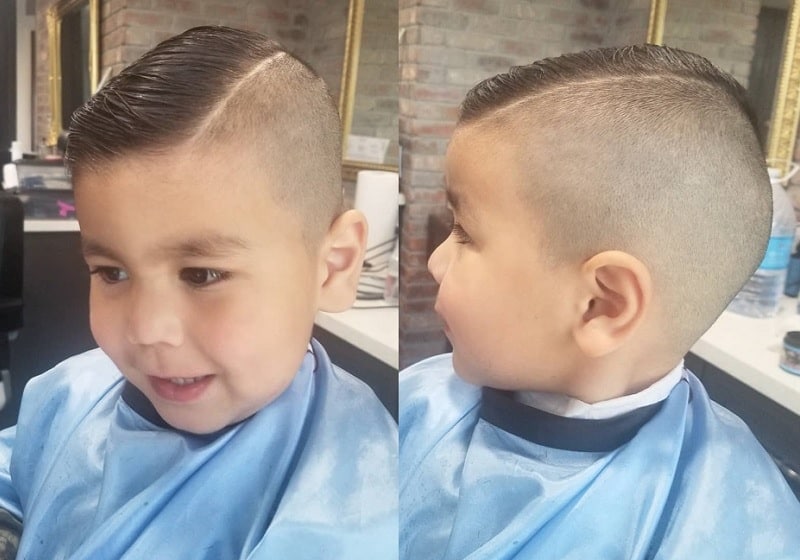 There's no reason why a fade has to be low, as this great fade shows. It's high and shows a lot of skin, with just a little longer hair on top of the head. Controlling the longer hair with some product is key to this style looking its best.
5. High Fade with Blue Top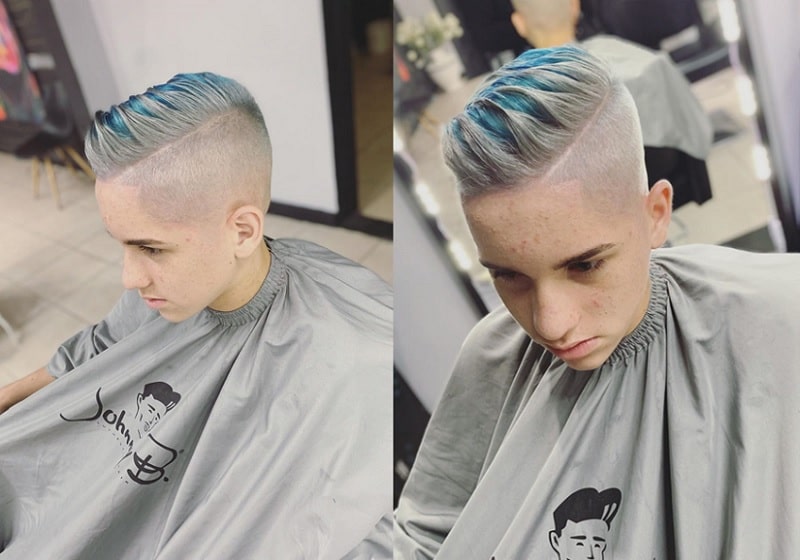 Adding a pop of color to longer hair adds a new layer of interest to the style. This high fade cut for boys, combined with strong lines around the face, as well as blue color layered into the hair, is fresh and unique, which is sure to make any boy the center of attention.
6. Low Fade with Lots of Volumes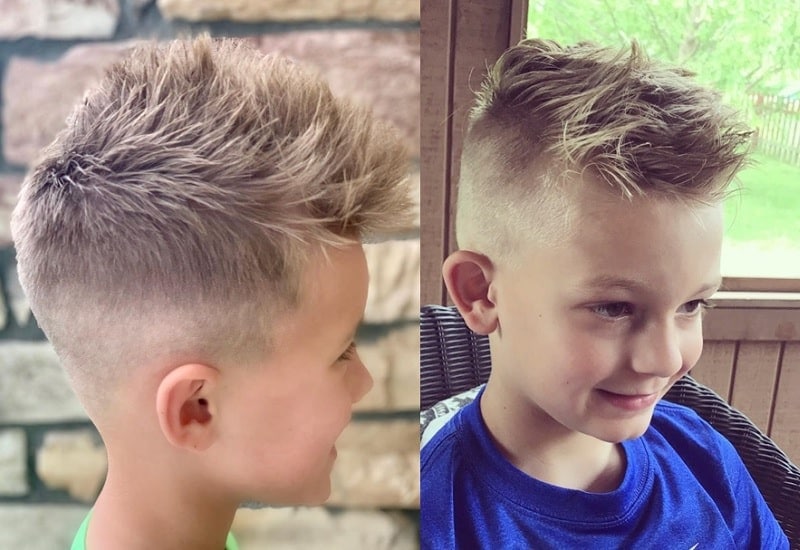 Fades don't have to be high to be eye-catching, as this lower faded undercut for boys shows.
Paired with plenty of longer hair on the top of the head, this style has tons of volume and body. It's cute and refreshing without being too edgy, thanks to the lighter blonde color of the hair.
7. High Fade with Curly Mohawk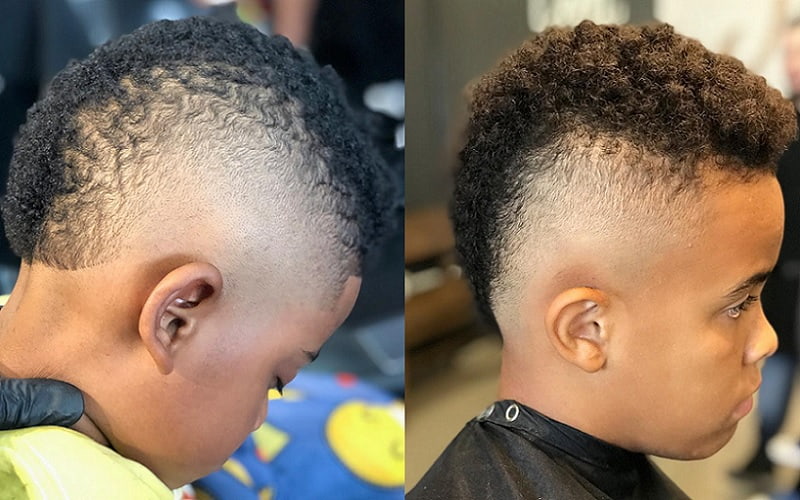 Black boys who have curly hair will love the way that a fade helps to show off the beauty and movement of their curls.
This high fade extends up to a shorter curly mohawk, which adds interest and volume to the style. It's a great fade haircut for black boys who want to look trendy and modern.
8. Criss-Cross Fade with Longer Hair
This is one of the more unique fades for boys since it actually has the fades cross in the back to show some volume and layers.
The longer hair on top extends down to the back in a point, unlike other styles where it is contained only to the very top of the head.
9. Zig-Zag Designs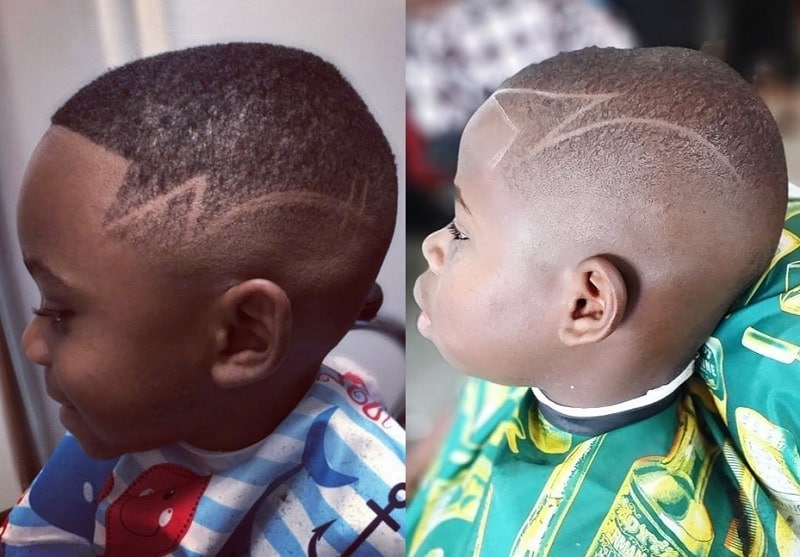 Adding fun designs to a fade is a great way to elevate it and make it personal. These fun zig-zag designs add beauty and movement to the style. They work great on fades of all types.
A slick top is a perfect way to finish this high fade. The skin that shows right above the ear is an incredible contrast to the longer hair on the top of the head, making this style unique and a bit daring. Plenty of product is necessary to hold it in place.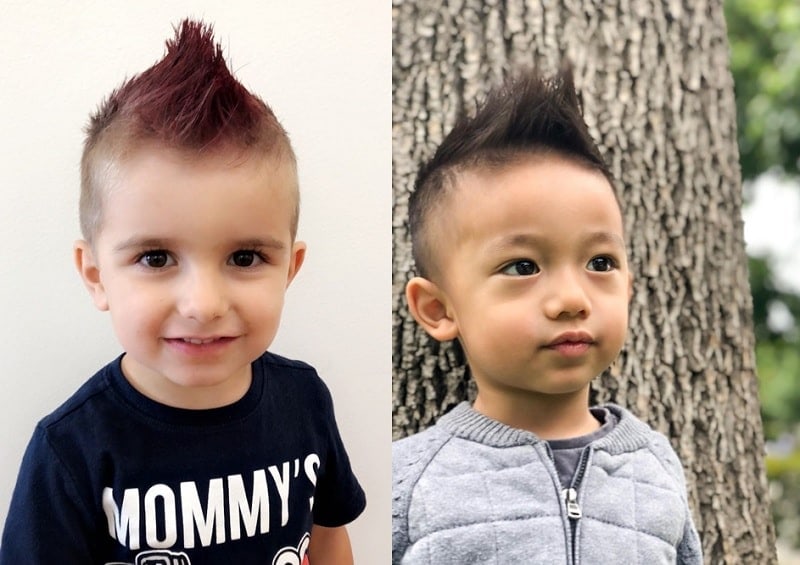 A mini mohawk looks cute on younger boys, especially when it is fluffy and not as spiky. This little boy's hairstyle requires a great fade to really stand out, but it doesn't have to be a skin fade or as high as other fades. A low fade is a great choice.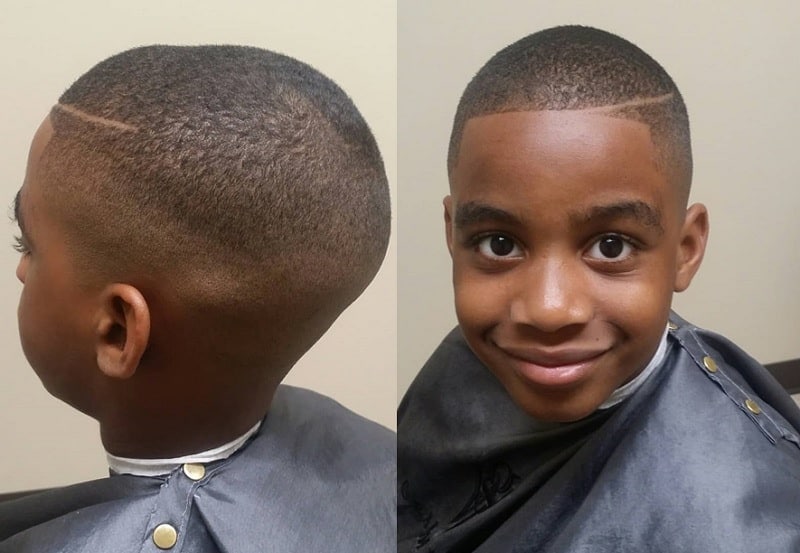 Shorter hair all overlooks right at home with a great fade.
This boy's haircut with gentle low fade extends up to the top of the head, where the hair is kept very short so that there isn't much of a delineation between the sides and top. It's simple, easy, and a great way to stay cool in the summer.
13. Deeply Designed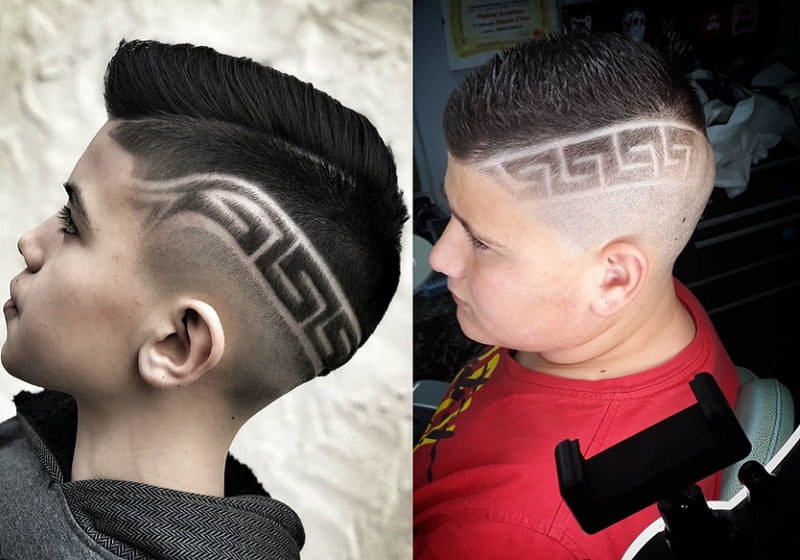 Designs don't have to be simple, and a great medium fade can easily support more advanced designs. These designs have an Egyptian feel to them, making them a fun take on a typical fade. They must be completed by a professional for the best outcome.
Best Hairstyles for White Boys
14. Bold Stripe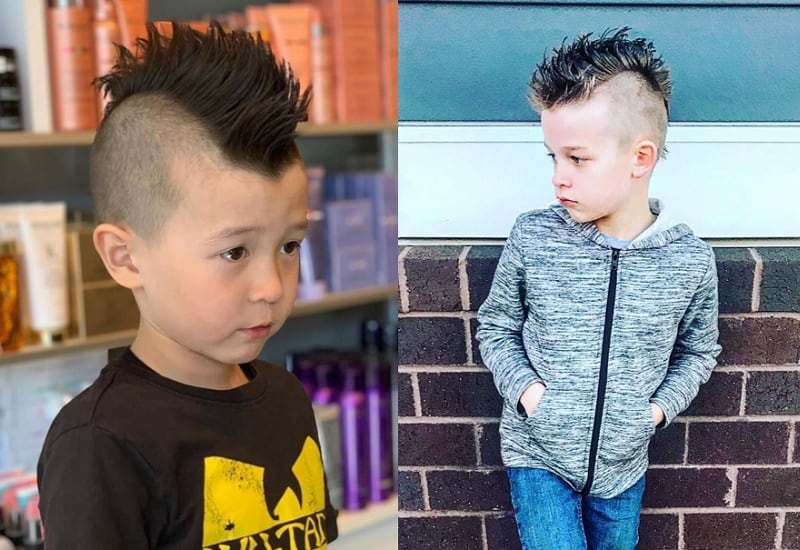 A bold and thick stripe of hair on the top of the head will look its best when accompanied by a strong and high fade. This boy's fade haircut allows the hair on the top of the head to really stand out and prevents it from looking like the sides are too long.
15. Top All Pushed up
Pushing thick and longer hair on the top of the head up and out of the way allows this kid's fade cut to really shine. It's a medium fade that is kept very short, which allows the longer hair to be the focus of the cut and prevents it from looking messy.
16. Skin Fade to a Strong Top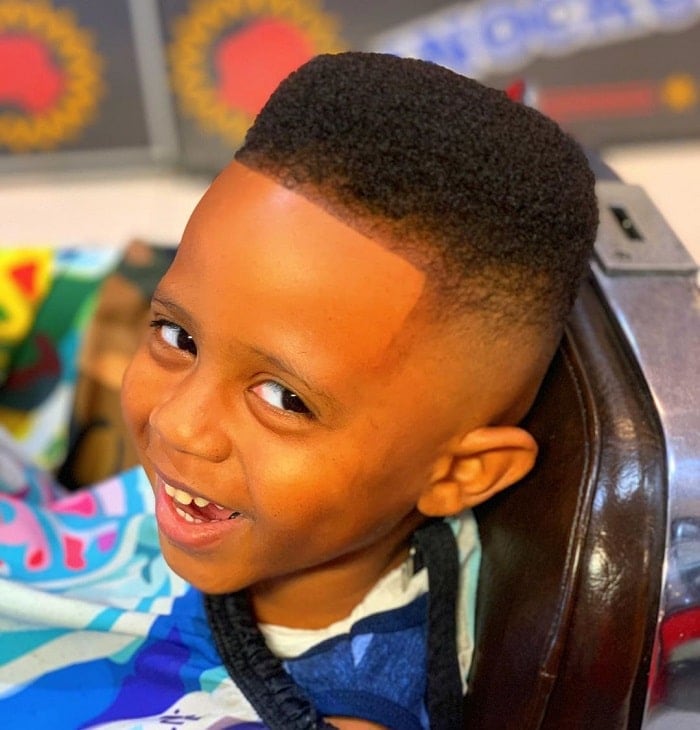 A great skin fade looks wonderful on any boy, especially when the hair on the top of the head is strong and perfectly sculpted. This style is bold and requires hard and perfect lines around the face for the boy wearing it to look his best.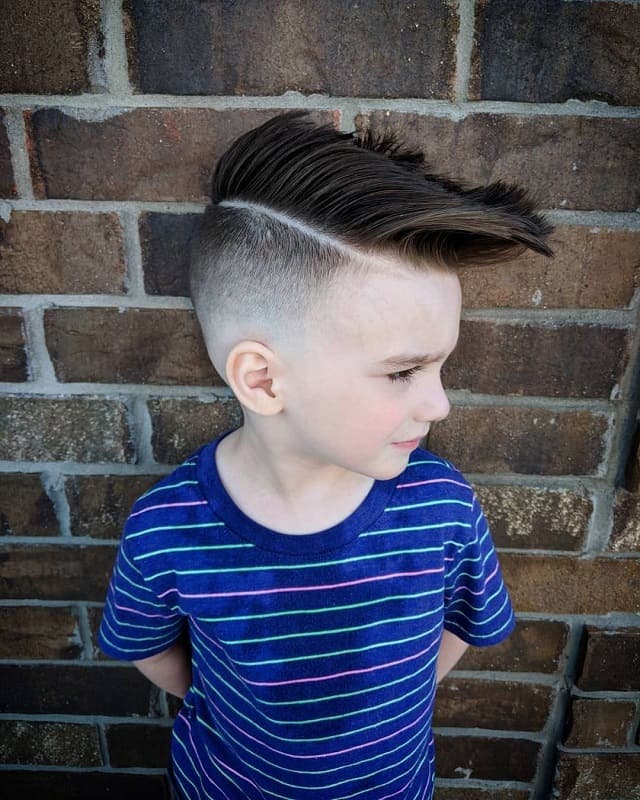 Hard lines separate this great fade from the longer hair on the top of the head, drawing attention to the fade. It's a great fade haircut for boys who aren't ready to give up all of their lengths but are interested in trying something a little different.
18. Bold and Green Bangs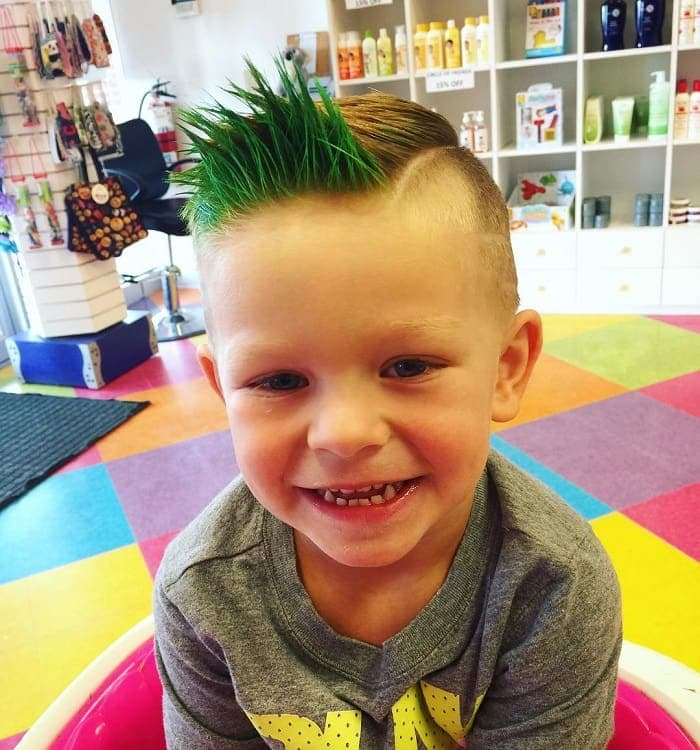 Bright green bangs are eye-catching and are a wonderful way to top off this fun style. The perfect fade on the side is a great canvas for fun designs, and the longer hair on top can be styled in many ways. This makes this fade haircut great for boys of all ages.
19. Paired with Dreads
Fades look great when paired with dreads, as they allow the movement and feel of the dreads to really shine. This fun style is made even better thanks to the skin fade over the ear, as well as the strong lines that are around the face.
20. Swoops of Color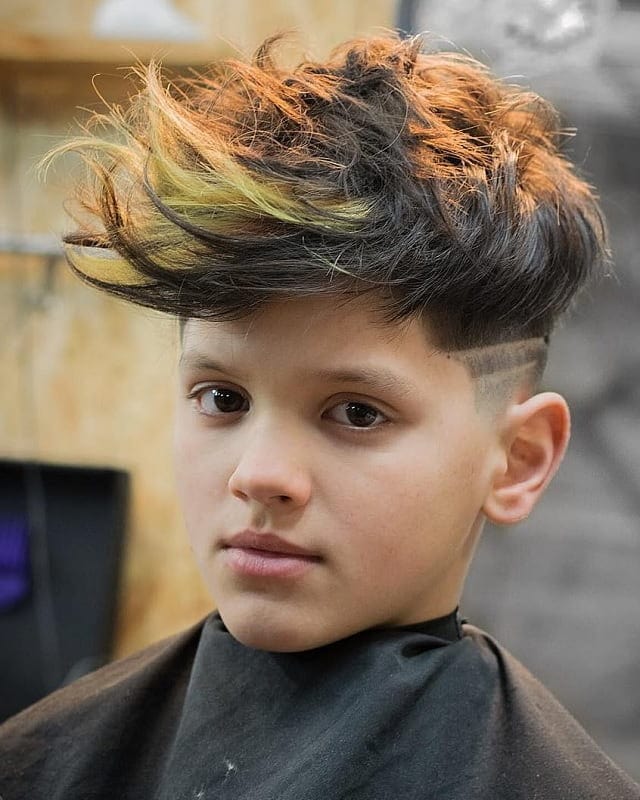 Swooping hair that has layers of color in it is fun and a unique take on simple longer hair on the top of the head. This boy's hairstyle has a very low fade that is just over the ear but is still high enough for some designs to be cut into the hair. The contrast is striking, making this an incredible option.
Amazing Hairstyles for Tween Boys
21. Over the Ear and Bleached Tips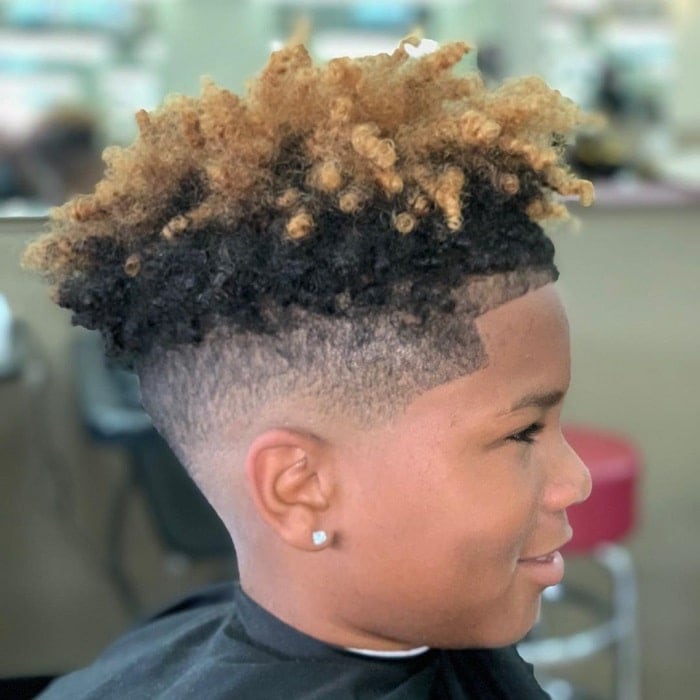 Fades that are up and over the ear look great on boys when paired with thick and curly hair that has been partially bleached.
The bleached tips on this style add fun and interest to the style and prevent it from looking at all boring. A skin fade over the ear completes the look.
22. Gentle Fade to Curls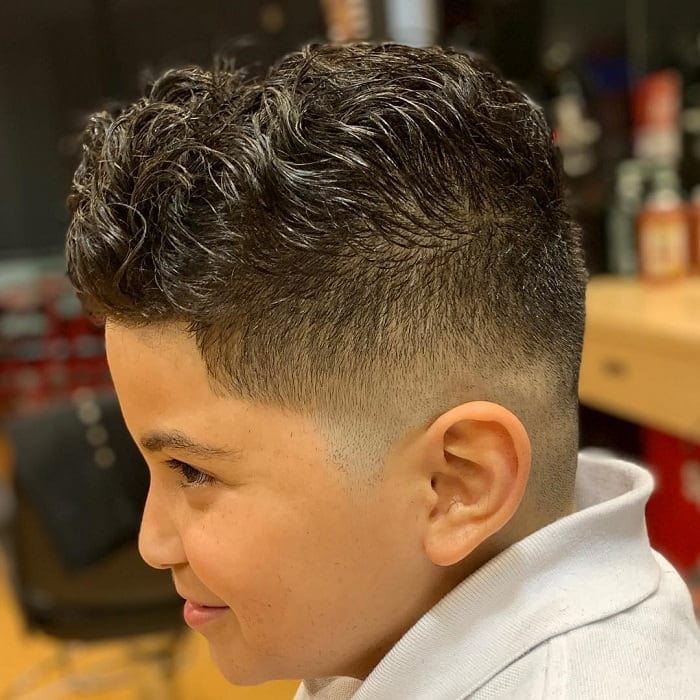 Fades for boys don't have to be too extreme to look great, as this gentle fade shows. The curls on top of the head are the real star of the style thanks to the gentle fade over and around the ears. Using the product on the curls helps to give them definition.
Top Asian Boy Hairstyle on Our Radar
23. Skin Fade with a Pompadour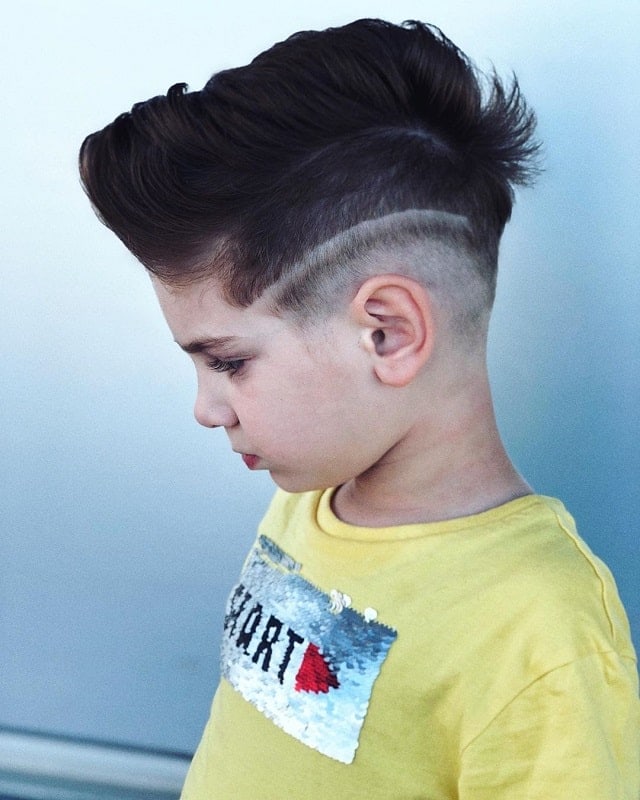 A pompadour looks impressive on any boy, and this style is no exception. Mixing a great skin fade, designs in the fade and thick and lush pomp result in a bold and daring cut. This is great for boys who aren't afraid of the limelight.
24. High Fade with Longer Top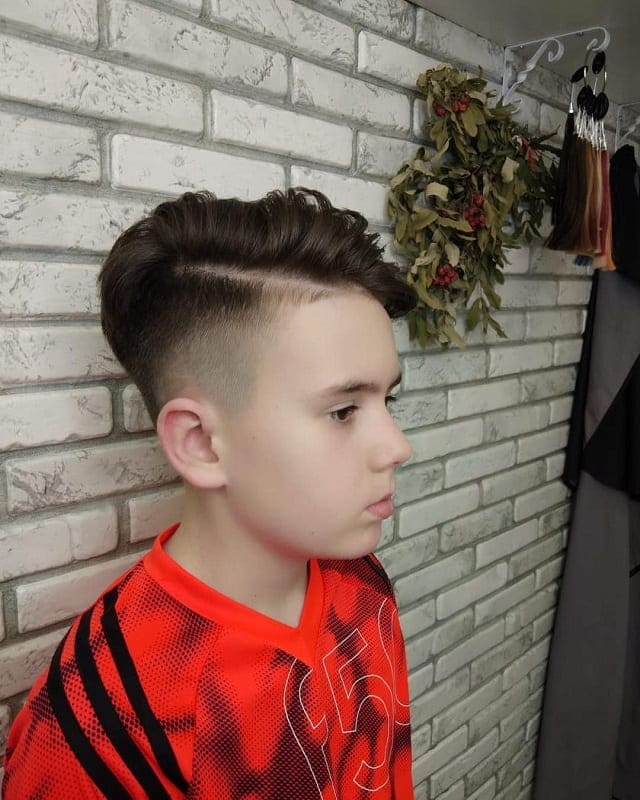 A high temple fade that leaves plenty of hair towards the back of the head is a great way to help make the long hair on this style pop. The top can be pushed to one side for a gentle curve that is a great complement to the faded haircut.
25. Swooped Bangs and Blonde Fade
Swooped bangs that are a shocking pink make this blonde fade really stand out. The fade is low, which is often a great choice for younger boys. Slightly longer hair on top and much longer bangs add a few layers of interest to the cut and prevent it from being boring.
The right fade will make any boy look his best and is sure to give him a boost of confidence. For that reason, all boys will want to consider a fade haircut at some point in their lives. These fun fade cuts are great options for any boy who wants to try something new and different.