Hard part haircuts for boys have been the most recognized and appreciated hairstyle this year. More so its versatility allows even young boys to sport it. The look itself is entirely smart, chic, and clean. Make your young toddlers look like the most adorable miniature versions of gentlemen.
With so many trends taking the world by storm, it is hard to choose haircuts for your kids these days. It is obvious that as a mother, you want your kids to look their absolute best, which is why there are twenty one boys hard part haircuts.
Coolest Hard Parted Hairstyles for Boys
Why choose hard part boy haircuts? Check these hairstyles and you will see them for yourself.
1. Wavy Hair Hard Part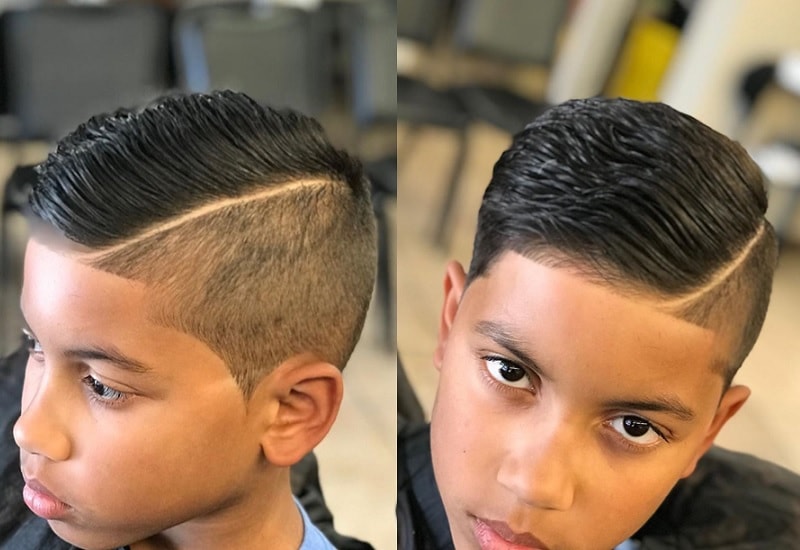 One of the best things about the boy's hard part haircuts is that they look amazing irrespective of the hair texture.
If your son has wavy hair and you are finding it difficult to choose a haircut that tames that waviness, the hard part is right up your ally. Not only will your son's hair be tamed but he's going to look twice as dashing just because of this haircut for 9 year olds!
2. Comb Over and A Hard Part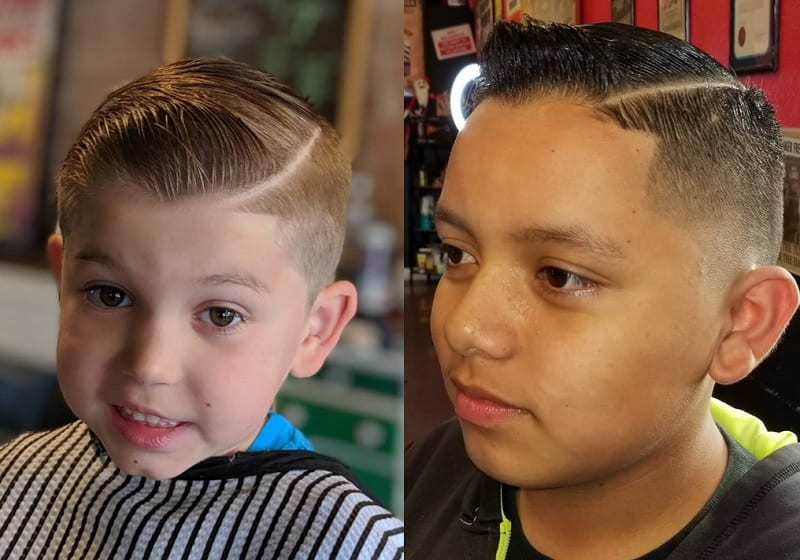 Hard parts can be styled differently in order to give your boy's hair more dimension and character. Here, the hard part is combed over to give out this classic aura. It's a perfect mixture of classic and modern hairstyle for your little boy with straight hair.
You can have his hair styled this way no matter what occasion it is. He will surely be the cutest kid in the room. Additionally, the faded sides add more character and sleekness to the entire look.
3. Skin Fade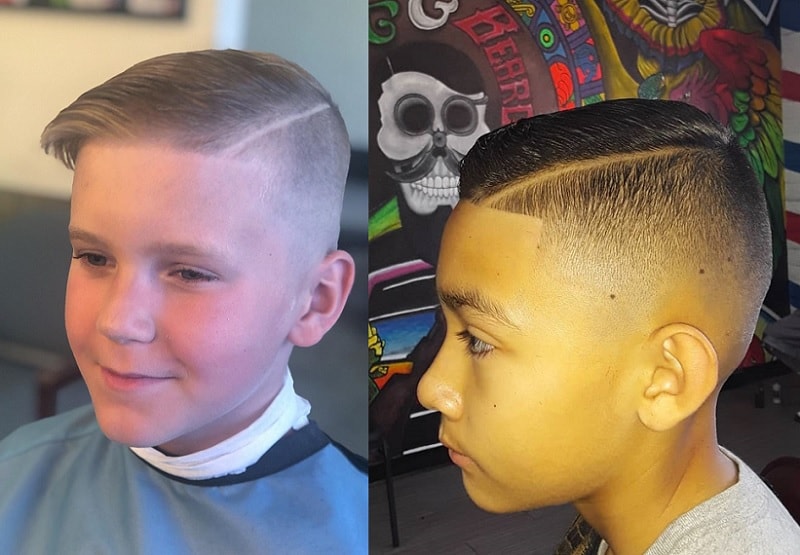 This is one of the most liked hard part hairstyles for boys. It is so simply because the angle brush back is basically the best of both worlds! It is somewhere between a slick back and a comb-over, which is what makes it stand out among the rest.
The faded sides and hard part add so much more oomph to the boy's crew haircut. It's a complete change for your boy. It's easy to manage, and it looks great too.
4. Textured Hard Part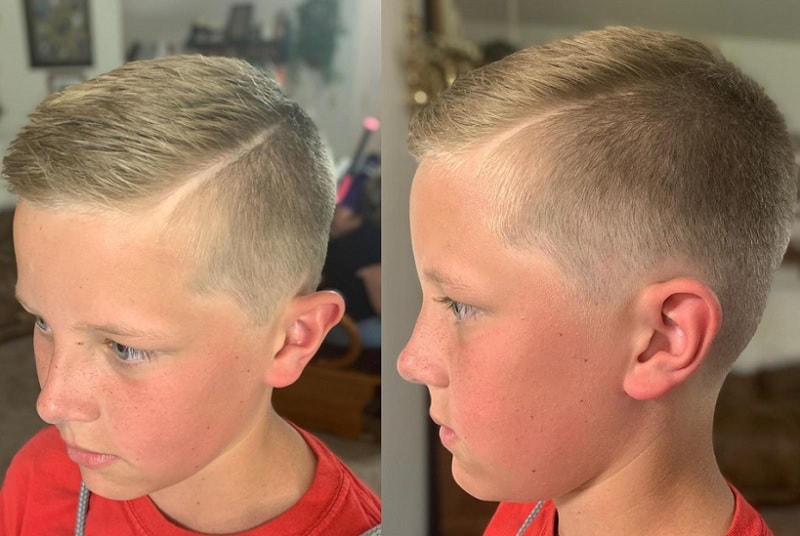 If your boy has thin hair, this hard part hairstyle is perfect for him. The textured hair towards the crown creates an illusion of excess volume. It can be styled easily and needs absolutely no product.
The hard part complements the textured fine cut hair on the top, bringing the whole haircut together. The sides aren't skin faded, which is perfect for your boy if he's not particularly ecstatic about too much change.
Adorable Hairstyle Ideas for 8-Year-Old Boys
5. Comb Over with Low Drop Fade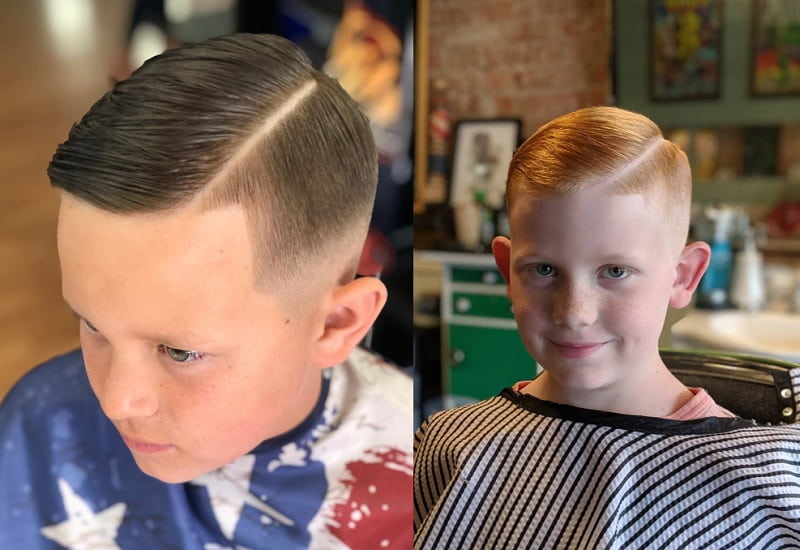 This hard parted boy's haircut is for the moms who are blessed with bold boys. The comb-over is a minute variation to the one stated previously. The intriguing element is the low drop fade.
As you can see, the fade goes to a skin fade around the ear area. This adds boldness to the entire look. The comb-over balances it out with a classic attribute.
6. Front Sweep Hair Cut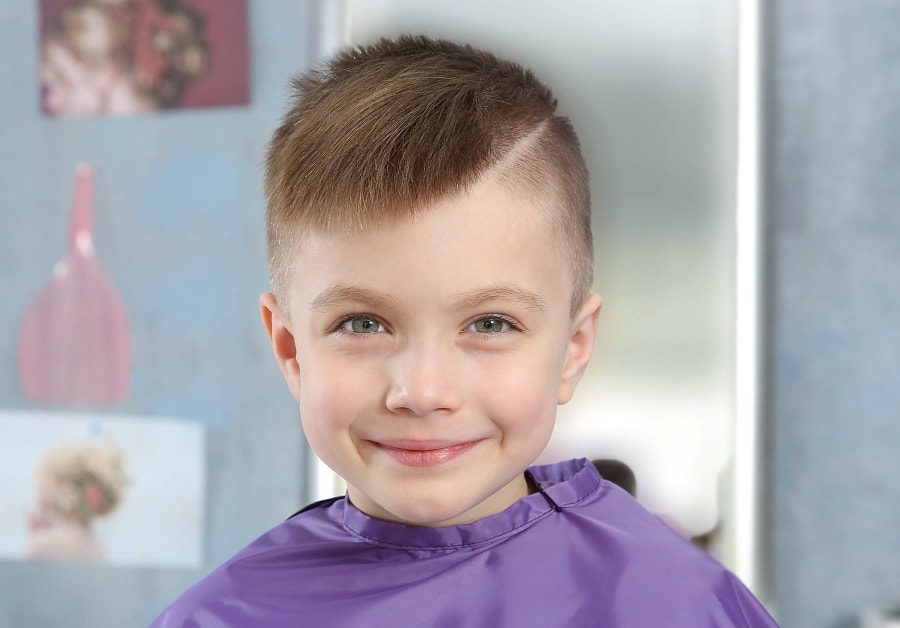 If you like hard parted hairstyles for boys, this cut will serve the magic. Maintain a neat side part and comb the crown with wax to shift his undercut into a bulky sweeping bouffant.
To create synergy between style and functionality, the edges must be shorter and slide into a wider, well-cut front.
7. Side Swept Fade
Simple fade haircuts are a popular choice for young lads. These hard parted haircuts for boys are suitable for a wide range of hair textures and can be achieved with various texturizing items ranging from blends to creams.
The key is locating his basic portion so that the upper half aligns appropriately with the under-edge.
8. Classic Taper Fade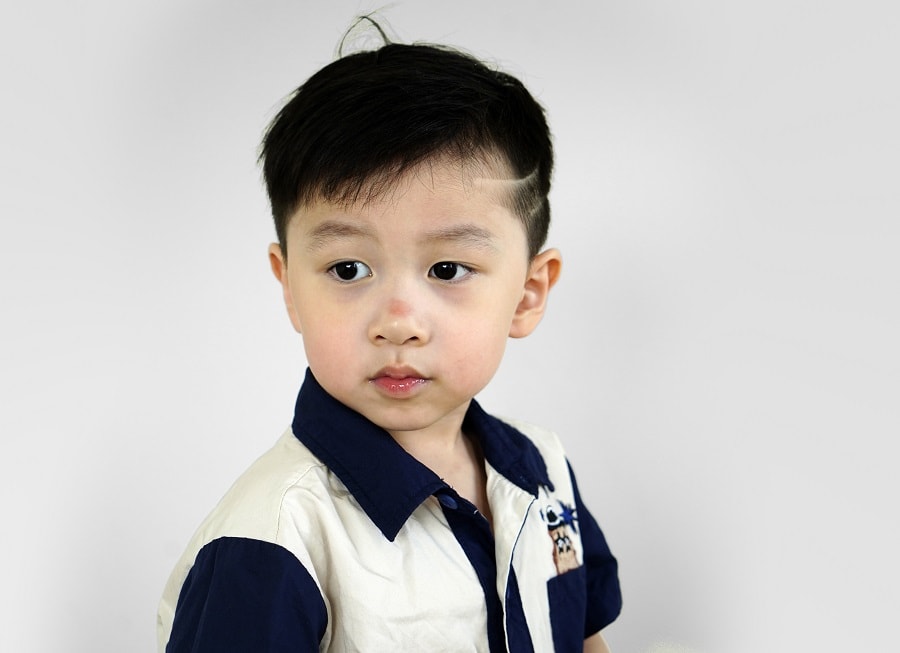 The style is achieved through an iconic tapered cut on thin hair. The sleek hairstyle makes the child's hair frame the face, giving him a chilly dashing appearance.
As well as the primary reason these trends are so prevalent with boys is the infinite number of forms to wear them.
9. Dramatic Hard Part
Electric blue is a cool color to add interest. This daring style features a deep side part top and criss-cross hair styling above his faded sides.
You can strengthen your whimsical and contrasting ideas through these great boys' hard-parted hairstyles. It is, evidently, a stylish kid's fade hairstyle.
10. Bouncy Quiff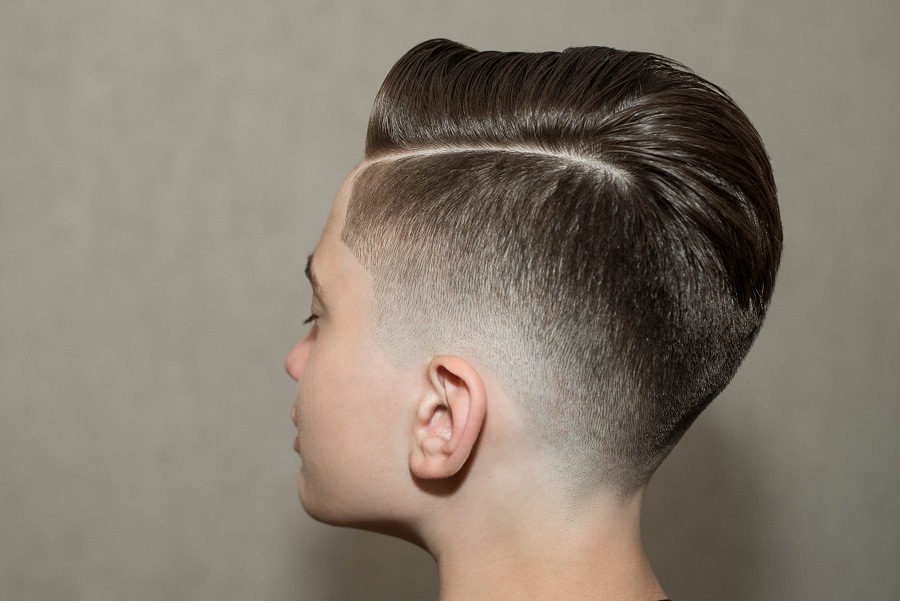 Sometimes when your child has naturally smooth tresses, there is an awesome way to bring out the crispiness.
To implement strands, choose a shaved edge across the head, focusing on the quiff. Next, implement a point of hair cream to dry tresses with a brush for styling them further.
11. Slicked Hard Part
To obtain combed back hair on your kid, expand the upper hair lengthily and leave the edges medium in size and shape.
You should tousle back his hair with a firm hold foam or mousse to slick your boy's hairstyle. So you get to choose which youngster hairdos your little rockstar will wear.
12. Buzz Cut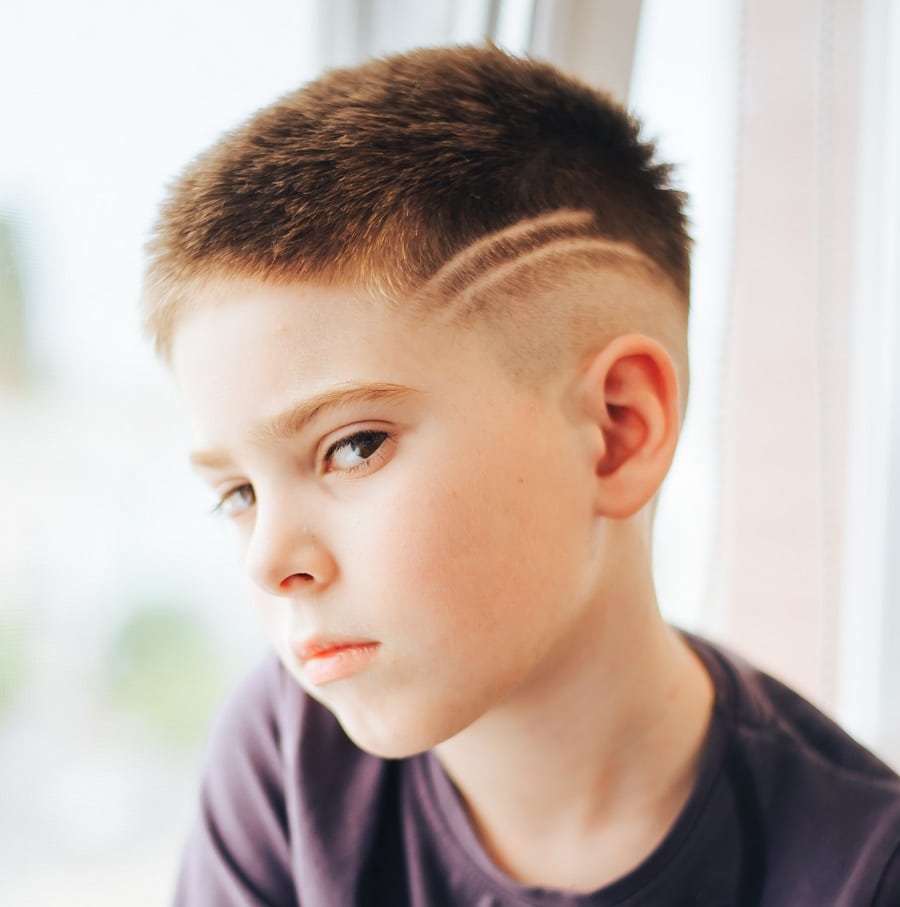 This style is perfect for special events and always makes kids look their best. Assist your boy in putting on a gentlemanly demeanor and encouraging him to seek anything more elegant.
Basically, tell your hairstylist to maintain the double lines thin and simplistic for an excessive hard part look.
13. Tattooed Fade Cut
You can strengthen the striking contrast by incorporating a tough part into the styling. The kid fizzle haircut with creations is just the unique hairstyle ever.
That's where many use their creativity to visualize a totally distinctive appearance that no one else has. Visit a skilled hair stylist who can add a cool design to your son's haircut.
14. Sleek Hard Part
The classic crew cut that men of all age groups carry would be ideal for your child. Even though this boy's hard part haircuts are simple.
This trim will enable your child to feel more at ease with his tresses, particularly if it is bulky. In addition, a faded side haircut is ideal for youngsters with dense and feathery hair.
15. Starry Parted Look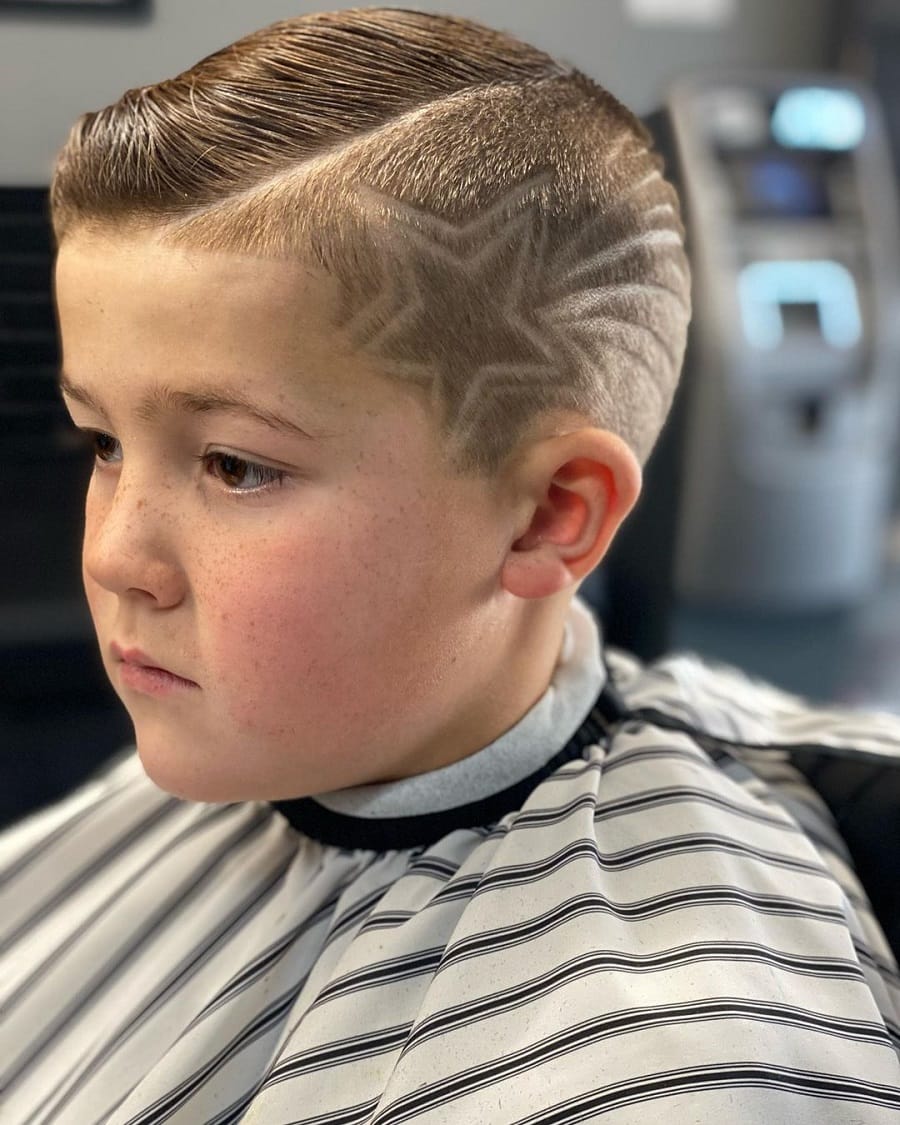 It's time for an updated hairstyle to help taper out your long locks without forgoing their entirety.
Choose a narrow texture haircut with a short haircut or undercut on the sides and intense contouring on the upper edge. A classy style on this look will be a constrained celestial hair creation.
16. Edgy Undercut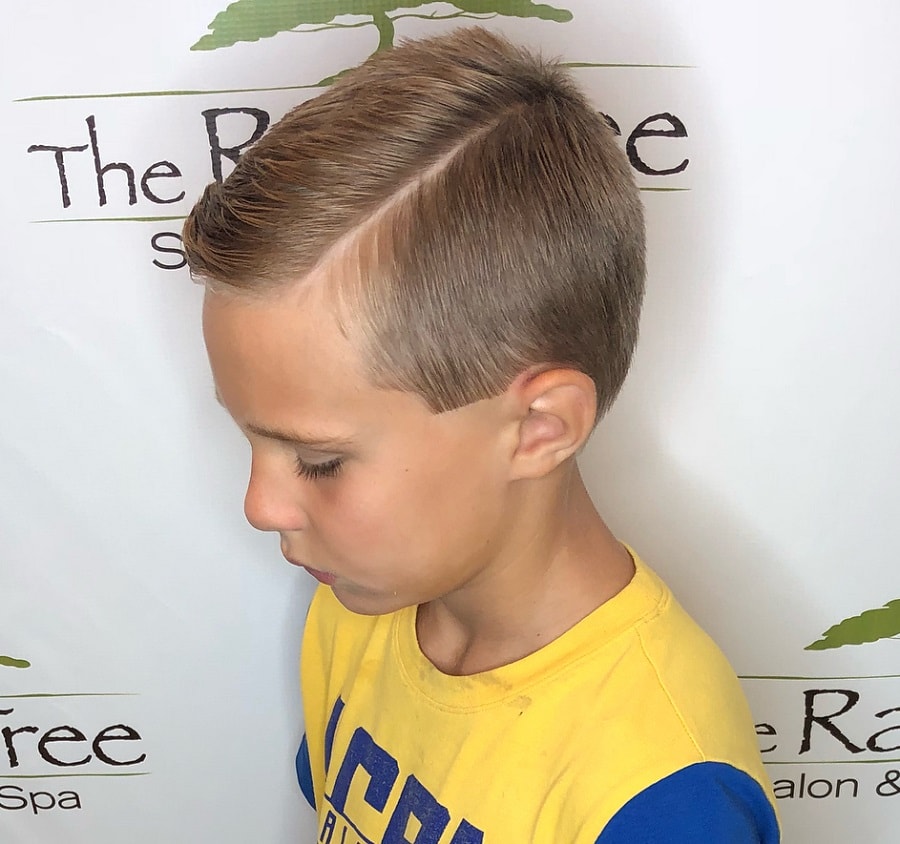 Due to the noticeable improvement in length among the sides of the hair and edges, an undercut gives your teensy kid a quirky and daring appearance.
Because of the drastic transformation, this haircut has already drawn interest. As a result, the hairstyle can be kept to a minimum.
17. Minimal Faded Quiff
A narrow quiff is a prevalent kid hairstyle. However, if your child chooses to carry his or her hair lumpy, it is not difficult to transform it into an advanced hairstyle.
For a smooth cutout, best describe the tresses with sides and back and sleek it out.
18. Spikey Look
A short, textured toddler haircut that looks awesome while requiring little maintenance and styling. Your little champ may simply tousle his locks on top to accentuate the strands and give them a messy finish.
19. Taper Cut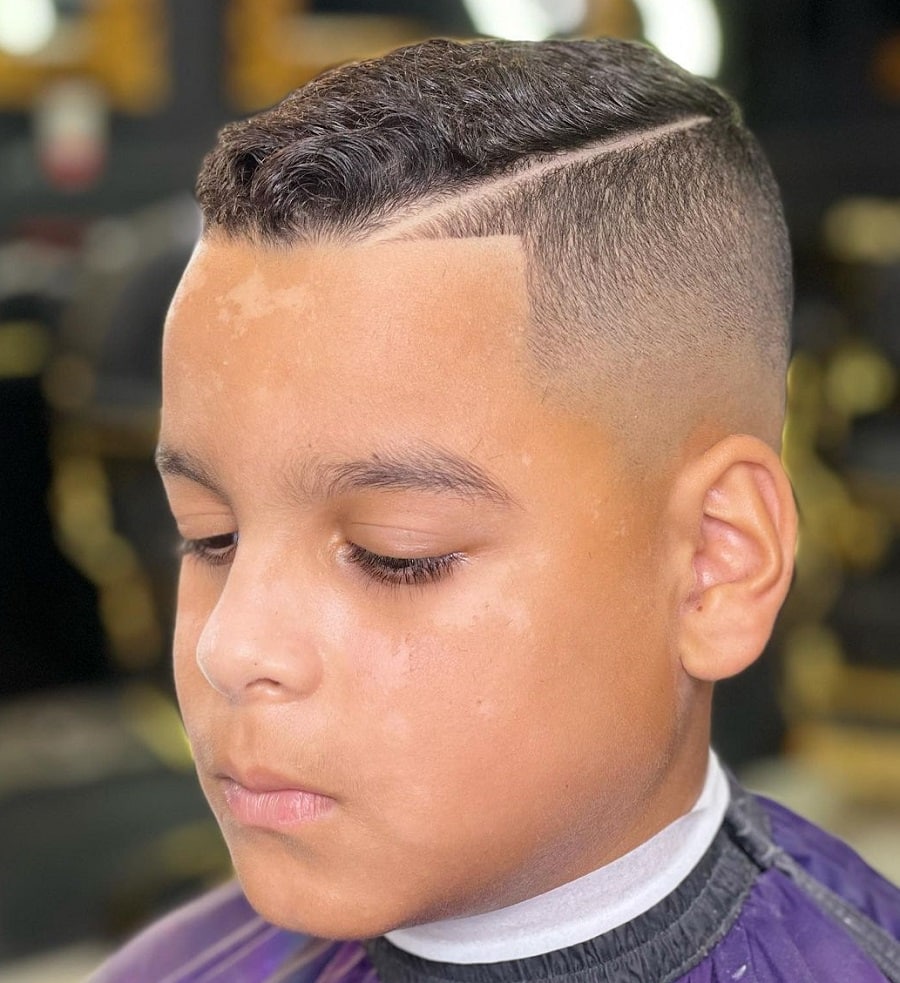 This styling is a bold reinterpretation of many iconic hairdos. In addition, it has a bowl cut, which is an excellent choice for your kid.
The front section of the mane is edged up and mildly disheveled for added splitting. You enjoy a side part, a low fizzle, or a taper on the edges.
20. Dazzling Side Hard Part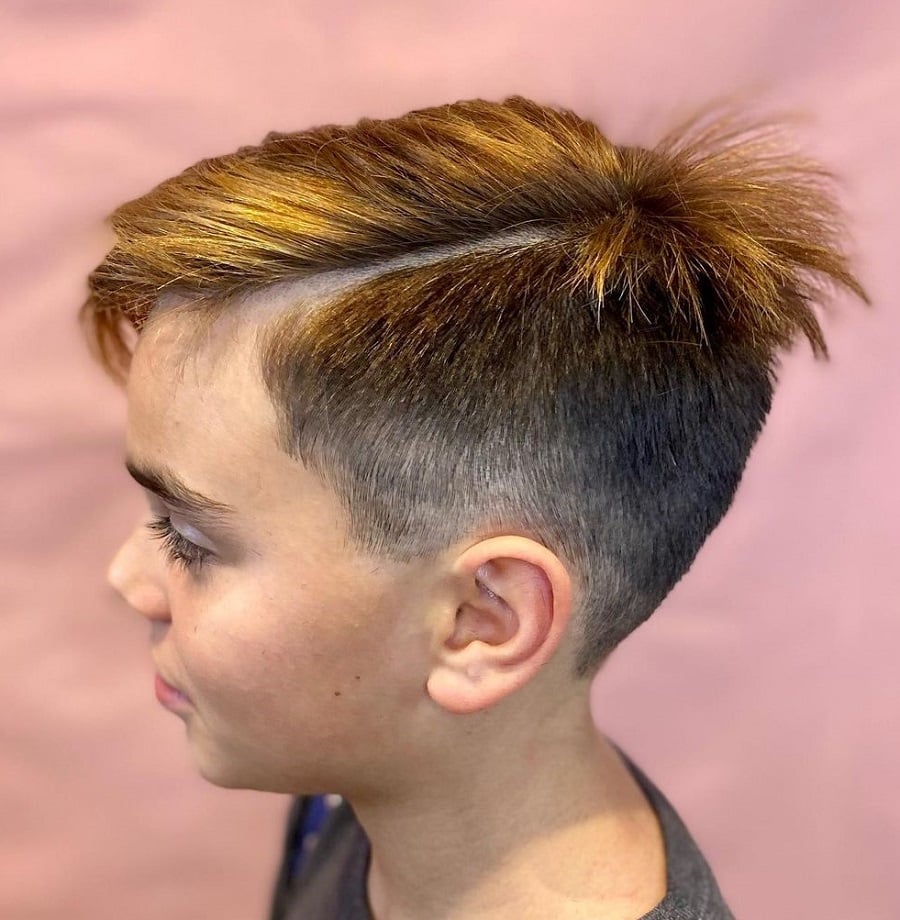 The preferred choice is a solid brush-over followed by a fade. This trim is a great blend of convenience and fashion, stylish and savvy yet modern and sleek.
You can strengthen the haircut's uniqueness by introducing a tough part to the kid's hairstyle.
21. Pompadour Fade
A pompadour looks great mostly on every hair length, particularly normal, tough outer hair.
Generate intensity upwards on the head by featuring the splendor to flair such lengthy hair on top, narrow edges hairstyles for kids.
Boy's hard part haircuts are a great choice. Especially, if your boys have bold personalities and love styles. These haircuts are manageable and impeccable. Hence, getting them down for your toddler can never be a bad idea.