Haircuts are a refreshing way of getting a new look. A different and unique 5-year-old haircut for boys makes them stand out of the crowd without any difficulty. Moreover, personalized haircuts are best because they suit your kid's features better as they are created only for them and to compliment their individual features.
Your little one can also be a trendsetter, but it can only happen once you start choosing hairstyles which work best for him and go well with his face cut rather than opting for some random haircuts which you personally like.
When trying to deal with your little boy's unkempt hair, you should always resort to giving your 5-year-old boy a haircut that fits his requirements, and continuously changing features.
Trendy Hairstyles for 5-Year-Old Boys
Other than enhancing your kids' looks and giving them a super cool vibe, haircuts also give a luxurious and smooth texture to their hair.
Depending on the face cut of your child, there are tons of hairstyles to choose from. Scroll down for 20 haircut ideas for 5-year-old boys:
Mohawk's hair is famous throughout the world. For a cool look, get your little one a spike style Mohawk haircut which runs all the way to the back of the head. Shave the sides to the very low or go with an undercut fade, your choice.
2. Braided Knot with Trimmed Sides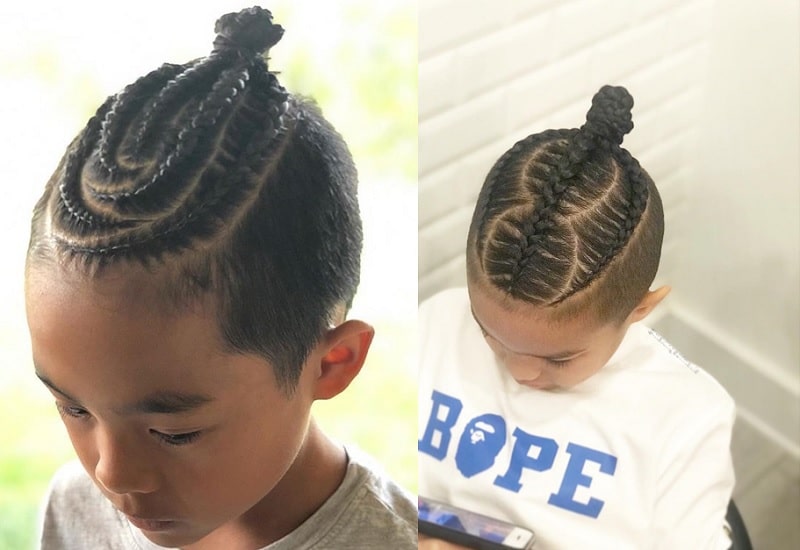 For this 5-year-old boy hairstyle, you have to maintain the top hair long enough to weave them into braids that form the fauxhawk style. Trim the hair to the skin all around the sides and back. You can experiment with different French braids you like.
3. High Top Fade Curly Hair
This 5-year-old haircut is for black boys with their naturally curly hair. Ask the barber to trim the hair in a neat manner on all sides to give the curls an impression of raised hair. If you like a flat top or a subtly curved top, you should choose this haircut.
4. Electric Blue Mohawk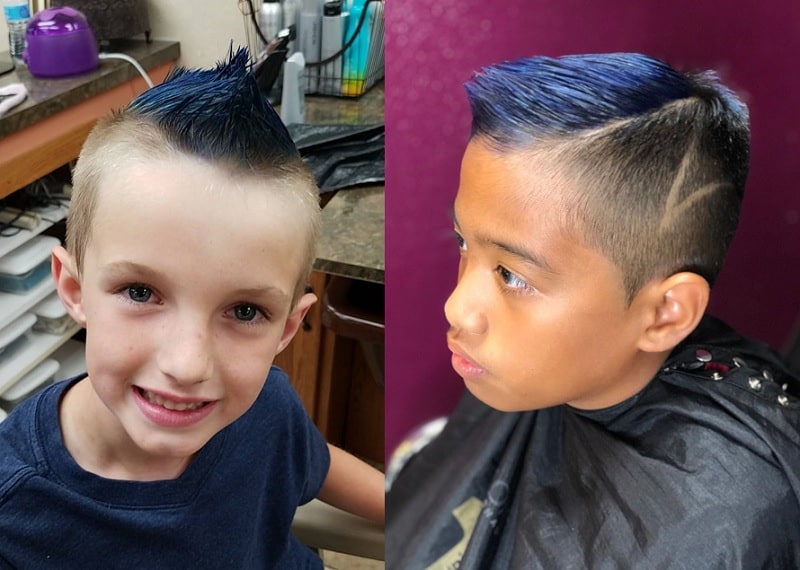 For a vibrant appearance, dye your kid's top hair electric blue and gel them up in the form of a Mohawk. Trim the sides and use a razor to cut line details in the undercut. This is a super cool 5-year-old haircut which gives your boy a super cool vibe.
The best way to style kinky hair is to get a Mohawk haircut for 5-year-old boys. It is a low maintenance haircut, and you don't have to use a lot of styling products to style your child's beautiful natural hair. A temple fade completes the look.
6. Side-Swept Haircut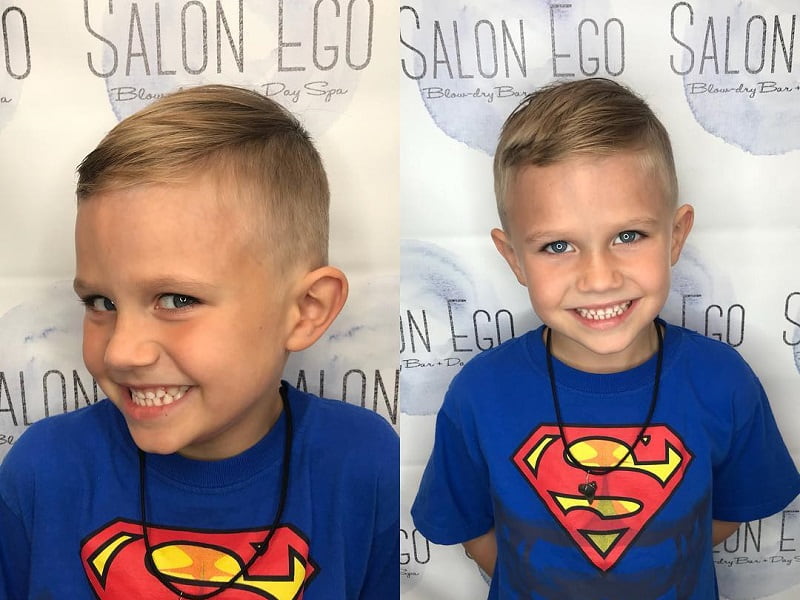 To get a cute and innocent look, keep the top hair slightly long for a side-swept style and trim the sides for a neat look. It will definitely add cuteness to your mischievous actions.
7. Side-Part Pompadour with Neat Trim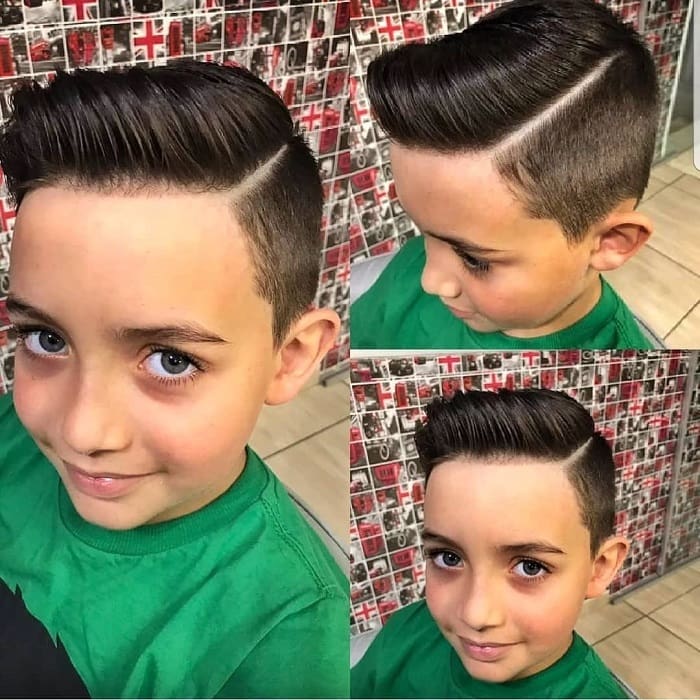 This is a super stylish side-part haircut for your little boys. It uses gel or pomade to slick back the hair. A sharp contrast is created with a side-part and a neat trim towards the sides.
8. Spike Style Fohawk with Shaved Sides and Back
This hairstyle forming a fohawk is achieved by using a lot of gel to spike up the hair. The rest of the hair on the sides and the back are neatly shaved to the skin.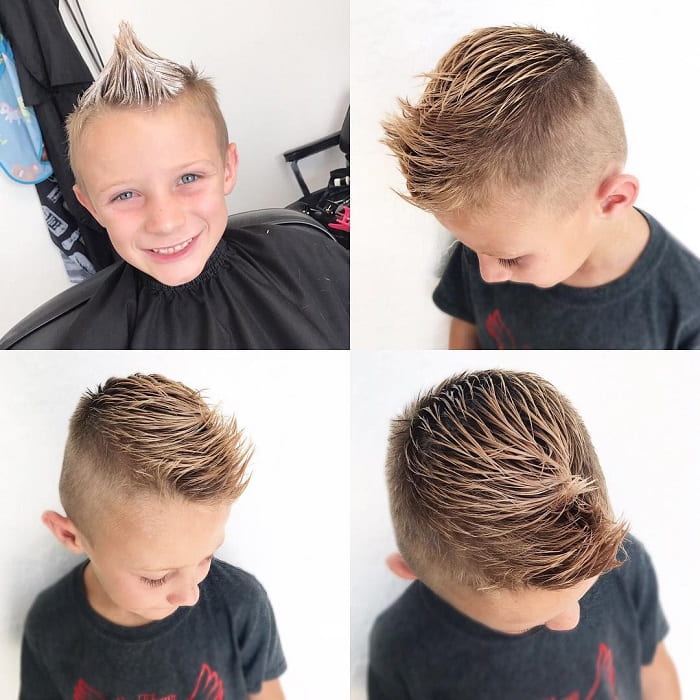 You can get this 5-year-old haircut by forward sweeping your boy's top hair which gradually rises to form spiky hair at the front. To get a neat and clean look, use a trimmer to trim the rest of the hair short.
10. Purple Widemohawk with Temple Fade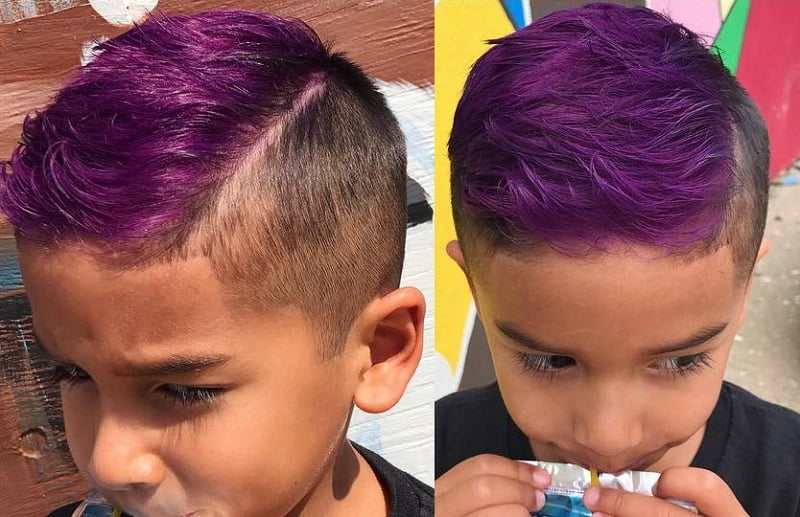 A little color hurts no one. So, this haircut with purple-dyed top hair in the shape of a wide Mohawk is an exemplary hairdo for kids. The remainder's hair is styled into an undercut fade going all the way from the sides to the back.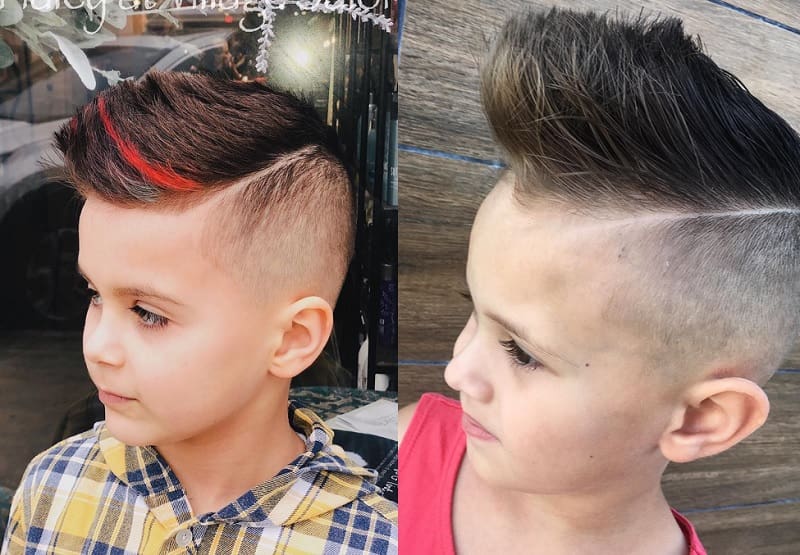 Fashion streaks are a trend going on this year. So, if your little boy wants one, get him this 5-year-old boy haircut with red fashion streaks. Raise the hair to form high side fohawk. A hard part between the high fohawk and the trimmed sides is nothing but perfection.
The curly fohawks have to be the cutest fohawks. Keep the top hair long enough to give them the form of a curly fohawk. The sides are clipped short for mid fade undercut and make it an excellent haircut for little boys.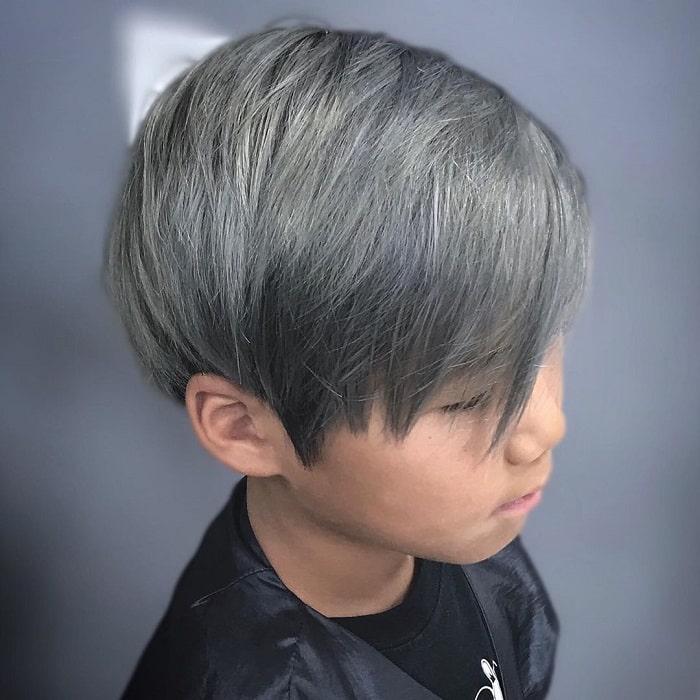 This hairstyle works best for boys with straight hair. All you have to do is sweep the long straight hair on one side and rock your cool boy looks.
14. Boy's Bowl Cut with Subtle Brooklyn Fade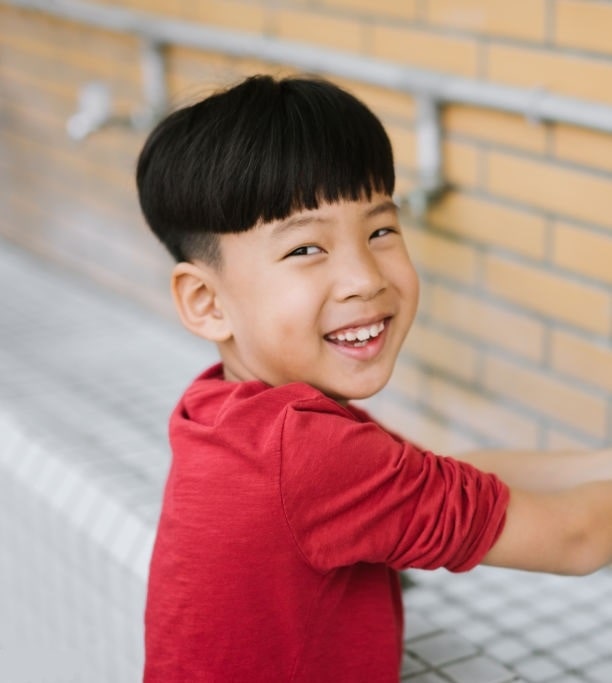 It is a plain, short haircut that doesn't require you to go through a lengthy procedure. This haircut will give you a straight fringe on the front. The rest of the hair is either kept to the same length all the way around or cut short towards the sides and back. A subtle Brooklyn fade adds to the style.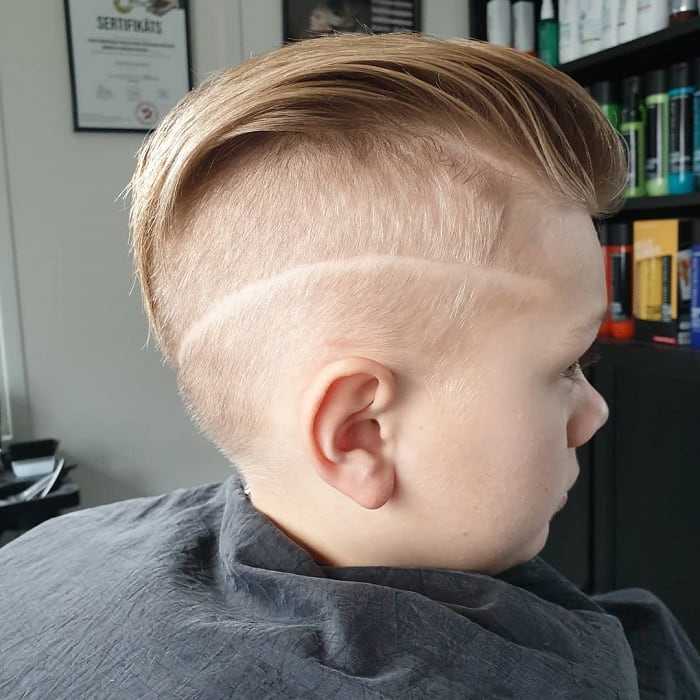 Blonde combed back hairstyle is the perfect 5-year-old boy hairstyle. It adds volume as well as style to the hair. Sides-fade to the hair and a curved line detail completes the whole look.
16. Glittery Designed Taper Fade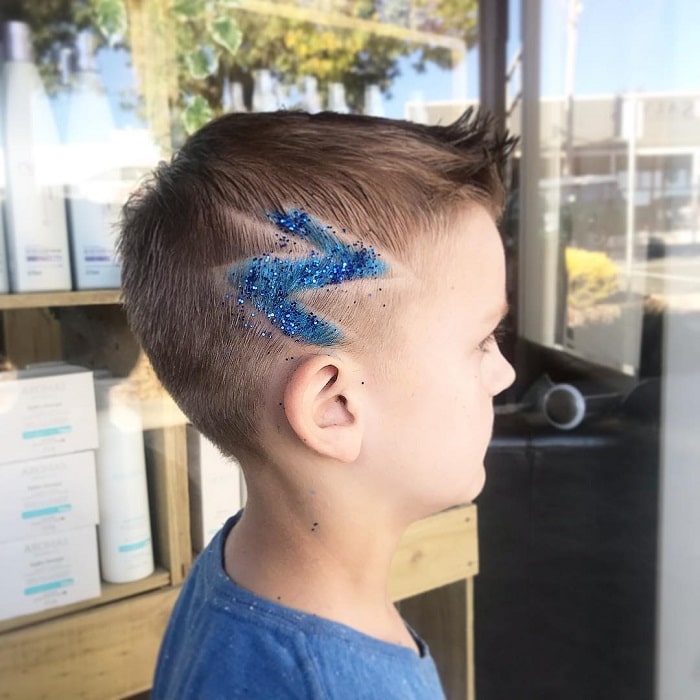 A short fohawk raised slightly at the front is perfect for any occasion. But, a splendid blue glittery design cut in the taper fade on the sides makes you an ultimate style icon.
17. Dyed Quiff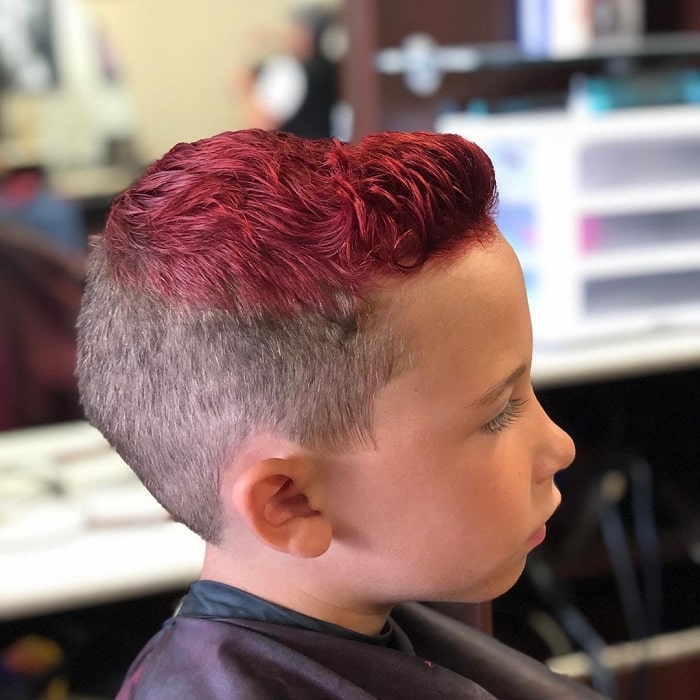 This is a red-dyed quiff Mohawk cut for five-year-olds. The short red hair on the top is combed back in a quiff style, and the rest of the hair is tapered short. The dye creates a contrast between the top hair and the lower hair.
18. Braided Style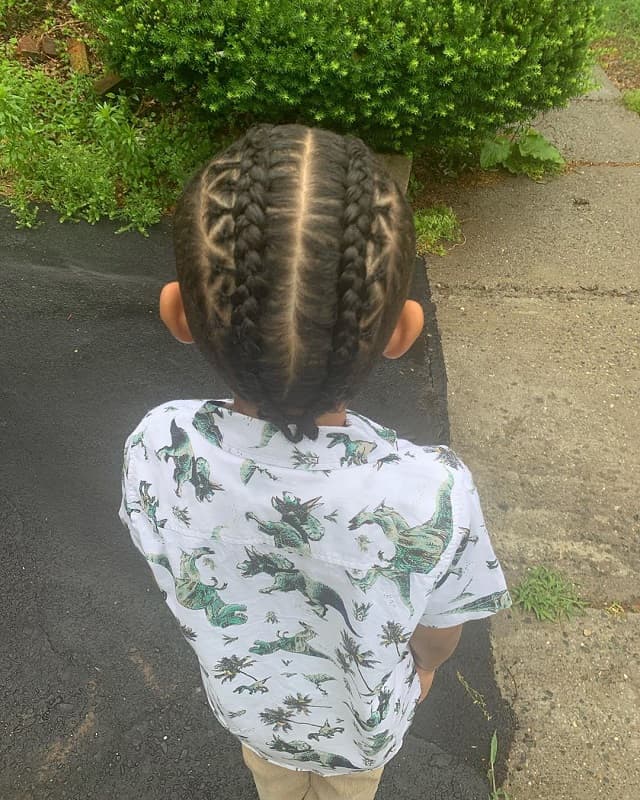 Anyone who has a massive love for braids is going to love this little boy's 5-year-old hairdo. The top hair is kept long enough so as to make designed braids stretching all the way to the back.
The side hair is trimmed short for a clean look. This hairstyle keeps your hair from going rogue.
Top Hairstyling Ideas for 6-Year-Old Boys
19. Fashion Fauxhawk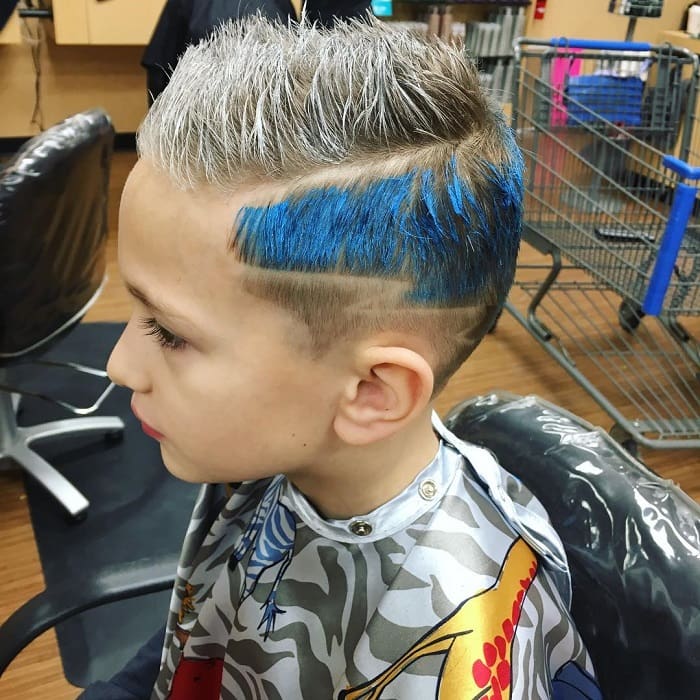 This haircut presents a sparkly silver fauxhawk raised into small spikes on the top while the roots of the hair retaining their original color.
The sides and the back are styled with a varied undercut. The top hair on the sides is dyed shiny blue running above a line detail and an undercut.
Black boys generally have thick curly hair, and they can become irritating for little boys. The best way to get rid of the irritation is to get your little boy an age appropriate haircut. The top hair is cut into a crew cut, and the side and back hair are shaved close to the head.
When it comes to haircuts, age doesn't mean a thing. Your little boy of 5-year-old age as much wants and needs a haircut as a full-grown man.
So, these 5-year-old boy haircuts are a perfect treat for your little one. Haircuts not only give your child a neat and clean look but, are also crucial in shaping their personality and grooming their physical appearance.