Boy's comb over hairstyle has grown its roots strong over all these years instead of going out of style. With time, this haircut is unrolling its new dimensions. Therefore, this style has something of its own for all age groups.
The ease of making and low-maintenance is what makes combover a top-of-the-list hairstyle. Moreover, these versatile haircuts can be carried with every look; casual or formal.
Steps to Create a Perfect Comb Over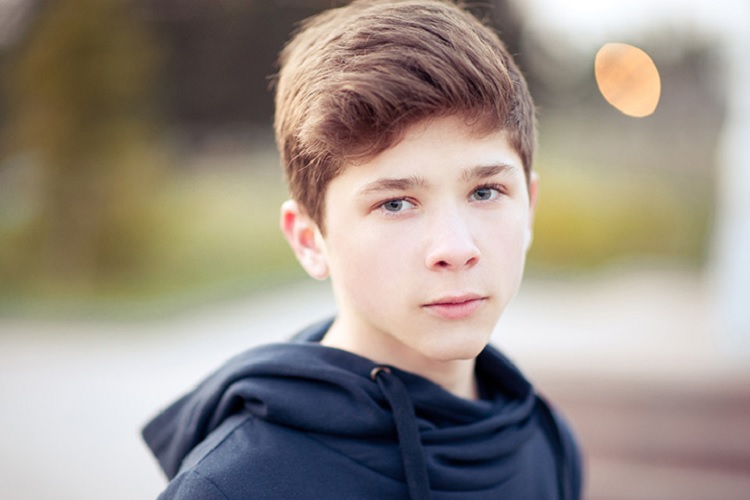 Wash your hair well and dry them with a towel.
Use a blow dryer to style your hair for added volume, especially if you have long hair.
Use a good quality styling cream to hold the combover in place and to add extra shine to the style.
Use comb for a sleek look and fingers for a messy look.
Amazing Little Boy's Hairstyles with Straight Hair
Trendy Boy's Comb Over Hairstyles
Modern comb over haircut is combined with high, low and taper fade, curls and textures. Try the following curated, high volume combover hairstyles for boys for a perfect look.
1. Long Sweep Back with Undercut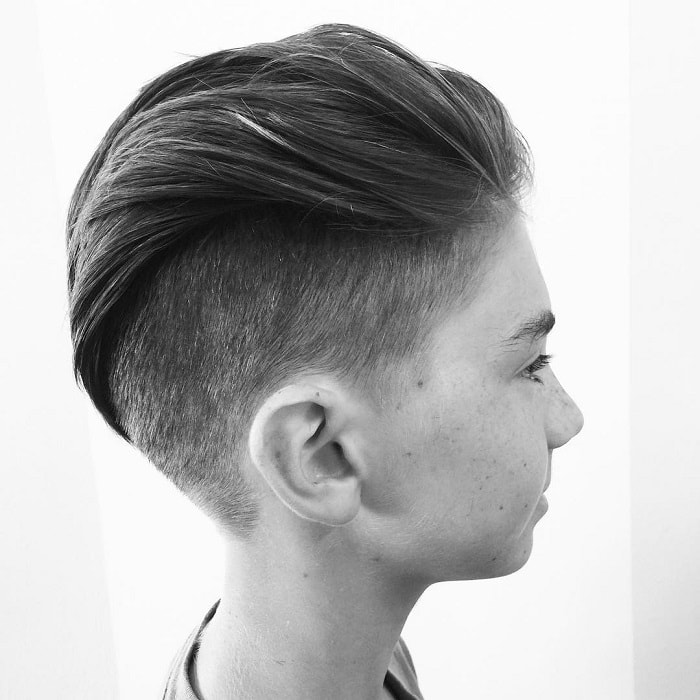 Be the eye candy and make your own hairstyle statement with a swept-back boy's comb over haircut. Boys with ultra-long hair can sweep their hair at the back with the help of only a little amount of gel.
The soft part gives curls and texture to the hair. You can combine the sweep back with undercut for added pomp.
Charming Bowl Haircut for Boys
2. Fade with French Crop
This unique hairstyle is a combination of three; comb over, fade and French crop cut. Every gentleman must have this hairstyle. Combine a long fringed French crop cut with a sharp fade.
Create a side part and comb your hair to one side creating a sleek comb over hairstyle for boys. Apply a hair gel to hold the style in place.
3. Textured Comb Over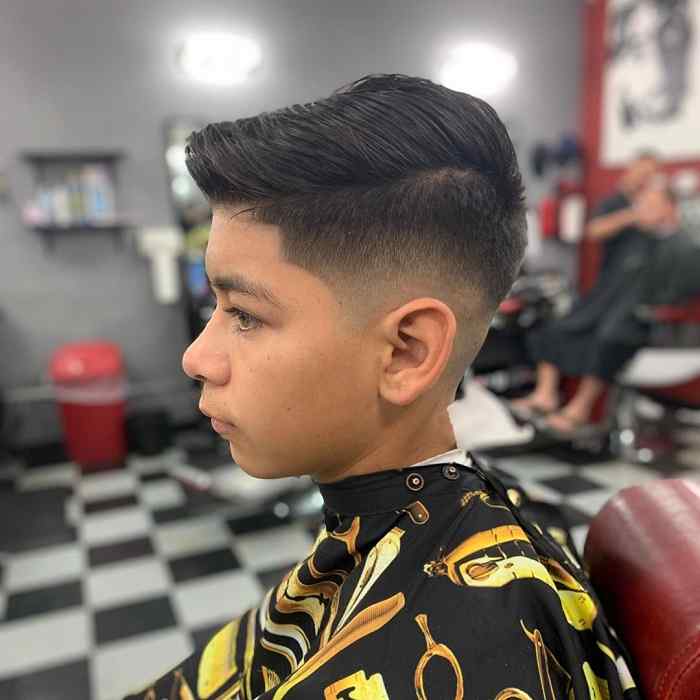 Add creativity and uniqueness to your look by making your haircut a blend of texture and style. Textured comb over with sharp fade makes a very classic combination.
This comb over hairstyle is ideal for boys with round faces as it will add height to the overall look. Textured hair is all rage in the fashion industry.
4. Boy's Comb Over with Undercut
Boys with a wavy comb over haircut and an undercut have a certain 'wow' factor in their avatar. This look is perfect for casual as well as formal events. The length of top locks, combed to one side, with undercut gives a very sleek and fashionable look.
Comb your hair in a wavy manner to one side while holding them with a good-quality gel. This hairstyle will also add height to your overall look.
5. Comb Over Pompadour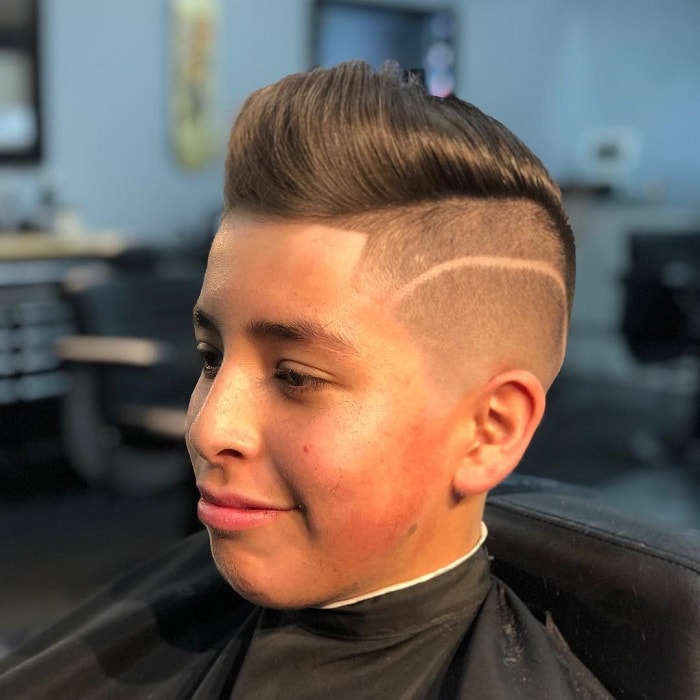 A pompadour never goes out of style. Modern boys are combining a comb over haircut with a pompadour. Comb over pompadour with an undercut and shaved line on the side is a new buzz cut. In pompadour, the hair is swept high up from the forehead and combed back.
This boy's comb over is ideal for a formal look and gives a very gentleman look. Apply hair gel to hold the style perfectly in place and for added shine.
6. Long Comb Over with Highlights
Little boys with long hair have a new buzz way to accentuate their comb over hairstyle. Super long top hair contrasting with the shirt side hair gives a very bold look.
Make your own comb over style statement by dying your top locks with light and dark highlights with funky colors. Sweep your hair to the side and back for a sleek look.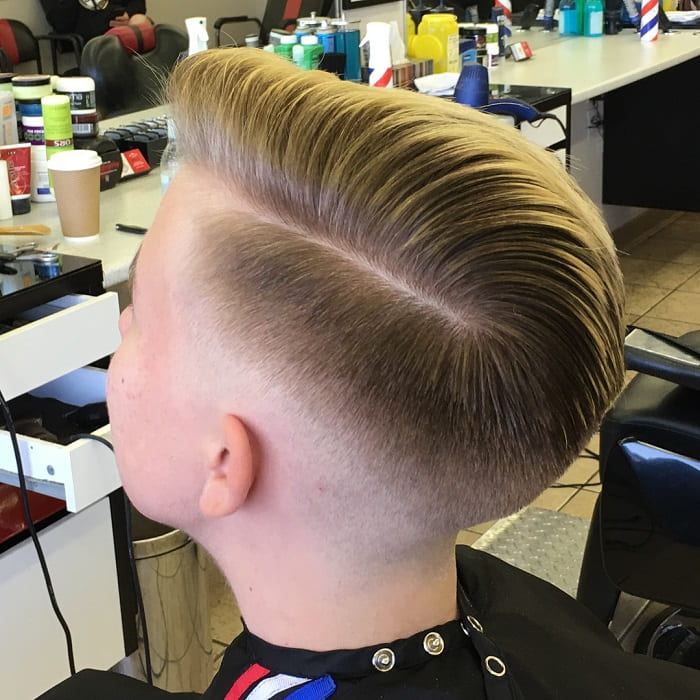 A classic comb over is where it all started. However, the classic style never went out of vogue. Boys aspiring for a decent yet stylish look should try this comb over hairstyle. Create a high shine hairstyle with a visible side part.
Comb your hair to one side with visible comb marks, creating a malleable pomade look. This style is easy to make and maintain.
Boys, what are you waiting for? Comb back style can be combined with almost any look and evolve into an entirely different style. Try these sexy boy's comb over haircuts for an ultimate style statement. It's time to make all those chics swoon over you!