Mohawk cut, a timeless and evergreen trend. Where men of all age groups can wear this haircut, kids mohawk haircut is the new buzzing style in the fashion world for little boys.
This style is bringing new evolutions and growing its roots stronger in the industry. From super long mohawk to Caesar cut and funky dyed hair, this is the most versatile style.
Latest Mohawk Styles for Kids
Following Is a curated list of some funky and cool mohawk haircuts for little boys. You can choose the style which suits your hair and looks and be in the limelight!
1. Long Porcupine Mohawk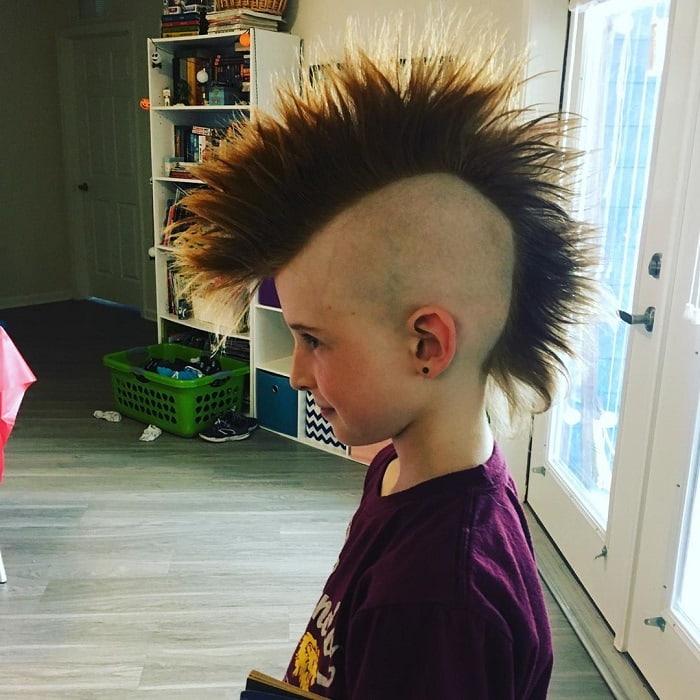 Long porcupine kids mohawk is a very bold hairstyle and can be carried by very smart and active boys. This style is for those little boys who have straight hair.
Keep the stylist to shave the sides of your boy's head while keeping the top locks long. Then spike up the top hair with the help of hair gel to hold them in place.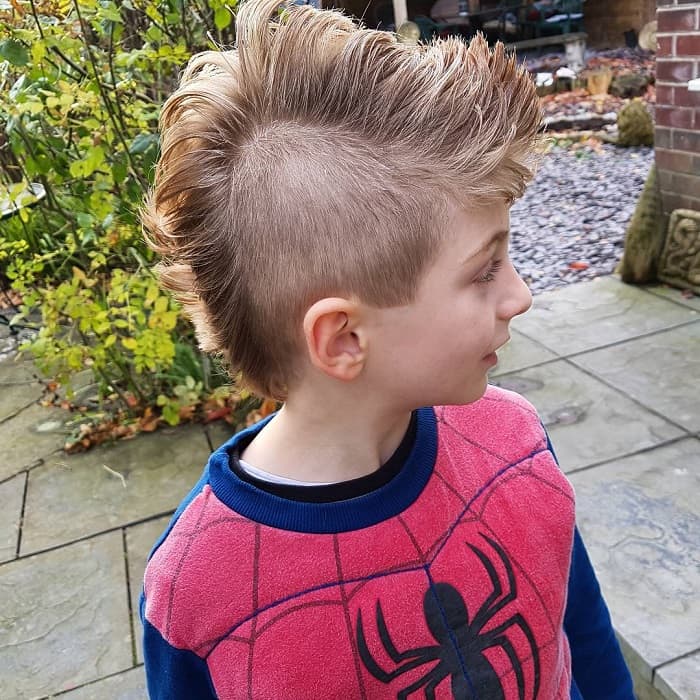 Faux Hawk is a mohawk with relatively longer hair on sides. However, the sides are still very short as compared to the top locks. S
pike up or side comb your top hair, as you like, and apply hair styling gel to hold the style in place. Pair up the hairstyle with a Spiderman shirt and see your boy look like a superhero.
Classic Mohawk Styles for Black Little Boys
3. Rainbow Mohawk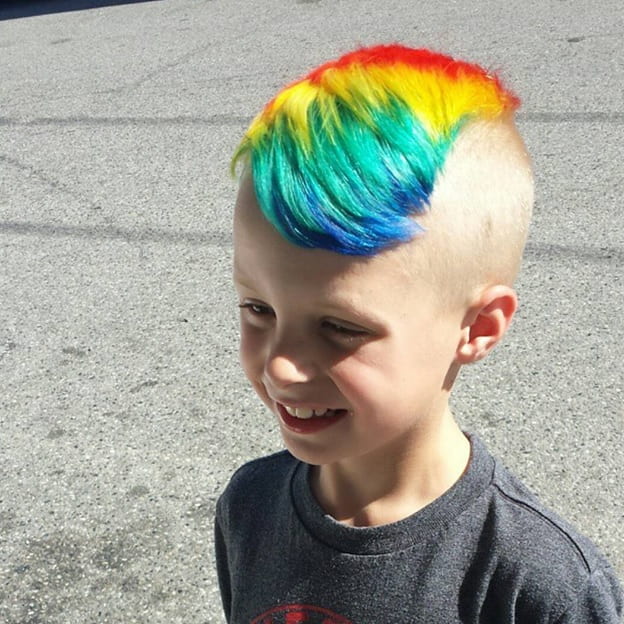 A rainbow dyed, mohawk on sleek hair is an eye-catching hairstyle. Give this unique look to your boy and see him becoming the center of attention. Tell the hairstylist to give your little boy a mohawk cut. Then dye individual sections of hair with different and funky colors. Keep the sides natural.
4. Curly 'Hawk with Man Bun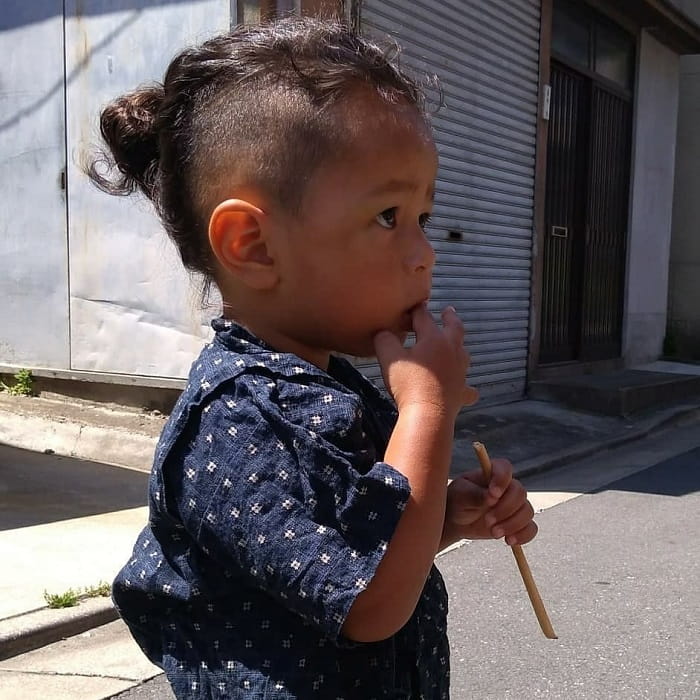 Give a man bun to your little man-to-be. A little manly look does no harm! A simple little boy mohawk style with fade and top locks tied into a man bun on the back are what make this style.
This look is for all hair types; wavy and straight. Moreover, this kid's long hairstyle is easy-to-make and requires little to no maintenance.
5. Blonde Afro Mohawk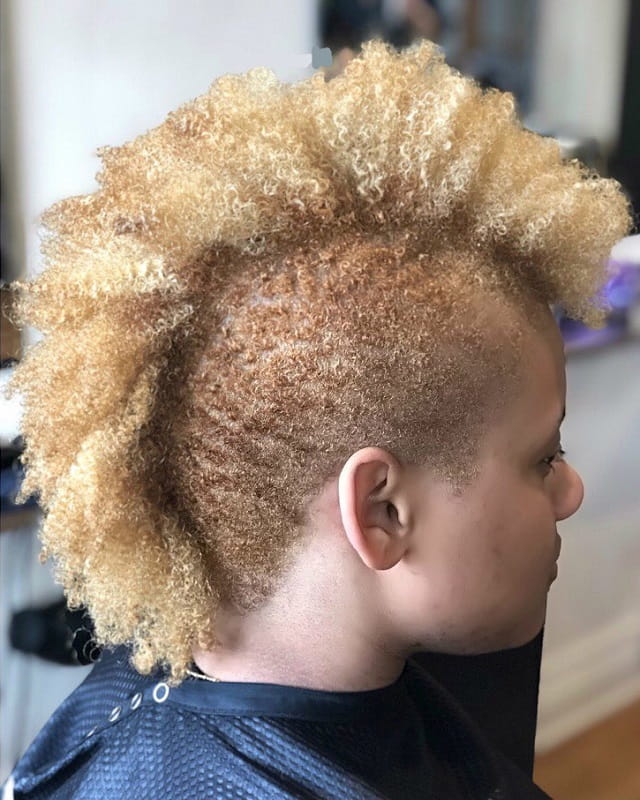 Unruly afro is known for a hard time it gives while managing and styling. However, this is not a big deal anymore. You can now cleverly style your afro while keeping them in their right place!
Get a mohawk on your little boy's hair! A blonde afro mohawk will create more buzz. For added pomp, keep your hair little longer.
Funky Hairstyles for Little Boys with Curly Hair
6. Spiked-up Mohawk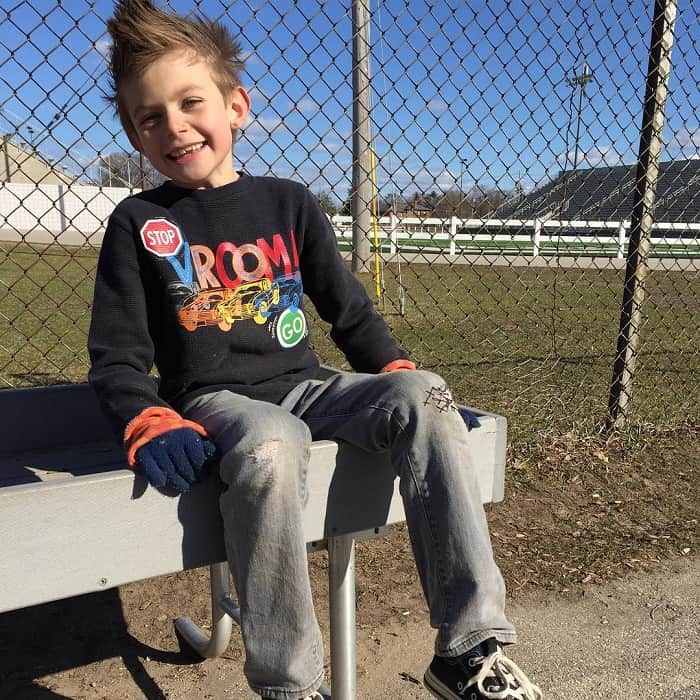 A simple spiked up kids mohawk haircut on sleek blonde hair gives a very neat and decent look. If you are a strict mom and want your little boy look decent, this hairstyle is made for your boy.
Tell the hairstylist to keep the sides long, instead of shaving them, while keeping the top locks longer. Spike up the top locks with the help of hair gel and your buy is ready-to-go.
7. Shaved Mohawk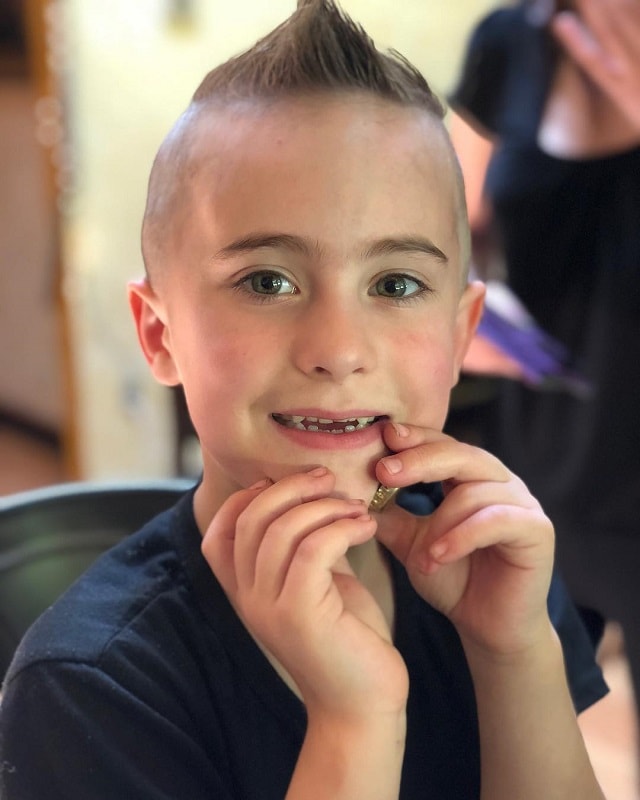 Shaved mohawk look very neat and classy. If you want your little boy to look manly, this hairstyle is the right choice. Moreover, this style is easy to make and require very less maintenance. The neat look is an added perk of this style!
Cutest Braided Hairstyles for Kids
8. Mohawk Fade with Creative Sides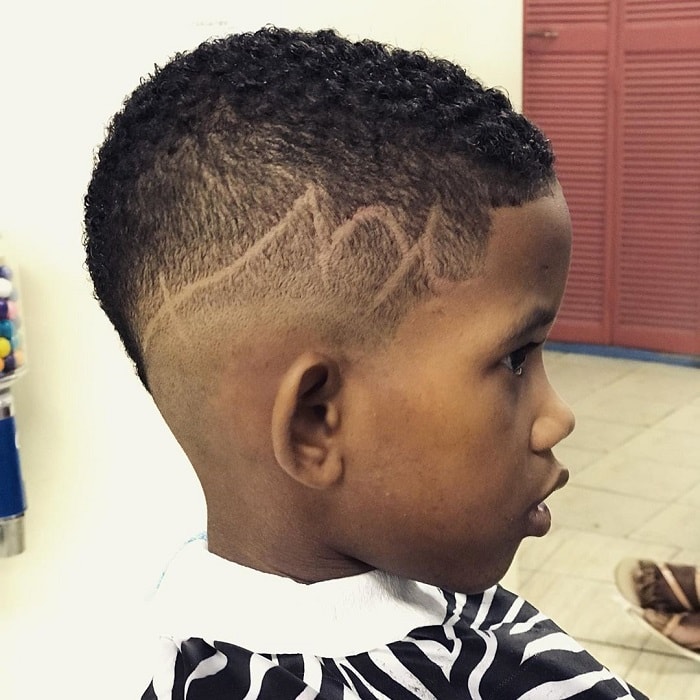 To create a unique crew cut hairstyle for your boy, consider giving him creative sides. A mohawk with a fade on afro, wavy or textured hair with a taper fade on the sides and creative lines in between create a very bold combination. This kids mohawk fade style is ideal for boys with thick black hair.
9. Punk Mohawk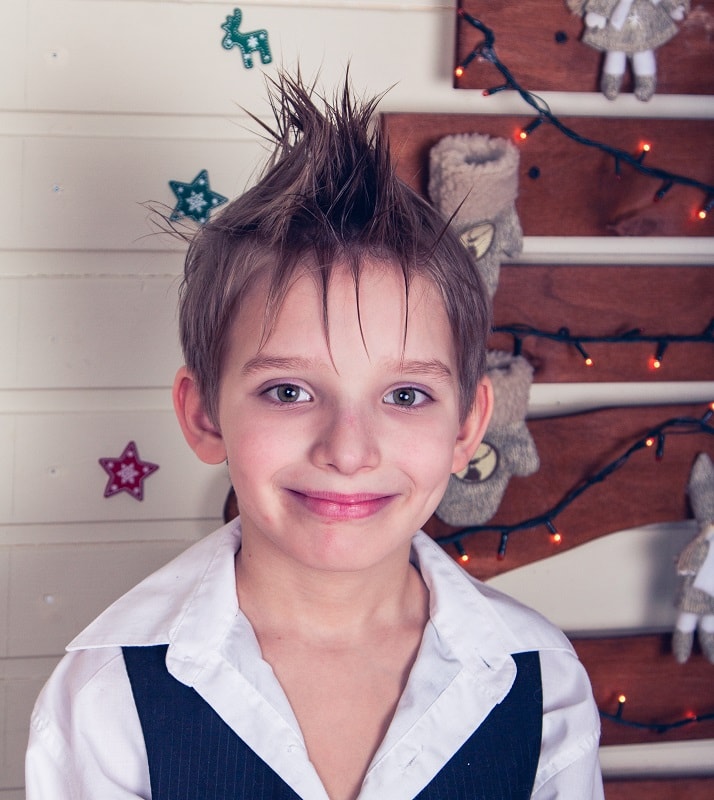 A punk mohawk packed with personality will make your kid go crazy. Hair needs to be at least three to four inches in length to get this height. Leave sides down and concentrate on spiking up the middle.
10. Curly Mohawk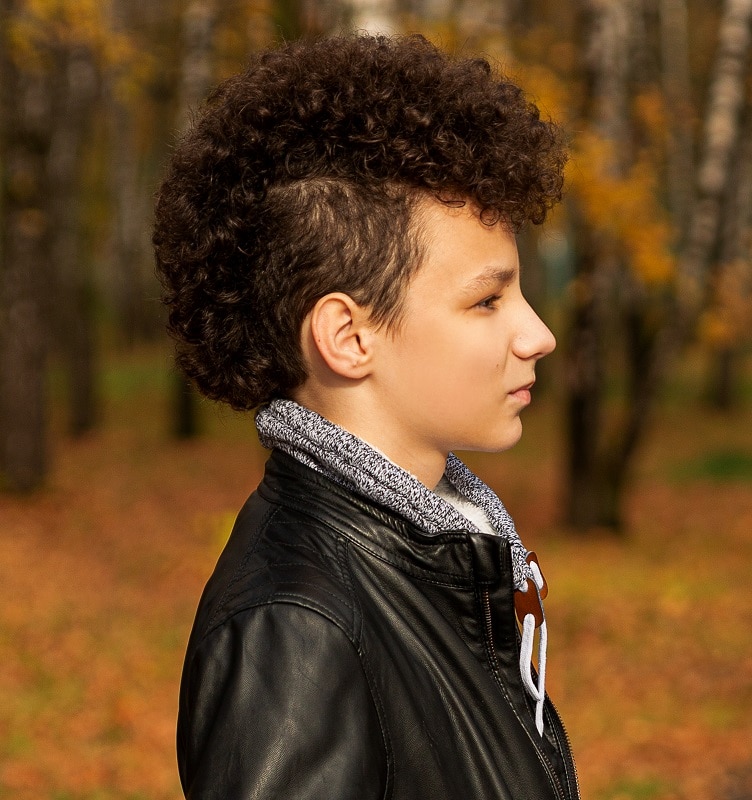 Kids with curly hair can become frustrated easily with controlling thick locks. A mohawk will take bulkiness out of hair and is a fun way for him to express his style.
11. Mohawk with Design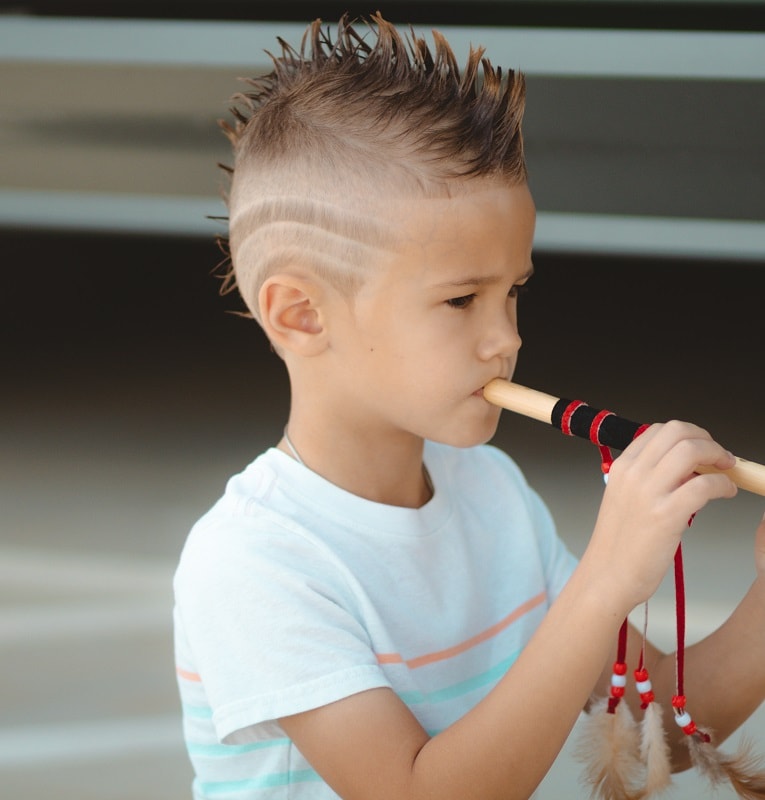 A high fade with shaved in designs will make your little boy the coolest at school. Use hair gel on fingers to create spiky texture up top. Shaved in designs can be curved, zig zagged, or other patterns.
12. Thin Short Hair Mohawk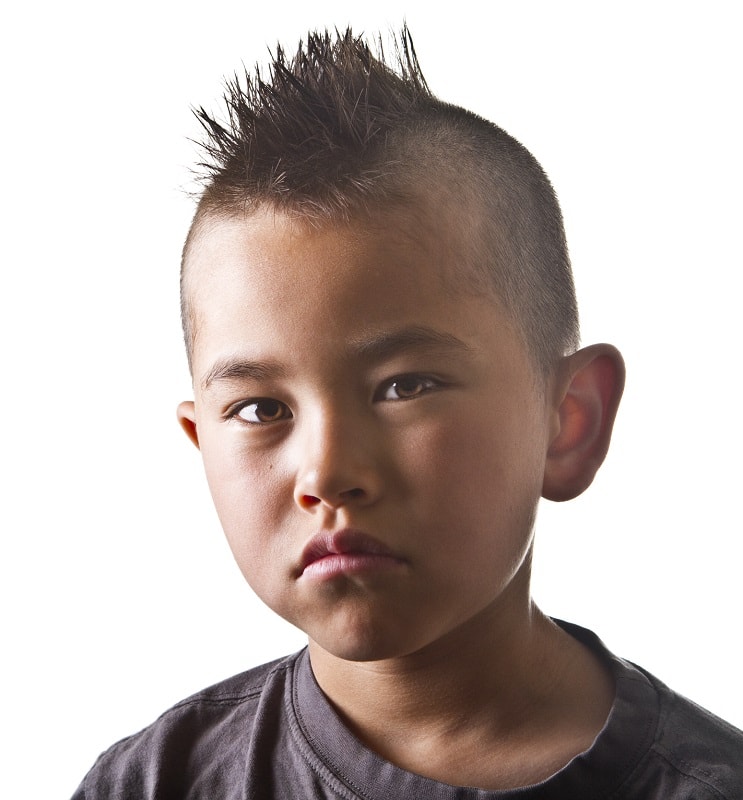 Just because your little boy has thin short hair, that doesn't mean he can't still sport a punk mohawk! After giving sides a high fade, show him how to gel fingers to shape spiky texture.
13. Extra Tall Mohawk
If you've ever seen a mohawk on a toddler boy, now is your chance! When hair is more than five inches in length, use hair product to help it stick up. A high fade brings all the attention to his adorable look.
14. Sloped Mohawk
Most mohawks out there stick perfectly straight up. This one, however, is a little softer since it's sloped. It's great for little boys with shortish hair and also not as harsh.
15. Bedhead Mohawk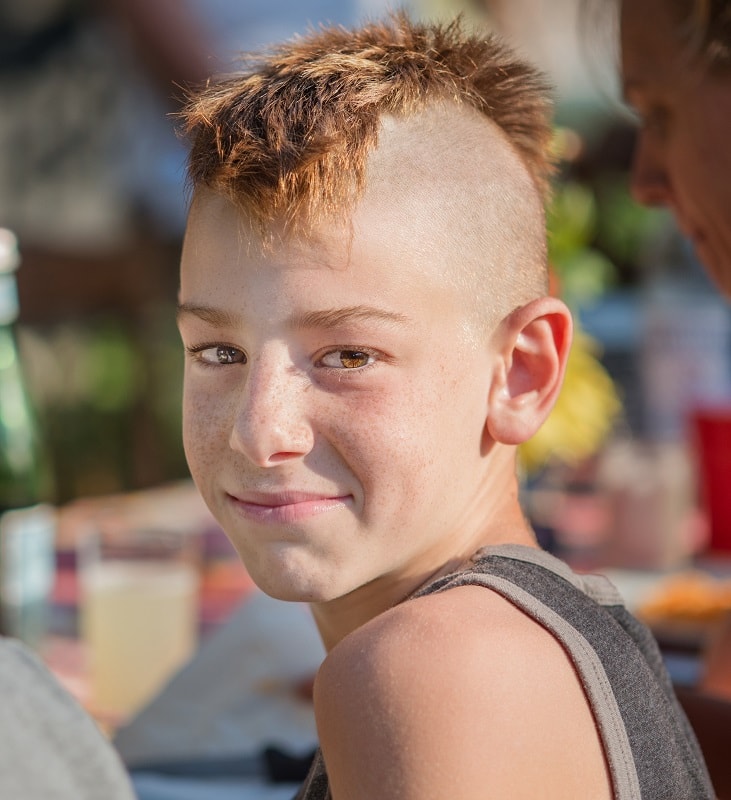 Not all mohawks are created equal and this one isn't any exception. For older boys, a bedhead mohawk is perfect because it does not require any styling.
16. Mohawk with Bangs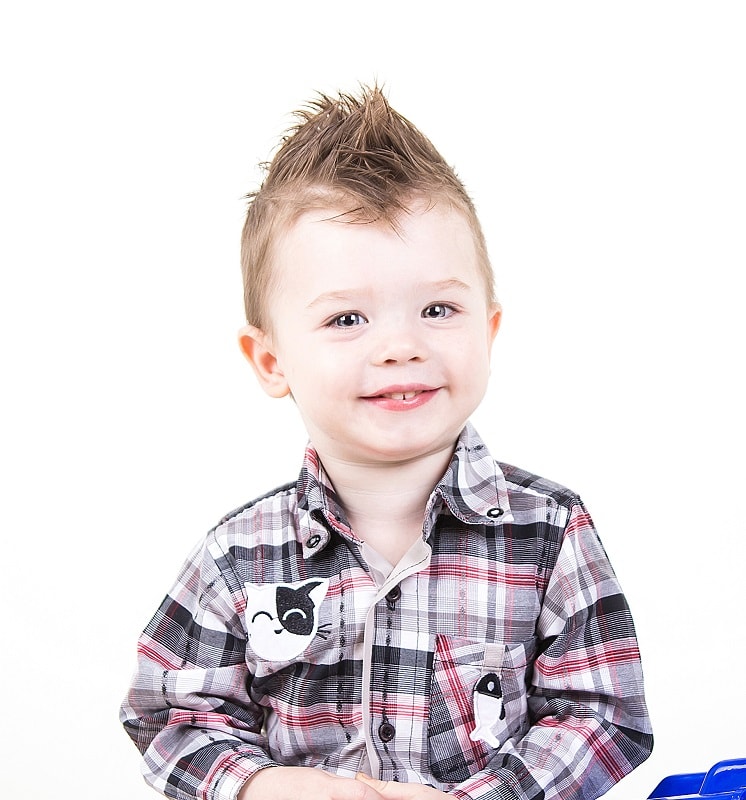 A small section of hair on the forehead creates a soft bang. It's a handsome soft touch for a mohawk on a little boy and will certainly make his blue eyes pop!
17. Buzzed Mohawk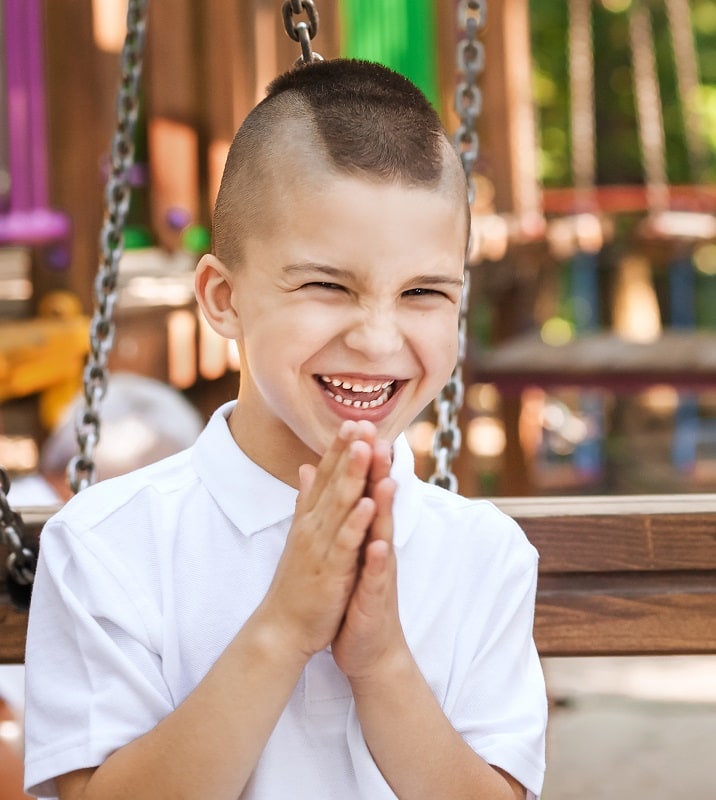 A two- to three-inch wide mohawk is buzzed short on this haircut. It's another version of a low maintenance mohawk and one you won't have to maintain closely.
18. Red Oval-Shaped Mohawk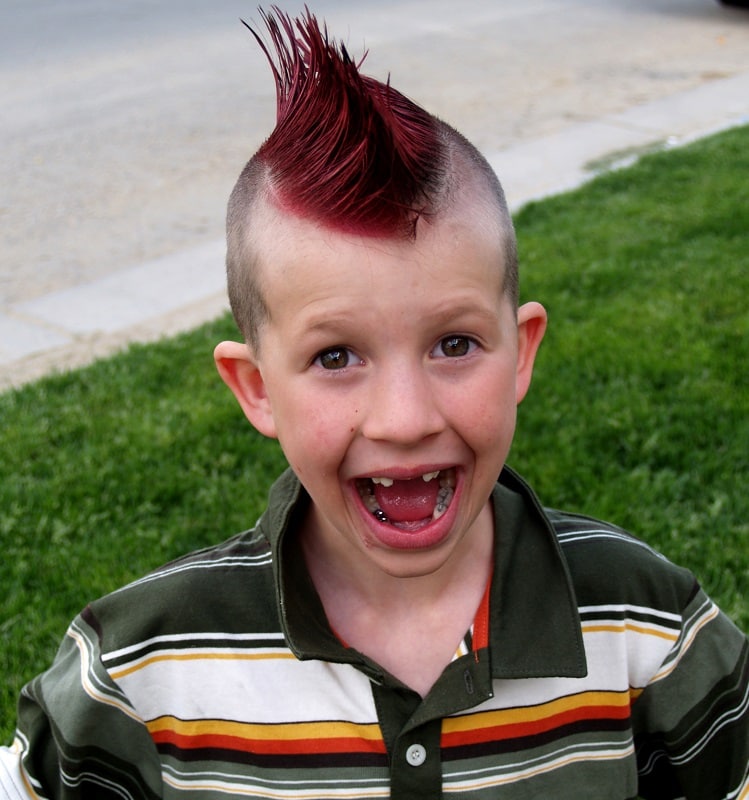 An oval shape on the scalp sets the base for a slim mohawk with deep red color. If your boy isn't a fan of red, he can try blue or even blonde highlights to add color.
19. The Mini Mohawk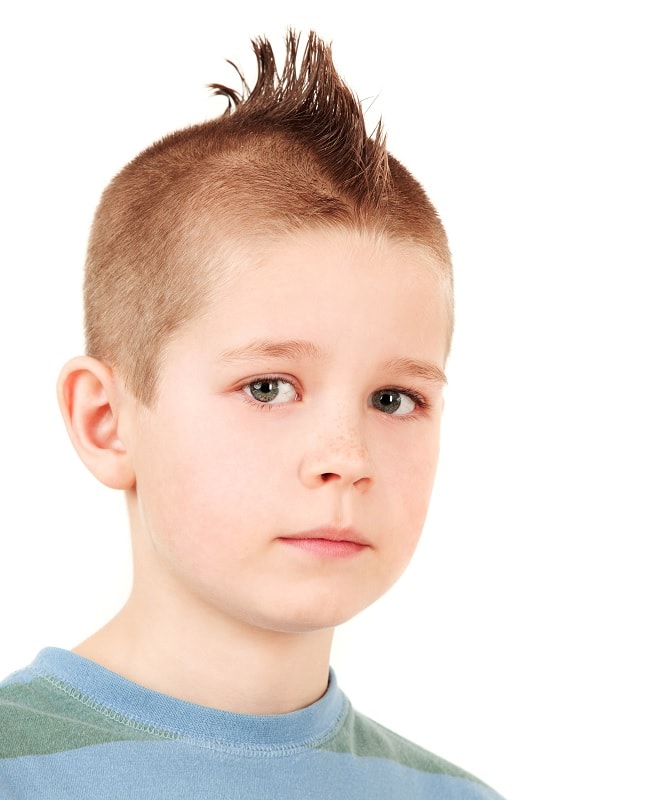 Not ready to spend precious morning time styling your little boy's hair? A mini mohawk with a low fade won't take up your time. It's shorter than traditional mohawks but still has a lot of personality attached!
20. Afro Hair Mohawk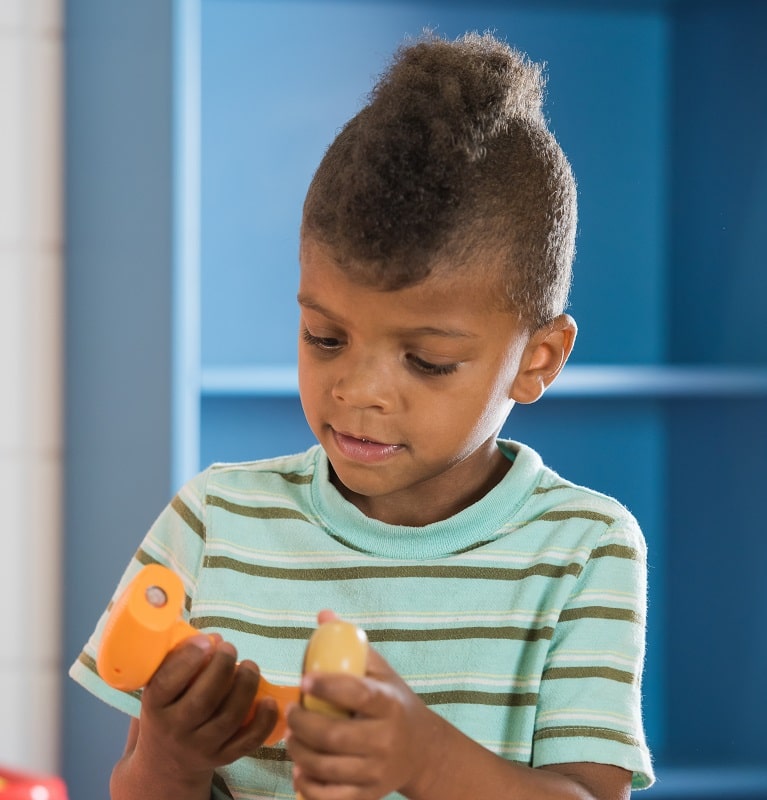 For young black boys with afro-textured hair, mohawks will give their look flattering shape. Keep it trimmed to just several inches and maybe work in a leave-in conditioner to prevent frizz.
21. Blue Mohawk
The soft contrasting blue on this mohawk against the blonde sides is a good color combination. If you're not ready to let your little boy try permanent color, use a temporary hair spray.
So, moms, what are you waiting for? Mohawks aren't a haircut just for the grown-ups anymore! We have made your job easy for you. Pick the best little boy mohawk haircut and go to the hairstylist immediately.