Mixed girls are known to have the frizziest curls which can be quite hard to handle. Finding the perfect mixed little girls hairstyle or trick to tame those wild curls can be very difficult. If you are looking for the perfect hairstyles for mixed girl's hair, then this is the place for you. Without further ado, let's get right into it.
Adorable Little Girls Hairstyles for Mixed Hair
The mixed little girl's hairstyles below will help your girl look super adorable and classy.
#1. Space Buns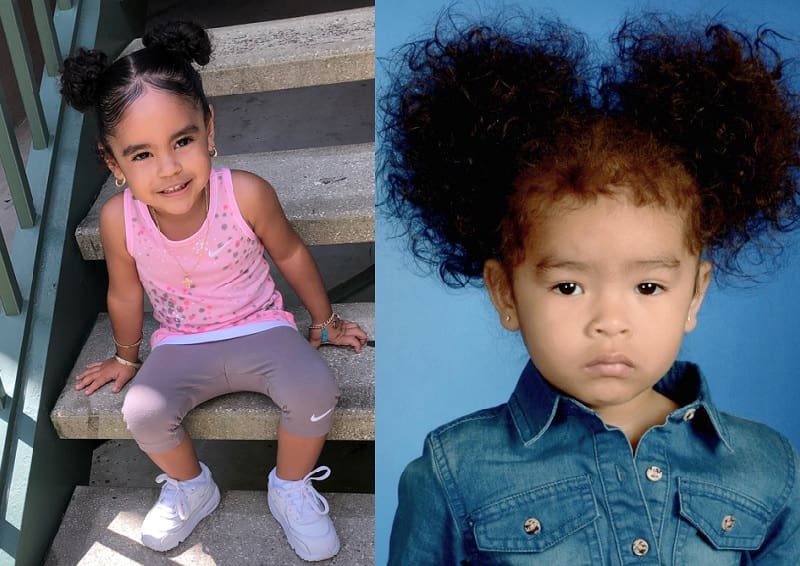 Almost everyone is going around styling their hair in these stylish buns on the top of their heads. These space buns are easy to make and can be modified into multiple quirky styles. It will keep the frizzy hair in a tight embrace and keeps it from sticking out.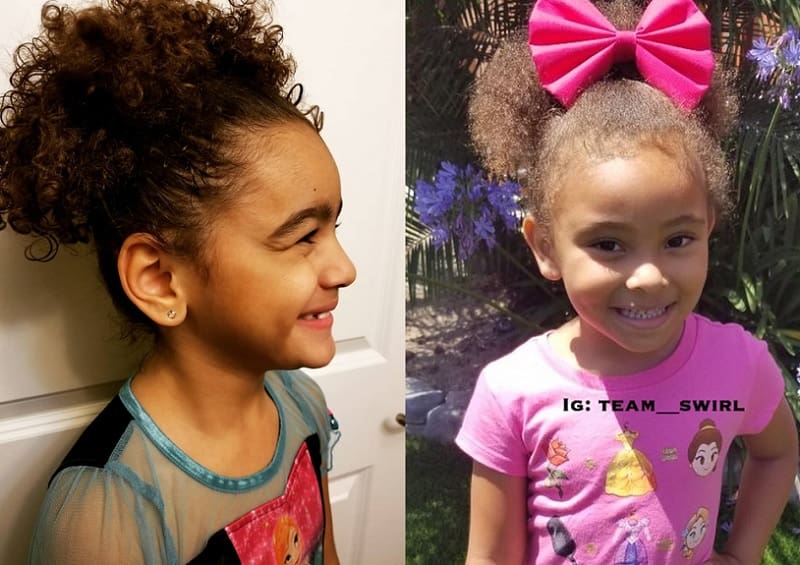 High ponytails never go out of style and are suitable for any hair type. Gather all your hair in a bunch and tie it up with a rubber band. Yup, it's that easy. They're super simple and can be worn with almost any outfit. It will keep your rough hair away from your neck and your face.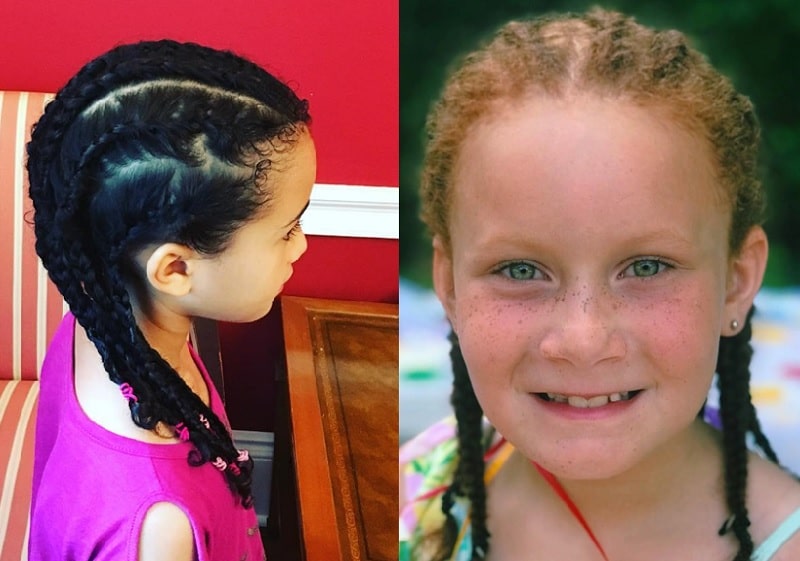 This mixed little girls hairstyle took over everyone's heart for years and is still been ruling over everyone's head, quite literally. From Beyoncé to Kim Kardashian, literally, everyone is falling in love with these beautiful braids. These braids are the perfect hairstyle to secure the puffy hair into a sleek style.
#4. Classic Ponytail
A simple classic ponytail will make your puffy hair look even cuter and will make your face look cleaner and more prominent. Style it with headbands or clips and your girl is ready to take over hearts with her adorable looks.
#5. Side Swept Bangs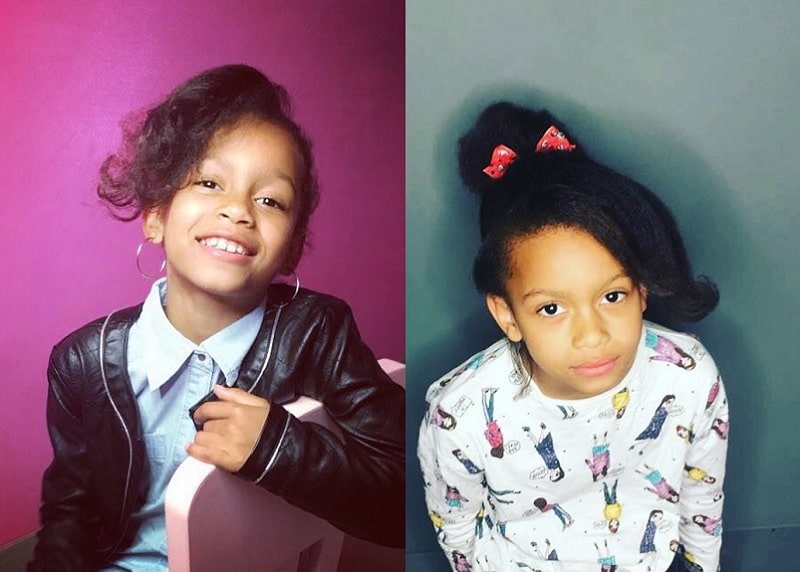 The classy looking side swept bangs are perfect for you if you want to make your little biracial girl look sophisticated at any event. You just have to brush the bangs to the side and tie the rest to the back. This will keep the frizzy hair to the side without any mess.
#6. Multiple Braided Buns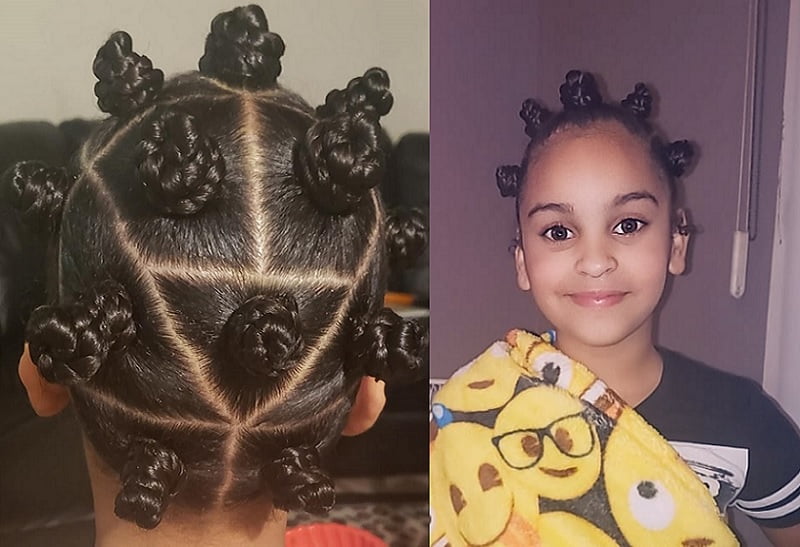 If you want to go or a funky and futuristic look, then this hairstyle for mixed little girls is the best option due to the symmetrically parted sections of hair and the tiny braided buns. All you have to do it part the hair neatly from different places, tie up the parted hair into braids, twist them into buns and secure them with some rubber bands.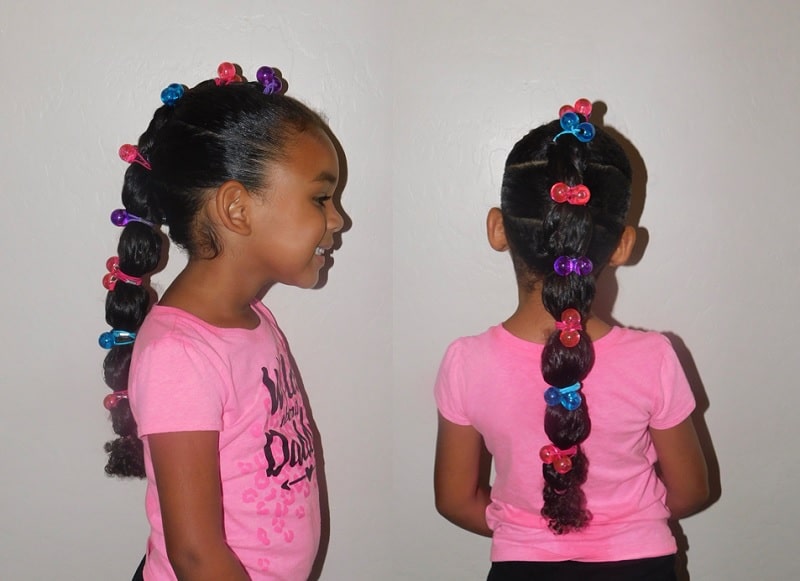 This easy to make funky hairstyle might look a little simple but once you try it on, it will give your biracial little girl's outfit a very creative and lively touch as well as keeping the frizzy hair away from your face.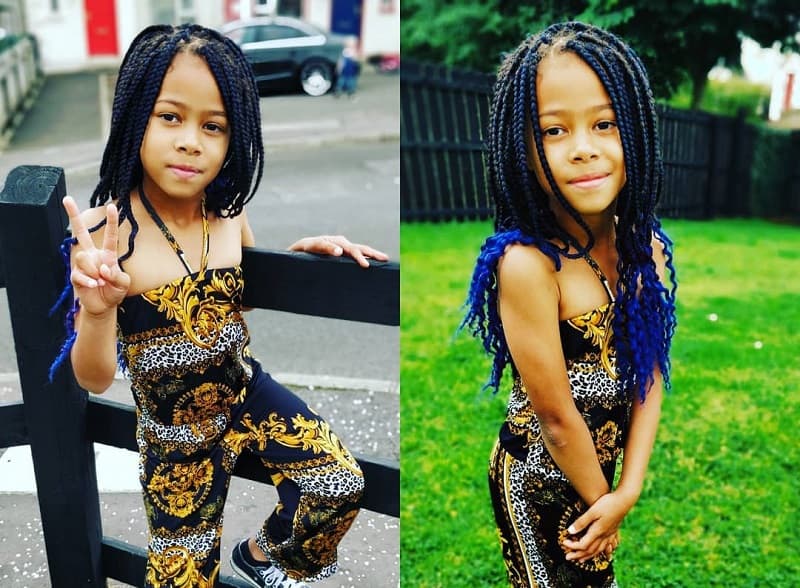 If you are looking for a funky yet neat hairstyle for your mixed little girl's super frizzy and rough hair, then boxer braids are the best option for you. It will keep the hair tied down to thin stylish braids. Dying the braids from the tips will add extra beauty and style to it.
#9. Cross Over Ponytails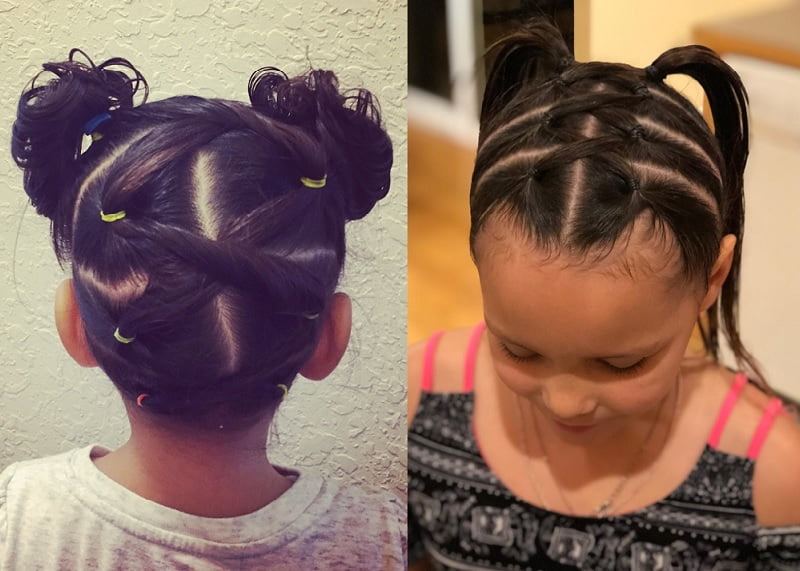 Sometimes simple and plain pigtails just aren't enough, so here is a funky twist to the plain old yet classic pigtails. As the name explains, all you have to do is part the hair from the middle. Part each section into 3 subsections and cross them over each other to join the lower subsections.
#10. Cornrows Halfway Through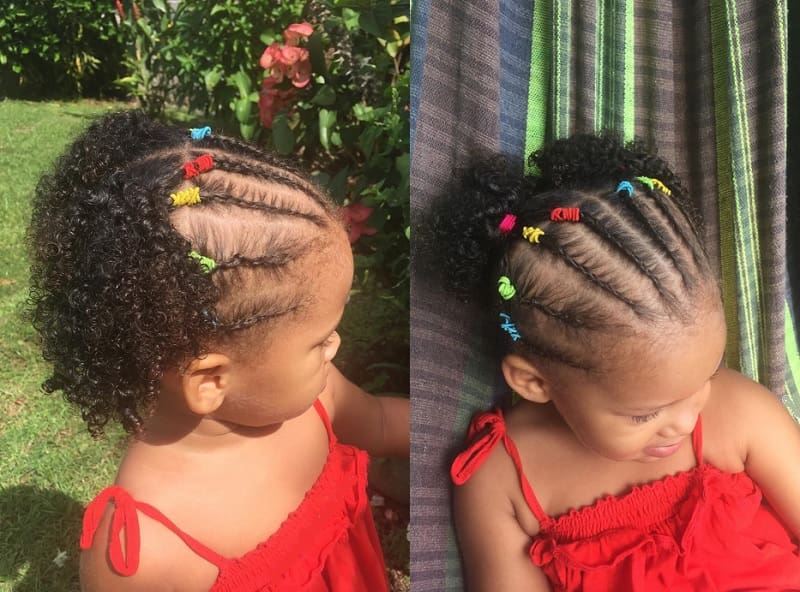 This mixed little girl hairstyles as simple as it sounds, just start making cornrows and stop halfway through. Secure them will rubber band either let the rest of the hair fall back or tie them up in a simple ponytail. It will keep the frizzy hair away from your forehead.
#11. Braided Updo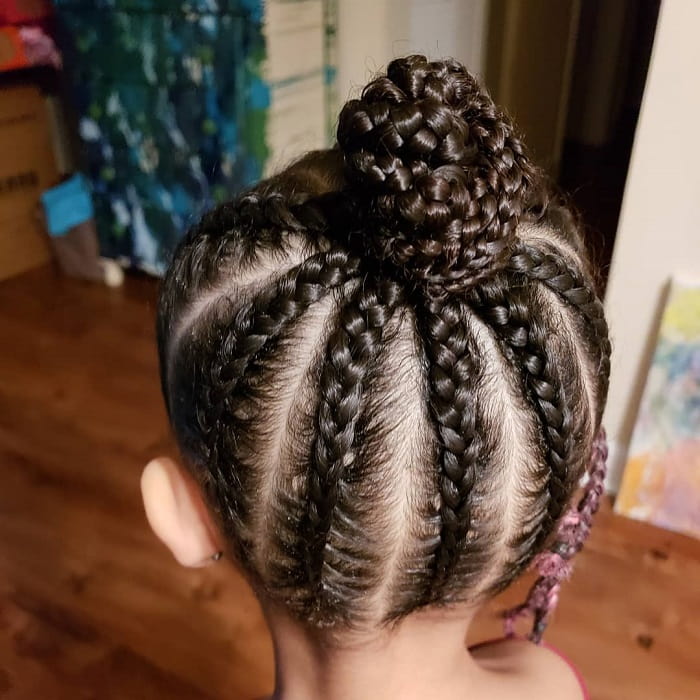 This braided bun is not only easy to make but is also stylish as well as a pro at keeping the frizzy hair tamed and secured. Just braid the hair starting from the front and going all the way around the head, when you are done, just tie them in a bun.
Sometimes it is just better to let those curls loose and let the natural beauty free. Just brush your hair back and leave it just like that. Maybe apply some gel to the front area to keep the hair from falling over your forehead and getting in your eyes.
#13. Twisted Buns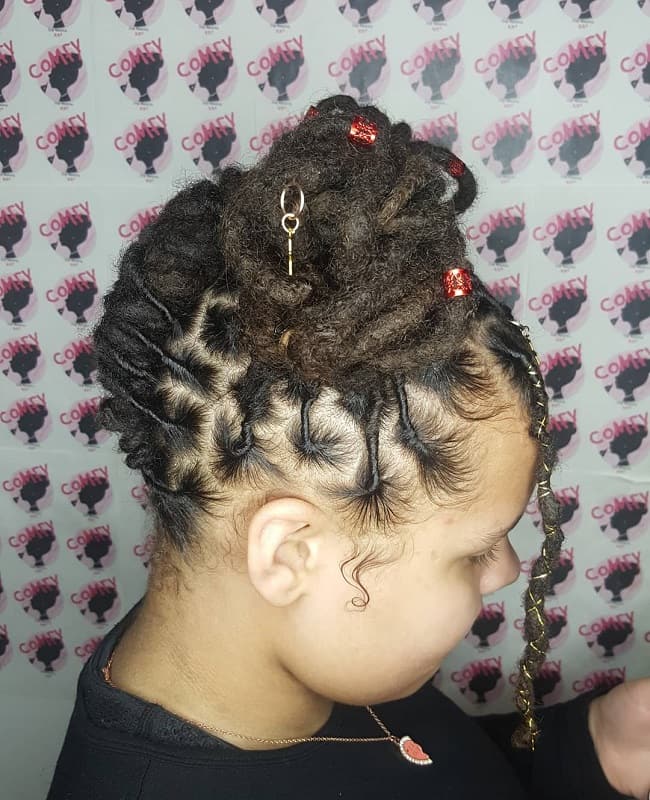 This hairstyle for little mixed girls might look hard to achieve and very time consuming but all you really have to do is twist different sections of the hair and gather all of the twisted strands on the top of the head and tie it in a bun with a band.
#14. Tight Cornrows
Achieve a more prominent looking face with these tight and secured cornrows. Get the rough and puffy curls in thin and sleek cornrows. It will keep the hair from getting loose and getting into the eyes.
#15. Classic Top Knot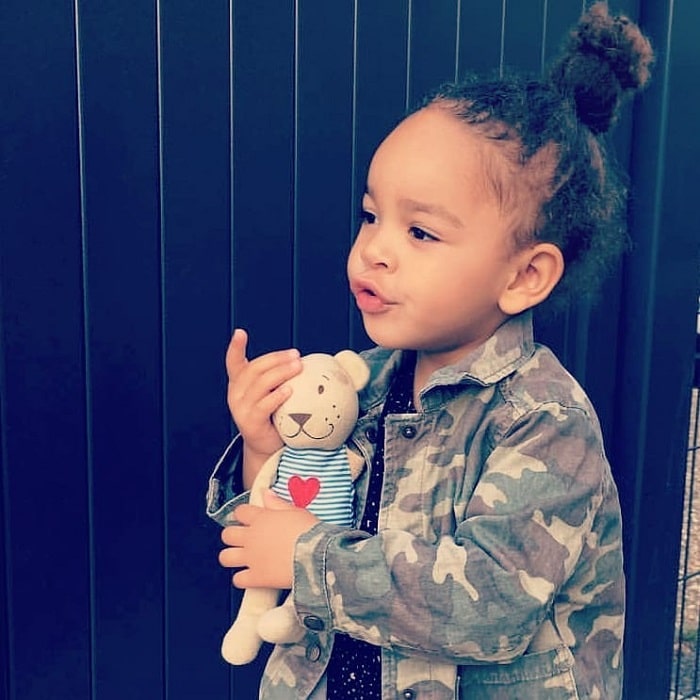 Stick to the simplicity, just gather all the hair on top of your head and tie them perfectly. Make your little mixed girl rock this cute little top bun hairdo everywhere.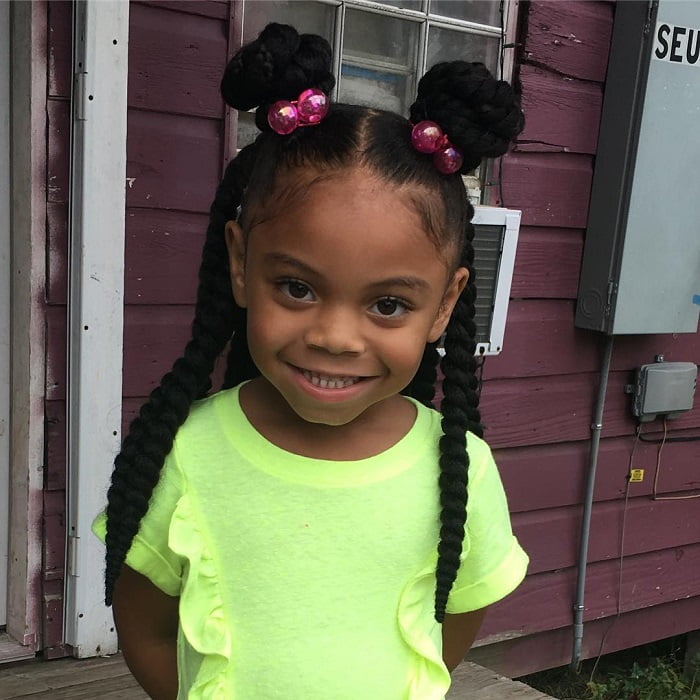 A combination of top buns and twists is not only quite creative but also very easy to make. Separate your hair into four sections, tie the two upper parts into buns and the lower ones into twists.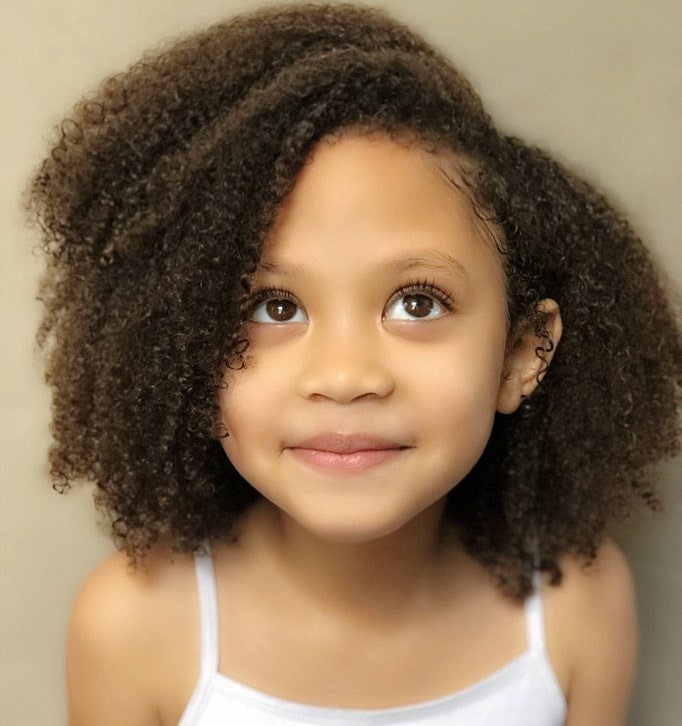 The natural rough curls can be better sometimes. Letting the frizzy tiny curls down with ¾ of the hair to one side and the rest to the other. It will make the mixed hair look effortlessly styled.
#18. Half Up Half Down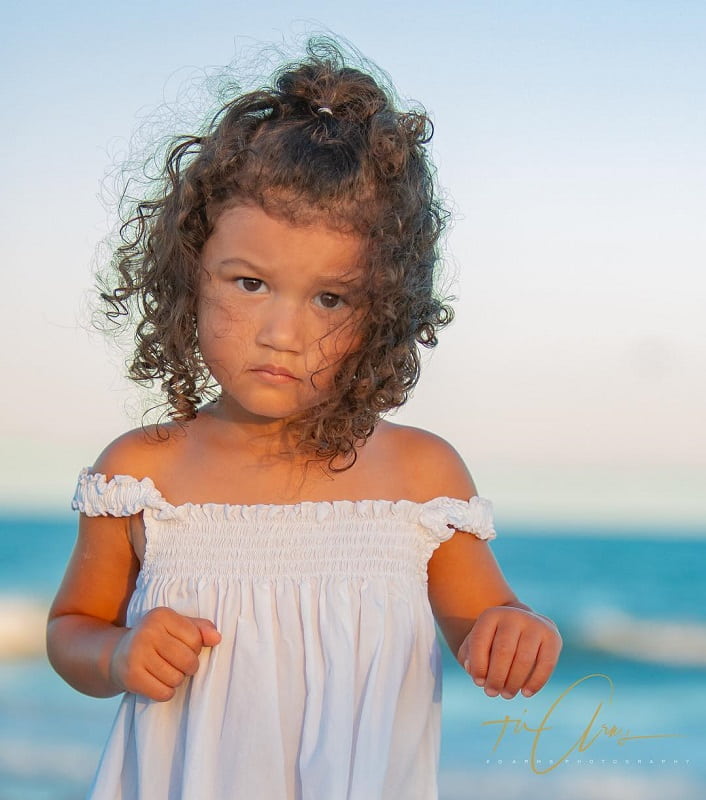 Keeping the top half of your hair tied up into a bun will keep them from getting in your face and the rest of the hair flowing down in tiny curls will add natural beauty to the look.
#19. A fusion of Bubble Braids and Buns
This unique mixed little girls hairstyle will catch everyone's attention due to its combination of bubble braids and buns. Tie the top section of your hair into buns and the rest of it into tightly secured bubble braids.
#20. Braided Ponytail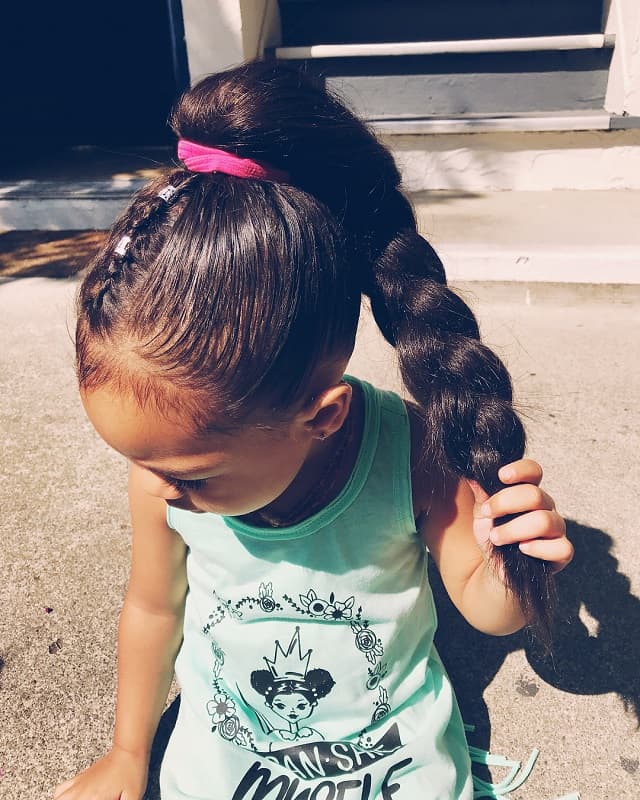 Nothing is better than a classical mixture of braids and ponytails. It will not only make the frizzy hair stay in place but also look stylish and chic at the same time. Trendy mixed little girls hairstyles with weave to try out.
#21. High Pigtails
Let the beautiful curls free with these high pigtails. Maintain the adorable vibe with the funky looking messy pigtails while it being easy on the hands.
FAQs on Mixed Little Girl Hairstyles
Q1 What are these hairstyles suitable for?
These little girls hairstyles are most suitable for school, an outing with the family or maybe even a party.
Q2 Are cornrows suitable for mixed girl's hair?
Absolutely, as they easily keep the frizzy rough hair secured in a tight embrace of a braid. They help keep the hair set in one place.
Q3 Why are the hairstyles for mixed girl's hair different from the hairstyles for any other type of hair type?
Hairstyles for mixed girl's hair are different from others because the nature of their hair is very wild, rough and frizzy. So these hairstyles are preferred for the mixed girl's hair so they can be tamed properly.
Now that you know about these super pretty hairstyles for little mixed girls, don't forget to try them and choose what suits her best.
These hairstyles are easy to make and can make your little girl look even more beautiful. We hope that these hairstyles would help you on your way to rocking that unique hair type, anytime.