If you haven't actually seen toddlers with curly hair, you are in for a good treat! Toddler girls with curly hair simply shine with their radiance, cuteness and you can't help but want to hug them and see them smile!
If you are ever curious about the possible hairstyles for girl toddlers with curly hair, you are on the right page. Here, we have a nice collection of little girl with curly hairstyles below for you!
Charming Toddler Girl Curly Hairstyles
Below, we share with you several curly hairstyles that you can choose for your own cute little toddler. Girl toddlers with curly hair have a lot of potentials – that is if you have chosen a hairstyle that is suitable for your little girl. Let's take a look at the cute curly haircut for toddler girls that we have compiled for you below!
1. Medium-Length Stringy Curls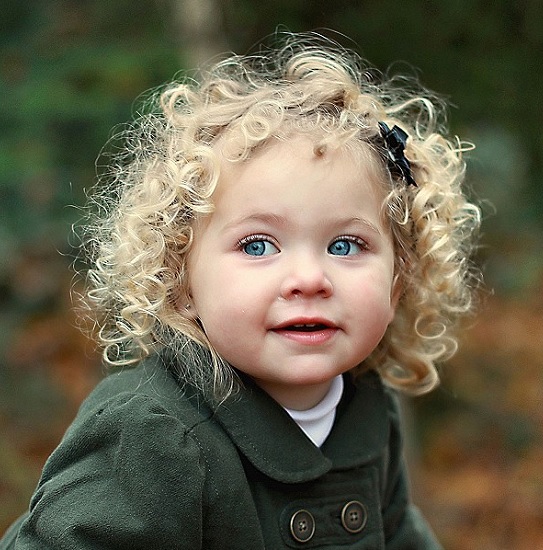 Curls that are left unattended will have this stringy appearance, and it could get even more so if you comb through it with a fine comb! Curly hair should be combed loosely for best effects.
Nevertheless, if you leave your toddler's hair to grow as it is, you can expect the hair to curl around her face like this. You can use a hairband to prevent the hair from getting into her eyes.
2. Short Tight Curls
Your toddler girl's tight curls could be sectioned like this – each a string of their own. In cases like this, you just need to care for the curls with suitable moisturizers and let the curls work wonders on their own!
As you can see from the picture above, black girl curls go really well with light-colored accessories. Opt for hair accessories with contrasting colors for best results!
3. Short, Loose Curls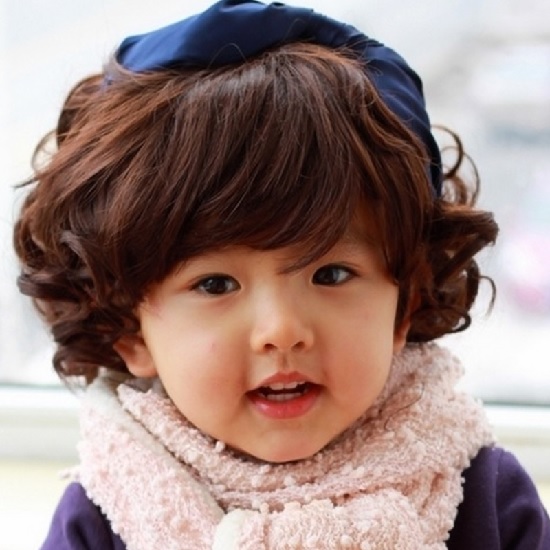 Some toddler girl might have loose curls. This little girl with curly haircut looks good at any length – even super short ones! The girl in the picture above has a beautiful haircut with loose curls that barely extends below her ears.
However, you can see how cute it looks for yourself; Add a little bow, hairband or other accessories to enhance your toddler's cuteness!
4. Textured Curly Hair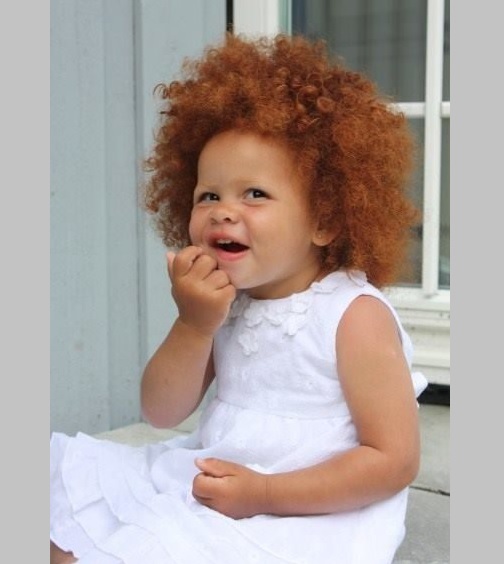 Your toddler's curly hairstyle could have this texture, especially if her hair is dry and not moisturized enough! However, there are some of us whose hair will always be wild and unmanageable like this no matter how much we take care of it. If your toddler has this hair texture, why not just let it grow out as it pleases?
5. Curly Hair Bowl Cut
Tight curls are the best type of hairstyle to create this look with ease for a little girl with curly hair. Girl or boy, toddlers with thick, curly hair can get this look almost naturally!
All you need is to grow out your toddler's curls a little and cut off the edges like how you would with a typical bowl cut. Ta-daa! These short tight curls hairstyle for toddlers is complete!
6. Messy Hairstyle
Who said baby girls can't have messy curls? They most definitely can! Toddlers are at the age when they are most playful and active, which is why a haircut that reflects their nature should be welcomed! So, let's just leave your toddler girl's curly hairstyle to reflect her carefree self like this.
7. Long Curly Fringe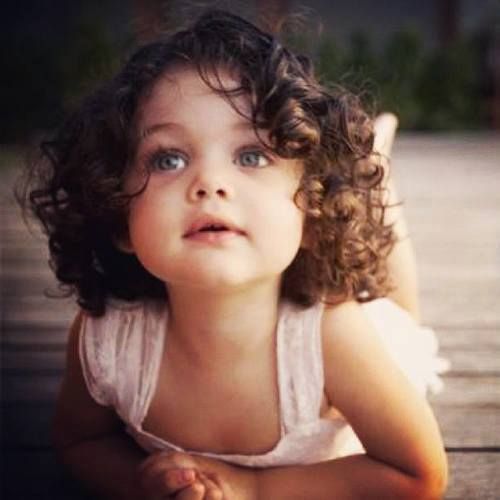 Yes, curly fringes are possible! Just leave the curls at the front a little shorter than other curls at the back. These curly fringes will make your little toddler look like a precious little angel with it loosely dangling in front of her face. Such precious hairstyles for toddlers with curly hair!
8. Pinned at the Sides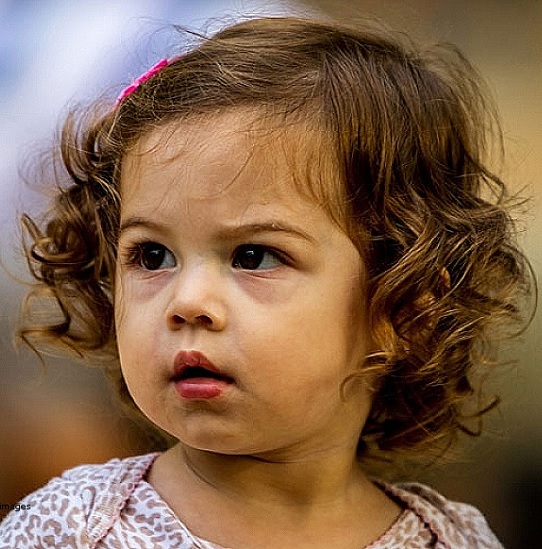 Here's another way to manage that curly haircut for your toddler girl. You can use a hair clip to pin her curls to the side. This will keep most of the curls away from her face, while other loose curls would still be free to form themselves as they please.
Parents looking for the most natural yet comfortably curly hairstyle for their toddler girls will find this a good option!
Read Birthday Wishes for 2 Year Old Toddlers
9. Natural Curls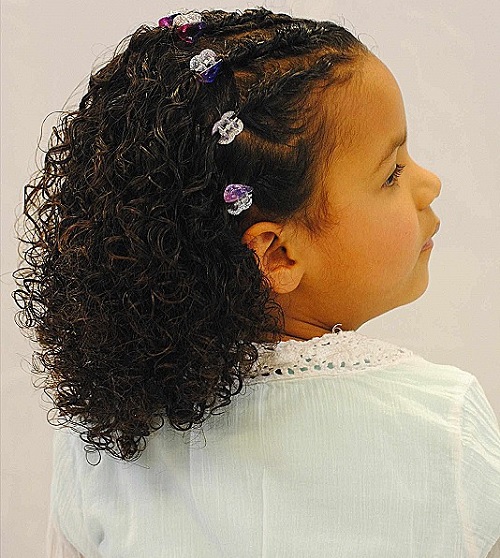 Organize your toddler girl's natural curls with tiny butterfly clips around her head. The colors of these butterfly clips may also play a factor in how her hairstyle will turn out! As an example, these clips give off an iridescent glow to the toddler, almost like a halo. Isn't it a beautiful sight?
10. A Mix of Browns

Just like how us adults have ombre hair dyes, your toddler girl can sport her curly hair just as it is if she is blessed with these wonderful colors! Watch other children stare at her curls in awe without any effort on your part. If anything, all you need to do is to keep her hair length in check so that it doesn't appear too wild!
11. Curly Ringlets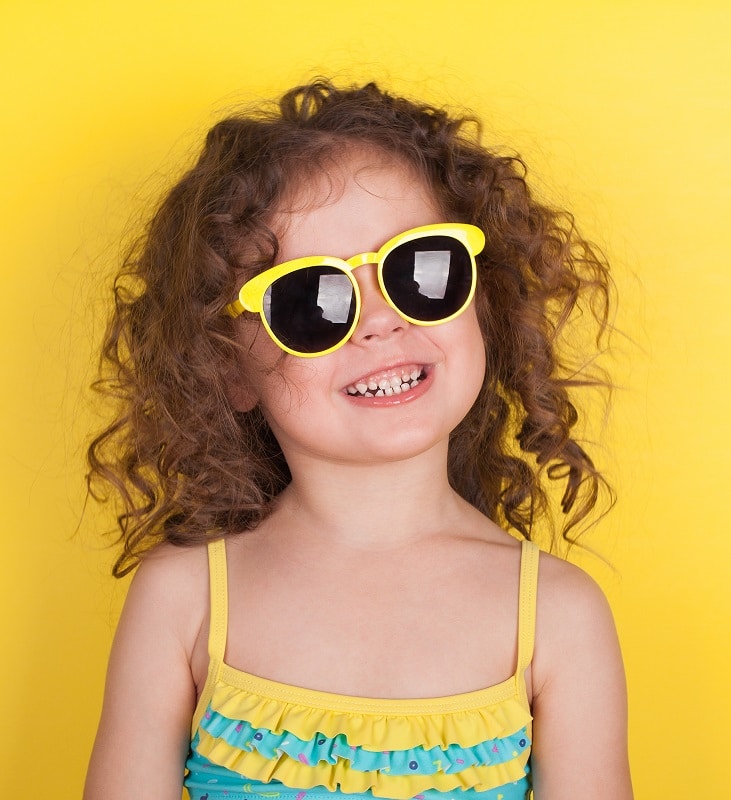 There isn't a toddler girl in the world who wouldn't look adorable with long curly ringlets. A perfect part isn't necessary, just use a leave-in conditioner to detangle and finger comb.
12. Short Curls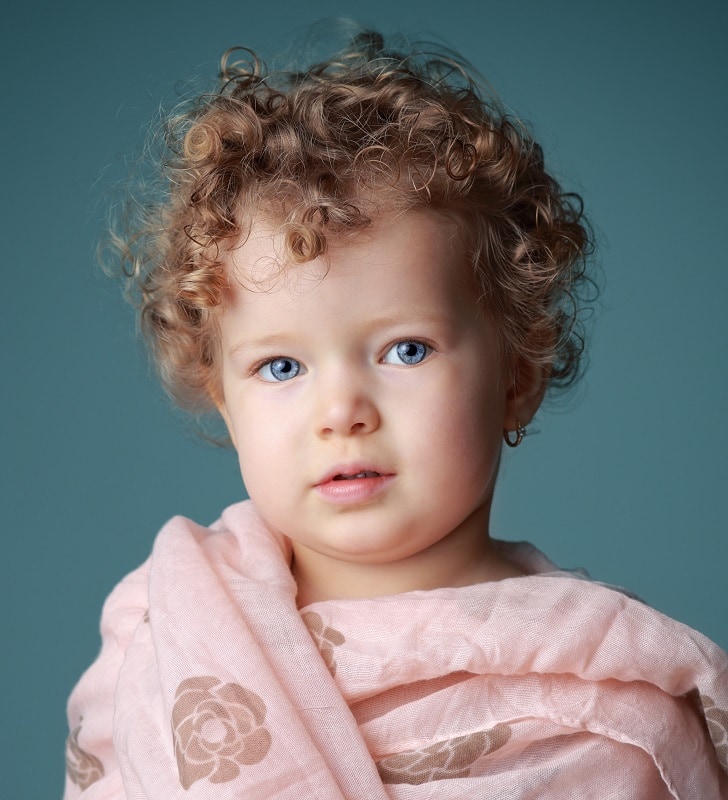 For the toddler girl whose hair is on the short side, these curls are beautiful and easy to maintain. She can literally wake up and you can spritz her hair with a little style creme to enhance the natural texture.
13. Curly Ringlets with Straight Bangs

Help your little girl's eyes pop by keeping her bangs short and brushed to the side. This will also focus all the attention on her perfect soft ringlets.
14. Side Parted Blonde Curls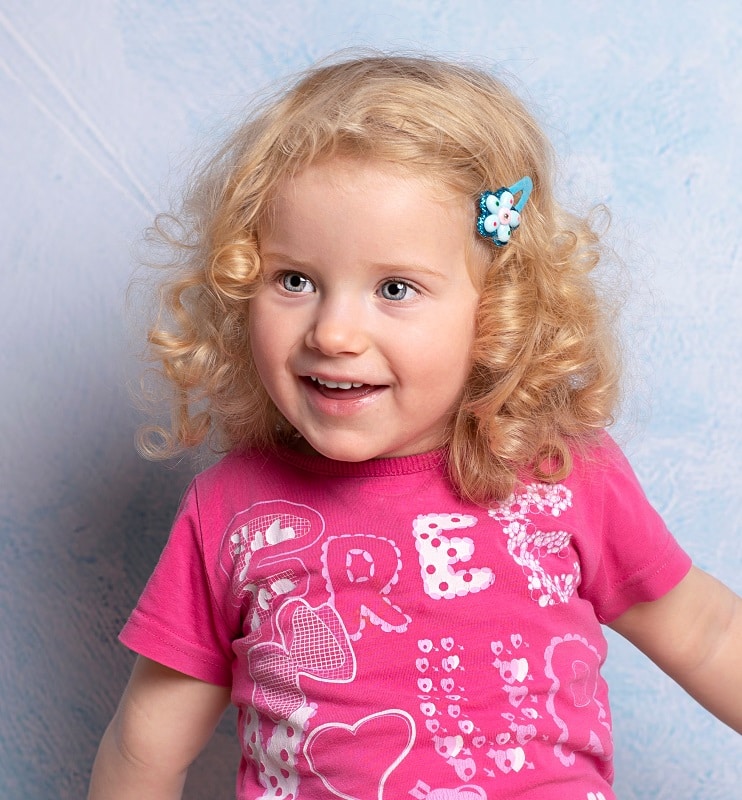 A toddler girl who is constantly on the go needs a hairstyle that keeps her hair out of her eyes. Let her curls be loose, but use a cute barrette to pin back one side of the hair.
15. Thick Brown Curls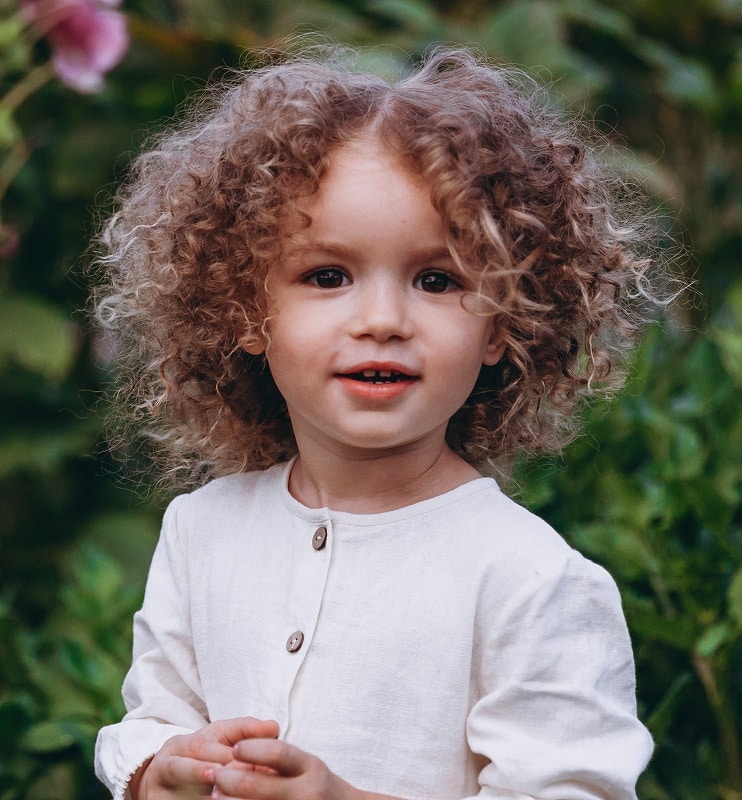 Does your little girl have thick curly hair? Don't even think about pulling it back into a ponytail! Let it loose with just a center part for style. These soft curls will pop with their beautiful texture.
16. Short Thin Curls with Headband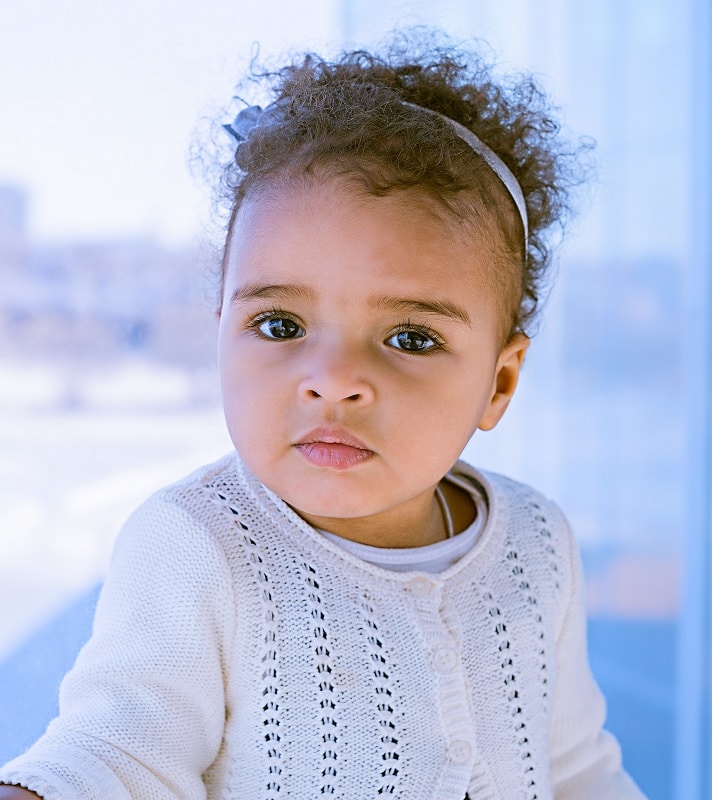 Your toddler girl's short hair may be thin, but you can still help flaunt her cute little curls just by using a headband or a ribbon. Match the color to her outfit or just use a simple contrasting color like the white pictured here on brown here.
17. Medium Length Thick Curls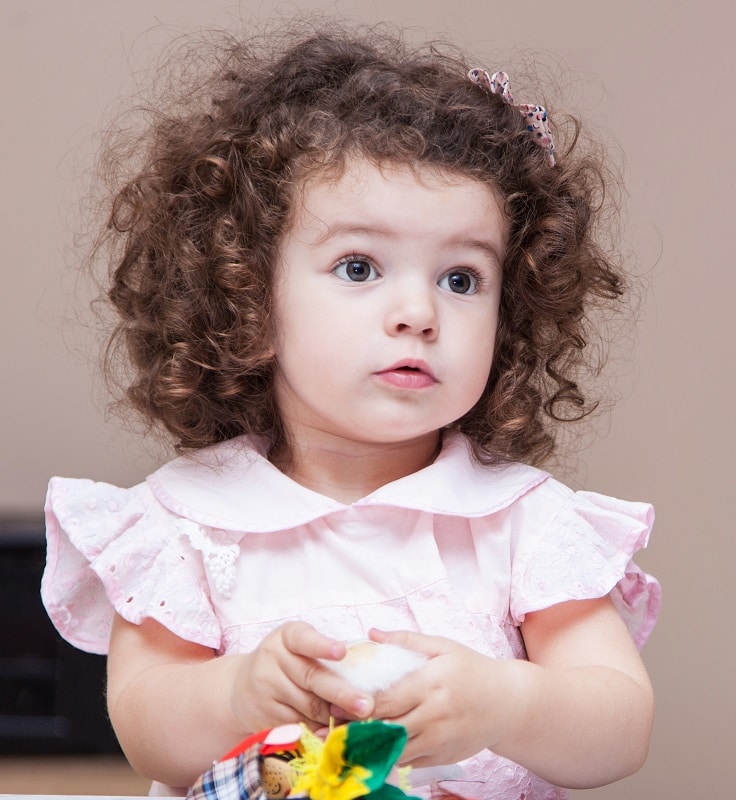 There's so much you can do with medium length curly hair on a toddler girl. Put it in pigtails, a pony, or leave it loose like this look. A cute bow secured at the side pulls hair off the face.
18. Curly Pigtails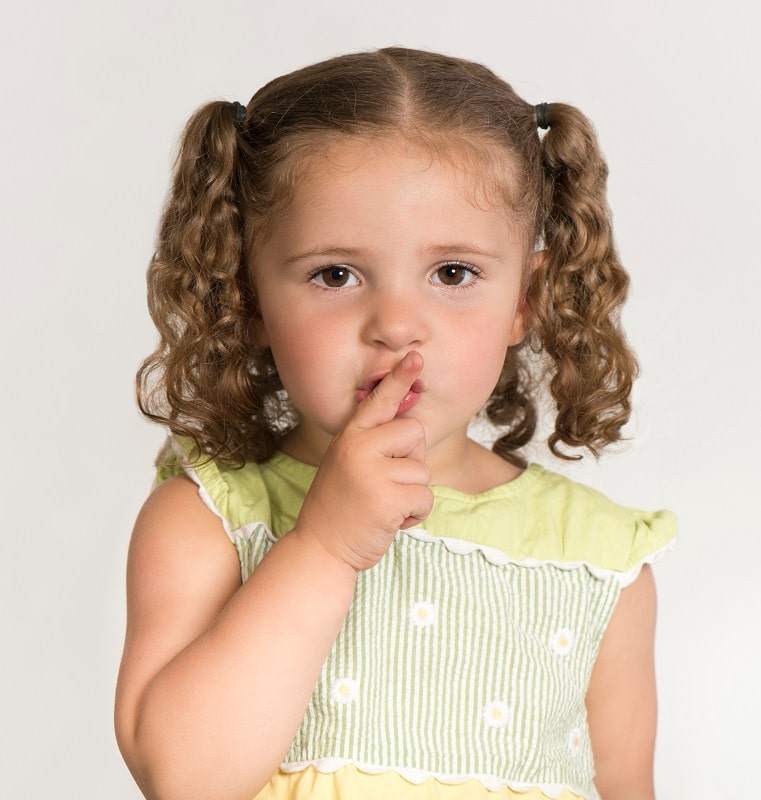 Every little girl has to wear pigtails at some point in her childhood – it's practically a rite of passage! This low maintenance look takes just a minute to create. Comb and separate curly hair into two ponytails directly to the sides of the head.
19. High Curly Ponytail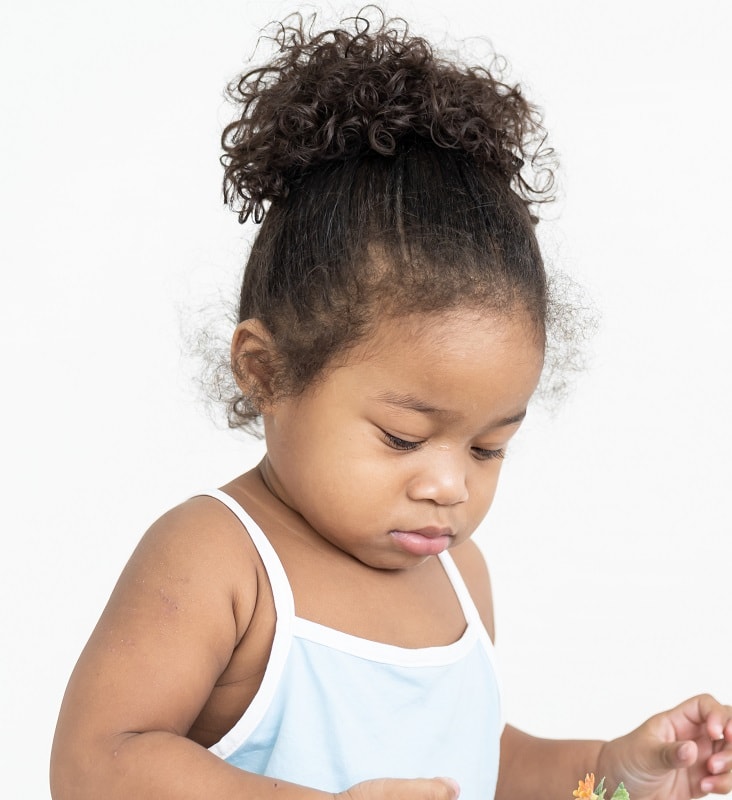 Your toddler girl will look like a princess with her curly hair pulled up into a high ponytail. It's okay if a little frizz comes loose – it keeps the style innocent and soft, just like her!
20. Short Hair with Curls and Bangs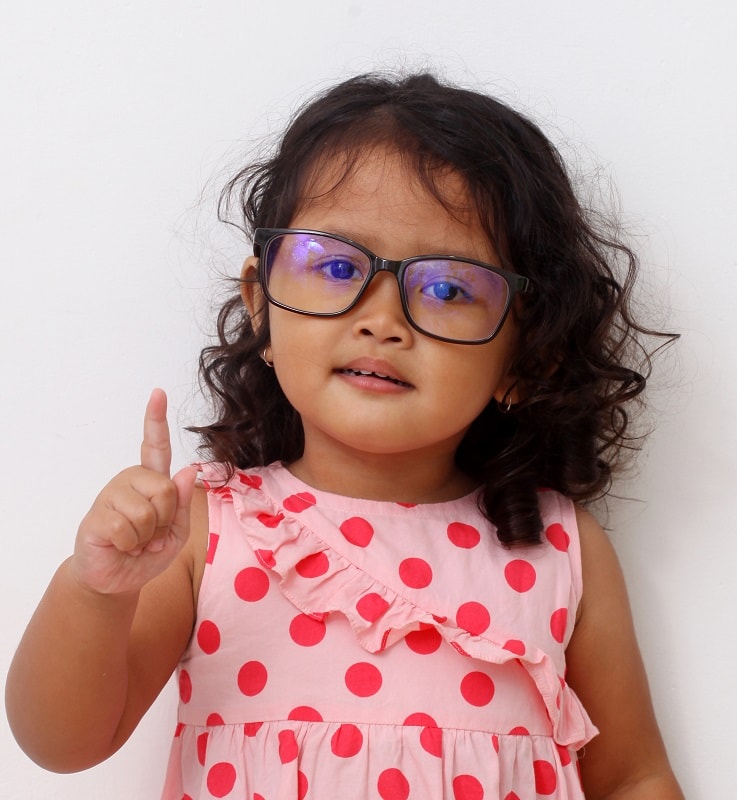 This toddler girl's curly hair is very subtle and only comes to shoulder level. She's wearing hair slightly parted and the bangs are short and cut softly so you can still see the natural curly shape.
21. Natural Black Hair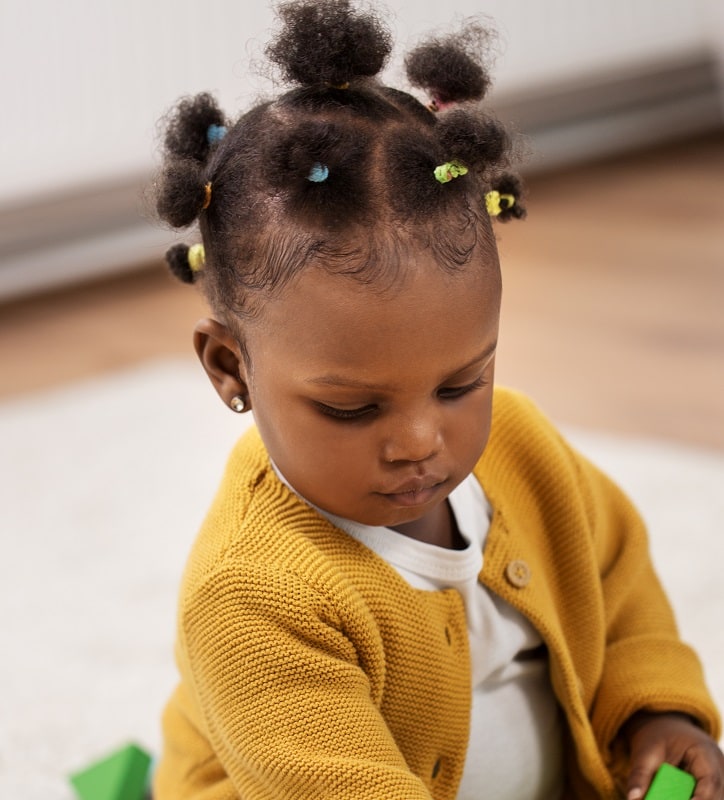 We love this cute pom pom ponytail style for toddler girls with natural black hair. Colorful neon hair ties separate each ponytail.
22. Asymmetrical Curly Bob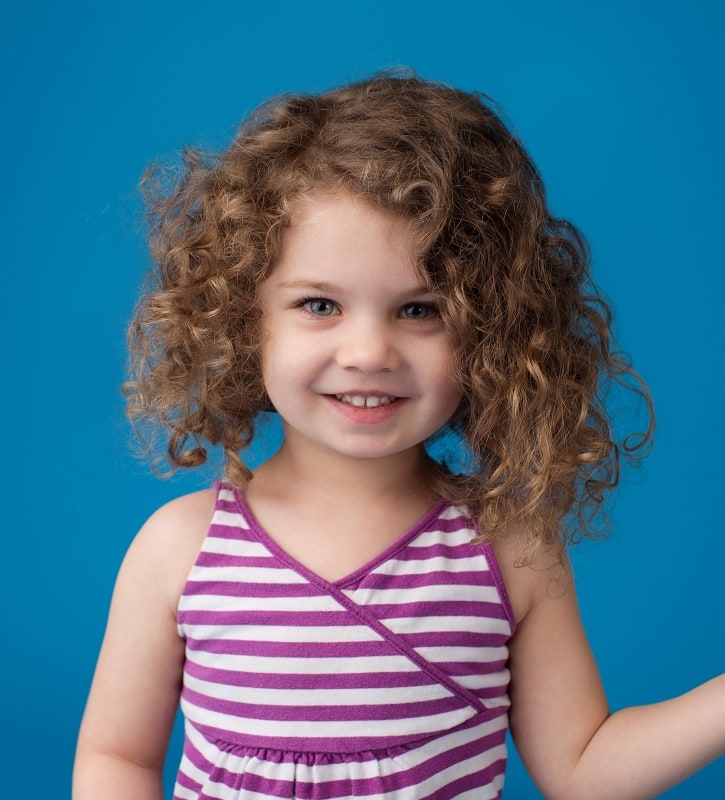 Give your toddler girl a sassy style like this asymmetrical bob, perfect for curly hair. Wearing it down is super cute, but it's still long enough to pull up.
23. Half Up Style for Short Curls
This look is quite popular for toddler girls – it features short curly hair with the front half combed back into a small tiny ponytail.
24. Afro Hair with Tight Curls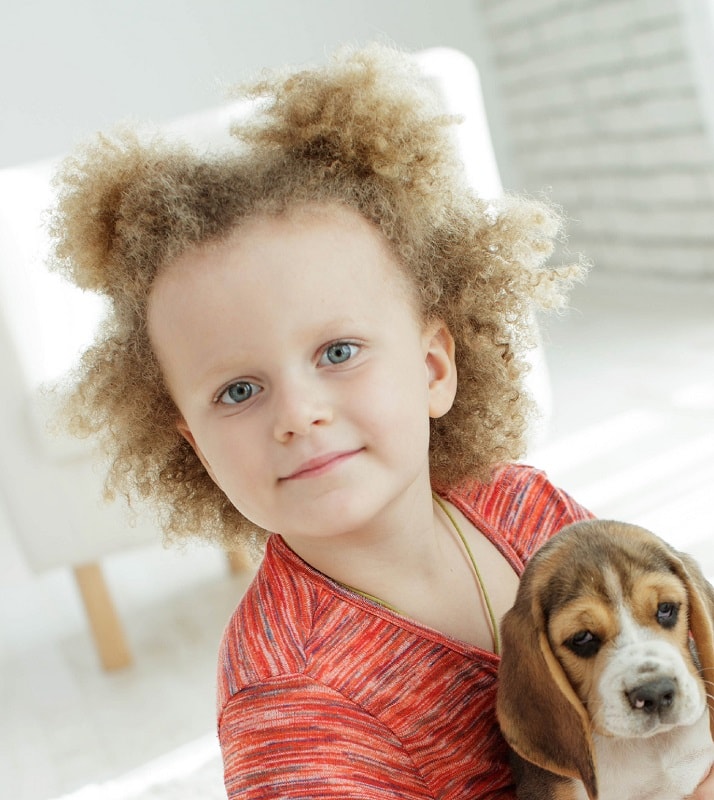 Super curly afro hair can quickly become a little messy looking. Two high ponytails will tame it and is an easy style to put together in just minutes.
25. Wild Curls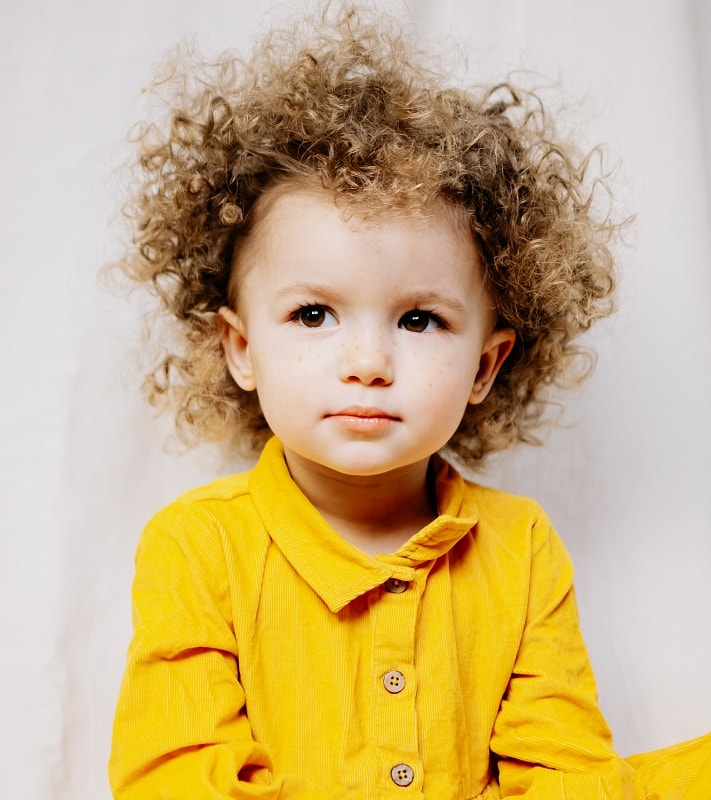 Sometimes leaving your toddler girl's curly hair to its own devices is a cute thing!
Well, there you have it! We have shared with styles for toddler girls with curly hair that you might get inspired from. If you have found a nice curly hairstyle that you like, save that picture into your phone!
Who knows, perhaps you might need it for when you visit the hairdresser. Let the pictures help you tell the professional about the hairstyle you want for your cute little toddler girl!