When you're looking for the perfect hairstyle for your black girl, you need to consider one of these great little black girl ponytail hairstyles. They are a fun and easy way to keep hair out of the face while staying stylish.
Adorable Ponytails for Black Little Girls
Following are the 25 cutest & most lovely little black girl ponytail hairstyles that will be huge in this year.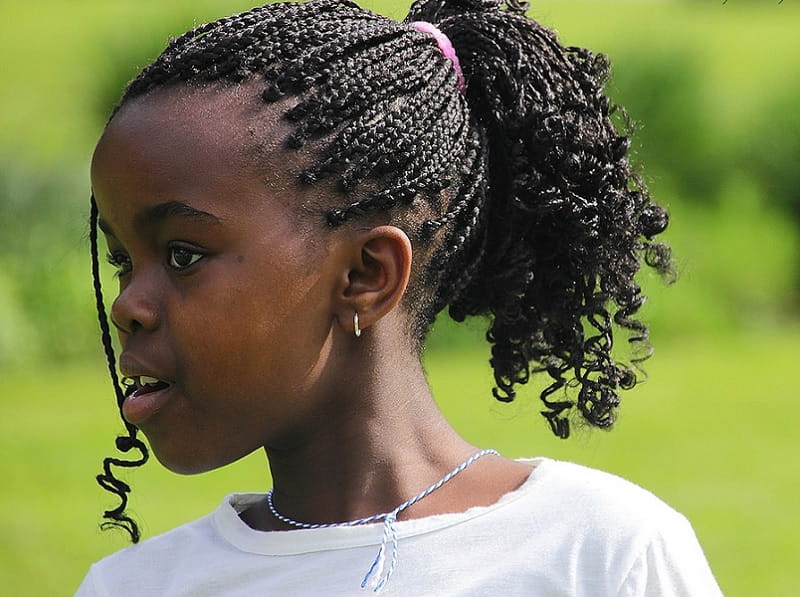 This is a really basic ponytail that looks great on most little black girls and is a wonderful way to keep hair corralled for sports and for playing with friends. Lots of small or mini braids are all pulled back away from the face and tied with an elastic. One or two braids can be left hanging for interest.
2. Thick Braids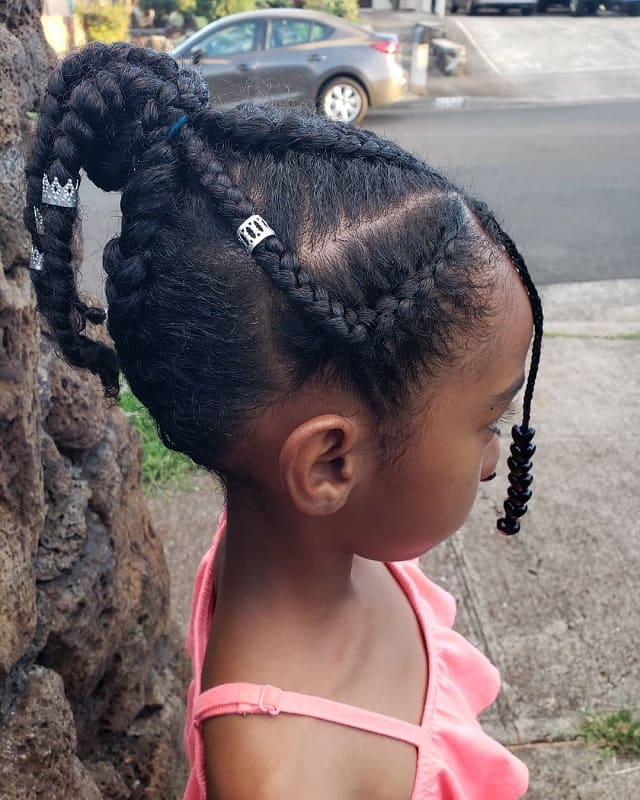 Thick braids that lead from the sides, top, and back of the head all come together into this unique pony. Using beads along the braids helps to add some interest to the style, as does leaving some hair in a smaller braid along the face hanging down loose to keep the style from looking a little boring.
Lots of small braids in varying sizes are pulled back into this pony and then allowed to hang in very thick twists. This style is a showstopper and is sure to attract a lot of attention, as the thick twists make the little black girl ponytail hairstyle look very big and incredibly impressive.
4. Bubble Ponytail
Sleek sides look very elegant and modern, especially when the top of the hair is bumped up and twisted together. Gold beads along the top of the hair and gold wire twisted around the pony complete the look.
The gold wire also serves to prevent any loose hair from escaping the pony and keeps this style updated and modern.
5. Single Braided Ponytail
Smooth sides and back with a single braid along the top of the head create this elegant ponytail hairdo for black little girls. The hair is then wrapped around the pony to hide the elastic, and all of the hair is allowed to hang together in a sleek and smooth pony. This looks great and elegant and works well on any girl.
6. Mini Braids to Loose Ends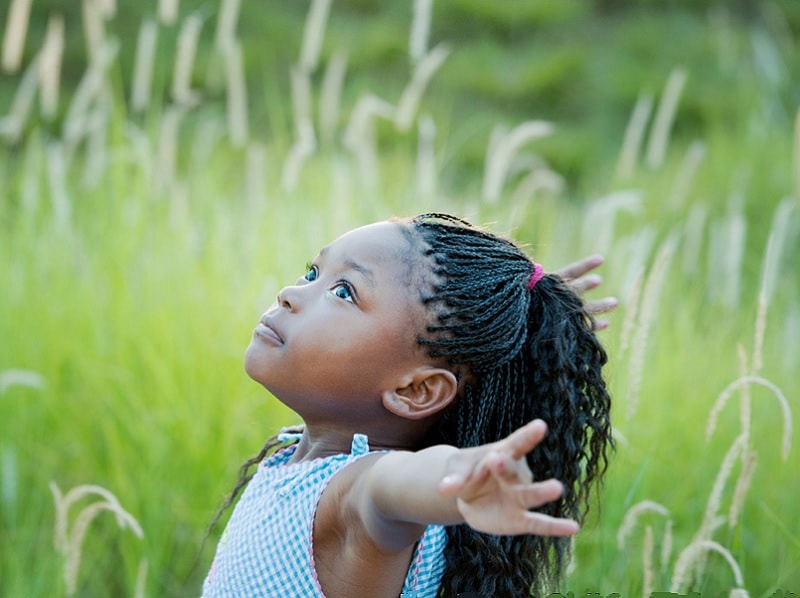 Lots of mini braids pulled back into a high half pony look amazing, especially when some of the braids are allowed to hang loose down the back. Allowing the braids to have loose and wispy ends keeps this look from appearing too harsh or modern and makes it appear a little more free and loose.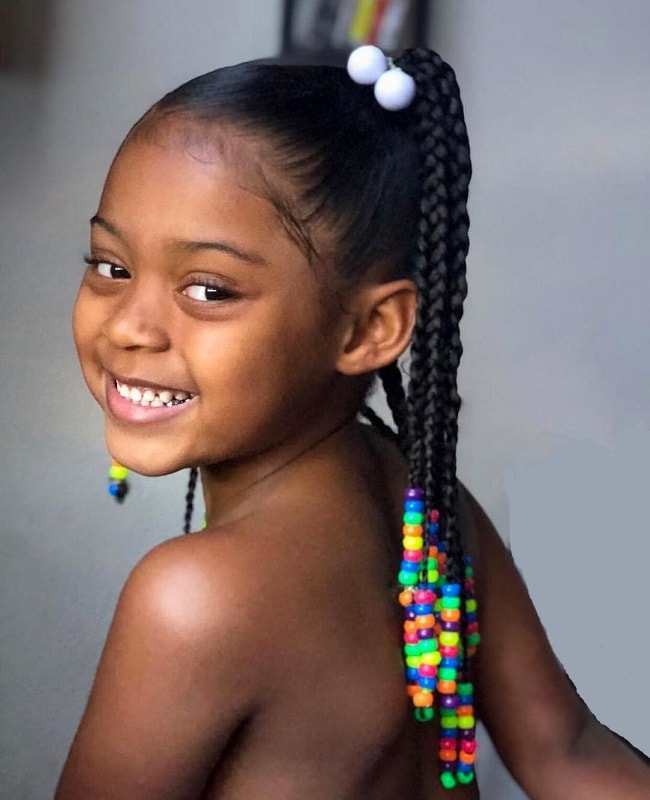 Long braids look amazing when pulled back into a pony, especially when they are accessorized on the bottom with bright beads. This is a wonderful little black girl ponytail hairstyle and way to choose colors that match her outfit or that she really loves, which brings a bunch of personality to the ponytail style.
8. Smooth Fishtail Braid
A smooth fishtail braided hair pulled into a high pony is a fresh and unique look. The sides, back, and top of the hair are pulled tight, but not slick to the head, which gives the look a little more volume. The braid is kept thick so that it will add more interest to the style and will look fuller.
9. Curly Ponytail
A sleek top looks great when it culminates in a really full pony with loose waves. Wrapping some hair to hide the elastic at the top of the pony keeps the elastic from showing and adding a pop of color to the style.
The hair can be any length, but the curly volume that it adds keeps the style interesting. This is a perfect ponytail for little black girls with curly hair.
10. Pull Through Ponytail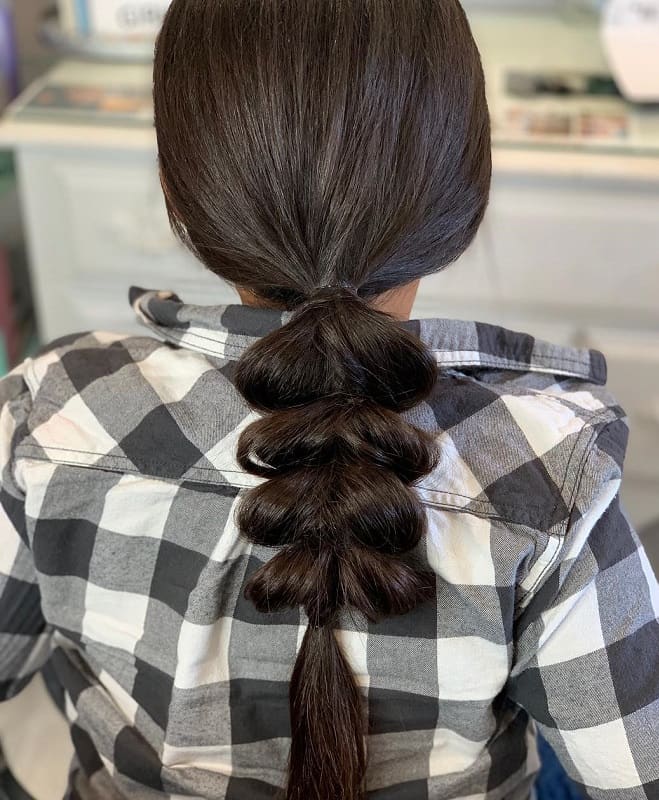 A low ponytail is a fresh take on the typical high pony and can be made even more interesting when the hair is loosely braided and twisted together. This keeps the pony from looking like a normal hairstyle and adds a lot of interest and volume to the look.
11. Twists Pulled Back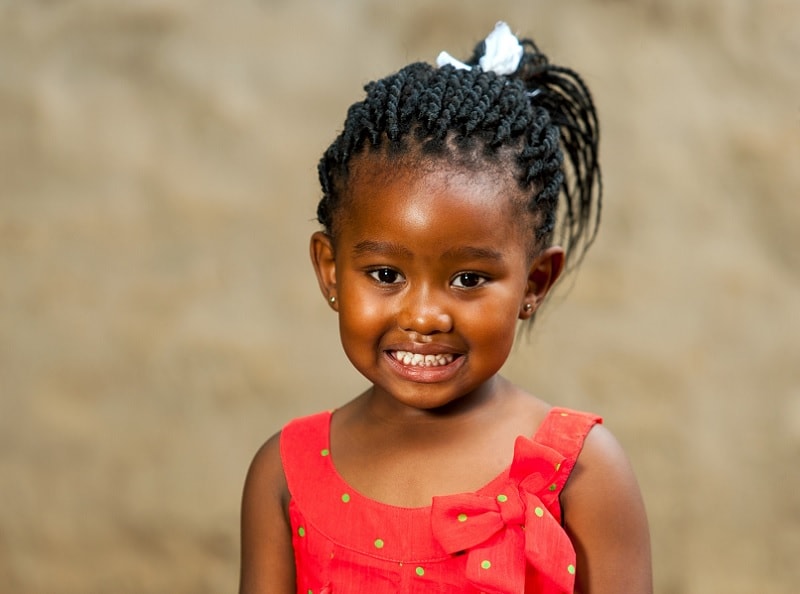 Lots of twists along the head look great when they are pulled back into a high pony, especially when accessorized with a bow.
The bow can be any color, making it easy for a girl to pick her favorite or to choose a color that will accessorize with her outfit. This is an incredibly fast little black girl ponytail hairstyle that is easy to do in a hurry.
12. Slick Ponytail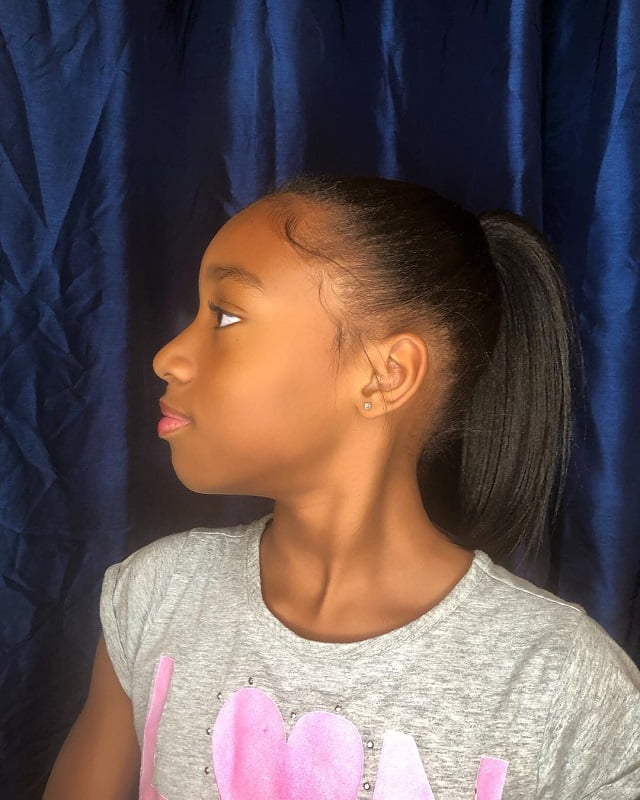 Sleek and slick straight hair doesn't need to be in a fancy pony. It can be pulled straight back from the face and then secured into a high pony for a modern and carefree look. This is an easy style, as long as the hair is already nice and straight, and looks great on black girls of all ages.
13. Long Braided Ponytail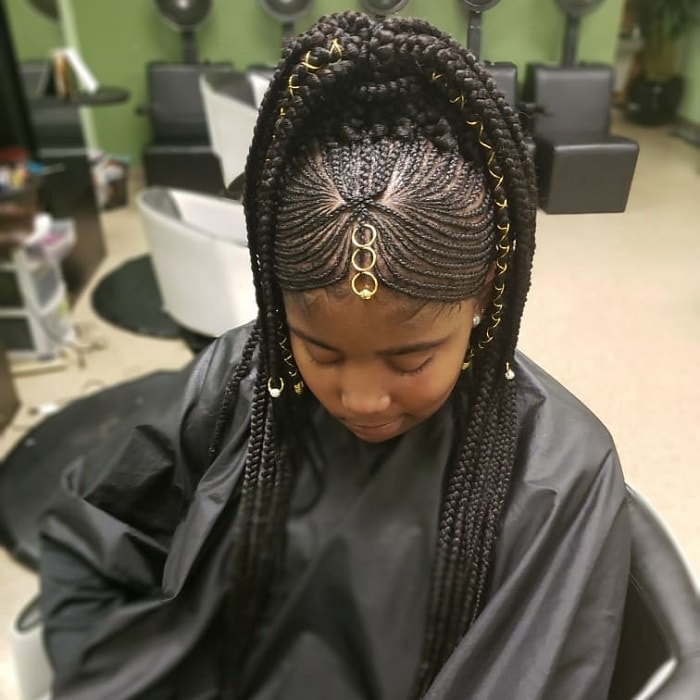 There's no reason why a ponytail hairstyle for black little girls has to be boring, especially when it combines intricate braiding and gold rings and wire. Lots of small braids along the top of the head culminate in a high pony, with a few braids wrapped around the base to add height and volume. Plenty of gold rings and wire complete the look.
14. Adding a Touch of Pink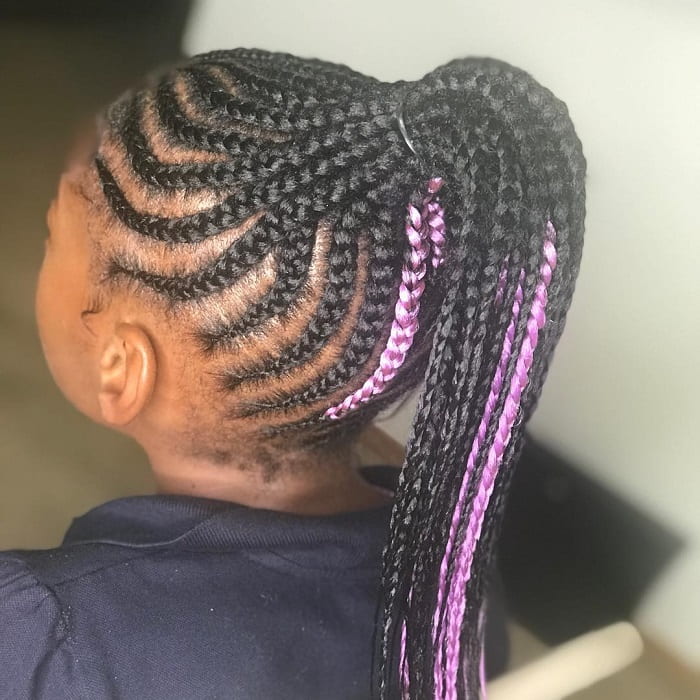 A few pink braids tucked on the bottom of the pony add a splash of color that is both unexpected and fun. This is a great way to update a regular little black girl ponytail hairdo to show off a little of her personality in a fun and easy way. While pink is a popular option, any girl can pick her favorite color to use in her pony.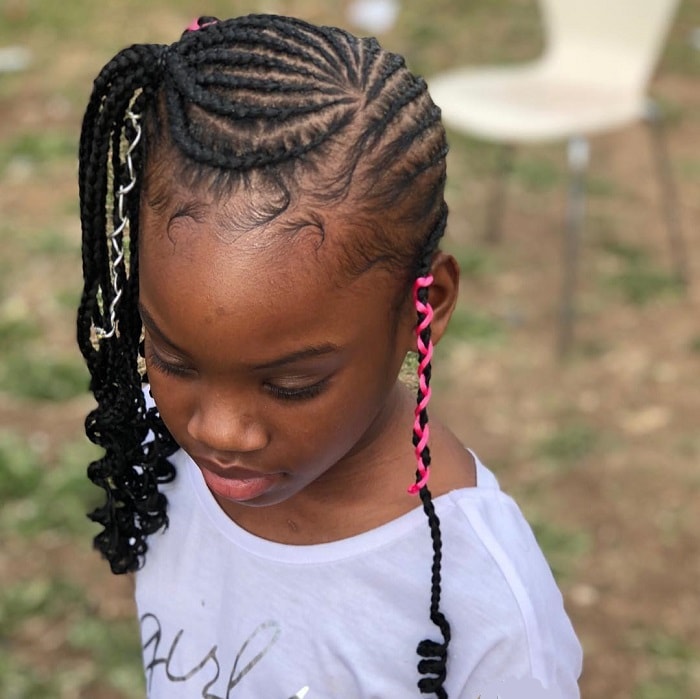 There's no reason why a pony has to be placed on the back of the head, as side ponies are a fun way to show off intricate braiding and create a unique ponytail with little black girls hair.
The braids can be wrapped with wire or thread and this adds even more interest. Curling the ends of the braids helps to finish the look.
16. Thick Curly Pony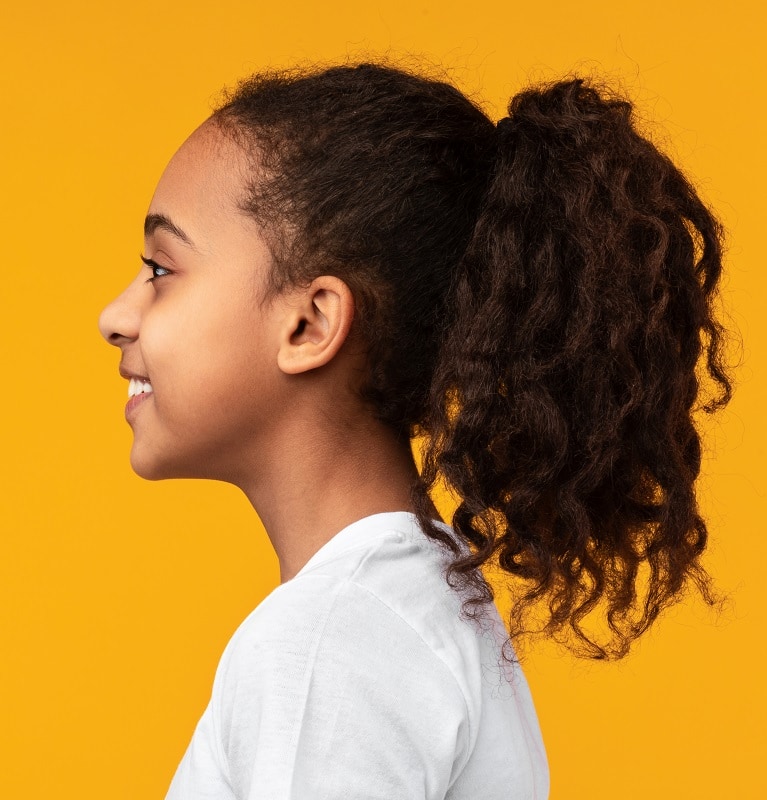 For long thick curly hair, gather together a ponytail to tame it. To dress it up, smooth frizz with product and add a few fancy clips. For sports, leave it like pictured!
17. Mini Ponies on Natural Hair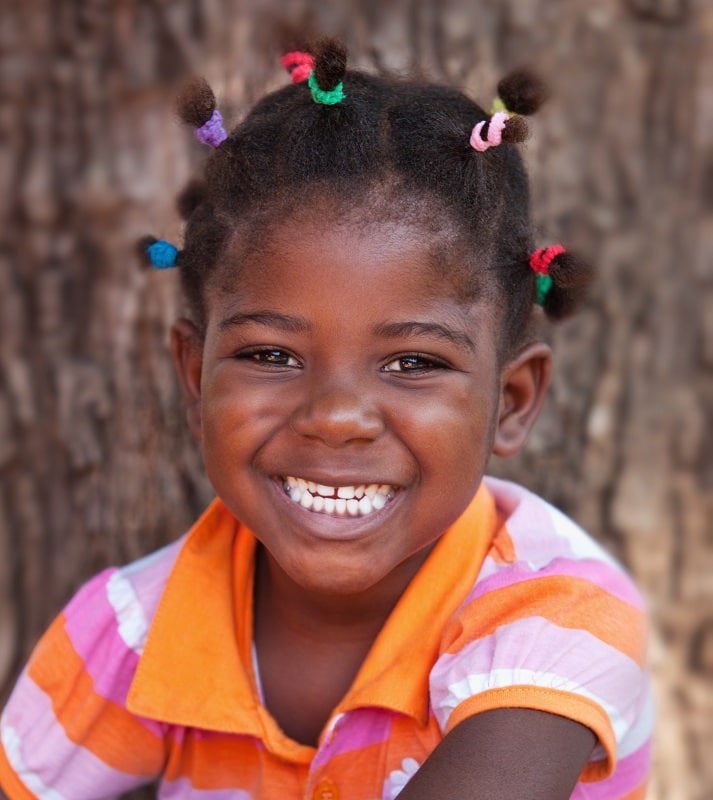 When black girls with natural hair only have a little length, that doesn't mean you can't style it up! Create these cute mini ponytails and secure them with colorful hair ties.
18. Side Ponytail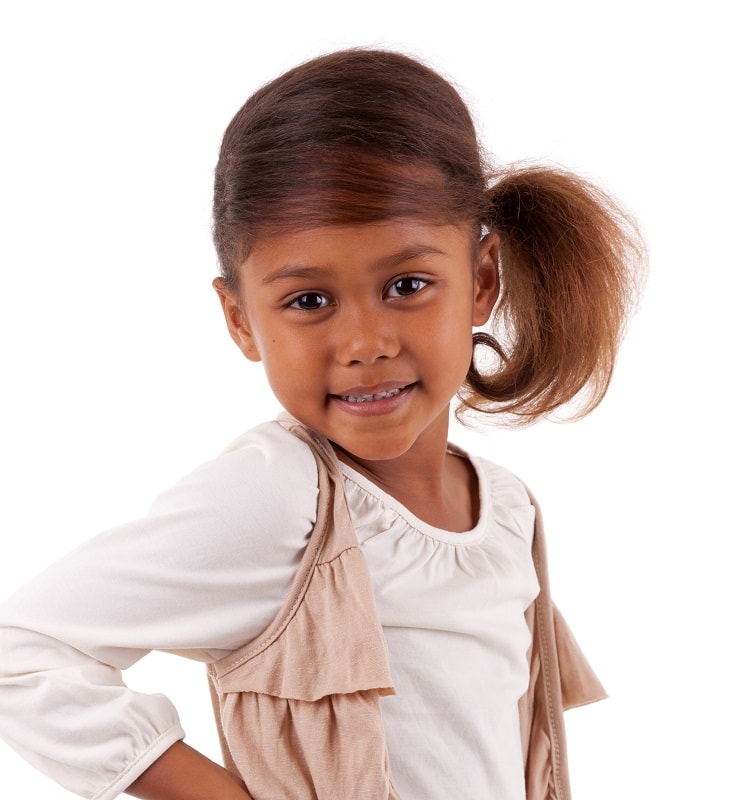 For hair that is a little longer than shoulders, comb it all to one side and secure in a ponytail. It's a playful style that can easy be prettied up with curls and hair accessories or just left casual.
19. Ponytail with Braid Extensions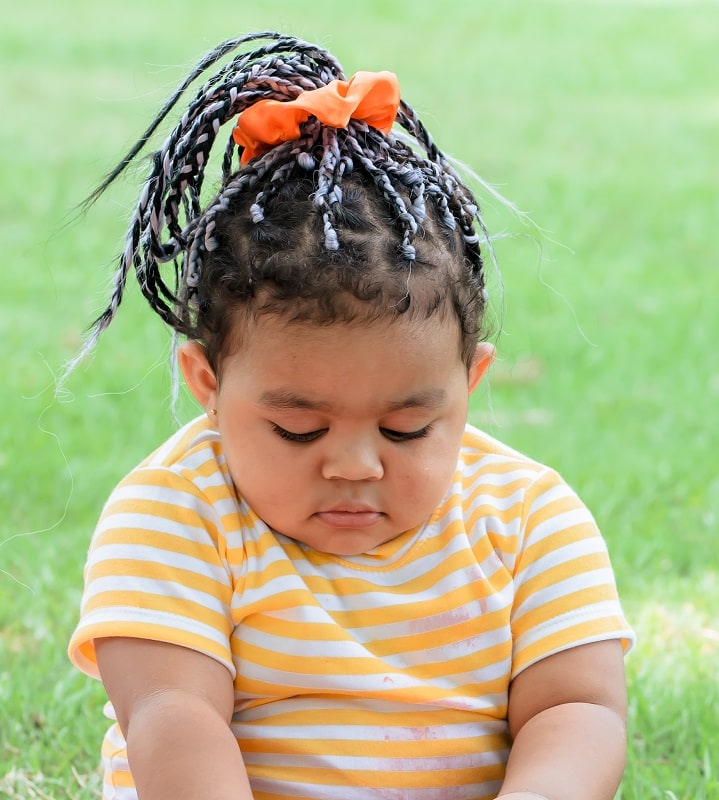 Medium length braid extensions create a long hairstyle on little girls with short natural black hair. Gather the braids up in a high pony and secure with a cute ribbon.
20. Low Ponytails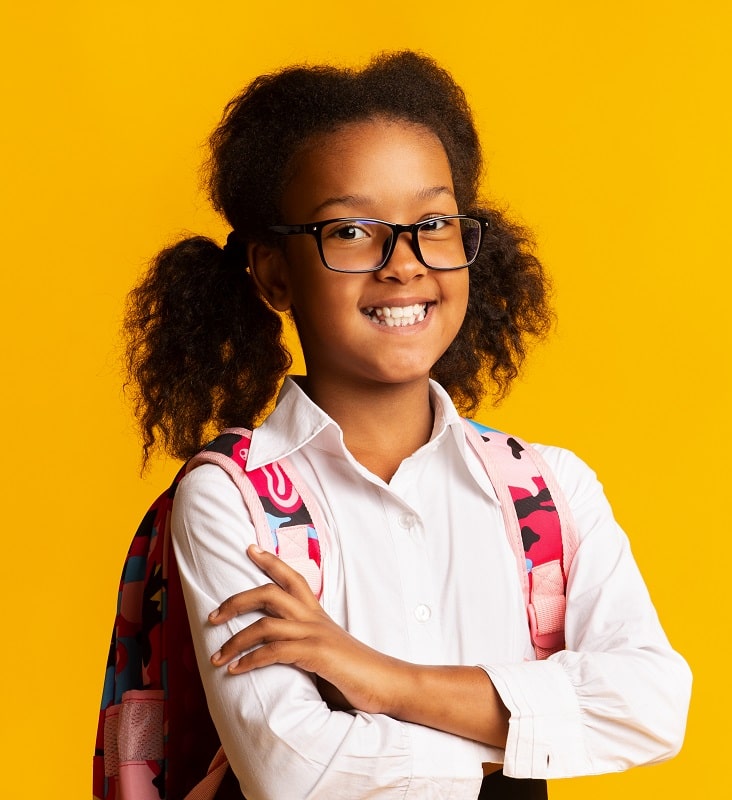 Two low ponytails are simple yet stylish, especially for hair that is thick or curly. Just create a center part and secure the ponytails right below the ears at the back of the head to keep them off shoulders.
21. Two Half Up Ponies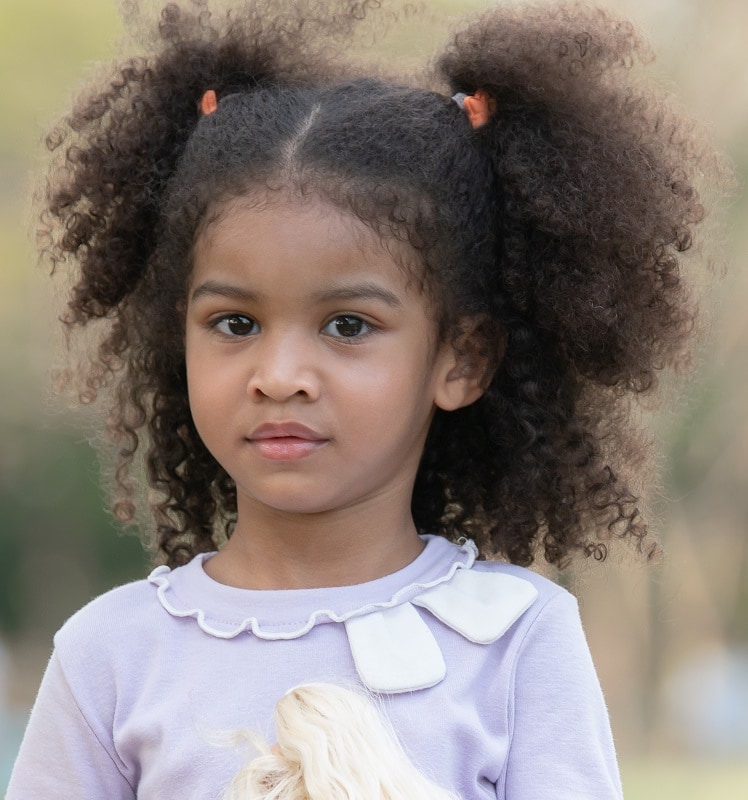 This little girl's hair is thick, super curly, and looks adorable in two ponytails created from just the top half of hair. For hair like this, don't worry about brushing too much – this will prevent frizz.
22. Sleek Black Ponytail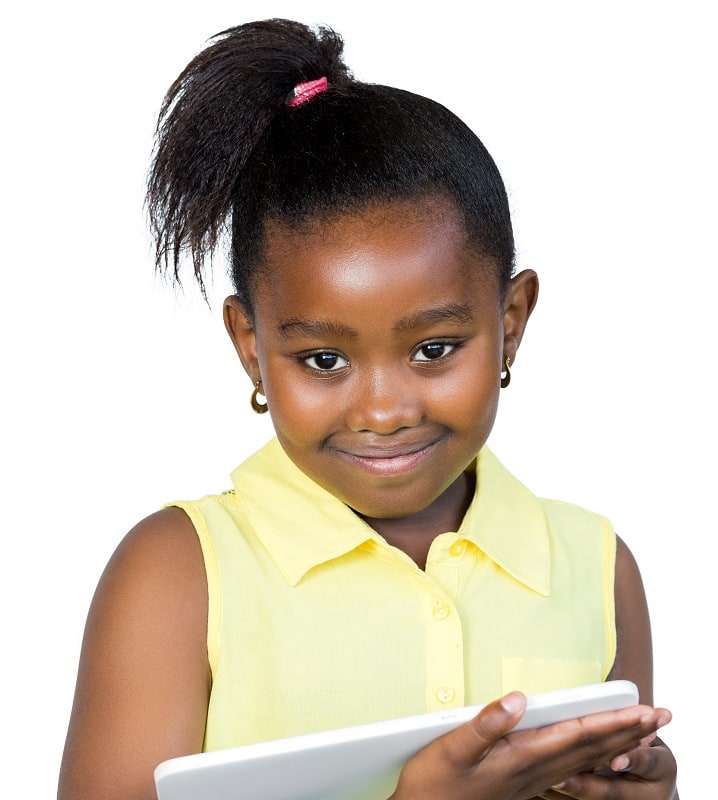 A slightly side-angled ponytail is sleek and smooth on this little girl's natural black hair. Use hair gel to get this level of smooth, then use a brightly colored hair tie to secure.
23. Ponytails with Micro-braids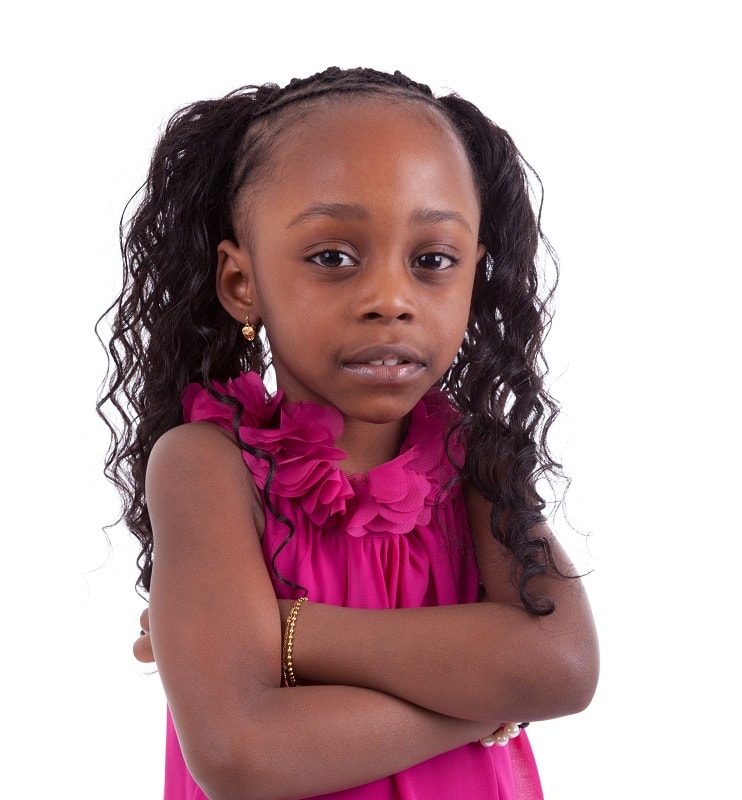 Little girls with long hair will feel like a princess with two long ponytails and micro-braids to decorate the top of their head. Use a curling iron to get the spiral shaped swirls.
24. Ponytail with Extra Tiny Braids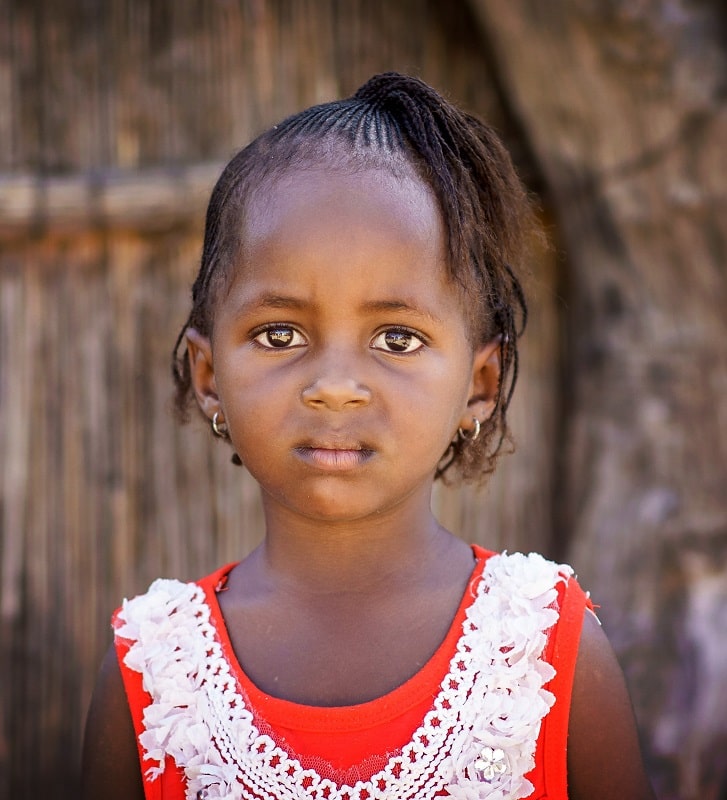 A cute protective style for little girls is this ponytail with super tiny braids. You can put all the hair in a ponytail or just the top half. Be sure to use a leave-in hair conditioner to prevent a dry scalp.
25. Afro Ponytail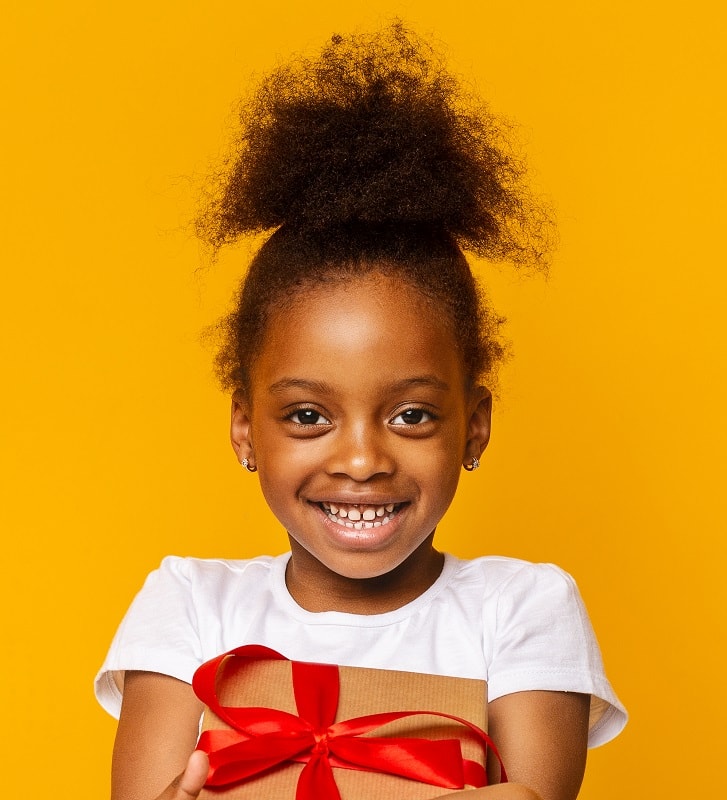 Little girls with afro-textured hair often become tired of wearing hair down. A cute high ponytail is perfect for quick style, and getting hair out of the way.
As you can see, these little black girl ponytail hairstyles are all fun and exciting. Consider one of them for the little girl in your life and she is sure to love it.