Whether you haven't quite mastered the 3 strand braid yet, or you simply love the way little girl twist hairstyles look we've gathered together 15 of the best to inspire you as you do your little girl's hair.
Trendy Little Girls Hairstyles with Twist
We have curated a list of 15 twist hairstyles for little girls to rock.
1. Sectioned Twist Braids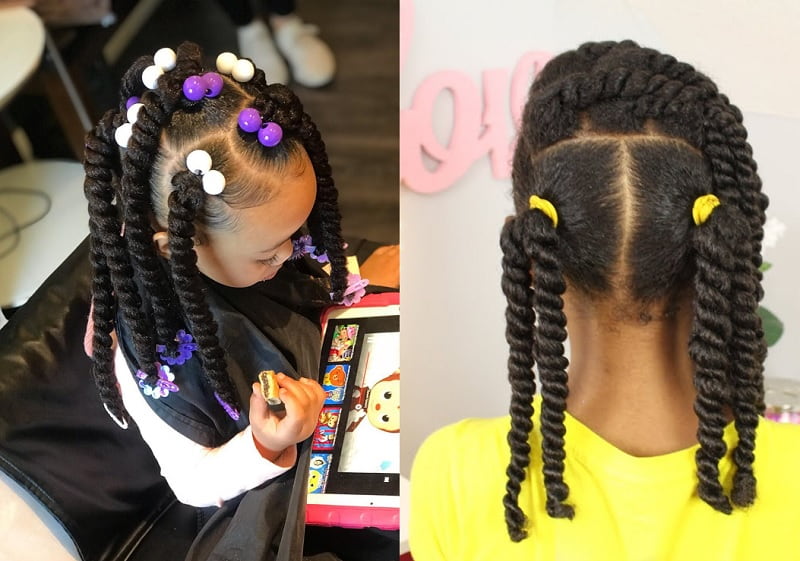 A simple and versatile way to achieve twist braids. Using hair ties to section the hair first allows you to work with the way that your little girl's hair naturally grows. Adding color and interest to the style, the hair ties are a great way at cheating the need to braid so tightly.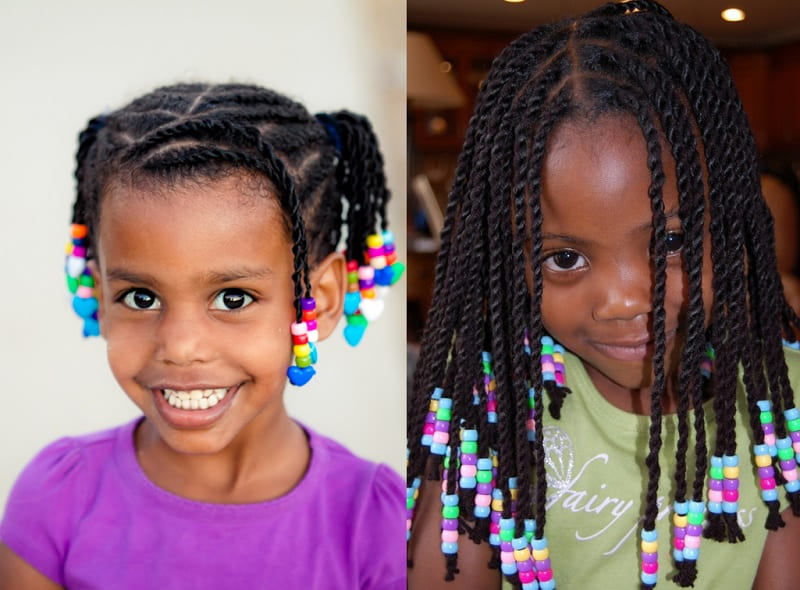 These classic twist braids are jazzed up with the addition of a set of beads at the end of each one. Little girls love to choose beads that show off their favorite colors and create patterns. Using beads necessitates thinner braids which can take time, but the result is so neat!
3. Super Chunky Twists
Little girl twist hairstyles don't come much cuter than this one! The contrast of a little girl's delicate features and super chunky twists braids works to really enhance your little girl's dainty face and make her seem extra sweet. Adding embellishments such as these metal braid clips is another way to add interest and personality to a hairstyle.
4. Twisted Pigtails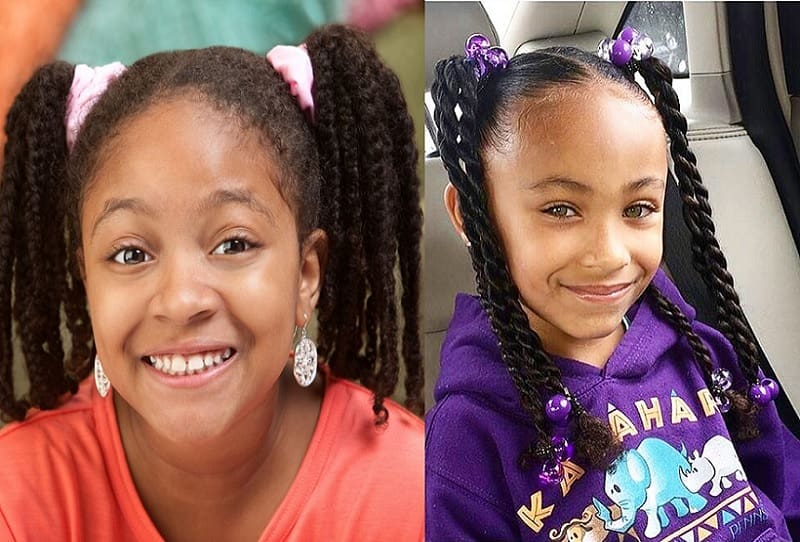 Nothing says 'little girl' quite like pigtails! This twisted hairstyle is an absolute classic and with good reason; it's completely adorable! Tying the hair off into pigtails and then crafting the hair into mid-sized twist braids will create a very sweet look whilst keeping hair tamed.
5. Twisted Buns
This hairstyle just looks so neat and tidy, twist braids are crafted with defined lines and gathered into two buns on the top of the head. Forming the buns by twisting the already braided hair around itself creates a double twisted look which is so mesmerizing.
6. Twist Braids into A Ponytail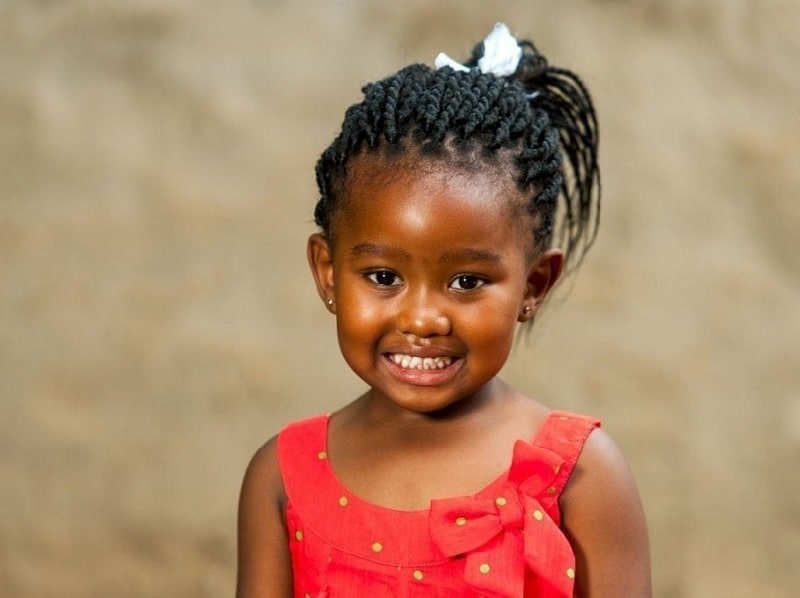 If you love the look of a full head of twist braids but need the practicality of having hair up and off the face then simply tying the braids into a ponytail with a pretty hair tie will do the trick. You can still appreciate the look of the lovely little girl's twisted hair is neatly contained in a ponytail.
7. Halo Twist Braid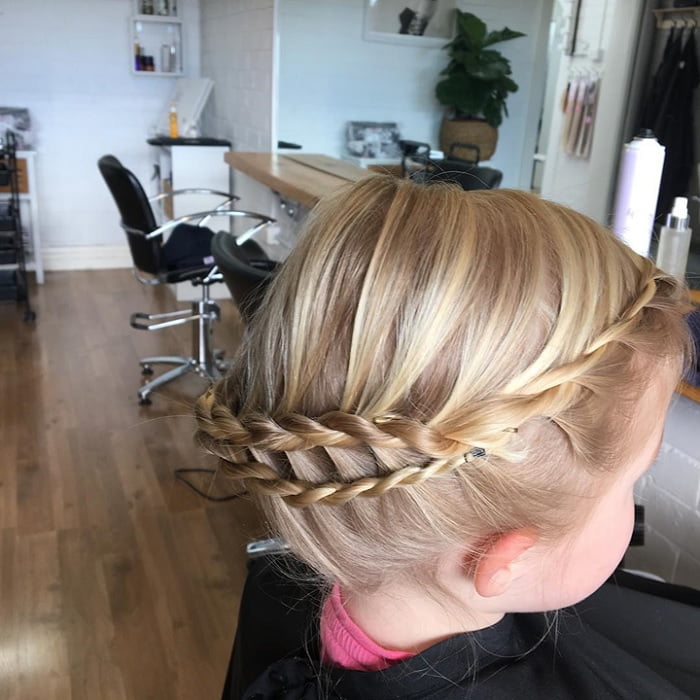 A three-strand halo braid takes some serious work, but the two strand twist is relatively easy to achieve. Whether your little girl is an angel or just looks like one, this twisted hairstyle will work fabulously on her. The fact that the hair is all up means that it's a winner for dance and gymnastic classes too!
8. Triple Twisted Pigtails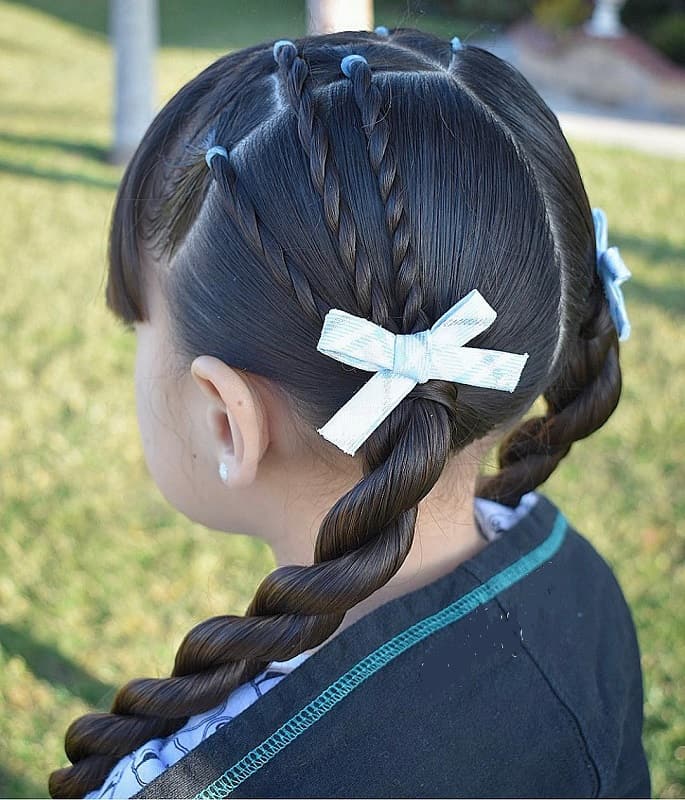 Twist hairstyles for little girls are in demand because they look so intricate and put together, but are usually fairly simple to achieve. This style is exactly that; it looks wow-factor but is actually pretty basic.
Each side of the head has 3 small twist braids, leading into a larger one. Hair elastics hold everything tight for you, all you need to do is twist and secure.
9. Woven with Ribbon
Very occasionally there is a time where the 'wow' of a braids with twist hair is not enough, and you feel that your little girl needs an extra something. Whether its to celebrate a holiday, special occasion, or just to turn heads now and again, weaving a colorful or themed ribbon through a standard twist braid really adds extra glamour!
10. Twisted Braid Using A Ribbon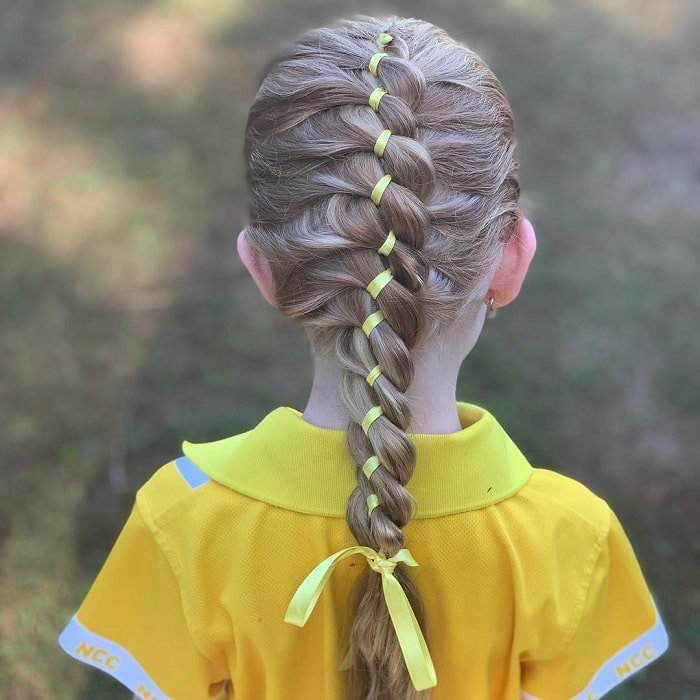 This one is a little more complicated, but the results are stunning! Here a ribbon is used to secure each strand of hair in place, allowing them to be wrapped in the same direction and achieve a different look to the standard thick twist braid.
11. Twisted Crown Braid and Pigtails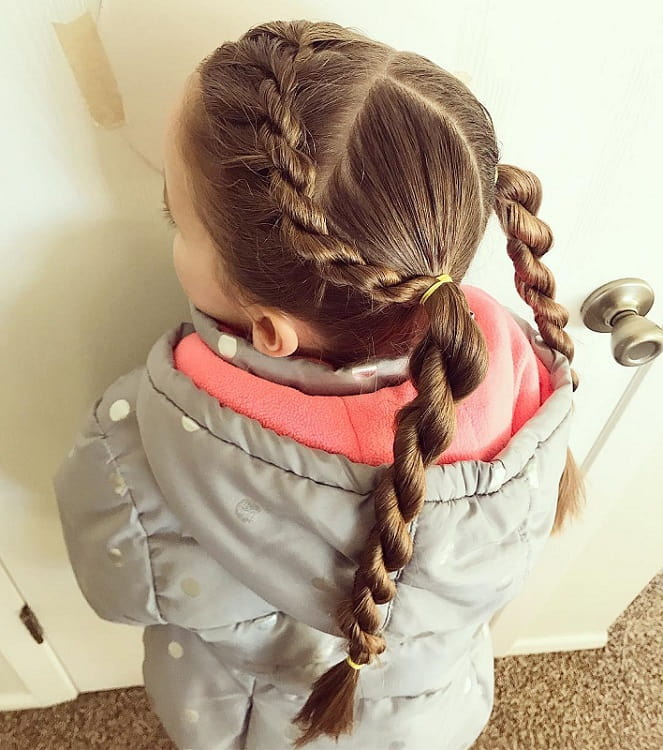 Taking a simple twist braid from one side of the head, across the front, to the other side to create a headband of hair looks super impressive and is still a pretty easy look to achieve. Securing the hair with ties and then creating twisted pigtails is a lovely way to finish the look.
12. Twisted Updo
Simply twisted pigtails brought upwards to form a bun create a look that is as impressive as it is simple. Little girl twist hairdos are a great choice for busy families because they are so quick and simple to achieve, this look can be done in less than 5 minutes!
13. Sleek Braids into Side Braid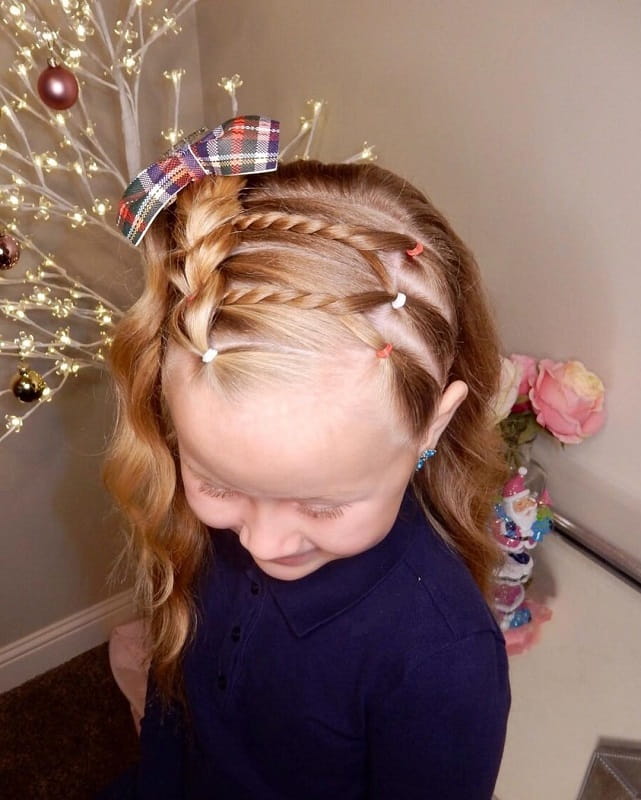 Focussing on achieving an asymmetric look this braided hairstyle for little girls with twisted hair looks extremely complicated but really the hair elastics do all the work. If you can get the sectioning right and tie off in the correct places all that's left to do is the twist. You can use accessories, like the bow here, to complete the look.
14. Twists with Pattern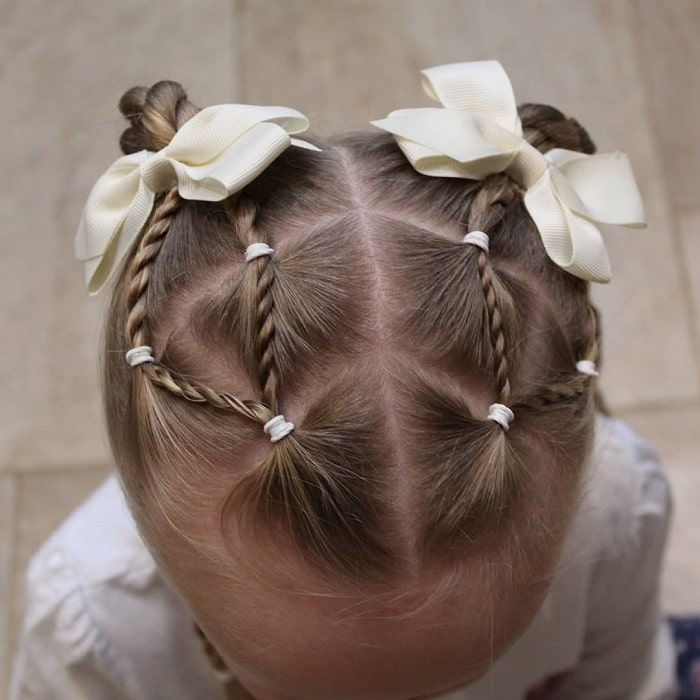 The clever use of coordinating accessories and hair elastics makes this look seem really polished and sophisticated.
The idea though is very simple; tie off two small sections of hair, split each in two and twist braid outwards, tie off and then take the two braids back together. Gather in twisted buns or pigtails and accessorize. Simple but so effective!
15. Colored Twist Braids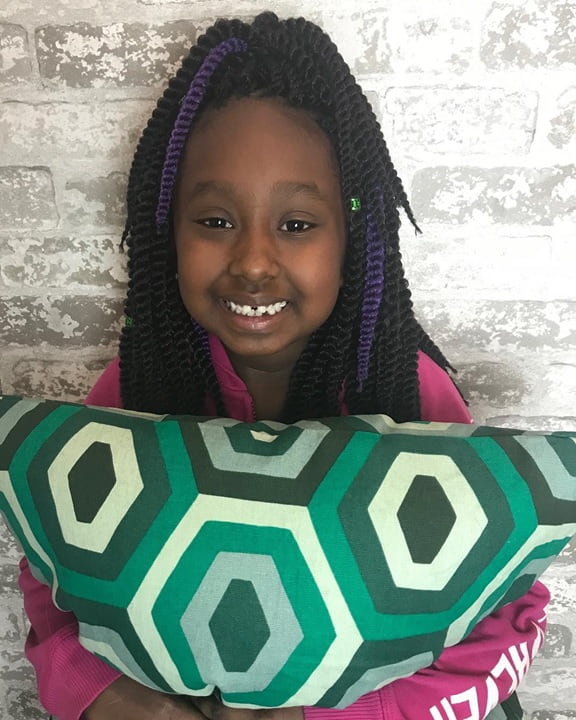 Adding color is adding interest and little girl twist hairstyles are a great backdrop for experimentation. Avoid using harsh chemical dyes on your little one's hair and instead, opt for hair chalks or gently formulated sprays.
As simple as they are beautiful twisted hairstyles for little girls are super versatile and simply lovely; whatever look you're aiming for one of these styles is sure to hit the mark.