It's very important to find an adequate girls hairstyle for school for your little baby girl. Whether it is because you have some extra time in the morning or you just want her to feel pretty for school, this article will offer 25 inspirational ideas for you to try out on your girl.
Classic School Hairstyles for Girls
These are the trendy hairstyles for school going girls to explore.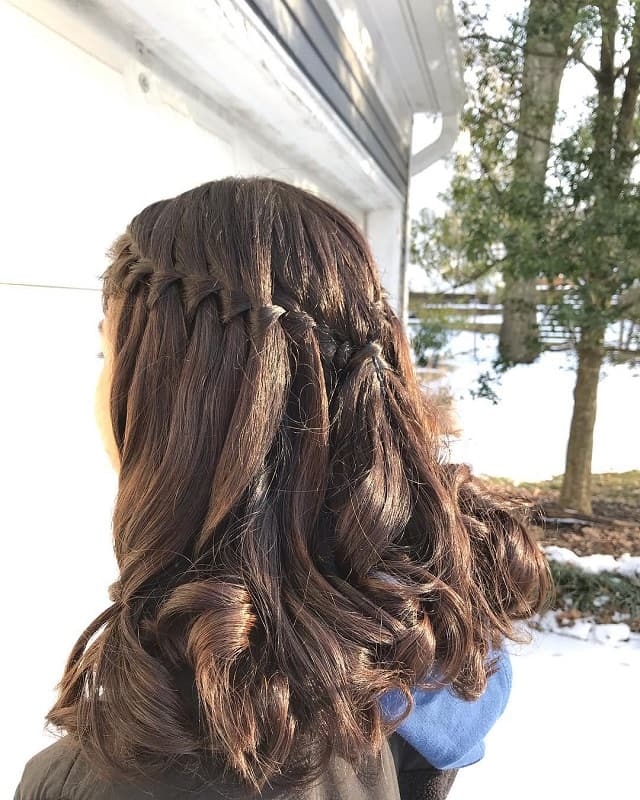 A waterfall braid is one of the most charming girls hairstyles for school. It is also simple to make. Start braiding your hair as you would with a French braid, but each time release a lower strand and take a new one. That will create the effect of a waterfall.
2. Sectioned Double Braid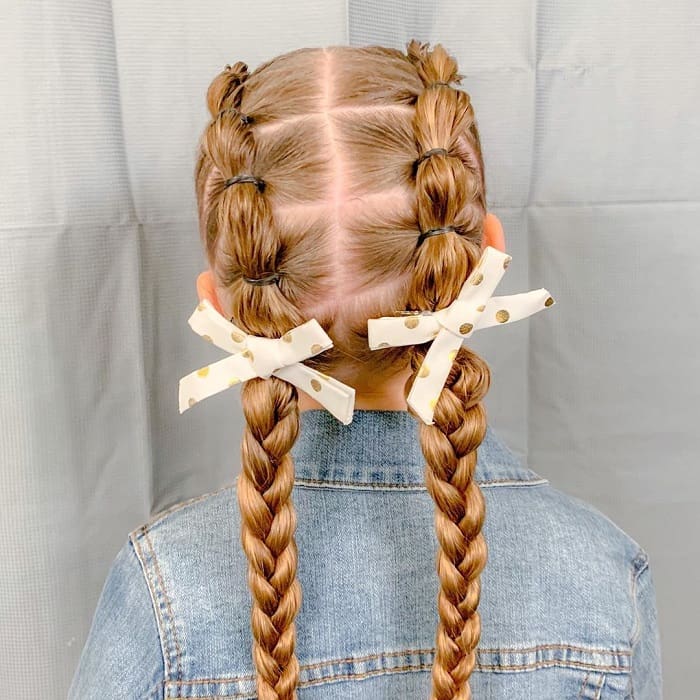 Divide the hair into 10-12 equal, parallel, rectangular sections. Tie the first two with elastic bands, then join them with the section underneath, and repeat the process. When you reach to the neck, braid two simple braids. Decorate the school hairstyle with simple bows.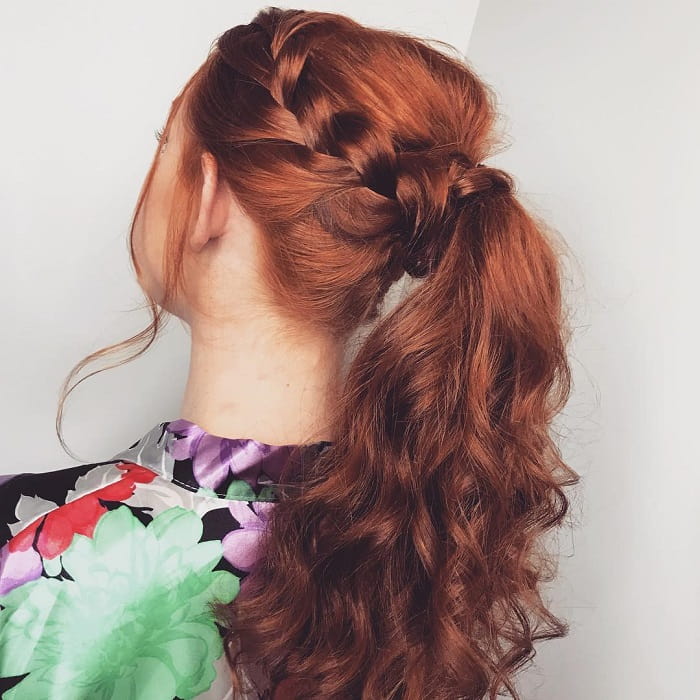 Comb the hair and tease it for more volume. Braid the braids on the sides and tie the hair into a medium-high ponytail. Wrap a strand around an elastic band to hide it. Stretch the braids gently with your fingers. This old school girl hairstyle will look so nice on your little, clever angels.
4. Bubble Ponytail with a Braid
Tie the hair into a medium-high bubble ponytail. Braid a thin braid. Tease the rest of the ponytail for volume. Use elastic bands to tie the ponytail in sections. Stretch the sections additionally if needed. This hairstyle is perfect for both school girls and their mums when they are in a hurry.
5. Crisscrossed Pull-Through Braid
The top sections of this hairstyle should be crisscrossed, while the rest should be divided into symmetrical triangular sections. Take one ponytail and divide it into two sections. Intertwine the sections with the ponytail underneath like on the picture and repeat the process until you get this great double braid.
6. Double French Braid Bun
This is a modern take on the ideas of girls hairstyles for school. It requires a bit more time, but your girl will look so beautiful, and you'll realize it's worth every minute of your time. Part her hair in the middle and start braiding the braids so that they form a triangular shape. The braids should end in two rolled high buns that you can decorate with some hair accessories.
7. Low Side Ponytail with a Halo Braid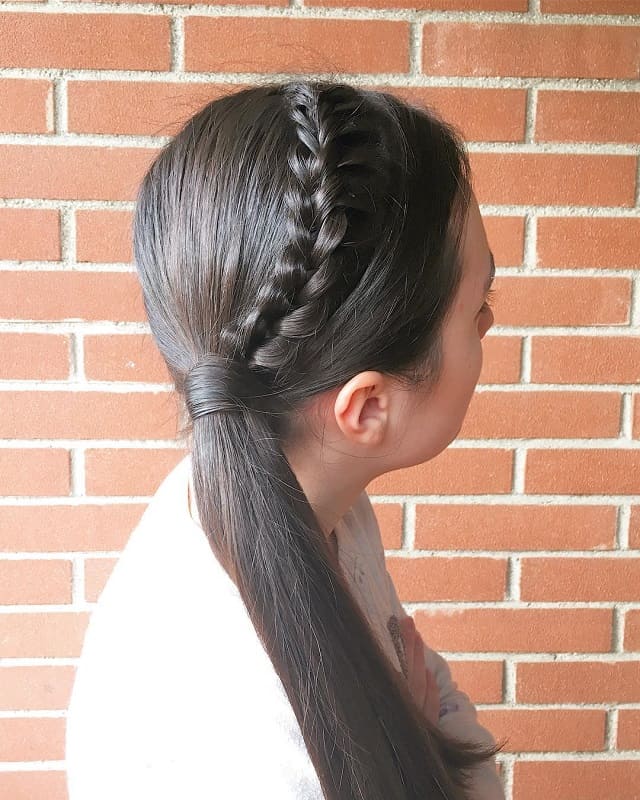 Start braiding a halo braid a few inches behind the hairline. Once you reach the point where you want the side ponytail to start, tie the braid. Include it into the ponytail. Wrap a strand around the elastic band. This is an ideal school hairstyle for girls that are a bit older and who have thicker, longer hair.
8. Half-Halo Braid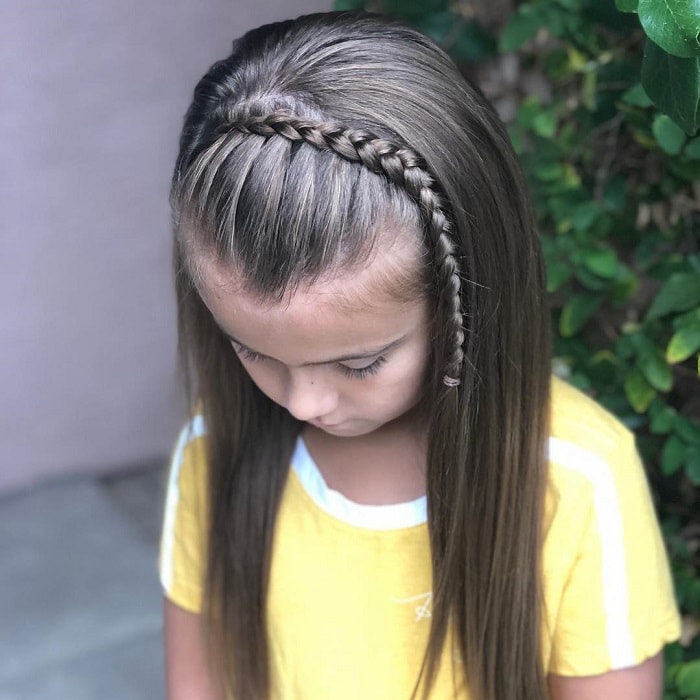 This halo braid starts a few inches behind the hairline but doesn't go all the way around the head, but rather ends in two loose braids on the sides. It may take a little bit for practice, but once you've mastered it, it will become one of the quickest and most practical long hairstyles for your girl.
9. Triple Braid with Updo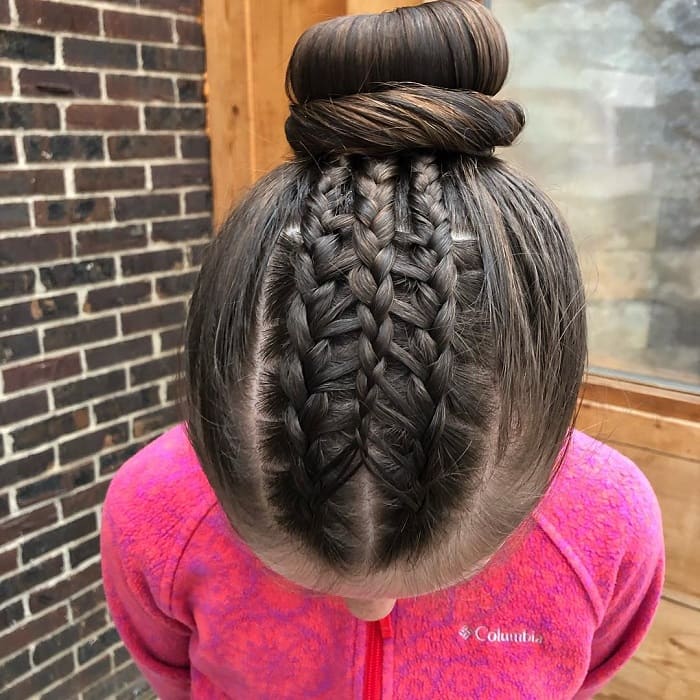 Start by braiding three simple parallel French braids at the front and secure them with elastic bands. Include them in the neat, sleek bun. This hairstyle will be worthy of a princess from the school play.
10. Five Strand Braid
If your girl's hair is a bit thicker, she can definitely rock this five strand braid. After you've braided it, stretch the braid with your fingers for more volume. Tie a low ponytail and hide the elastic band by wrapping a strand of hair around it. If there's a special occasion at school, use a curling iron to curl the ends of her ponytail.
11. Heart-Forming Braids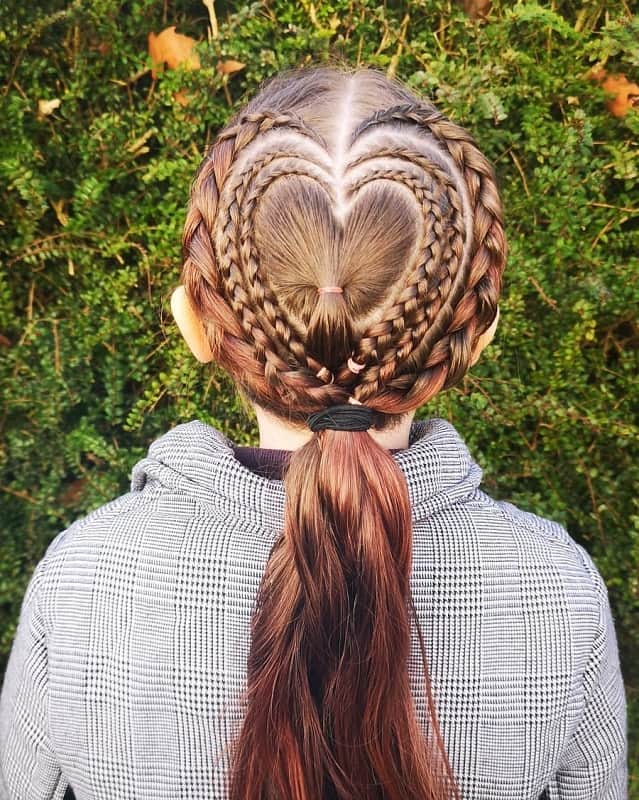 Other girls at school will be jealous for not having this adorable heart-shaped hairstyle for school. When you have some extra time, don't miss the chance to make your girl happy by braiding this heart-forming braids hairstyle.
12. Double Braid with a Triangle at the Front
Rule number one for girls hairstyles for school is that they have to be fun. Comb the hair until it's smooth and part it on the side. Divide it into sections at the front and tie them with elastic bands so that they form a triangle. Tie it into two sleek ponytails on the sides and then braid the ponytails.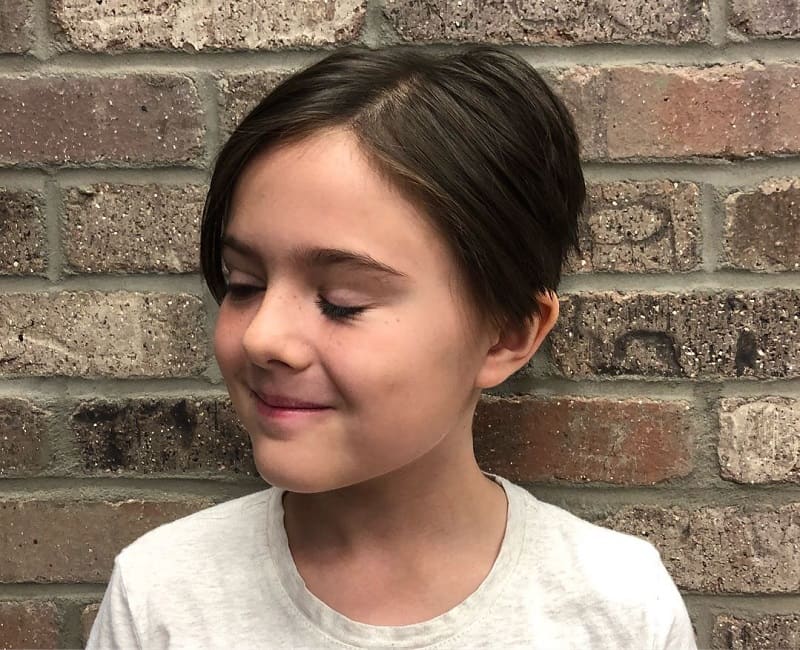 If your little girl is rocking a short hairstyle, use a little bit of hair wax to make it sleeker so that the hair doesn't fall over her face while she's at school. This hairstyle is so practical and adorable because it reveals her beautiful facial features.
14. Samurai Bun with a Bow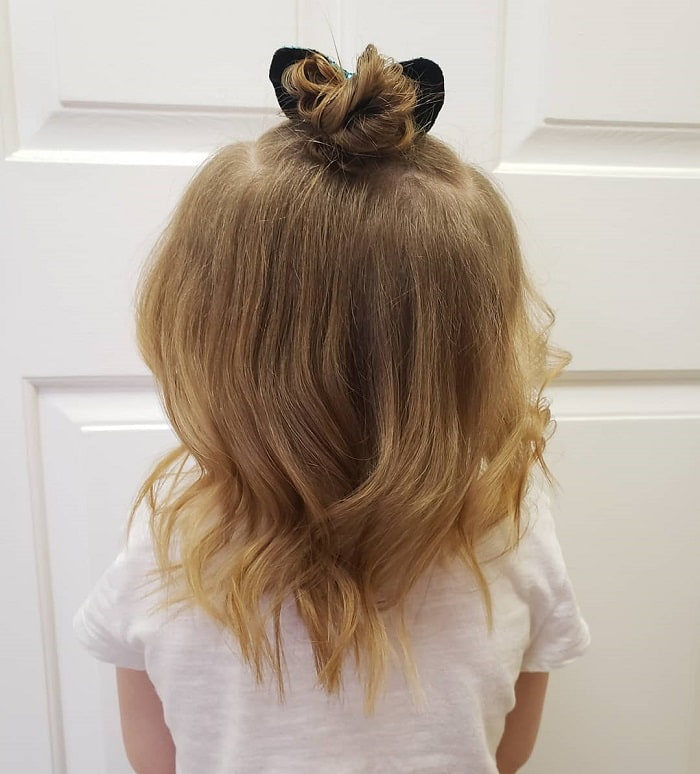 There's no reason why your girl wouldn't be the top trendsetter at school. She can rock the samurai bun too. The samurai bun will look so amazing if her hair is naturally curly or wavy, and it can be decorated with a simple bow tied around it.
15. Half Updo with a Bow
It's very important for kids to not have their hair fall all over their faces, especially when they are at school. To make your girl love the sleek half updo, buy a set of gorgeous hair accessories that will make this simple hairstyle look unique and stylish.
16. Rolled Side Bun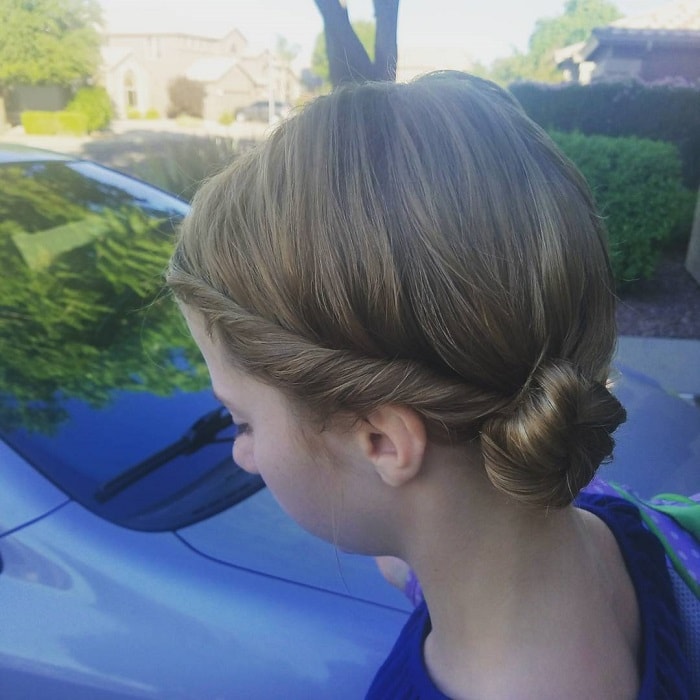 A low bun is one of the most elegant and lady-like hairstyles for girls to wear for school. Comb the hair to untangle it and tease it on the top of the head. Start rolling the bangs and bring them into a little side bun. Spray the hairstyle with a little bit of hairspray to secure it throughout the day.
17. Bow-Shaped Half Updo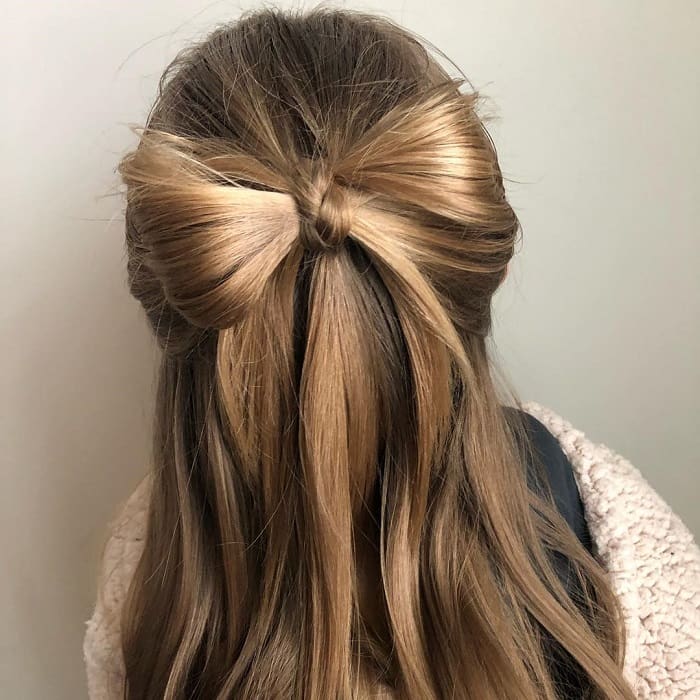 Braid a braid at the back to wrap around two sections of hair that form a bow, with the whole hairstyle forming a nice half updo. A half updo like this will be so well-loved by your little girl that will start loving every school day.
18. Straight Bob with Bangs
If you don't have a lot of time or any talent to make all the adorable braids, buns and updos that your girl would wear for school, then choose a nice, modern, and practical option for her next haircut. One of the possible solutions could be this gorgeous bob with bangs. Needless to say, this hairstyle will suit girls with straight hair best.
19. Sleek Double Bun with Curls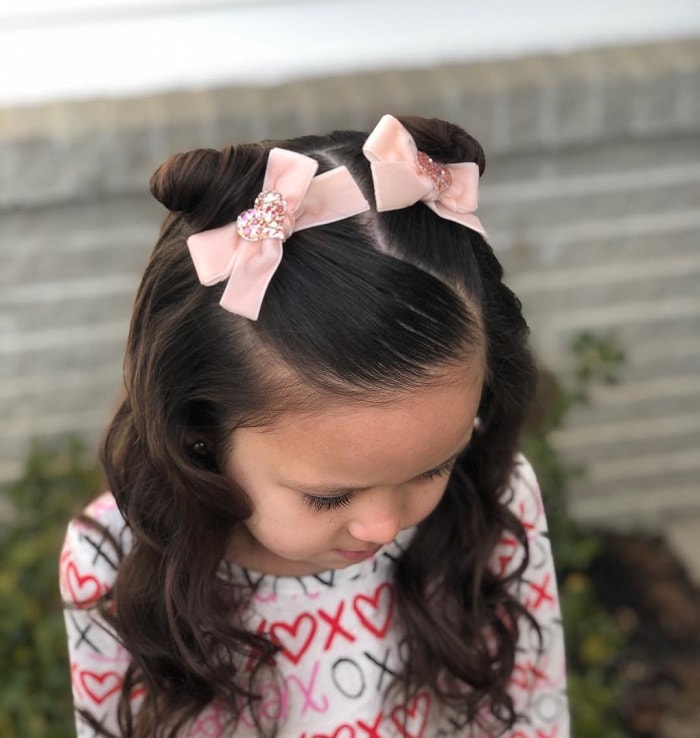 Out of the whole variety of girls hairstyles for school, this one is definitely one of our favorite ones. Comb the hair on the top until it's smooth. Pull the bangs to one side. Part the hair behind that section so that they form a crisscrossed shape.
Then tie two small high buns. If it's a hairstyle for a special occasion at school, use a curling iron to curl her hair. Children's hair should be treated gently, so don't set the curling iron to maximum temperature.
20. Pigtails with Bangs
This is one of the simplest hairstyles, yet it's one of the most popular girl's hairstyles for school. Tie two low ponytails with the hair tied in the middle. It's as simple as that. If you want, decorate the hairstyle with some hair accessories.
21. Four Side Braids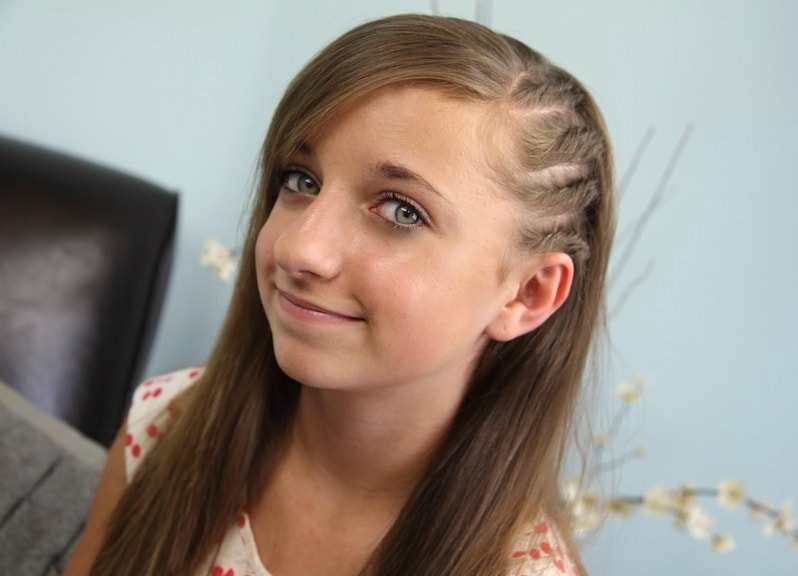 Comb through the hair and part it far on one side. Divide it into for sections on that side and braid four parallel, horizontal French braids. Tie them with elastic bands and cover them with hair.
22. Middle-Parted Half Updo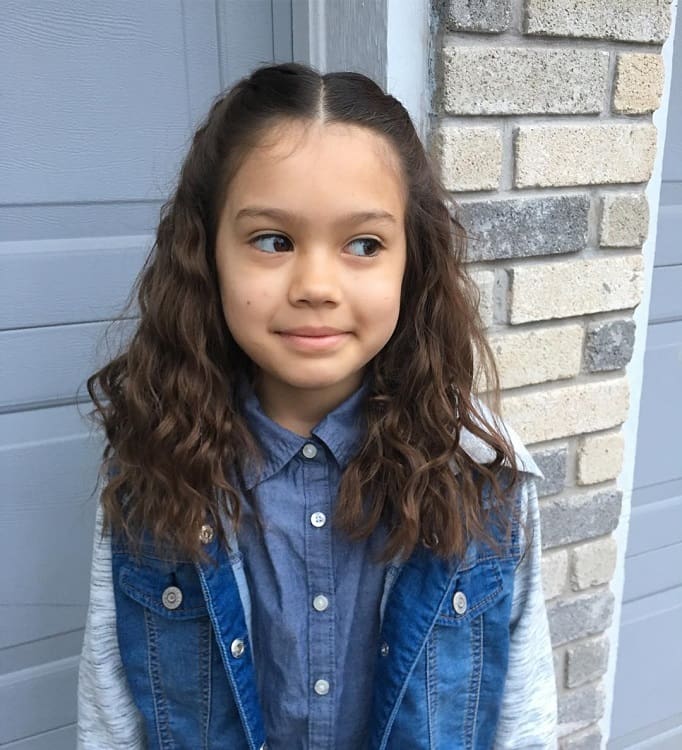 Curls tend to get in the way and fall all over the face which could be a problem, especially when your girl's at school. Get it in the way by parting the hair in the middle and combine the two front sections to the back. You can either use elastic bands to tie the sections, or you can use decorative hair clips.
23. Four Layered Braids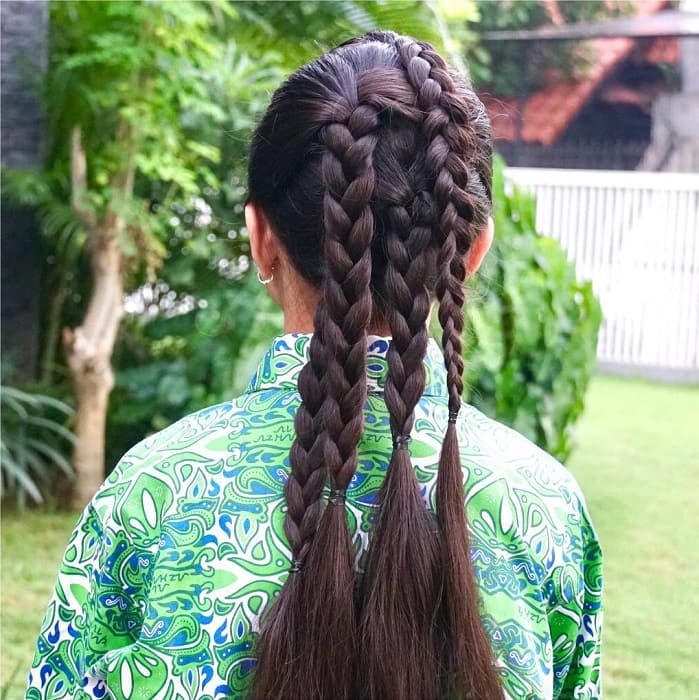 Divide the hair into four yig-yag sections and braid them all into simple braids. That will get the hair away from the face and still look awesome.
24. Braided Bun Mohawk
If your little girl is different than other girls at school, she should wear a hairstyle worth of the uniqueness she carries inside. Divide the hair into three horizontal sections and tie them into three ponytails. Braid the ponytails and twist them into three buns, creating an adorable bun hawk.
25. High Bun with a Braid Underneath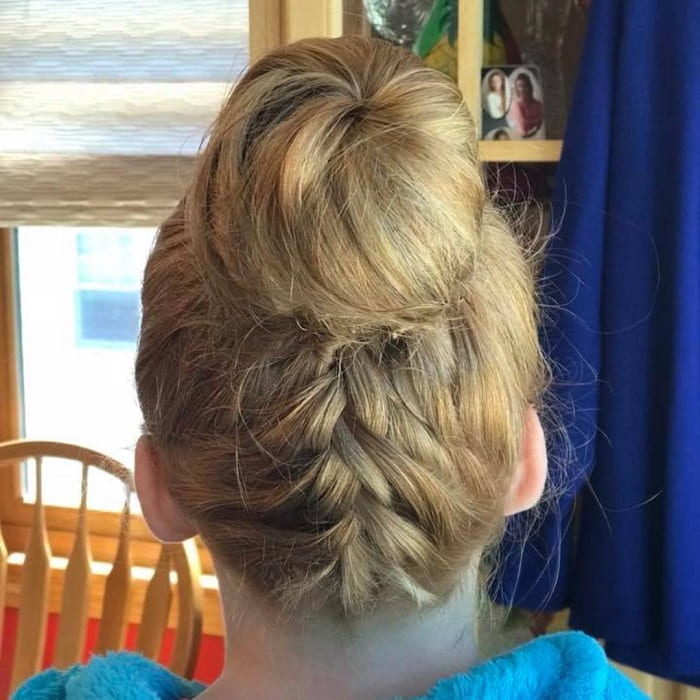 Braid a French braid starting from a neck upward. It should end in a big high bun. Don't make the school hairstyle for girls too sleek or tight for it not to lose all volume. Your little ballerina will fall in love with it.
There is a vast variety of girls hairstyles for school that you can choose from and try out that will put a smile both your and your girl's face every morning.