Box braids for little girls are really popular and a fun way to keep a girl's hair out of her eyes and her face. If you are looking for a new and updated style for the little girl in your life, then you will want to consider one of these fun styles. They're perfect for the stylish little girls who love wearing box braids.
Stunning Little Girl Box Braids Hairstyles
Following are the gorgeous box braided hairstyles for little girls. Have a look and choose the best one for your little princess.
1. Half Up Top Knot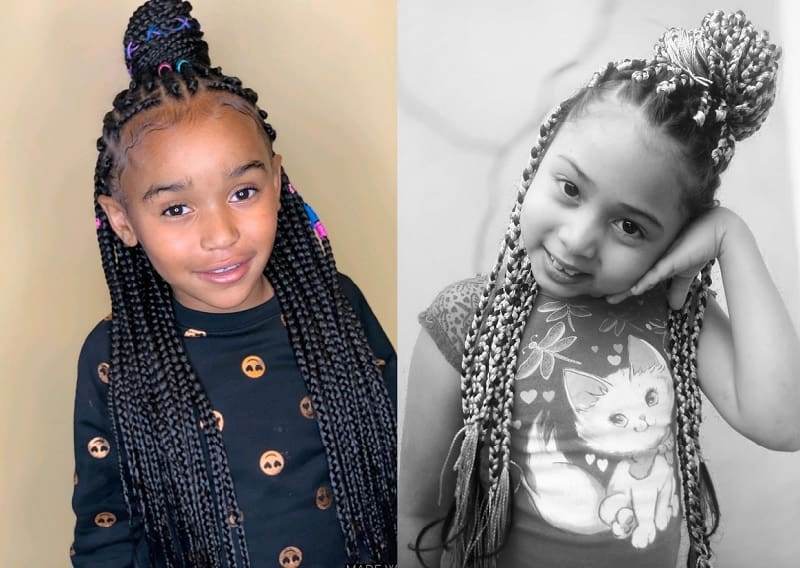 A half up top knot is a really popular style of box braids for little girls as they keep the braids out of the face and allow a little personality to shine through. This style looks great when the box braids are nice and long and part of them are left hanging free down the back.
2. Braided Hairdo with Side Part
Keeping the hair pulled away from the face ensures that your little girl can easily play and see, which is one reason why this style is a great option.
It allows some of the box braids to fall down around the shoulders, which is a grown-up look that a lot of little girls enjoy. Keeping the hair pulled away from the face also prevents little girls from being too hot in the summer.
3. Curled Ends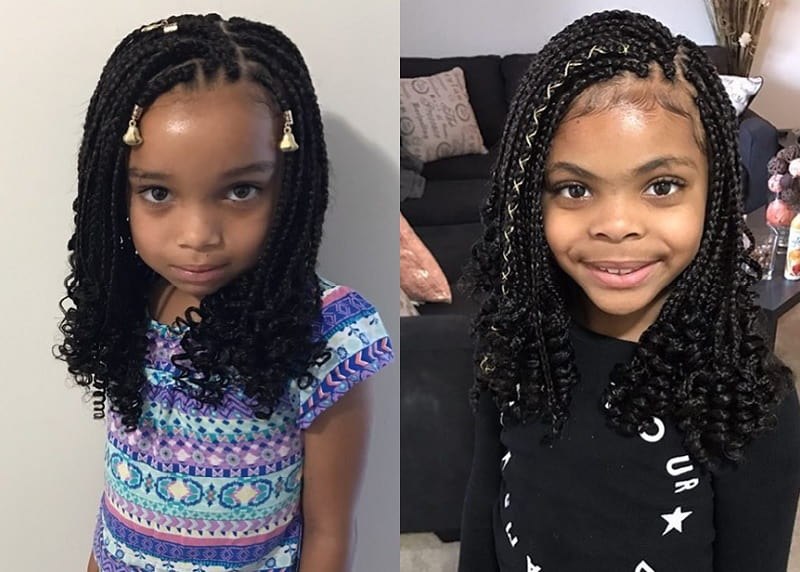 A bit of gold really pops when placed carefully in box braids. Gold beads, as well as gold threads woven into the braids, are a wonderful way to elevate this simple style. The braids can then be worn down with curling ends as this allows the bits of gold to be the main focus of the hairstyle.
4. Braided Bob
Box braids that sweep away from the face speed up the process of getting ready in the morning. These braids are designed to keep hair out of the face and can be easily decorated with some fun, bright beads if desired. Keeping the braids shorter results in a unique box braided bob style for black girls that is fun and easy to care for.
5. Double Buns
Little girl box braids don't have to be boring as this style shows. These two top buns are thick and full even though some of the hair is left down to hang on the back. They're a fun way to spice up a hairstyle and allow the girl wearing this style to showcase a bit of her personality.
Keeping box braids swept completely away from the face and off of the back of the neck is a great way to allow a girl the freedom to move and to play as she wishes.
These braids can be any color that the girl wants as they will all look great. Letting the ends hang loose gives the hairstyle a little additional movement.
7. Cute Pigtails
High pigtails on the top sides of the head are a lot of fun and add movement and personality to a style. This is a great way to show a girl's fun side, especially when the ends of the braids are left free to curve, which will add even more movement to the style and prevent it from being boring.
8. Top Bun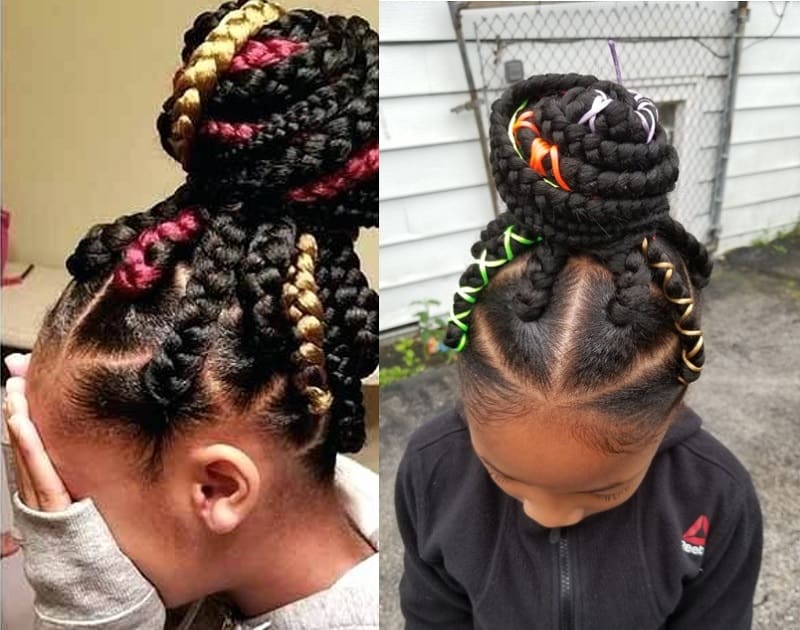 Full top buns look really impressive, especially when they are made with long and thick box braids. This bun is a wonderful way to keep a little girl's hair contained and off of her neck and from around her face. Adding in some color to the top knot makes it even more exciting and visually attractive.
9. Bright Knotted Pigtails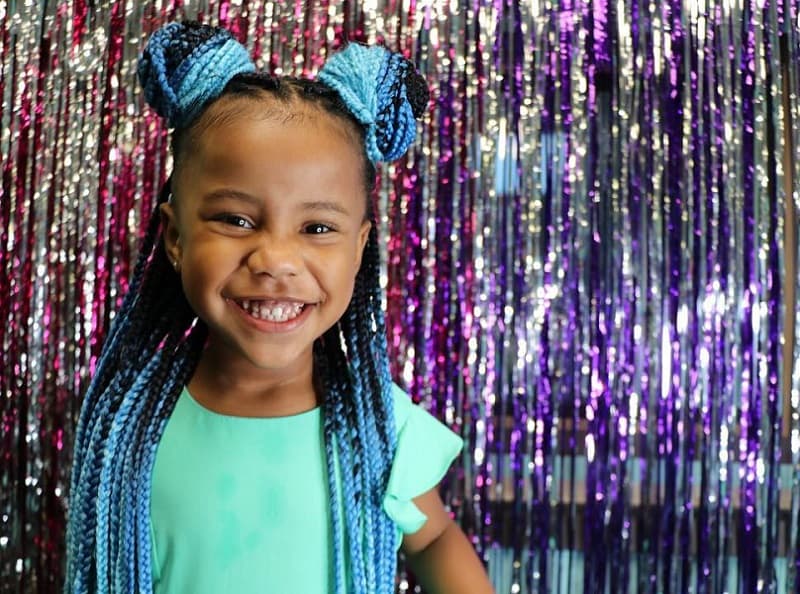 Fun colors are a wonderful way to update box braids and these bright blue knotted pigtails show how wild this look can be. They're perfect on a confident girl who wants to showcase her favorite color. Additionally, they look great when some hair is left hanging down to show its length and the colors of the braids.
10. Bold and Bright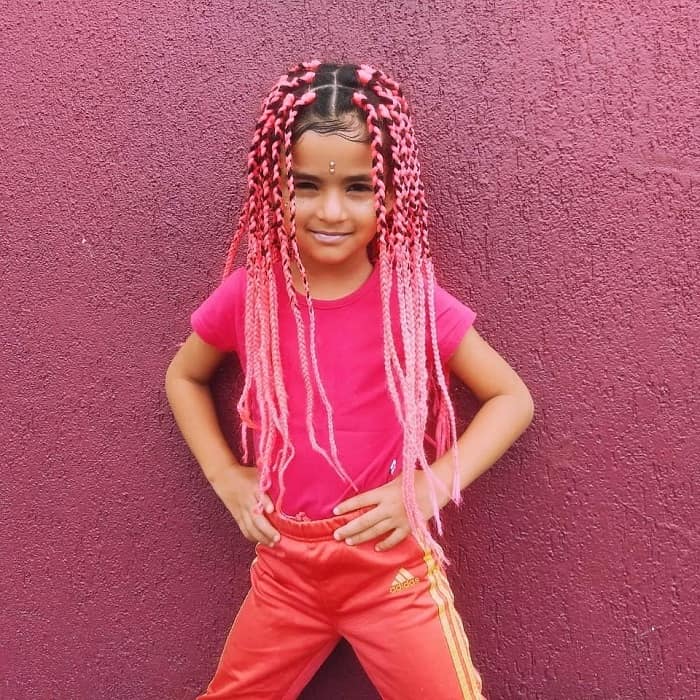 These bold box braids for little girls are not for the faint of heart but are perfect for any girl who is confident and is passionate about a favorite color.
They are great to wear both up and down and look equally wonderful no matter how the hair is worn. Because of this, they are incredibly versatile and something that any little girl will love.
11. Beaded Pigtails
Beads are a great way to add color, movement, and personality to box braids. It's fun to choose beads that will match the color of an outfit for a special event or allow the wearer to choose beads in the color that she loves. No matter what, they are sure to make the box braids even more fun.
12. Colorful and Beaded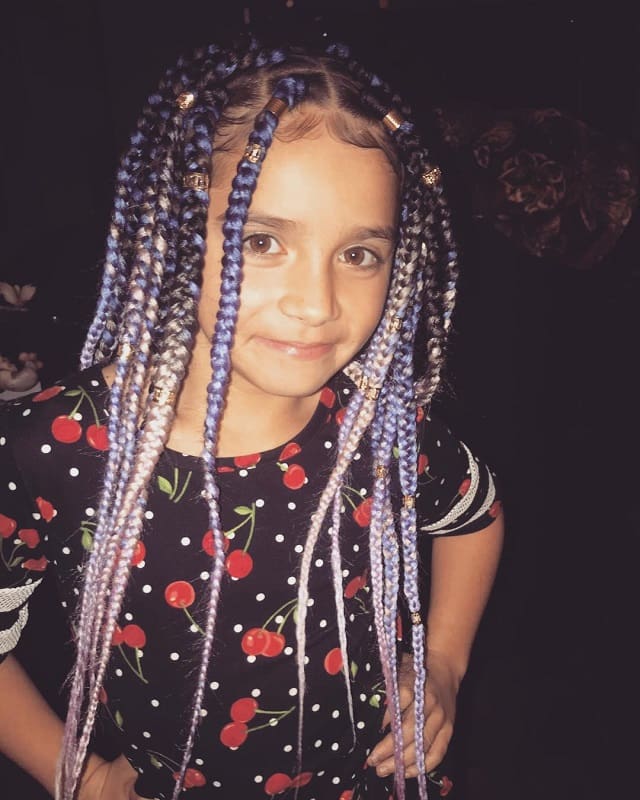 There's no reason why you can't mix little girl's box braids hairdo with colorful beads, especially ones that are gold. Since these are a little more muted than brighter beads, they will blend in a bit more with the hairstyle.
13. Long and Loose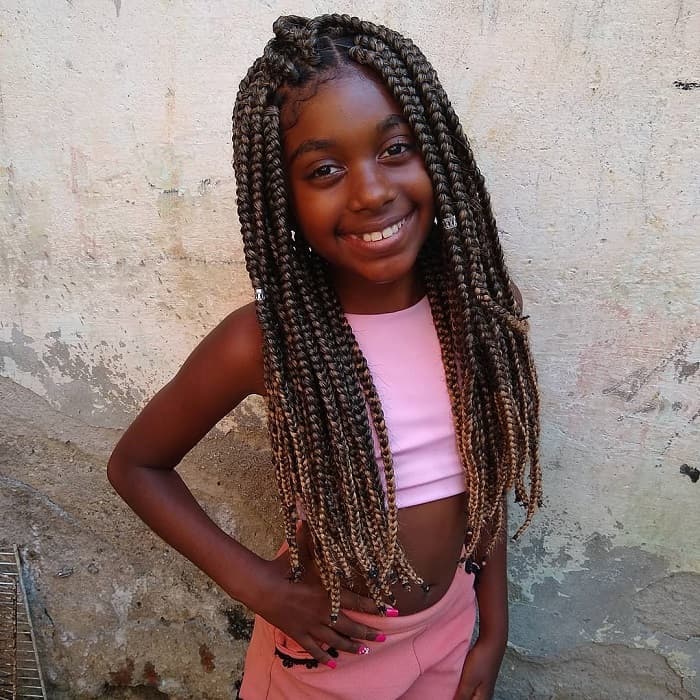 Long and loose box braids look amazing when they are allowed to hang freely around the face and down the back. This is a great style for any girl who really loves the way that her box braids look and wants to show them off.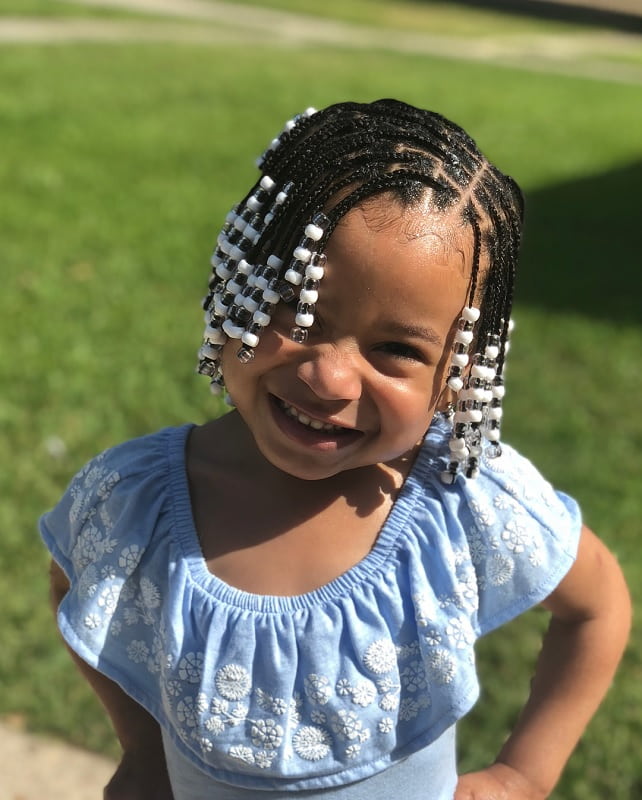 Small braids look amazing when they are paired with beads of any color. This is a fun way to add a little visual interest to the hair and to ensure that the braids have enough visual impact, making them ideal for little girls who have thin and short hair.
15. Splashed with Color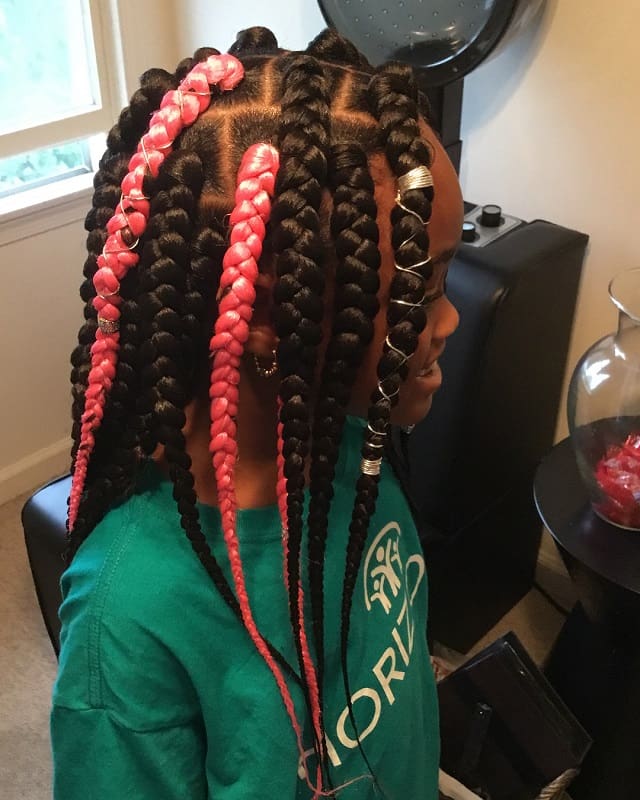 Not all little girls box braids need to be a bright color to add some variety to a hairstyle. Adding just a few braids in a couple of bright colors really makes the hairstyle pop and keeps it from being average. Mixed with some wire wrapping, this style is sure to make a statement.
As you can see, there are some great box braids for little girls that you can choose from on this list. They are a fun way to keep hair out of the way and add a little style and personality to an outfit, which is why box braids are such a popular hairstyle.