Cornrows for little girls are a super-functional hairstyle; designed to keep afro hair tamed and looking neat, but they can also be extremely cute and pretty, or funky and trendy.
Whatever your little girl's personality you're sure to find a cornrow hairstyle that will suit her.
Amazing Little Girl Cornrow Hairstyles
Our experts have curated a list of cornrow hairstyles for little girls to explore this season.
1. Diagonal Rows into Buns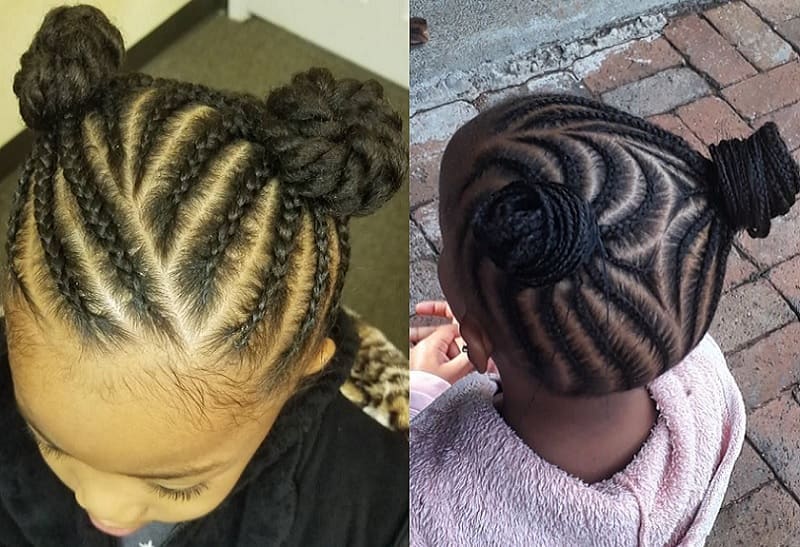 This cornrow style is very sweet and compliments little girl's personalities very well, the 2 buns on top of the head look so cute!
They're also extremely practical keeping hair tied back and out of the way. The diagonal braids add interest to the front of the style.
2. Bunches of Braids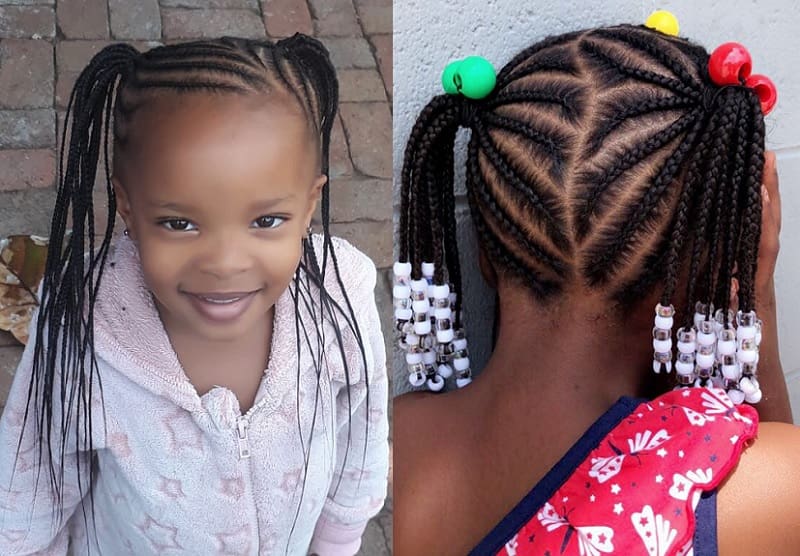 "Bunches" or "pigtails" are a super cute and popular hairstyle, and having your cornrow hair is absolutely no reason for your little girl to miss them out! Bunches of braids look so sweet and so interesting too.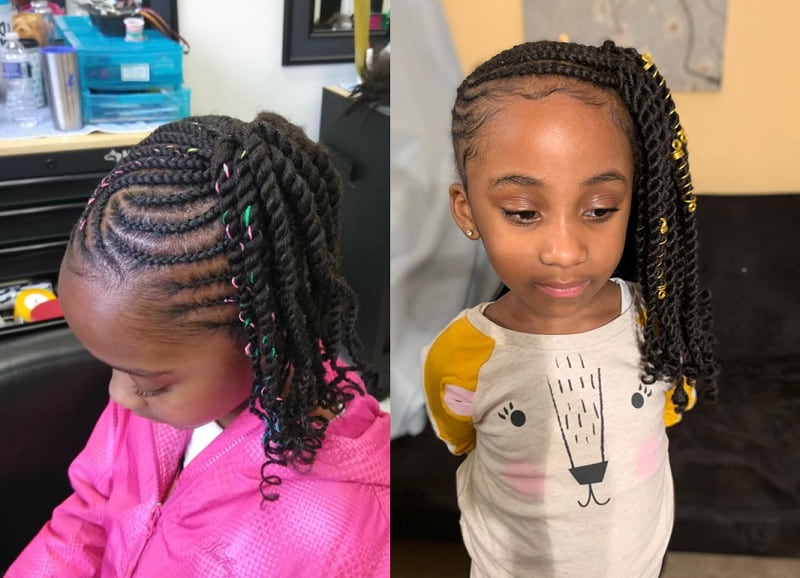 Little girl cornrows utilise a variety of braid styles and a popular choice is twist or rope braids.
The braids are chunkier and more textured and can include colored threads to add interest like in these pictures. A side ponytail keeps everything neatly gathered and off the face.
4. Cute Pigtails
Cornrow hairstyles for little girls with beads in patterns to a focal point; this style uses 2 focal points, one at the top of the head, and one lower down either centrally or to the side.
There are a variety of reasons to consider this style if your little girl has especially thick hair and you would struggle to tie all her braids into a ponytail then this could be one for you.
Similarly, if your little girl has 2 crowns in her hair, meaning that hair naturally grows in different directions then it may be easier to work with this than against it.
5. Spiralling Upwards into A Bun
This spiral hairstyle is so adorable, cornrow braids that are focused towards the top of the head and then spiraled into a bun look so neat, and sleek and well styled.
It is also super practical for keeping hair out of the face and off the neck, ideal for staying cool sports or in hot weather.
Amazing Bun Hairstyle for Little Black Girls
6. Half Up Half Down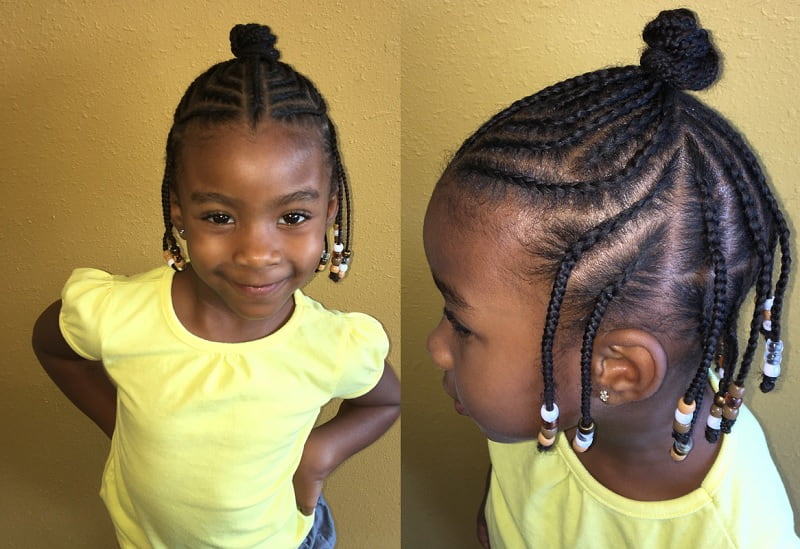 If you need the practicality of having hair pulled back off the face, but your little girl is adamant she wants to show off the length of her cornrow braids or her beads then this half up, half down style may be the perfect compromise.
7. Multiple Central Buns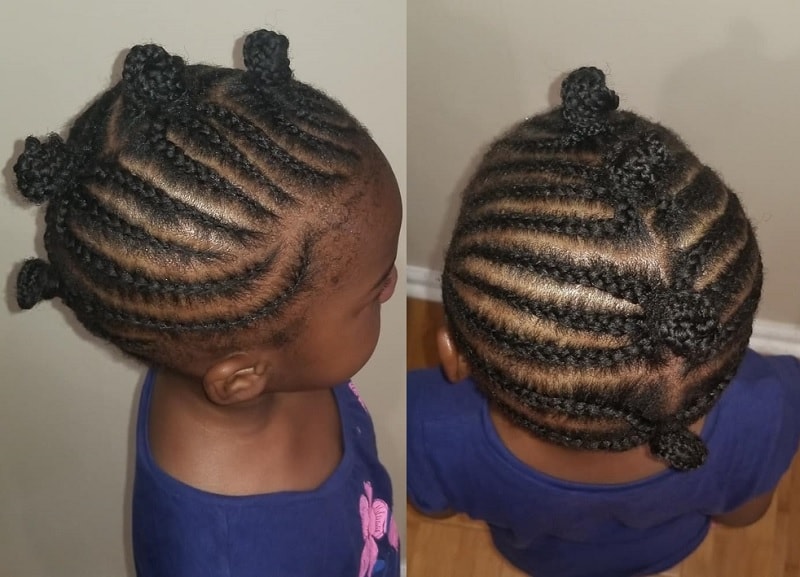 This style braids towards the centre of the head, almost like a reverse parting! In the place of a central parting, the hair is gathered neatly into a series of buns extending down the centre of the head. Another good style for keeping hair neat and out of the way.
8. Ponytail Braids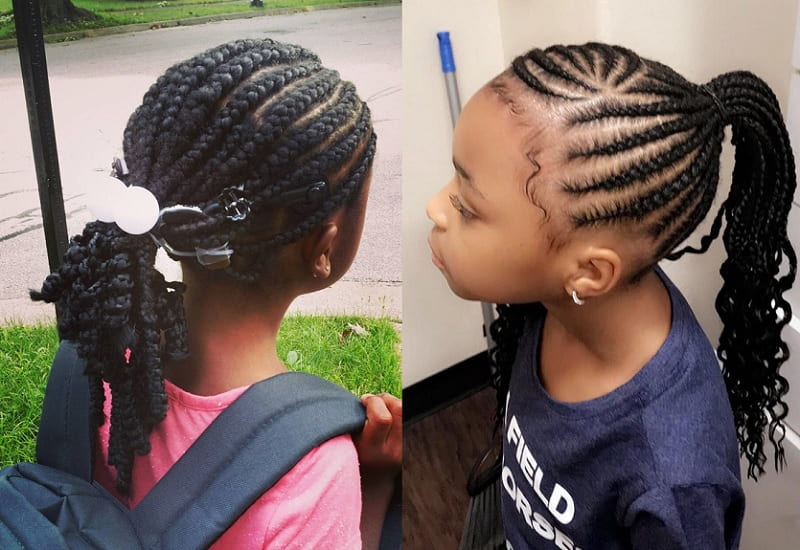 What's not to love about this hairstyle? Many cornrow hairstyles for little girls imitate non-braided hairstyles like this one, simply gathering braided hair into a ponytail, makes it very versatile and easy to style.
9. Loose Cornrows and A Bun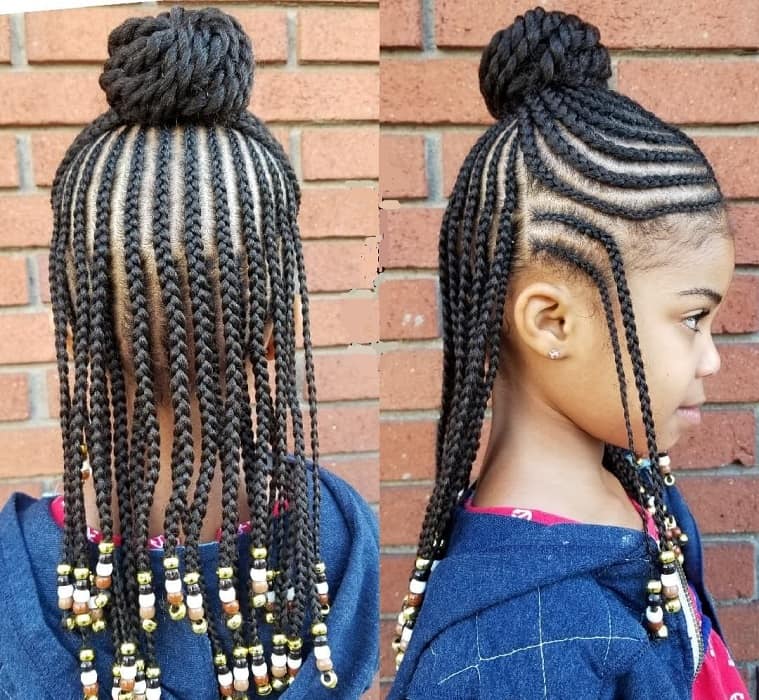 Poker straight lines juxtaposed with a beautiful spiraling bun, this hairstyle utilises different shapes and styles to add interest to the look.
10. Cornrow Butterflies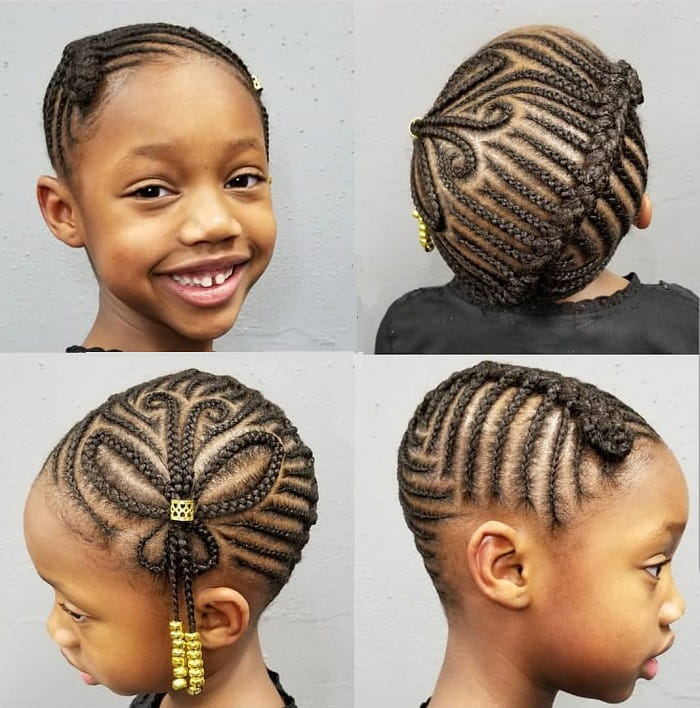 Cornrows for little girls are already a real wow, but these have an extra special something! It takes a very talented hairstylist but using cornrows to create patterns and pictures is a real art form and little girls would go gaga for a cornrow butterfly.
11. Central Braid and Straight Lines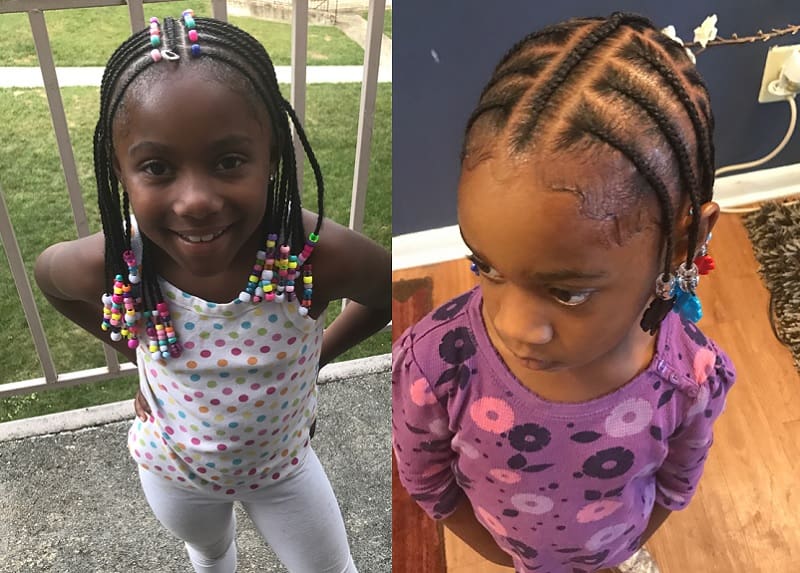 Using a central braid down the middle of the head, where a parting would fall is a fabulous way to create a central focus point, and from this straight-lined braids can be placed all around the head. This style is simple, but the added central braid spices it up just enough.
12. Side Pony and Beaded Ends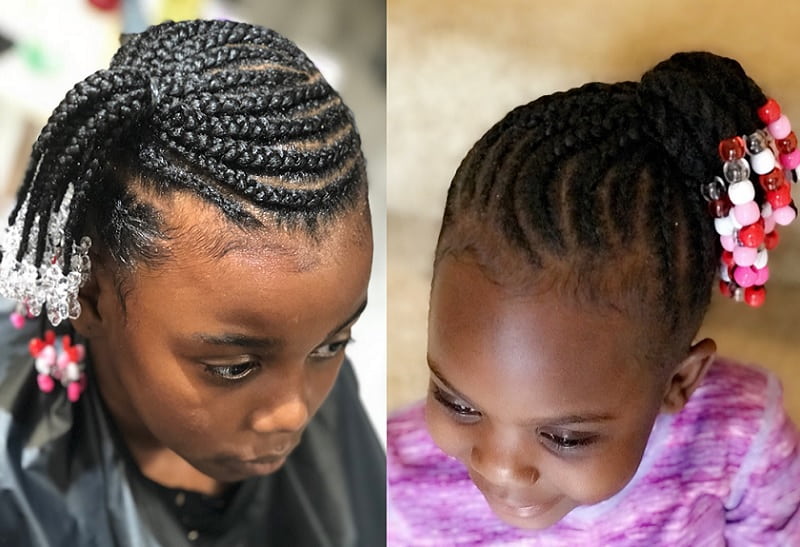 Gathering to the side gives the hairstylist a point to braid towards, and provides an easy place to tie hair up, keeping it off the face. Beaded ends are a great way of injecting color, fun and personality to cornrow braided hair and most little girls love selecting their bead shapes, colors and patterns.
13. Central Braid and Half Pony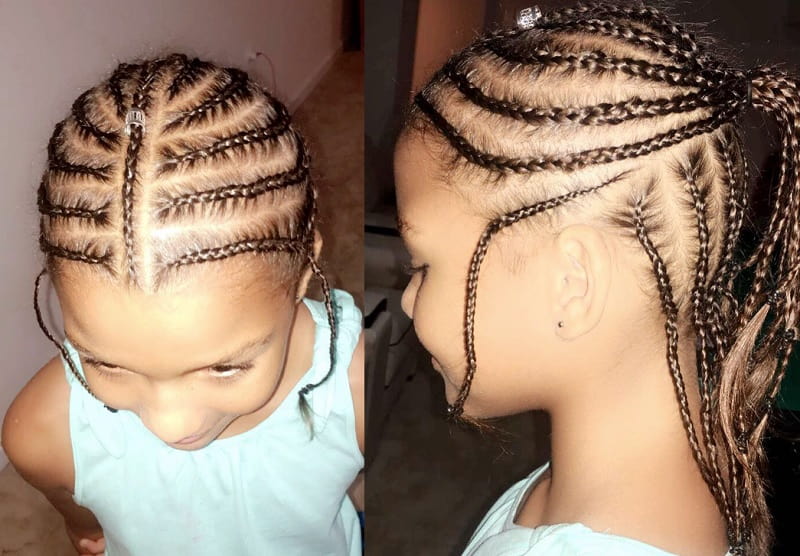 Again utilizing the centrally placed braid as a focal point and braiding round towards a half ponytail, this little girl cornrow style allows some of the length of the hair to be shown whilst also keeping things neat and practical.
14. Half Cornrows
Cornrow braids don't necessarily have to incorporate the entire head of your little girl's hair. Braiding just half of the hair to keep it tamed is definitely an option and can look really cute.
This style is particularly effective as it uses the front half of the hair for the cornrow braids, which keeps hair away from the face and out of the eyes, whilst allowing some hair to be loose (though styled) at the back of the head.
15. One Side Back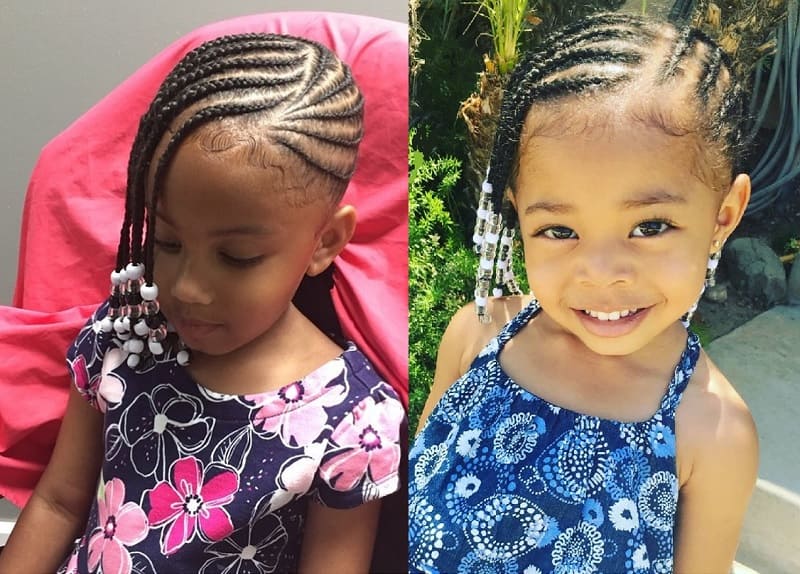 This style is great for keeping hair back, whilst also using some to frame the face; doing so in a very controlled way.
Here, braids are formed so as not to fall forwards and get in your little girl's way whilst still showing it off. The one side being braided backwards gives a very cool, asymmetric finish.
Little girls love pops of color and anything that twinkles or sparkles. Adding color with hair sprays or chalks (no dyes or harsh chemicals for little ones!) and lots of sparkly embellishments is a great way to add individual flair to cornrow hairstyles for little girls.
It is up to you and your little one how experimental you get with this!
17. Neat Lines and Half Buns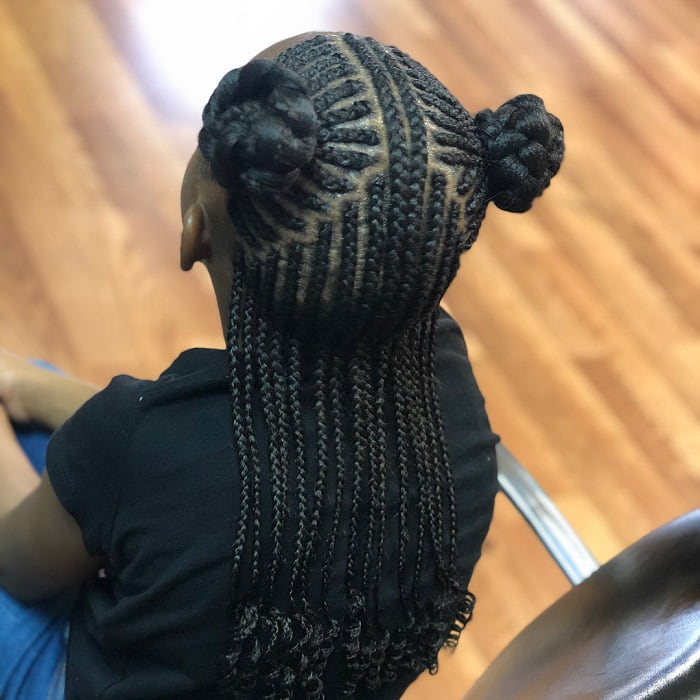 This little girl cornrows have super neat lines and is so aesthetically pleasing if you like clean lines and order!
The two half buns add a sweet nature to the style whilst having the longer lengths at the back may appease your little girl's desire to wear her hair down.
18. Heart-Shaped Braids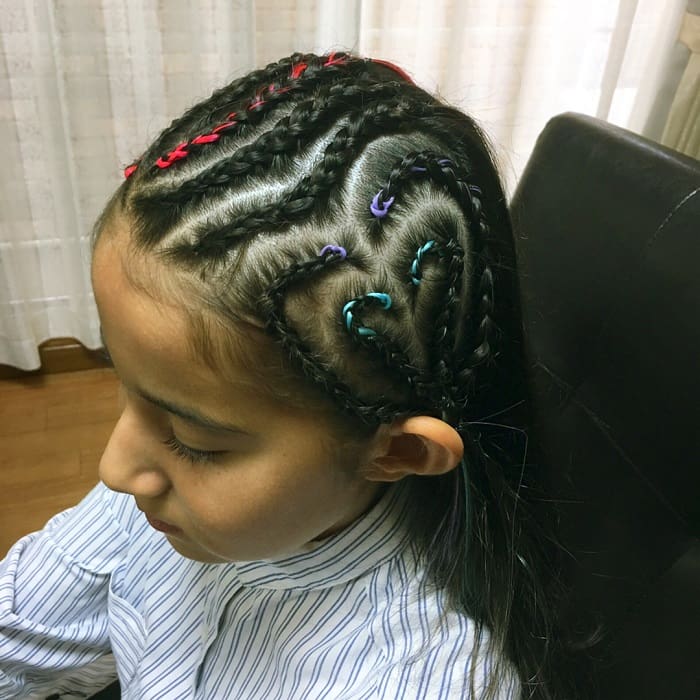 Little girls are notorious for loving all things pretty and that includes hearts! These cornrows have been braided into heart shapes which still keeps them functional but will certainly win the approval of your little girl and her playmates.
19. Hearts to One Side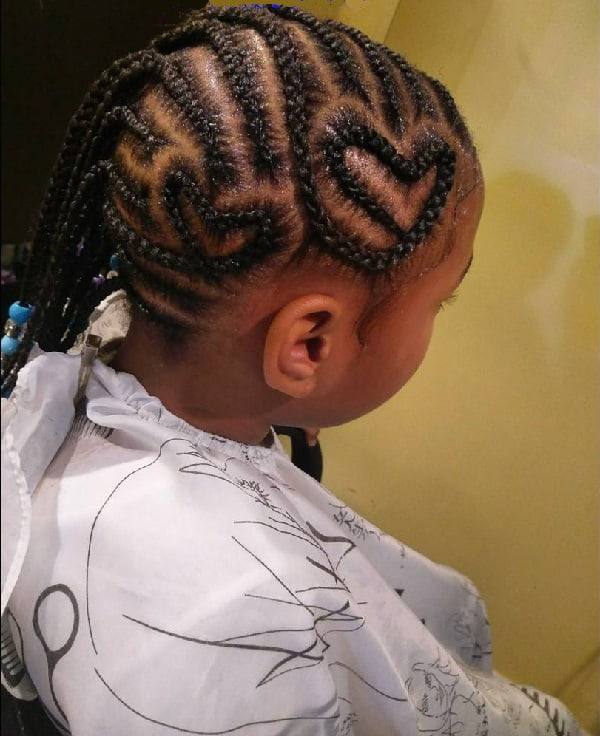 This style also uses the heart motif which is bound to be a winner with little girls everywhere.
However, the braids are angled more towards one side of the head which really shows off the heart motif by making it the point of focus on one side of the head.
This is a sweet way to incorporate a bit of your little one's personality into a really neat, functional style.
20. Heart on Top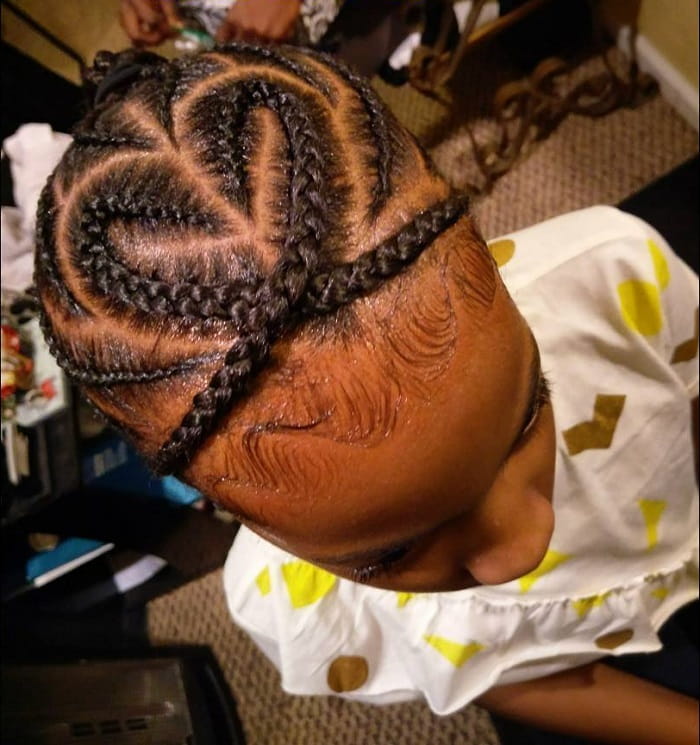 Sticking firmly with the heart-shaped theme, this beautiful style is a real show-stopper when it comes to cornrow hairstyles for little girls.
The intricate crisscrossing of braids as well as a heart shape on top of the head, still keeping hair neat and out of the way for school, sports and everything else your little one needs to do whilst showcasing a bit of her personality.
21. Beaded Bangs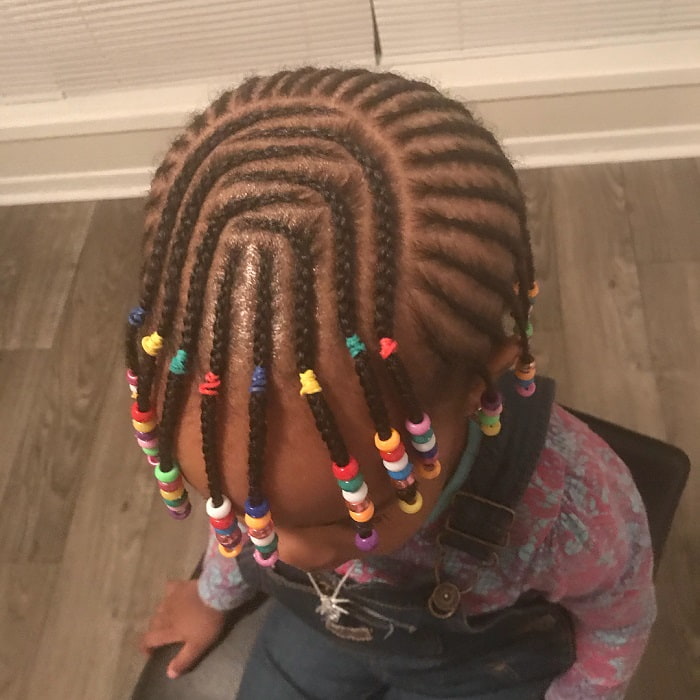 Whilst the function of many cornrows for little girls is to keep hair away from the face, this style seems to reverse that trend, and instead aims to bring the hair forward to create braided bangs.
Finishing with beads and colored elastic adds extra interest and wow to the look and is a chance to show off favorite or important colors.
22. Flower Crown Hairdo
Thin hair is weaved into wide braids to get a distant look. The ends are left stiff, and a huge faux flower is added on top to finish this gorgeous look. It's best for junior or senior prom hairstyles
23. Multi-Row Long Braids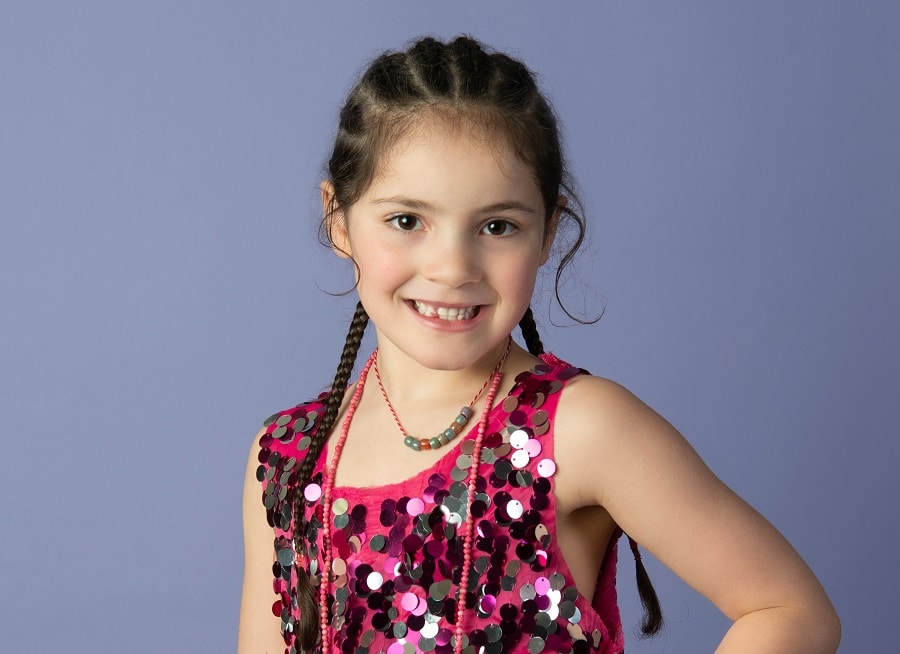 Due to the intricacy of this multi-braid hairstyle, it can be easily done on older kids because they can keep up with the long hair styling sessions.
The good thing about this hairstyle is that it is protective and saves you loads of tension from worrying about your girl's hair all the time.
24. Fulani Cornrows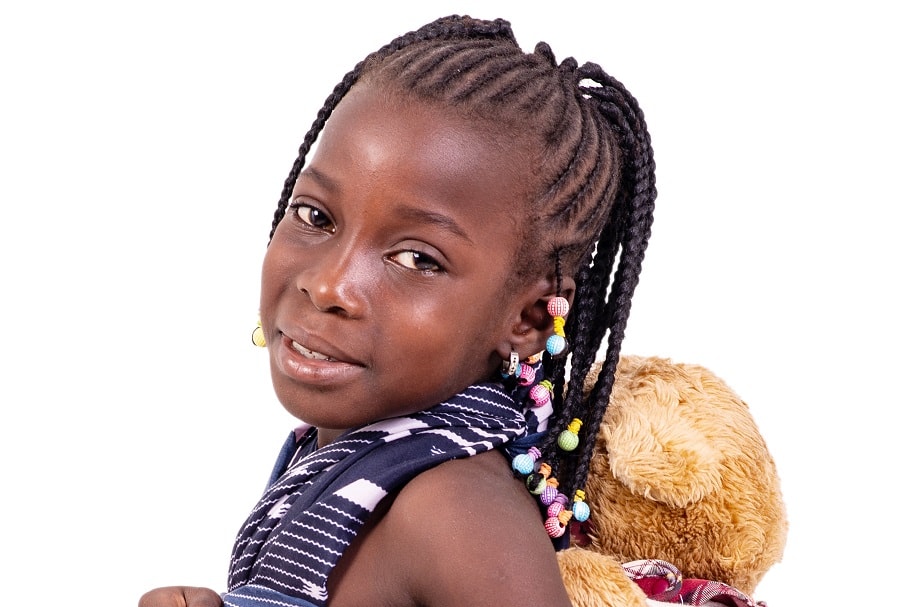 Fulani hairstyles for Lil girls will aid in pulling their hair back tight, preventing it from falling on their face.
This way, your child will have a lot of free time to enjoy their playtime fun. This is a beautiful option to feature designed Fulani cornrows.
25. Designer Rows and Dreadlocks
Combining a little girl cornrow hairstyles with designer skin braids will make a standout look. The patterns on the braids will make the scalp look elegant and pretty.
The loose hair is twisted into dreadlocks to minimize the length. To achieve this look painlessly, add more moisture to the hair. So this will ensure a smooth glide on your girl's hair.
26. Candy Blue Faux Locs
This gorgeous hairstyle will definitely look good on your little princess. Divide the top portion of the hair into three divisions and weave it.
While weaving, it adds faux wool extensions into the braids. Slightly curve the side loose hairs to get a natural texture.
27. Micro Braided Ponytail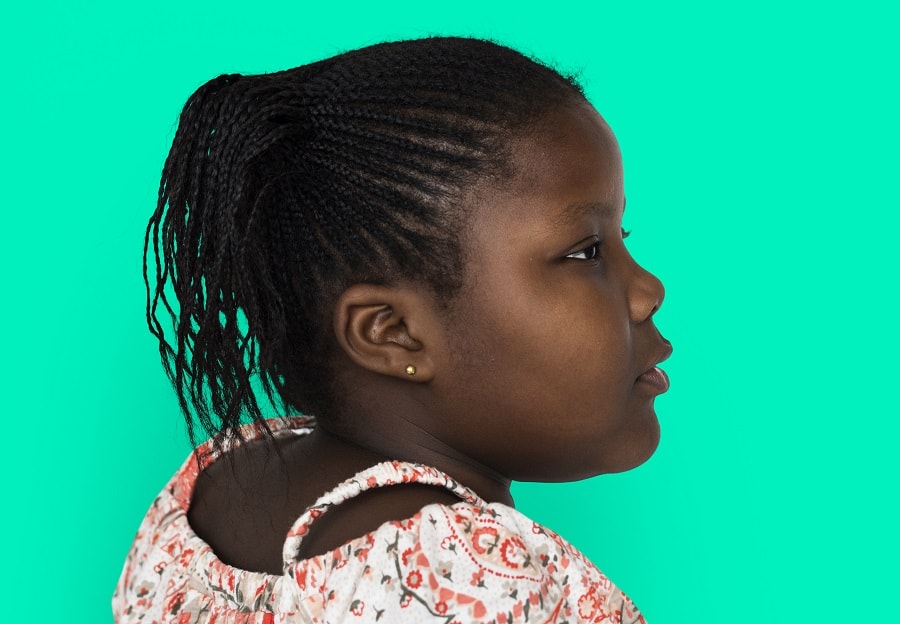 Micro braids for Lil girls are glamorous; try this unique style instead of searching for something cute. The braids are pulled back to create an uneven look ponytail.
This style will also be a nice pick for teen and preteen girls. But, have the hair conditioned well to have a smooth finish?
28. Adorable Natural Pigtails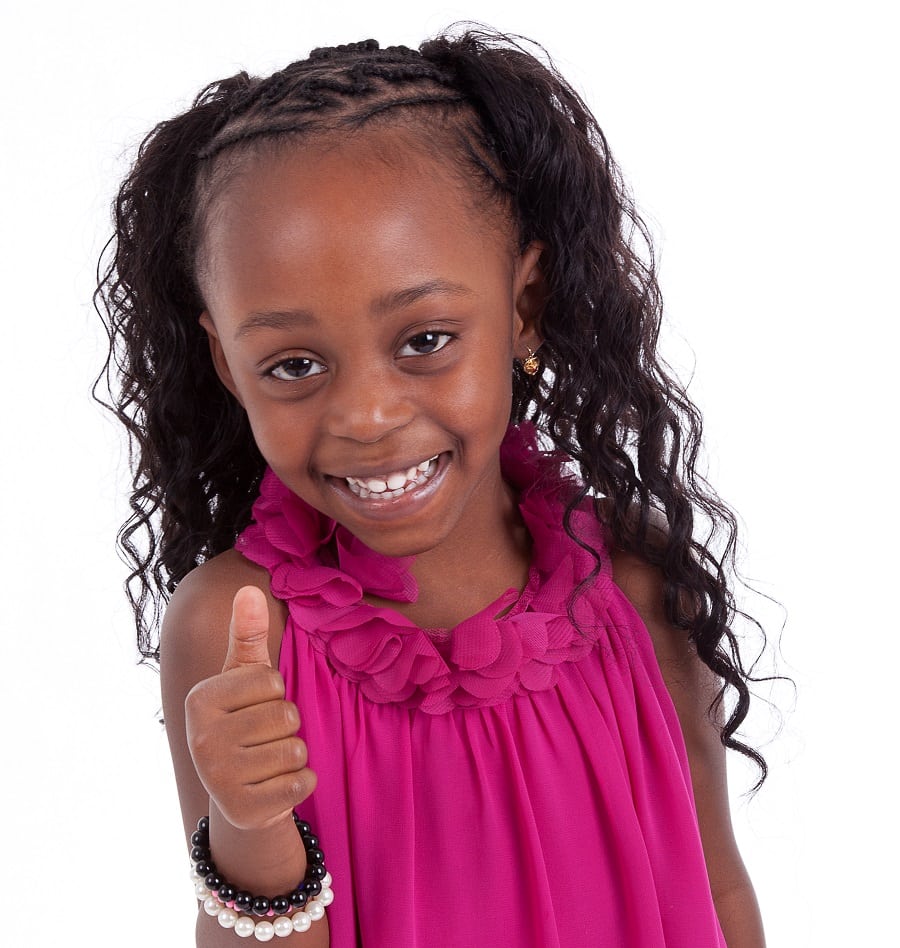 A natural look has real quality and glimmer for sure! If you are an expert on barding, you can try this cornrow style on your girl's hair.
The loose hair is tied tightly into pigtails. These beautiful patterns of cornrows are surely adorable, and your girl will have fun wearing them.
29. Five Bulky Braids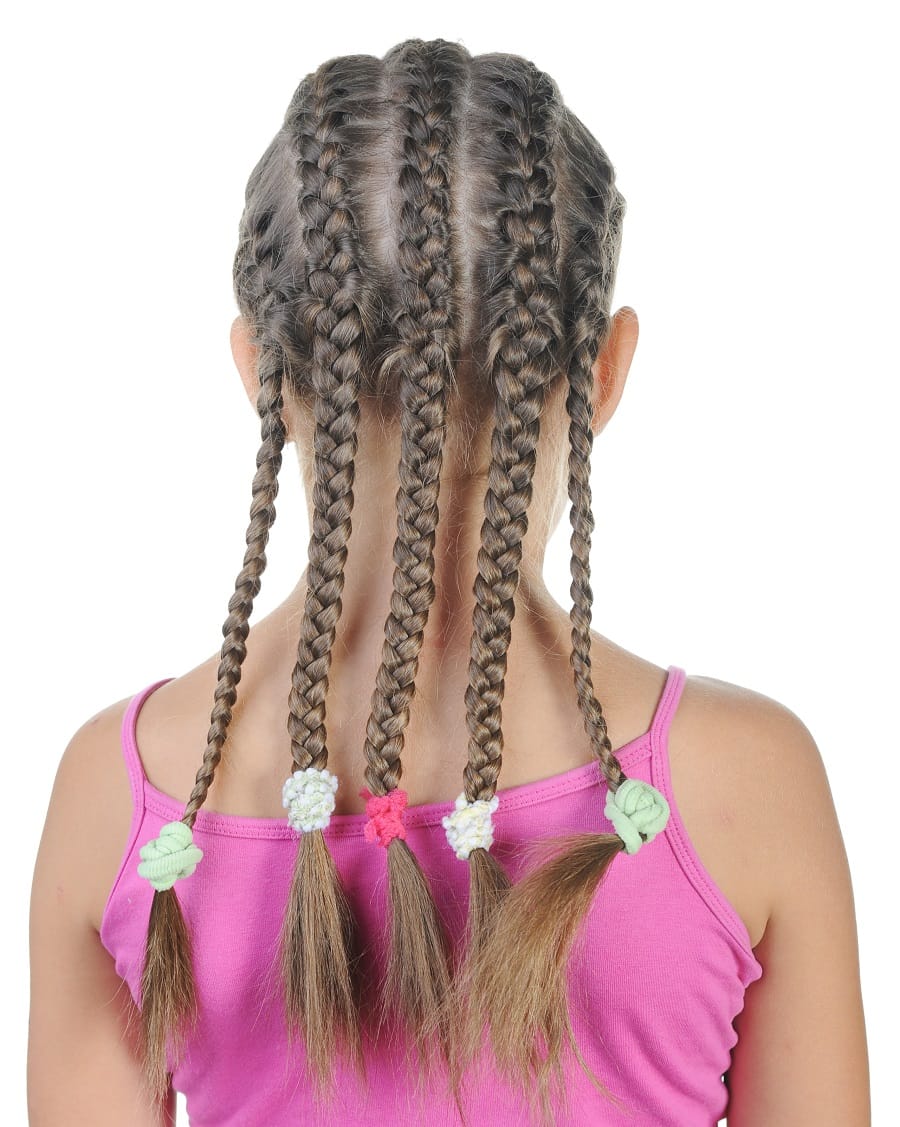 A sleek style will ensure tight closure for your girl's voluminous hair. Section the hair into five equal divisions and do a reverse french braid with each section of the hair.
Pull the braids to get that fuller volume. Continue till the end and secure the ends with big elastics to finish this look.
30. Knotted Braids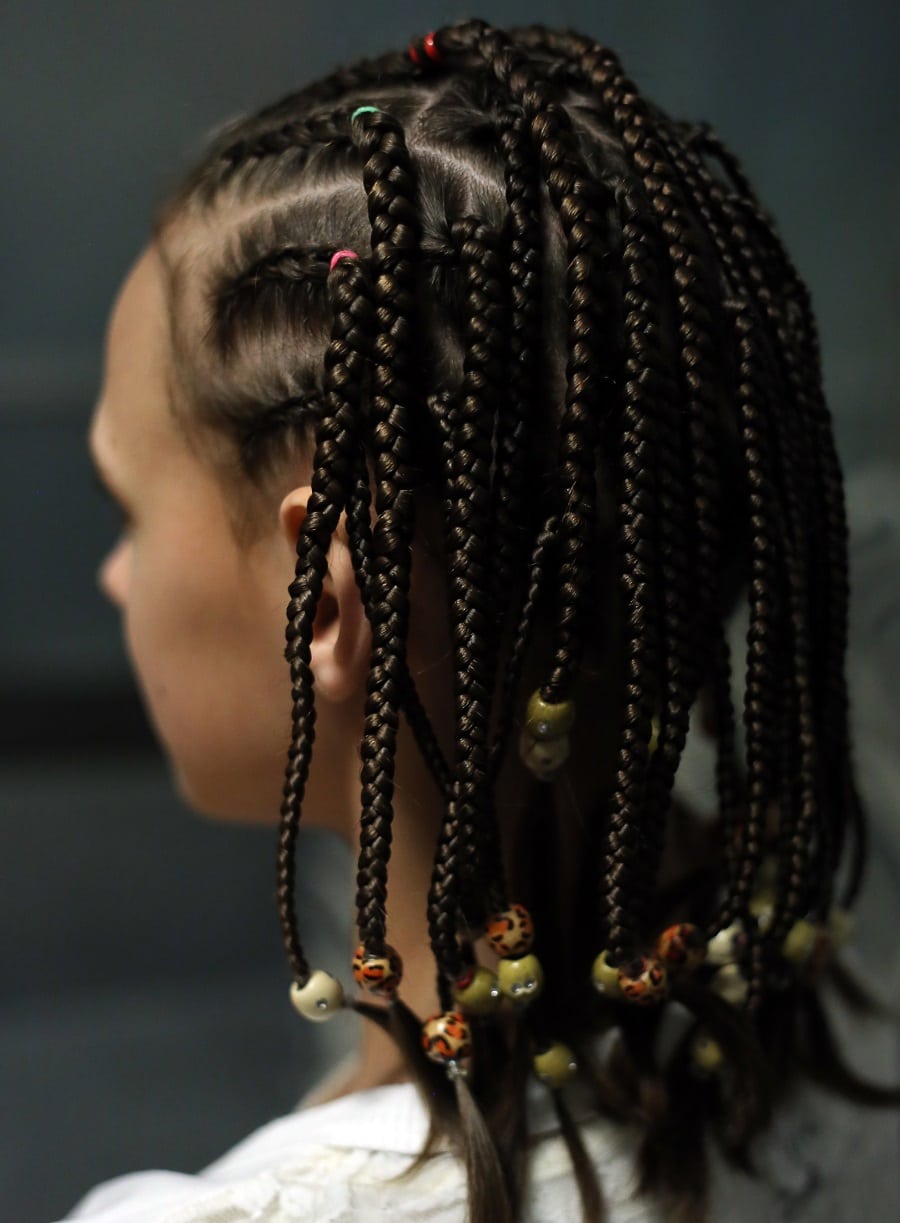 This style is a proper mixture of traditional and modern fashion. The front part is braided as we do the traditional skin-tight braids, while the back of the hair is started with knots.
The hair is probably oiled or has loads of serum or gel to have that sleek and neat finish. Then, printed beads are added at the end to highlight the braids.
Little girl cornrow hairstyles require nimble fingers and intricate weaving techniques but if you can achieve them, or pay a stylist to! then they are a very practical, wearable, and adaptable style choice.
With so many different styles to choose from and an array of possible embellishments, it's pretty easy to find one to suit your little girl.