Bun hairstyles for little black girls look so stunning. Too full, too wild, difficult to tame, all over the place, these and more colorful terms have been used to describe the black girl's hair. Little girls' hairs are even more tedious to style, especially when braiding is no longer an option.
Black girls have gorgeous hair which can be difficult to style, packing a bun is thus an essential skill a mother ought to have in handy.
Beautiful Little Black Girls Bun Hairstyles
Knowing how tricky packing a little black girls bun hairstyle can be, we have selected 10 lovely styles to help you give your little princess a lovely look, ready for any occasion. Here they are;
1. Royal Braided Bun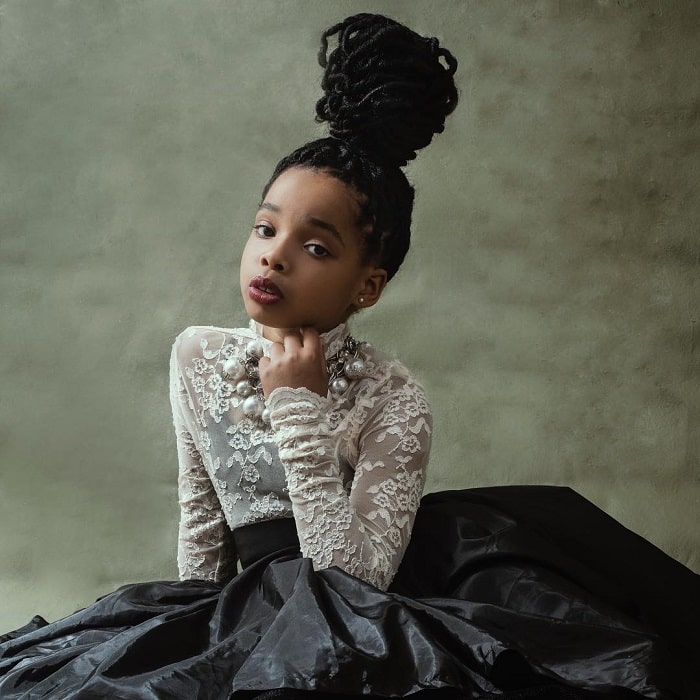 This royal looking bun style for little black girls is certain to give your daughter the look of the queen that she is. It is not an everyday hairstyle. It is most suitable for parties and elaborate outings. When tired of having her carrying the same braid look over and over, this is certainly the best way to switch it up and it will change her look entirely.
It is simple to achieve and only requires that her hair is already braided, then the braid is bound to form a ponytail at the top of her head, the ponytail is then wrapped around itself until the last strand is tucked in… and she is good to go.
Delightful Little Girls Haircuts with Bangs
2. Cute Space Bun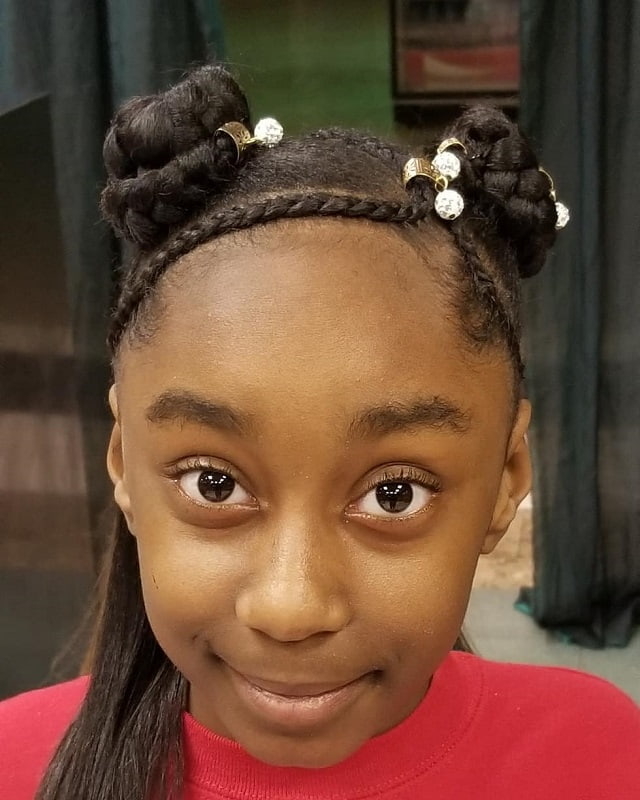 This sweet look is very simple and can be achieved by braiding two strands of the front hair all the way to the back, sectioning the remaining parts into two, plaiting them into long strands, and then wrapping them till they both form a nice Bun (extensions can also be used).
When done, the two-way braid bun for little black girls can also be adorned with different pieces of jewelry of choice, and your baby is ready to go!
3. Colorful Double Bun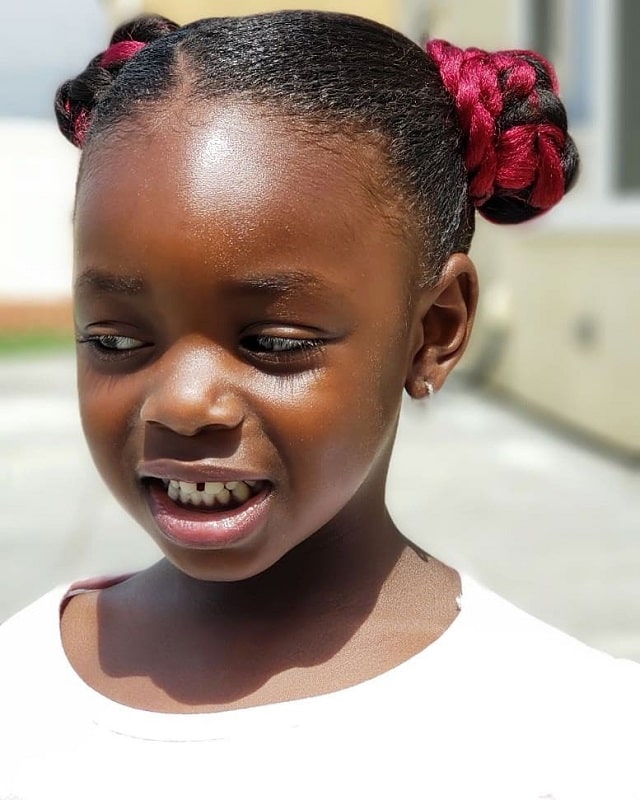 This lovely style of braid bun is very similar to the second look except for the frontal braid and the color. It is very easy to achieve and only requires dividing her into two parts and then wrapping the braid strands around themselves. It is also necessary to gel the hair, especially if it's all natural and a bit coarse to achieve a sleek look.
4. Afro Hair Bun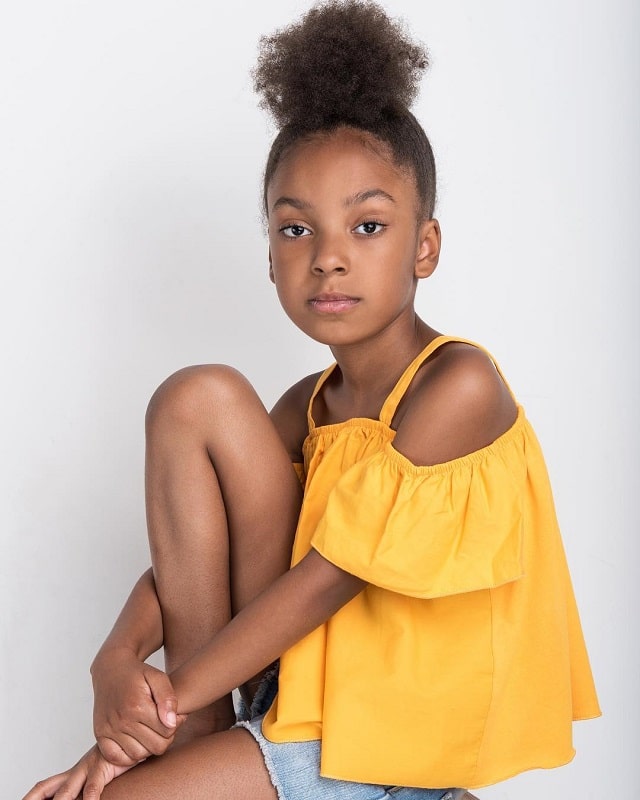 This simply gorgeous afro hair bun style can be achieved with the least effort: simply pack up the hair to the front and do some picking and a bit of scattering to the bun and your princess Is ready. This little black girls bun hairstyle is most suitable for simple outings like playing in the park, visiting or any kind of indoor outing.
5. The One-Sided Bun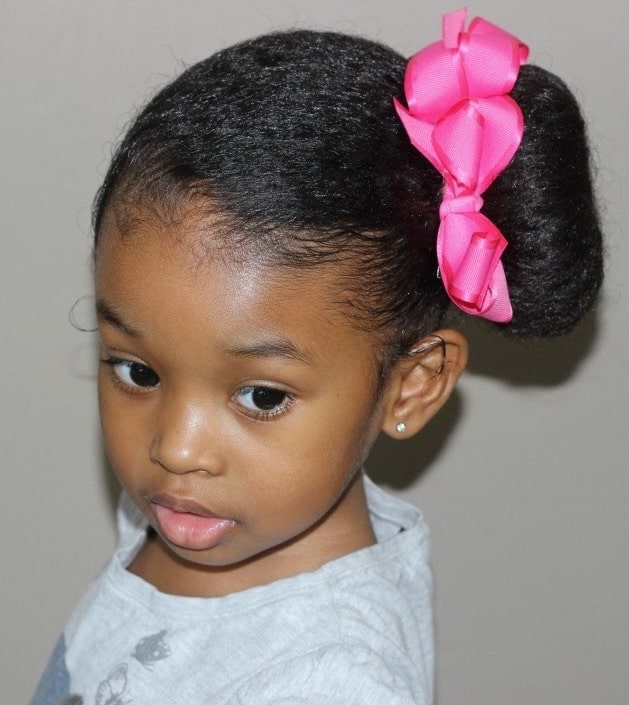 This gorgeous looking bun on black little girls hair is extremely elegant in its simplicity and is bound to give your baby girl the perfect sweet and angelic look. Again, it is advised to use get on all sides to avoid rough looking hair. Adorning bun with a hairband, bow or even colorful pins makes this look even better.
6. Multiple Twisted Bun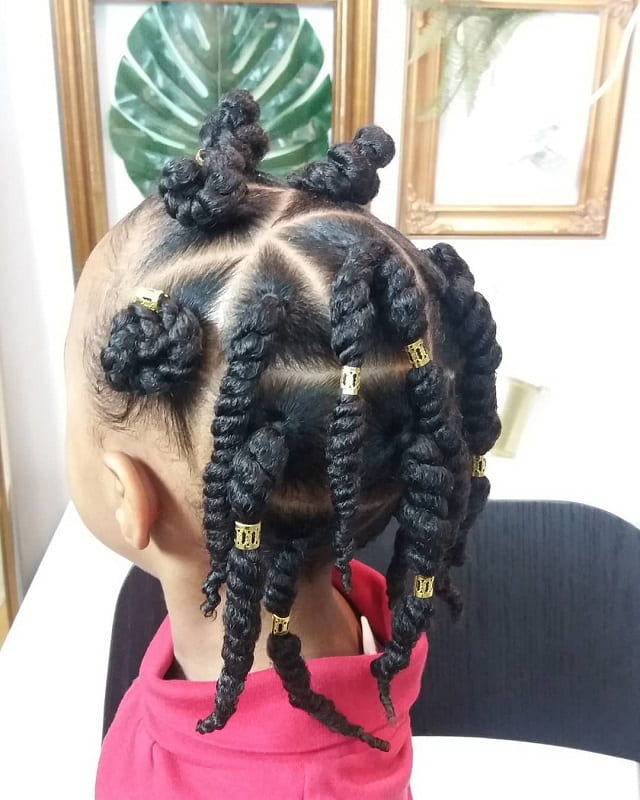 This lovely, princess looking bun is much easier than it looks and promises a very beautiful hairstyle for black baby girl. All you have to do is part the hair into different sections, twist and then wrap each twist around itself, and there goes your little princess, ready for her best friend's birthday party. Some adornment will be good for the look too, depending on the occasion.
7. Top Knot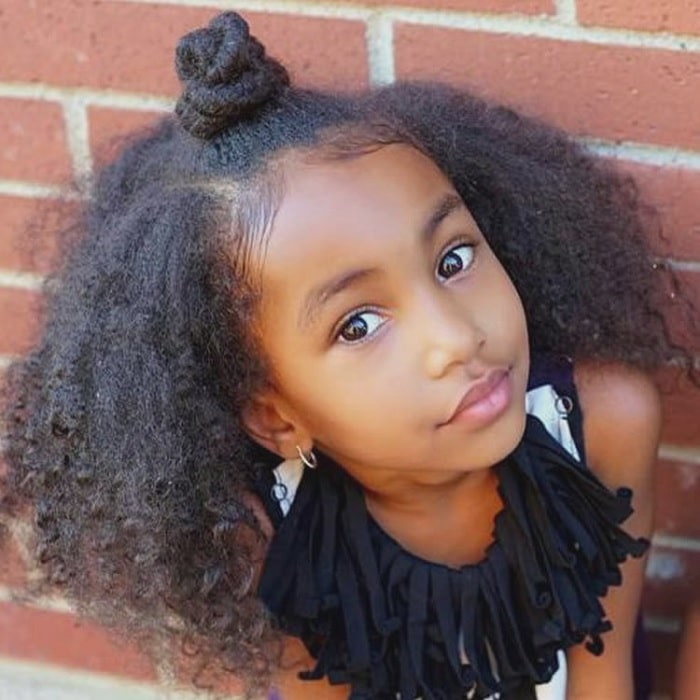 This black little girls with bun hairdo is as gorgeous as it is simple. Mostly for little girls with curly hair and especially long, lustrous hair. It can be achieved by dividing the cut-out front section into two or three parts and then twist them together to form a hook-like bun, while you brush the rest of the hair free.
8. Cornrow Bun
Cornrows are beautiful on their own, but to stop it halfway and wrap up the undone part in a bun? It's simply breathtaking. And the cornrows can be styled in varying beautiful patterns that suit different faces and are fit for different occasions.
The how-to of this look is as simple as it looks: divide the hair into the desired number of cornrows to be made, plait the divided parts halfway, comb up the rest and join them together in a beautifully wrapped bun with the cornrow tails.
9. Half Up Half Down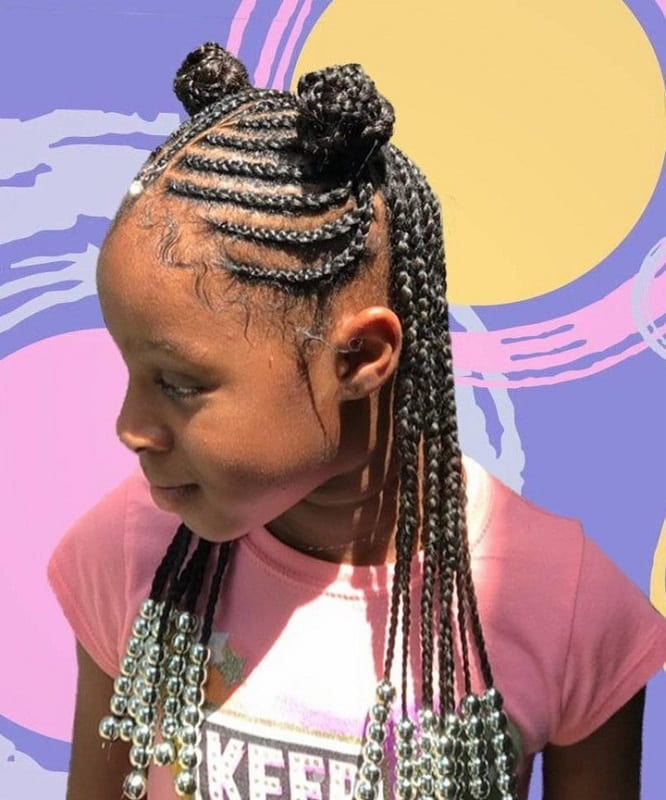 This bun for little black girls is very similar to the previous except for the fact that the remaining unplaited halves of the cornrows were braided long. Long hair is not necessarily required for this look as it will be just as perfect if extensions are used.
And bead adornments never go wrong on a little baby girl. It is therefore important to keep plenty and keep them near because they can be needed anytime.
20 Stunning Hairstyles for 9 and 10 Year Old Girls
10. Bow Bun
This most gorgeous bow bun is a showstopper any day. It is most suitable for little girls with long and full hair.
It always, always come through and very easy to make: pack up your daughter's hair in the middle part, bind it up with the ponytail, then you divide the ponytail into two parts and finally, wrap the unbound tail of the ponytail over the midpoint of the divided bun… and voila! You have the cutest Minnie mouse in your house.
This little black girls bun hairstyle is most suitable for big parties or even fashion shows.
So, if you've been looking for the perfect way to style your little black girls bun hairstyle or you're looking to try new things or you just want the best way to show off her gorgeous hair, either with a bit of drama or the sweetest look, we hope you get an inspiration for it as you looked through our selected bun styles.
They are suitable for all kinds of hair and little variations can be made here and there to achieve the most outstanding look for your princess. Enjoy!