Finding cute and adorable toddler girl haircut with bangs should not be an issue at all. However, some mothers or fathers do have trouble selecting the best haircut for their toddler girl – simply because there are too many adorable hairstyles to choose from!
To help you out, we have selected the top 10 toddler girl haircuts with bangs for you. Hopefully, this will make your decision-making process much easier!
Most Adorable Toddler Girl Haircuts with Bangs
"Why bangs?" You might ask. There are several reasons why we chose haircuts with bangs as our focal point in this article. For one, haircuts with bangs on toddler girls will keep them less fussy. Bangs above their eyebrow levels typically means fewer moments of hair slipping into their eyes, irritating or causing itches to them.
Most parents also want their toddler girl to look bright and happy instead of the gloomy looks that long fringes are usually associated with. Without further ado, let us take a look at the toddler girl hairstyles with bangs below!
1. Short Bangs with Short Hair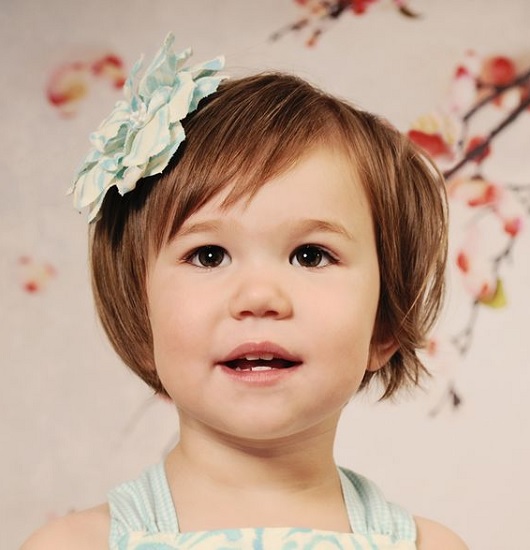 This is one of the simplest haircuts with bangs for toddler girls that there can be. You only need to cut the fringe short – just a little above the eyebrow level. As for the rest of the hair, you can cut it into a neat little crop above shoulder length.
A short haircut to go along with bangs is a low-maintenance style that is suitable for little girls of all ages, and so should be among the first few choices for parents all around!
2. Curly at the Back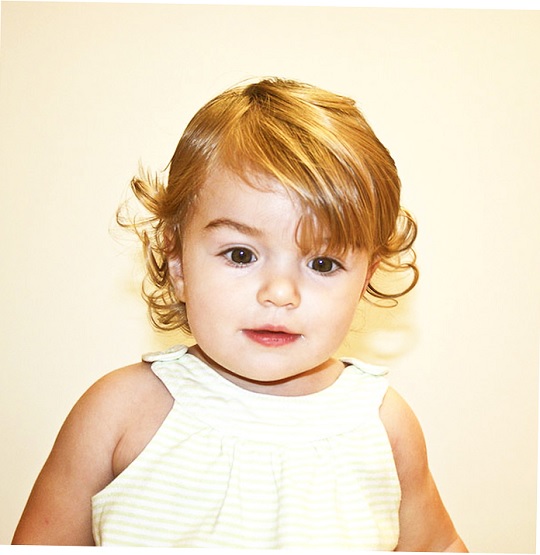 You can have straight bangs at the front and curls at the back – there's no fashion police telling you that you can't do so! This toddler girl haircut with bangs could be just what some parents are looking for if they do not want the plain short haircuts but doesn't want a hairstyle that is too flashy either.
Give your toddler girl a temporary hair perm and see how it turns out! If you like it, you can consider getting a more long-term curling solution.
Mesmerizing Toddler Girls Curly Hairstyles
3. Like a Korean Doll
Short, loose curls will look simply adorable and lovely with the side-swept bangs to match! Toddler girls wearing this hairstyle will look like they came straight out of a childhood fairy tale – an unmatched beauty for all other toddlers in the kindergarten!
Indeed, parents who are able to give this beautiful hairstyle for their toddler girls are super lucky since not everyone can pull it off!
4. Long Bangs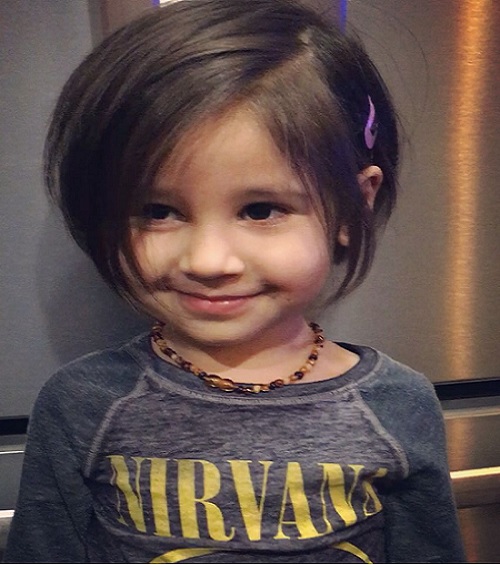 You can have long bangs that still won't disrupt your little toddler girl's vision! This picture above is a prime example of such hairstyles. By allowing your little girl's fringe to grow a little longer and sweeping it to the side like this, the bangs would frame her little face perfectly – even better for round faces!
5. Just A Few Layers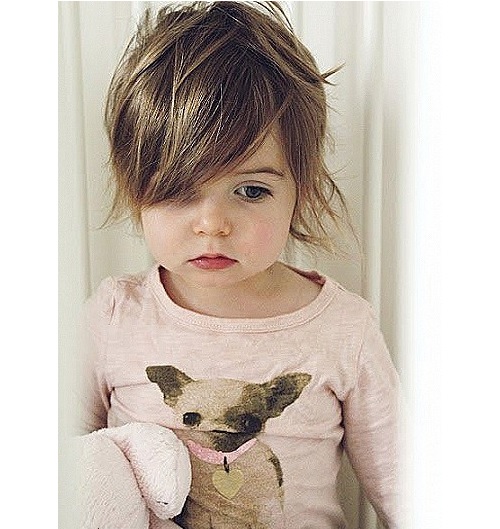 Bangs aside, you can also create layered cuts for your little girl. Hair layers will create a textured look which gives an extra thickness boost for your child.
While the bangs in the picture above is a little long, you can create layered cuts with a different length – one that suits your hair length preference the best. However, it's worth noting that usually, a longer fringe works better for layered cuts.
Adorable Black Baby Girl Hairstyles
6. Side Bangs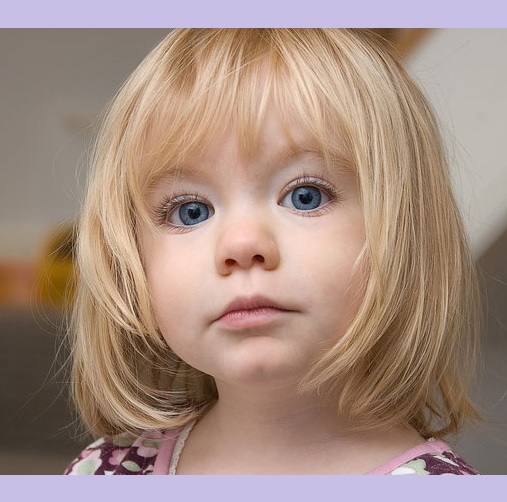 Simplistic bangs too plain for you? Enhance your short crops with side bangs as well! Typically, side bangs are a little longer than the front bangs so that they can frame your toddler girl's face shape better. You have to admit, side bangs do enhance the toddler girl's facial features by leaps and bounds!
7. Almost Boyish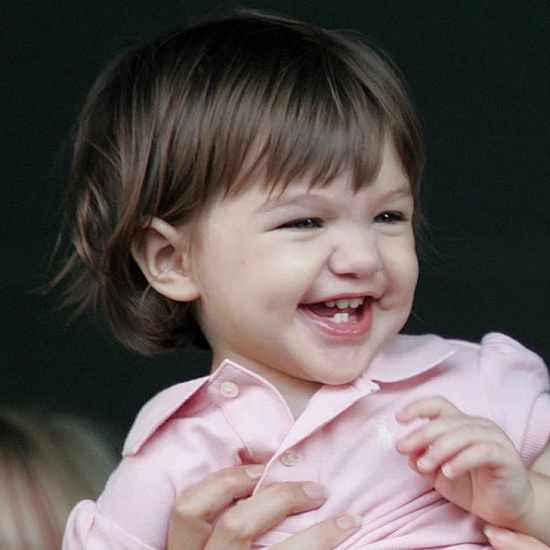 This hair length is almost similar to a toddler boy's, but it can still be a good option for a toddler girl bangs hairstyle! The bangs in this hairstyle is above eyebrow levels, and there is also enough hair at the side to be swept neatly behind the ears – a neat and lovely hairdo for any toddler girls!
8. Loosely Tied Up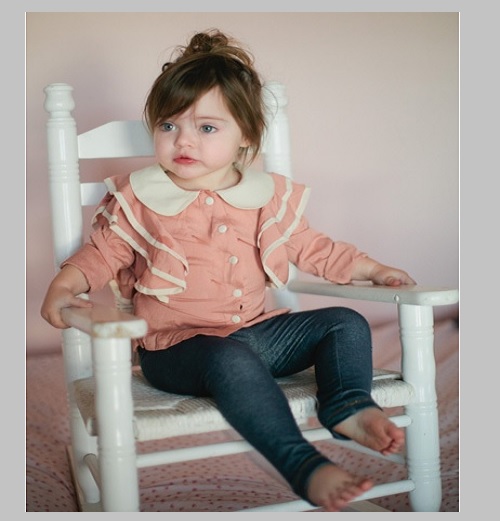 Mid-length and longer bangs go really well with the long hair tied at the back! The best thing about these longer bangs is that you can tie your hair up n a messier way and it would still look good.
This is because the bangs are meant to look as natural as it can be! Parents looking for a natural-looking hairstyle with bangs for their toddler girl can opt for this one if they so wish.
9. Short Bangs with a Bun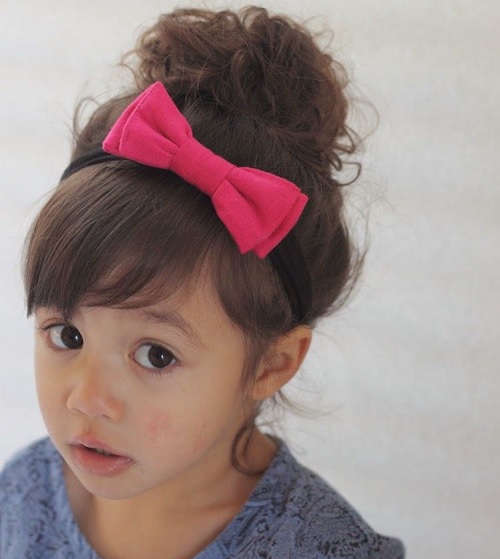 Yet another elegant toddler girl haircut with bangs to consider, this one features a casually-tied up bun at the back! Paired up with a hairband like that, does this toddler girl hairstyle note remind you of the 80's popular beehive hairdo?
Well, newsflash! This style still looks super good on toddlers even in this era! Why not try out this hairstyle with bangs for your toddler girl?
Cute Indian Baby Girl Haircuts & Styles
10. Like a Bowl Cut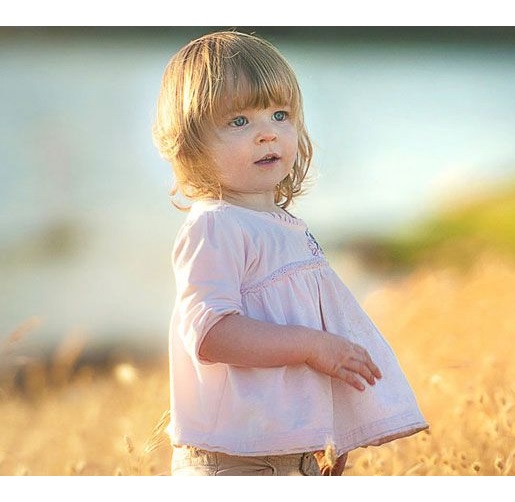 If you prefer the traditional kids' cuts, you might want to resort to cutting bangs in this style. Toddler girls with a bowl-cut style bangs look like good little girls, all prim and proper. The little curls around the back just make the little girls simply too adorable not to love! Is this a hairstyle with bangs that you will consider for your toddler?
We have presented you with a total of 10 toddler girl haircuts with bangs for your reference. Among these haircuts, which one did you like best?
You can let us know in the comments section below, or add your own remark as you share this post on your social media! If you want to keep up with the latest hairstyle suggestions for little kids, keep our page bookmarked for more!