If you want to make sure that your little girl looks the part for an upcoming wedding, graduation, or party, then consider one of these little girl updo hairstyles. They are a great way to ensure that she looks and feels her best! As fancy events require fancy hairstyles.
Adorable Updo Hairstyles for Little Girls
Our experts have compiled 25 most gorgeous updos for little girls to get a perfect hairstyle for special events.
1. Top Bun with Flowers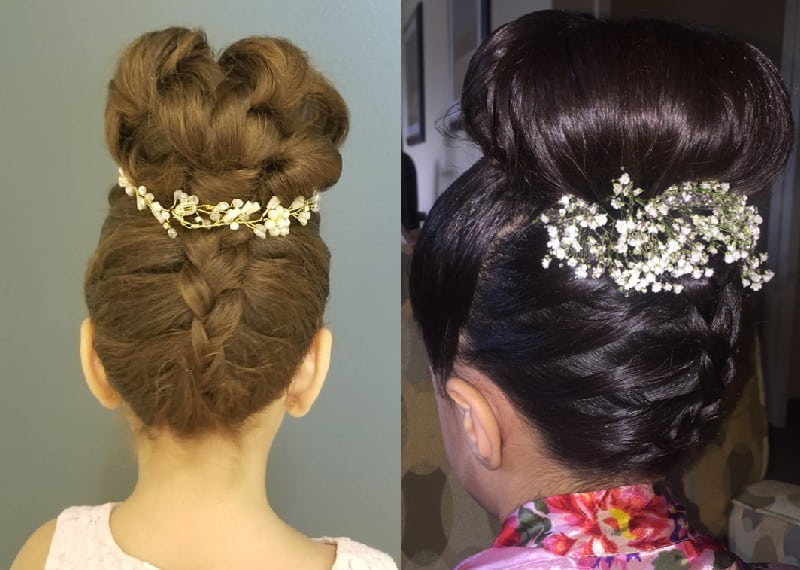 A full top knot, no matter if it is braided or not, looks great when embellished along the bottom of the bun with flowers. The flowers can easily match the color of the dress, which is something that makes this little girl updo stand out and look like it is perfectly suited to the event.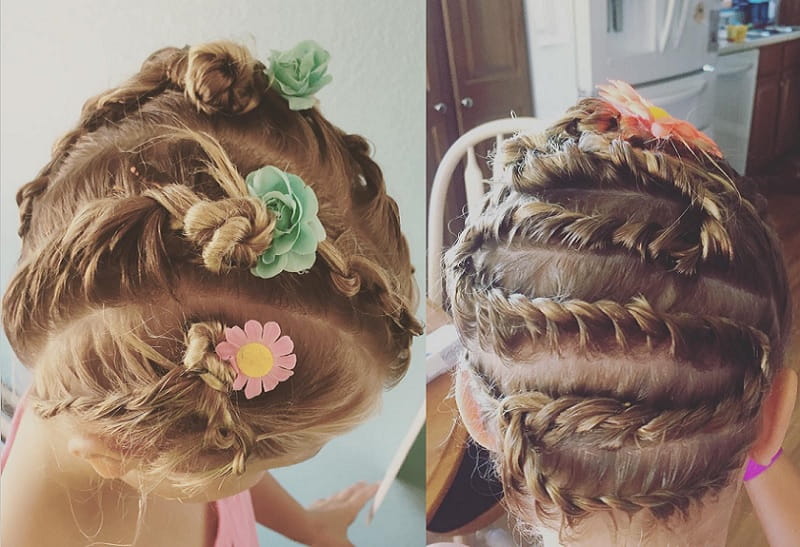 Instead of opting for just one large braid, this is a popular updo for baby girls that relies on the visual impact that a lot of smaller twist braids will provide. Feel free to add a flower to the top, if desired. By crossing the braids along the back of the head or up to the back it creates a lot of visual interest.
3. Crown Braided Updo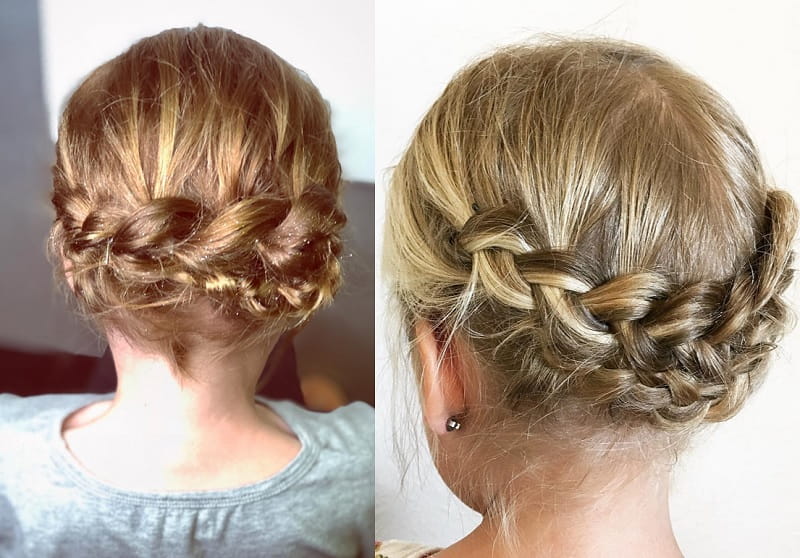 A low crown that is braided across the back of the head is one of the most popular little girl updo hairstyles, as it keeps hair off of the neck and out of the face, but still looks updated and modern. This is a wonderful style for little girls of all ages.
4. Upside Down French Braided Updo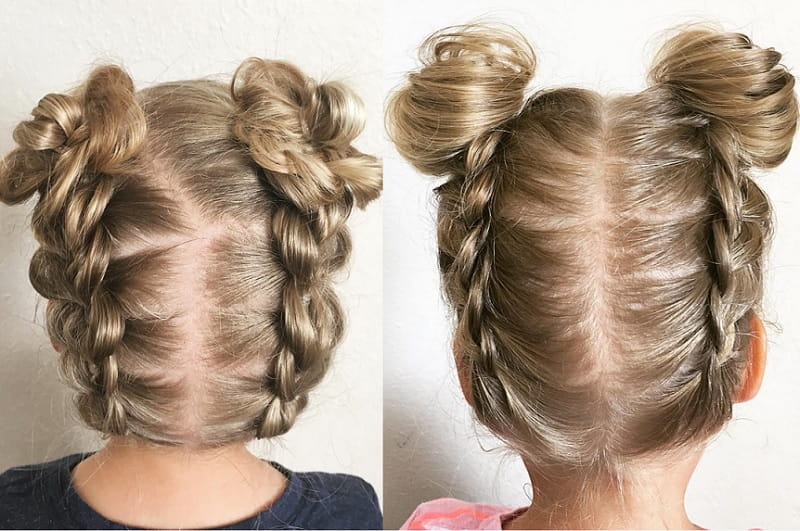 French braids that go up and end in pigtail buns are a fun and exciting take on traditional braids. These are a great way to keep the hair out of the way and still allow the girl wearing the hairstyle to showcase a little of her personality.
5. Braided Bun with Flowers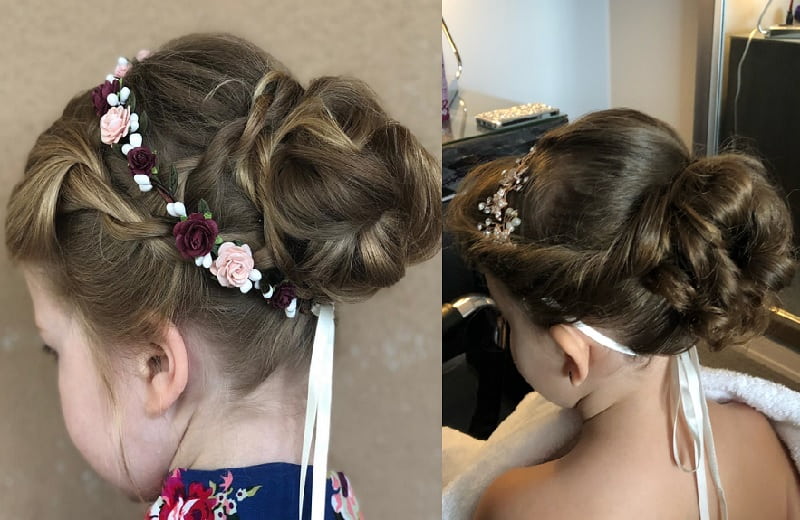 A full bun on the back of the head looks amazing when it is made from a full and fluffy braid, but even more so when it is embellished in a crown of flowers. The color, size, and type of flowers used will play a huge role in how this hairstyle looks and how grown up the girl looks.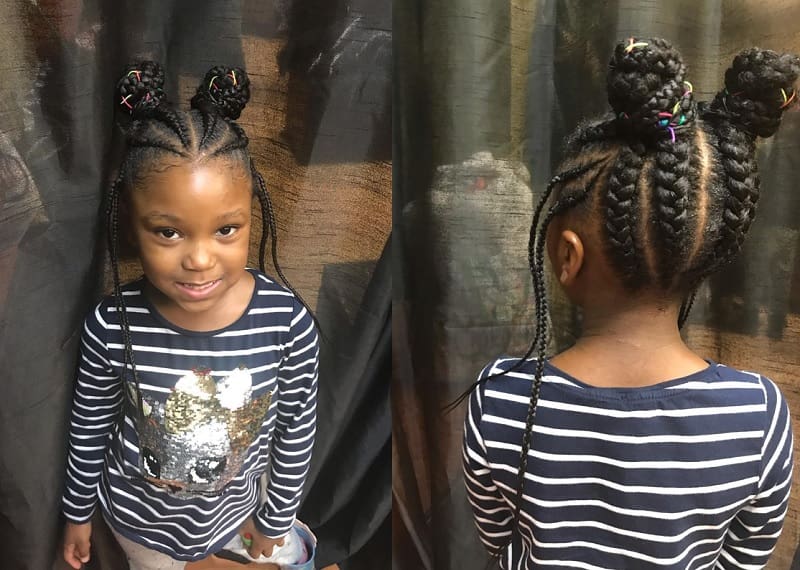 Topknots made from braids look interesting enough, but allowing some of the braids to hang free around the side of the face is very attractive. This also gives this little black girls updo a little movement and prevents it from looking stiff and uncomfortable.
7. Full Bun with Braid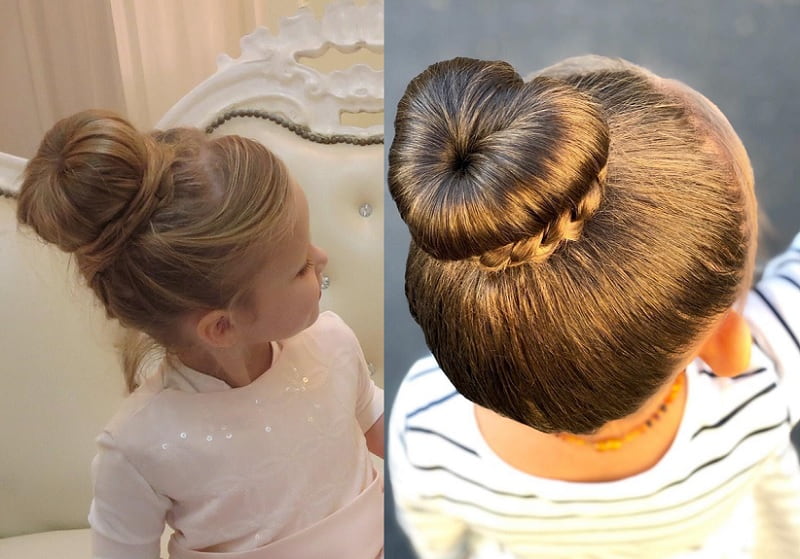 A fun bun that is sleek and elegant looks amazing when wrapped with a braid to hold it in place. For a little extra interest, consider styling the bun in the shape of a heart, which helps to elevate this updo to something that is a bit more special than the average bun.
8. Bow Bun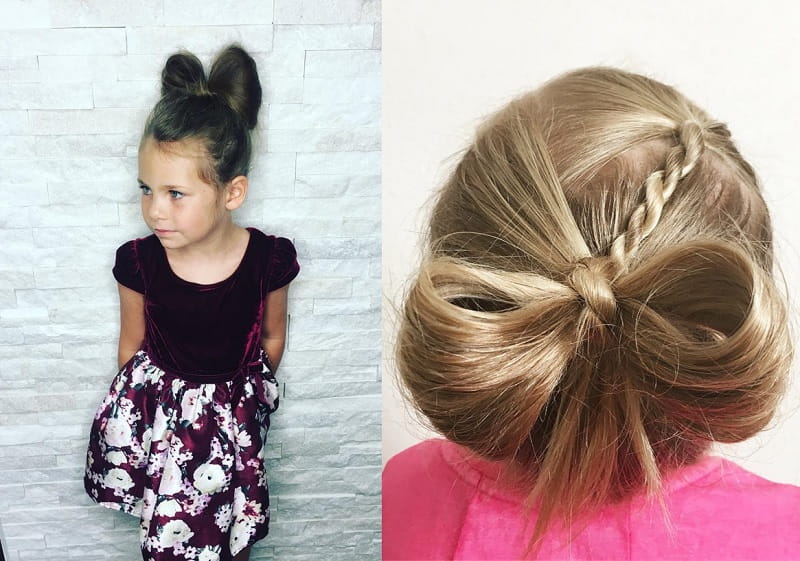 A hair bow is one of the most popular little girl updos that you can do. Making a bow from her hair takes a little effort, but the result is worth the work. Add in a few braids or twists to really make the style pop, and make sure that the bow is at the right spot on the back of the head.
9. Looped Bun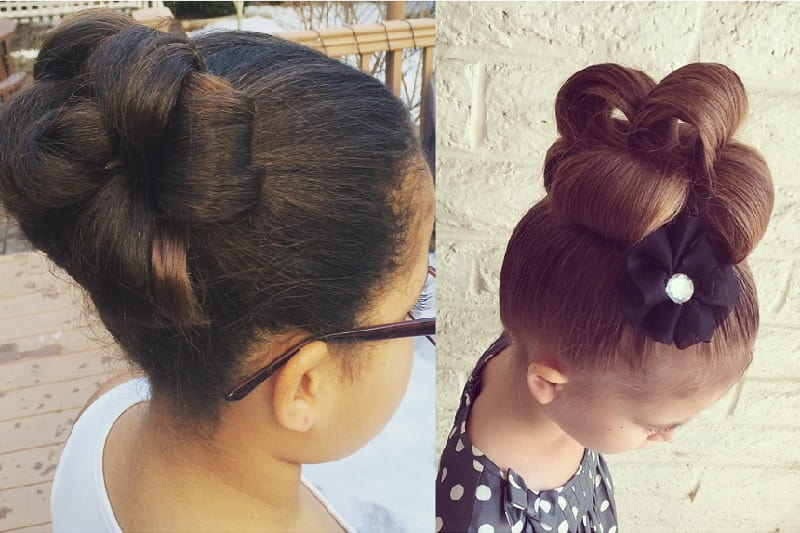 A looped bun is a lot more interesting than a plain one. These loops need to be stiff enough to hold their shape during the event so that they don't fall flat. Loops are fun and will make any updo seem a little more exciting while remaining appropriate.
10. Twisted and Braided Mohawk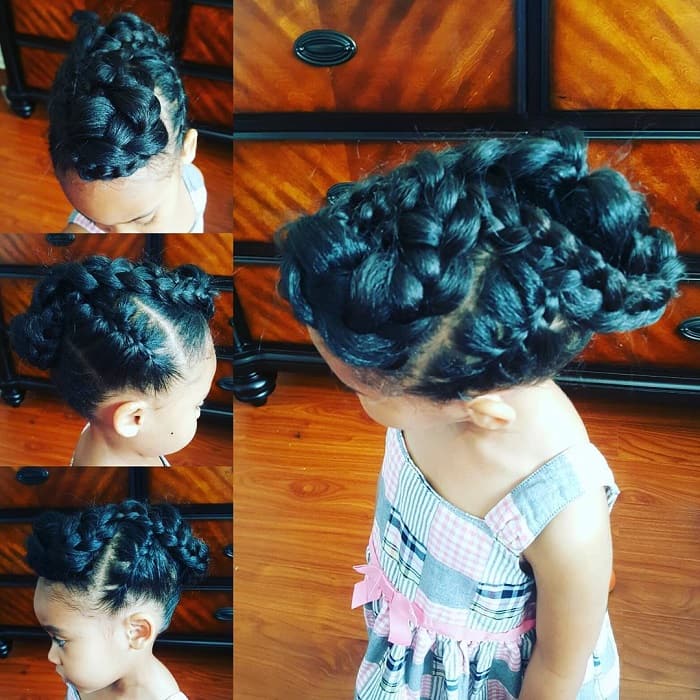 Lots of twists and braids look amazing when piled on the top of a little girl's head, and this updo is great because it looks impressive without appearing as you tried too hard. Consider a front and back bun with braids of different sizes for a great look.
11. Wispy and Whimsical Bun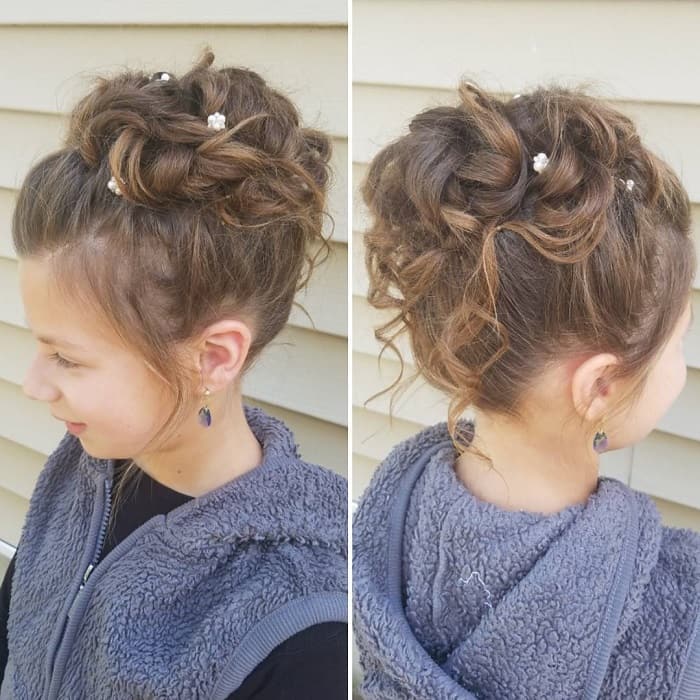 Any loose top updo can look whimsical when some pieces are left to fall loose around the face and they are curled. Adding in some tiny flowers to help hold the style in place allows it to look natural and put together without appearing to be too formal.
12. Half Twisted-Half Bun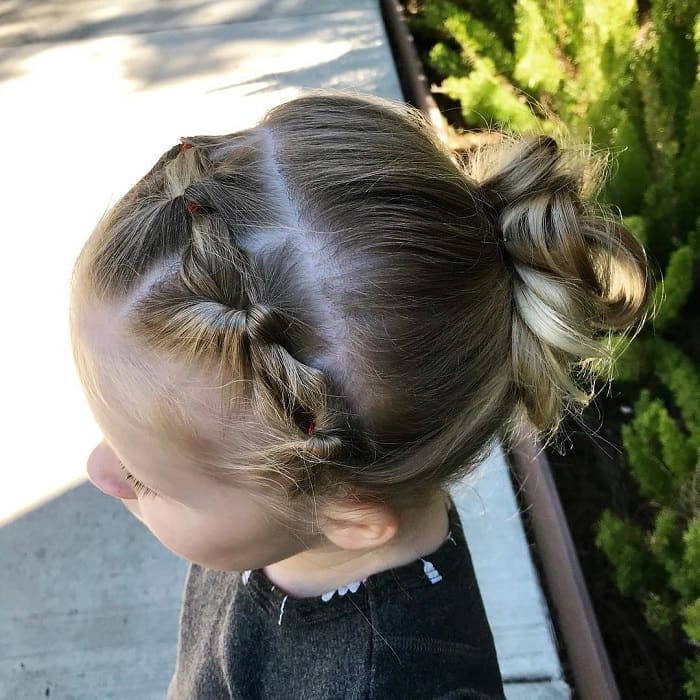 Twisting the front half of the hair and braiding it along the face to keep it out of the way and then putting the rest of the hair in a bun ends up looking really elegant. This is a fun style that is ideal for little girls who have shorter hair.
13. Delicate Twisted Crown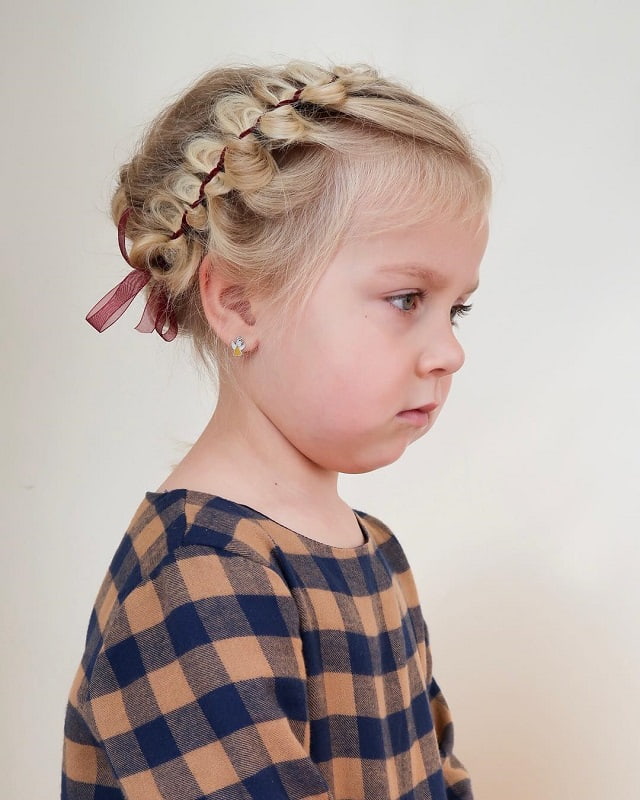 Longer hair can be twisted and pulled into a delicate crown that frames the face, and then the ends of the hair can be swept up and pinned against the back of the head. This fun updo hairstyle makes the little girl look very grown up and won't easily fall out.
14. Upside Down Braided Updo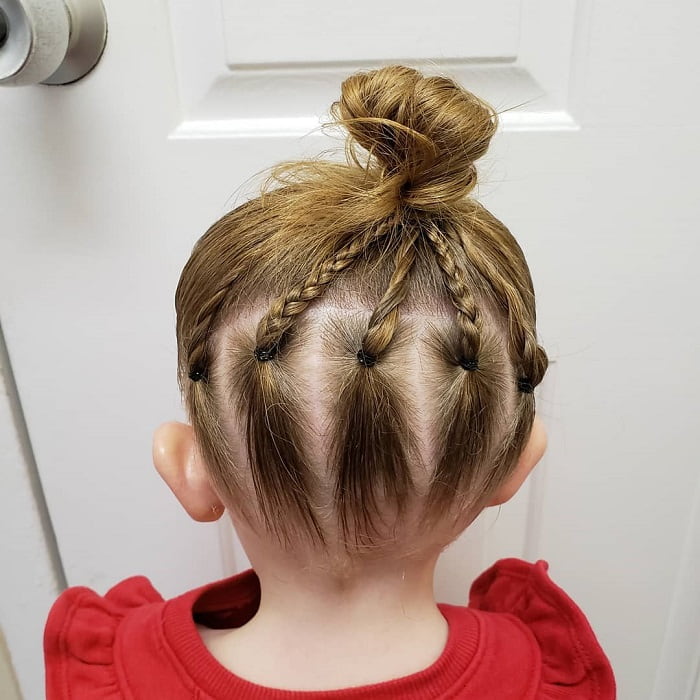 A bun on the top of the head looks more elegant when there are small upside down braids leading up to the bun. These tiny braids are a great way to collect and contain shorter pieces of hair that may escape from the bun.
15. Triple Buns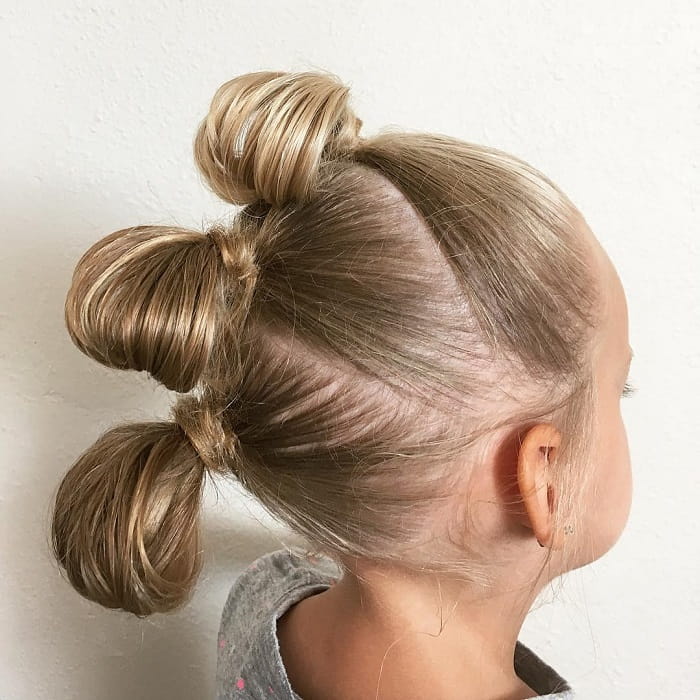 One of the most modern little girl updos that you can make is a triple bun. Three buns down the back of the head create an updo style that is unique, but still appropriate for special events, as well as for playing in the backyard.
16. Loose Back Braided Crown
A loose braid that slings low across the back of the head is a wonderful way to keep long hair pulled up and contained in an updo without looking too severe or serious. This little girl updo looks great when done on thicker hair, as it ensures that the braid is full and attractive.
17. Braided Side Buns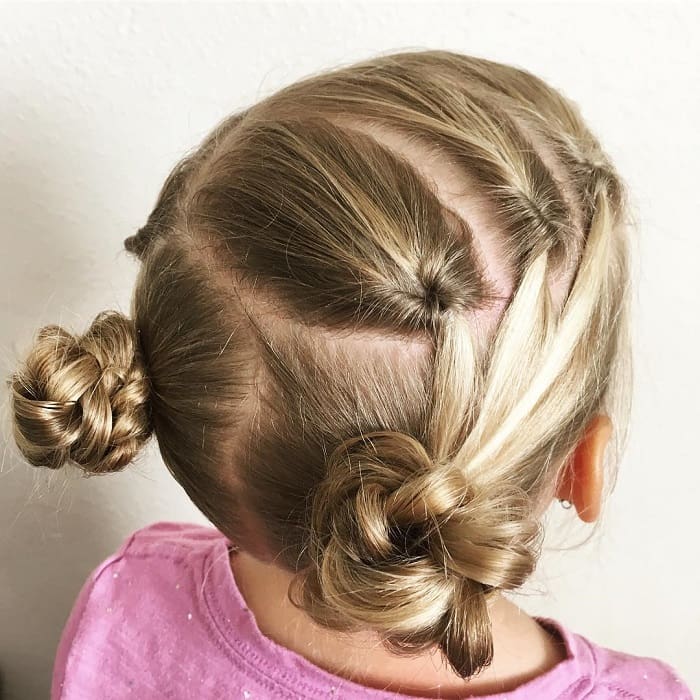 Lots of braids and twists across the top of the hair that lead into low pigtail buns will keep hair contained and off of the back of the neck. These side buns look especially interesting, thanks to the braids and how they loop around and add volume to the buns.
18. Criss-Crossed Braided Side Buns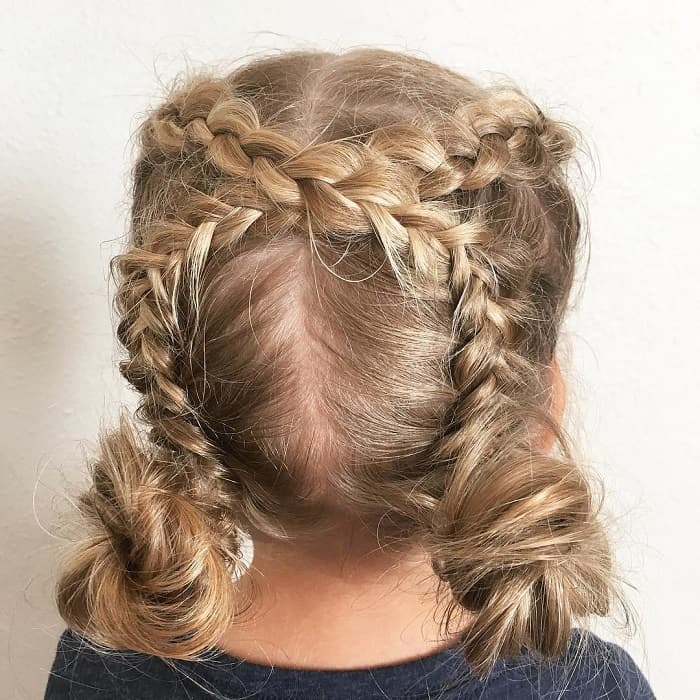 A braided X on the back of the head that then leads into very low braided pigtail buns is a unique take on double buns. These French braids collect all of the hair from the back of the head and help hold it in place in the hairstyle so that it doesn't shift out of position during the special event.
19. Hair Bow Pigtail Buns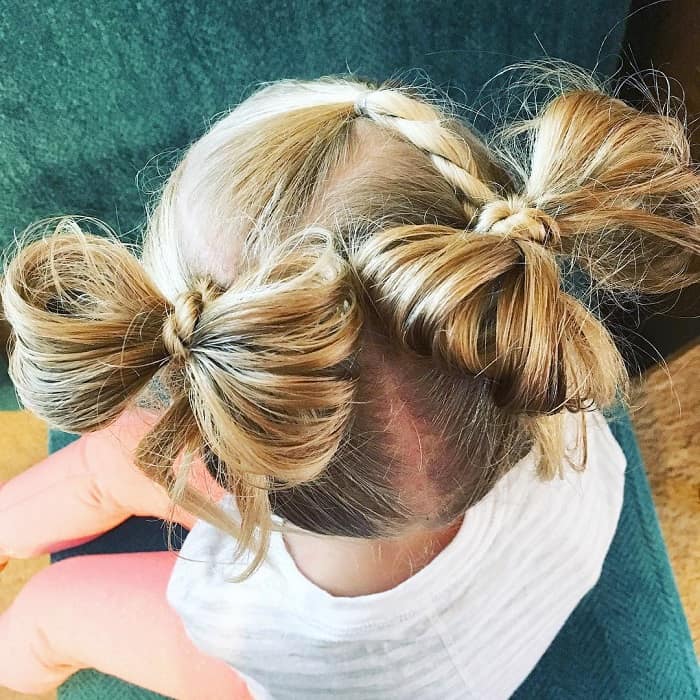 Rather than opting for just one bow made out of hair, little girls who want double impact can have their high pigtail buns turned into hair bows.
By using a twist as part of the updo hairstyle for toddler girls, these buns can have even more volume added to their middle, which will help them to better hold their shape without collapsing.
20. Triple Tight Buns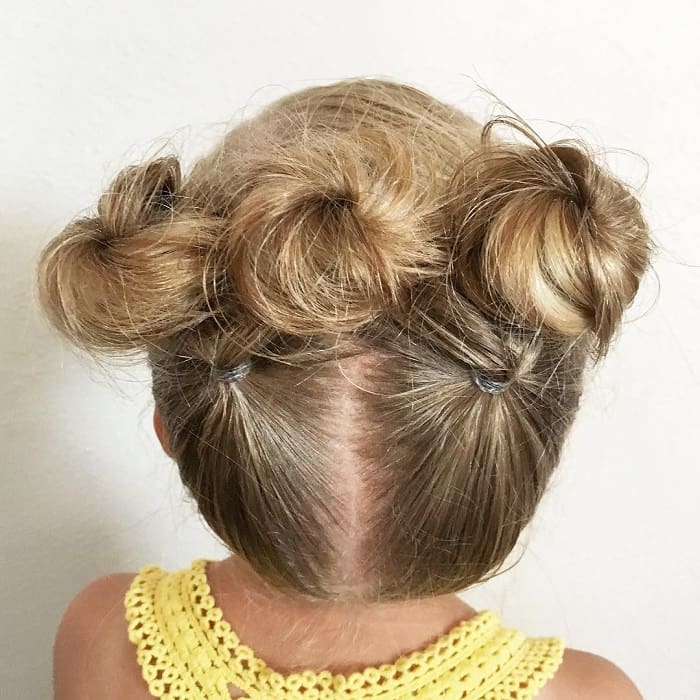 Three tight buns across the back of the head is a unique look and a great way to make a little girl updo hairstyle who has shorter hair look like she has really long hair. They are pulled up in two pieces but then split into thirds before being made into buns on the back of the head.
21. Upside Down Gathered Pigtails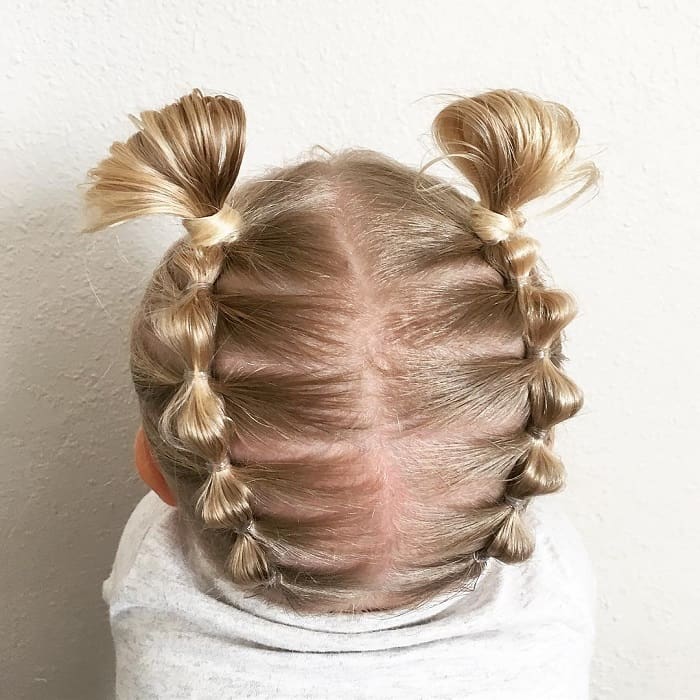 Gathered hair that is looped and bubbled up the back of the head is interesting enough, but ending in very small and perky pigtail buns on the top of the head makes this style even more interesting.
Because of the way the hair is gathered up the back of the head, this style is unique and is perfect for really fine hair that may escape other styles.
22. Pull Through Braided Updo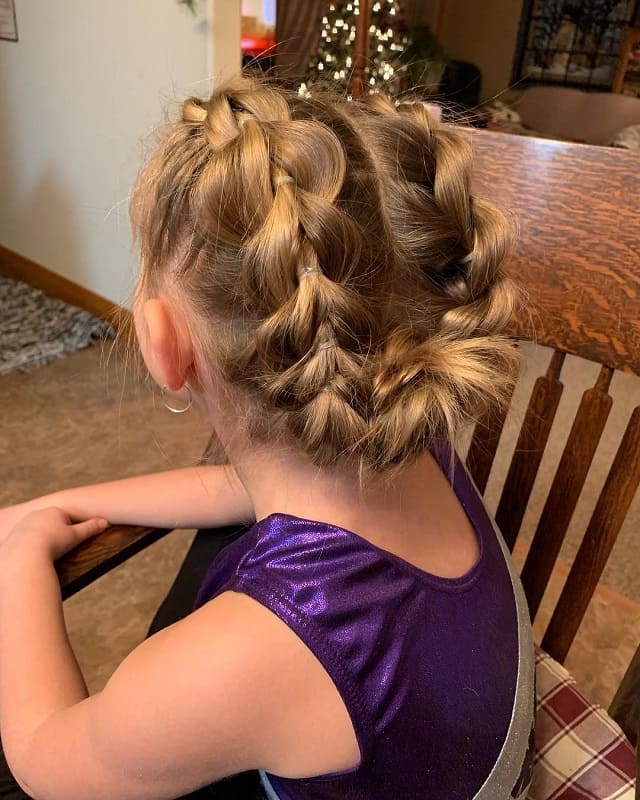 Thick double loops that come down like French braids look elegant, making this a great updo for littlr girls for any special holiday party. Rather than doing a traditional French braid, this style relies on a lot of clear elastics to hold the loops in place for a unique look.
23. Circular Braided Bun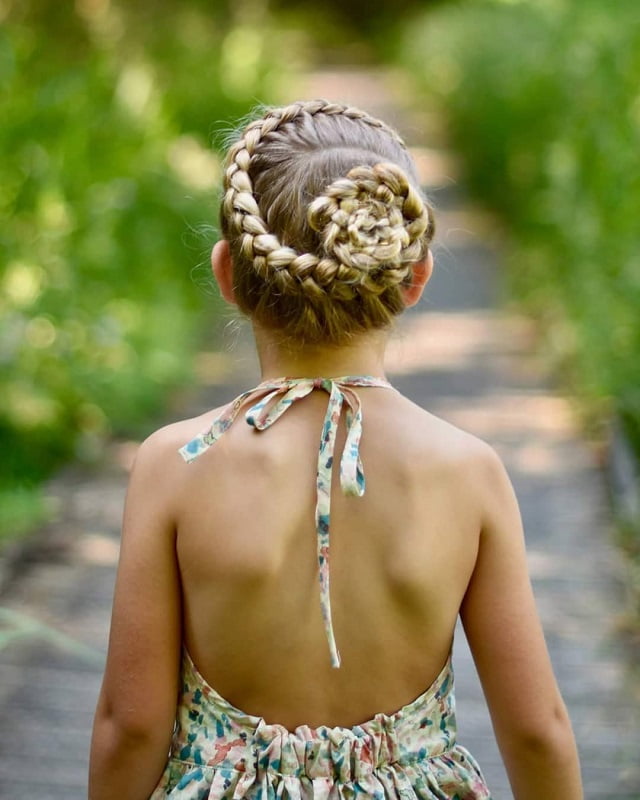 With the same shape and movement of a nautilus, this braided hairstyle is circular and adds a lot of interest and depth to a hairstyle. The long French braid curves around the back of the head in an attractive and natural way, culminating in a tight circular bun on the back side, which looks natural and interesting.
24. Sleek Bun with Braided Crown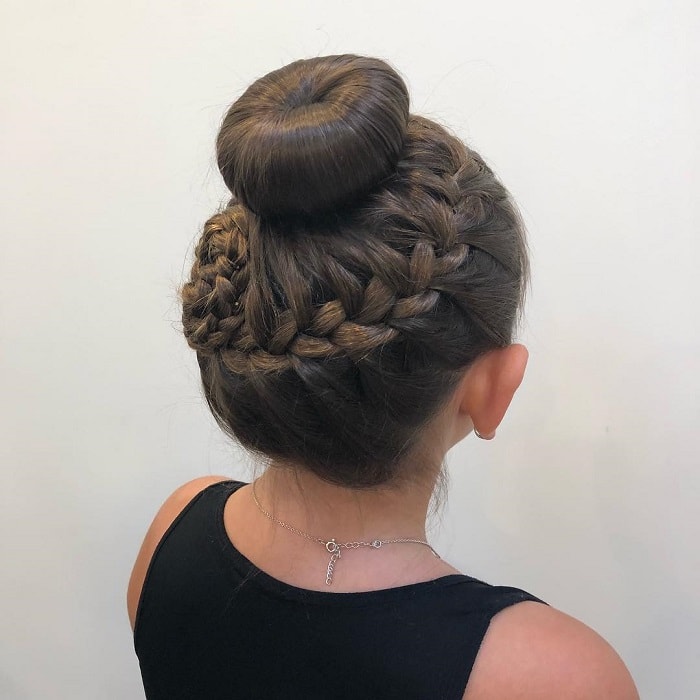 A sleek bun that is placed high on the back of the head looks even more amazing when it is surrounded by a French braid that loops around the bun and down the back of the head. This is a very modern and chic little girls updo style and combines two favorite styles for a unique look.
25. Top Bun with Tiara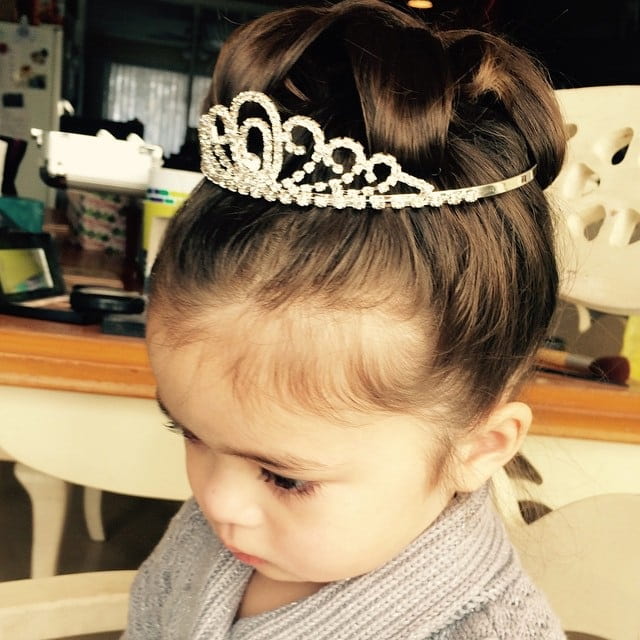 One of the most popular updos for little girls is a full top bun with a tiara. The tiara is placed around the bun, which helps to contain the hairstyle and adds a lot of interest to the look without being particularly difficult to style and create.
Any of these little girl updos are perfect for your upcoming special event. Consider styling your little girl's hair like this and she will look perfectly at home.