A perfect hairstyle for little black boys not only ensure that they look great, but also that they can play and learn without worrying about their hair getting in their face.
A great haircut will make any black kids feel much more confident and comfortable with how he looks, which is why parents need to help their sons by choosing a great hairstyle for them.
Trendy Haircuts for Black Little Boys
A lot of things go into finding the best black boy's hairstyles for kids. Some of these things include the boy's personality, his activity level, and how long he wants his hair to be.
By carefully talking to a boy and thinking about how much care his new style will take, parents can easily find the best haircuts for little black boys to choose from.
1. Curly on Top with Designs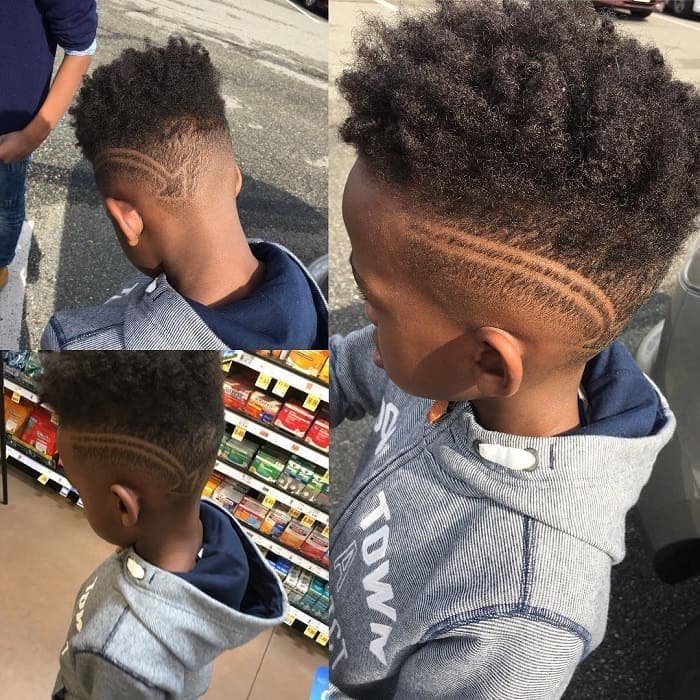 One classic hairstyle for black kids is to keep the top a bit curly and longer and to have a great fade on the side.
Little boys who want their style to stand out from the crowd will appreciate cutting a fun or unique design into the side of their head, as this will help them express themselves.
2. Lots of Free Curls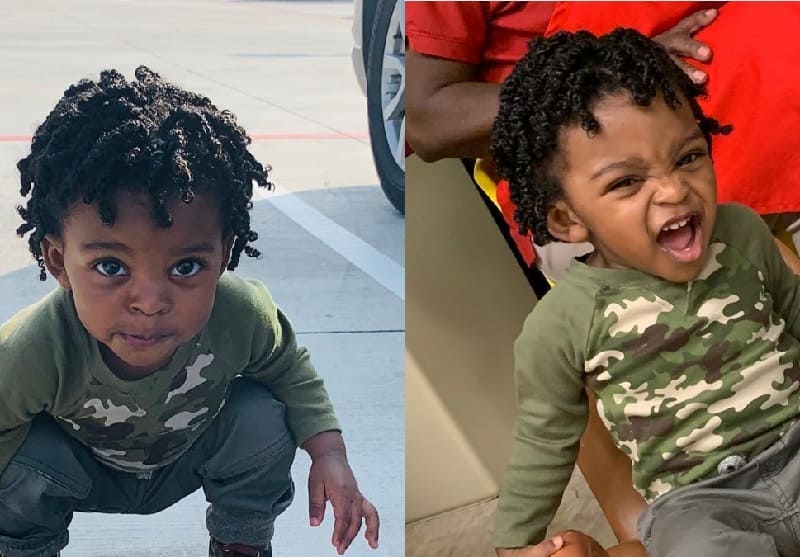 Tons of free curls that are allowed to hang freely around the head look great on little boys, especially when they are contained so that they are not too long.
Keeping them on the shorter side ensures that little black boys with curly hair will still be able to see even when their hair is unkempt.
3. Medium and Fluffy
Younger black boys who don't want to style their hair in the morning look great with hair that is medium and fluffy.
This adds a ton of volume to the style, but keeping the hair a bit shorter than normal will ensure that it doesn't start to look too much like a full Afro, which is a completely different look.
4. Short Sides with Fluffy Top
A fluffy top with plenty of natural curls looks great when the sides of the hair are cut shorter to allow the top to easily be seen.
A great fade that is low around the ears and doesn't show any skin is nice and gentle and will make any little boy look sweet and ready for school.
Adorable Curly Hairstyles for Baby Boys
5. Miniature Afro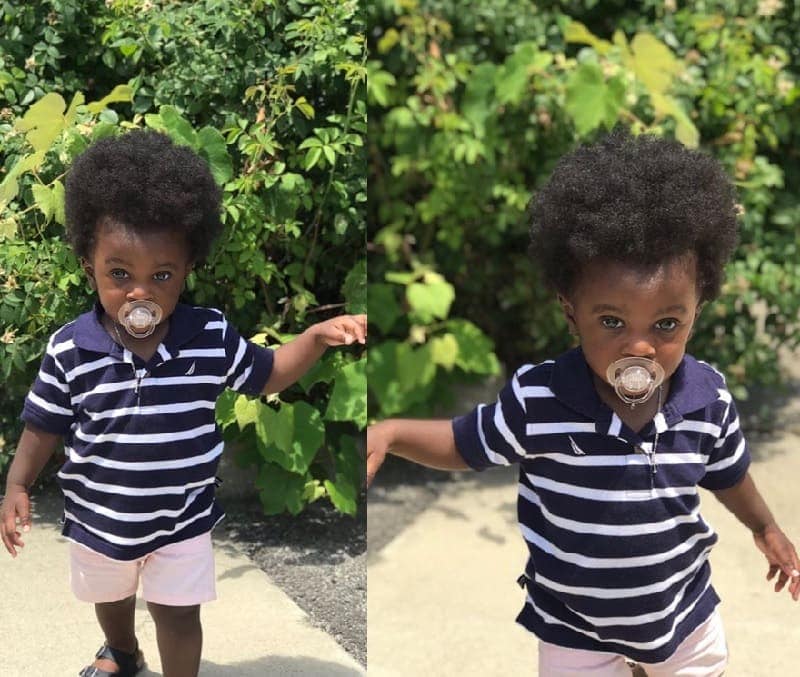 Simply allowing a shorter style to grow out can quickly allow it to turn into something else just a bit different.
This great miniature Afro hairstyle is a wonderful look for any black little boy who has very thick and full curls and wants to show them off. It has a ton of natural movement and body.
Little black boy's haircuts don't have to have a ton of volume, as this great option shows. The little twists all over the top of the head are easy to take care of and don't require any special work, which means that boys can get ready in the morning in a hurry without worrying about their hair.
Long braids that are tight to the head and start at the face to go straight back look sleek and updated.
These are the wonderful braided hairdo for any black kid who wants something simple and who doesn't want to have to worry about any showy designs. It's a classic look that is great on all boys.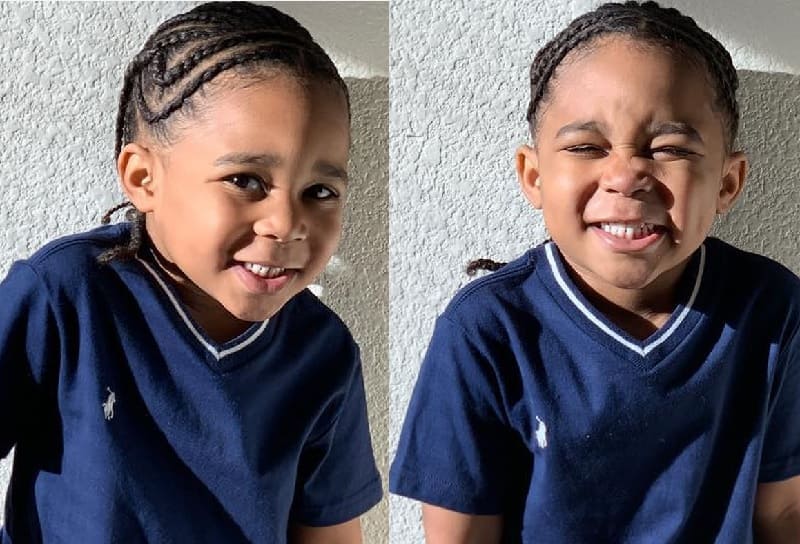 Black boys who want braids, but want them to have a bit more personality and style will appreciate how these braids curve around the head to rest gently on the skull.
They have a lot more movement and life than plain straight braids and are a great option for boys who want something with a little more interest.
9. Short Hair with Oversized Hard Line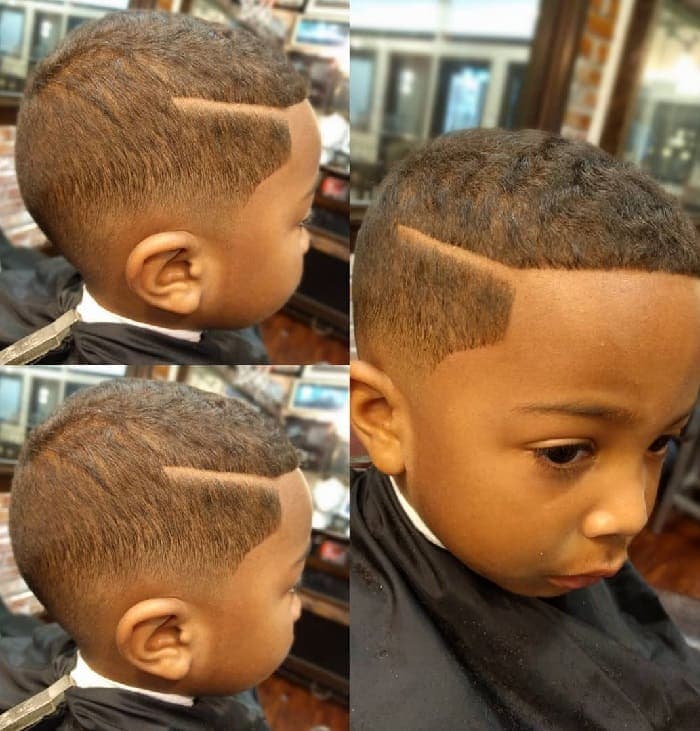 Very short hair looks great when paired with an oversized hard line at the temple. This line adds a ton of structure and interest to the haircut without being too overwhelming, making it a great option for little black boys. Thanks to the sleek look of the rest of the hair, it's very trendy.
10. Mass of Defined Curls on Top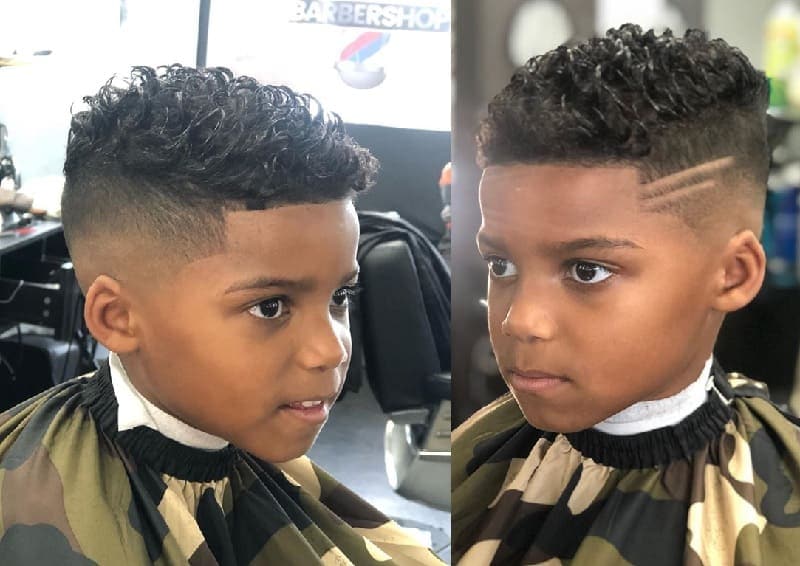 Kids who are lucky enough to have curls that can be clearly defined with a bit of product will love little black boy's hairstyles that show off their curls.
The curls in this cut are defined and on top of the head, with shorter sides and some designs cut into the fade to help make the curls really pop.
Unique Hairstyles for Black Baby Boys
11. Longer Ringlets in the Face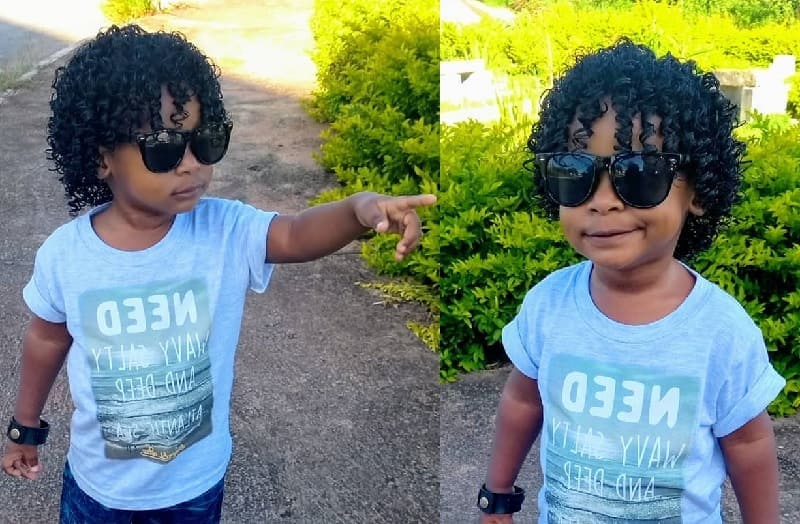 Some boys are lucky enough to have curly hair that will automatically ringlet when it is left loose around the face.
Allowing this hair to grow a bit longer allows boys to show off the movement and natural beauty of the ringlets without much work. It can be frustrating for some boys to have hair on their face.
12. Defined Outline with Shorter Curls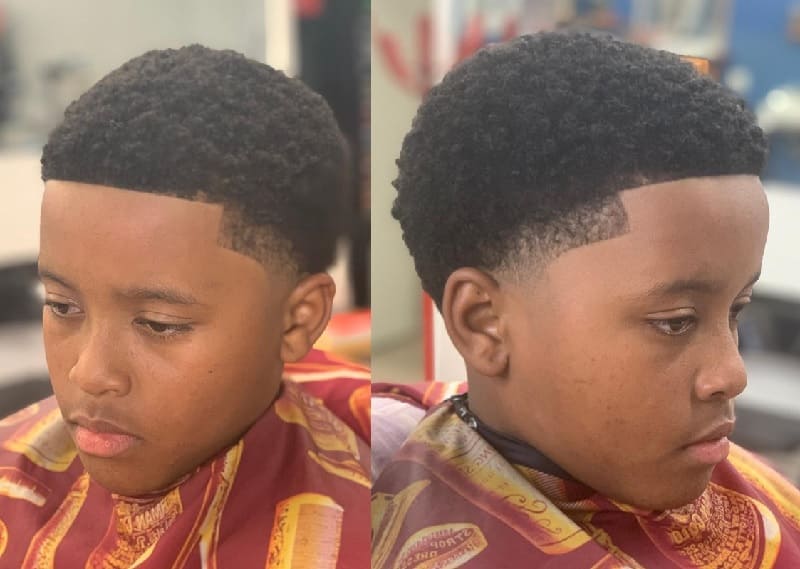 Short curls look great when they are paired with a clearly defined outline that goes around the temple and across the forehead. This curly black hairstyle is a great one that will make any little boy look a bit older and more mature, which is part of its appeal.
13. Bleached Mohawk with Designs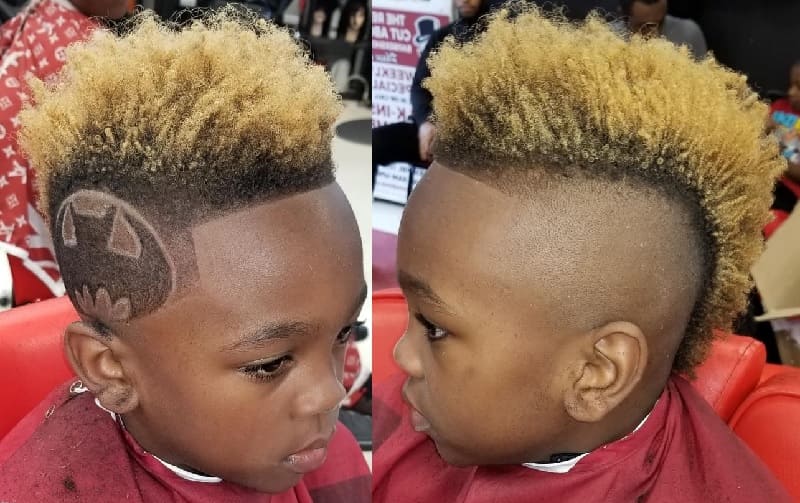 Boys who want to stand out from the crowd will need to consider the benefits of a mohawk. While it does take a bit more effort than some other cuts in terms of maintenance, it's a showstopper.
This little black boy's mohawk haircut is even more impressive thanks to the bleached tips and the designs cut into the sides of the head.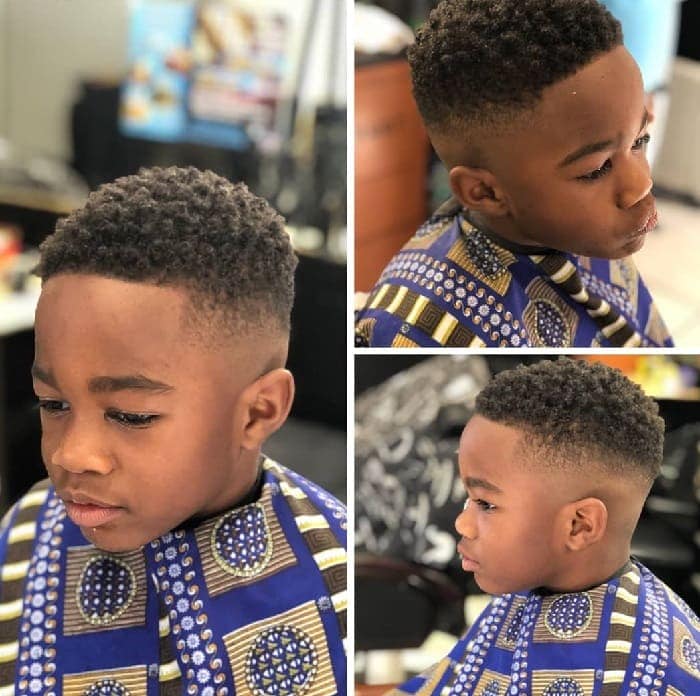 A high skin fade over the ears instantly makes a black kid appear more mature. The shorter curls on top of the head soften this look and prevent it from appearing too harsh, which can happen with some shorter and more defined styles.
The high skin fade completes the look and helps to tie it all together.
15. Medium Fade with Tight Lines
A medium skin fade that is clearly defined over the ears and also has tight lines around the face makes this one of the best little black boy hairstyles that boys can choose from.
The clean lines and shorter hair on the top of the head allow the boy to focus on sports or school without having to worry about how he looks.
16. Impressive Designs on Top
There's no reason why designs have to be left to the sides of the head when they can just as easily be put on the top.
These large designs are sure to attract attention not only due to their placement, but also their swooping and free design, which gives a lot of movement and interest to the style.
A fauxhawk is not as daring as a mohawk, but by pairing it with a great skin fade, little boys can make it easily mimic the more impressive cut. This hairstyle is great for black little boys who don't mind showing a lot of skin on the side of their head and is a great option for adding designs.
18. Short and Sweet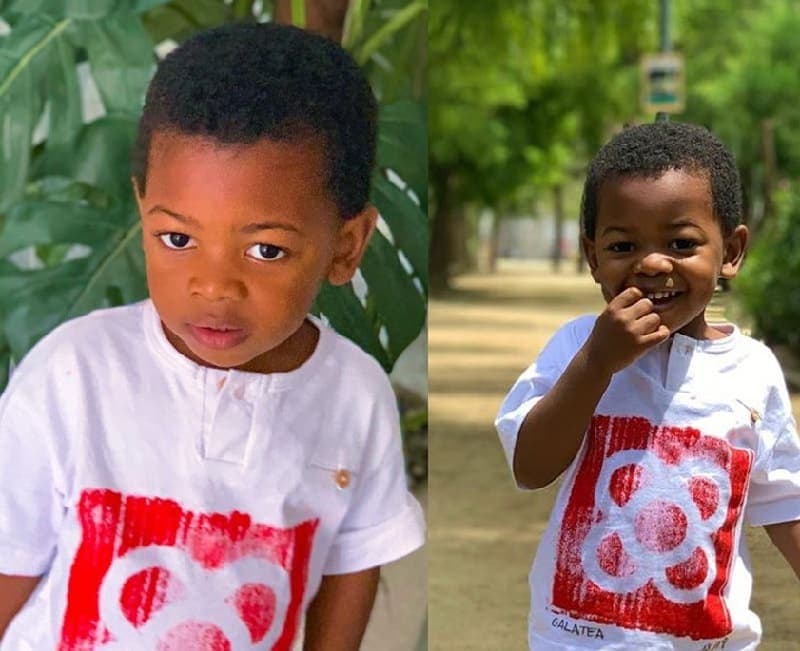 Short and sweet curly hairdos are a winner on any little black boy. These curls are kept closely trimmed so that they won't be a hassle to take care of.
Since there isn't any high fade or other designs to worry about, it's a very low maintenance option that is great for all little boys.
19. Soft Volume on Top with Designs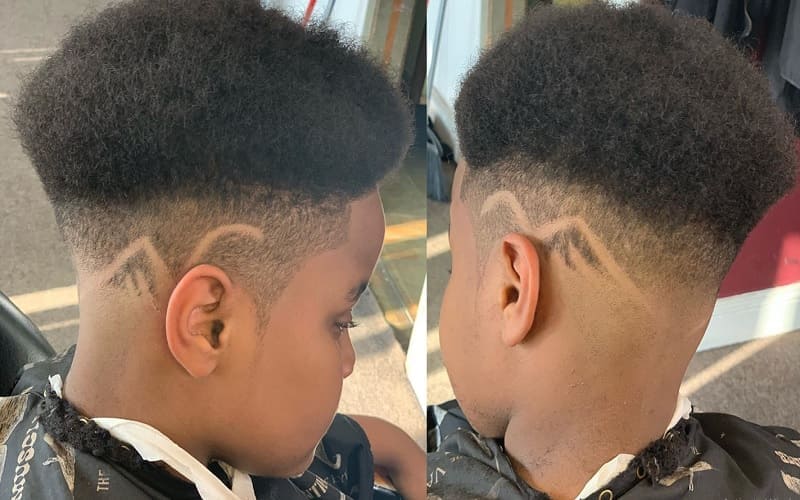 Soft volume and great designs make this a favorite among the black kid's haircuts on the list. The soft feel on top with plenty of volumes is a great contrast to the short sides and back and the designs that wrap around the head. These designs break up the monotony of the cut and add some life to it.
20. Longer and Loose Ringlets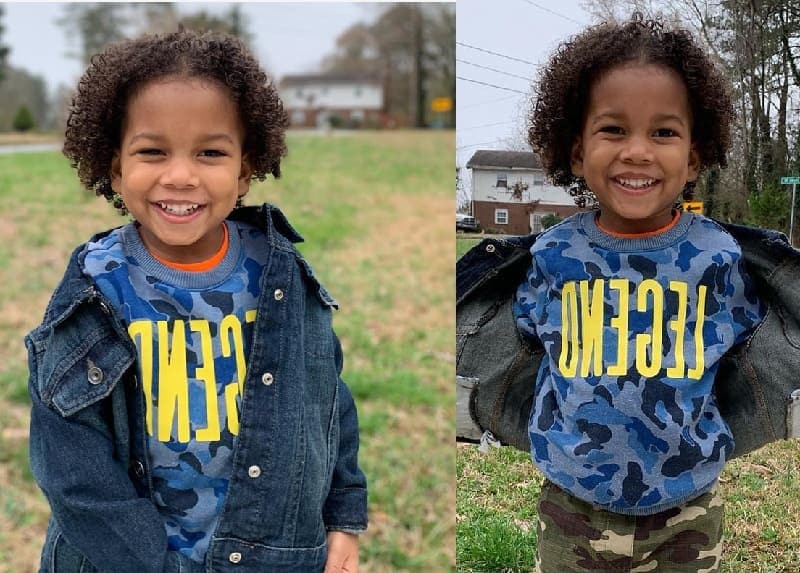 Parting hair directly in the middle really allows the focus of this cut to be on the movement and the body of the ringlets.
It's a great curly hairstyle for little boys who are lucky enough to have clearly defined ringlets. Pushing them back from the face ensures that they are not in the way during school or play.
21. Full of Soft Volume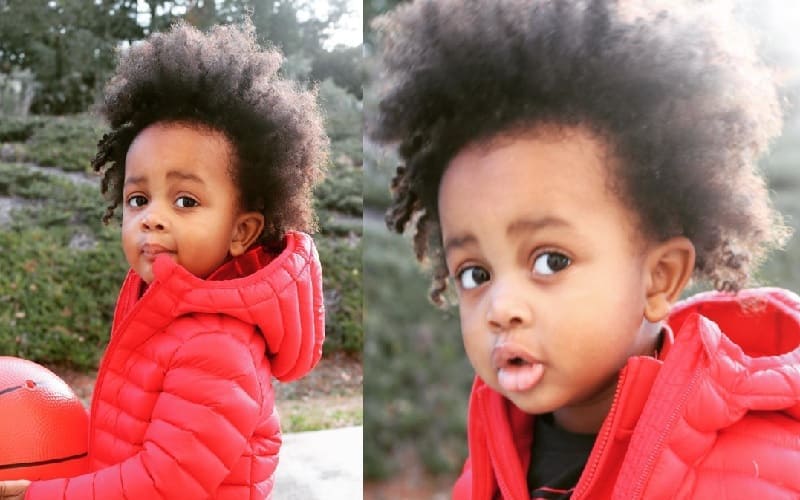 Soft volume all over the head allows the full length of hair to easily be seen but prevents this look from appearing too harsh.
It's a very ethereal hairdo that is great for younger black boys who have no interest in a formal style. Keeping the hair out of the face is key to add volume and make it easy to see the boy's face.
22. Braids with Bleached Tips
Braids that are tight to the head mean business, but bleaching the tips makes this look a bit more fun. The hard lines around the face, as well as the great fade, add even more personality and interest to this cut so that it never feels boring.
Every little boy deserves the chance to feel and look great thanks to a wonderful hairstyle. These are the best hairstyle ideas to ensure that a little black boy feels amazing and has the haircut and style that he deserves to really express himself and show off his personal style.