Finding the right hairstyles for black baby boys has never been easier before! We are here to provide the best ideas to you.
All parents want their children to look their best & these hairstyles for are not only perfect for baby boys due to how age-appropriate they are, but also because they do a wonderful job helping black boys and their parents express their personality.
Best Black Baby Boy's Haircut Ideas
One of the most important things that parents need to consider when looking for a great hairstyle for their black baby boys is how well it will last as their child grows up.
Picking a style that won't need major updating will help the baby boy look great for a long time and won't require as many trips to the hairdresser.
1. Short and Curly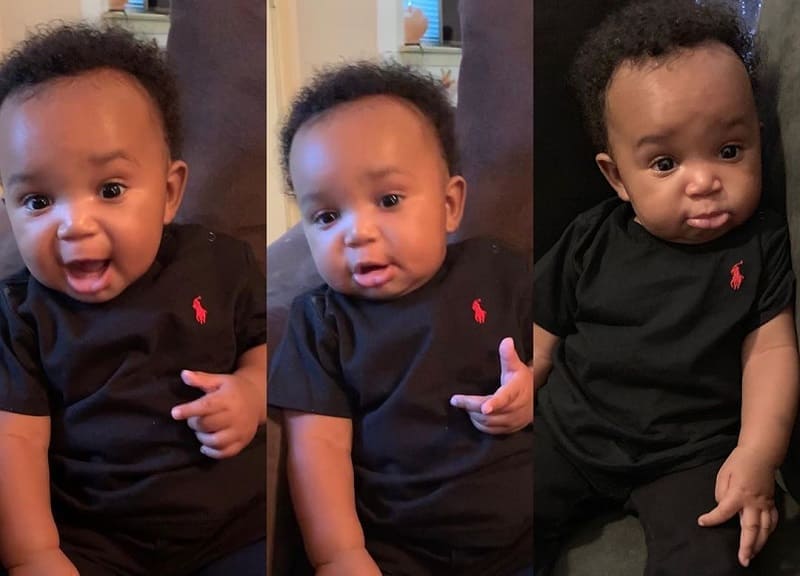 This is a great option for black babies, as it doesn't require any styling to look great.
Keeping the hair nice and short not only makes it easy to care for and ensures that the hair looks natural, but also allows a lot of the natural curl to show. It's a great option for busy parents and busy baby boys with curls.
2. Longer Defined Curls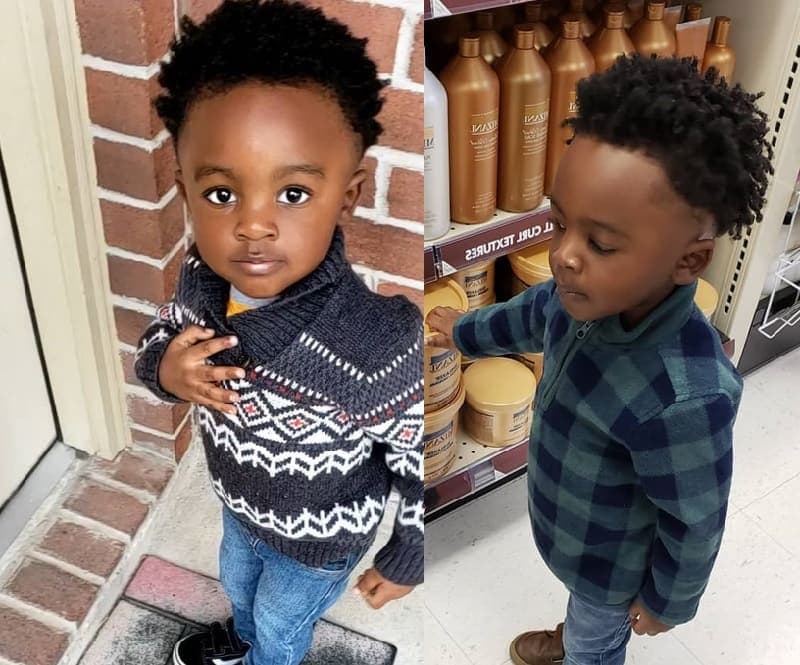 One of the most popular hairstyles for baby black boys is to allow the curls to grow out a bit longer so that they can be more defined. This gives both definition and movement to the hair and makes little boys look a bit more grown-up.
It's a great option for boys who want something that is a bit older looking but still won't require a lot of upkeep.
3. Miniature Twists
Mini twists all over the head add interest and movement to the hair and allow little babies to play and learn without worrying about their hair getting in their face.
This is a fun and easy look and one that works well on most babies. Keeping the twists smaller is key to making this look appear intentionally messy and fun.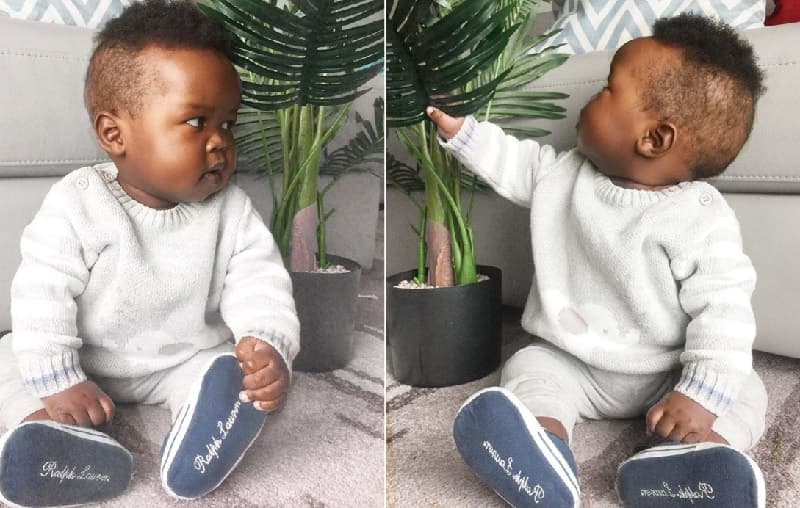 Very short sides and a short back with just some hair on top is cute and easy to care for. This fluffier black baby boy hairstyle is incredibly soft and doesn't have any of the hard edges or lines that other hairstyles will sometimes have, making it a great option for very young babies.
The hair on top of the head can be allowed to grow out some, making it easy to care for.
5. Twisted Flat Together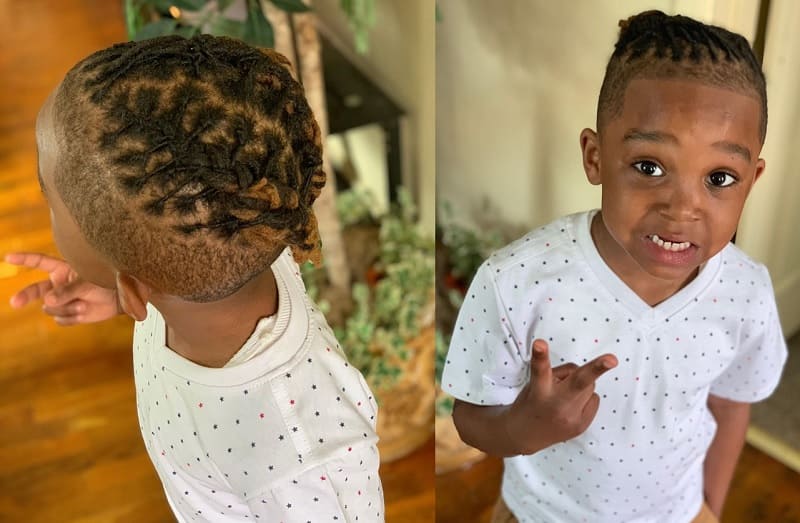 Twists that are twisted together and then tightened against the head look chic and sleek without having to use any product. This is a great style option for black babies who have slightly longer hair.
Keeping the lines around the face clean and straight is key to making sure that this look is as clean and attractive as possible.
Shorter braids can hang down around the face without getting in the way, adding movement to this style and making it a bit more relaxed and fun.
When the hair is parted directly in the center, then it not only ensures that the braids will be even on each side of the head, but also that the style will look neat and very professional.
7. Miniature Afro with a Bit of Volume
A miniature afro adds some softness and volume to the head, which is why so many parents love this black hairdo on their baby boys. It's important to keep the hair trimmed to a shorter length so that parents won't struggle to keep the hair tamed.
Making sure that the hair is up and off of the face will ensure that the child can easily see and reduce frustration.
8. Just a Few Thicker Braids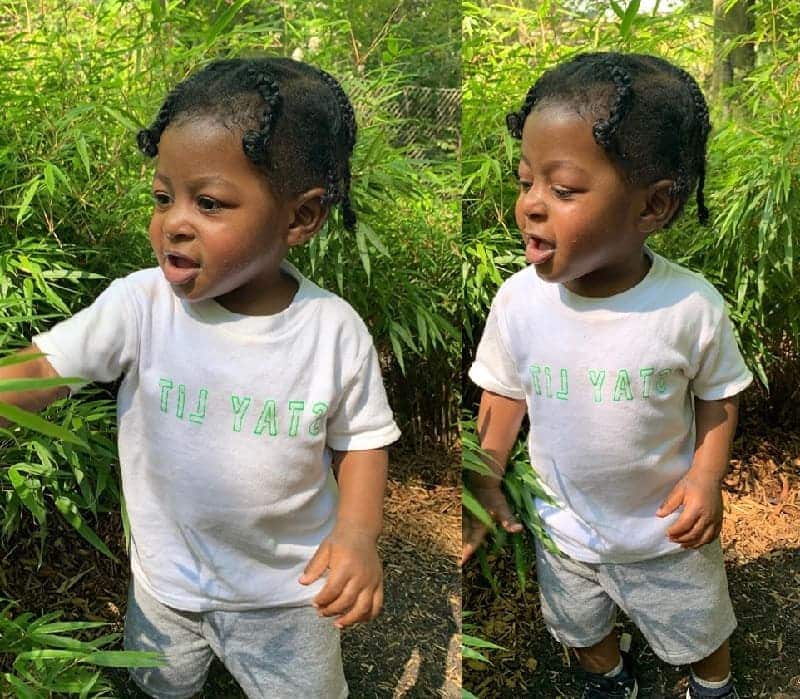 Thicker braids add a lot of interest to this style, making it a wonderful option for parents looking for stylish and easy black baby boy's haircuts with undercut.
There are only a few braids on the head, which means that they will be much thicker than if there were multiple ones. This allows the boy to have a unique style and one that is a little funky.
9. Messy Curls Flying Wild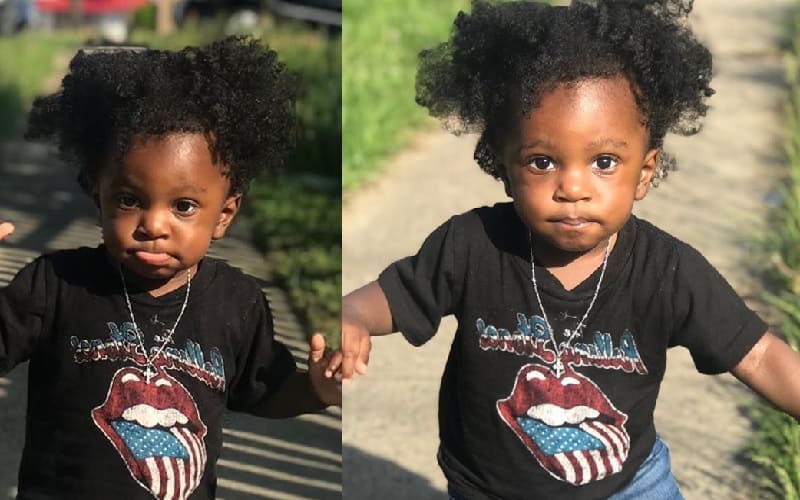 Longer hair can look a bit messy, but that's a huge part of the appeal of this style. The longer the curls are, the more volume and body that they will usually have, which makes them look and feel free.
This wild style is great for black baby boys with curly hair who are always on the go and who don't want to slow down to have their hair fixed.
10. Longer Fat Twists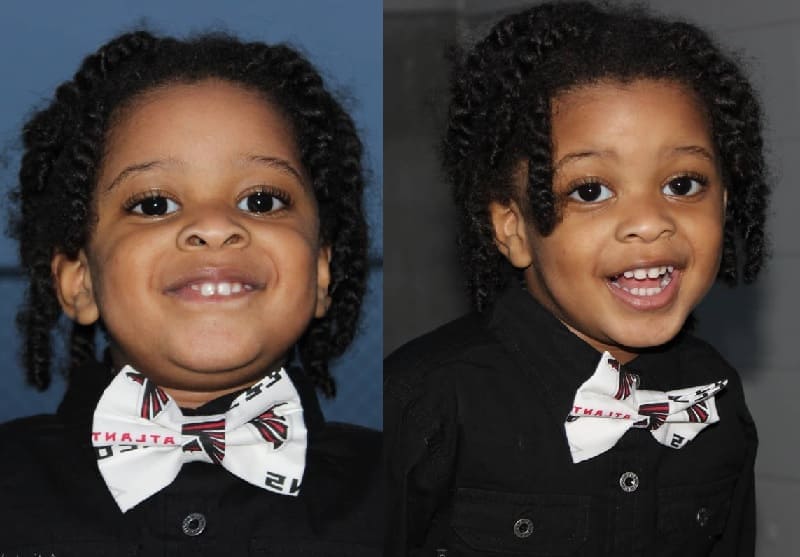 Thick and fatter twists that hang down around the face add a ton of interest to this look and are a wonderful way to control black baby boy's long hair that may otherwise be out of control.
The thick twists add a ton of volume and body to the look. A bit of frizz from the twists makes this look more relaxed and prevents it from being perfect and boring.
11. Tight Braids on the Head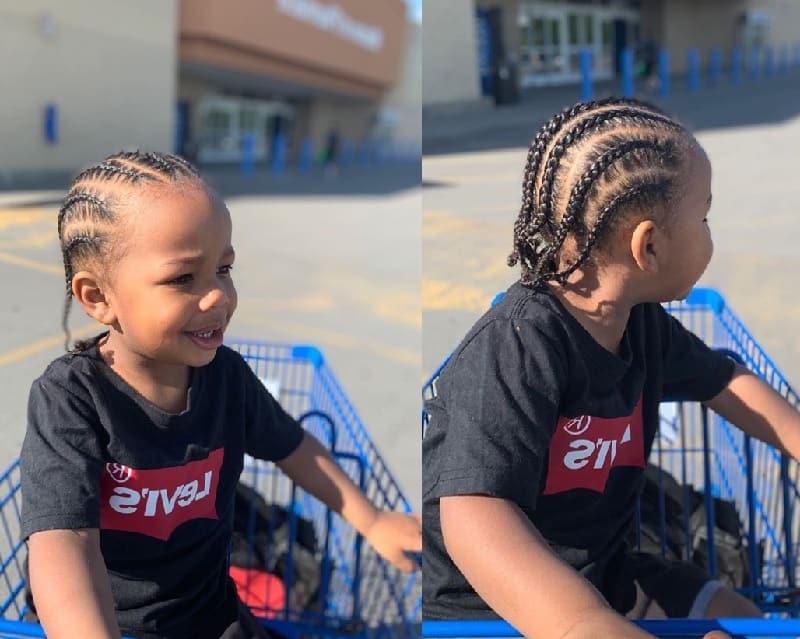 Tight braids on the head are the best way to control significantly longer hair and keep it out of the way and out of the face.
This is a great hairstyle, although it is generally seen on black boys that are a bit older, due to the length of the hair and how long they will have to sit to have their braids completed.
12. One Single Bun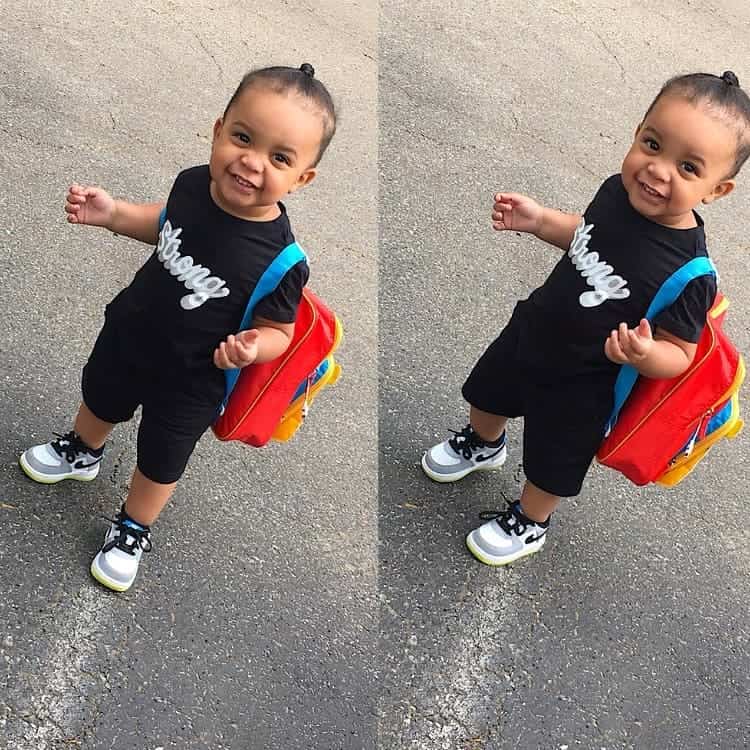 A single bun on the top of the head is a great way to contain hair and keep it out of the face. The bun can be very small or bigger, depending on how much hair the child has, and is a fun and easy way to style hair without spending a lot of time on it.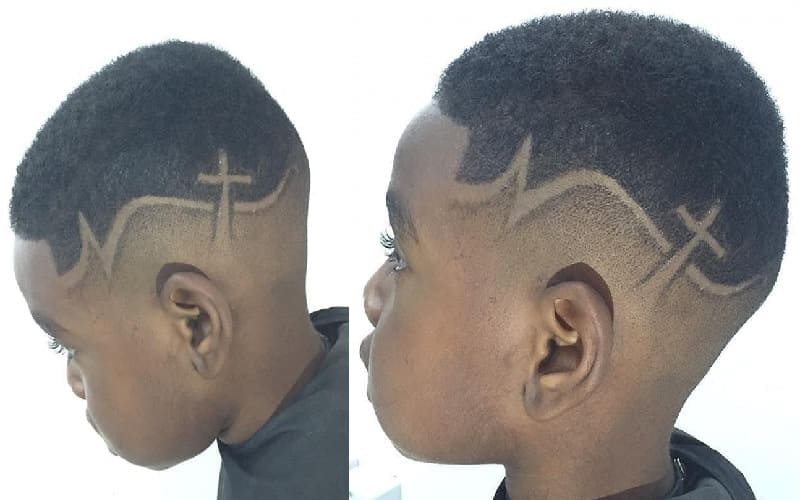 Designs cut into a fade have always been popular, but what sets this design apart from others is that it is a great way for boys to show their faith.
Rather than creating a more usual design, cutting across or other faith representation is a great way for boys to express themselves.
14. Cute Twists All Over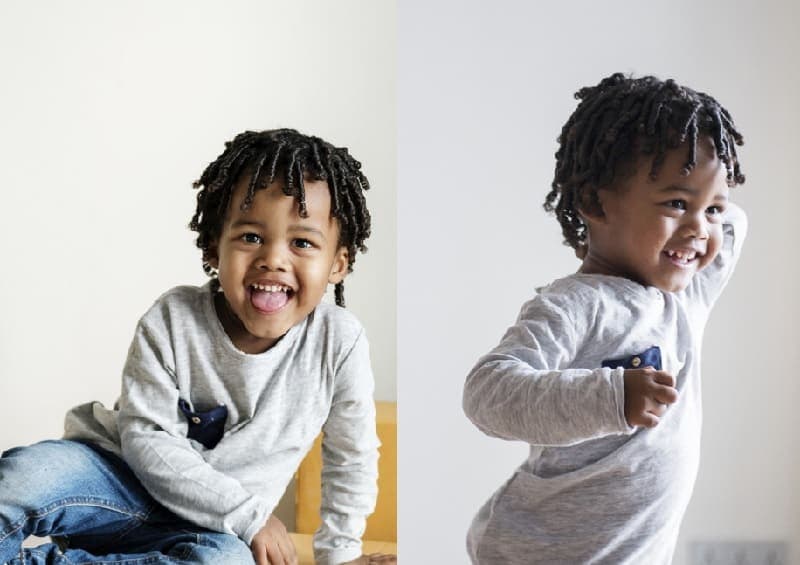 Smaller twists that are all over the head and allowed to grow a bit longer add a ton of interest to this style.
The important thing to remember is that the twists need to be kept short enough so that they are not hanging in the face when the boy is on the go, which can make it difficult for them to see. Longer twists in the back balance out the look.
15. Two Side Braids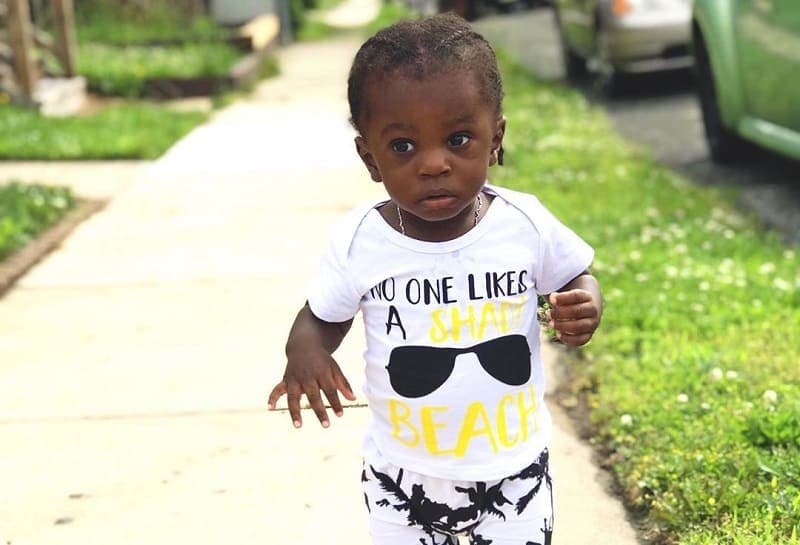 One small braid on each side of the head is a great way to control thin hair for toddler boys that may otherwise be difficult to maintain.
It doesn't matter how long, short, thick, or thin the black boy's hair is, this style looks great and is a fun take on traditional braids. Keeping the ends of the braids shorter helps to keep them out of the way when the boy is on the go.
16. Very Short and Messy Twists
As far as black baby boy's hairdos go, this one is incredibly popular. The messy twists are allowed to hang in any direction, and they are short enough that some stick up a little, which adds movement and interest to the style.
17. Perfectly Defined Curls
Babies who have perfectly curly hair will look wonderful when their curls aren't touched and simply are allowed to do their thing. This shorter style doesn't take a lot of work to look great, as it is the natural curl of the hair that really sets it apart.
It's a wonderful option for parents of newborns to consider for their son.
18. Two French Braids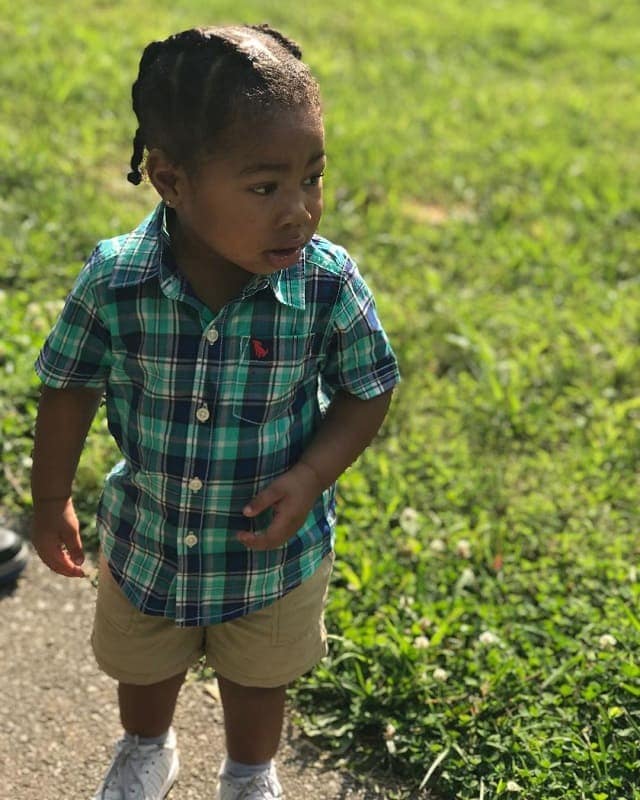 Dual French braids help to capture slightly thicker hair and add some volume and visual interest to this style on baby black boy's hair.
The braids do a wonderful job keeping hair out of the face, which is why this style is such a popular option for many parents. The braids in the back can be as long or as short as the parents want when finishing the style.
19. Shorter Sides and Longer Top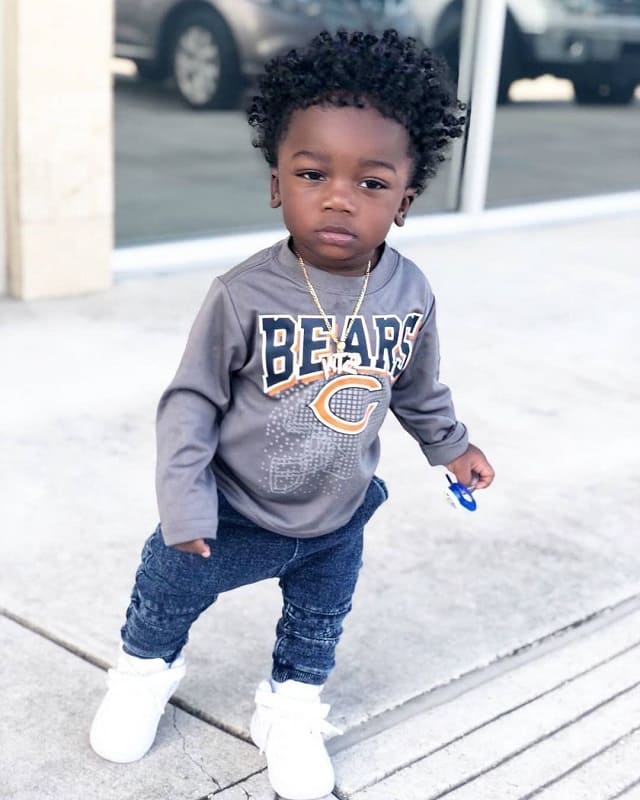 Shorter sides and a longer top adds great shape to these curls and helps to keep them from looking a bit out of control.
Allowing the curls to keep their natural shape is key to making sure that this haircut looks great on black toddler boys and to ensure that the curls are allowed to move freely.
Charming Curly Hairstyles for Toddler Boys
20. Sleek Braids to the Back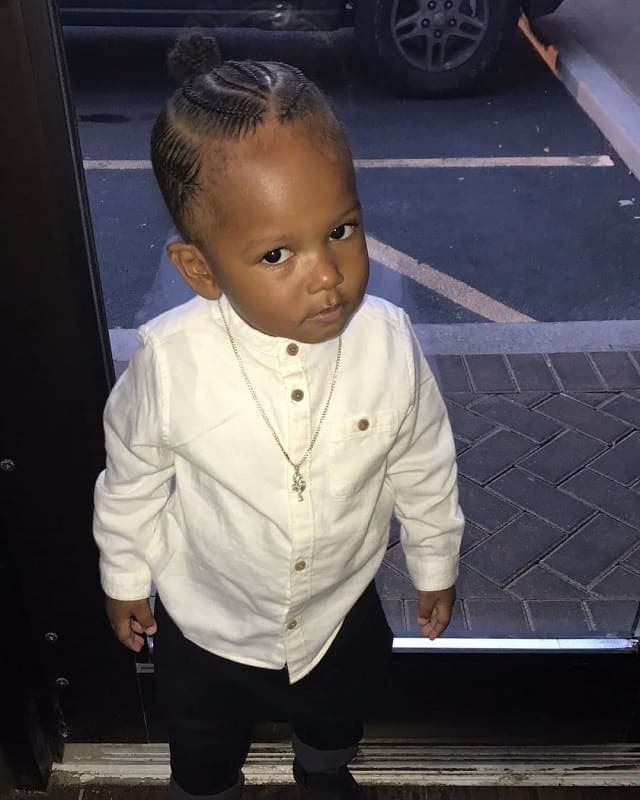 Very sleek braids that are tight to the head and are smaller than normal set this look apart. Braiding the hair tightly to the head so that the hair is braided from the face to the back is key to making this style look a bit more grownup and impressive.
All of these haircuts are great options for a baby black boy. With so many options to choose from, parents will be able to easily find a style that matches their child's personality and isn't difficult to take care of. This means that their son will look and feel amazing and that they can be proud of his hair and his appearance.