Having a toddler with thin hair can be a pressing issue for mothers or fathers who want to select a good hairstyle for their babies. Thicker hair is just so much easier to style that most parents will go blank when trying to imagine the possible hairstyles that their cute little toddler can get with thin hair!
Worry not, however, for there are actually quite a number of toddler haircuts for thin hair that you might not have known about.
Beautiful Hairstyles for Toddlers with Thin Hair
When selecting a proper hairstyle for toddlers with thin hair, you can generally employ several strategies. You can create a focal point that others will focus on when looking at your baby – spikes and curls, as an example.
Alternatively, you can brush it off as a neat look. There are plenty of other toddler haircuts for thin hair that you can consider, which we will review below.
1. Combed to the Sides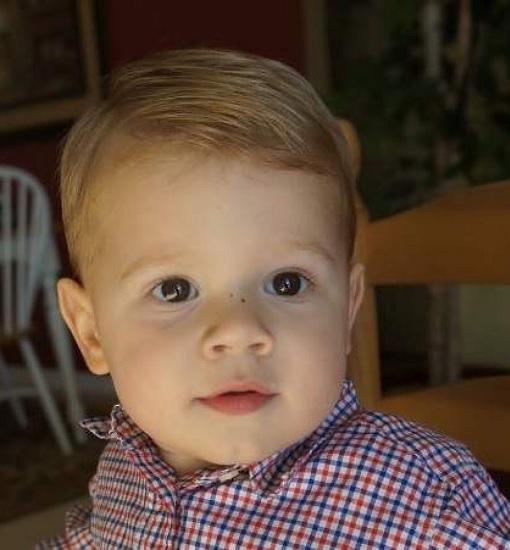 Toddlers with thin hair will look like prim and proper little children with this neat hairstyle. When you give a gentle comb to your toddler's hair, the hair will retain its natural fluffiness but still be directed towards the side that you intended. The resulting neat look will override the thin hair texture that you want to avoid!
2. Little Braid Patterns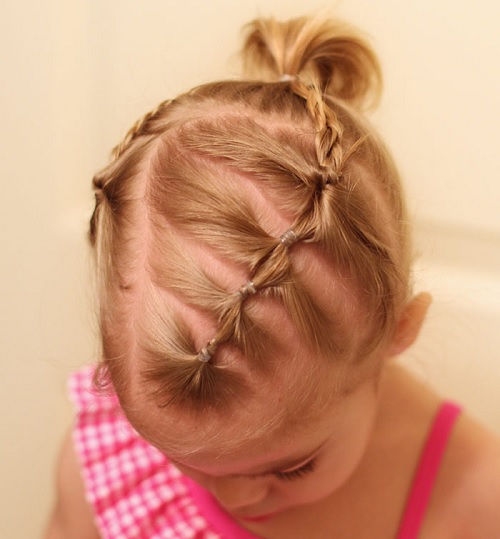 Guess what element will attract more attention than thinning hair? Special textures and patterns! Little braids like this work best for little girls, and you can style these braids in any way that you like. For best effects, you should segment your toddler's hair into big portions instead of smaller ones.
3. Center Curls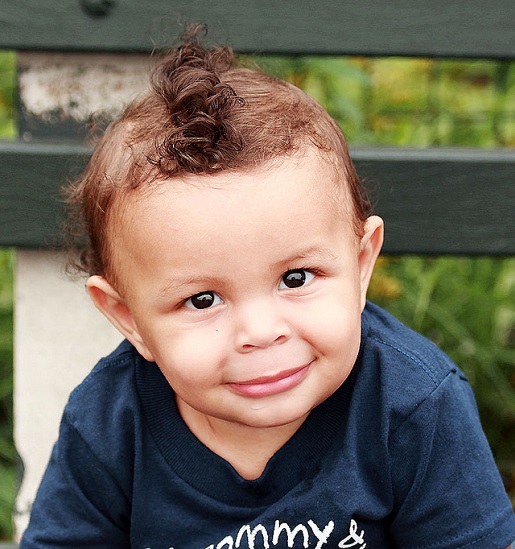 You might have seen curly-haired babies before, but this must be one of the rare firsts for you! Thin-haired baby boys with curly hair can keep their curls longer in the middle. It might look like a curly Mohawk hairstyle!
4. Bangs with Curls
Isn't this a pretty picture to look at? You would barely notice that this child has thin hair until you actually pay attention to it! Cut bangs for your toddler just above his or her brows. Match these bangs with loose curls on the side. This toddler haircuts for thin hair would look just beautiful for your toddler!
5. Spike It Up the Front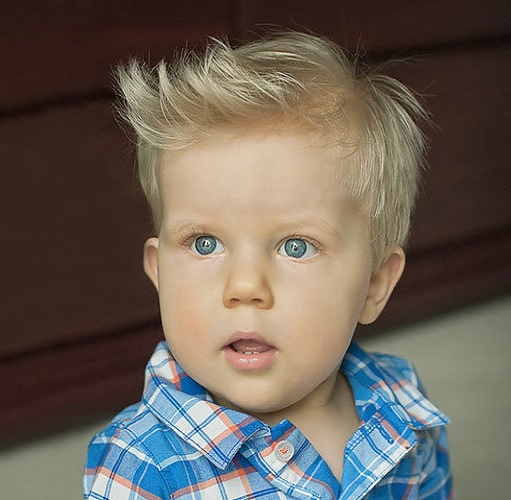 You toddler's hair may be a lot thinner at the top, exposing the scalp. This may not be an ideal appearance to some, but there's a way to cover it up!
Toddlers with some fringe can comb their hair in an upward spike, hiding any exposed scalp behind it and keeping the focal point on the sharp little spike. It also makes your toddler look sporty, active and adorable!
6. Cute Ponytail
Thin hair or not, toddlers will always look super cute with their hair tied up like this! While ties like this will definitely show that your toddler has thin hair, this hairstyle for toddlers with thin hair is best for parents who embrace their toddler's entire self – thin hair and all.
7. Short Spikes Upwards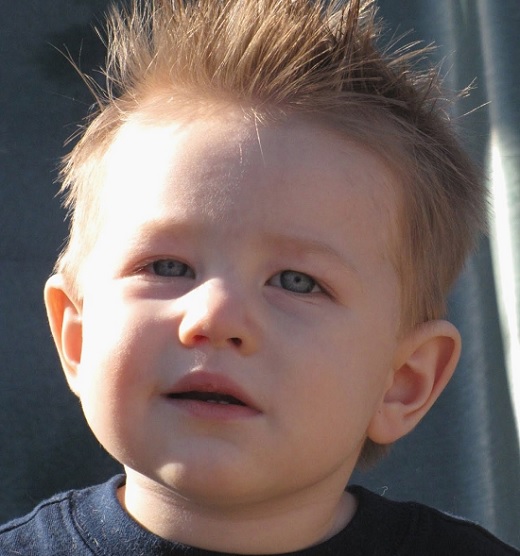 Long hair might show the empty scalp areas much more than it should, so you can opt for shorter, spikier hair. Spiky little boy hairstyles will give toddlers with thin hair an appearance of thicker hair – even if it's not. Brush the spikes upwards for a better effect.
8. Wild & Curly
Curly hair will not look thin if you leave it to grow out long and wild! The curls will amass around your toddler's head, clearing away any hints of thin hair. Match your toddler's cute curly hairdo with a hairband to enhance his or her cuteness!
9. Combed Down the Sides
Comb your toddler's thin hair with its natural flow. Usually, this is done in a downwards direction, fringe and all. The natural flow of your toddler's hair will give him or her a gentle appearance bound to distract anyone away from the fact that it's a disguise for thin hair!
10. Tie it Up with Accessories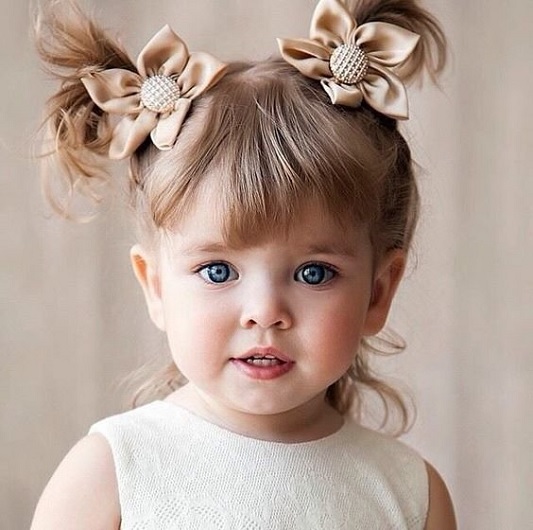 See the effect of hair accessories on your toddler's hair? You will be so focused on how cute this toddler looks that you will not even notice that this toddler has thin hair. Natural curls and loose bangs will enhance the thick hair effect as well.
11. Simple Short Spikes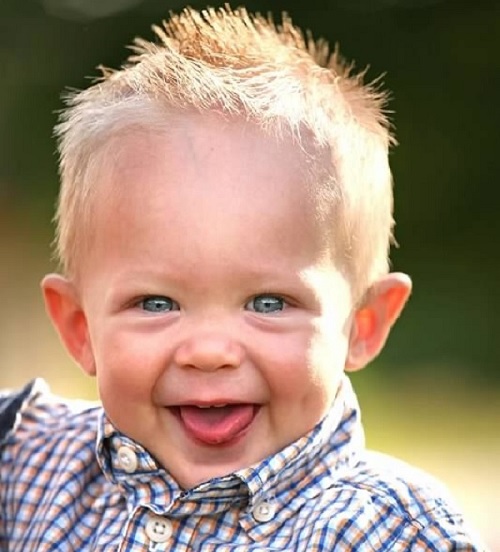 Another easy way to disguise your baby's thin hair is by using short little spikes! When you cut your toddler's hair short, his hair might turn spiky – depending on his hair texture.
If your toddler has a tougher hair texture, you can be sure that there will be spikes! These will fare well in creating a thicker hair look for your toddler.
12. Tie it Up with a Crown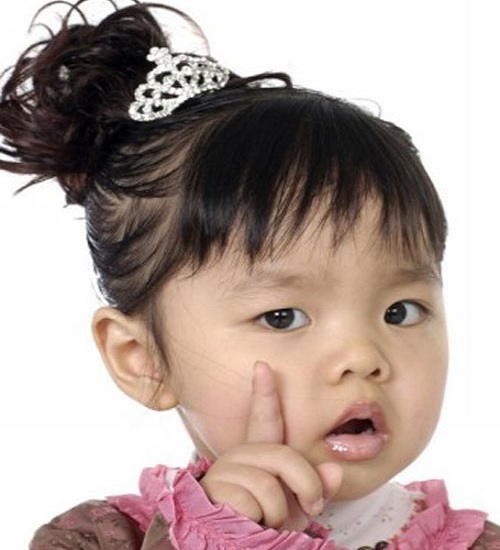 Give your toddler a princess look with a simple accessory – a crown. You can tie up your toddler's hair to look like a ponytail or a bun, and place a tiny crown just in front or the hair band. This toddler haircut for thin hair will hide how thin your toddler's hair is where it is tied!
13. A Little Fohawk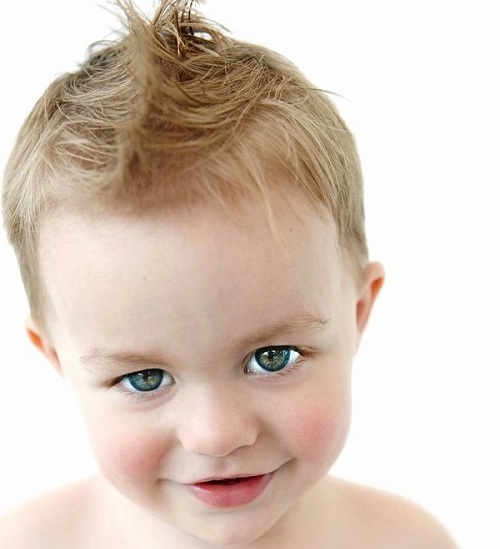 It's the same trick over and over again – creating a focal point! This toddler haircut for thin hair will work with medium-length hair – regardless of the thickness. Just spike it up and watch the magic happen!
14. Short Bangs
With bangs above the eyebrow level, any toddlers will appear energetic! This toddler haircut for thin hair will suitable for light hair texture. This specific hair texture will give the toddler the appearance of really fluffy hair. That is certainly the exact opposite of thin hair, isn't it?
15. Prim & Proper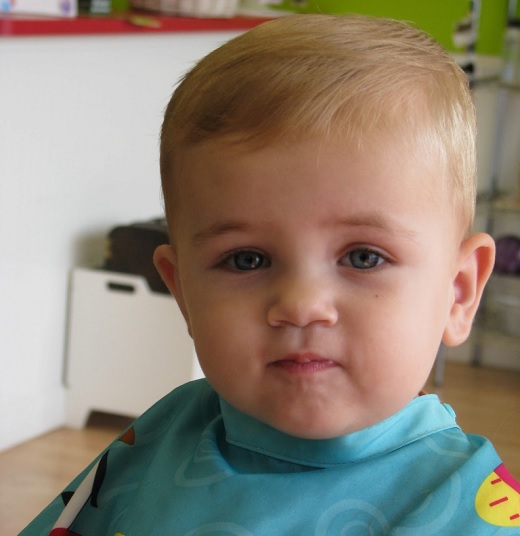 When all out of ideas, you can leave your toddler's hair as it is, and comb it neatly! With a neat appearance, the thin hair issue could be easily overlooked. Just be sure to keep the hair short! Longer hair tend to being out the thin hair even more.
16. Pretty Pigtails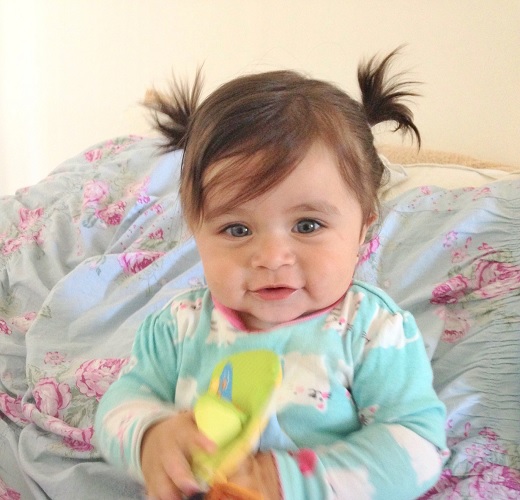 Look at those cute pigtails! When a toddler's hair is still short like this, your toddler can easily maintain a really adorable look with only two hairbands. Little babies can always hide their thin hair by diverting attention to these cute tails!
17. Gel It Up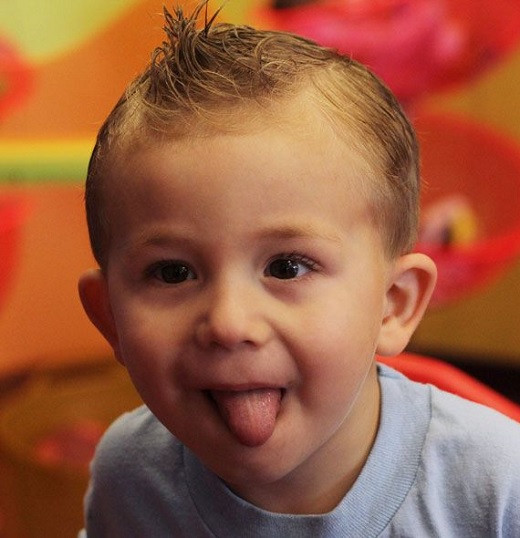 Sometimes, your efforts are just not enough when you want to hide your toddler's thin hair. However, this can still be done with some other items' help! As an example, you can use hair gel to fix a spike in place. This works best if you have already seen how the spike can disguise your toddler's thin hair!
18. Bun It Up & Bow It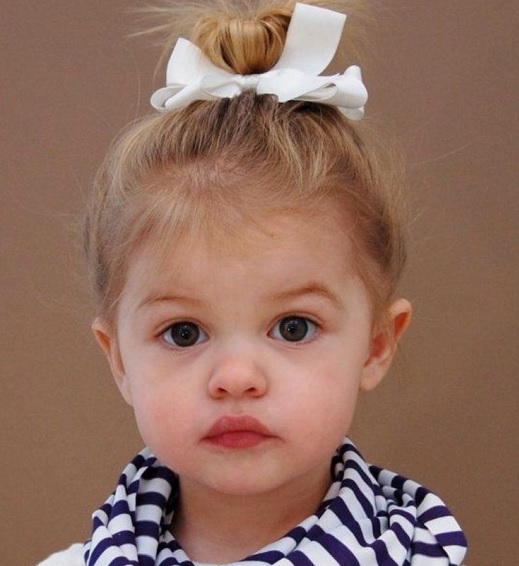 Get your toddler's thin hair texture all tied up into a ballerina-like bun, and finish the look with a cute ribbon! Little girls look the cutest with tiny bows on their hair, but big ones like this will be the focal point instead of your child's hair. As such, feel free to add accessories to your toddler's hairdo.
19. Just A Small Flick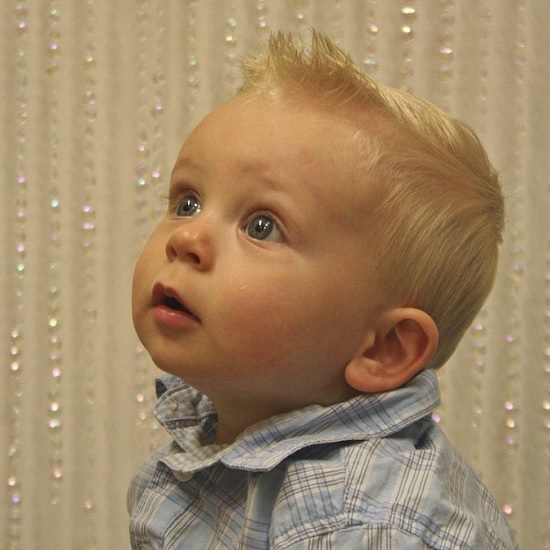 If you are worried that your baby's thin hair can be seen through from the front, there's an easy solution! Simply flick your baby boy's hair upwards a little at the front and you're all good to go. This little flick will help you to hide your baby's thin hair look. Instead, it will keep the focus on that tiny cowlick!
20. Cute Curls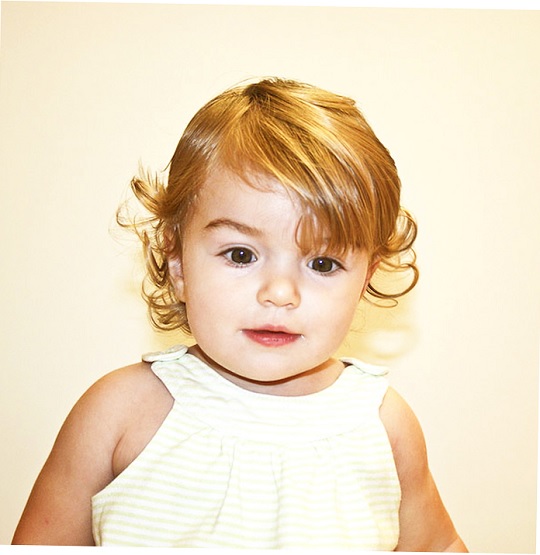 What better way to hide a thin head of hair than to make it look thick? Toddler haircuts for thin hair do not need to be complicated – it can be done just by curling your toddler's hair outwards, causing your toddler's hair to look super fluffy and thicker than it actually is.
We hope that these hairstyle ideas for toddlers with thin hair have helped you to decide which hairstyle you can get for your own toddler.
Remember, creating an alternative focus point with hair tie-ups, accessories, spikes and curls are generally good ideas! If you want to get more content like this from us, keep our page bookmarked for more!