Cornrows are becoming more and more popular among boys as a hairstyle option, as they not only look great but are surprisingly easy to take care of. Boys who opt for this style usually love how modern their hair looks.
All boys know that their hairstyle will determine how cool people think that they are, which is why most boys spend a lot of time choosing the right style for them.
Unique Boy's Cornrow Styles
One of the wonderful things about cornrows is that they are the perfect option for boys of all ages. Young and even teenager boys can wear cornrow braids and look amazing.
1. Cornrow Braids with Fade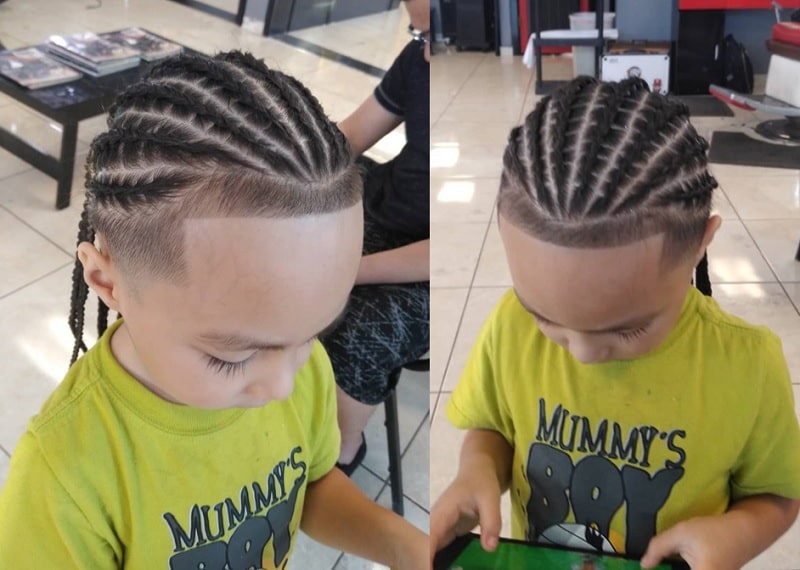 Cornrows that are only on the top of the head look great when they are paired with a slight short fade. This fade lets boys have a small ring of hair around their cornrows, which is a very interesting look and makes the style look a bit more complete than it may otherwise. It's important to keep this hair cut shorter so the cornrows look neat.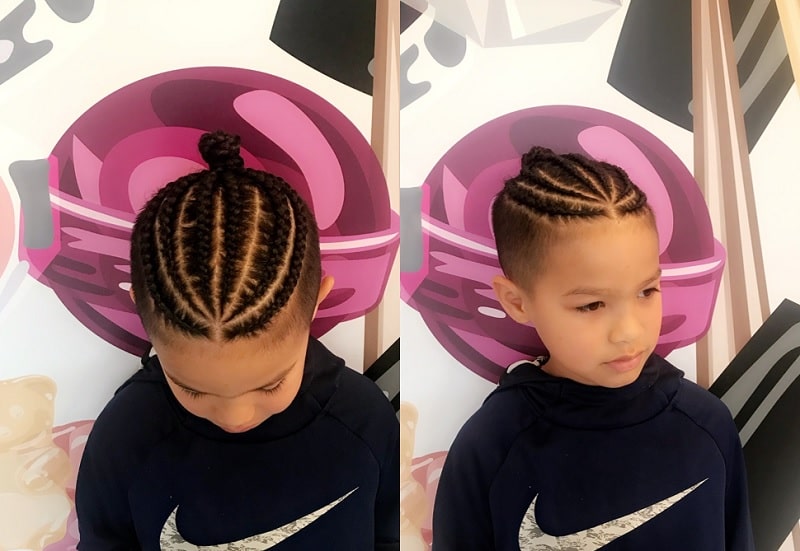 Lots of cornrows on the top of the head look great when they are pulled straight back from the face and aren't allowed to extend down the sides or back of the head. Keeping this skin fade and cornrows only on top is interesting.
Knotting the boy's cornrows on the back of the head in a little bun is a great way to keep them out of the way and ensure that the style remains as sleek and professional as possible.
3. Zig-Zag Style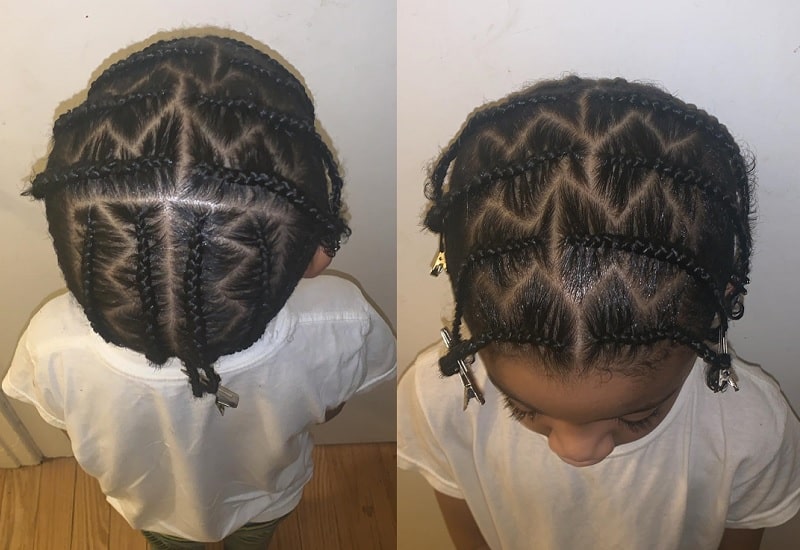 Since straight cornrows can be boring for some boys, it makes sense to shake up this look with something that is a bit more fun. These zig-zag parts located between the cornrows help add a lot of interest to this style without sacrificing the overall finished look.
It's a great choice for boys who want something just a little different and that will be fun for them to look at in the mirror.
4. Many Braids Meeting in the Back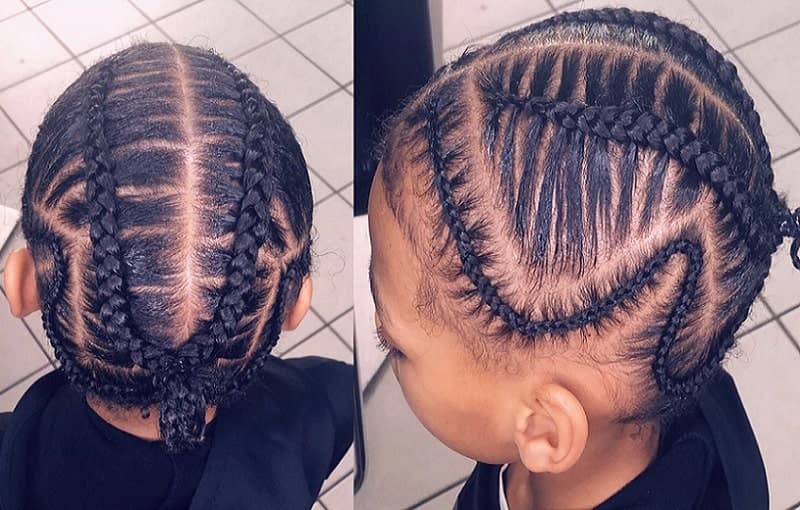 Thick braids on the top and sides of the head look great when they meet in the back. This creates a very cohesive look that is not only fun, but also trendy.
It's great to mix and match the size of cornrows to create a completely unique look for each boy who wants this fun style. Having a number of different sizes allows boys to find the size that they like best, which is great for future styles.
5. Curved on the Top of the Head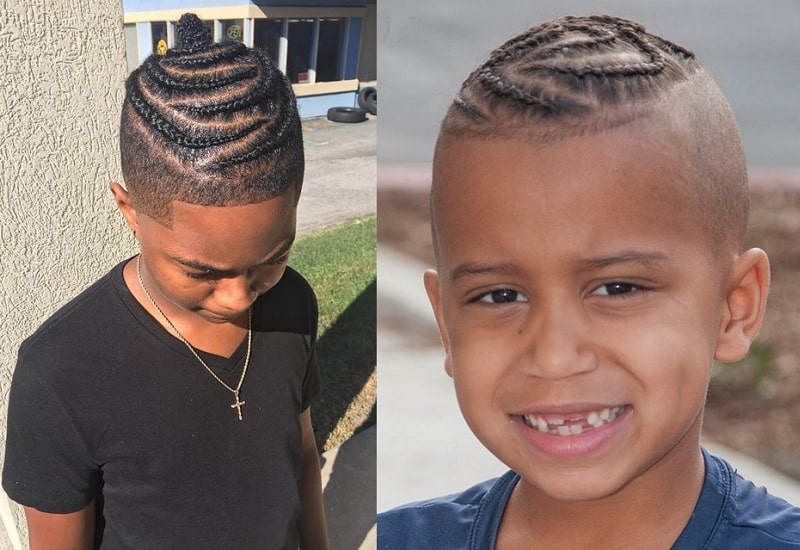 Gently curving cornrows located just on the top of the head are a surprising look, but one that is sure to make any boy feel great about himself.
These cornrow braids for little boys don't have the length or the straight lines such as traditional cornrows do, which means that they are a great option for boys who want something that is just a little bit different.
6. Squiggle and Straight Lines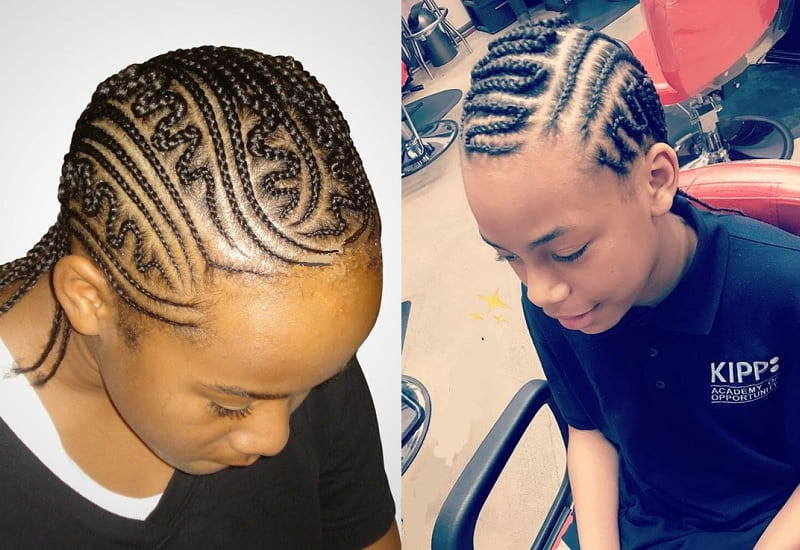 A mixture of squiggle and straight lines is sure to make people pay attention, as this cornrow braids style for boys is the perfect blend of both.
The straight lines separating the squiggle lines help to define the style and ensure that it doesn't look messy or unkempt. The squiggle lines do a wonderful job adding movement to the style and preventing it from looking stale.
7. Two French Braids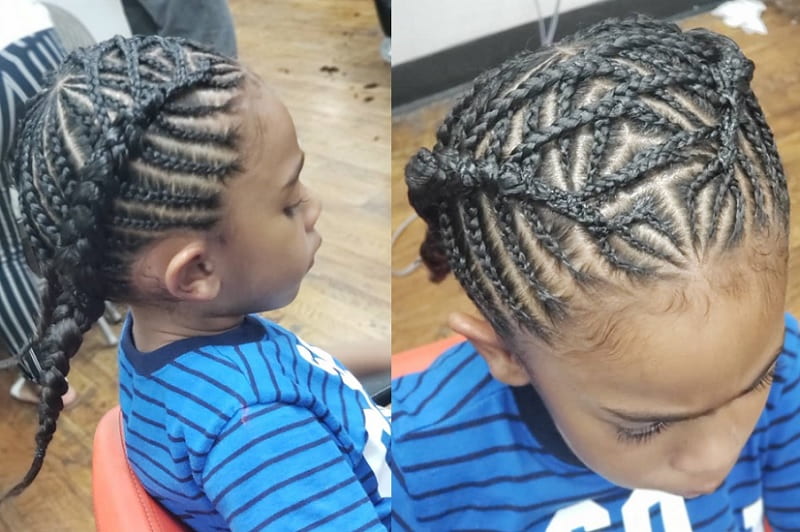 Lots of cornrows can be overwhelming, but not when they are brought together and joined into two long French braids that extend down the sides of the head.
These braids do a wonderful job containing and controlling the cornrows for boys, which is key to making sure that this style looks intentional and doesn't accidentally come across as being messy.
8. Perfectly Parted in the Middle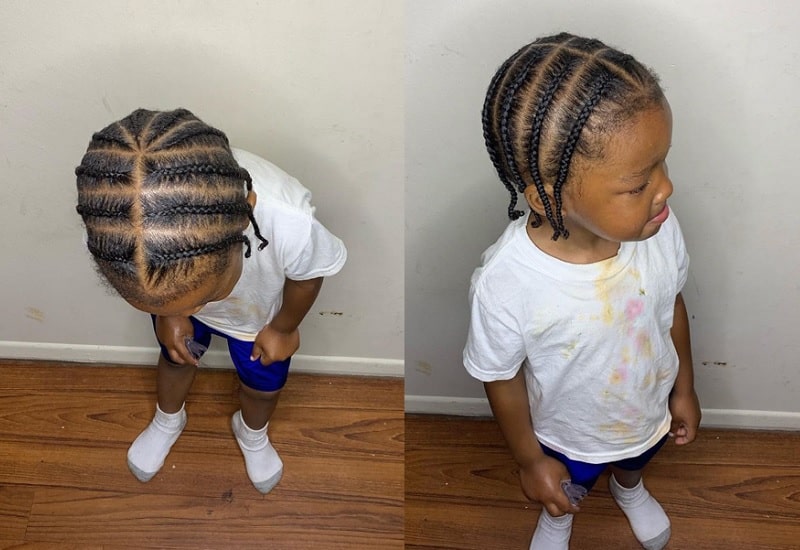 A perfect part that runs straight down the middle of the head does a wonderful job defining haircuts for boys with cornrows that extend out from it on either side.
This part, when left straight, makes the style symmetrical, which can be very attractive on any boy and instantly makes him look more mature. Since this is such a great braided hairstyle option for boys of all ages, it's perfect for younger boys, as well as ones looking to make an impression during school.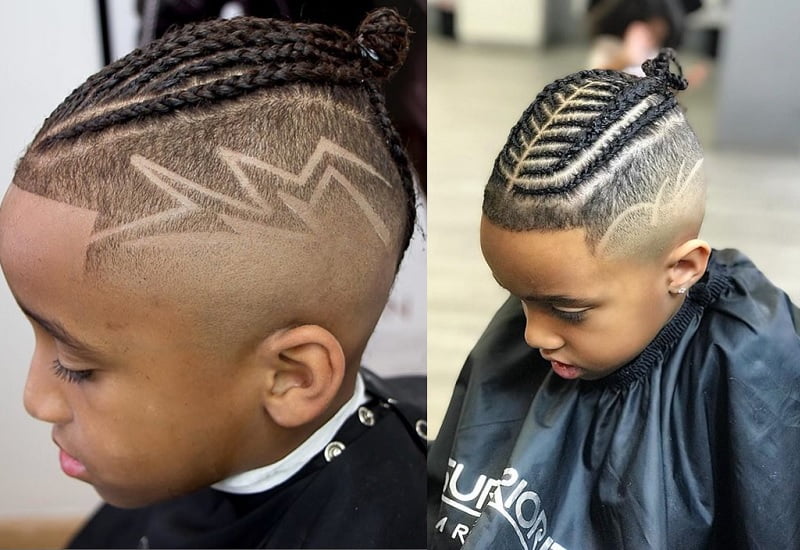 Designs that are cut into a fade are a wonderful way to draw attention to any cut, and cornrows are no exception. Keeping the cornrows in this boys haircut on the top of the head and then using designs in the fade will help to set it apart from other styles that may look similar. It's fun to change up the designs, allowing boys a great canvas for self-expression.
10. Lots of Braids to the Back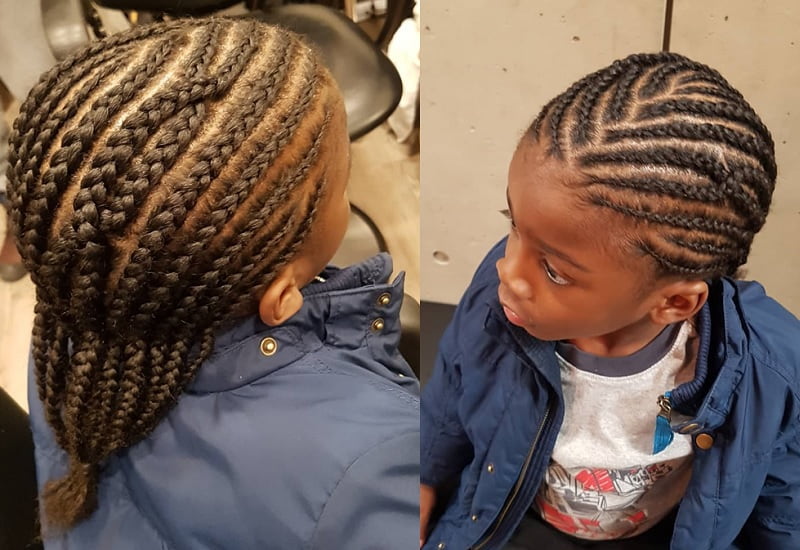 Lots of braids that run from the front of the face to the back of the head is sleek and chic, making this a popular cornrows option. This cornrow hairstyle for little boys with long hair has been around for a very long time, and for good reason.
It looks great and is very easy for boys to take care of. Crisscrossing some of the rows is a great way to shake up this style and add some personality.
11. Adding Beads for Style
Beads look right at home in cornrows for boys, so it is surprising that more people don't opt to add them to their style when it is finished. They can either be added to the cornrow itself for a pop of color and texture or put near the end of the hair to help finish it. Gold beads are a great choice and will contrast beautifully with darker hair.
12. A Middle Braid with Side Rows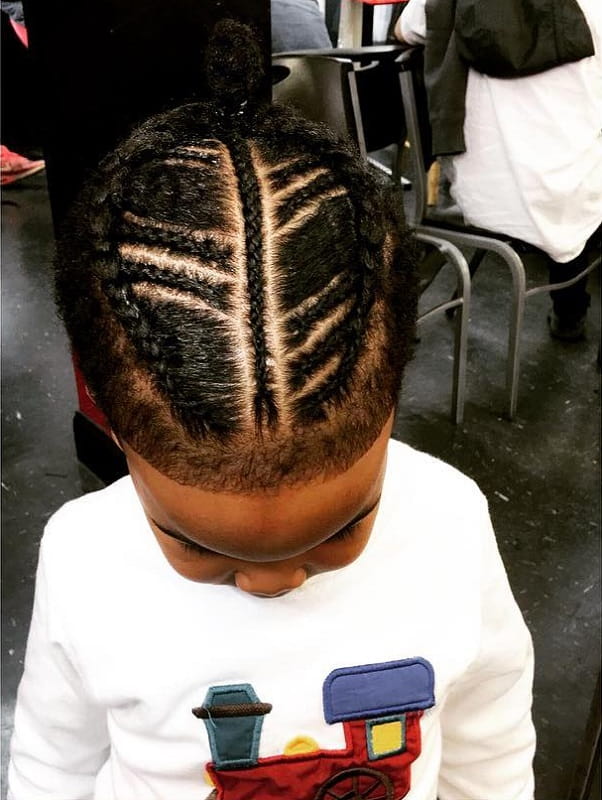 A straight middle braid helps to define this style and add a line that draws the eye directly down the center of the head.
Adding side rows of cornrows that come out from that middle braid and then are circled by another one helps to define this style. It's ideal for boys who want cornrows on the top of their head and then a great fade on the sides.
13. Fun Design on Top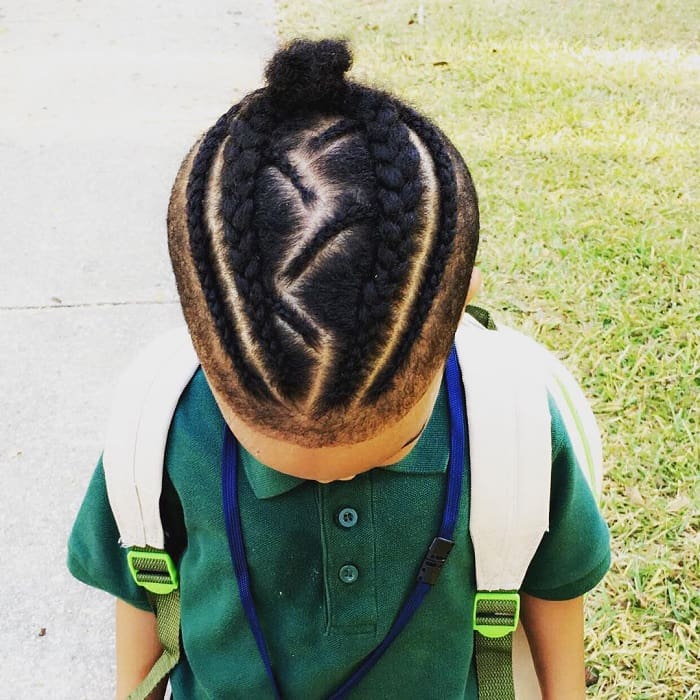 A fun zig zag design on the top of the head that is then circled by other cornrow braids and ends in a bun sets this look apart. This fun is easily seen from the top, making it a great option for little boys with curls who want to be able to show off their personal style when others are checking out their hair. It's a bold choice that boys love.
14. Lots of Curving Cornrows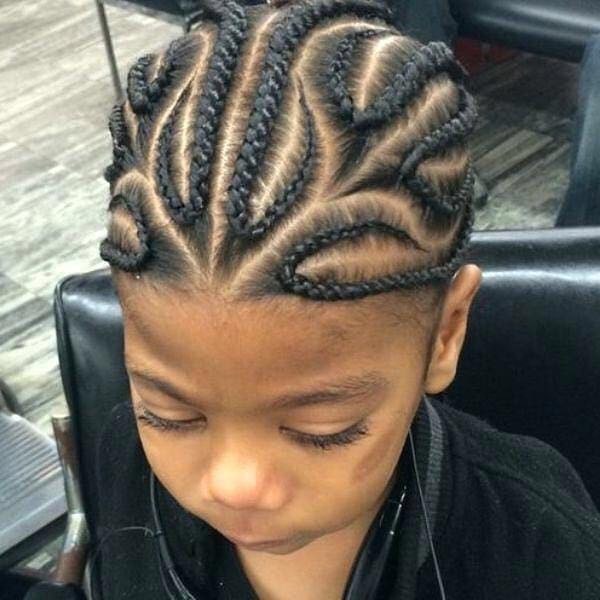 Curving cornrows that snake around the head and start skinny only to get thicker have a lot of movement and body that makes this style impressive and eye-catching. The little boy's cornrow braids fit together perfectly without ever touching each other.
Trendiest Long Hairstyles for Teenage Boys
15. Angular Design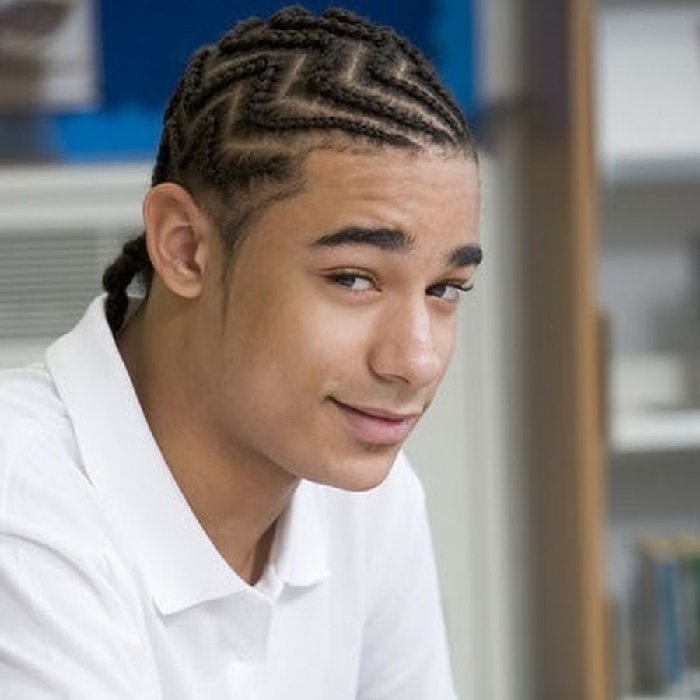 Angular cornrows are a surprising take on this style, but one that will work well on boys who want to be the center of attention. They look clean and professional and are a great way for boys to have some fun with their hair and still enjoy this sleek look.
Trying out cornrows for boys is a great way for boys to figure out whether or not this fun style is for them. These 15 options are all worth considering, as they will add style to how a boy looks and are sure to give him a boost of confidence.