Nobody would be here without their father, which is one reason to make sure to give great birthday wishes for dad on his big day.
Every day is special in his own way, and kids who want to really celebrate their father will want to do so using birthday wishes that help to make their dad feel special.
Rather than sticking with a trite birthday greeting that he has likely heard before, using one of these 45 happy birthday dad wishes for a special father will ensure that he feels great.
Children need to consider their relationship with their father when they want to wish him a happy birthday, as this will ensure that he has a great day that he deserves.
No matter how close children and their father are, choosing the right birthday wish will ensure that everyone is able to make the most of this special day.
Wholehearted Birthday Wishes for Dad
Proud dads deserve great birthday wishes that will make them feel closer than ever to their children. No matter the age of the children or the father, great birthday wishes will help them better understand each other and celebrate.
We have put together 45 wonderful happy birthday father wishes for kids to choose from when they want to wish their dad a special day and aren't sure what they should say to make him feel the best he can.
1. Happy birthday, my dear father! I really wanted to be with you and say that I love you by giving you a tight hug. I wanted to confess that, I'm the luckiest person for being the daughter of the best father. May God always bless you and keep you healthy!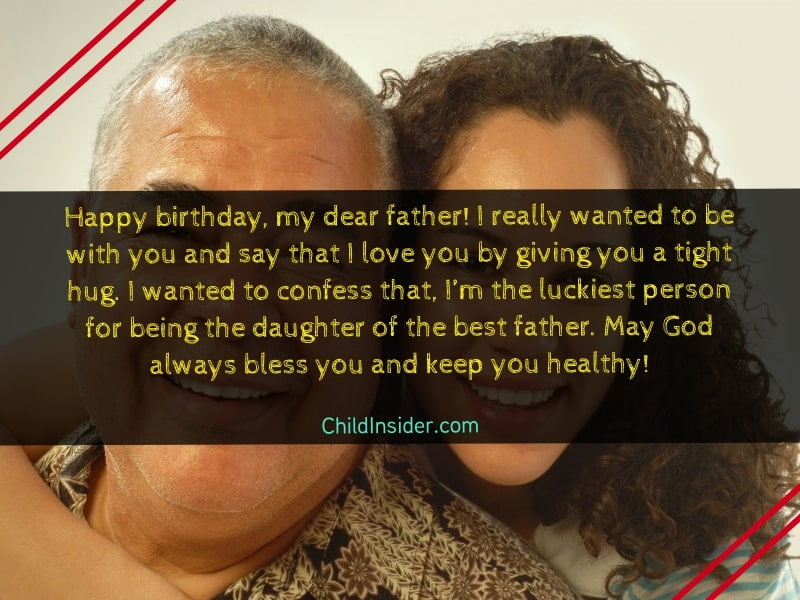 Heart-warming Birthday Wishes for Father from Daughter
2. Happy birthday to the best father, best friend, and the best mentor in the world! I love you with all my heart. Thanks for the unconditional love and affection. May this day be repeated in your life! Lots of good wishes!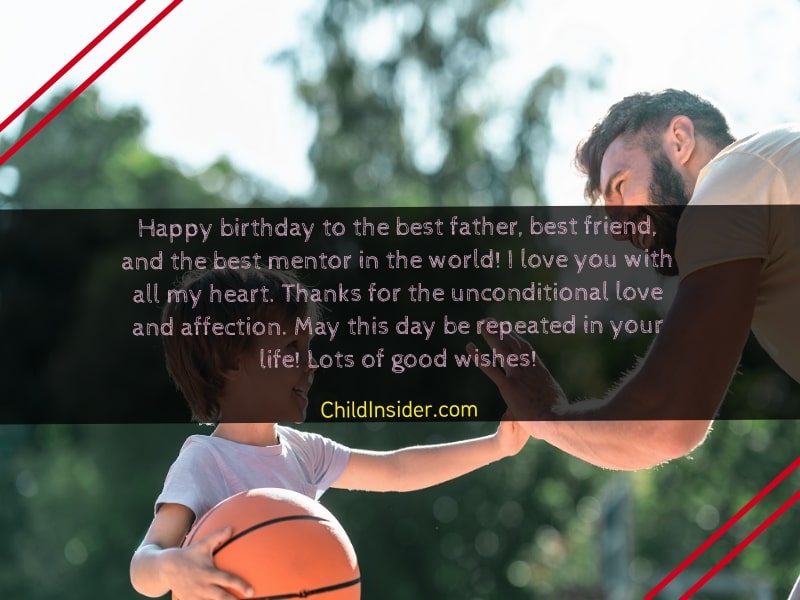 3. Dear father, my heartiest congratulations on your birthday! For me, you are like a magician who vanishes all the sorrows and obstacles and makes everything smooth. I feel proud of all the things you created and will always be grateful for what you've given me. Be healthy and blessed!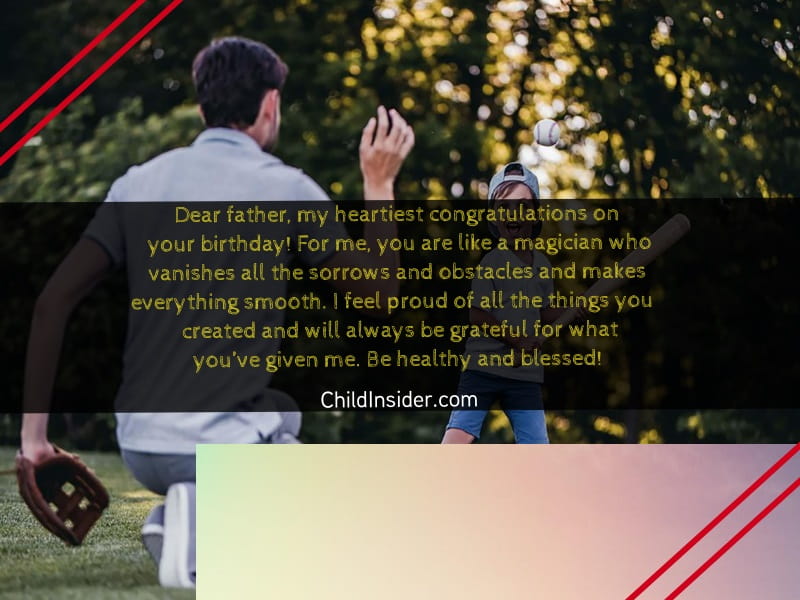 4. My handsome father, many happy returns of the day! I have never seen such a loving and dedicated person like you who can do anything for his family. It is impossible to repay your love but father, know that my love for you is giant.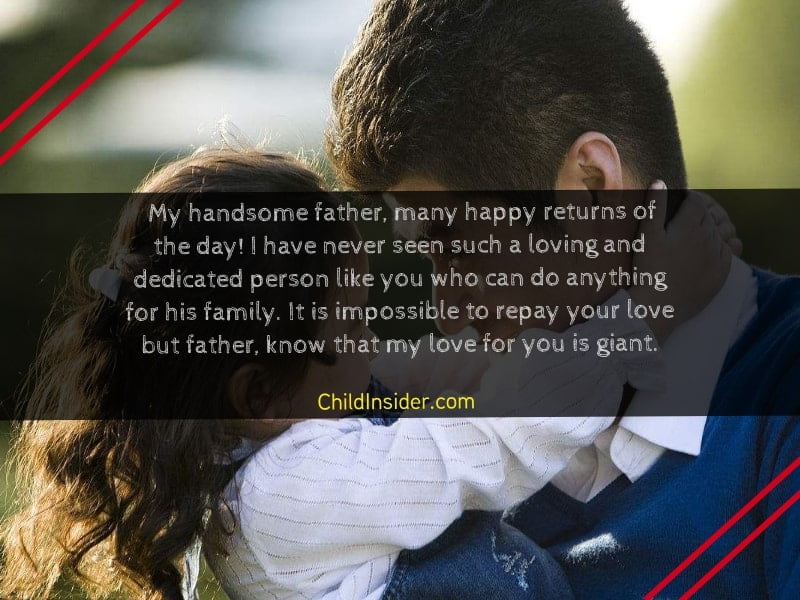 5. My beloved father, happy birthday! I always wanted to be like you and whatever I'm today is because of you. You helped me to fulfill my dream. Love you father! I wish you peace, love and all the things you want!
6. The most incredible person, my father, happy birthday! Words are not enough to thank you, to show you my gratitude and to explain your importance in my life. Just want to say that, I'm here with you and will always be.
7. Being your son is the greatest thing in my life. You are my world and I want to do all the things for you in the same way you did for me. Happy birthday father! I hope you receive a lot of love from everyone.
8. Happy birth anniversary dad! You are the perfect father figure who taught me all the valuable things. The way you lead your life is really inspirable. May the Almighty grant all your prayers!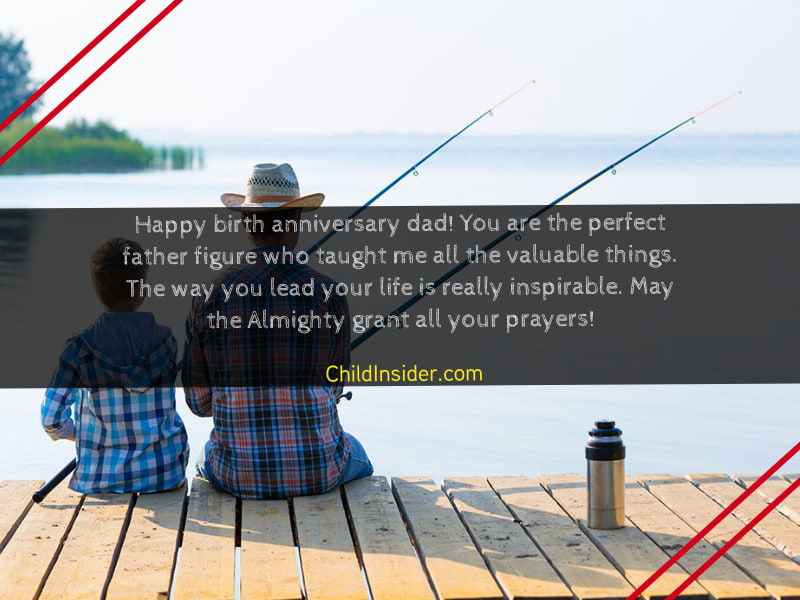 9. It's a great thing for me to celebrate this special day with you. Happy birthday father! May your upcoming years of life be filled with much joy!
10. To every girl, their father is their first hero and there is no exception in my case also. Whenever I needed, you helped me and cared for me the most and made my life easier. Thanks a lot dad, and many congratulations on starting a new age.
Most Unique Happy Birthday Mom Quotes to Wish Her
11. You were with me in every step I took, supported me every moment. Today, from God I ask for a shower of blessings for you. Happy birthday, father!
12. In every important moment of my life, I found you with me and I wish you to be at my side all the time. Happy birthday beloved father! Have a blissful day!
13. I am a proud daughter having such a strong, kind and generous man as my dad. You are my hero, my inspiration and my everything. Love you and wish you a very happy and enjoyable birthday dad!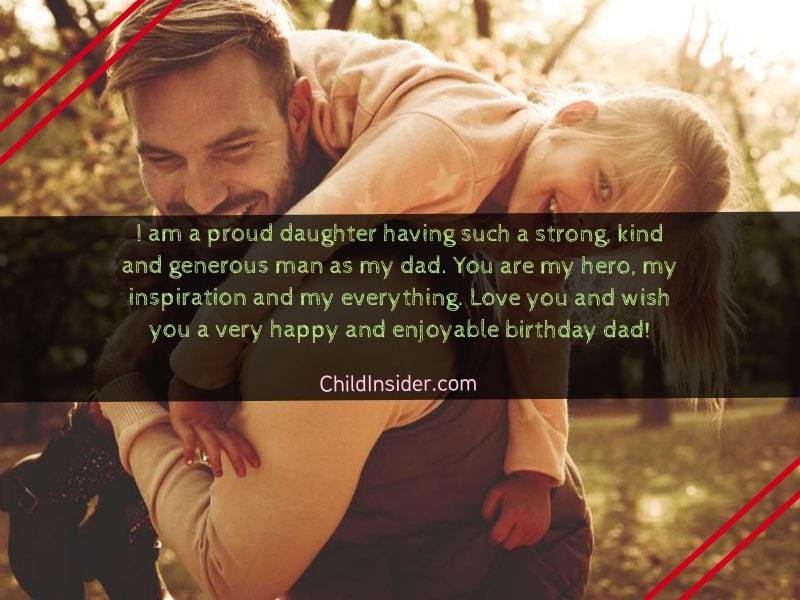 14. Happy birthday, dad! I know we had some disagreements but you've done all the things for the welfare of me. I admire you dad and respect you from the core of my heart. May this day come again and again for many years in your life! Love you!
15. Congratulations dad on your 50th birthday! You know, the thing that makes me happy the most is when anyone says that I look like the small version of you. You are the person I love the most. I hope you celebrate all your birthdays close to me. Have a great day dad!
16. Today is the date of birth of the person I admire the most. Happy birthday, dad! I want you to know that nobody can replace the place you have in my heart. Wish you a lot of happiness, good health, and all the best things!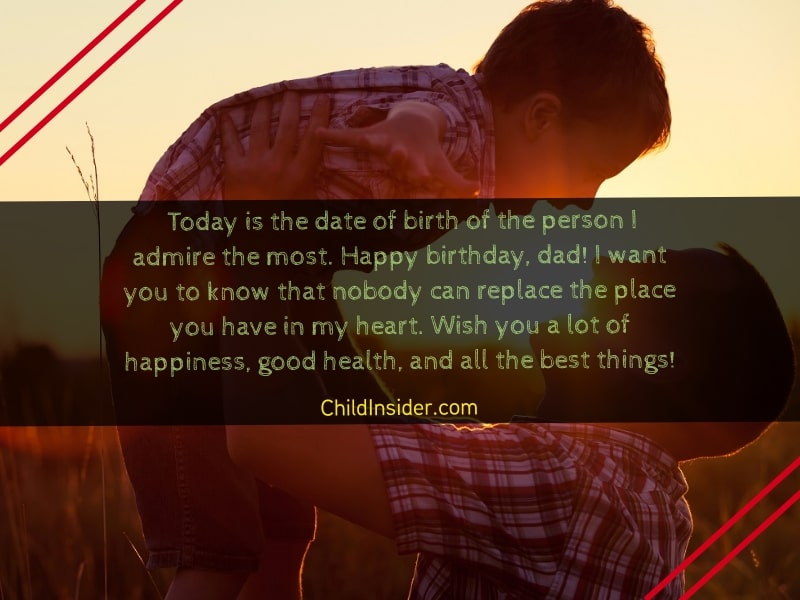 17. The great thing is it's your birthday today dad and the worst thing is I'm not with you. Happy birthday, dad! Have a blessed life and wish to meet you soon! Miss you!
18. Happy birthday, dad! I know I'm not a perfect son, but you're the best dad in the world. And today, I want to promise you that, I'll try to be a better person as I know it'll be the best gift for you.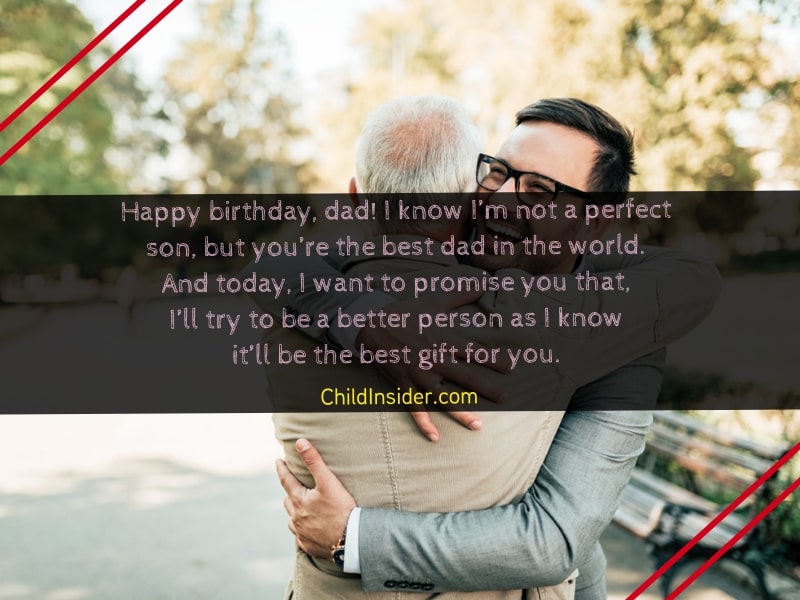 Amazing Father and Son Bond Quotes
19. My lovely dad, my hero, thanks for making me feel every day that I'm the blessed daughter in the world. Happy birthday, dad! I promise I'll do everything for making your heart smile. I wish for the best dad, the best day ever! Love you always!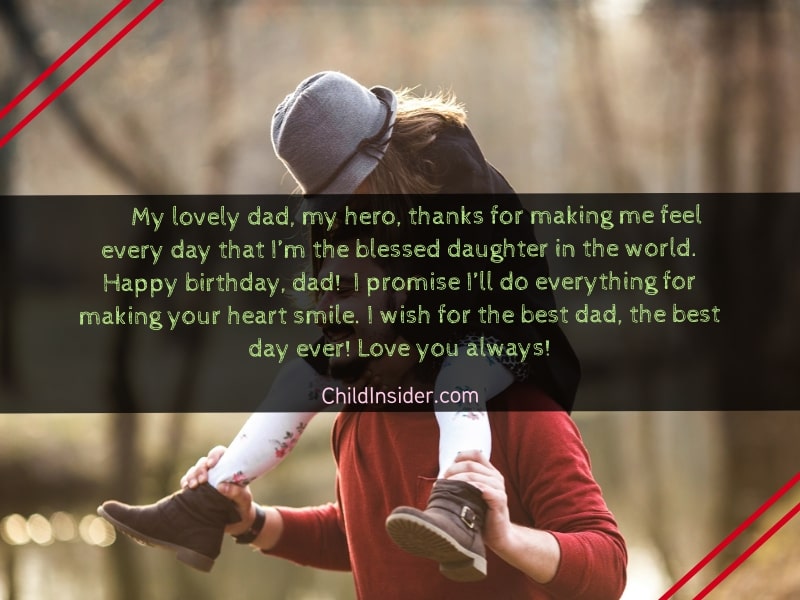 20. Despite being an adopted daughter, you've never made me feel what it means to be adopted. From you, I've learnt that in any relation what really matters, is the love form the heart. Thanks, dad, for giving me a place in your heart. Wish you a very happy birthday!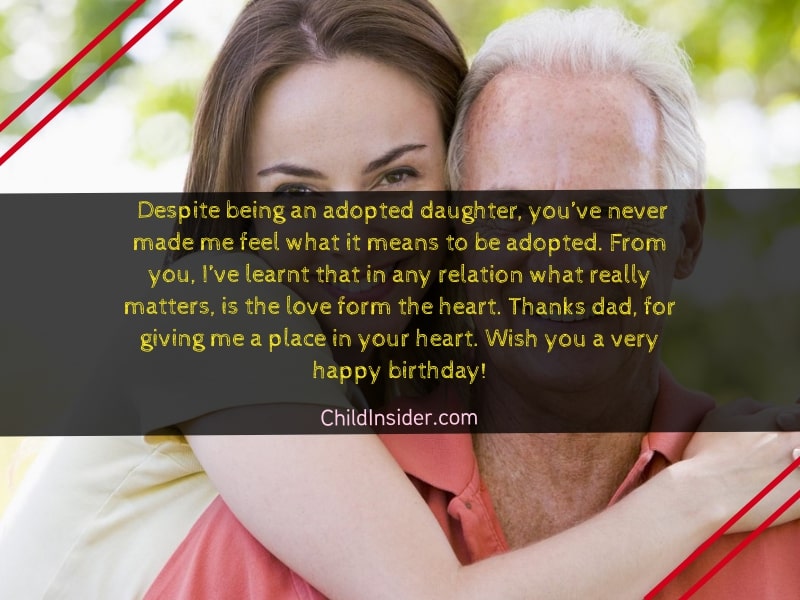 21. Today is the day to celebrate another year of your life dad! Many Congratulations! Always be like this fit and joyful person. May you forever be surrounded by all your dear ones!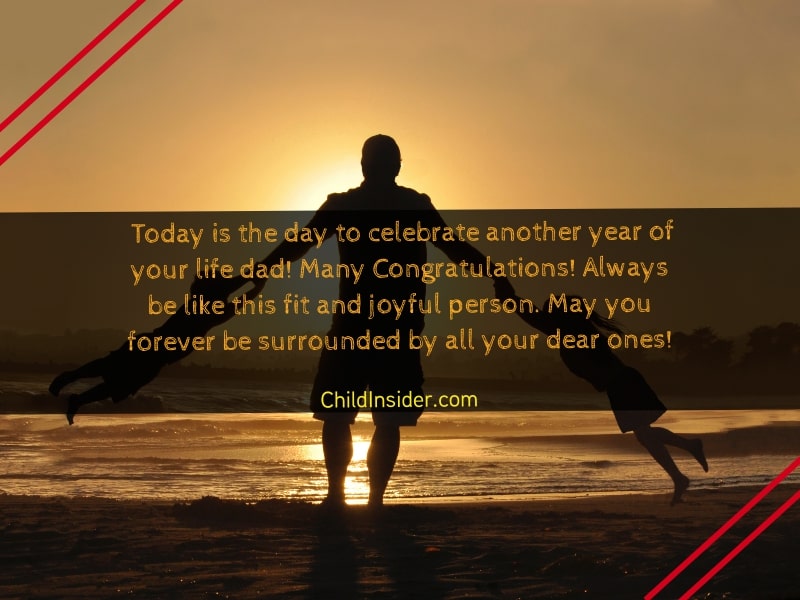 22. Congratulations dad for another year of life! You are the person from whom I get inspired every day to do better and to fight for the dream. You are the living example of love and humanity. Wish you a birthday full of joy, blessings, and surprises!
23. Today is the birthday of the most important man in my life! Congratulations dad! Always want to see you smiling. Be tired of laughing and have fun all day with all your near and dear ones!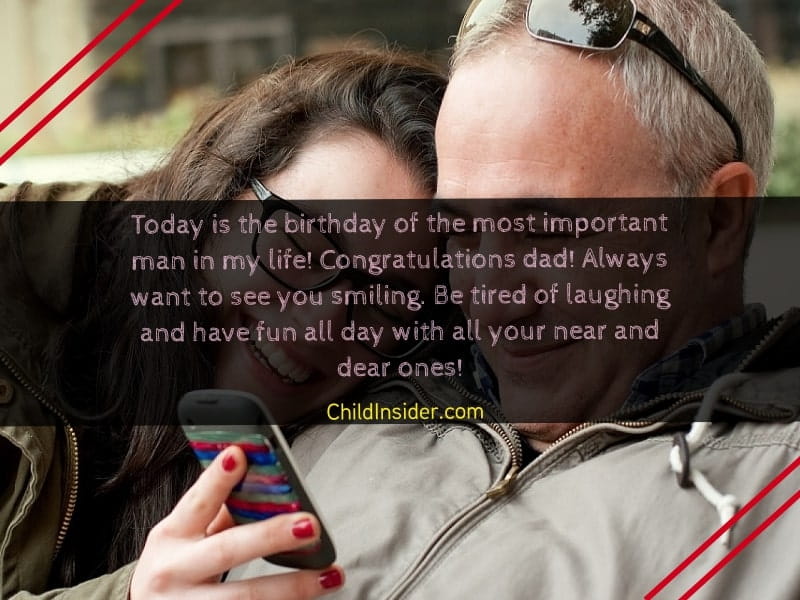 24. My superman, happy birthday! You are the real hero I've ever seen who has done everything to fulfill all my wishes. May God always bestow his blessings upon you and keep you healthy and happy!
25. Dad, have I ever told you how much I love you? You've supported me in all my good decisions and taught me the difference between right and wrong. I can never explain what you are mean to me. Happy birthday, dad! Have a fantastic day and enjoy as much as you can!
Check Out These Best Mom Quotes From Daughters
26. It's your birthday today and I'm so happy to be at your side. Happy birthday, dad! May you get the same happiness you've given me. You truly deserve only the best things. Have a very happy and enjoyable day!
27. I am so thankful to God for making me your daughter. I can never describe how much I love and admire you. Happy birthday, my superhero! I hope and pray that you'll be happy every day of your life. I love you!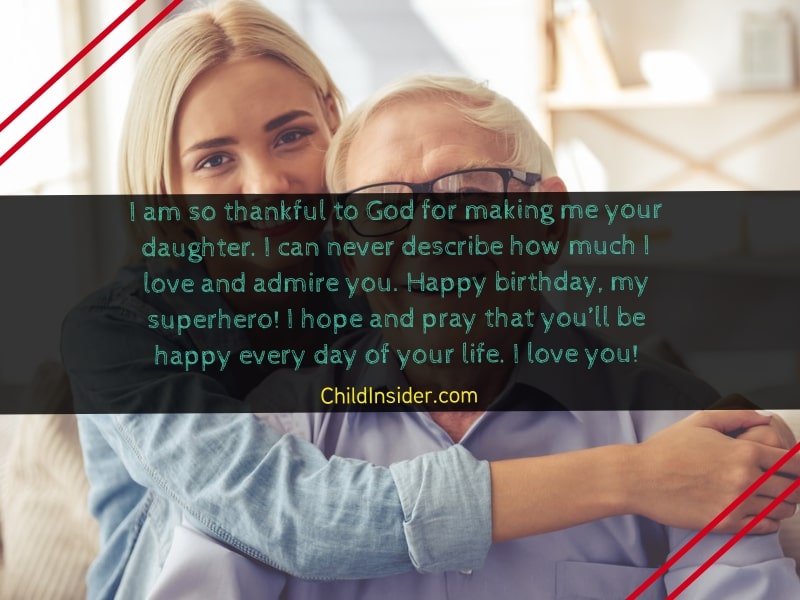 28. Today I'm here to congratulate the great man I've ever met, my dad, on his birthday! Thanks for making me the princess of your kingdom and raising me with much love. I can never forget the sacrifices you made for me. Forever be very happy my lovely dad!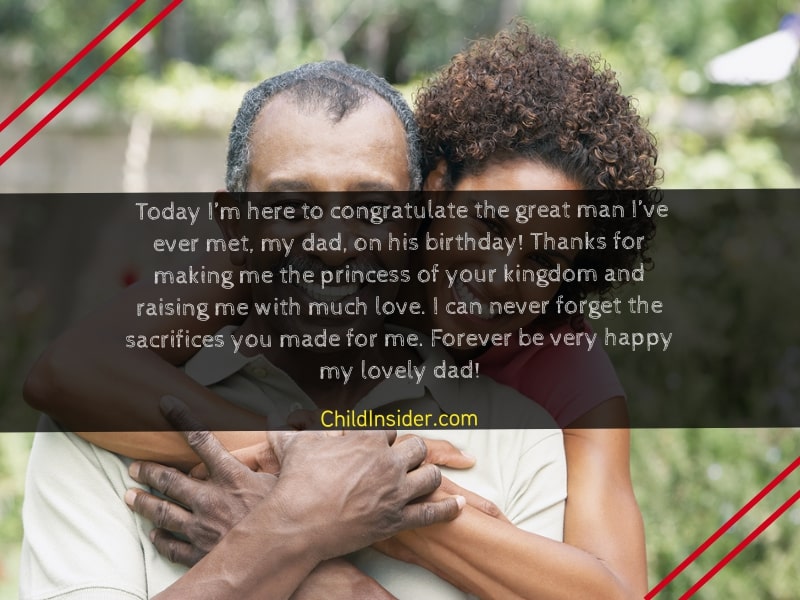 29. Every moment, I spend with you is special. Dad, I want you to be by my side always because I'm nothing without you. Happy birthday, dad! I hope your life be filled with good things. Your princess loves you a lot!
30. It's the day to celebrate another successful year of your life. Happy birthday, dear dad! Enjoy the day with all your heart. May the joy, peace and the blessings of God accompany you always!
31. You are the best example of a human being. You've always given so much to all but expected little. I'm happy to have a pure-hearted person as my dad. Happy birthday, dad! Have a great time with everyone!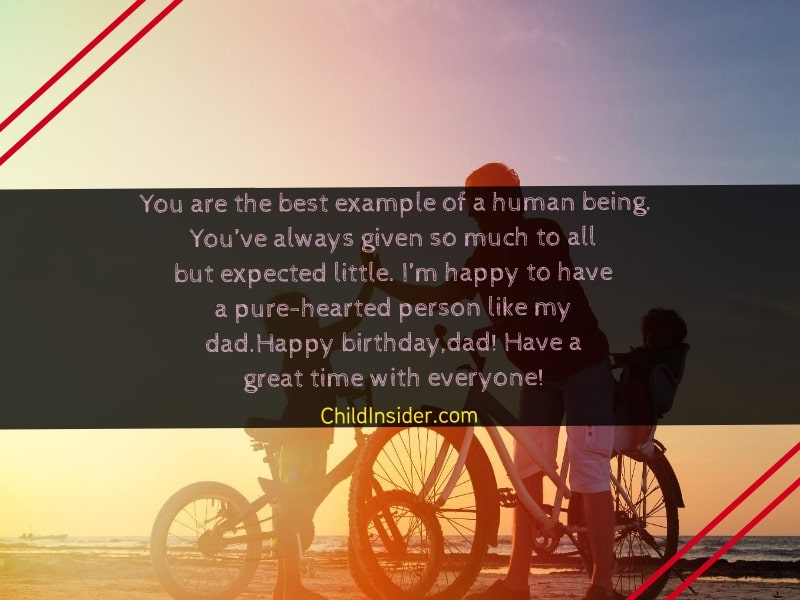 32. I always carry with me your principles and your teachings. I'm incomplete without you, dad. May I always be at your side! Wish you a very happy birthday!
33. Happy birthday to the best dad on the planet! Though I cannot give you the hug of congratulations because of the distance, I know that you can feel my love for you.
34. Dear dad, congratulations on your special day! You've been with me in all the situations, protected me and guided me in the right way. Thanks for making me the person I'm today. Love you!
35. One of the most important days of the year has arrived again. Happy birthday, dear dad! May the Almighty give you many years of happy and peaceful life!
Deep Happy Birthday Mom in Heaven Quotes to Share
36. Congratulations dad for the half century of life! I'm so happy to share this special moment in your life with you. May God give you great health and keep your smiling face always!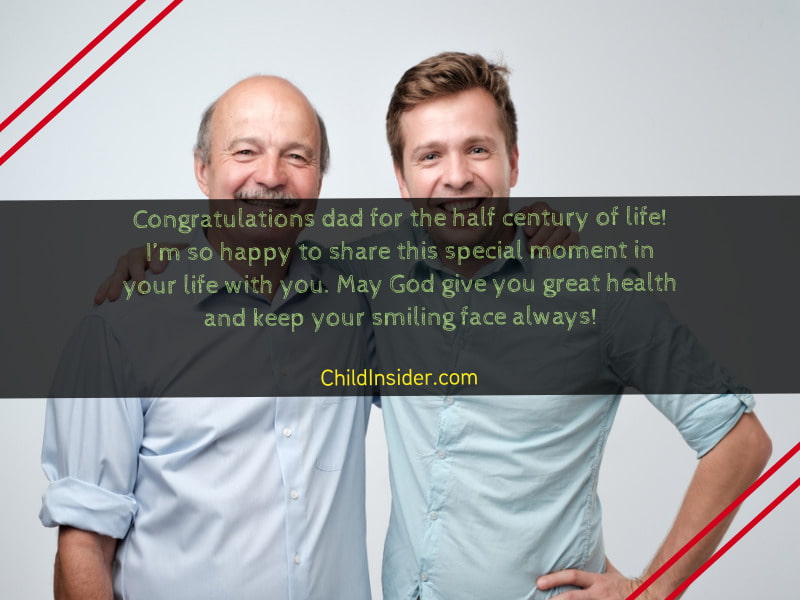 37. Happy birth anniversary dad! Today, on this beautiful occasion I want to tell you that you are my most favorite superhero. I always feel safe in your arms. Love you and many good wishes!
38. My heartiest congratulations on your birthday dad! I know I don't show it always but I love you a lot and very grateful to have you in my life. Wish you a day full of love, surprises and lots of good moments!
39. For me, you are not only my dad, but you are also my friend, my partner, my protector and my everything. You deserve much more than the best. Happy birthday my allrounder dad!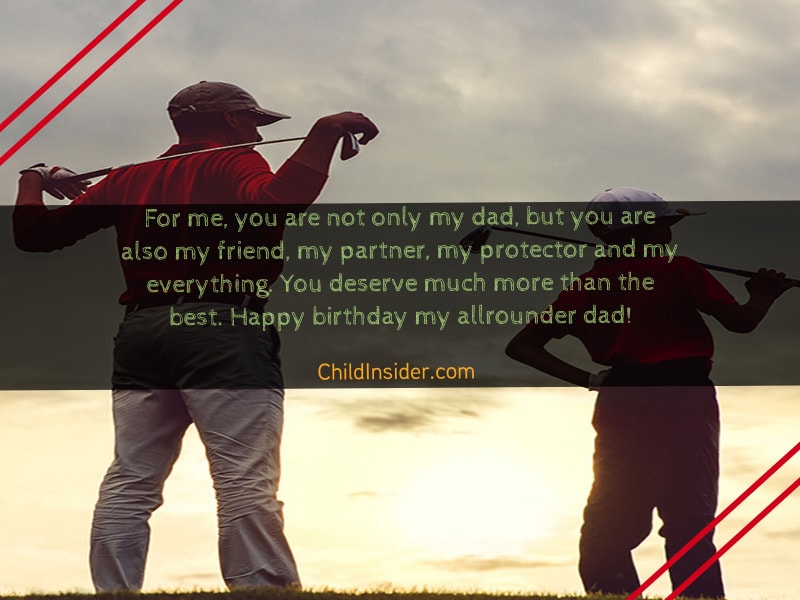 40. Many congratulations on your 40th birthday dad! You are the best thing that happened in my life. I can't think of a moment without you. May God always keep us together! Have a great day!
41. My beloved dad, happy birthday! Though the distance has separated us you are always in my heart. Enjoy every moment of the day and of course, don't forget to miss me.
Happy 11th Birthday Wishes for Your Son to Cheer Him Up
42. You are my role model, my inspiration and the man I want to convert. I'll forever be grateful to God for having you as my dad. Have a very happy birthday!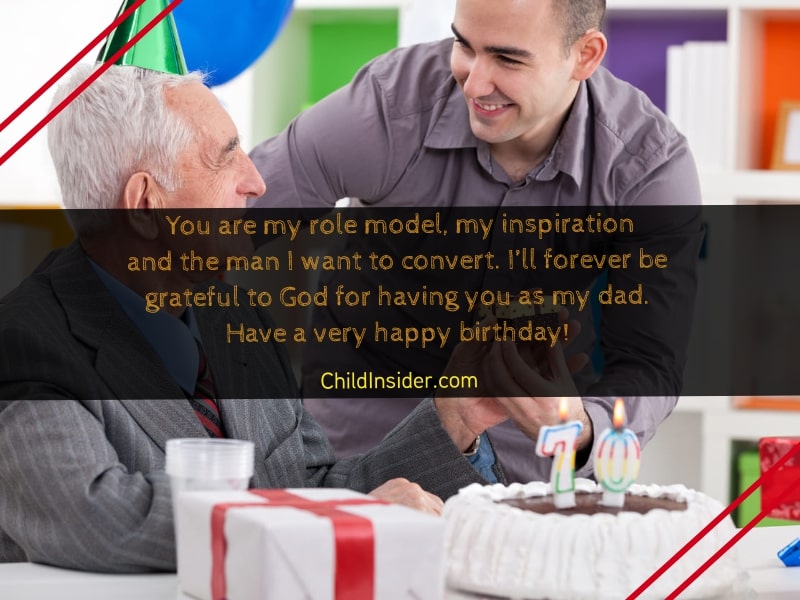 43. Happy birthday, loving dad! I proudly say that you're my dad, my best buddy, and my all-time supporter. Always remember that nobody on this earth loves you more than me.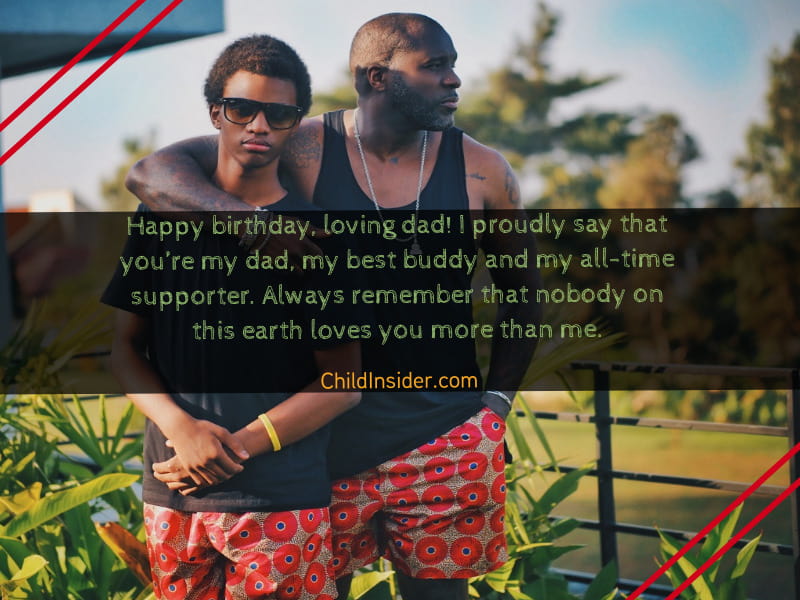 44. Happy birthday, the best dad! Thanks for believing in me and my dreams and for giving me the opportunity to do what I want. Have an amazing birthday and make a lot of good memories!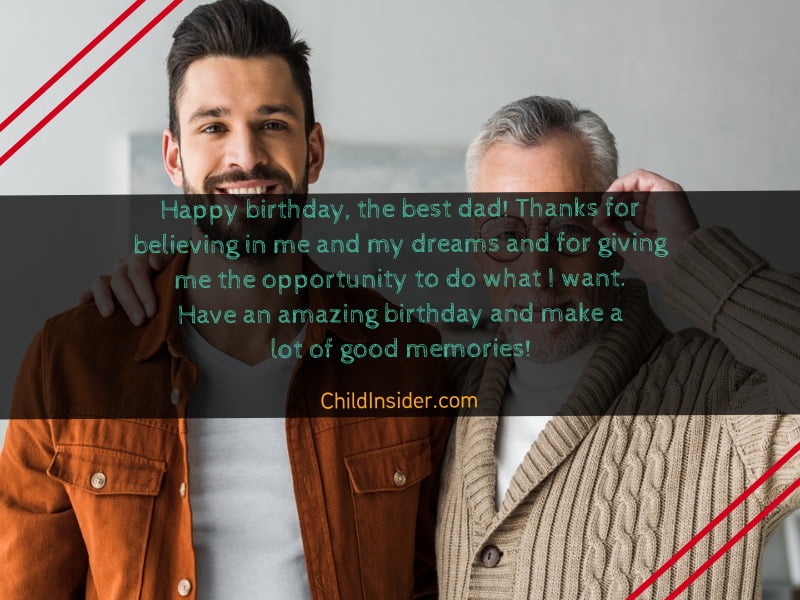 45. Congratulations dad for successfully completing another year! I feel so proud when you call me "son". You are incredible and I love you with all my heart. May God always keep showering his blessings upon you!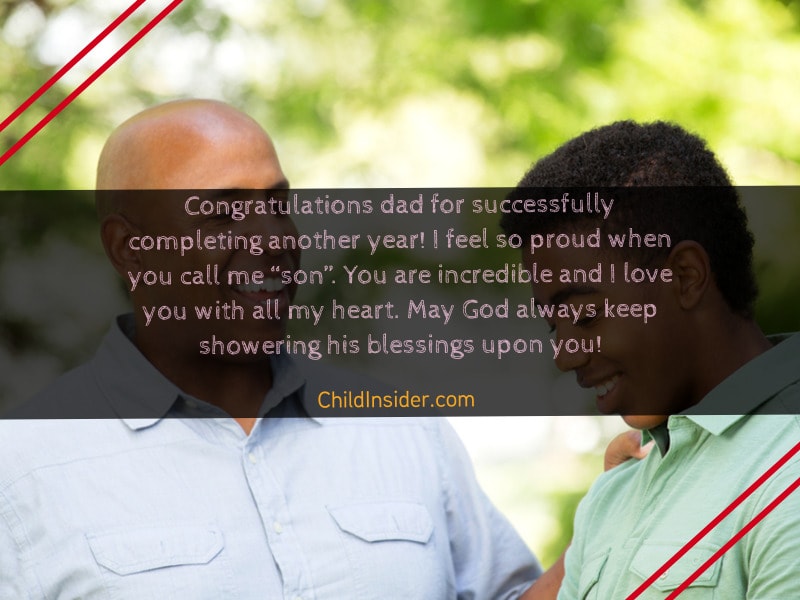 As you can see, all of our 45 happy birthday father messages are great options for any lucky dad. We believe in sharing the love on birthdays, and if you do too, you're sure to find a great option here for your dad.
Let us know which one you chose, and if you know any other great happy birthday dad quotes that you want to share, pass those on in the comments, as someone else may want to use them for their dad.