Cousins are special friends that lucky kids get to grow up with. To wish them with meaningful happy birthday cousin quotes on their birthday can make their day even more special.
Birthday wishes are a wonderful way to make a cousin feel special and loved, but a lot of people struggle to find the right words to use when they are talking to their cousin on their big day.
Since all cousins are different, if you are going to wish them a happy birthday, then you need to make sure that you know the right things to say. Birthday wishes for cousin will make the day much more special, but it's important to consider the relationship, the age gap, and how close cousins are when wishing them a happy birthday.
Best Birthday Greetings for Cousin
No matter how close you are to your cousin, it's important that you take time to wish them a happy birthday so that they can feel special and loved on their big day.
It's easy to forget to take time out of the day to do this, but having fun cousin birthday quotes on hand will ensure that you know exactly what you want to say to make their day as special as possible. All of these quotes are designed to make your cousin's birthday special.
1. Congratulations on your birthday, my dear cousin! On this big day of yours, I wish I were there to give you a tight hug. I'm sending you my best wishes. Enjoy the day as much as you can and make a lot of wonderful memories!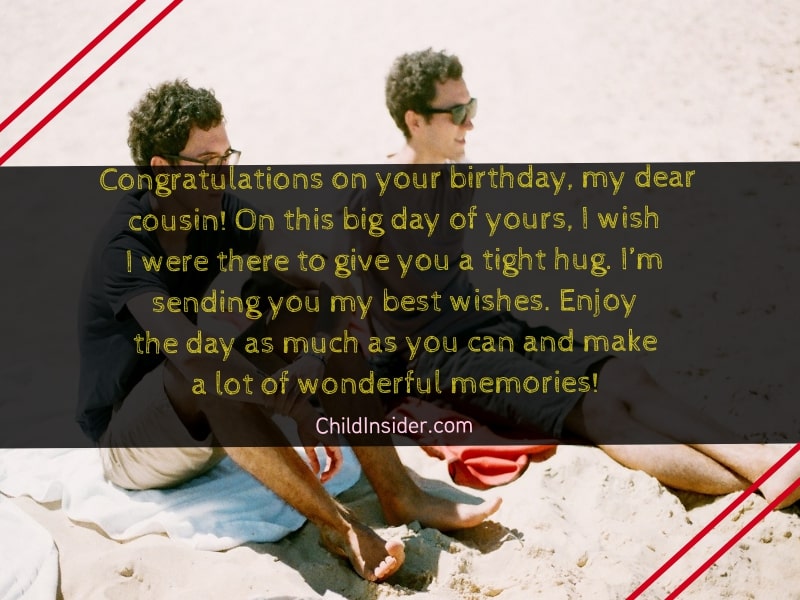 2. I've shared the moments with you that people share with their siblings. For me, you're my own sister. I'm lucky to be a part of your life. I hope the upcoming years of your life brings a lot of happiness, joys and success. Happy birthday!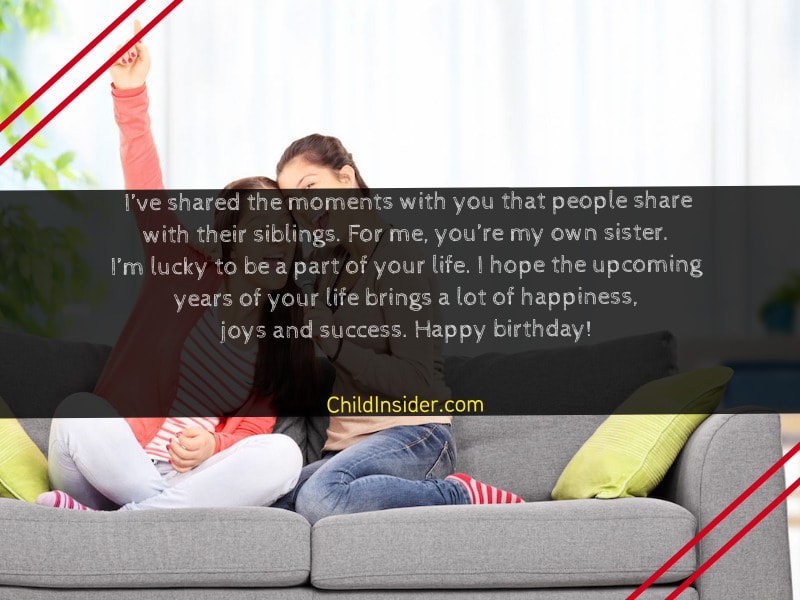 Funny Birthday Wishes for Younger Brother from Sister
3. Happy birthday dear cousin! Time flies so fast! I still remember the time we spend together, the laugh we shared and all our naughtiness. May this day be repeated in your life and God gives you al the things you want. Lots of love and good wishes!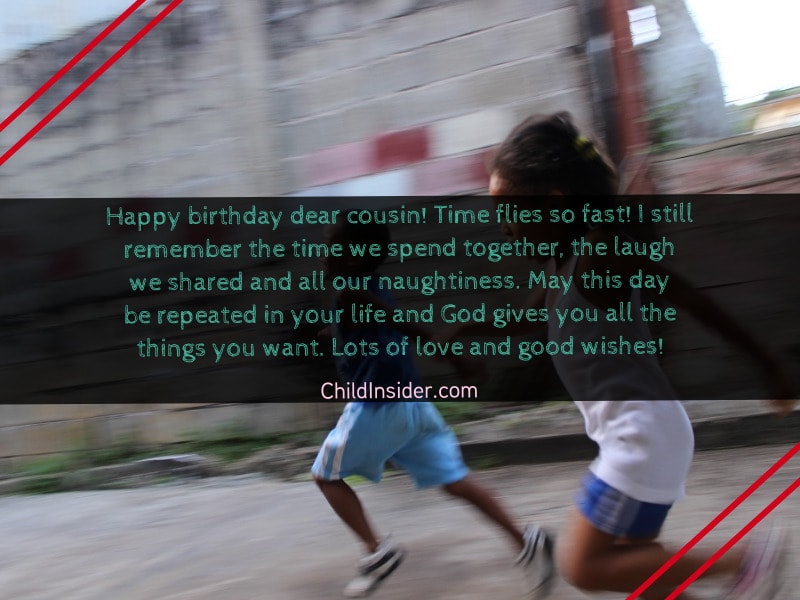 4. Congratulations on entering adulthood, my cousin! It's a beautiful phase of life and I really hope that this new stage will bring too much happiness in your life. Enjoy every moment of this very special day with lots of joys!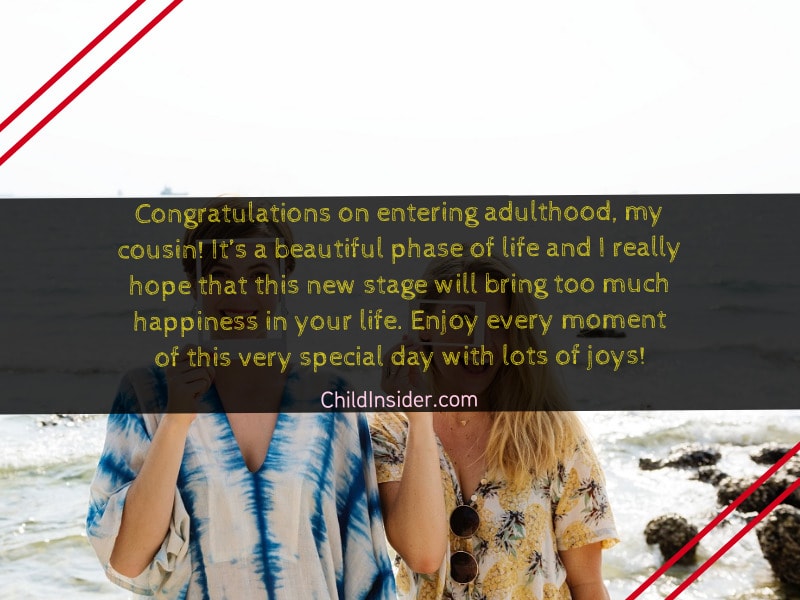 5. Happy birthday to the best cousin! You are my best friend with whom I share all the secrets. I can't explain how much I love you. I pray to God to fulfill all your wishes and give you all the best things because you deserve! Have a blast!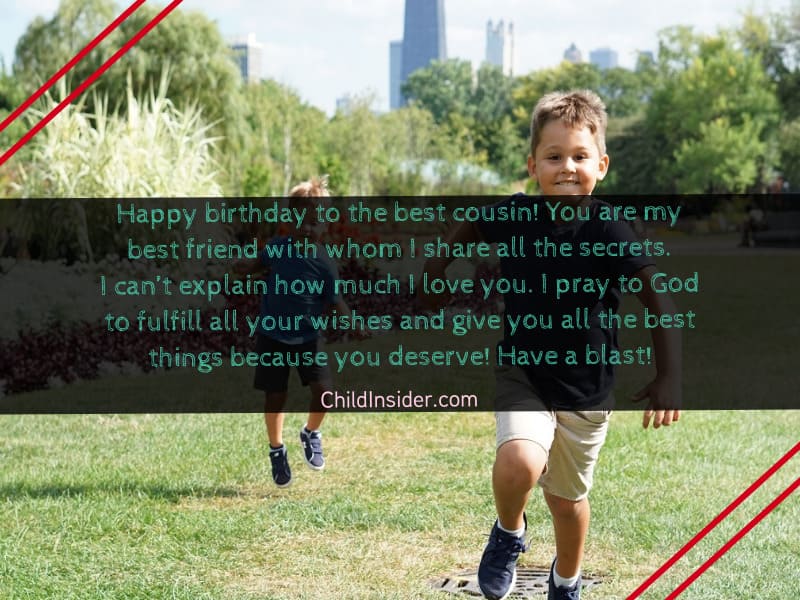 6. Happy birthday, my brother from another mother! Though you're my cousin I've always loved you as my brother. Today on your birthday, I want you to know that you can always count on me. May all your dreams come true!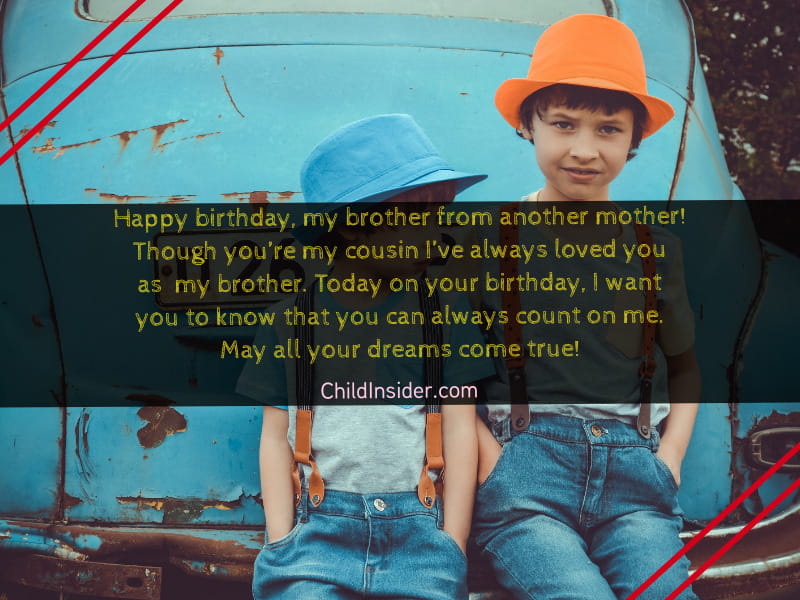 7. Happy birthday to one of the most important people in my life! You've never made feel that I've no siblings. I can't repay you whatever you've done for me. I just want you to know that no matter what happens you'll always be in my heart. Love you always!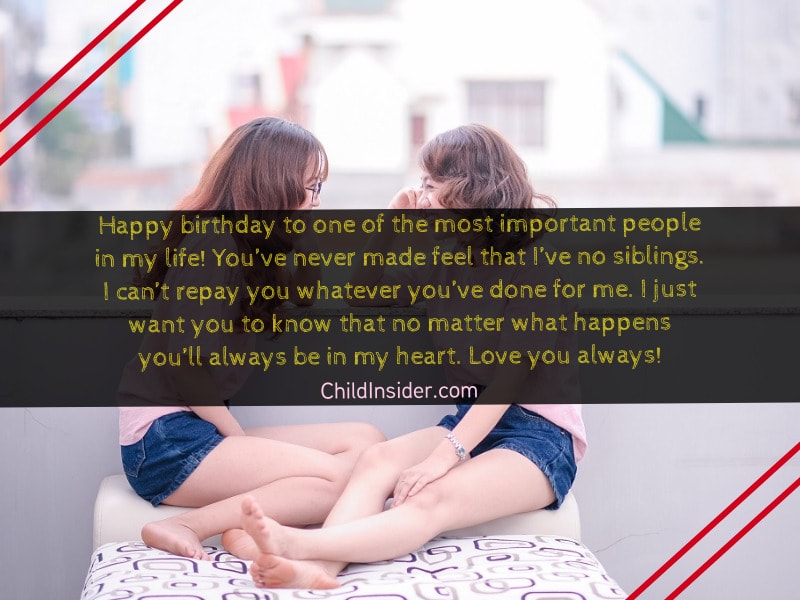 8. My cousin cum sister, many congratulations on your birthday! Sometimes I feel so jealous of you thinking that how can a person be so perfect! Really, you are just incredible! I wish I could become at least 10% of you. Wishing a wonderful day to the most wonderful cousin!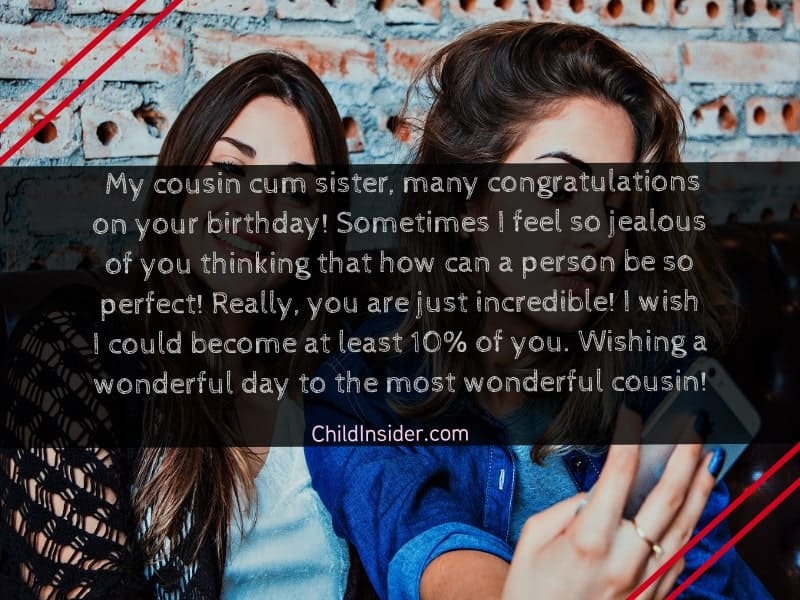 9. Today you're celebrating another year of your life and I'm so happy to be a part of this celebration. Happy birthday, my cousin! I hope all your wishes are fulfilled and you get whatever you want. Have a blissful life with the people you love the most!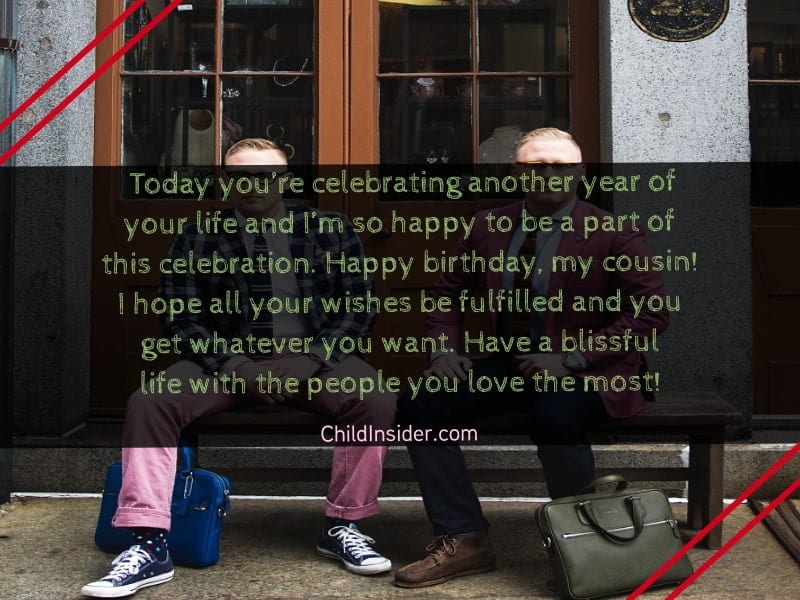 10. My heartiest congratulations on your 20th birthday, dear cousin! You are a wonderful person with a beautiful heart. You are the best of all the cousin and I admire you. May God give you many years of life and your smile never vanish!
Cheerful Happy Birthday Quotes for Best Friends
Beautiful Happy Birthday Cousin Images
11. You support me like a friend, fight with me like a sister and also is the partner of my crime. Thanks for helping me to spend my childhood in the best way. Happy birthday! I hope you get lots of warm wishes, gifts, and many blessings.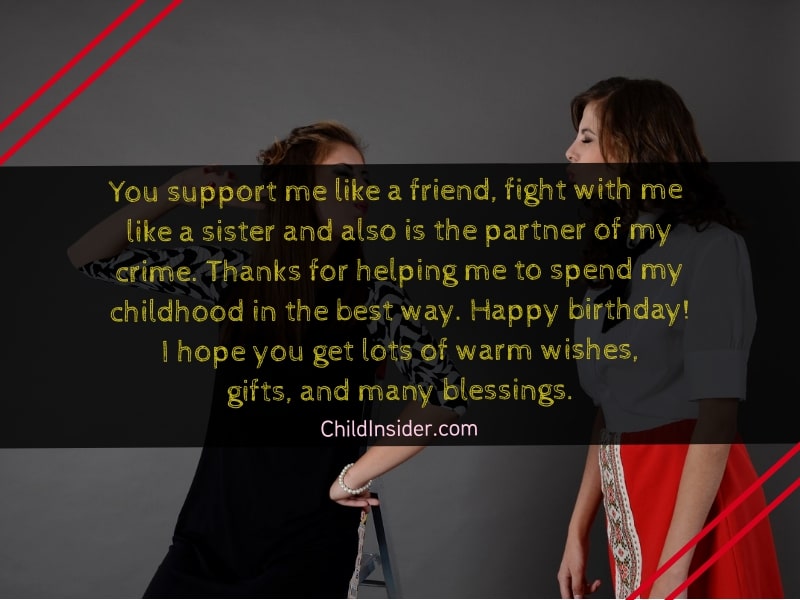 12. Whenever I'm with you it is a guarantee to have a fun time. I'm glad to be your cousin. Happy birthday dear! Always be like this. With all my heart I wish you a great life filled with peace, success, and joy! Love you!
13. Dear cousin, for me, you're more than a sister. I've always found you at my side whenever I needed. Thanks for always supporting me. Since our childhood, we are together and I hope we'll be together even in our old age. Happy birthday! Wish you a blessed and beautiful day!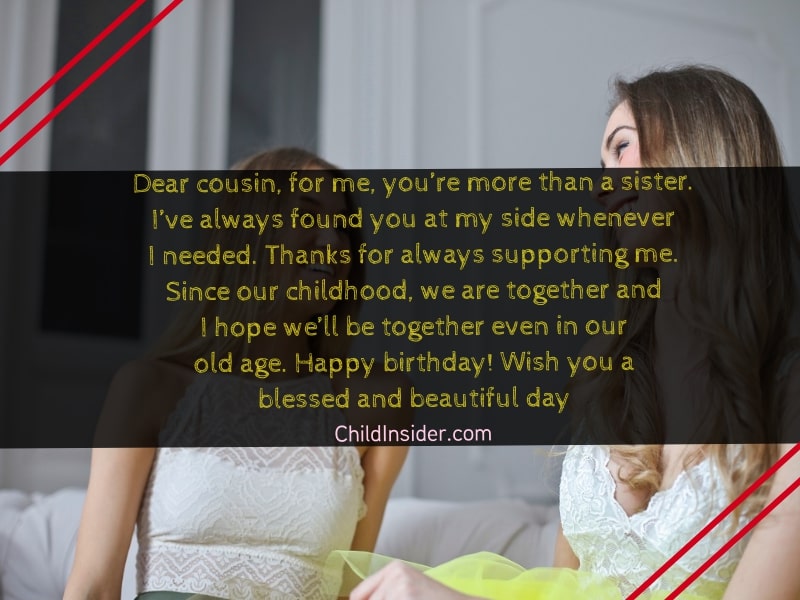 14. Happy birthday to one of the most important people in my life, my cousin! Today we are separate because of the distance but we're connected by the heart. I hope our relationship always remains the same. Come back soon because I can't wait to have fun with you as always.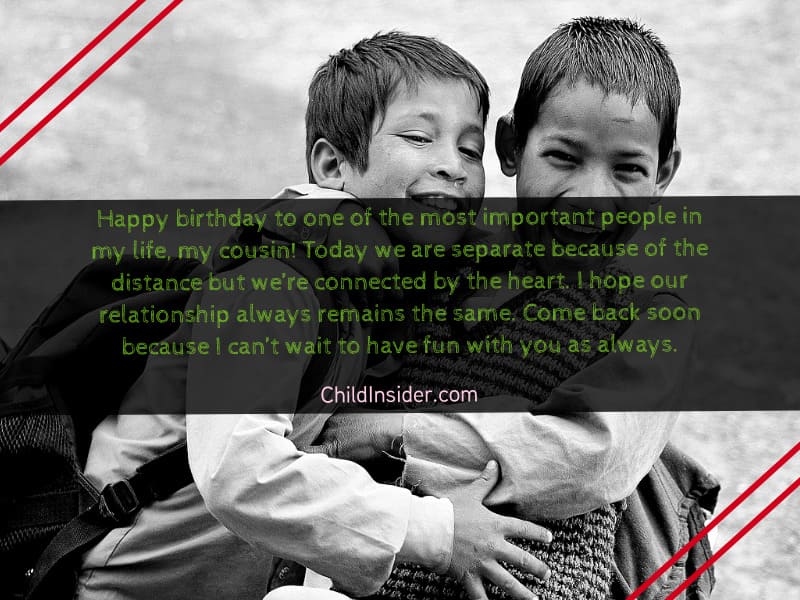 15. Happy birthday, my cousin cum little brother! You are the cutest child in our family. It's your lucky 7th birthday and I hope you can get all the happiness, many warm wishes and lots of gifts. Keep in mind that I love you today, tomorrow and always!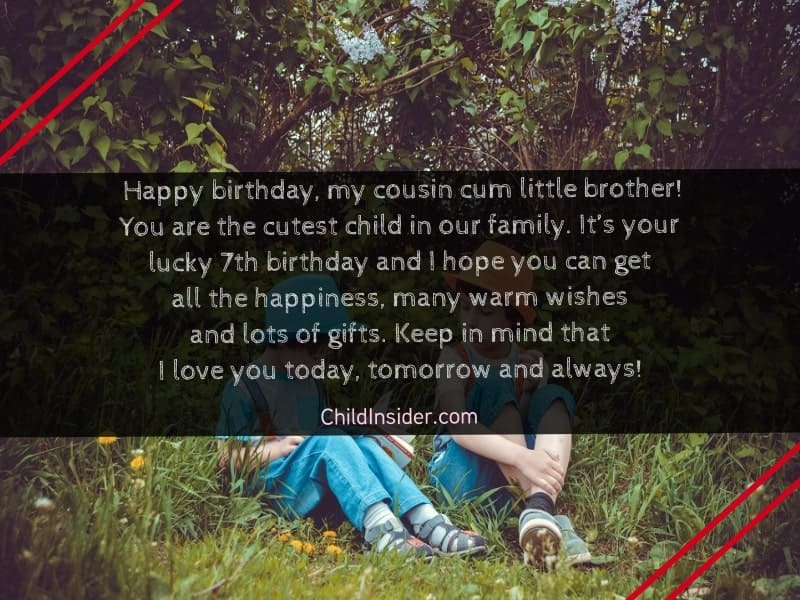 16. Do you know that the cost of candles is more than your birthday cake? I think we should inform the fire service before you blow the candles. Happy birthday!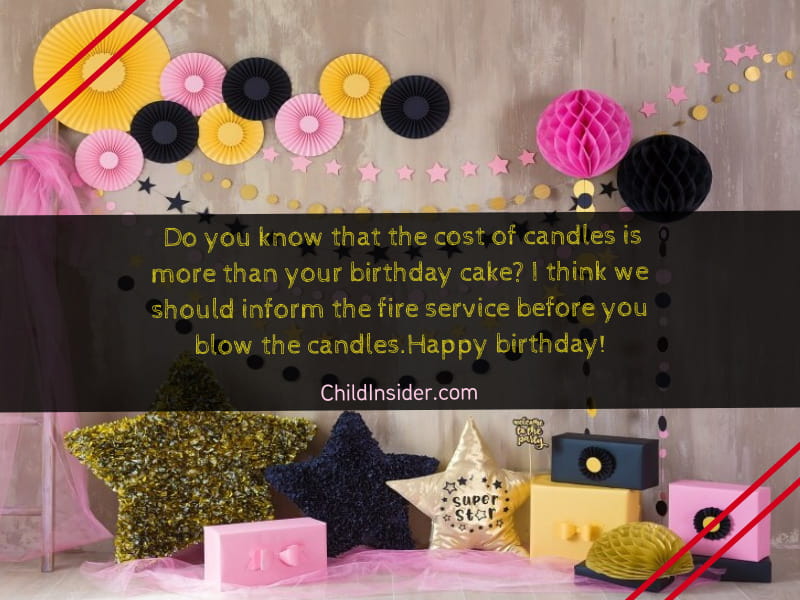 17. Your birthday is very special for me because you are my favorite cousin and very close to my heart. Happy birthday! I hope, you get everything that makes you happy! I wish you a year full of health, beautiful moments and lots of love!
Beautiful Birthday Wishes for Sister
Cutest Birthday Messages for Cousin
18. My cousin, my sister, my friend many congratulations on your birthday! You are a wonderful person with so many good qualities. I just love your personality, the way you lead your life and everything of you. I want you to remain like this forever.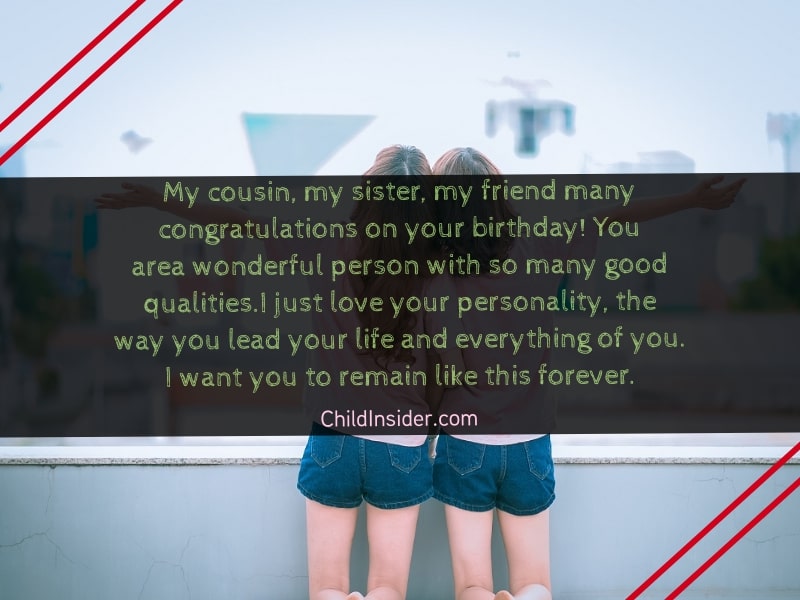 19. The wrinkles on your face are telling that, you are getting old. You must be happy because now you can take the advantage of being an old man. Happy birthday, aged cousin!
20. Having a cousin like you is a gift. You've always inspired me and I'll be grateful to you forever. May you live for many years with great health. Have a fantastic birthday dear!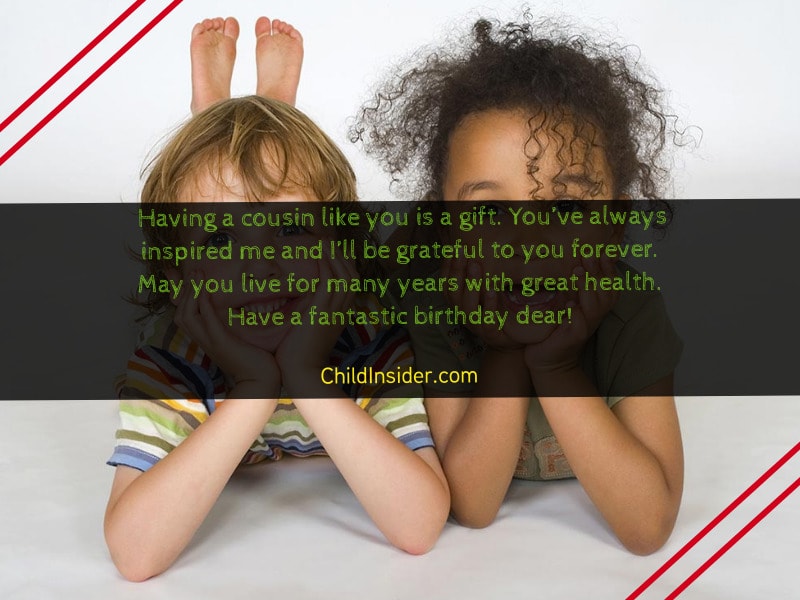 21. Today is the day to celebrate for another year of your life. Congratulations sweetest cousin! I'm always incomplete without the presence of you beside me. Remember that your cousin loves you so much and always wants the best for you. Enjoy your day!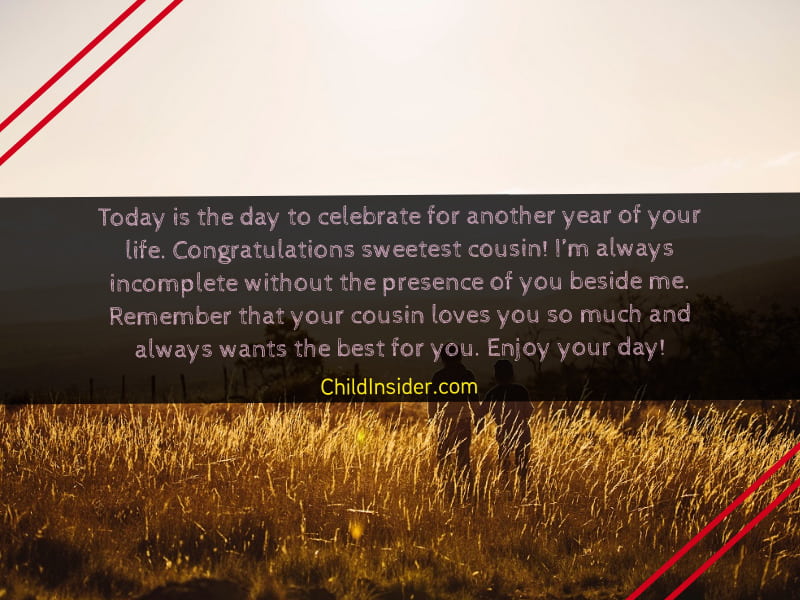 22. Today you're celebrating another year of your life and I'm so glad to be a part of it. Happy birthday dear! You are an incredible person who has a pure heart. Wish you all the happiness of the world!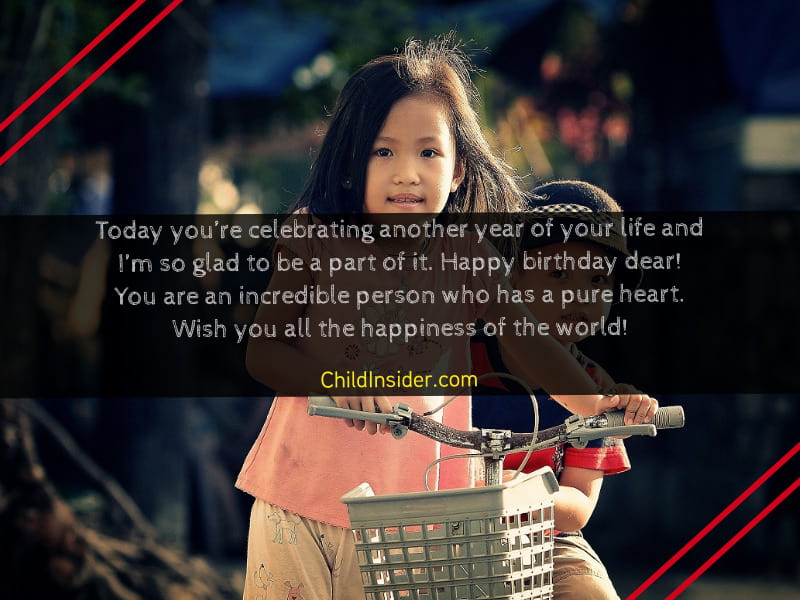 23. Every birthday is special. But today it's a bit more special because it's your 18th birthday. Many congratulations my dear cousin and welcome to adulthood. I hope you really enjoy this stage of life. Best wishes to you!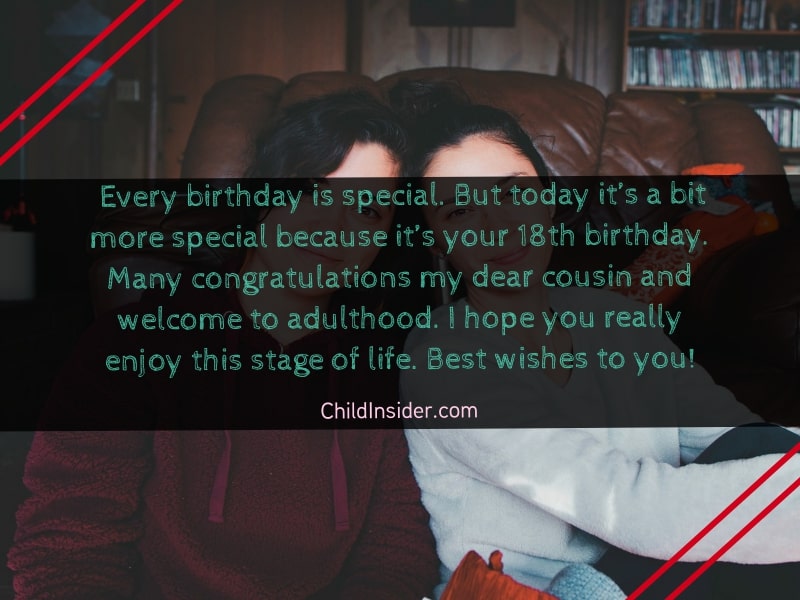 24. For a special cousin, I want to wish a very happy birthday. You are a great example of love and friendship. A big hug, lots of kisses and tones of love for you. Have a great celebration and get lots of blessings!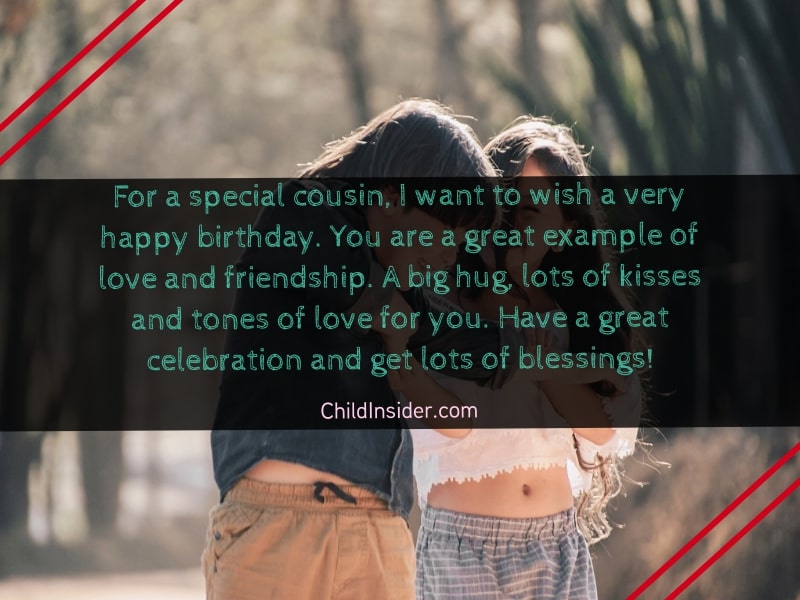 25. Happy birthday, beloved cousin! You are the best friend that anyone can ever ask for. I can never forget all the fun and enjoyable moments we shared. May the Lord help you to achieve all that thing you set up to do! Cheers to your happy life!
Adorable Happy Birthday Quotes for Baby Sister
Cute Happy Birthday Beautiful Cousin Greetings
26. One more birthday has come to your life and I'm so happy to be with you on this special day. Happy birthday beautiful cousin! Always keep the smiling face and don't forget to thank God for all the things he has given. Lots of love!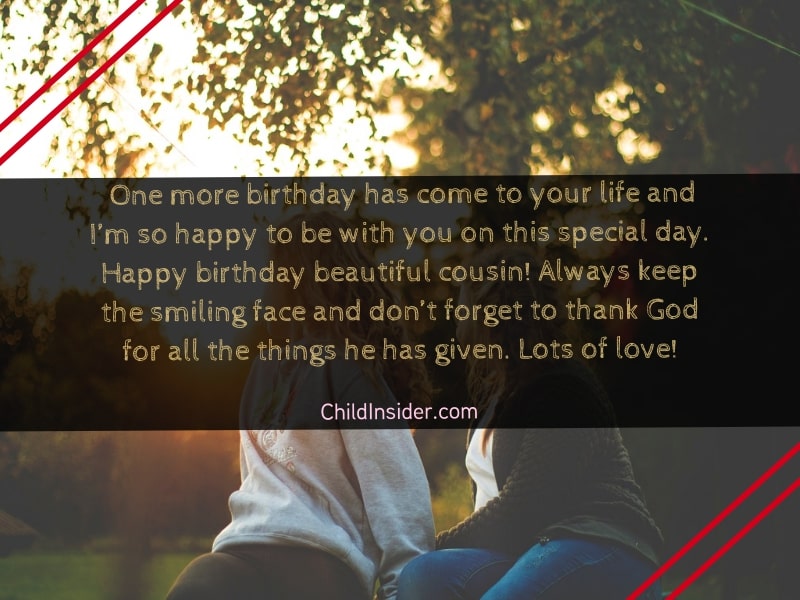 27. You are beautiful and perfect all the way. I don't know how can you manage all situations so easily. It's really inspiring. I hope you never change and all your days become more beautiful. Let's celebrate this special day. Cheers!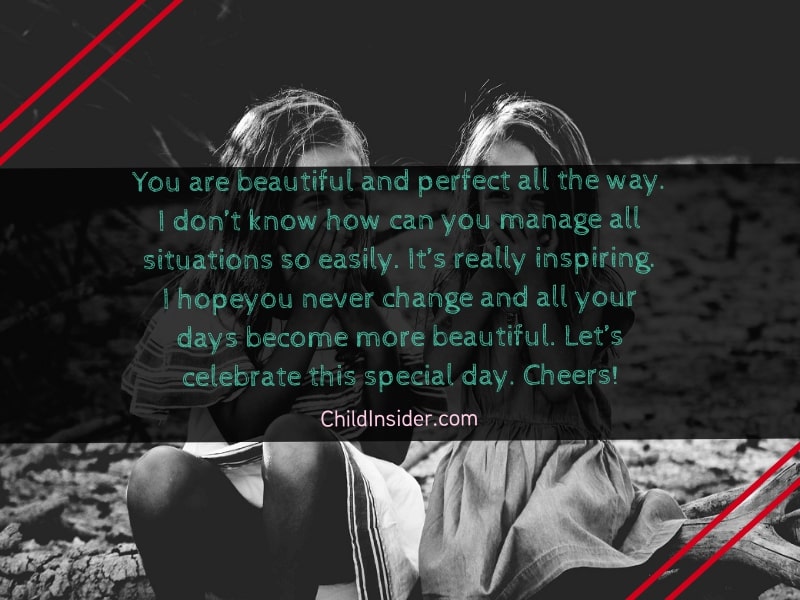 28. Happy birthday to the prettiest girl in the world. I can't explain what you are mean to me. I hope all your dreams become real. Wishing my beautiful cousin a very beautiful day!
29. There's no doubt that it's a blessing for me to have a superb and great cousin like you in my life. Thanks for being a great friend to me. I wish you a very bright future, buddy! Happy birthday!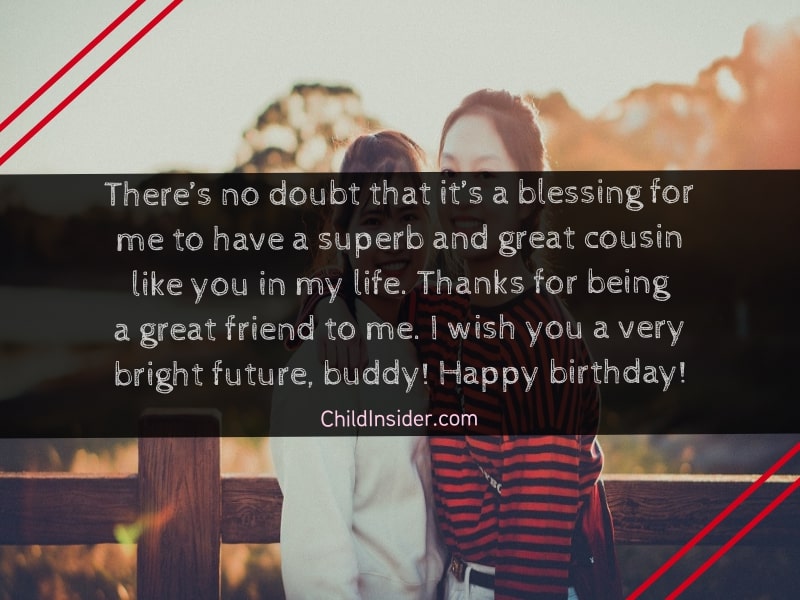 30. Thanks to the almighty that he gives you a beautiful life. Happy birthday, cousin! May no sorrows ever touch you! Keep in mind that all the members of the family love you.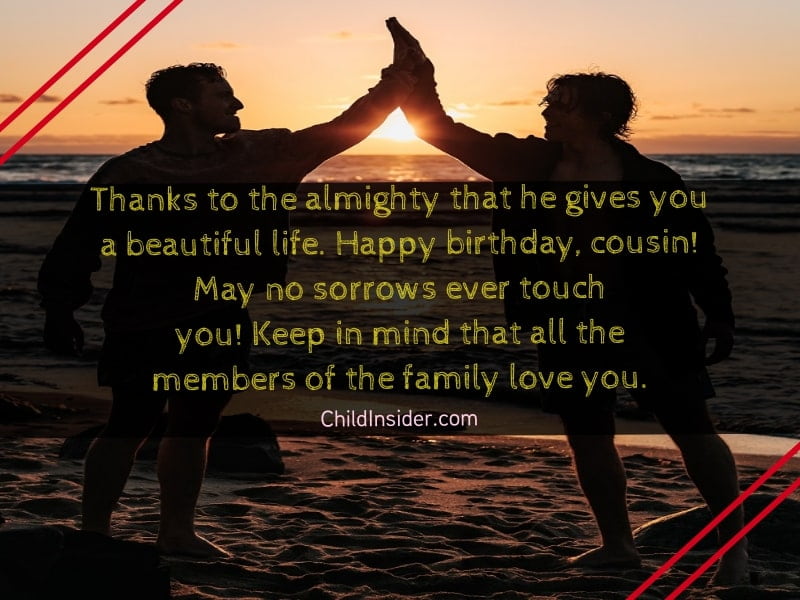 31. Congratulations my cousin for successfully complete the 1st decade of life! It's a great day for all of us. Grab the opportunity that life offers every day. May God help you and give you enough strength to achieve your goal!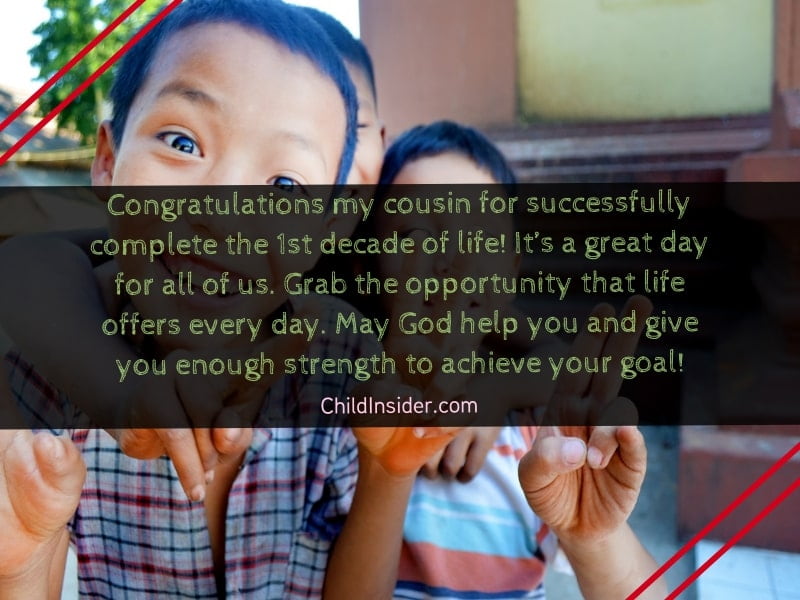 32. We've grown up but the memories of our childhood are still fresh in my mind. It's always a great pleasure for me to be with you, dear cousin. Happy birthday, beautiful! I hope every day you get many reasons to smile. Have fun!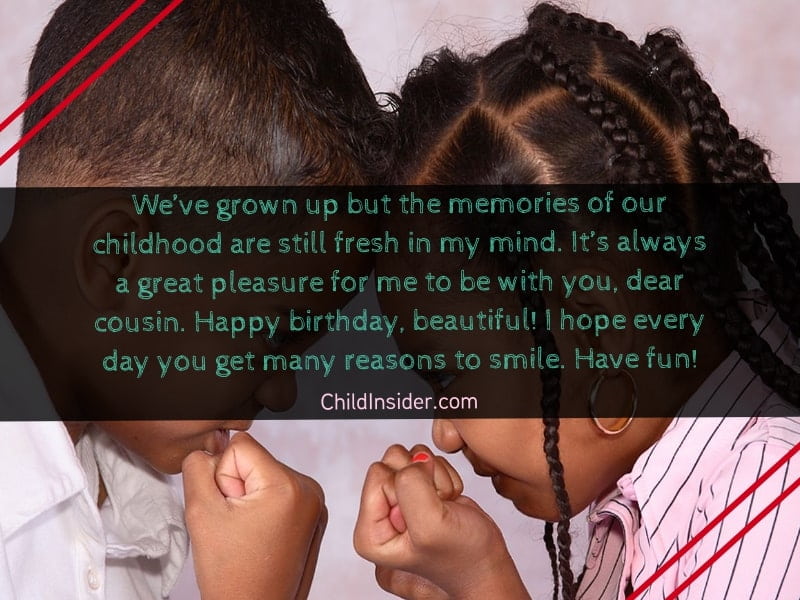 33. You are like the synonym of friendship, love, madness. It's you for whom I've spent the best childhood. Love you always my beautiful cousin. Remember that, you are and will always be in my heart.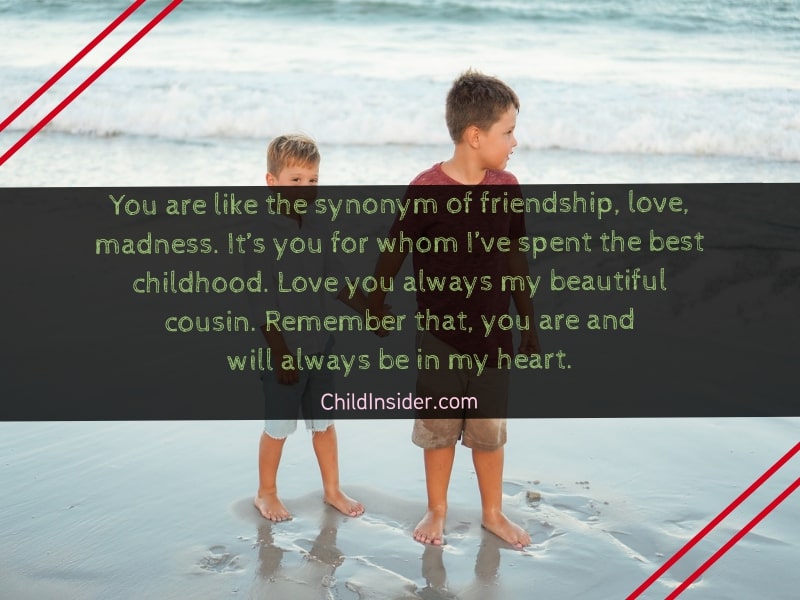 34. You are a source of happiness and spread joy wherever you go. Happy birthday, dear cousin! Thanks to God for granting you one more wonderful year of life. I hope you get lots of good wishes and enjoy every moment of the day!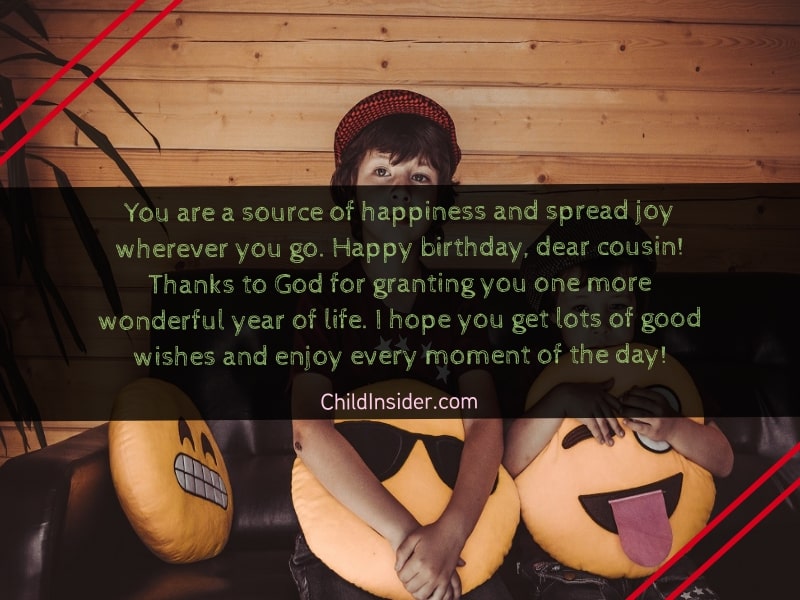 35. My dear cousin, my heartiest congratulations on your birthday! You are a beautiful person with a big heart who does everything to make others happy. Be like this and continue doing good things. I hope this new year of your life be filled with more wisdom and success. Have a blessed life!
Unique Happy Birthday Messages for Sister-in-law
Funny Happy Birthday Wishes for Cousin
36. 25 years have passed since you were born but still, you're single! I hope it's your last birthday of singlehood. May God help you to find your bride soon. We want to celebrate your next birthday with our sister-in-law. Btw, happy birthday!
37. Happy birthday my twin cousin! Since our childhood, we've shared many things and today I want you to share your birthday gifts with me. You don't need to give me all your gifts, only 80% will do.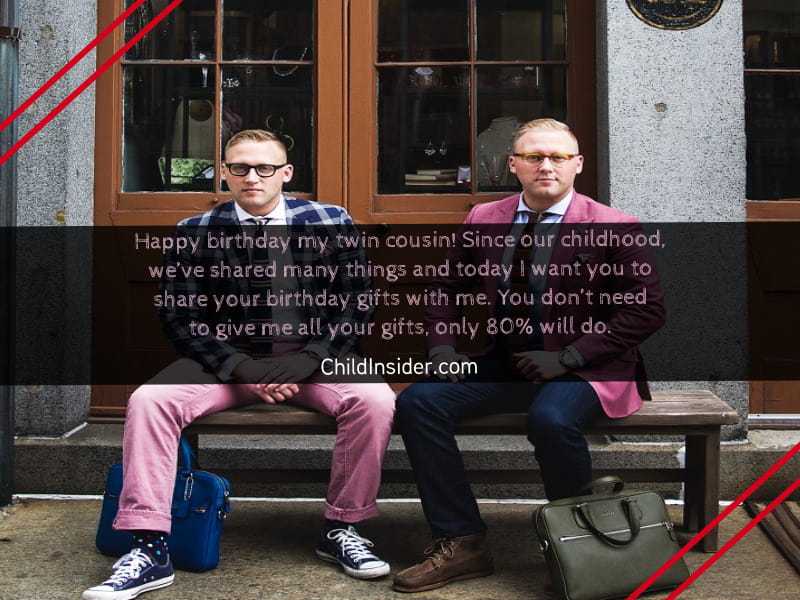 38. Happy birthday to the most unique cousin! How can a person be so gentle I really don't know. Your name should be in the Guinness book of the world. I hope you to become a little naughty which I think quite impossible. Enjoy your day in your style!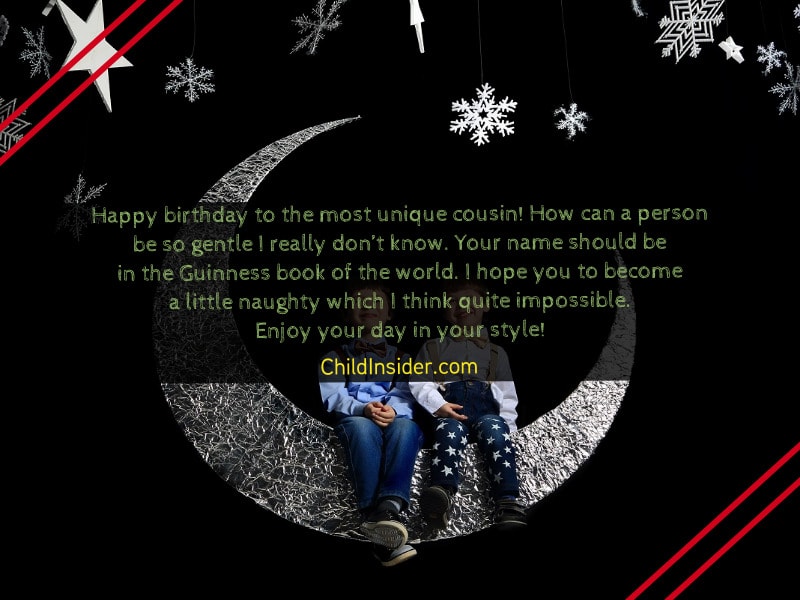 39. Today you've turned 23, but your face is telling that your real age is 32! It's really a sad thing to look older than your actual age. Just kidding! Happy birthday, cousin! Have a blast and enjoy!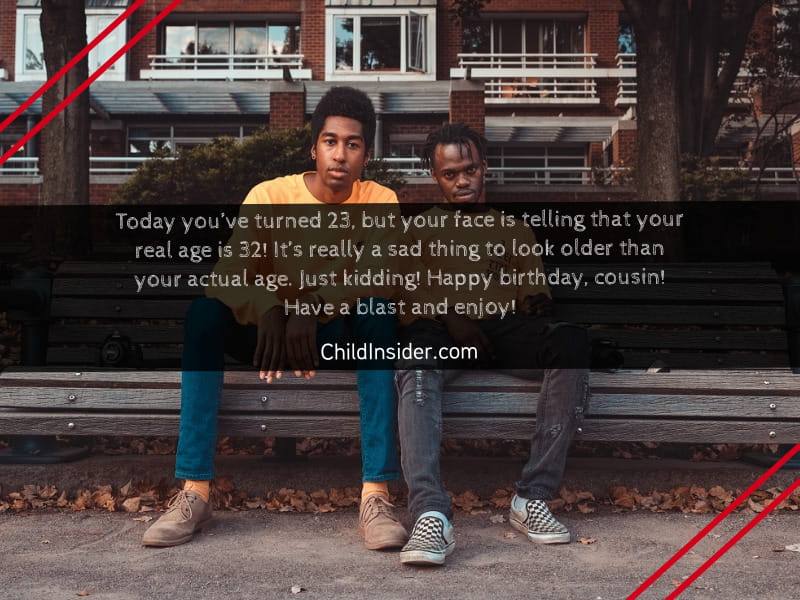 40. I have brought the birthday cake but don't worry, I didn't bring the candles because I know that you don't want to let others know your real age. LOL! Happy birthday, dude!
41. Do you remember me? Do you feel any pain in your body? Can you walk by yourself? I'm asking you because these things are normal to happen at this age. Kidding! Happy birthday, my cousin brother!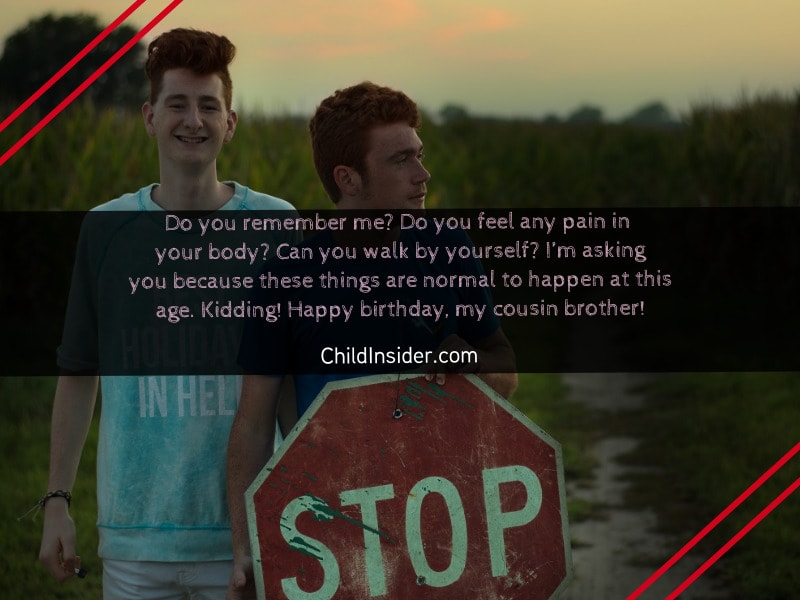 42. You forgot to give my birthday gift last year and now it's my turn to return you the favor. You can only expect from me a beautiful wish and I know this is what you actually want. Happy birthday, my cousin!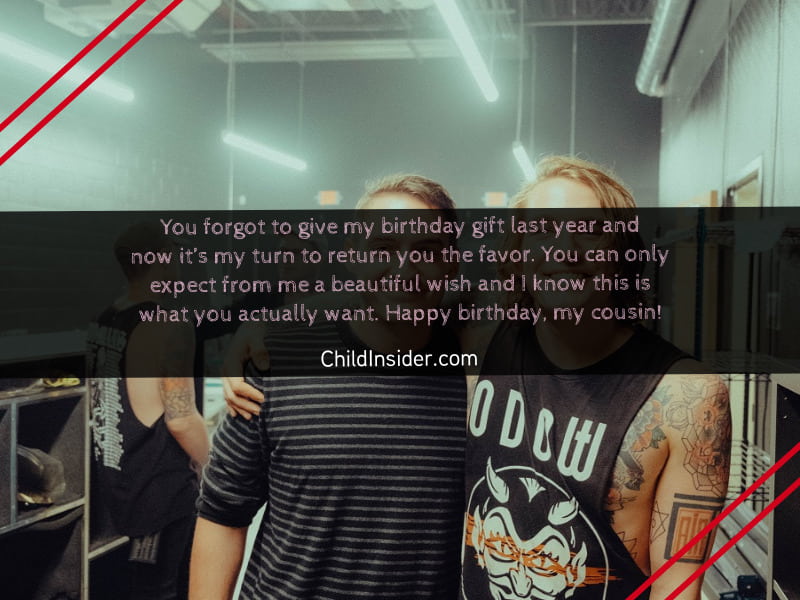 43. Happy birthday! I swear I went to buy a gift for you but suddenly I thought having such a wonderful cousin like me is the best gift for you. You also agree, right!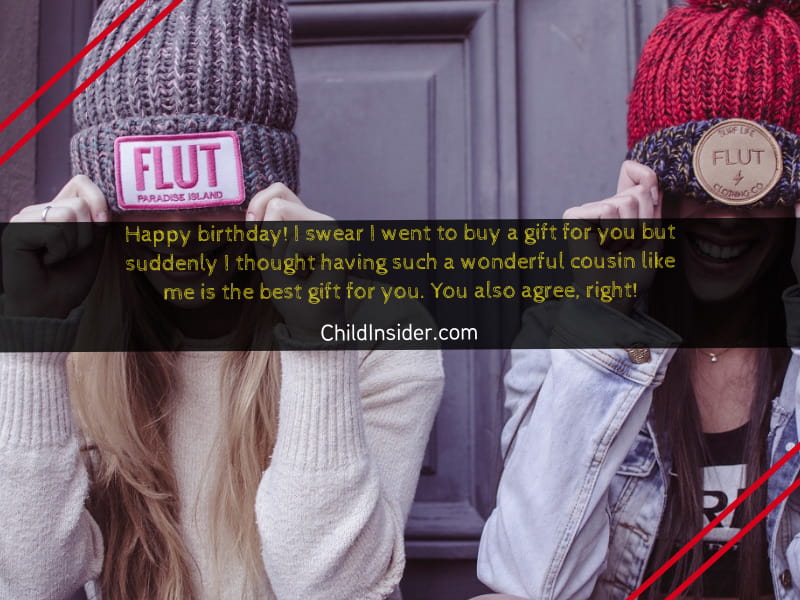 44. You know that I'm too busy to remember the less important date. All thanks to Facebook as they reminded me that today is your birthday. Happy birthday, my cousin! You should feel lucky for having me at your birthday party.
45. Would you want me to share the secret of feeling young again? Go out with the old people. You'll definitely feel younger. Happy birthday, old cousin!
Any of these wonderful funny happy birthday wishes for cousin are a great choice for the special cousin in your life.
If you are going to wish your cousin a happy birthday and want to make sure that what you say stands out and is something that they will remember, then you will want to opt for one of these quotes. Let us know which one you use and how special it made their day.