Choosing the right way to say happy birthday baby sister can be difficult, no matter how close siblings are together, as it's important that the message is perfect, expresses how the person feels and shows love and excitement on her birthday.
Since this is so difficult for many people to do, using birthday wishes that are already perfected to express a person's feelings is a good idea.
Keeping the birthday girl happy and feeling loved on her birthday is important and will ensure that the day goes smoothly, everyone is happy, and that she enjoys her day.
No matter the difference in age, older siblings will want to make sure to take time out of their day to wish their baby sister the birthday wishes that she deserves.
Warm-hearted Birthday Wishes for Baby Sister
Because it can be difficult for some people to come up with birthday wishes on their own, using one of these 20 great happy birthday baby sister quote options is a smart choice.
It allows older siblings to wish their baby sister the happy birthday that she deserves without worrying about whether or not she will fully appreciate the message.
Our 20 birthday wishes for sister are designed to help any older sibling easily write out a card or prepare a verbal greeting for their baby sister.
1. Today you complete the first 12 months of your life! Happy birthday, my baby sister! My happiness knew no bounds when you came to our family. Today, I promise that I'll try my best to be the best brother.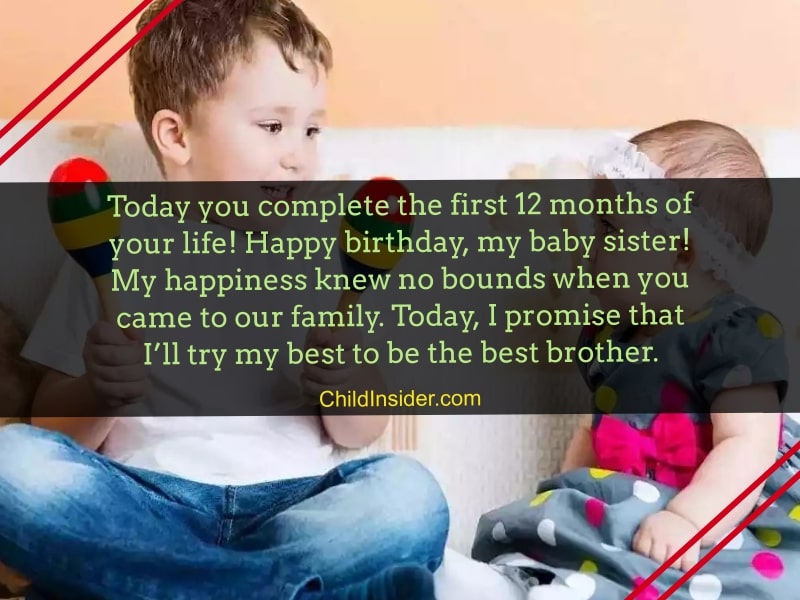 2. Congratulations my baby sister on your birthday! I can feel that with each passing day, I'm loving you more and more. I wish you a wonderful birthday with lots of surprises and gifts! Love you!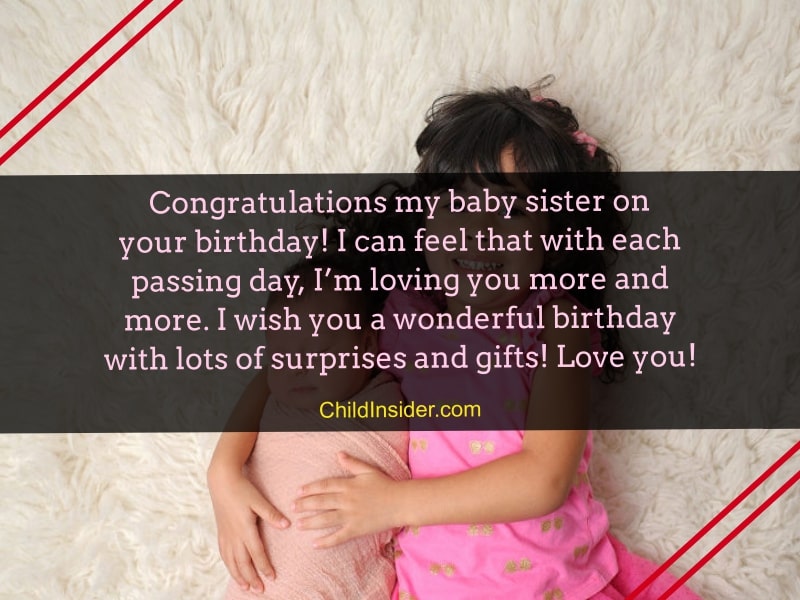 3. God fulfilled my wish of having a sister by sending you. My dear sister, I'm so happy to have you in my life. Wish you a very happy birthday!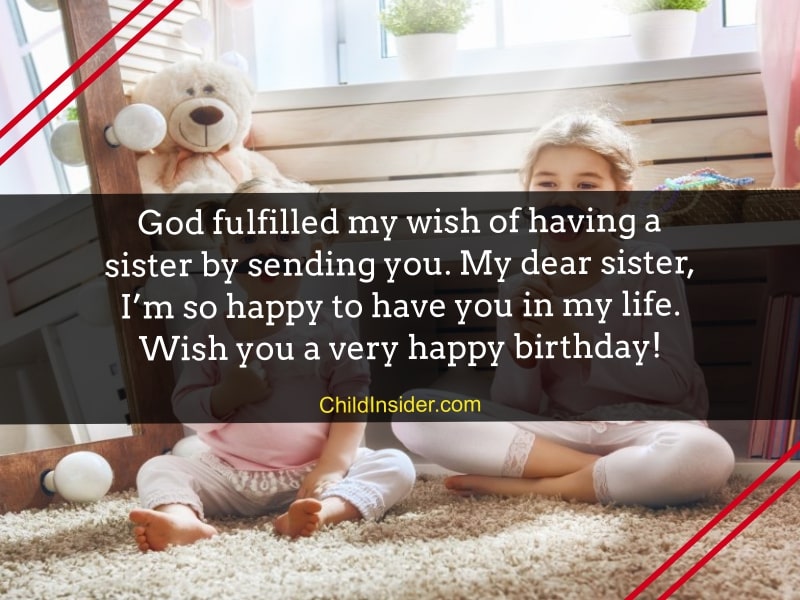 4. Happy birthday to the most adorable and cute sister in the world! In just one year, you've become a special part of my life and I love you with all my heart! Be happy today and always!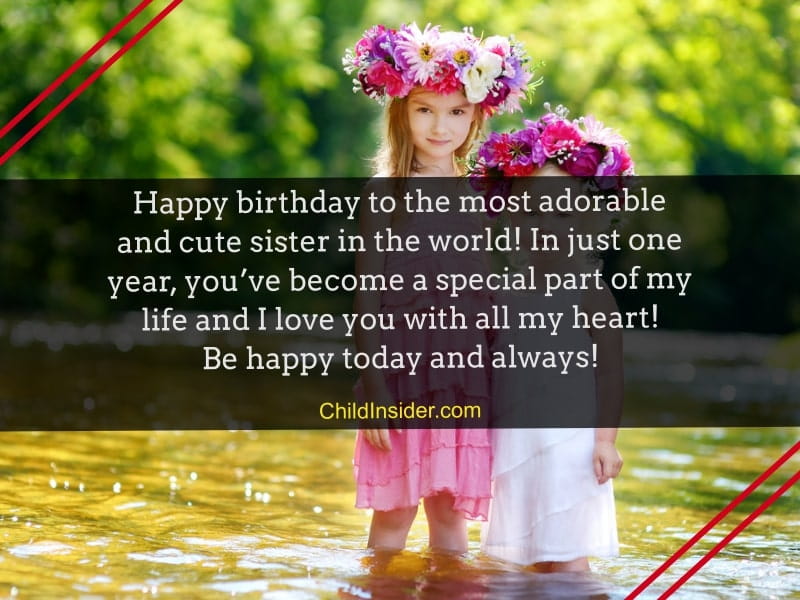 Funny Birthday Wishes for Younger Brother From Sister
5. Happy birthday cutie, my baby sister! You are the most beautiful sister in the world and I'm blessed to be your elder brother. I hope you get all the things you wish for!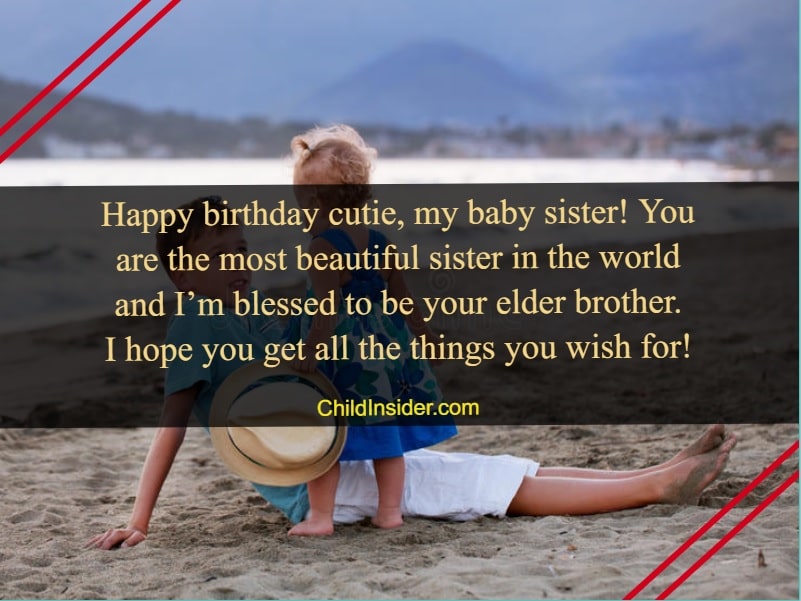 6. Happy birthday to the youngest member of our family, my baby sis! You're the most lovable girl I've ever seen. May you keep on being this cute and adorable! Your sister loves you a lot!
7. The naughtiest sister, happy birthday! It's your day so dance, jump and have lots of fun. Never forget that you can always count on me. I love you, baby sis!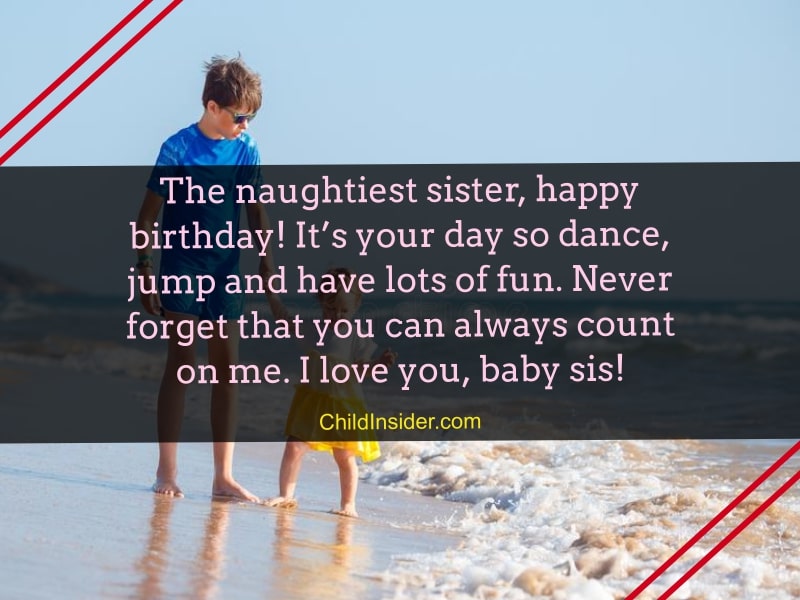 8. You may be little in age but you have a big heart. My baby sis, continue to be this kind and innocent. Happy birthday! Enjoy your big day with all the dear and near ones!
9. Happy birthday, baby sister! 3 years have passed but I still remember the day I first saw you. You had a tiny body, legs, hands. That was really one of the best moments. Have a blessed day!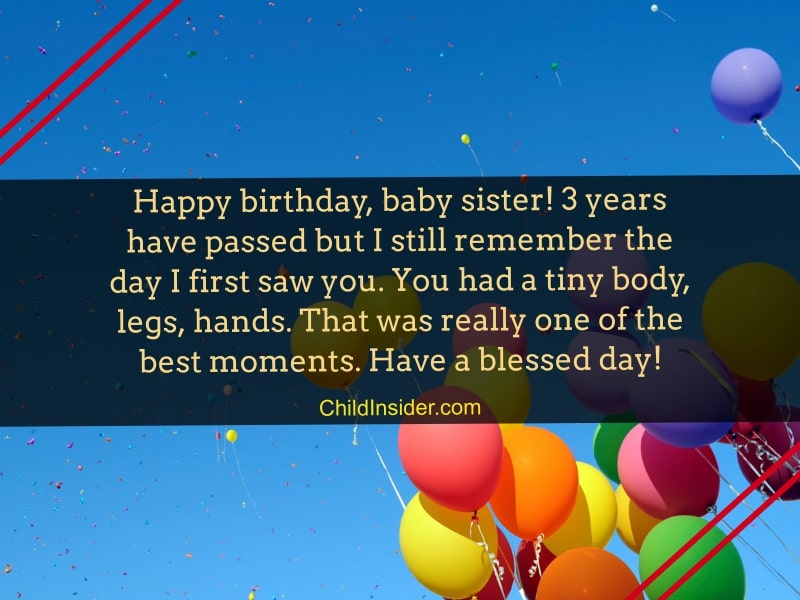 10. Congratulations baby sister for another year of life! I've loved you since you were born. I hope all your wishes be fulfilled! I adore you, sister!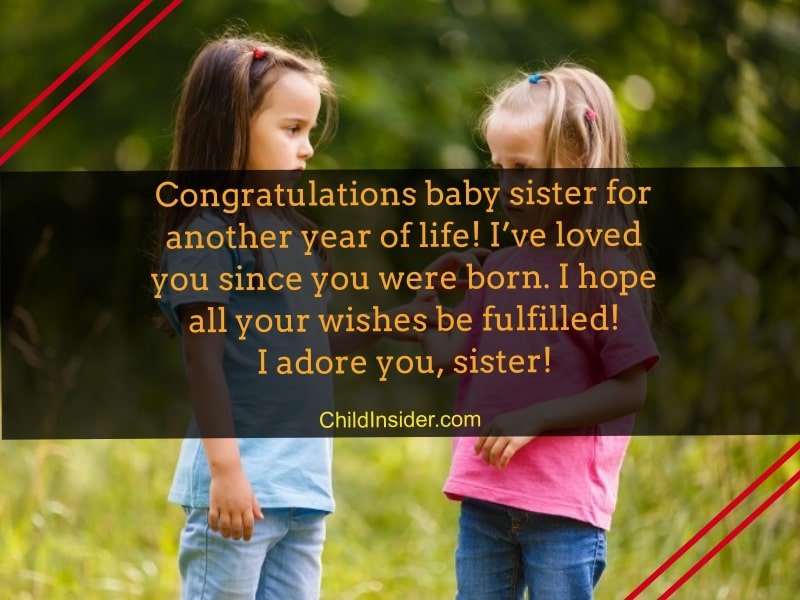 Adorable 2nd Birthday Wishes for Baby Boys
11. It's true that sometimes we fight and we have some disagreements but you know how much I love you. Happy birthday, my dear baby sister!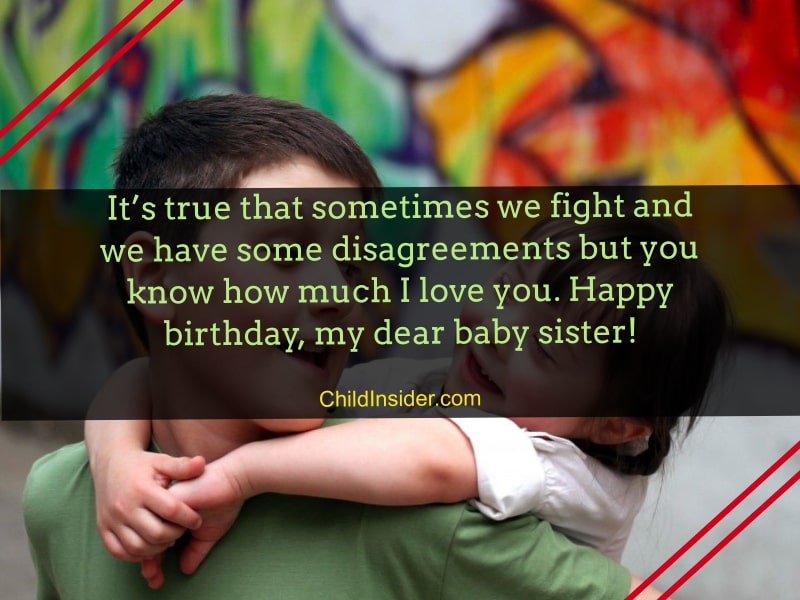 12. The youngest person in the family is to be congratulated because it's her birthday today. Happy birthday, baby sis! I hope you always have great health and love!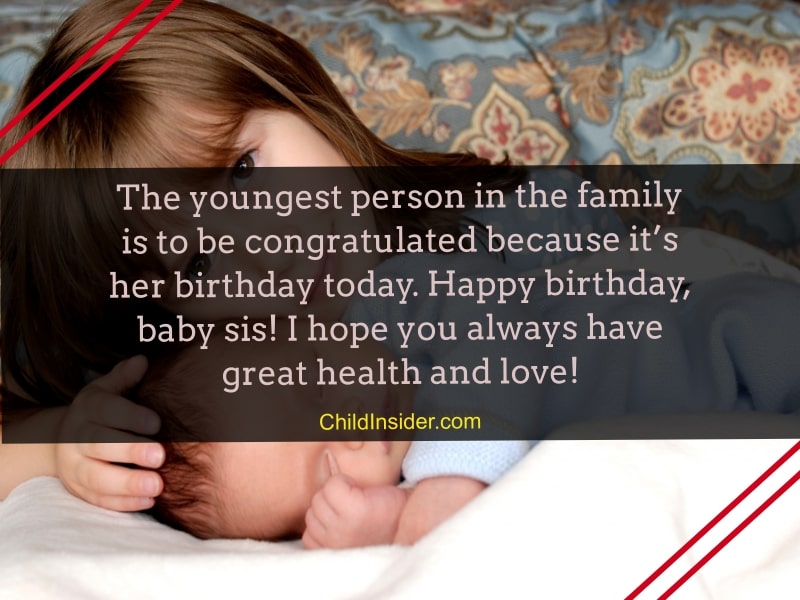 13. You just born 2 years ago but already stole my heart. I know you can feel the love of all of us. Happy birthday, dearest baby sis!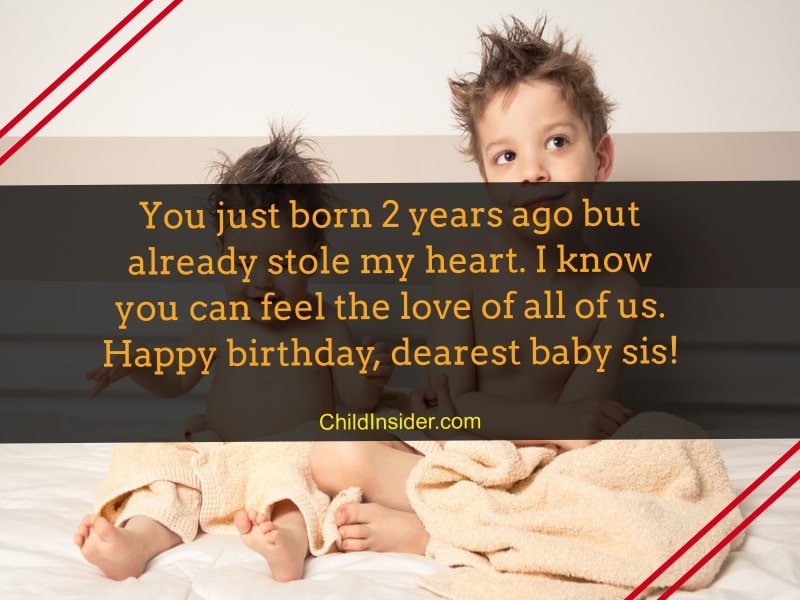 14. Congratulations baby sister on this first year of life! You're so small but have brought so much happiness to our family. May God give you all the things you desire!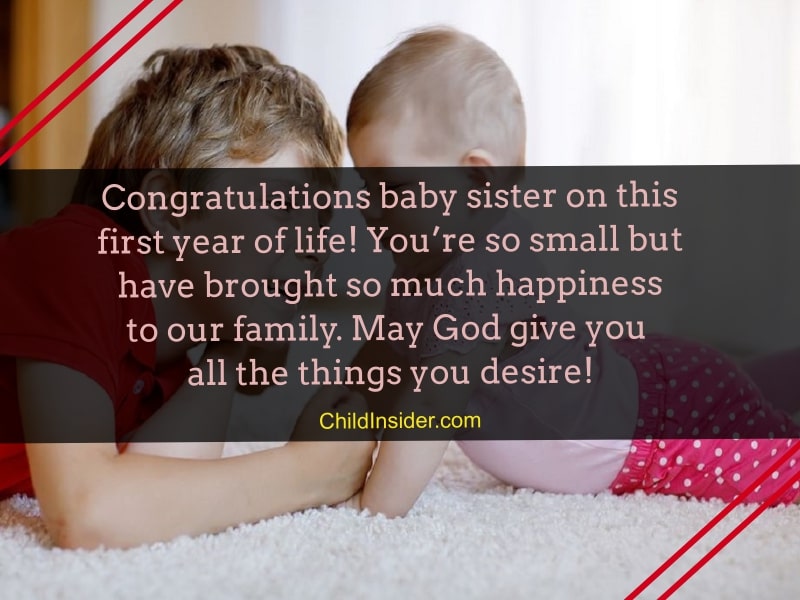 15. Happy birthday to the sweetest baby sister! You're one of the best gifts that God has given me. I adore you and love you with all my heart, dear. Enjoy your birthday in styles and have fun!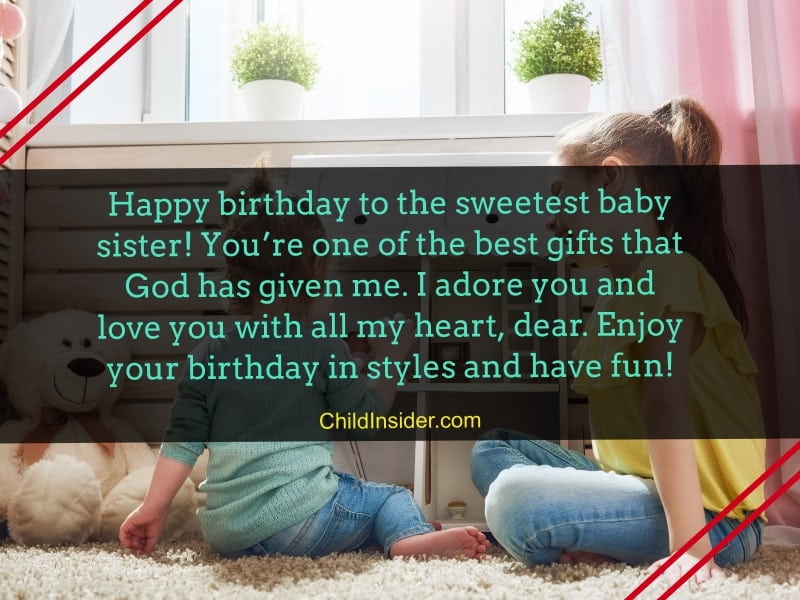 Special 16th Birthday Messages for Girls
16. Beloved baby sister, the love I feel for you is sincere and unconditional. Our connection is strong and eternal. I want you to be very happy today and always! Happy birthday!
17. We're siblings and connected by the heart. Nothing can apart us and break our bond. My baby sister, happy birthday! Enjoy life to the fullest!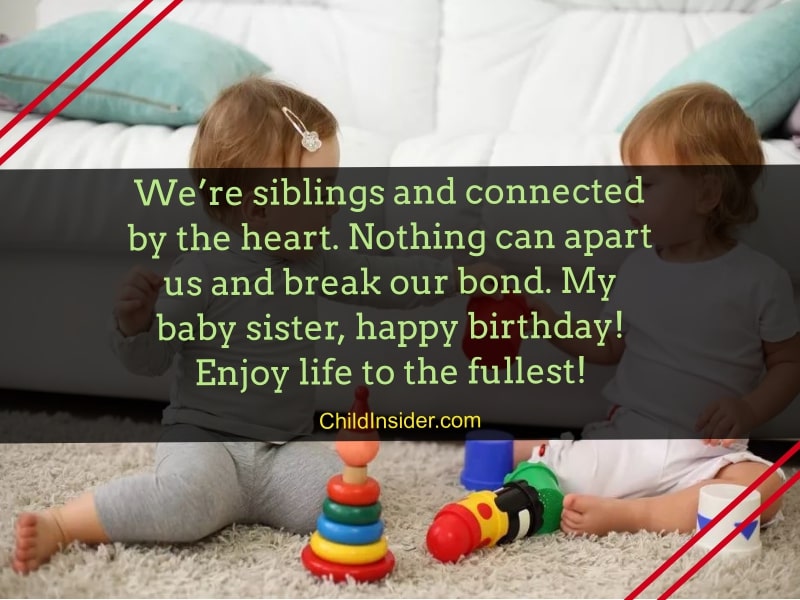 Amazing Birthday Wishes for Twins
18. Happy birthday, the sister of my heart! It's really great to share life with such an angel who makes everyone's life happy. I adore you and want to see that beautiful smile on your face always!
19. It's true that at first, I didn't want any siblings because I never wanted to share my toys and of course the love and attention for me. But now I can realize how incomplete my life was without you. Love you a lot, my baby sister. Happy birthday!
20. Today is the day to celebrate because little one completes another year of life. Happy birthday, adorable baby sister! I hope this special day brings more joy and happiness in your life!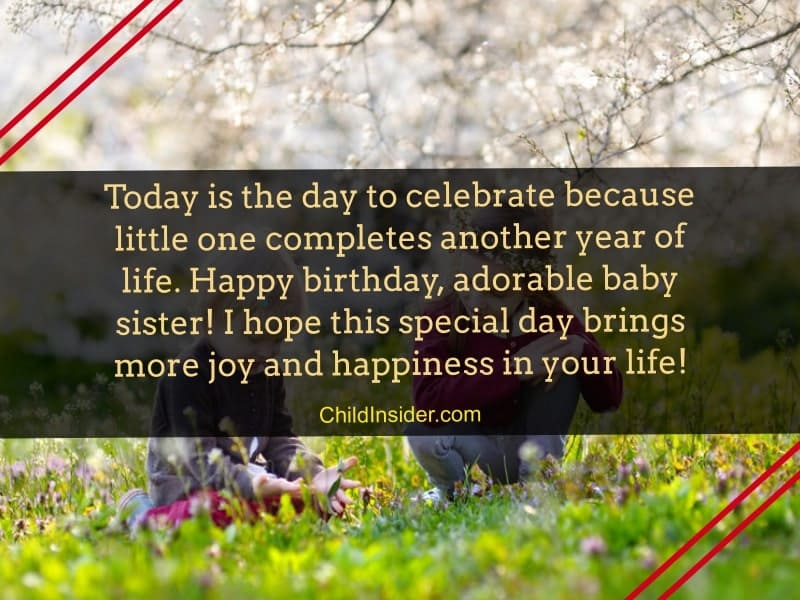 If you are going to be wishing your baby sister a happy birthday, but aren't sure how to do it, then it's time to rely on our happy birthday to my baby sister greetings or sayings. No matter your relationships with your baby sister, we have a great wish for you to use.
Let us know below which happy birthday baby sister wish you ended up using! We're confident that you'll be able to easily find one that will perfectly represent how you feel about your baby sister and the love that the two of you share.