Pixie haircuts for girls are really enjoying a moment right now. They're popular for good reason; whilst being low maintenance pixie cuts can be stylish, edgy, sleek or sophisticated depending on the exact cut and its wearer.
The 20 pixie haircuts listed here showcase a real range of personalities and styles so there's sure to be something to your taste.
Popular Pixie Hairstyles for Girls
We have compiled here a list of 20 best pixie cut ideas for girls to rock and explore this summer.
1. Long Soft Side Bangs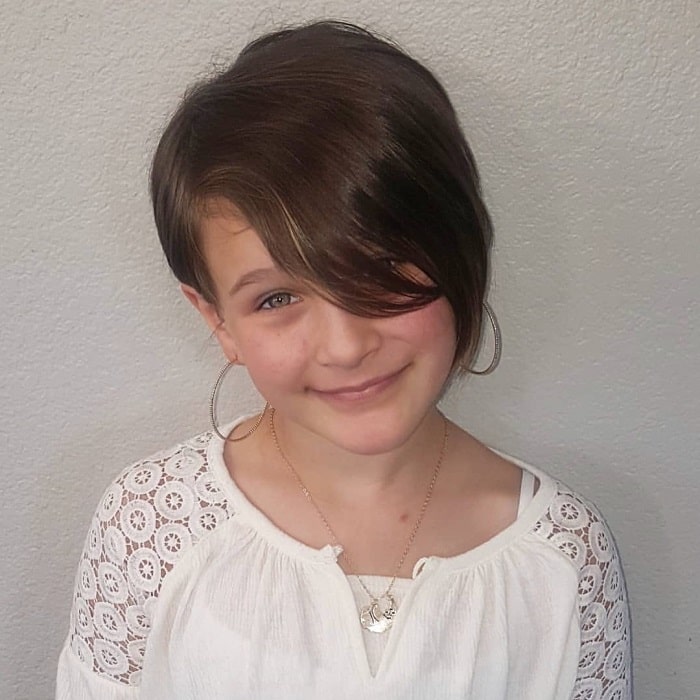 Leaving some length at the front of a traditionally short haircut is a great way to add some versatility to pixie haircuts for girls, with some extra length different styling techniques can be used to change up the look. Long, softly cut side bangs offer a little more warmth and femininity to the edgier cut.
2. Pixie with Sideburns
A common reason for putting off a much-desired pixie cut is worrying about the appearance of the ears whether they're slightly larger than desired, stick out or otherwise cause self-consciousness the concern can be genuine; a traditional short pixie can certainly make ears seem more prominent.
This style utilises longer lengths left in the "sideburn" area around the face to provide some cover for the ears and also soften the look up around the face.
3. Blunt Bangs and Asymmetric Cut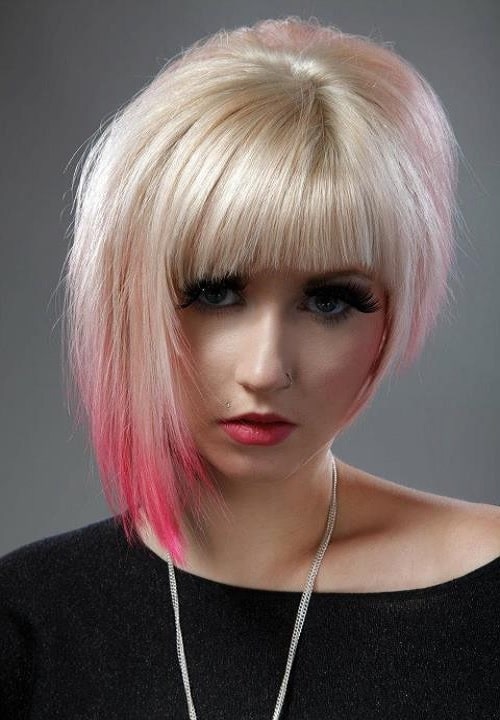 Blunt bangs are a bold look but often work well by drawing attention to facial features, particularly the eyes.
This girls pixie cut look goes a step further and adds asymmetry into the look to contrast with the straight, blunt bangs, by cutting each side of the hair to different lengths. So long as there is a significant enough difference in length for this to look intentional, it seems super edgy.
4. Casual Layers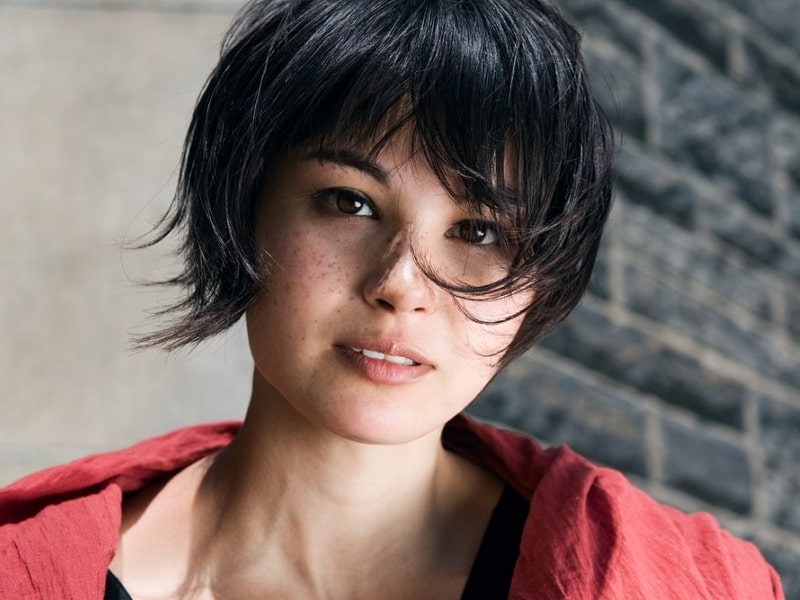 The clever use of layers in this style steers clear of fussy straight edges, which require lots of styling and instead allow for minimal maintenance. This, in turn really suits casual girls who are looking for a true wash and go style.
Layers are generally very flattering and can be used to play the hairs texture and thickness up or down depending on the look you hope to achieve.
5. Blonde Layered Pixie
Bleached out hair is still popular, with many longing to attain the icy white look bleaching can offer if done well. Unfortunately, bleached out hair does have a tendency to look one dimensional or flat, but this problem can be easily solved in a pixie cut for girls by adding some soft short layers.
These different lengths of hair build texture and do the work that highlights and lowlights would do in the traditionally coloured American girls hair look.
6. Spiked Up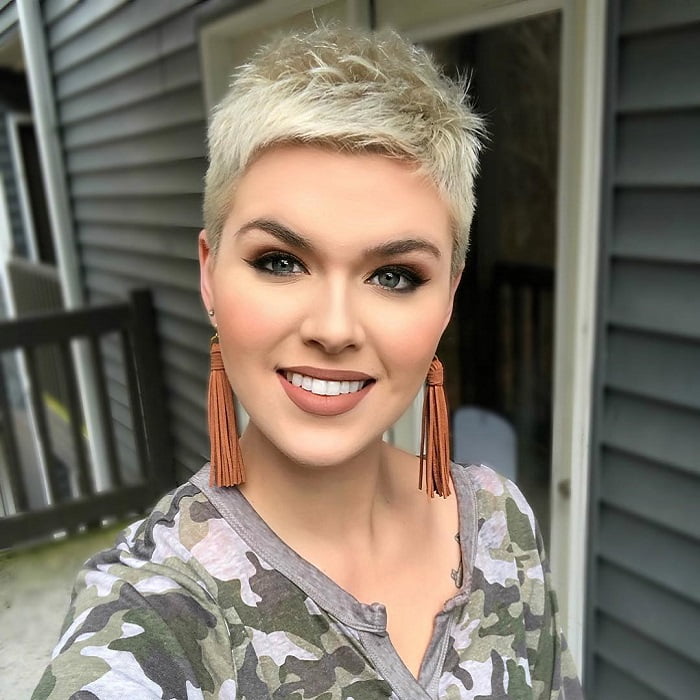 Pixie haircuts for girls are synonymous with going short, this look isn't quite shaved, but it's definitely shorter than most.
Depending on the hair's texture, once it gets to a certain level of shortness it is unlikely to lay flat against the head and will instead be grown upwards. You can embrace this by using a bit of product to create a spiky, lifted look.
7. Messy Combed Over Texture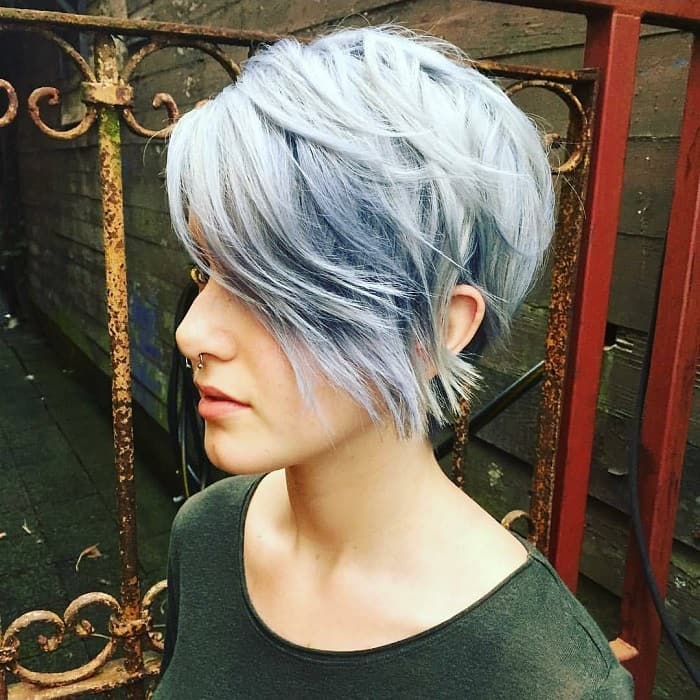 Brushing hair over to one side creates the asymmetry that is so popular in many girls' hairstyles. Longer pixie cuts can use colour and layers to create texture, such as in this style where the choppy layers and brushed over hair adds a messed up, casual look to the style.
Some texturizing spray can also help to achieve this look if your hair is naturally very straight or shiny.
8. Curly Pixie
Curls and texture deserve to be spotlighted and a mohawk style cut is a great way of doing this. Whilst the sides of the hair can be kept very short the top is allowed full reign and showcases longer lengths of natural hair.
Not everyone has the natural curls needed for a curly mohawk but texture can be added to most hair types with a combination of clever cutting and styling with the product.
Pixie cuts for girls sometimes get an unfair reputation for being flat and lacking texture but this style shows how texture can be incorporated into a pixie cut.
10. Choppy Coloured Layers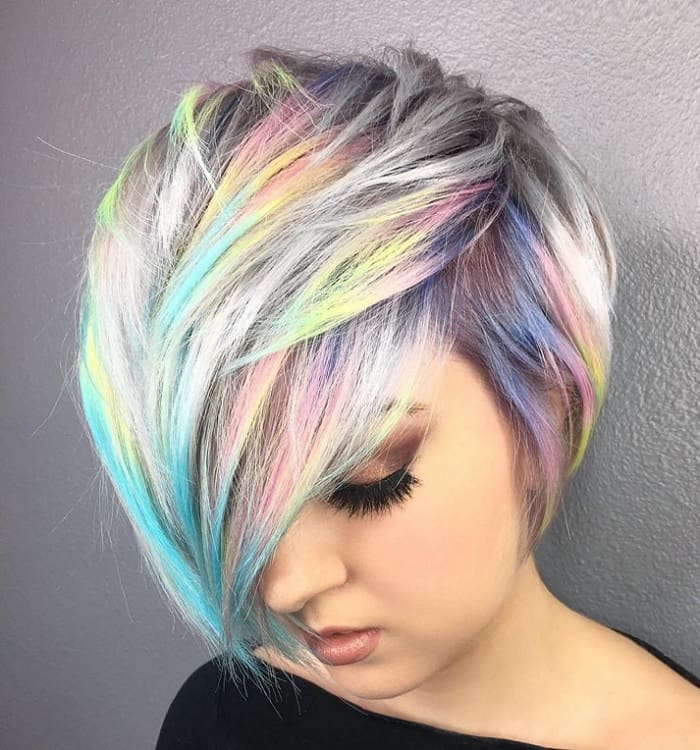 If you want to add depth and texture to a haircut we usually say add colour or layers, but why not add both!?
This look is very unique and edgy and the different colours layered on top of each other gives a great, deep finish with tonnes of texture. If you just want to try the lookout you could use hair chalks or temporary spray.
11. Shaved Back and Sides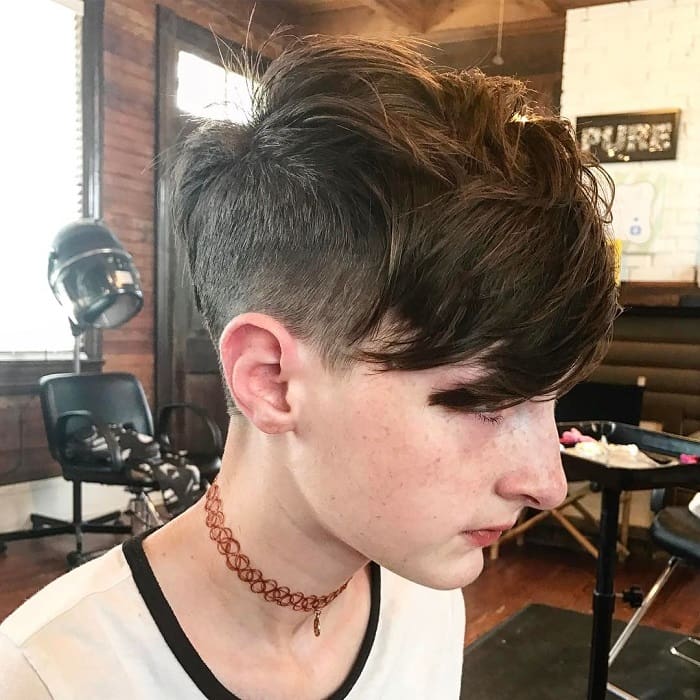 Borrowing a classic boy hairstyle is completely within the spirit of pixie haircuts for girls and this one works really well. Whilst allowing the hair to be shaved super short at the back and sides, maintaining a longer length on the top and at the front allows for extra styling options.
12. Longer on One Side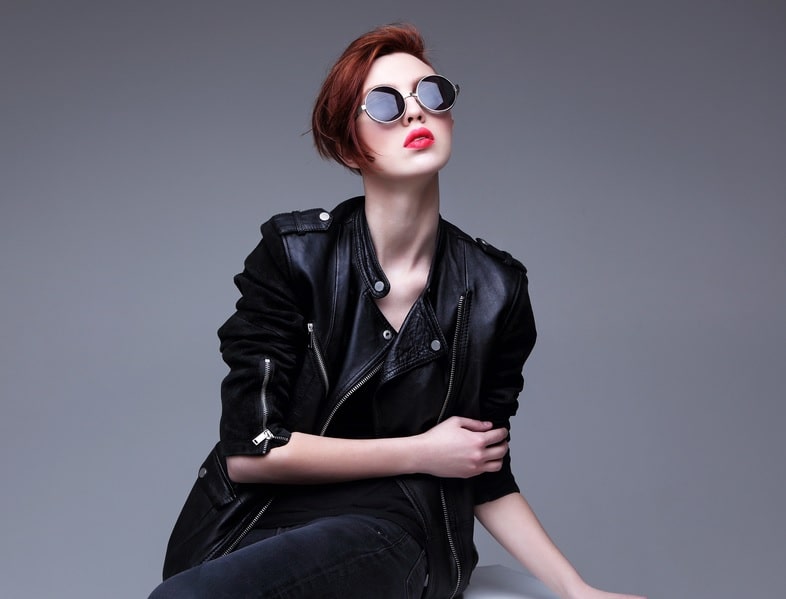 Keeping one side of the hair short, or even shaved, and the other long creates an asymmetric look with plenty of options for styling and changing the longer side to suit the occasion. Using a brushed over or comb overlook is a great way of pulling this hipster haircut off.
13. Graduated Pixie Bob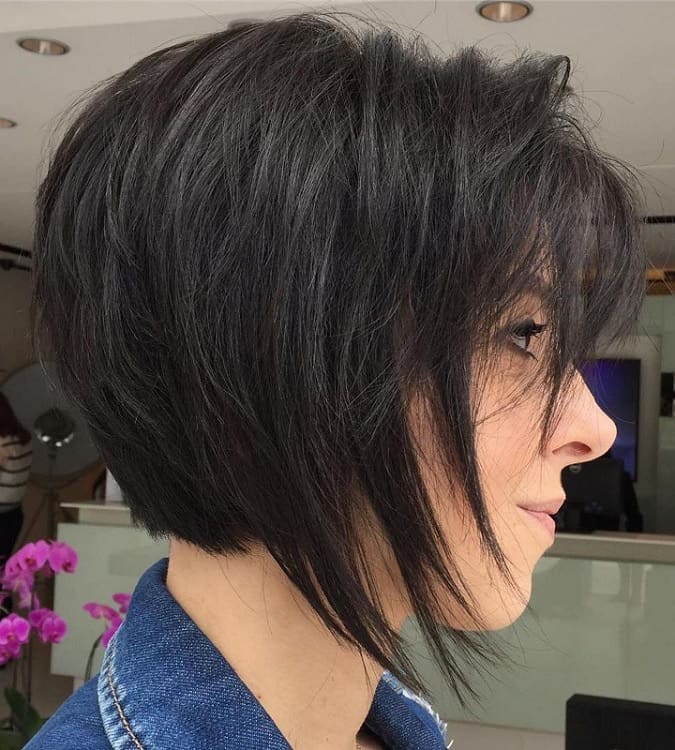 The graduated bob features short pixie cut style hair at the back and longer hair towards the front and around the face. This style is easy to maintain and very flattering and again, having the longer layers towards the front gives plenty of styling options.
14. Shades of Grey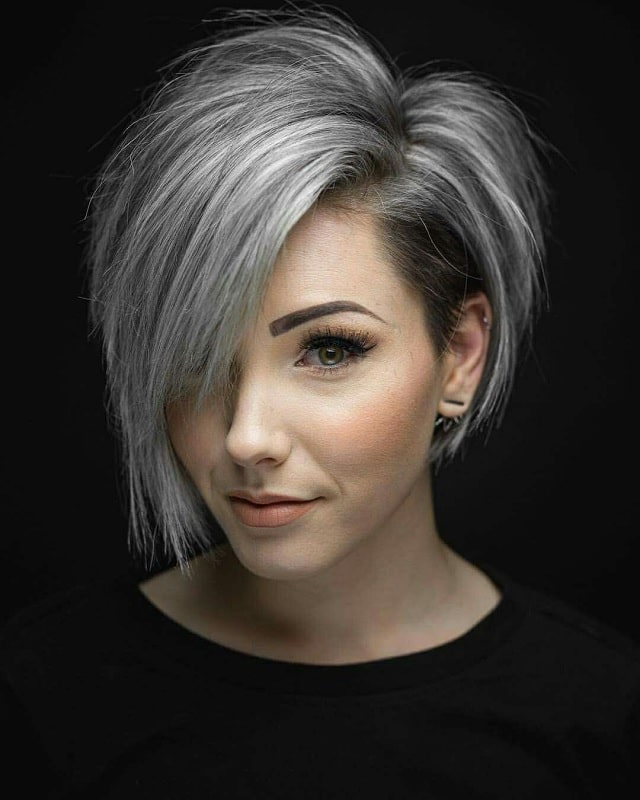 Being that pixie cuts for girls already require quite a bold personality, those considering them may also have the style to pull off grey hair! Once synonymous with grannie, grey is a hot new shade in hair colour and the contrast of grey hair and a young face is surprisingly pretty.
15. Side Parting
Using a side parting with a pixie haircut is a great way to flatter the facial features. As girls pixie haircuts are generally much shorter styles, the face is drawn into much sharper focus and using the parting to play up the facial structure is a smart way of drawing attention to your best features.
16. Undercut and Spikes
Using the product to spike hair upwards is a super funky, bold look that will suit some girls styles down to a tee. Undercutting, shaving shorter layers underneath the hair, is becoming very popular as a way to experiment with different hair textures.
17. Long Curly Pixie with Undercut
Enhancing or creating curls as part of a pixie haircut is becoming more and more popular, as styles break away from the traditional short straight pixie haircuts for girls and become more experimental. This style is particularly bold as it combines an undercut with a long curly side, certainly a unique look.
18. Undercut and Choppy Layers
A great way of utilising an undercut is to include much longer layers over the top. This girls pixie look combines the shaved look of the undercut with longer layers and with a choppy cut. The result is tonnes of texture and a real contrast between the different styles of cutting.
19. Undercut and Short Bangs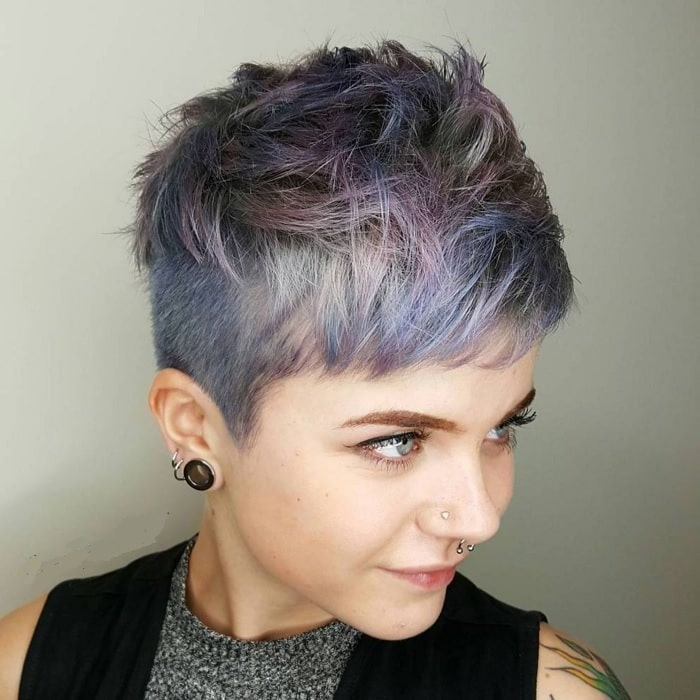 Short, straight bangs can be super flattering and really add to a look as well as seeming quite edgy. Undercutting is also increasing in popularity and shaved hair on girls adds to an overall 'alternative' or edgy style.
20. Quiff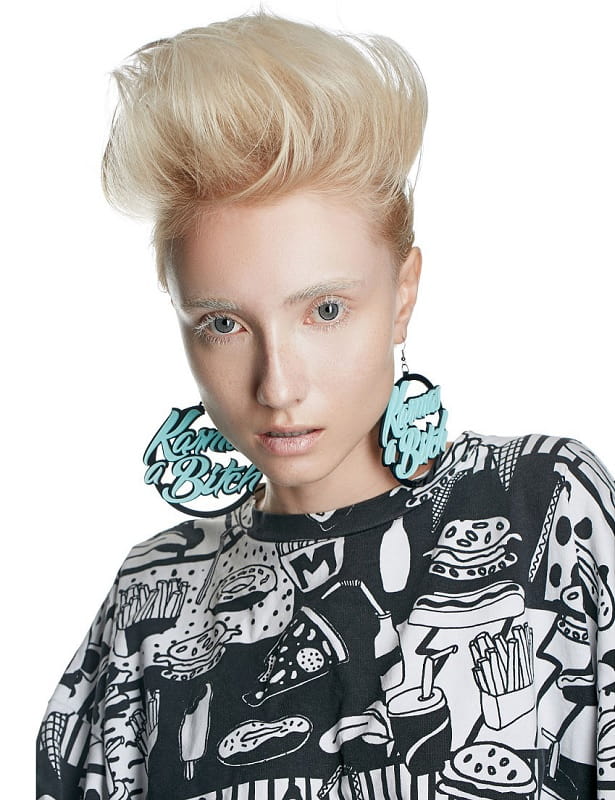 This boy haircut for girls takes quite a bit of product and quite a bit of effort to achieve but the results are show-stopping. If you aim to impress then a quiff is a great style to do that. Gravity-defying and yet still soft, the quiff is a really unique twist on the pixie cut for girls.
Pixie haircuts for girls get a reputation for being short and very straight but there are actually a whole host of styles suitable for all types of hair, aiming to achieve an array of different looks. There should be one here that suits what you're looking for.