Hipster haircuts for girls are the newest trend. For any hipster girl out there, you know that staying fashionable and on trend is a must. But with all the latest mainstream fashion news coming in from every direction, it may be hard to say which hairstyles are actually 'in' right now. Luckily for you, we've pieced together the trendiest hairstyles that hipster girls need to see.
Latest Haircuts for Hipster Girls
Have a look below to find the best hipster hairstyles for girls we've collected for you which looks cool and also are on trend.
1. Colored Mohawk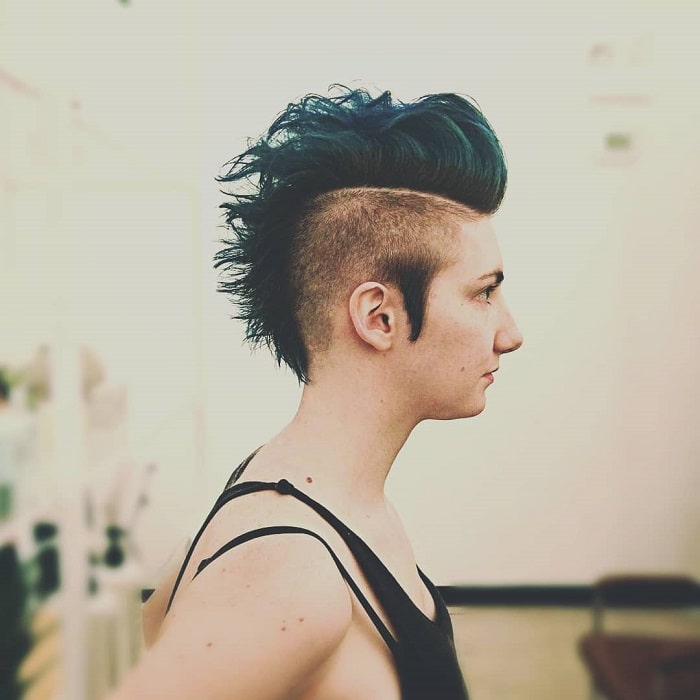 It's no secret that mohawks are fierce. Their relentless style is anything but casual, offering an intense design that's bound to turn heads. That being said, mohawks are undoubtedly one of the hottest hipster haircuts for girls.
Shave down the sides and leave a little extra room on top to toss in some flirty waves such as these. For an added intense effect, consider bold colors such as this majestic deep teal or something even more fierily like red.
Elegant Hairstyles for 12 Year Old Girls
2. Symmetrical Subtle Fade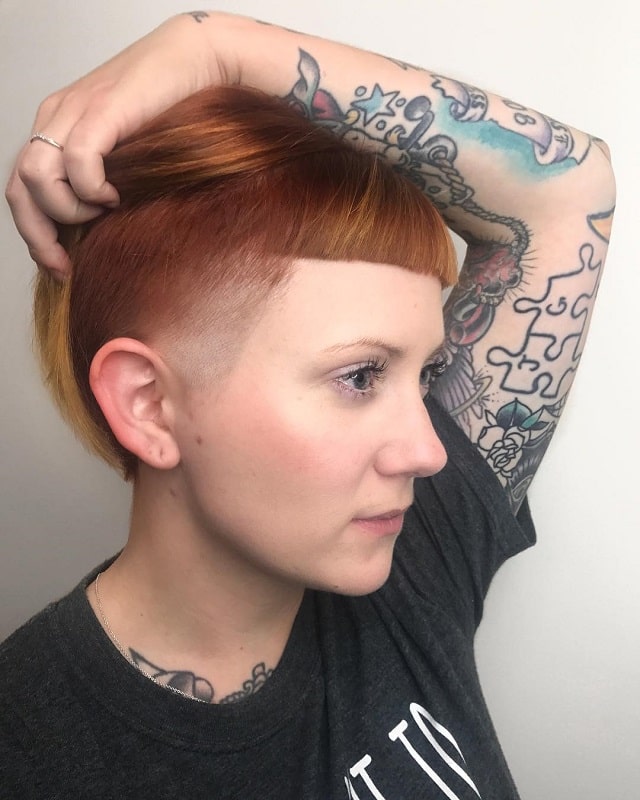 Want to look posh in an instant? Staying in symmetry is a must. This adorable pixie cut gets a powerful makeover by tossing in a subtle fade on both sides, leaving the rest of the hair to lay delicately around the crown of the head. By adding in some straight baby bangs across the forehead, she intensifies her pixie to become a hipsters dream come true.
3. Leopard Faded Bob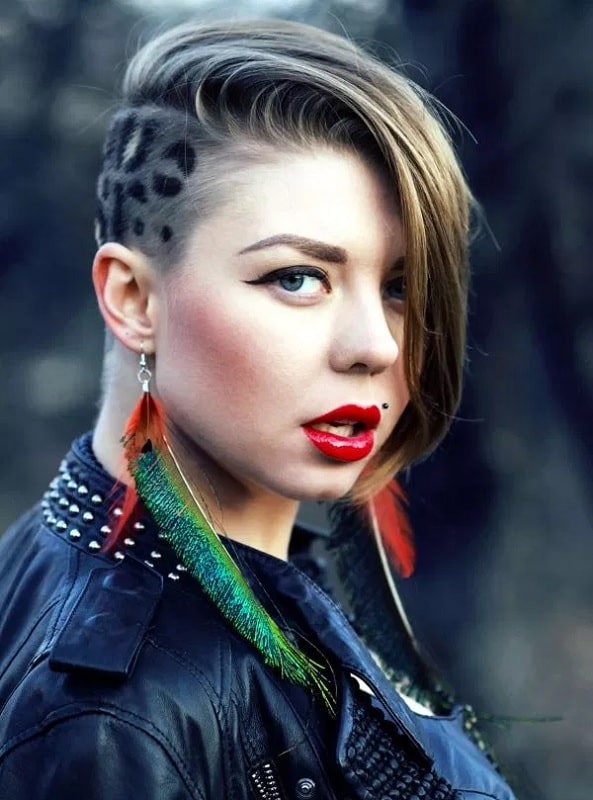 This girl's hipster haircut truly doesn't need a caption, but we're going to write one anyway because we just can't get over this look. In fact, it's so fashionable and flashy we're practically gagging.
This majestic hipster ' does feature a lightly tussled bob that hangs over one eye in a chic manner, while the other side showcases a tantalizing leopard printed fade.
4. Layered to Perfection
When it comes to haircuts for hipster girls, you need to keep one thing in mind: are you going to go the fierce symmetrical route, or find something a little bit more carefree and casual? This look has casual cute written all over it.
The baby bangs up top are simply charming while face-framing layers caress the face and create an overall delightful finish that's paired perfectly with oversized circular shades like these.
5. Ice Cold Hipster Half Updo
Topknots are the number one girl's hipster hairstyle right now. They're seen on models and superstars alike, and we can't get over them. They're on-trend no matter how you wear them, but if you want to take your topknot to the next level, douse your hair in an icy platinum hue such as this and finish it with a blunt cut that hits right at the shoulder blades.
6. Designed A-Line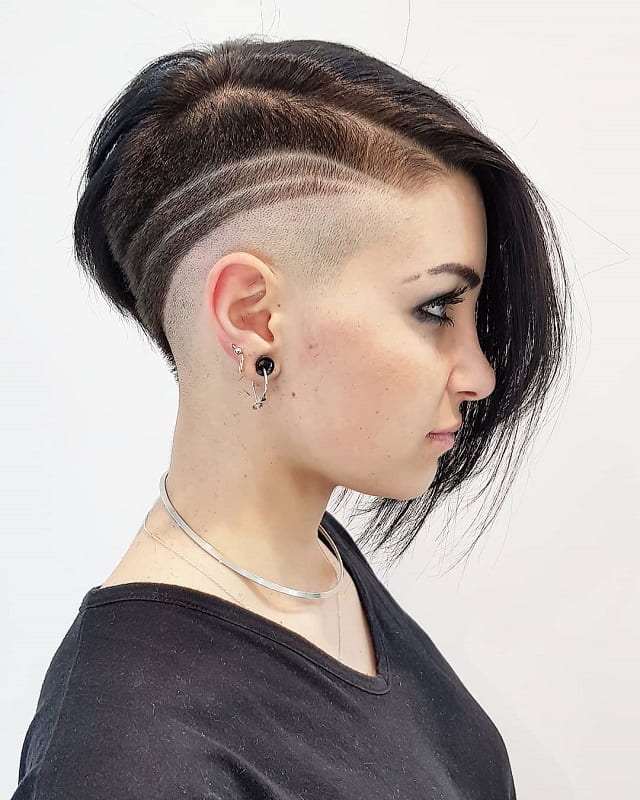 Certainly not for the faint of heart, this fierce a-line hairstyle requires confidence to be pulled off. With an offbeat fade design placed strategically on the head, her overall hipster look creates a dramatic effect that will cause a scene wherever it goes.
7. Double Topknots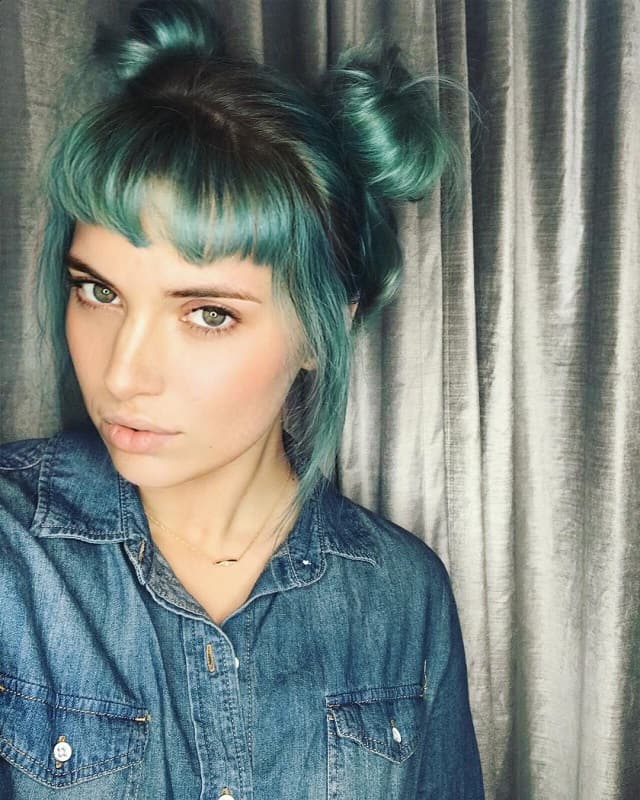 One look that is sweeping the hipster nation is none other than the double topknots. The end result is notably adorable and charming, with just a few strands dangling sweetly on opposite sides of the face.
To enhance the 'IT' factor of this upcoming hipster hairstyle that girls love, you may want to piece in some wispy baby bangs and try out a magical hair color such as this sea green hue.
8. Quirky Bob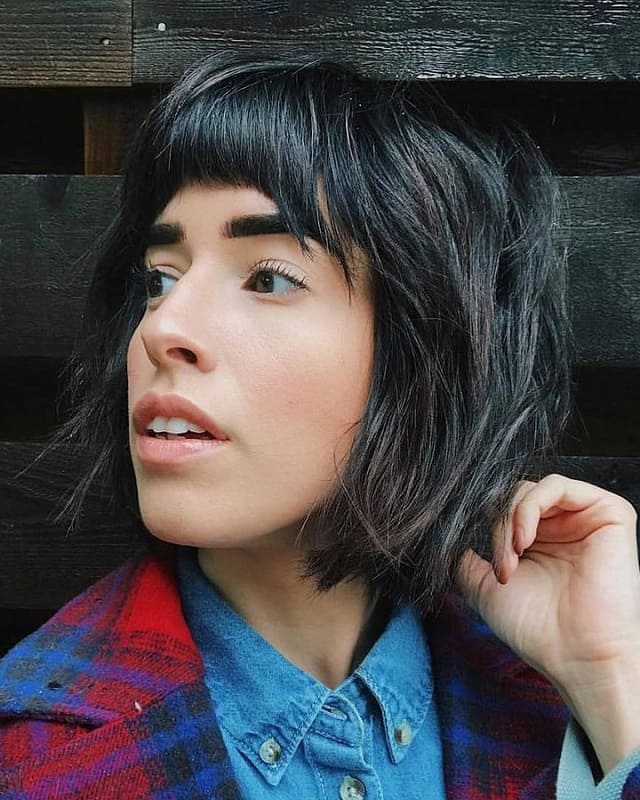 When it comes to a bob hairstyle, it can be easy to look like the masses. If you want to step away from the crowd and create a hairstyle that is all your own, consider a more quirky cut that includes an intense combination of shorter and longer layers.
Finish off your look with some intriguing bangs that have a u-line shape to them, giving more attention to your perfectly crafted brows and beautifully enhanced cheekbones.
9. Neon Faux Hawk
Ditching the sides of your mane and going straight to a mohawk can be a dangerous move. If you want the daring hipster haircuts for girls without the mess, consider a faux hawk. Faux hawks are still modern and intense, but they have an elegant factor that allows them to be worn to any occasion.
Neon colors are always a trendy option when it comes to completing your hipster look, and this neon pink and the blonde combo is killer.
10. Shaggy Pixie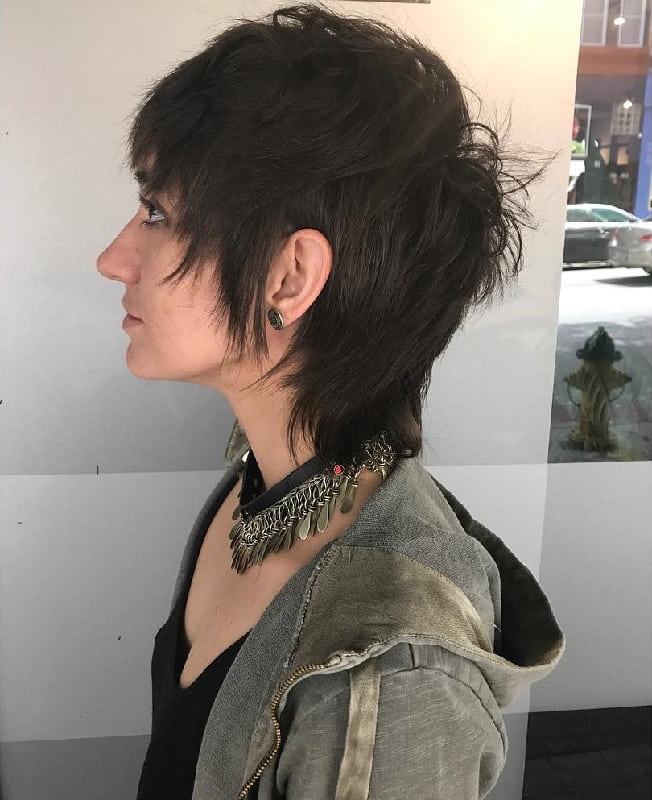 Carefree attitude? We have a look for you. This shaggy pixie haircut for hipster girl is a must for those who want to wake up and head out without a care in the world.
But while this look is notably casual and low maintenance, we can't discredit the fact that those layers of all shapes and sizes perfectly frame her face for a hipster finish we adore.
11. Colorful Girl's Hipster Hairstyle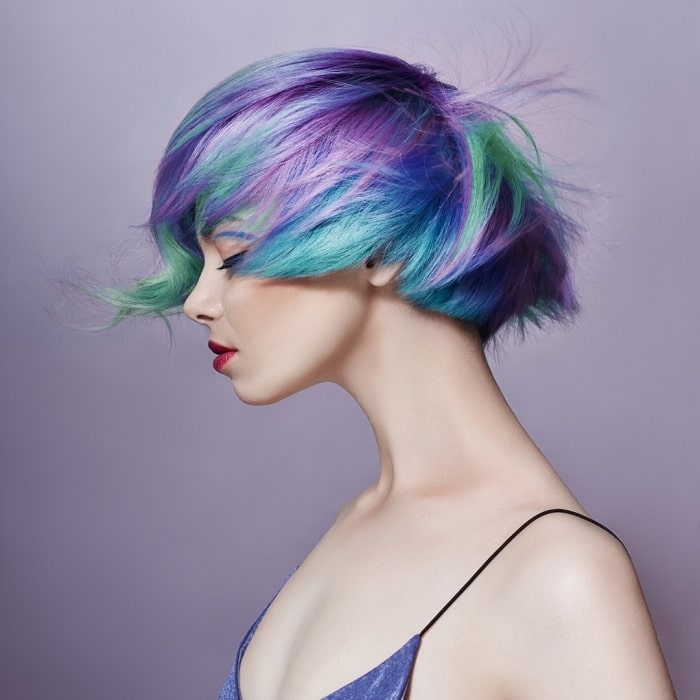 Sharp edges, vivid colors, and plenty of textured layers- could this hairstyle be any more perfect? If you want something that's undeniably bold and bound to catch eyes, then this is the look for you.
The sharp, blunt cut on one side is offset beautifully by some longer pieces on the opposite side, creating a majestic effect that is completely enhanced by those bright color choices. Living for this hipster haircut for girls!
12. Wavy Mohawk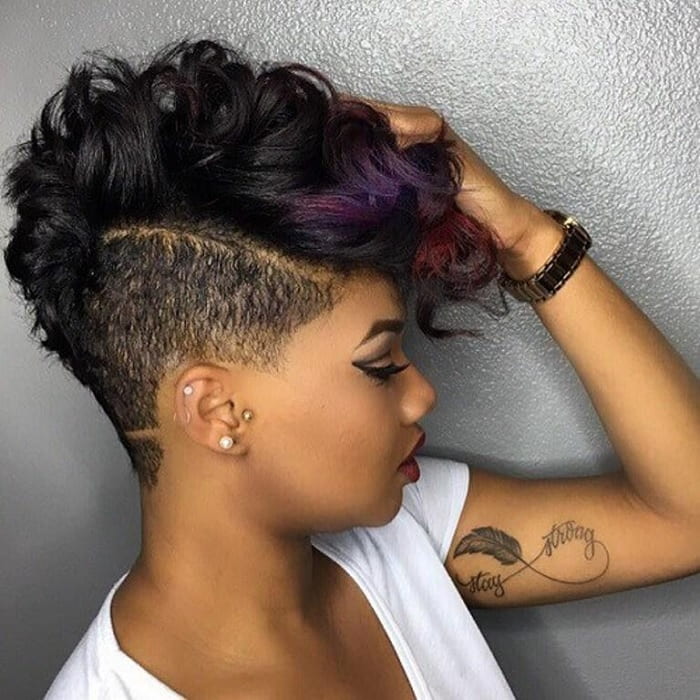 There's nothing not to love about this adorable girl's hipster hairstyle. It's frisky and fun, and the added layers on top give you plenty of room to style. Keep it straight or load it up with lovely curls like these for some added height and fullness. Throw in a few bold colors in front to really draw some extra attention to this perfectly crafted hairdo!
13. Simple Bob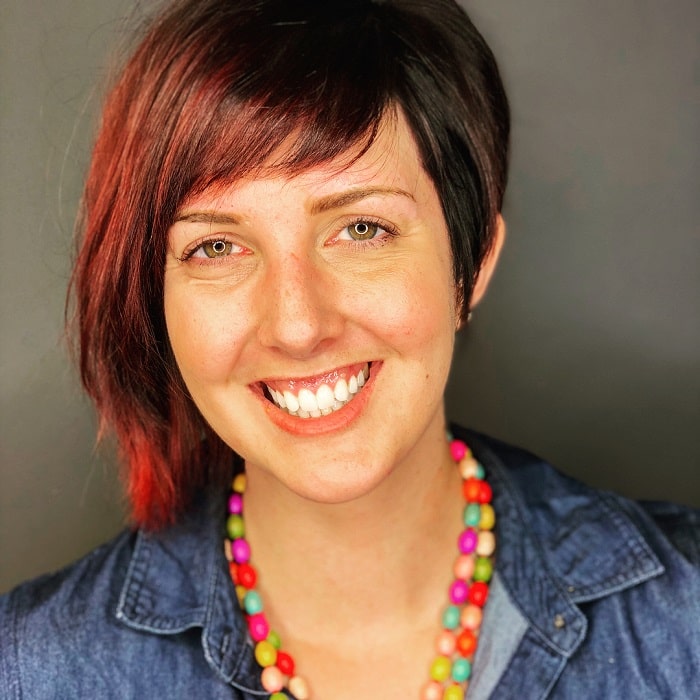 Bob hairstyles don't need all the bells and whistles to be fashionable. This simple bob hairstyle includes asymmetrical layers that are cute and casual, while the two-toned colors add just a touch of flare.
14. Super Short Bangs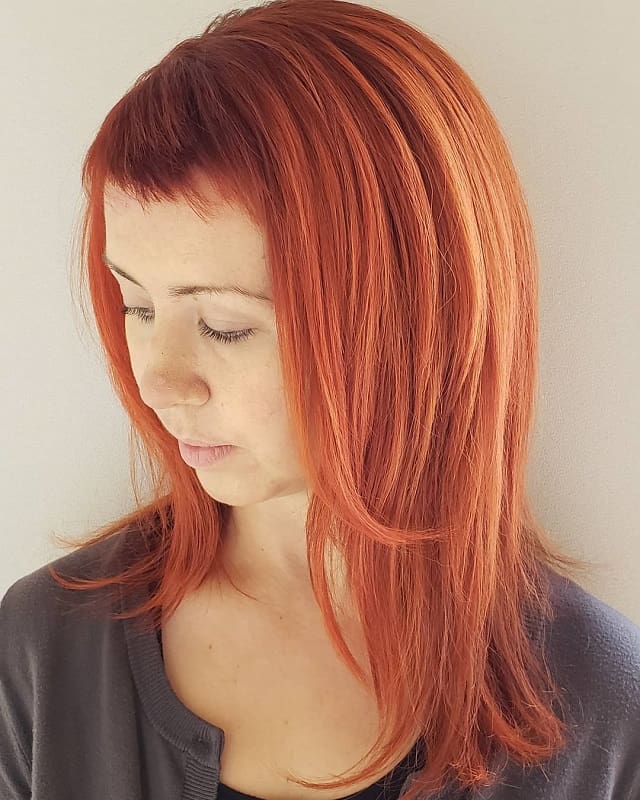 From the bottom up, this hipster hairstyle for girls appears to be just a basic cut that stops at the shoulder- until you get to the top. Those extra short bangs really set this hairstyle apart from the crowd, a bold move that takes this look from understated to exaggerate. If you crave something completely out of the box, chop off those bangs!
Gorgeous Hairstyles for 9 & 10 Year Old Girls
15. Wispy Pixie
Easy-going pixie haircuts like this can get a more intensified finish with a dark brewed shade like this. Leave plenty of long layers on top to play with while cutting the sides down short for a little bit of that modern appeal.
16. 3/4 Dreadlocks
A favorite hairstyle in the hipster girls that is quickly rising to the top is none other than dreadlocks. But instead of simply wearing dreadlocks like everyone else, remake this beloved look to suit your style like this gal did.
17. Pixie Fade for Hipster Girls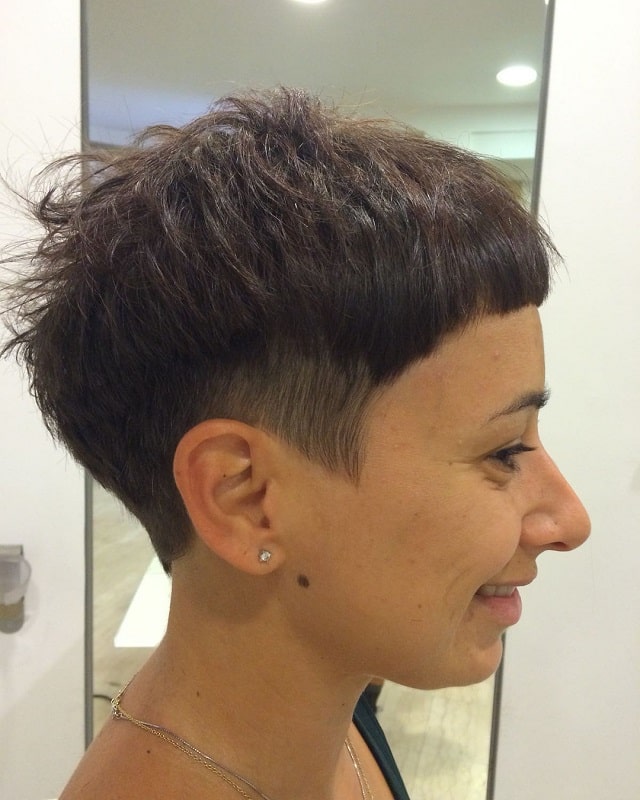 There is a lot of different textures oozing from this mane, and we can't get enough of it! Up top, you have a perfectly tousled pixie cut for a cute factor, while baby bangs up front kick in some modern flair. On the sides, you have a subtle fade that's ideal for the gal who wants to rev up her hipster look without going too fierce.
18. Straight and Side Swept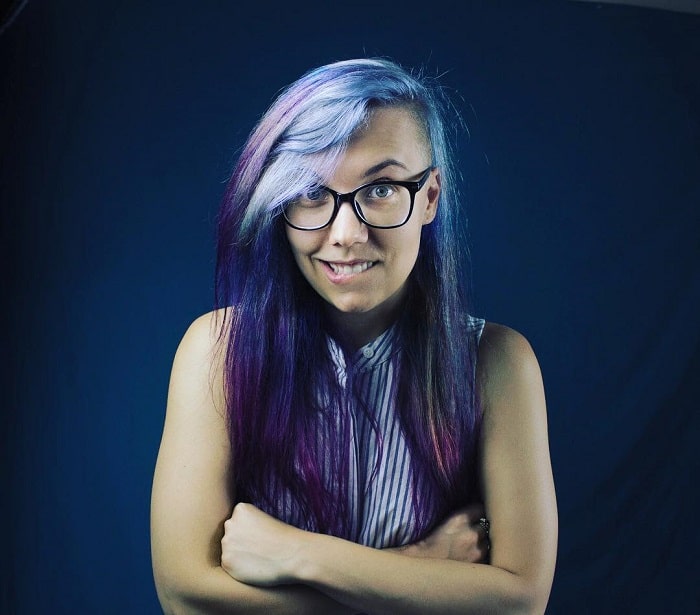 Even though girls love these hipster hairstyles, these may start off as being a little boring and mundane, it gets a mainstream makeover by sweeping it generously off to one side and adding bold, vivid colors of purples and blues.
19. Faded Pompadour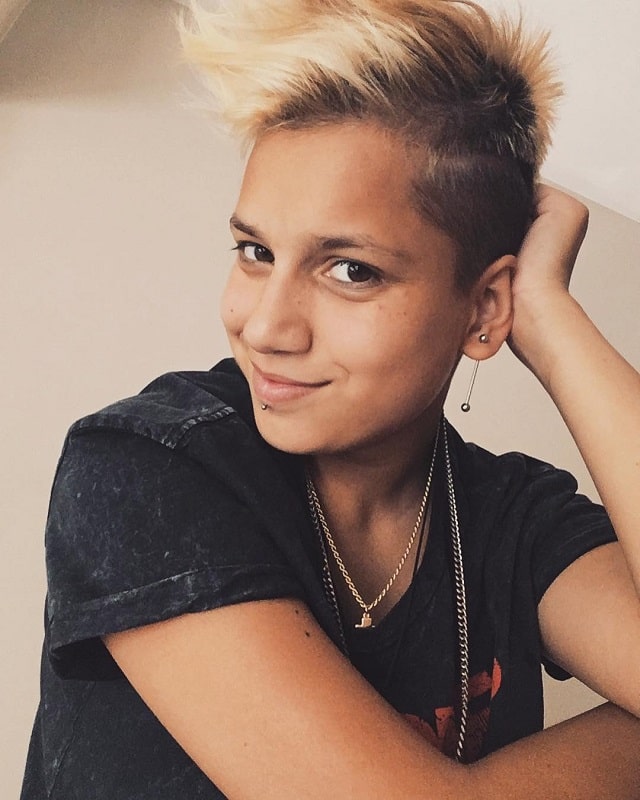 Yeah, pompadours have soared in popularity recently. Why? Well, they're clearly modern and unique. But not only do they display upscale fashion, but they are also easy to work with and can be created in a matter of minutes. Love the addition of platinum blonde on the ends to seal the deal on this fashion-forward hipster haircut for girls!
20. Flirty Pixie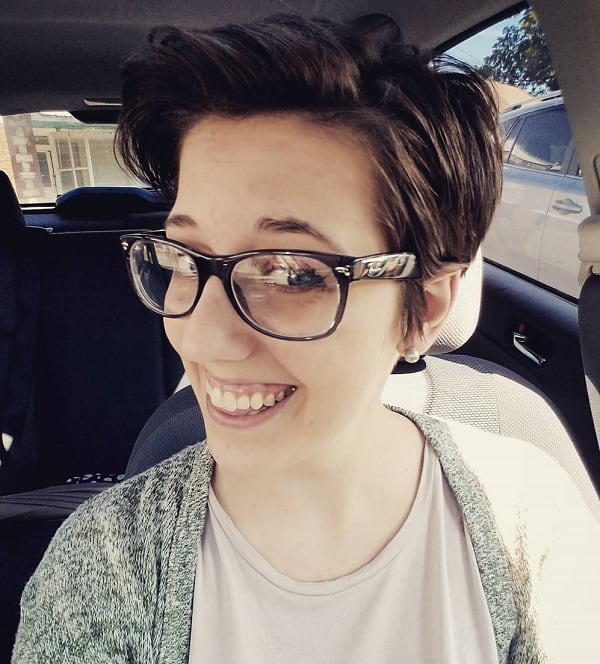 Pixies are always a go-to when you think of girl's hipster haircuts, so of course, we added it to our list! This side-swept style is tousled up just a tad to create every day, charming 'do that can be worn to the office, out with your friends, or even to a wedding. Love the versatility here!
There are many options when it comes to haircuts for hipster girls, but one thing to keep in mind is this: you always want to add in some fun colors and different textures or go as bold as you can with your choice. It seems as though possibilities are endless with hipster haircuts for girls, so it's easy to find one that you will love.