If you are a single mom or were raised by one then you'll relate & love these single mother quotes as you know how special these women are. It's time to celebrate the single moms in our lives with some great single mom inspirational quotes that remind us how powerful and strong these amazing women really are.
Realistic Being A Single Mom Quotes
One of the most impressive things about single moms is how they end up doing all of the work when raising children. These single mother quotes are sure to inspire the single mom in your life to keep working hard, even when the days seem really long.
1. Single moms are superheroes who just don't wear capes.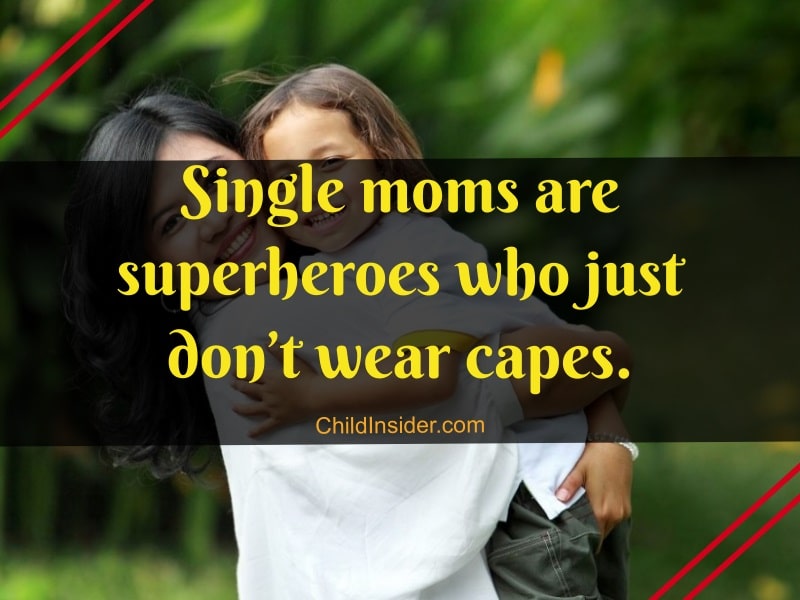 2. There's nothing easy about being a single mom, but enjoying the affection of a child makes the work and the long days worth it.
3. Single mothers take on all of the responsibility of raising their children and get to enjoy all of the glory.
4. Being a single mom is hard enough without all of the additional obstacles that they sometimes face.
5. Single moms do twice the work but hardly get twice the reward.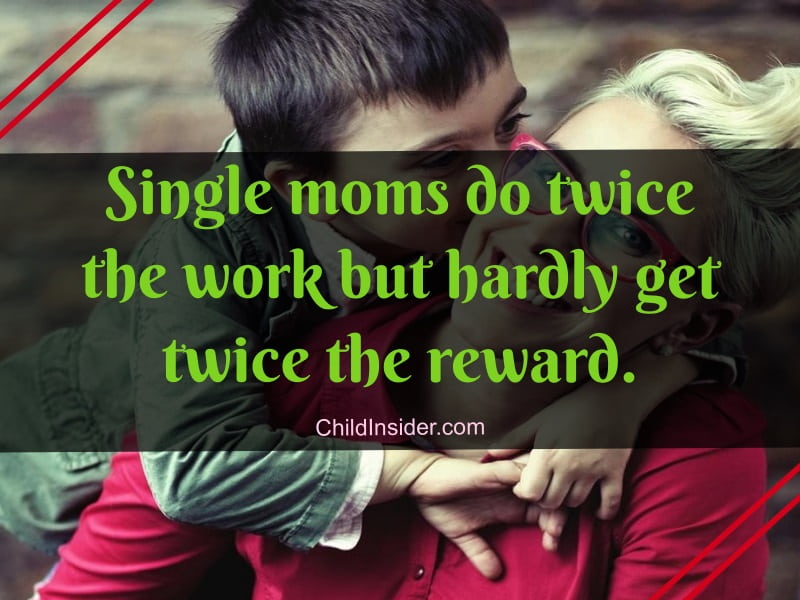 6. As a single mom, you must be a doctor, cook, maid, heroine, defender, and boss all at once.
7. Single moms have to be able to go from kissing boo-boos to refereeing a game in the back yard in just seconds.
8. Women who are single moms are the most powerful and driven women on the planet.
9. There is nothing that can stop a single mom from being able to reach her goals, no matter what they are.
10. As driven as single moms are, it makes sense that their children would be so successful as well.
Inspirational Quotes for Single Mothers
It can be hard for some people to believe, but single moms deserve a great life outside of the home when they are at work and out with friends. While being a single mom is hard work, these single mom quotes show that there is a lot of glories to be enjoyed.
11. Single moms have to go to work and come home and run the house all without the help of a man.
Best Working Mom Quotes to Appreciate Their Sacrifices
12. As a single mom, a woman has to balance not only taking care of her children but also having a life of her own.
13. Single moms can't always be bothered to put on makeup to impress other people.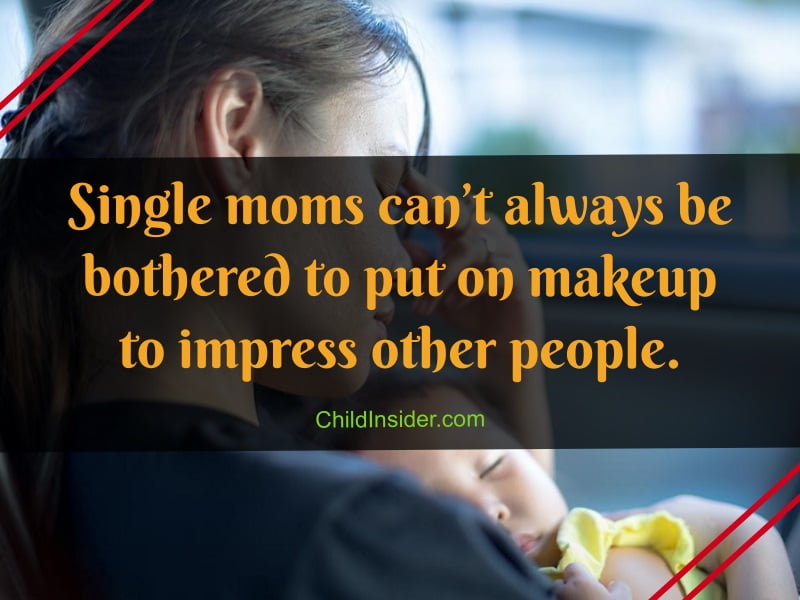 14. Getting out of the home as a single mom can be a huge relief in a busy day.
15. Running errands alone as a single mom feels like a vacation.
16. Single moms never get a day off.
17. There's nothing like the busyness of a single mom to make married moms feel tired.
18. Single moms work hard to raise their children and still have the energy to maintain friendships.
19. Successful single moms know that life is a balancing act.
20. There's nothing a single mom can't do without pizazz and style.
Encouraging Quotes for Single Moms to Keep Going
Single moms don't get a day off the way that married moms do, so they have to draw on an inner strength that a lot of people don't have. These single mother quotes offer all of the inspiration that moms need to make it through the day.
21. Free time for single moms involves playing games with their kids.
22. Single moms spend their time alone missing their children and wishing that they were together.
23. There's nothing a single mom can do alone that she wouldn't rather do with her kids.
24. Single moms know that the days feel long, but that the years fly by, and they choose to spend that time with their children.
25. Women who are single moms have a power that other women won't ever possess.
26. The strength needed to be a single mom really sets some women apart and makes them shine.
27. When a mom is a single mom, then she learns to rely on herself to handle whatever life throws at her, and she does it with a smile.
28. There are amazing power and grace in the love of a single mom.
29. Single moms have what it takes to make it through the hardest days by themselves.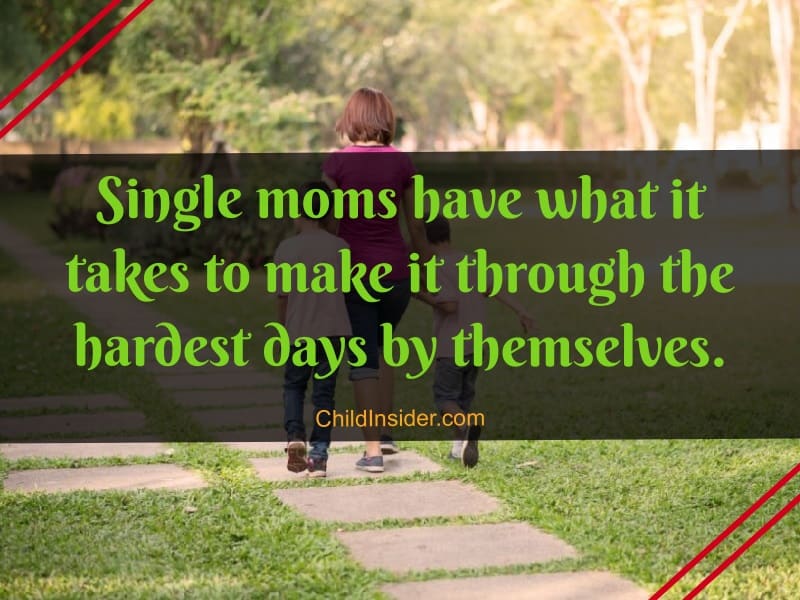 30. Children of single moms have a superhero living in their home.
Best Single Mother Quotes about Kids Coming First
Most parents are happy to put their kids first, but single moms know that their children are their top priority. There's nothing like the love of their children to get them up and active each day, and single moms are known for being protective and showing an incredibly powerful love. These inspirational quotes for single moms will reflect that.
31. Single moms know that their kids are their world.
32. There's nothing in the world like the love of a single mom for her children.
33. Children of a single mom always have a fighter in their corner.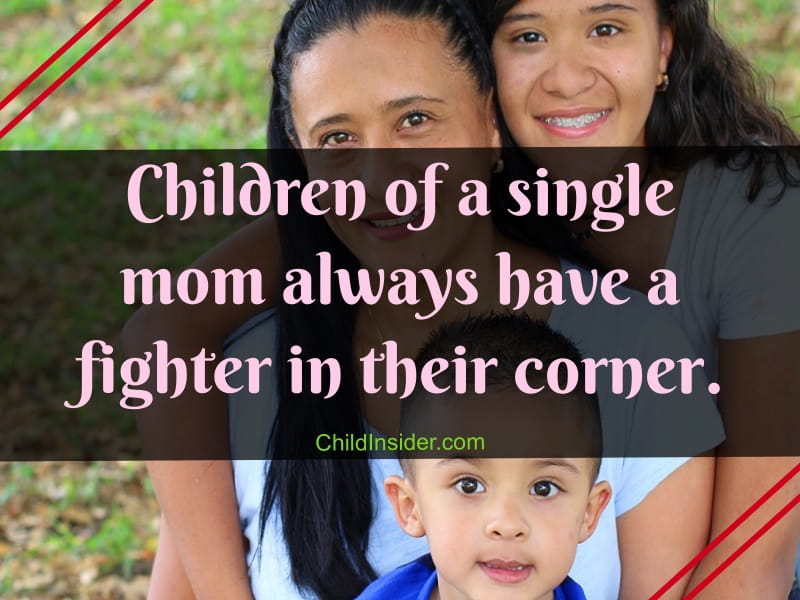 34. No child of a single mom has faced a battle on their own.
35. Single moms will do anything to protect their children.
36. The love of a mom for her children can't be overstated.
37. There is nothing more powerful than the way a single mom will fight to protect her children.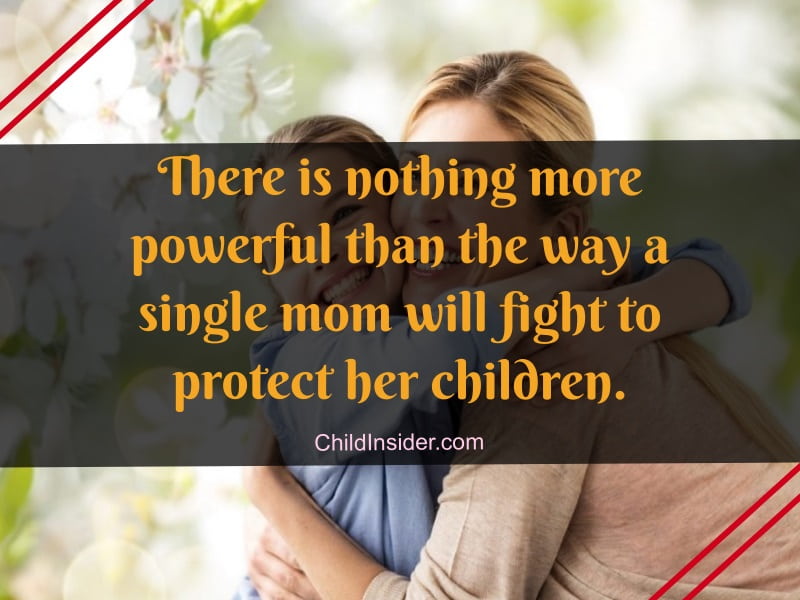 38. Single moms know that their children are the most important part of their lives and aren't afraid to show them how much they care.
39. The children of single moms are strong, powerful, and never alone.
40. Single moms won't ever back down from a fight when it means protecting their kids.
41. Thank you, mom, for all the efforts that you put in for us to grow up well.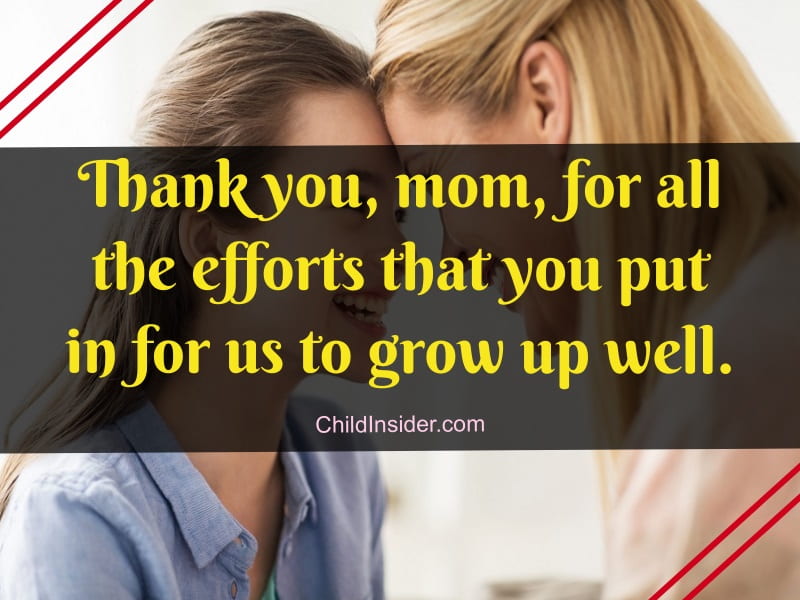 42. We know it hasn't always been easy for you to help us grow into the best versions of us. We love you, mom.
43. You have been nothing but supportive and helpful to us throughout our years. Here's to the best mom ever!
44. Dearest mommy, we want you to feel as loved as we do. So, here's some hugs and kisses for you!
45. With everything that you can do, you are no longer just our mom. You're a superhero!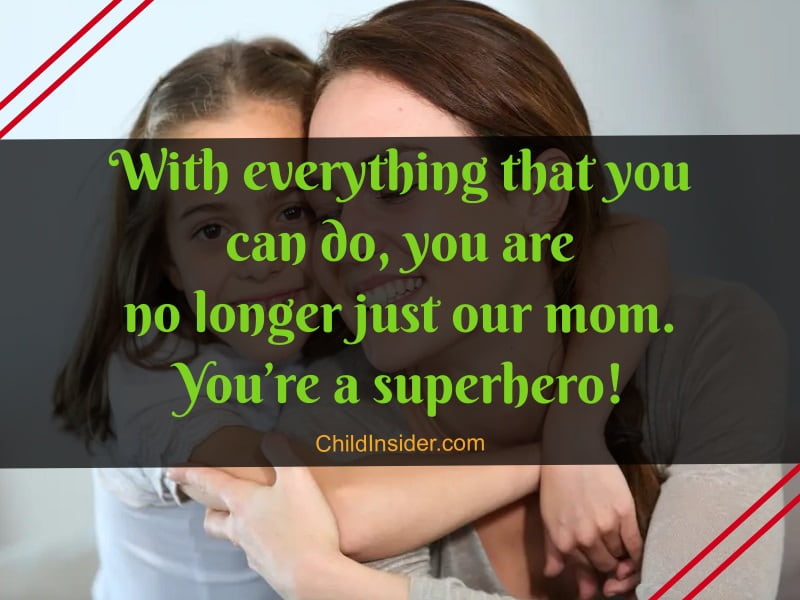 46. We admire how strong you have been for us to stay together. You're the best!
47. I would never have it any other way with you, mommy. We are complete just as we are.
48. When I grow up, I want to be as strong, resilient and formidable as you are. You're the best mom ever!
49. Here's my mentor, my best friend, and most of all, my irreplaceable mom. Cheers!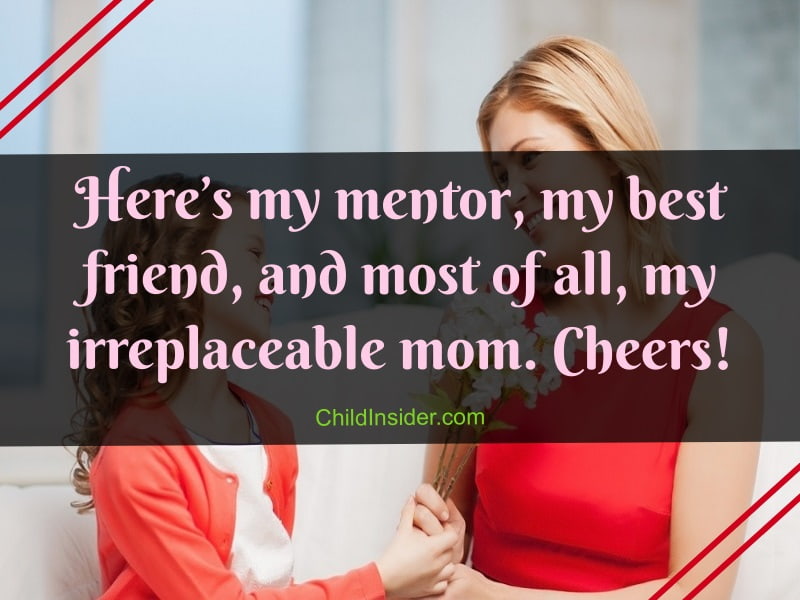 50. Single mom or not, it does not change the fact that you are still the best person ever!
51. You're not a 'single mom'. You're my mom; The star that shines the brightest in the universe.
52. You're the bravest and strongest woman that I have ever known in my life. I will grow up to be like you, and I'll grow up proud.
53. You taught me to love, to trust and to be gentle despite everything that happened. Thank you for everything that you have taught me.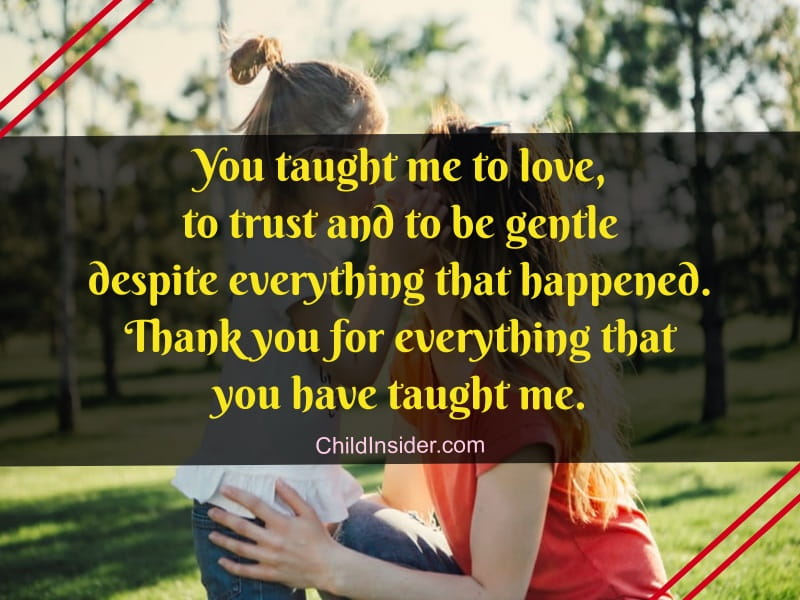 54. When I grow up and people ask me how I grew to be so independent, I will proudly thank you for what you have taught me to be.
55. I'm beautiful yet fierce, graceful yet strong, feminine yet independent; and it's all thanks to you, mommy. I love you.
56. You taught me to be the best woman that I can be, and I will still never be able to surpass you in my entire lifetime. Stay awesome mommy!
57. Thank you for all the love you have given me. But mom, please remember that I am here to love you too!
58. Dear mom, please do talk to me when you feel down sometimes. I want to be as supportive as you have been to me.
59. I'll learn to be more independent, mommy. I want to do everything I can to make this as easy for you as possible.
60. Mom, thank you for never giving up on me. I know it has been difficult, and I appreciate you so, very much.
61. I asked the magic mirror who the best woman in the world is, and I'm simply not surprised at all when the mirror showed your beautiful self!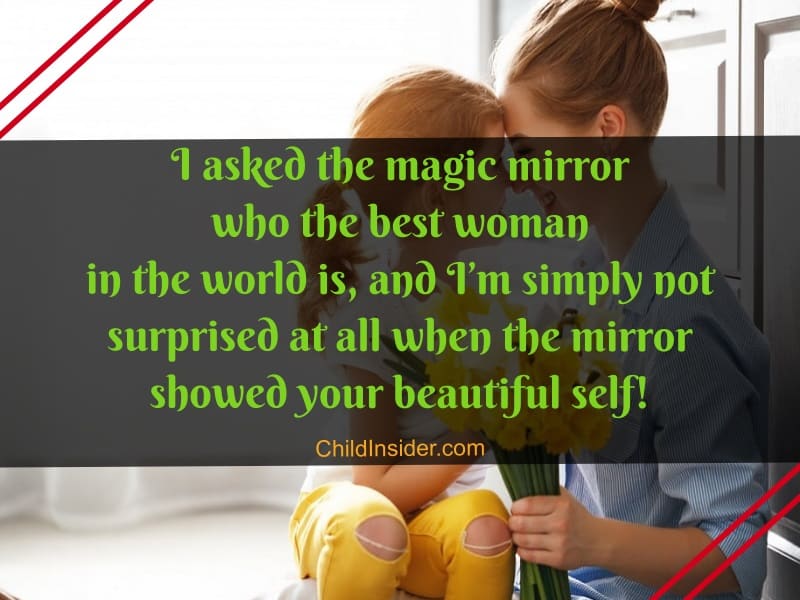 62. Dear mom, how can you be so fun, loving, brave, graceful, and caring all at once? What is your secret?
63. To the best mom in the world – I just want you to know that I love you much more than words can say!
Moving Best Mom Quotes from Daughters
64. We may not be what the world sees and accepts as a complete family, but I feel complete just with you mommy.
65. Who cares how the world sees us when we know very well that we are doing a lot better than they are? Here's to us!
66. If I have to write an essay on a woman I admire, you know that it's going to be all about your mom. You're the greatest!
67. Cheers to the special woman in my life who had been, still is, and will always be my greatest guidance.
68. You still are the life of every party you go to even when the world has beaten you down. You'll always be my heroine.
69. The best heroines and princesses do not need rescuing, and neither do us. Here's to us being awesome!
70. Dear mom, I just want to say that you don't need to put on a strong face all the time. I'm with you through this journey for better or for worse!
71. Mom, I just want you to know that I love you and I really appreciate all the sacrifices that you have taken for us.
72. It's like you decided to play the game of life in difficult settings and you're still acing it! You're so awesome!
73. I know it's not easy for you to juggle your jobs and other responsibilities. I hope you are getting all the support you need, mommy.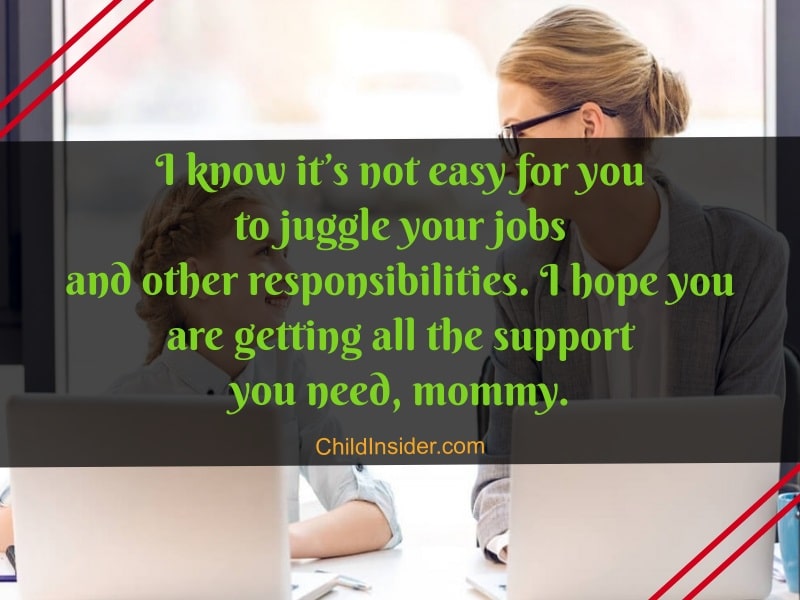 74. They say that the sky is darkest before the dawn. I think there's a big rainbow coming up for us mom!
75. It's so wholesome to have a mother who can play the role of both a mom and a dad. You're the best!
76. If there's one thing that I want to ask of you, it's that you let me support and help you in any way I can.
77. I know that words will not be enough to support you through difficult times, but it's the easiest way for me to tell you that I have your back. I love you, mom!
78. Not a day has passed that I did not admire everything about you. You have set the best example for me!
79. If only you knew how beautiful and admirable you always are to me. You are someone that I can always look up to.
80. You're the only role model in the family that I need, mom. Don't let anyone tell you otherwise!
81. You should be set as the best role model for anyone and everyone in the world. You have done nothing but the best that you can achieve every day!
82. Even when everything is looking down, you still hold your head up high. That is why you are so admirable.
83. You are confident because you have gone through it all and you know that you are doing just fine. You go, mom!
84. You showed the world nothing but kindness and compassion even through tough times. Here's to the woman I strive to be one day!
85. You are always here to cheer me up when I am not at my best. Can I do the same for you too, mommy?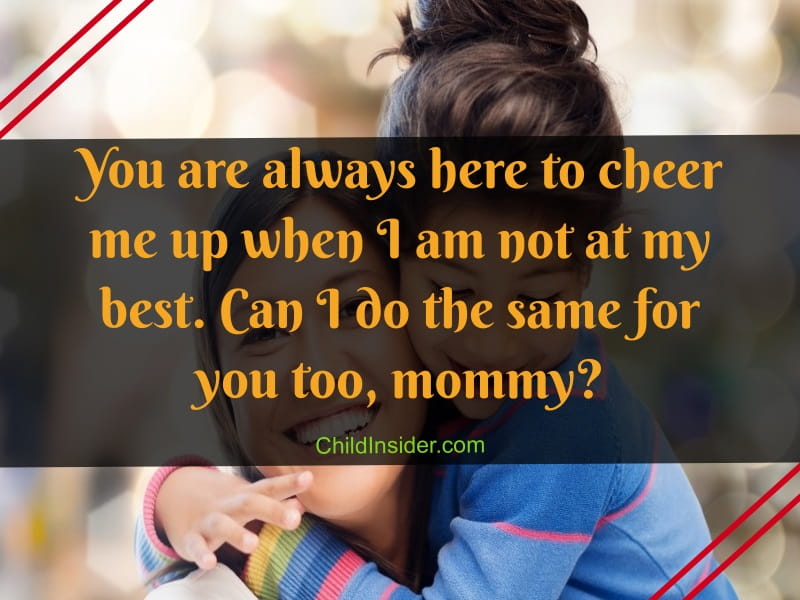 86. You go to work, prepare meals, clean the house, and still have the energy and patience to help me with my school work. If that doesn't make you a superwoman, I don't know what does!
87. You still manage to radiate joy and happiness even though we are not a perfect family. That's what I love about you so much.
88. Dear mom, I appreciate the sacrifices that you have made for me. I promise that I'll give you my everything in return!
89. Dear mom, I know that you don't expect anything in return for what you do, but I want to, and I will always love you and take care of you once I'm able to.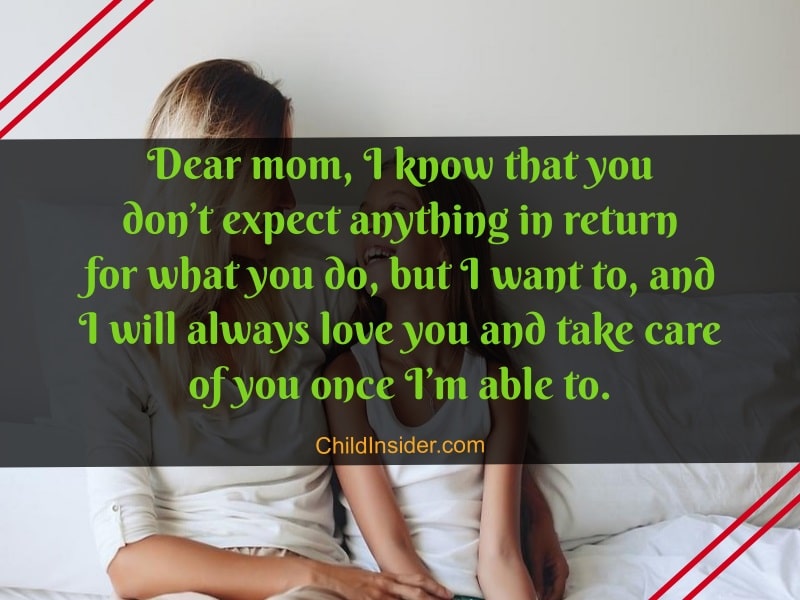 90. Dear mom, thank you for giving me the opportunity to be your little princess, even when your castle has no King to stand by you. You're the most awesome Queen, ever!
91. Who needs a King to rule the castle when the Queen is as powerful as you are? I love you, mom!
92. What's a King without a Queen by his side? Nothing. Meanwhile, here you are, the strongest piece in every chess game. Kudos to you mom!
93. I'm proud to carry your last name with me, mommy. I won't have it any other way!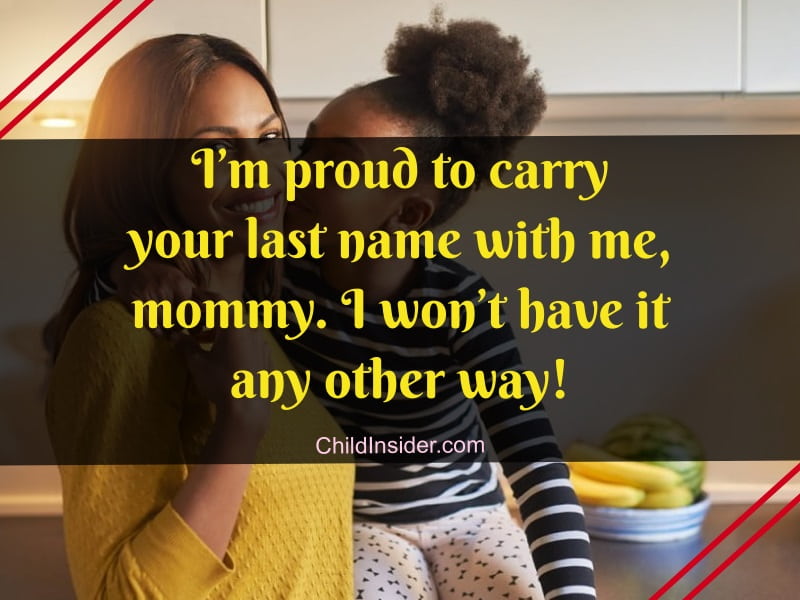 94. If you were an animal, you'd be a lioness – strong, fierce and a queen that needs no king!
95. It's alright that I don't have a dad. I just can't imagine not having my best friend, my guardian and my awesome mother with me!
96. Mothers like you are the best. You know what to do in all scenarios, and I can always rely on you. Thank you, mom!
97. How many moms out there can actually fix their own cars and change the lightbulbs? You're such a rare gem mommy! I'm so proud of you!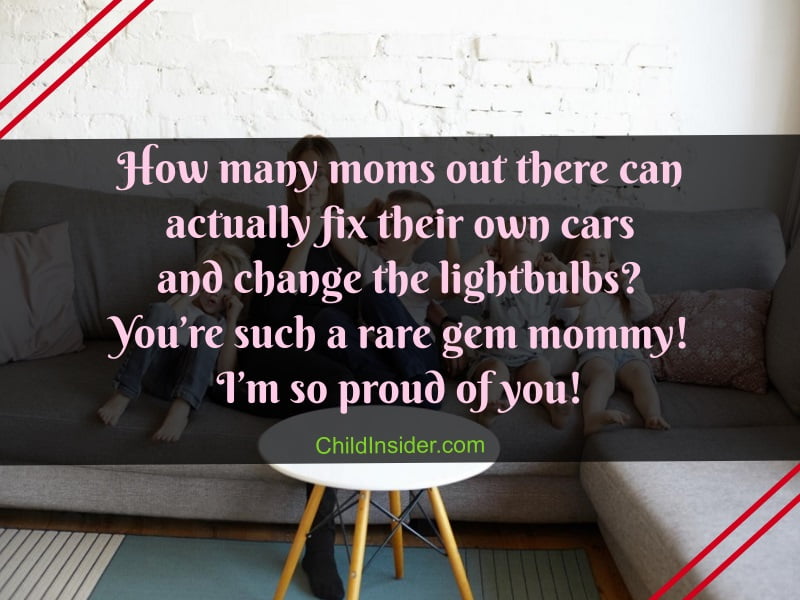 98. Why wouldn't I be proud of my mom? She's a superwoman who has managed to raise me till this day in spite of everything else that happened!
99. A single mom carries the responsibilities of both parents, and you're doing so well that I can't help but look up to you!
100. Your past experiences have shaped you to the strong, independent woman that you are today. Perhaps the saying 'no pain, no gain' is true even in this context!
101. You're wise beyond your age. You're beauty and you're grace. You're everything that I wish I can be, and I hope that you feel that way yourself!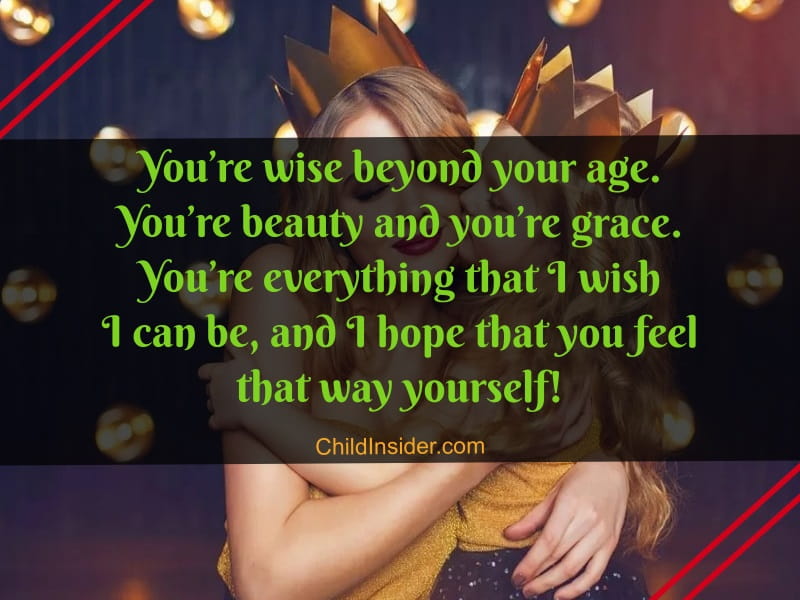 Hopefully, these single mother quotes will inspire you or the single mom in your life to watch over her children and feel like the powerful superhero that she is.
There is no force in the world like the love of a mother for her children, and single moms are some of the most powerful and amazing women on the planet, which means that their children are incredibly lucky and loved.