One of the most important things that parents will want to consider when choosing short hairstyles for babies is how easily they will be able to take care of their hair.
Some styles and cuts are simple and easy to take care of, and with a baby, being able to make sure that they look great without a lot of hassle or frustration is important.
All parents want their babies to look great, which is why so many worries about what hairstyle they will choose for their child. A baby with short hair will have a very different style than a baby who has longer hair, which means that parents need to carefully choose the right style and cut for their child.
How to Take Care of Babies' Short Hair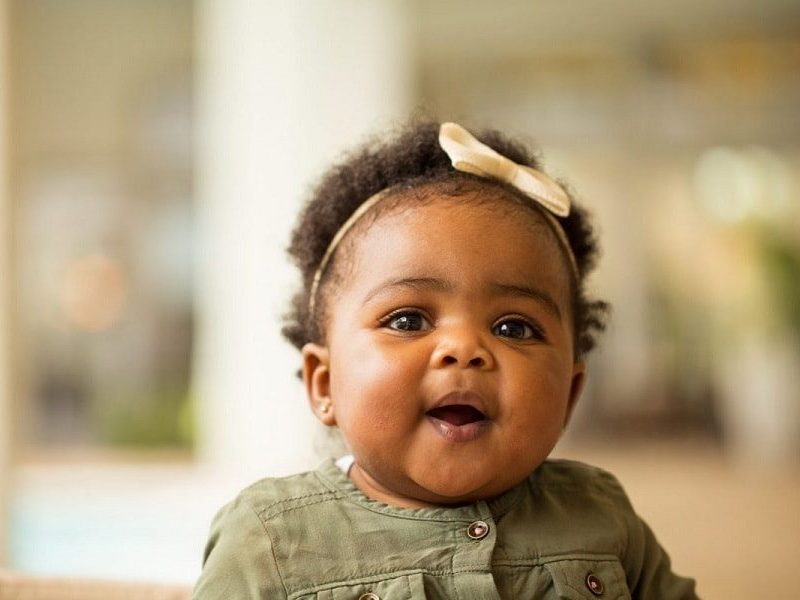 Just like with adults, babies have special care requirements to ensure that their hair looks and feels great. The type of hair they have will dictate the type of care that they need to ensure that their hair is clean and healthy.
Toddlers with thin hair should have it washed regularly, at least twice a week, to ensure that the child can avoid cradle cap. Thick and curly hair may require a conditioner to ensure that the hair doesn't dry out and start to break when it is brushed.
It's important to brush thicker hair regularly, especially if the child is busy and active so that it doesn't knot up. Babies with thicker straight hair will require regular washing, but also regular brushing to prevent any knots and tangles from becoming an issue.
All types of hair will require regular trims to keep the style looking fresh and updated and to ensure that the hair doesn't start to look sloppy or unkempt.
Most Unique First Haircuts for Babies
Cutest Short Haircuts for Babies
These are the most incredible short haircut ideas for babies. Go through the lists and find the suitable one for your kids according to their hair texture.
1. Short Wisps Clipped to the Side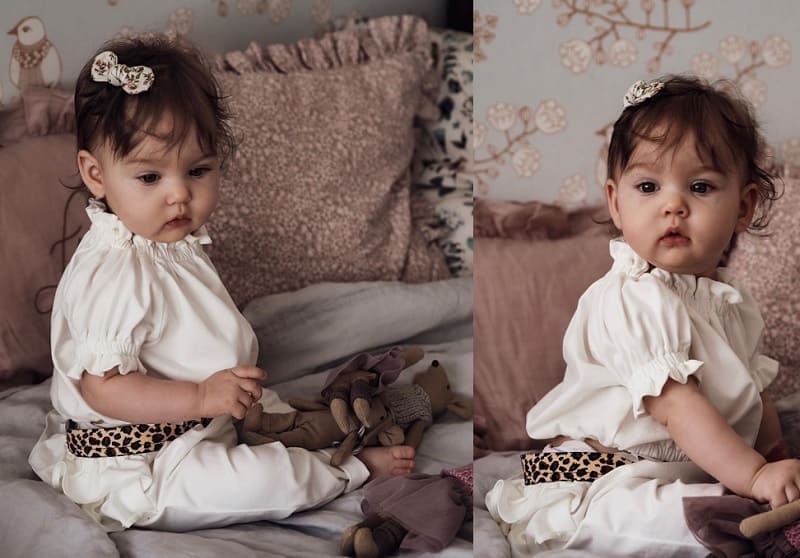 Baby girls who have short and wispy hair will often look best with a style that allows it to be clipped to the side.
This look is a bit longer in the front and keeps the bangs at a length where they can easily be pulled back from the face without too much difficulty, which is key in making sure that a baby is able to see.
2. Wispy Fauxhawk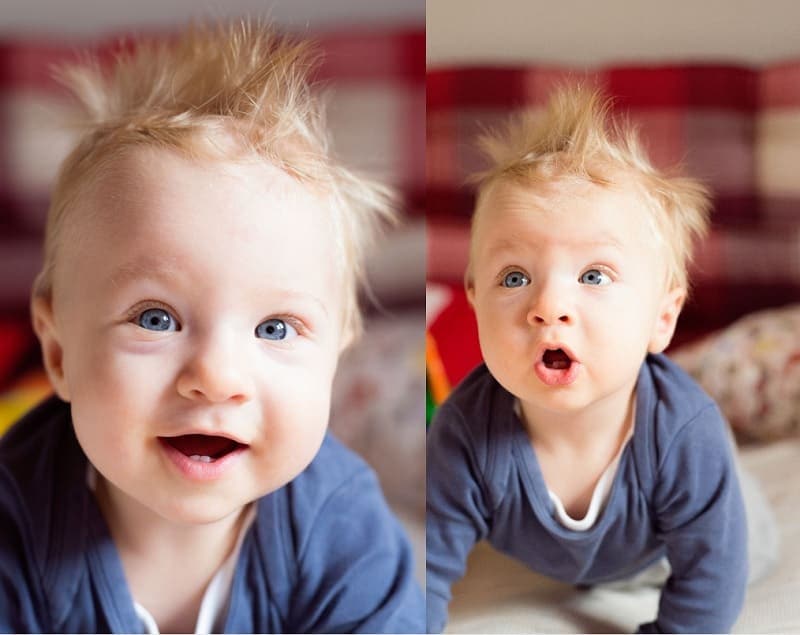 Fauxhawks on babies are really charming, even if the child doesn't have enough hair for a traditional fauxhawk. This fun baby girl's hairstyles for short hair looks very light and wispy, making it appear a little ethereal.
It's very easy to do, and since the hair is so thin and fine, it can usually be styled with just a little bit of water rather than using the product.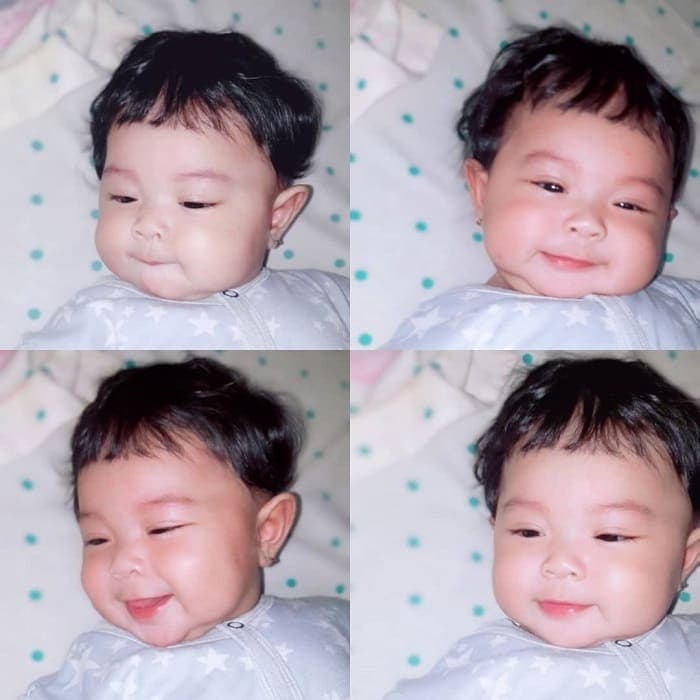 Short bangs are a wonderful way to show off a baby's face, and this style manages to do that and still look trendy, thanks to having the rest of the hair cut up and over the ears.
This prevents the hair from looking too shaggy or out of control and also makes it very easy for parents to get their baby ready in the morning.
4. Pulled-Back in Bits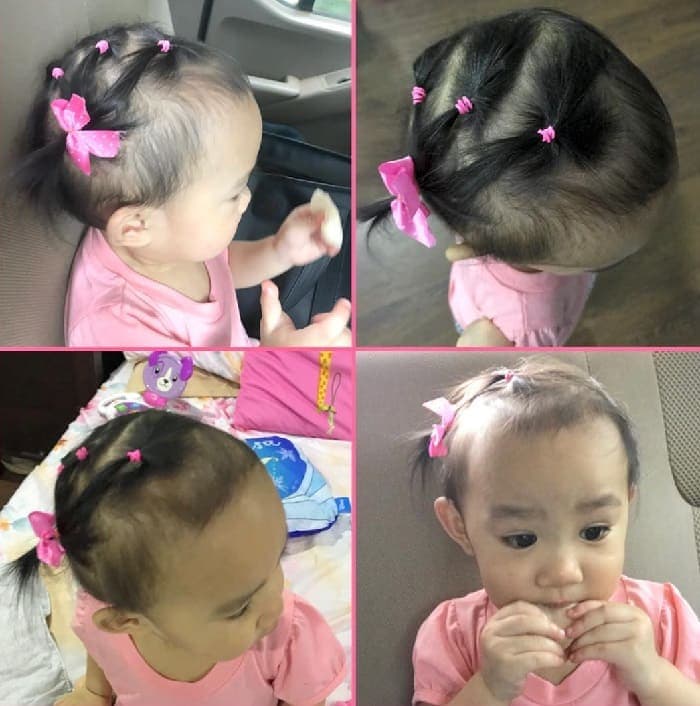 By using multiple elastics, parents can make sure that their toddler girl looks the best and that her hair is out of her face.
Using a small bow to connect the ends of these little bits of hair adds some cohesiveness to the style and will help to ensure that a little girl doesn't have any wispy flyaways getting in her way.
5. Short and to the Side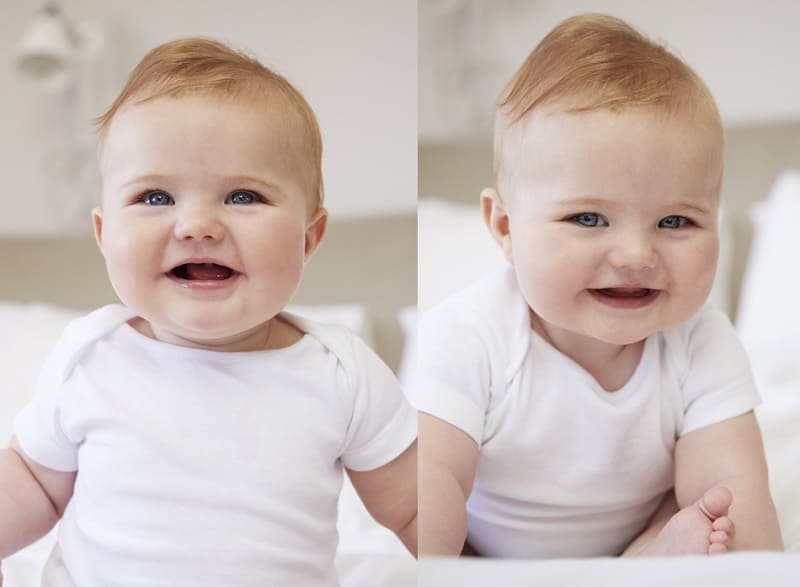 One of the most popular hairstyles for babies is to simply keep all of the hair short, with a little extra length on top, and then brush that length to the side.
This look doesn't require a lot of effort, as long as the bangs are kept up and out of the face so that the baby can easily see.
6. Tiny Waves All Over the Head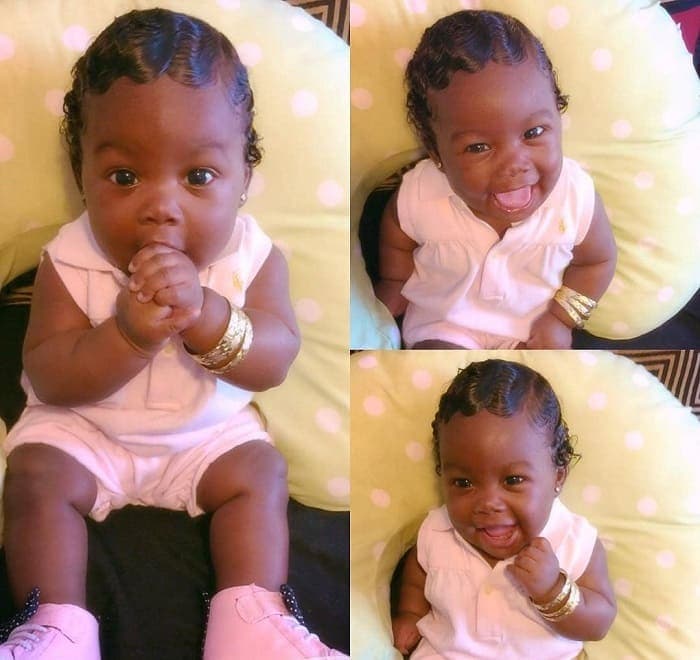 Little finger waves are a great option for any baby with short hair when the parents want to make sure that she looks her absolute best.
This fun look is incredibly chic, and while it does take a little more effort to complete, is worth the work. It's a trendy style that will look great on any little girl and with any outfit.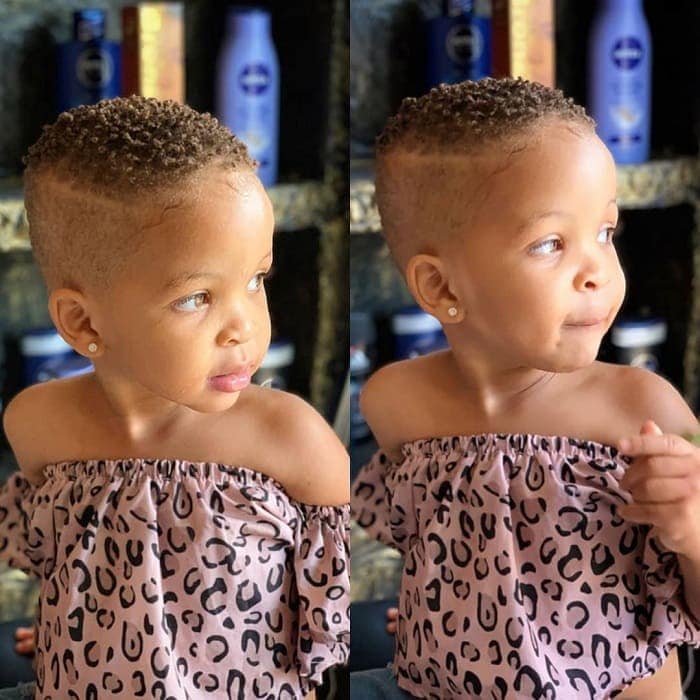 While some parents may think that a high fade is too harsh for their child, others know that this chic baby girl's short haircut is incredibly trendy and looks great on little girls.
This high fade has a mass of curls on the top, allowing them to be the real focal point of the look. Skip designs, as they can make the look appear too mature.
8. Short Pigtails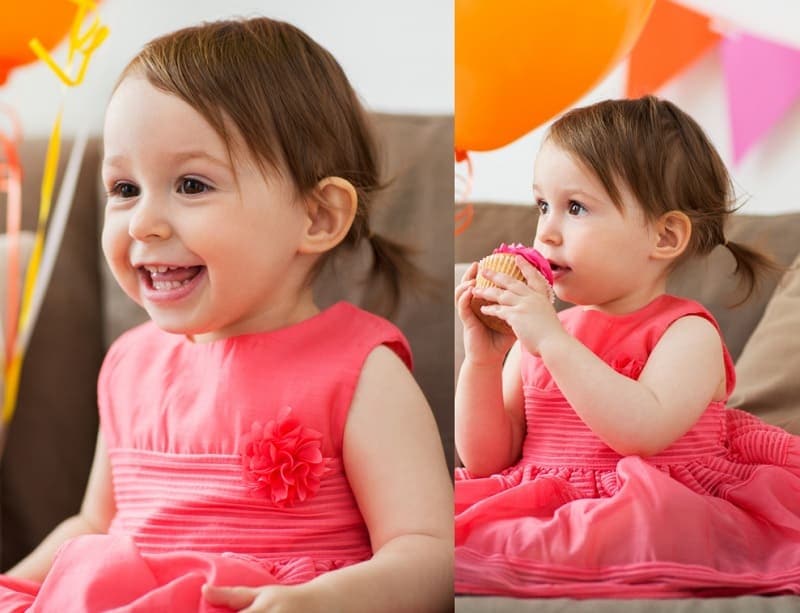 Incredibly straight and fine hair can be difficult to style, which is why parents will want to allow it to grow out a bit. This makes it easy to then pull back into shorter and spiky pigtails, adding some fun to the look.
Brushing bangs to the side of the face or tucking them behind the ear completes the cut.
Charming Ponytails for Little Girls
9. Bangs Cut Straight Across the Forehead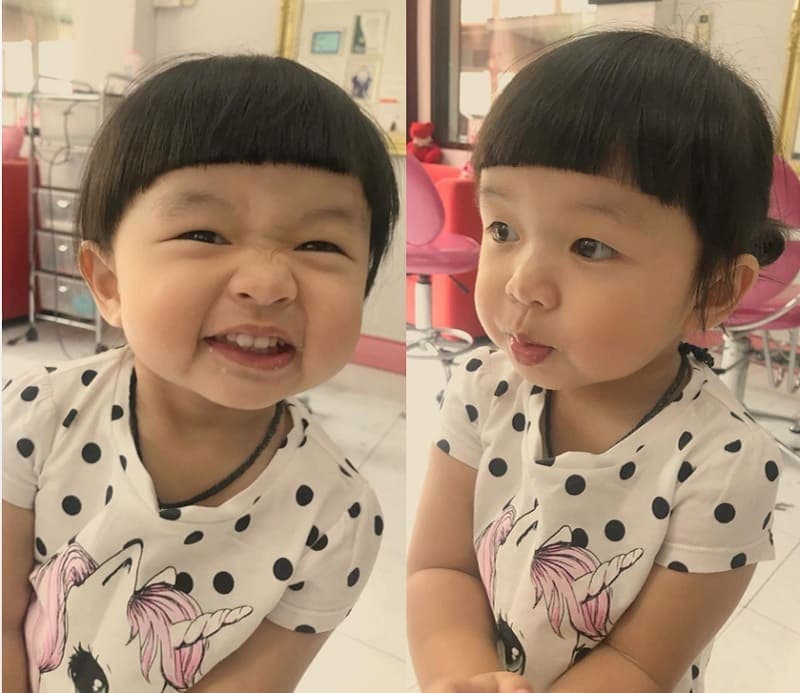 Bangs won't get in the way when they are cut so short that they rest against the forehead. This hairstyle for babies with short hair is very no-nonsense and looks great when paired with longer hair in the back.
This longer hair can be left down or pulled into miniature pigtails to add some contrast to the sharp line of the bangs.
10. Short Bangs
Very short bangs is a wonderful way to control hair that is a bit longer, no matter how thin or thick it is. The bangs can easily grow out to be pulled back with the long hair when the girl is a bit older or kept shorter to add some layers and interest to the cut.
11. Cute Curls Contained with a Bow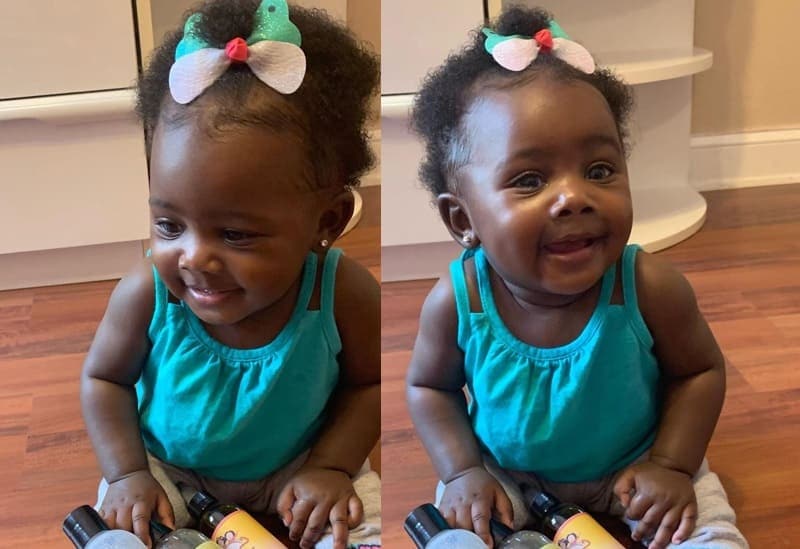 There's nothing quite like a toddler girl with a full head of curls and a bow to hold them all in place. This soft mass of curls looks great and is easily controlled with a bow on the front of the head.
Using this bow makes it easy to keep curls out of the face and to add some structure and style to a cut that will otherwise look soft and loose.
12. Tiny Puffy Pigtails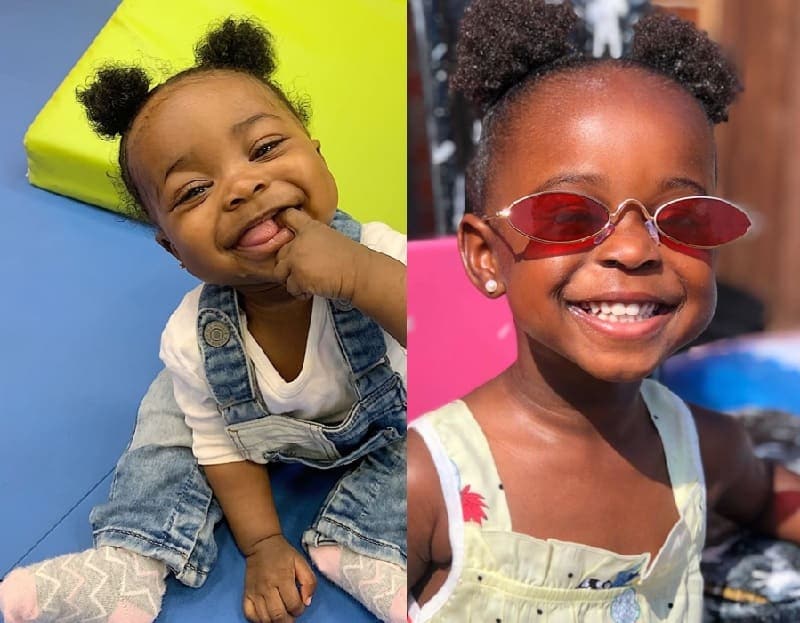 Pigtails are a fun style for any baby, but they are even cuter on toddlers who have short curly hair. These puffy pigtails on the top of the head add a lot of style to the look and are a fun way to keep curly hair contained and out of the face.
Any flyaways simply add to the cute appearance of this look, making it great for all babies.
Straight hair can be difficult to control, which is why allowing it to rest in wispy layers around the face is often a better option than battling it.
This cut has plenty of wispy layers that are cut around the ears, across the neck, and to hang as bangs in the face, giving it a lot of interest and movement.
14. Held in Place with a Headband
A cute headband is a wonderful way to hold fine, short, and wispy hair in place without having to resort to any product.
The very short bangs on this baby's hairstyle are pulled down as much as possible to give some length to the front of the face, while the rest of the hair is cut much shorter so that it looks full and healthy.
15. Oversized Headband with Lots of Volumes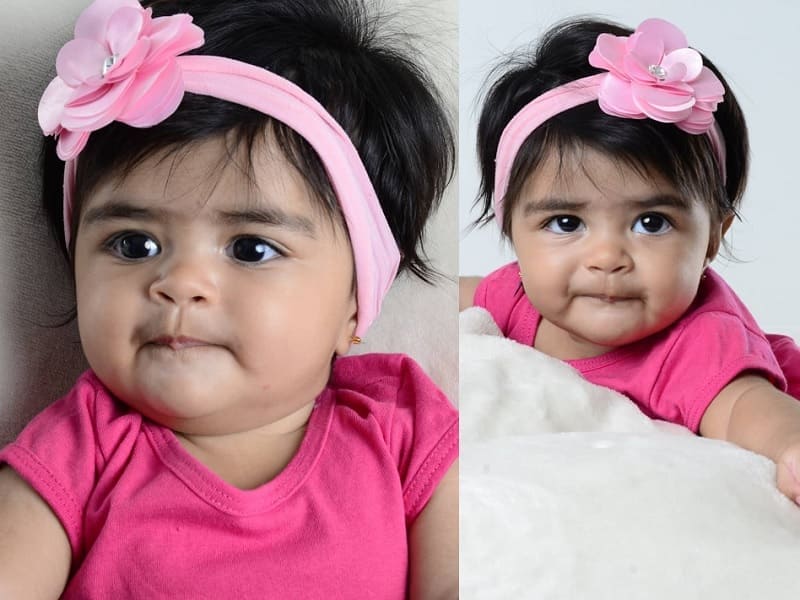 An oversized headband isn't just for a baby with fine hair, as all little girls will love them. It's a great way for any baby girl with short hair to control their hair and looks great when there is a lot of volume on the crown of the head.
This looks perfect with longer asymmetrical bangs, which add interest.
Cute Pixie Cut Ideas for Little Girls
16. High Fade with Shorter Top
Baby boys look great with a high fade and a much shorter top. The high fade allows the hair on top of the head to be the real focal point of this short haircut.
Adding a tiny bit of product to the hair on the top of the head makes it very easy to control and prevents it from looking too messy or unkempt.
A fade on the sides allows the longer length on the top of the head to be the real focal point of this short hairstyle. It's a great look for baby boys who have incredibly thick and lush hair.
Parents will love how easy it is to wash this hair and to get out the door without spending a lot of time fixing it in the morning.
18. Kids Fauxhawk with Stripes on the Side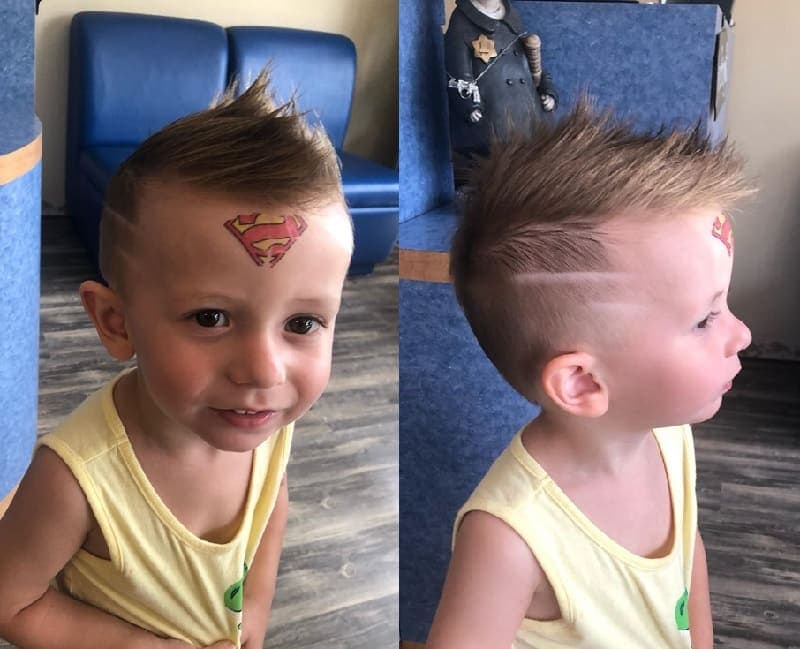 A cute fauxhawk is even more fun when it is paired with some stripes cut into the side of the head. This spiky look does take styling every day to ensure that it looks its best thanks to the longer length on the top of the head. It's a great option for toddler boys who have thicker straight hair.
A blonde mohawk is a bold choice for any baby boy with short hair. Parents who want to spice up the look and attract even more attention will want to consider dyeing the front bangs a bold color.
This is sure to make everyone look twice and is a great way to set a baby apart from others with a similar cut and style.
20. Longer Top Styled Forward with Product
Short sides and a long top is a great look for older boys, and babies can enjoy the same style. This short haircut for babies requires daily styling to look its best.
The longer hair on the top of the head needs to be brushed forward and pushed up in the front to ensure that it has style and the form that the cut needs to look great.
21. Dark 'Hawk with Plenty of Product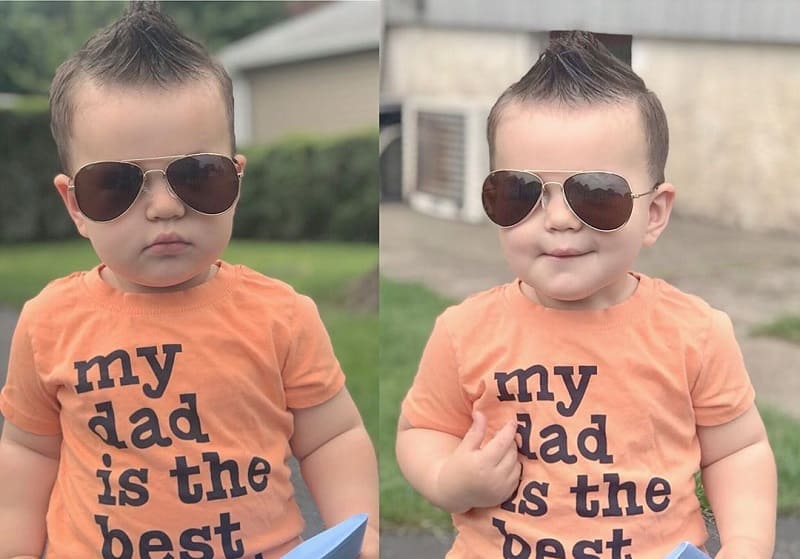 A dark fauxhawk with plenty of product is one great option for parents looking for trendy hairdos for babies with short hair.
This look is very bold and is a great option for little boys who are constantly on the go. Babies will look much older and trendier when they have this great style.
22. Defined Curls on Top with a Skin Fade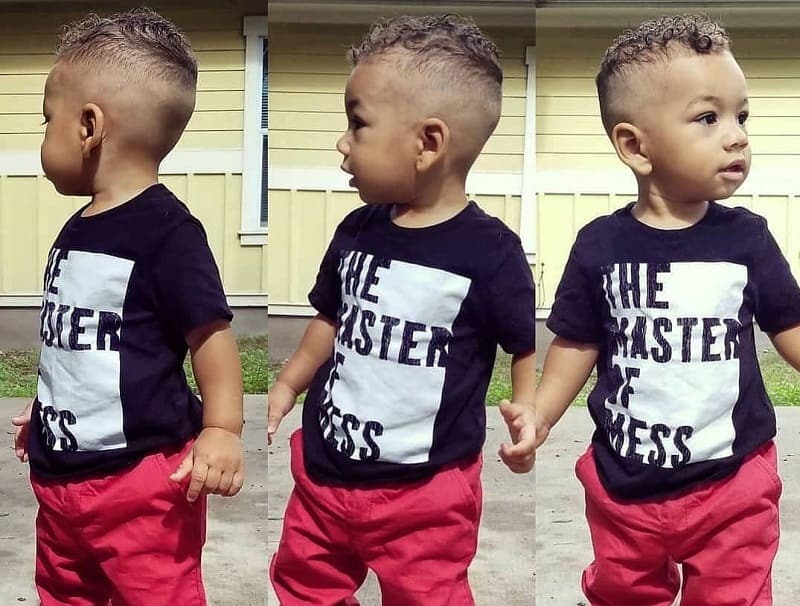 Clearly defined curls on the top of the head look great thanks to a little product to hold them in place.
A great skin fade that goes high on the sides and back of the head adds even more interest to this short curly hairstyle for baby boys and ensures that the curls are clearly the focal point of the cut. Daily product is needed to keep the curls looking great.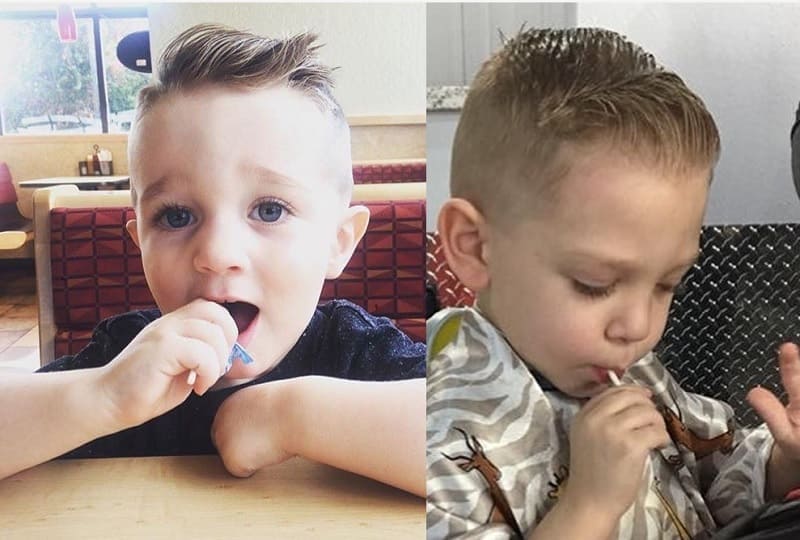 A longer top doesn't have to be pushed forward to the front of the face to look great, as this style shows.
Sweeping the longer hair to the side of the head adds interest and movement to the cut, making this style fun. It's perfect for keeping hair out of a baby boy's face.
24. Top Pushed Straight up Hair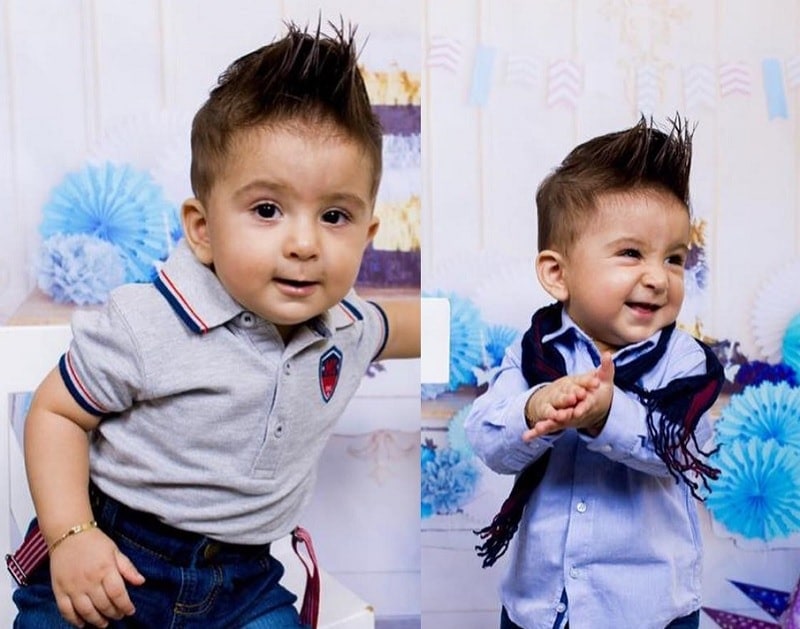 Adding a ton of volume by pushing the hair straight up off of the head is a lot of fun. This baby boy's haircut is a new take on the classic short sides with a longer top and involves keeping the longer locks controlled and high off of the head for a trendy twist.
25. Spiky Longer Top Off to the Side
Adding plenty of product to a longer top with shorter sides allows parents to spike it and add some movement and interest to the cut.
This short hair look is daring and a great option for any baby who is constantly on the go and pushing boundaries. It's a fun look that requires daily care, but the spikes are sure to be a favorite.
Any of these 25 great short hairstyles for babies are all wonderful options for parents to consider. Finding the right hairstyle for a baby will ensure that they look cute, that the hair isn't in their way during play, and that they are always ready for a picture.