Students, parents, and teachers alike know that a great door decoration for school can make a classroom more fun, more inviting, and exciting.
Choosing the right decoration for a door can sometimes be difficult since there are so many things to consider.
Teachers who want to find a great door decoration that will help their room stand out will want to spend time picking one that they can easily complete and that matches their personality.
Fun Door Decorating Ideas for School
There are a few things that teachers can consider when decorating their classroom door to make sure that it really stands out and that it will be inviting.
Not only do they need to think about their room's theme, but also the season or upcoming holiday and if they want to share an inspirational message with their class and other students in the hall.
1. Make it Spooky for Halloween
Halloween is a favorite holiday for a lot of people, and making it a little bit spooky is fun. A typical skeleton, witch, and monster all decorate this door.
The black background is perfect for writing messages to students or for drawing spiders and their webs, which will help to contribute to the spooky holiday feel of the door.
This is a fun door decoration that younger children will appreciate.
2. Countdown to Christmas
Everyone loves counting down to Christmas, and this classroom door decoration makes keeping track of the remaining days easier than ever.
The large snowman head has the numbers 1 to 25 written on it, making it easy to count down the last few days of December.
With a fun, bright scarf and a jaunty hat, this snowman is a welcome addition to the hall and is sure to attract a lot of attention.
Amazing Study Desk Ideas for Kids
3. Go Under the Sea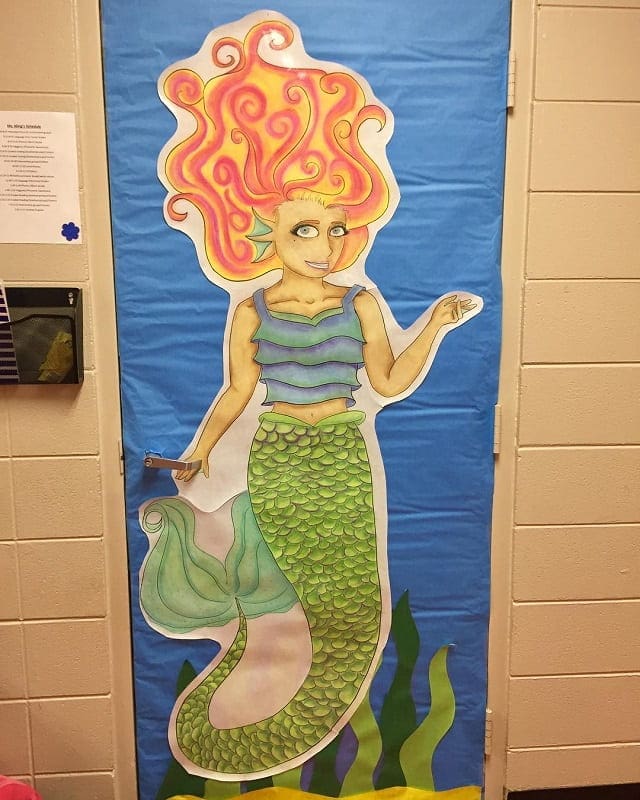 Mermaids are a lot of fun and can be designed in any number of ways, making this door a fun way for teachers to express their personality and creativity.
The bright blue background on the door is the perfect backdrop for a dreamy mermaid with wild hair and a long green tail.
Students are sure to get excited when they see this door and will wonder what magic awaits them in the classroom.
4. Bring Carnaval to Life
Carnaval is a fun celebration and features wild music, bold colors, and impressive clothing.
Teachers who want to bring some of that fun and fantasy to their classroom will love the way that this door looks and how it requires everyone to think outside of the box.
Having students help make the door decorations and paint masks on the paper gets them involved and gives them a feeling of ownership in their room.
5. Inspire Kindness in Everyone Who Passes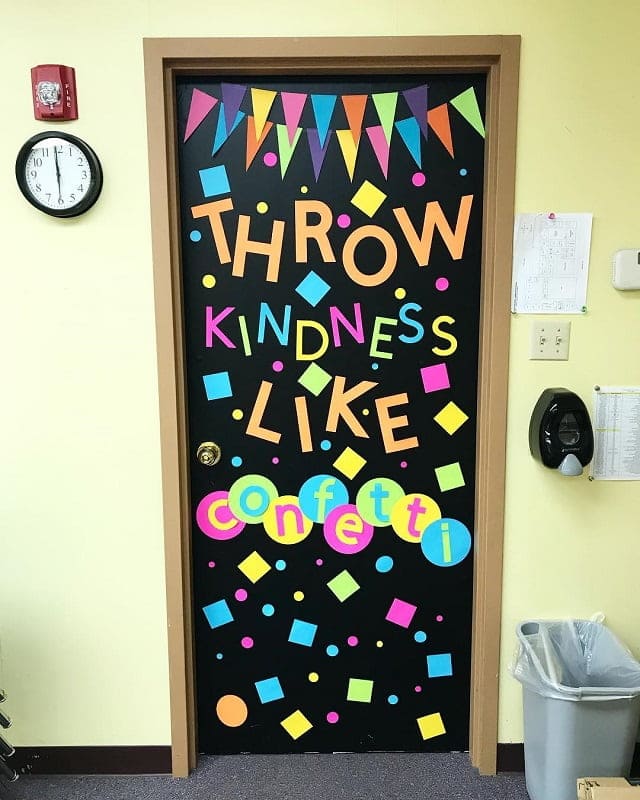 The classroom door is a great place to write an uplifting or inspiring message for everyone in the hall to see.
Teachers who want to remind students and their fellow teachers to be kind and uplifting when they interact with each other will want to consider using their school door as a way to convey these messages.
Bright and bold colors are key to making sure that people will slow down and check out what is written.
6. Make the Winter Bright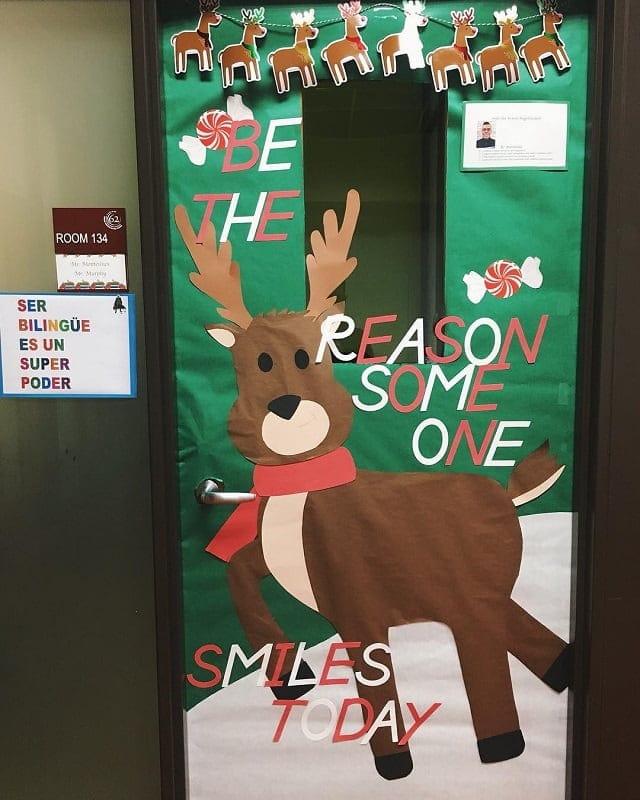 Not everyone loves the winter or snow, but teachers who do will enjoy celebrating their passion for the winter with this fun door decoration idea.
Multiple reindeer decorate the door, as does some snow. A bold green background is a perfect color to make this door pop.
Adding an inspirational quote for kids from teachers is a great way for them to feel like they are making a difference and inspiring everyone who walks by their room.
7. The Classroom Is a Garden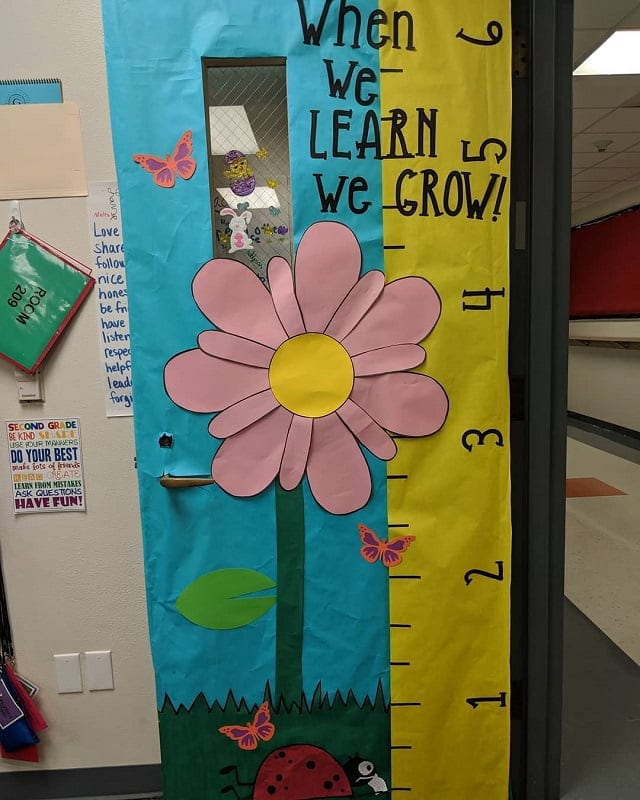 Children are often compared to flowers, especially as they grow and mature, which is why using flowers as part of door decoration for school is such a popular idea.
This door really stands out not just because of the oversized flower on the door, which helps to grab attention, but also thanks to the bold and bright colors. The fun blue, pink, and yellow paper all work well together.
8. Enjoy Vintage Designs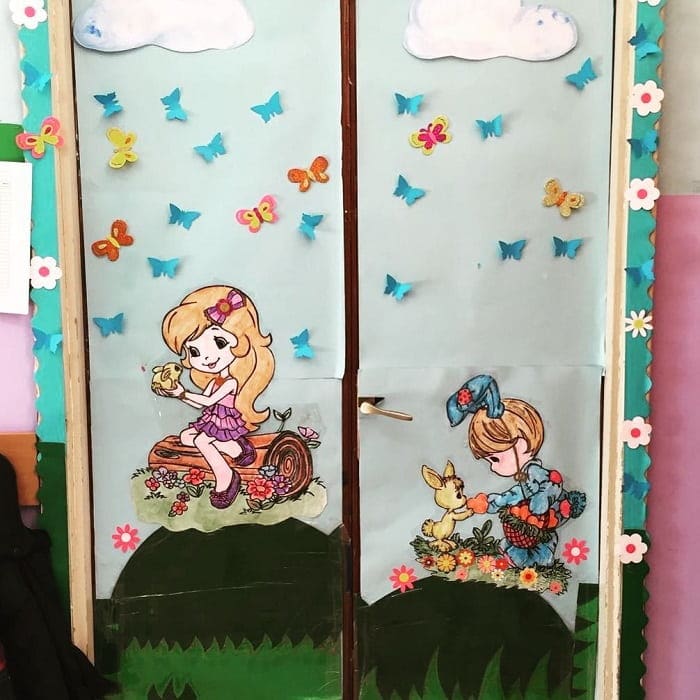 Vintage designs may not be as popular now as they once were, but these designs are still eye-catching and are sure to make everyone in the hall stop and smile.
They feature happy children and cute animals without all of the bold or garish colors that are so popular in art today.
When combined with some fun paper butterflies and a flower border, these designs really stand out and add interest to the school door.
9. Celebrate Christmas with a Pun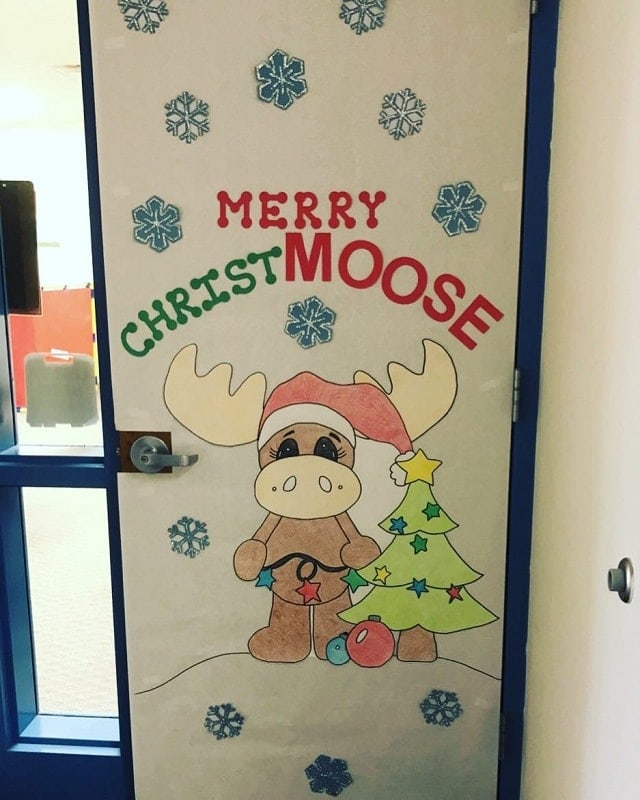 Puns are always in seasons, especially among teachers, which is why a classroom door that has puns is a welcome addition to any school hallway.
This punny door decoration helps remind children of an upcoming holiday and can make them even more excited for Christmas.
Sparkling snowflakes add some bright shine to the door and help to reflect the hall lights, which will make the door appear to sparkle and even shine.
10. Make Spanish Class Fun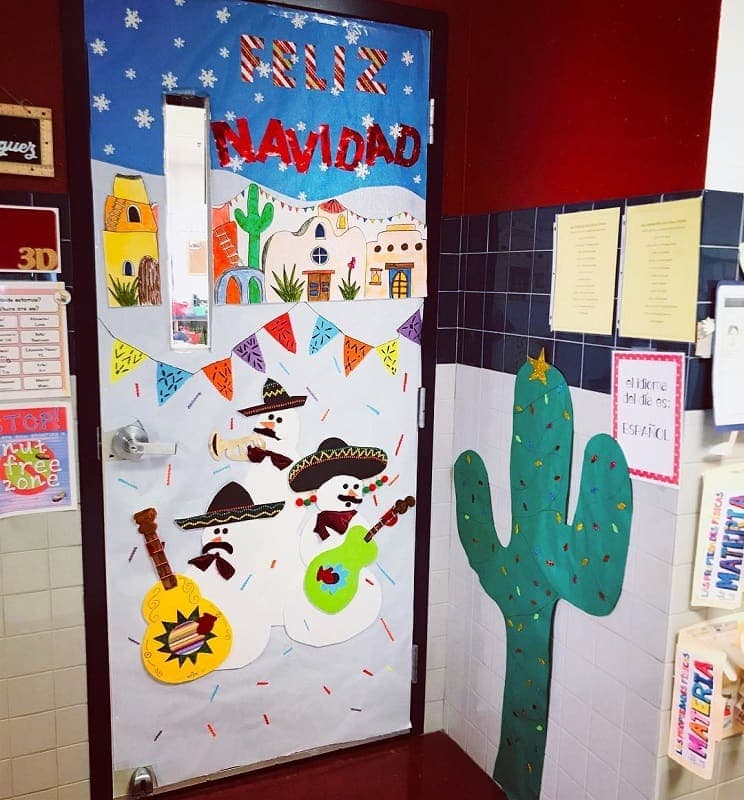 Not everyone loves taking a foreign language, but it's hard for any student to deny how fun this door is.
It's a great way for teachers to share with their staff and students a bit of culture from outside the country, all while tying it into current holidays that everyone is excited about.
The fun colors, foreign language, and humorous snowmen on this door are sure to make it a popular room.
11. Create an Easy Rainbow Clown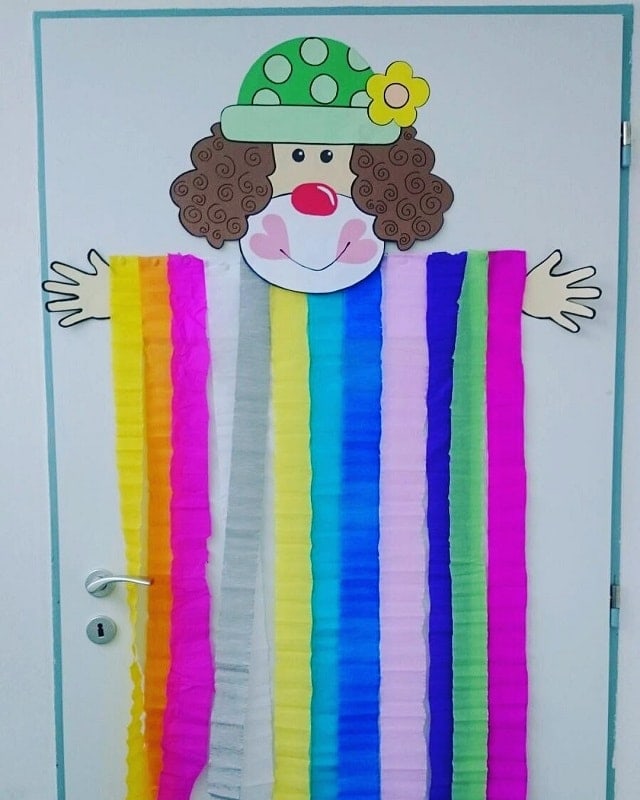 Sometimes, teachers want to create a door that has a lot of color and impact without spending long hours working on the design.
When that's the case, then a clown is a great option, as they are bold and fun, but don't require a lot of detail.
Using bright streamers and cutting them into long strips makes creating the clothing for this clown easier than ever. The white background is key to ensuring that the colors really pop.
12. Tweeting Birds with Umbrellas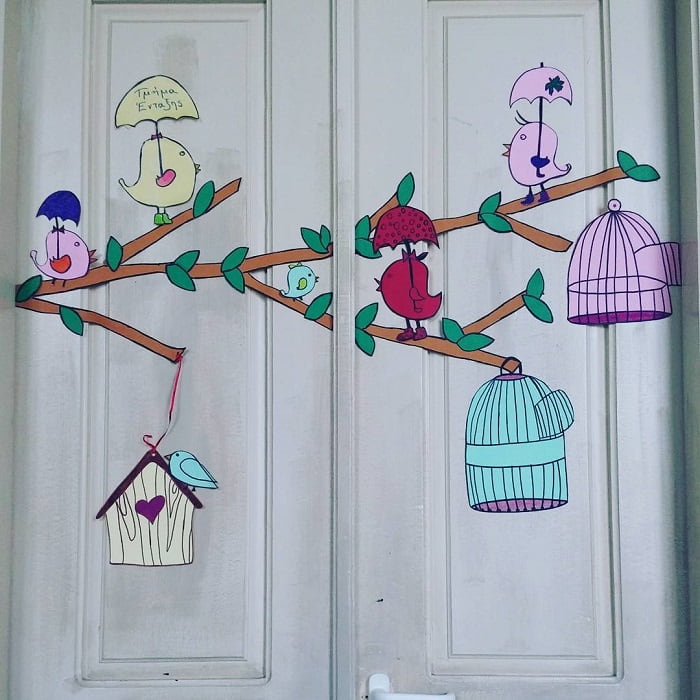 Celebrate a rainy spring season with fun little birds carrying umbrellas. Rather than opting for a traditional spring design, this door decoration for school is a little bit silly and incredibly cute, which is why it's such a great option.
The simple colors and cute, hand-drawn birds make this door appealing, even though it's simple. It's a fast option for teachers who need to change their door in a hurry.
13. Fun and Bright Design
An abstract design can be a fun way to shake up a door and make people stop for a second look.
This door features very bright overlapping diamonds at the top of the door that extend down to the bottom, where there is a smiling face.
Red clouds boil up from the bottom of the door and add some visual weight to the design while helping to take up space.
14. Enjoy a Box of Chocolates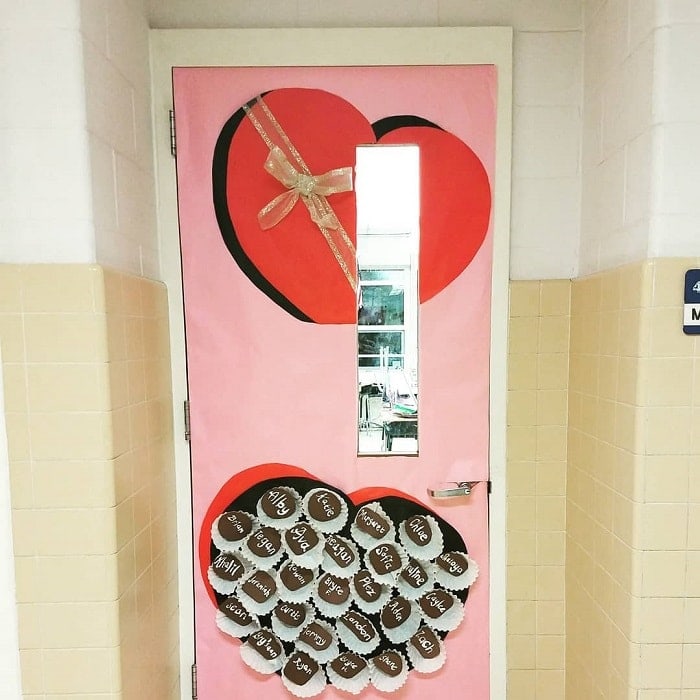 Most people love Valentine's Day, but the thing that is the most popular about this holiday is the delicious chocolate or candy that people swap with those they care about.
This fun school door decorating ideas has the lid and the bottom of a heart-shaped candy body on it.
Inside the candy box are cupcake lines that look like they are filled with chocolates, and each chocolate has the name of a student on it, making everyone feel included.
15. Embrace ASL
There are few people who do not know the ASL sign for "I love you," making this a fun door that most people will be able to easily understand.
The fun hands all over the door are folded and stapled into this ASL sign.
In the middle of each hand is a circular piece of paper where students can write something that they love about school or about someone else in the class.
More Related Articles
16. Harry Potter Is Always Popular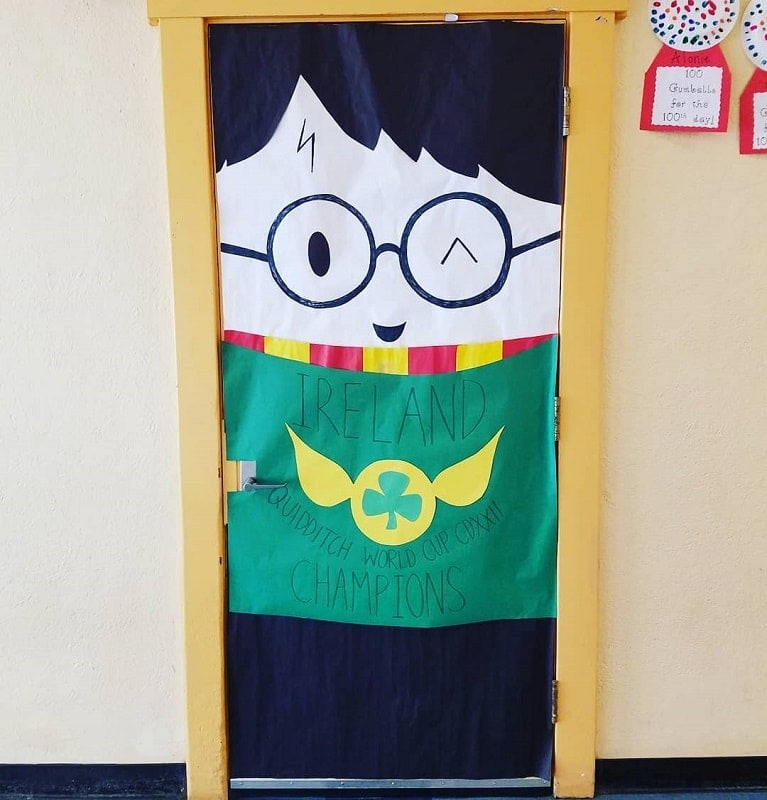 Students love Harry Potter, and since his face is so easily recognizable, using it on a classroom door is a fun idea.
Pretending that a classroom is home to the Quidditch World Cup champions will make every student smile when they go in the door and is sure to attract a lot of attention, as well as a little envy, from other students in the school.
17. Fall Can Be Cute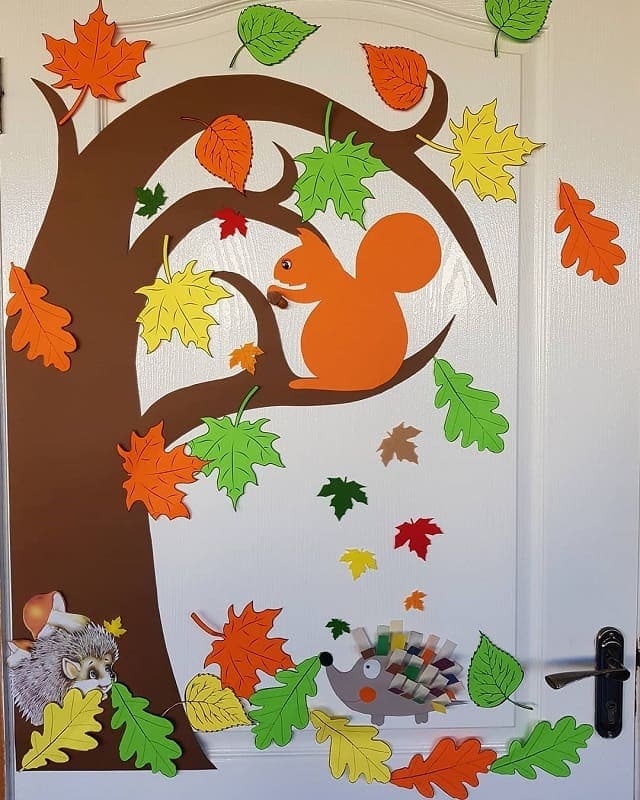 Leaf cutouts, a dark tree, and cute woodland animals make this fall door enjoyable.
Bright oranges, greens, yellows, and reds invoke the feeling of the upcoming season and will help children understand the passage of time throughout the year.
This is a very simple design, making it a great option for teachers who are in a hurry and need a new door right away.
18. Adorable Bee and a Cute Message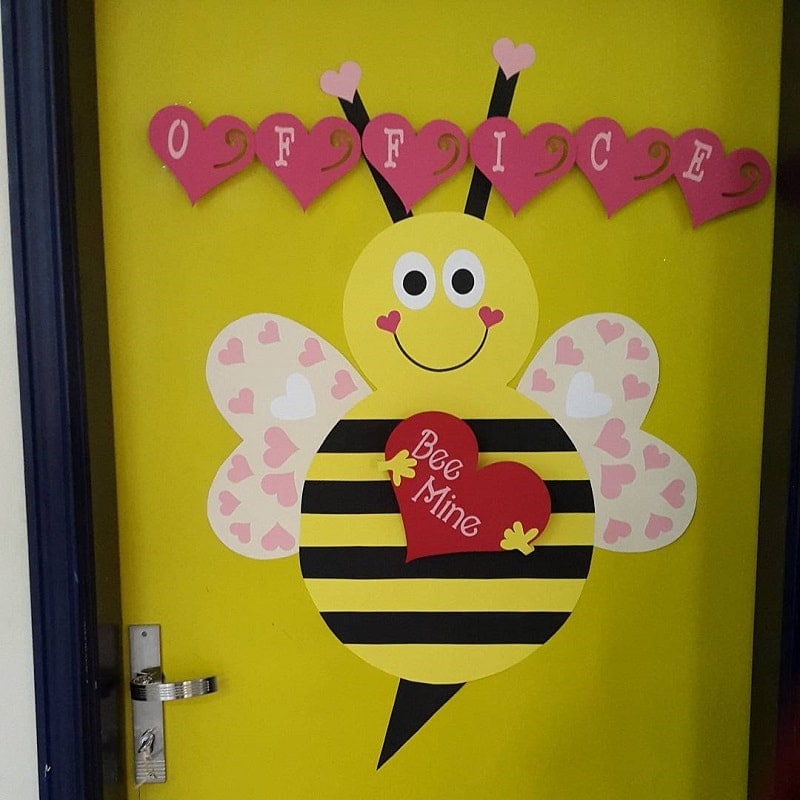 Puns and Valentine's Day seem to go together, thanks to the use of bees. A cute bee decorates this school classroom door, taking up a lot of space and making decorating easy.
Relying on a play on words to help decorate the space allows teachers to spend more time on other products. Using bright colors ensures that the bee is eye-catching.
Some of Our Useful Articles Regarding Kids
19. Dark and Stormy Night
Perfect for older students who may want something a bit scarier or more realistic for Halloween, this spooky door depicts a dark and stormy night.
Bats fly across a clouded and moonlit sky, and a looming jack-o-lantern sits in front of a grave and a haunted house. The muted colors on this door really help the design to stand out.
20. Bright Spring Scene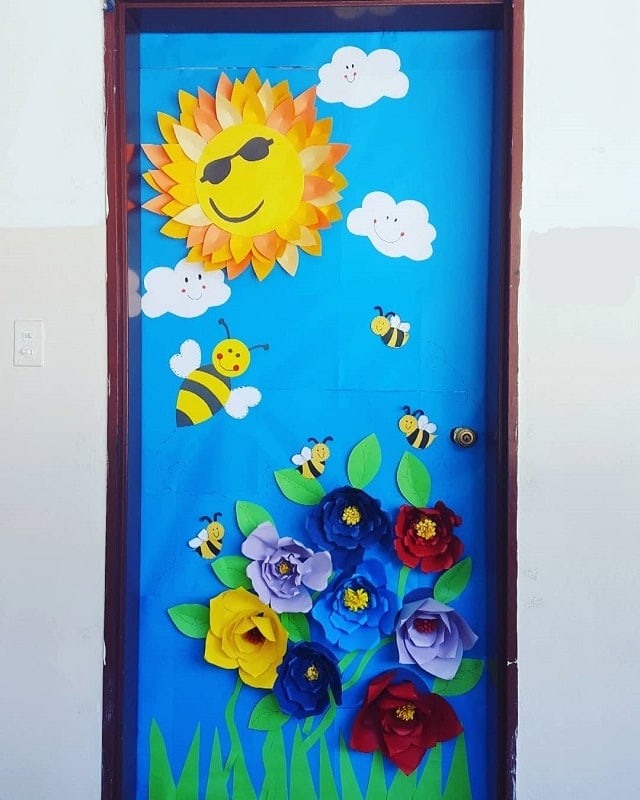 A bright and colorful spring scene is great for younger students who are happy about sunny days, lots of flowers, and want everything to be cute.
The sun, the clouds, and even the bees on this door are all smiling, making it a very welcoming space for younger kids. The bright colors are eye-catching and the oversize flowers will make people smile.
21. Make the Class All Superheroes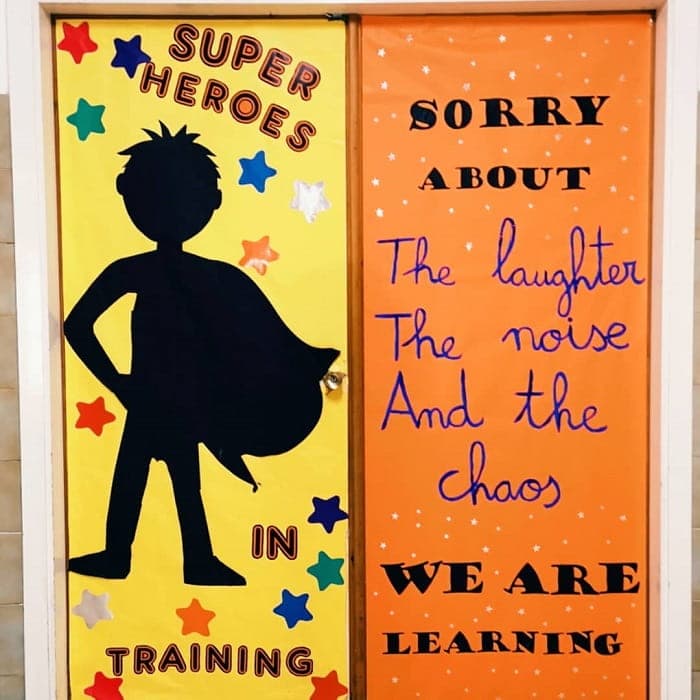 Every child is a superhero, and it's important for teachers to help their class realize how amazing they are.
This door is a great way for teachers to express to their students how special they are and how much they really mean to them.
The silhouette of a child with a cape will inspire students to do their best and to discover their hidden abilities.
22. Rhyme and Celebrate the Season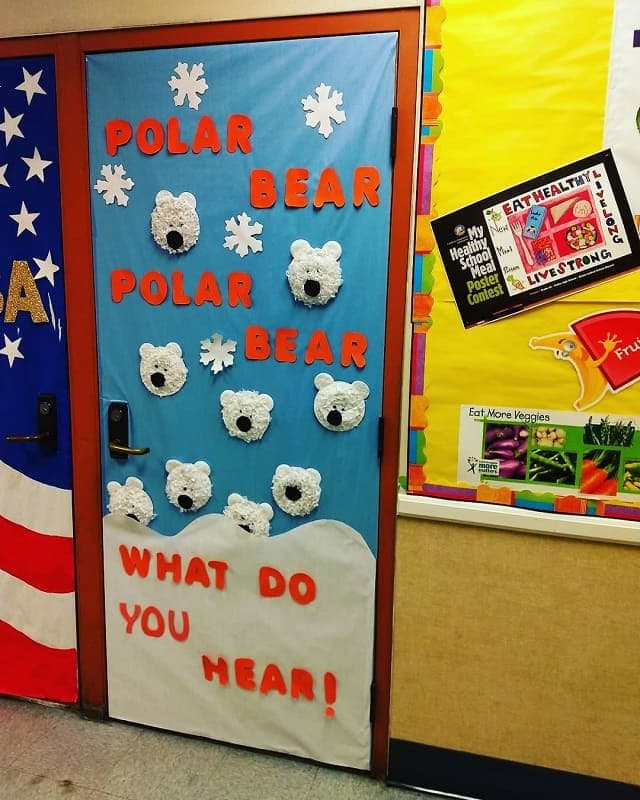 Rhymes are great for students of all ages, but younger kids will really appreciate not only the message on the door but also the fun colors.
Using artwork from the class is a great way to decorate doors quickly, making it easy for teachers who are in a hurry to create a gorgeous design. The fun blue, white, and red colors feel crisp and clean.
Kid's Food Articles You Need to See
How to Prepare Healthy Meal for Toddlers
23. Cute Flowers and a Saying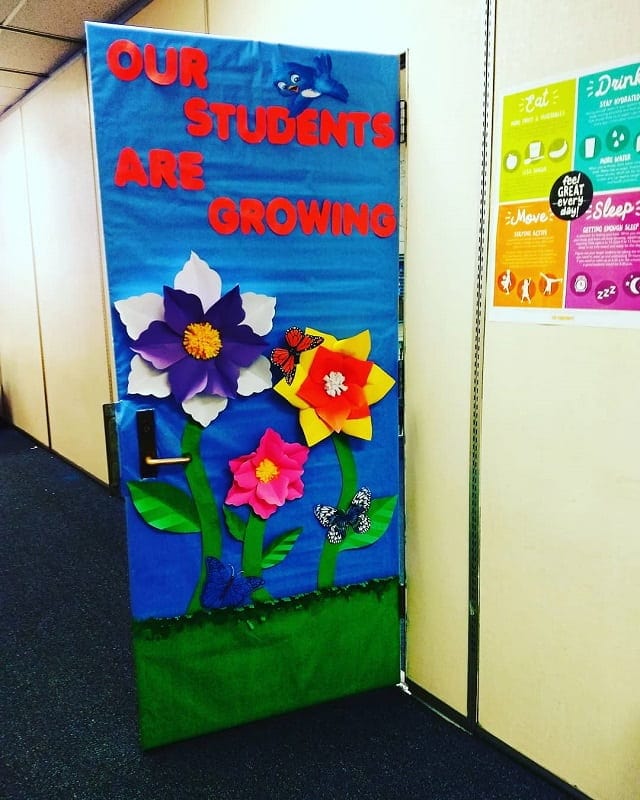 Oversized flowers take up a lot of this door, which makes the door exciting and interesting for all students and teachers.
The fun saying at the top of the door reminds everyone who passes by that children aren't perfect and that they are at school to learn and grow.
24. Make a Welcoming Kindergarten Door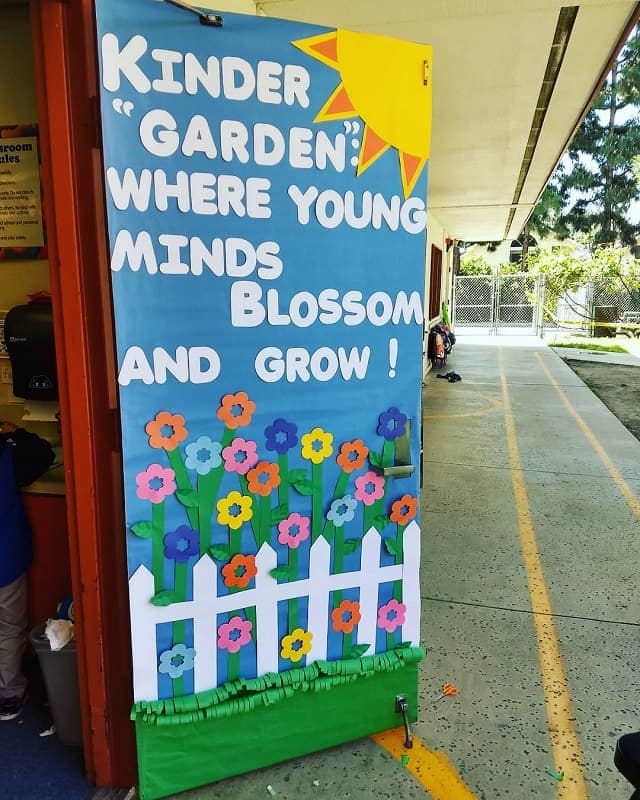 Kindergarteners are often a little worried about what they are going to experience when they go to school for the first time, which is why a happy and welcoming door decoration is so important in these classrooms.
This fun door is very bright and features pictures that children will be familiar with, such as sun, flowers, grass, and a fence, to make them feel more comfortable.
25. Be Excited for Thanksgiving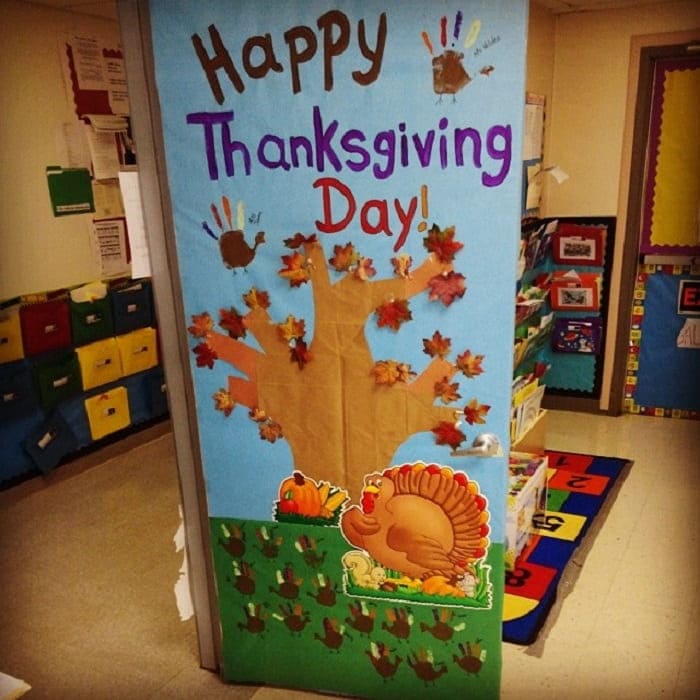 While Thanksgiving isn't as big of a deal to some kids as Christmas is, it is still a fun holiday and features great crafts. Hand turkeys decorate this door, as does a large fall tree.
The fun colors and pride that children will feel in seeing their hands on the door make this a good decorating option for all classroom doors in an elementary school.
While finding the best door decoration for school may seem tricky, most teachers enjoy the small challenge that this offers and love looking for the perfect option for their room.
Any of these 25 choices will be a welcome addition to the hall and will help brighten a student's day.