No matter if you have been a mom for a while or are newly pregnant, you are sure to enjoy these new mom quotes. Reading them will remind you why you wanted to become a mom and of the amazing future that you have ahead of you, no matter what stage of your pregnancy or parenting you are currently in.
Moms have always been looked to as a source of wisdom. While experienced moms are often thought of as knowing a lot about mothering and how to parent, new moms often have words of wisdom that are inspiring and really showcase the meaning of what it means to be a mother. That is why we have compiled the quotes for them.
What Happens When a Baby Is Born
When babies are born there is generally an astonishing change for new parents. Mothers don't always realize the changes that are occurring until they look back on the birth and their child's first years. These quotes about being a new mom will inspire any mother to try to slow down time and pay a little more attention.
1. Becoming a mother means loving another person more than you have ever loved yourself.
2. Women may have wanted to be a mother from the time they were little but it isn't until they hold their child for the first time that they finally get that honor.
3. Motherhood is the most amazing adventure.
4. When a child is born a mother is also born.
5. Babies fill a hole in the heart that no mother ever knew that she even had.
6. A mother is a child's first real friend.
Heart Touching Mother's Love for Child Quotes to Share
7. Mothers are the safe space that a child will always return to.
8. Children grow up very quickly and mothers need to make sure to always pay attention.
9. While children may grow too big to sit on your lap, they never grow too big for your heart.
10. The days are very long but the years are very short.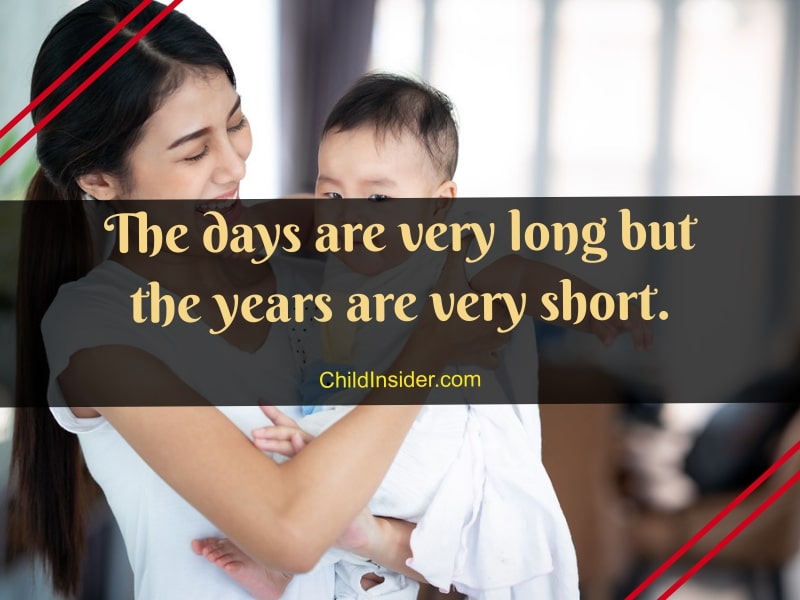 Enjoying Childhood
There is something really special about the bond between a mother and a son or daughter that nobody else can replicate, and this bond shapes a child's childhood. Being a mother allows a woman a chance to connect with another human being in an incredible way and to enjoy their own childhood again without the pressure of growing up.
11. Mothers have a unique opportunity to experience childhood again.
12. Every child deserves a mother who makes them feel happy and free.
13. Mothers are close enough to their children to share their hopes and dreams.
14. Seeing the world through the eyes of a child is a gift that mothers get to enjoy.
15. There's an incredible connection formed between a mother and a child that nobody else can compete with.
16. A mother is the first person to really know a child.
17. Having a child is all about pouring your love and your life into a tiny being.
18. Nobody will understand life like a mother as they are the only ones to have grown it inside of them.
Spending Time with Baby
Mothers and their babies share a special bond. This bond is present when sleeping, eating, and playing, and is something that all mothers rely on to get through the hard times of the day when they are simply exhausted. While babies can bond with a number of different people, the bond that they have with their mother is unique.
19. Even though the nights can be long, there is nothing like holding a sleeping baby.
20. A mother's arms are the perfect size for a sleeping infant.
21. There are no problems during the day that can't be erased by rocking a baby.
22. Mothers know how to give children love, even when they don't deserve it.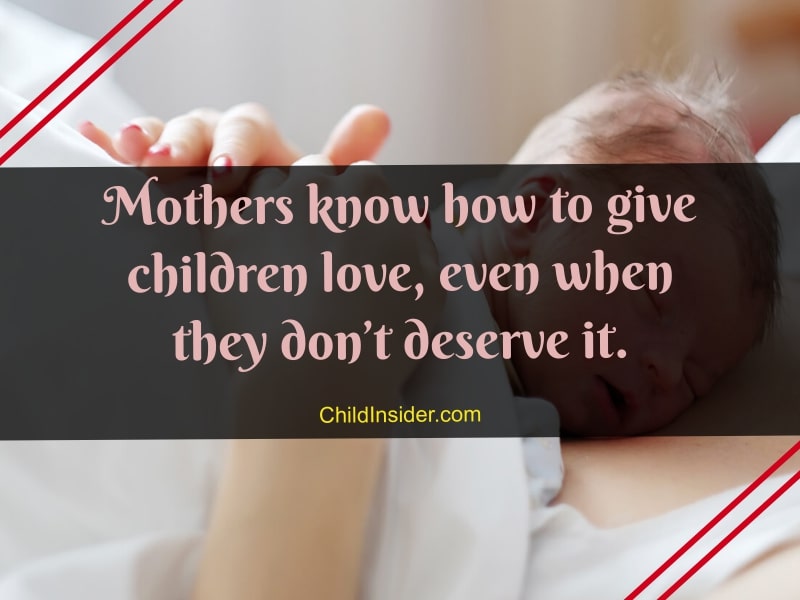 23. Babies are harder than people think, and also much more wonderful.
24. Being a young mother won't end your life – it just makes it start a little earlier.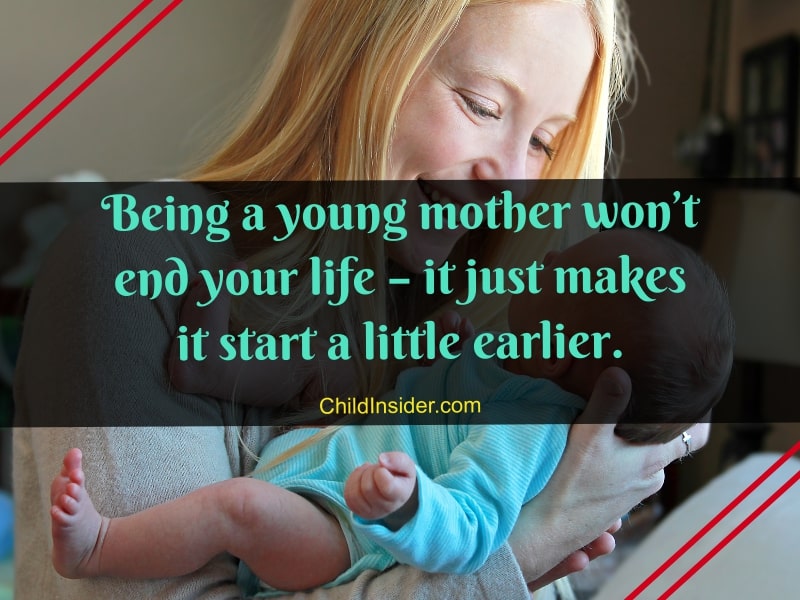 25. Being a mother is the greatest privilege that a woman has.
26. Women are lucky to be able to participate in creating a new life.
27. All love both begins and ends with motherhood.
28. No matter how much you plan for your birth and your child's life, your life will never be the same.
29. Mothers are no longer living and thinking for themselves, they are also always considering their children.
30. Motherhood is a journey that strong women fearlessly undertake with their children.
31. Having a child allows women to become more than what they thought they could be.
32. When a woman becomes a mother she instantly becomes more powerful and loving than ever before.
33. All moms, no matter if they are new mothers or not, are the centre of the world to their child.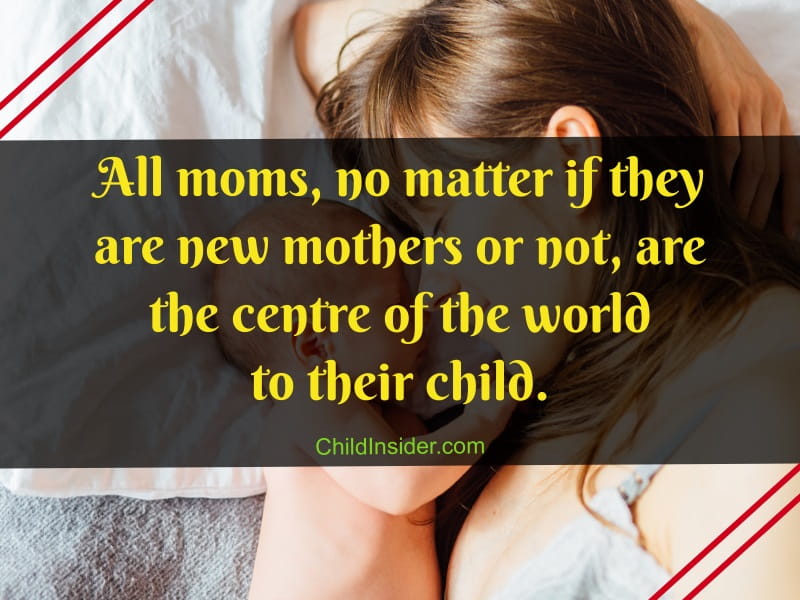 34. There is nothing so wonderful to a child as their mother.
35. Every mother needs to believe in her power to create life and to help support it as their child grows.
36. Lots of love, joy, and happiness await you as you embark on this exciting journey. Congratulations!
37. It's not going to be easy with your first child, but you will love every second of your experience when you look back one day!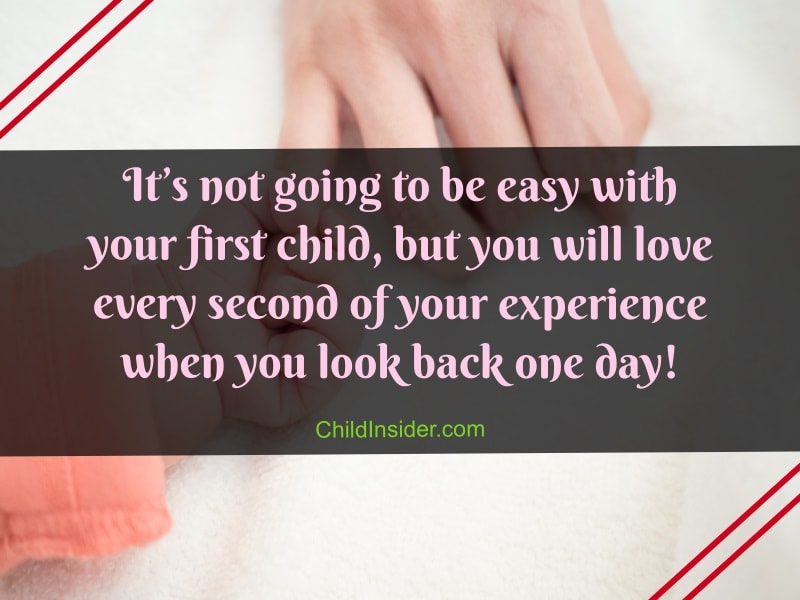 38. Wow, look who's becoming a new mom? Congratulations and we wish you nothing but the best!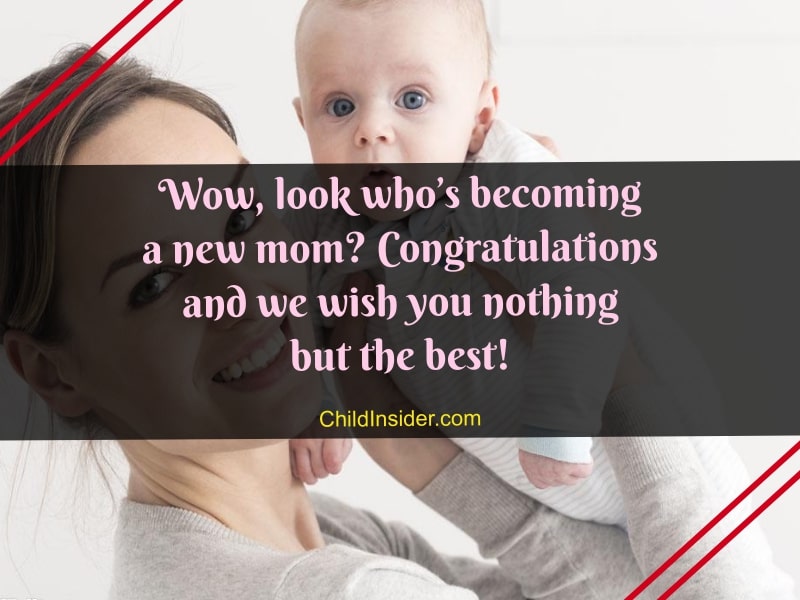 39. What a lucky child to be born to such a gentle, loving and caring woman. Love and blessings all around from us!
40. The moment a child is born, a mother is also born. Congratulations on the successful delivery of your child!
41. I'm so happy for all the happy experiences and memories that are going to be made from this day onwards. Congratulations!
42. Love just got very, very real for your husband and you. We are so thrilled for you!
43. The baby is going to grow up just as sweet and lovely as the lucky mother. We can't wait to watch her grow up!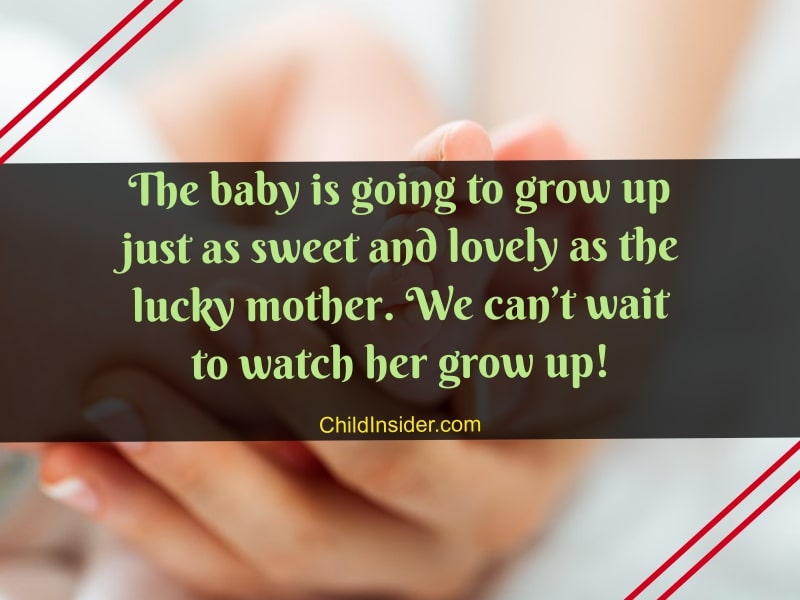 Funny Baby Memes That'll Improve Your Mood
44. A child grows up in the blink of an eye. Enjoy the roller-coaster experience of motherhood!
45. A new mom is in the neighborhood! We welcome your child's arrival with open arms and warm hugs. Congratulations!
46. It's going to be nothing but love and happiness from this point onwards for you. Blessed be and we wish your growing family well!
47. Sending you our love and blessings for the baby! May God bless your family and the new child with plenty of joy to come!
48. Today, we welcome not just a new baby, but also a new mother who is going to be so tired, yet so happy and fulfilled. Congratulations on the baby's safe arrival!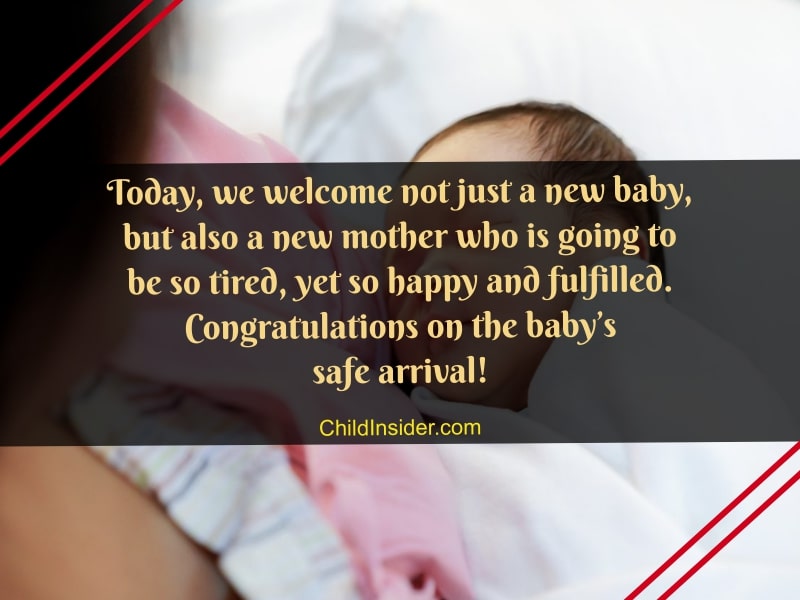 49. We are so very excited for you! May your motherhood journey be smooth-sailing.
50. I can already see it. You are going to be one of the best moms on the planet. Congratulations on the new baby!
51. I hope your baby will grow up with your lovely smile and twinkling eyes. Congratulations on your updated status as a new mother as well!
52. May your new journey is filled with lots of love, joy and most of all, patience. Trust me, you are going to need that a lot. Of course, congratulations too!
53. Today marks the day that your child will become the focus of your life. Try not to catch the baby fever!
54. Here we go, another new mom who's going to upload pictures of her baby for years to come. Congratulations and enjoy your motherhood!
55. As they always say, a woman's life will not be complete without having a child. Congratulations, and I wish you nothing but the best!
56. The journey ahead is going to be so exciting and wholesome for you. We can't wait to watch your child grow up to become just like you!
57. So, the bad news is that you're going to lose a substantial amount of sleep after this. The good news is I can be a babysitter to help you out!
58. Congratulations, new mommy! Here's to you joining the New Moms Club. We're here to support you in case you have any questions or need help!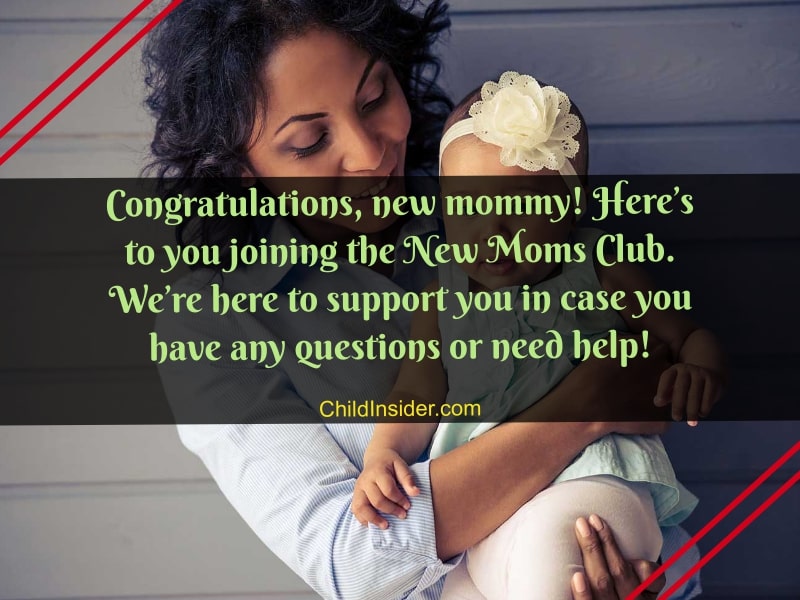 59. The journey of a new mom is often confusing, tiring yet joyous one. Don't be afraid to seek help and support whenever you need it!
60. How awesome for the baby to be born to such an amazing woman and mom. I wish you nothing but the best from this point onwards!
61. What a happy day it is for your family and you! May your baby grow up healthy and well just as you did.
62. I can't wait for you to tell me all about the first time your baby calls you mom a few months from today. Congratulations and all the best!
63. Warm wishes and hugs to you. You are in for a wild, exciting adventure with your new family member!
64. God has blessed you with a safe delivery to a healthy, beautiful baby. We hope that He continues to bless your family for all the years to come!
65. A mother's exceptional, irreplaceable role includes plenty of sacrifices and joy. We wish you well!
66. Congratulations on the arrival of your new baby! You can trust us when we say that we will be there for your baby's shower, with plenty of gifts to help you start out!
67. A mother's job is never meant to be easy, but I know that you will do everything that you can to ensure that the baby grows up well and loved. Congratulations!
68. To be born to a mother so loving and nurturing, to be cared for by a mother so ready to sacrifice everything from the first day; What a lucky and blessed baby he/she must be!
69. Congratulations on opening the doors to the new world of motherhood. We hope you are prepared for all the wonderful changes coming your way!
70. Thank you, God, for bringing such a lovely angel into the life of the most amazing woman that I know. Blessed be!
Hopefully, these new mother quotes will inspire you and give you the confidence you need to tackle motherhood head on. Being a mother is an incredible gift that some women are given which allows them to bond with another human being in an exceptional way that other people can't even imagine.
Even though the nights will be long and motherhood can be stressful, once you become a mother, you get to enjoy a connection with another person that you will have for life.