Natural hairstyles are a way to protect the beauty of your little girl's hair as they help protect these lovely locks from damage, dirt, the elements (like that fun trip to the pool or the beach). As a bonus, they can save a significant amount of time on the haircare required by Afro-textured hair.
Sure, black hair requires an intense regimen of moisturizing and tender care to look its best, but it's a small price to pay. With their unique thickness and texture, natural hairstyles offer a wide range of styling options for little girls that are not available to with more relaxed hair.
Between braiding, twisting, buns, or just rocking a fierce Afro, there are so many choices of beautiful 'dos for little girls with natural hair, from the very simple, every day ready to the incredibly elaborate, perfect for special occasions.
Natural Hairstyles for Little Girls
It is great to have a few tried-and-true options to fall back on, but experimenting with different hairstyles is fun too. Don't forget to add adorable accessories like colorful bows, beads, and headbands for an extra touch of sass and individuality in your sweet princess's natural hairstyle. Life is too short not to have some fun!
Whether you are planning on trying your hand yourself at styling your little lady's natural locks, or are saving it for a professional, here are some of our favorite cute natural hairstyles for little girls.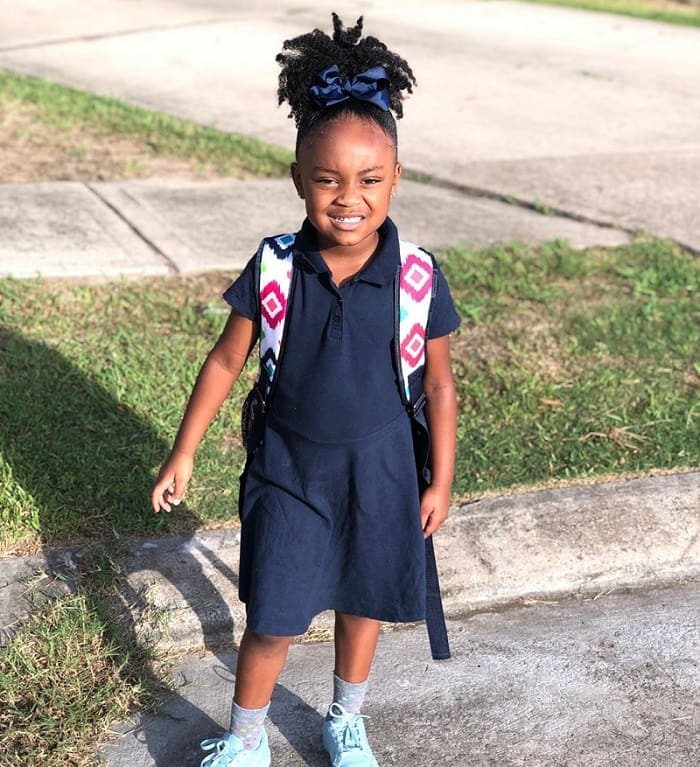 It's best to keep the hair out of the face when heading off to school. Tying your little girl's natural hairstyle up into a ponytail is the perfect way to do this. It sits on the crown of the head and is secured with a large blue bow.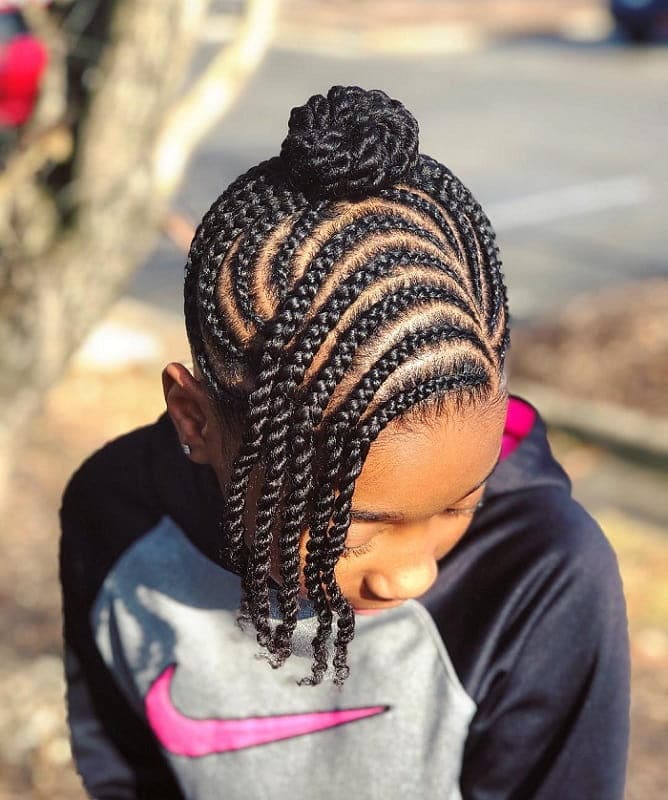 Cornrows are both protective and fashionable. You can use them to create a variety of styles that will let your daughter look her best.
Several of the cornrows are left loose to fall by the face and mimic bangs here. Some others bind together and form a bun on the crown of the head.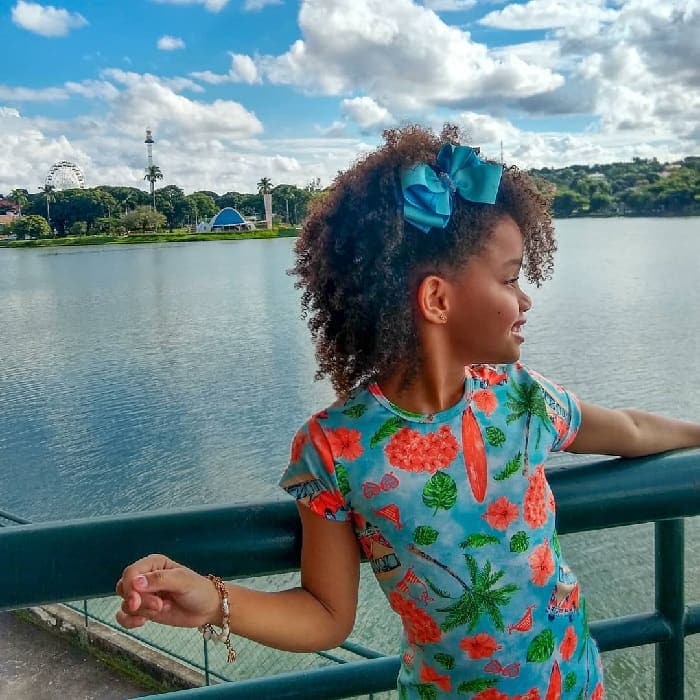 Wearing the hair loose and proud is always an option. Afro-textured curls always have so much volume that will attract lots of admirers to your little one.
Pin back one side of the hair and add a large bow. Let some strands fall onto the forehead on the other side.
4. Wavy Hair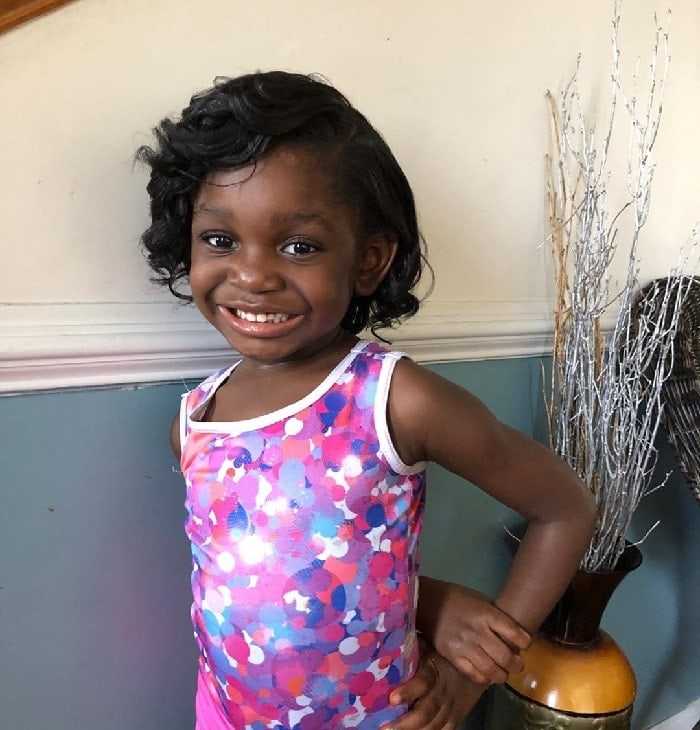 Not all black girls with natural hair have tight curls and coils. Sometimes the hair will take on a wavier texture. Using wavy-hair products to define the waves will help your daughter look her best.
Part the hair to the side and keep it short so it's easy to control. Face-framing looks like this one work well.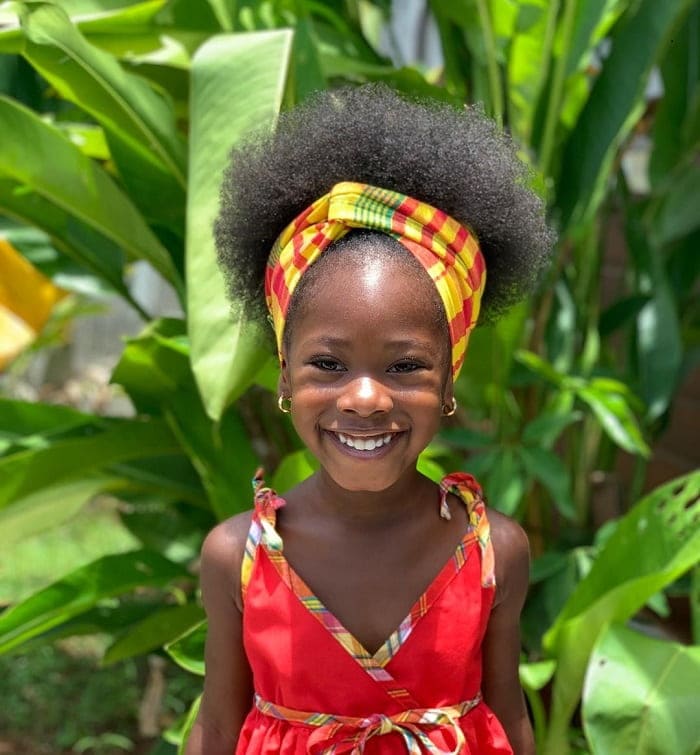 Wearing an afro makes a lot of black girls feel connected to their African roots. However, this voluminous hairstyle can often get in your child's face. Add a headscarf or headband to push the hair away from the hairline.
6. Short Natural Hairstyle for Kids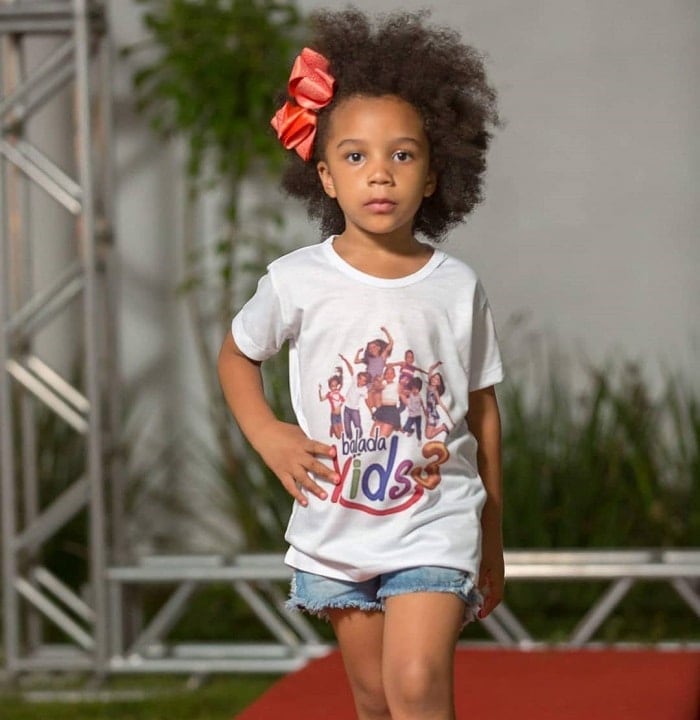 Short but voluminous looks make a lot of kids appear bold and confident. The tight curls fan out around the head and the flyaway hairs add more volume.
Create some shaping by pushing one side of the hair back and adding a large bow. It's a suitable look for little ones who love maintaining a girly appearance.
7. Long Hairstyle for Little Black Girls
Long hair will make your daughter appear extremely modern, but it can be harder to protect longer tresses. Form a protective style of your choice by gathering the hair to the top of the head.
Braid or twist the hair depending on your daughter's preference. Let it fall over one shoulder.
8. Twist Hair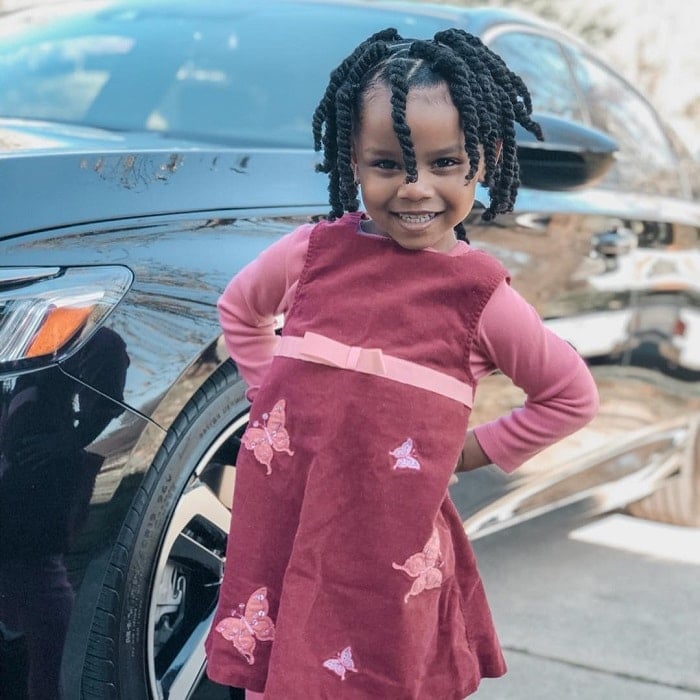 Twists are a classic way to protect black hair. They're long-lasting so that means they're low-maintenance, too. Part your daughter's hair into box-shaped sections Twist the hair together and secure the ends.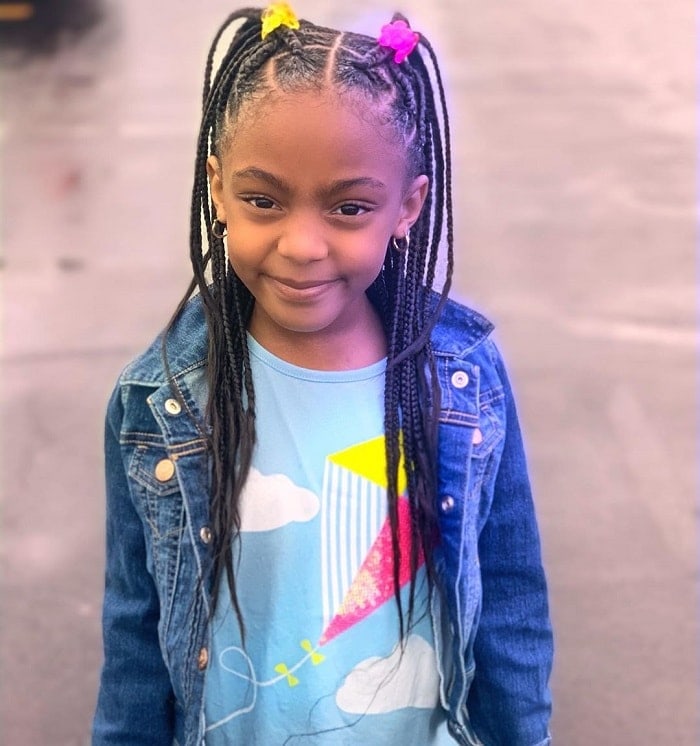 If you don't want to do twists, then maybe you'll like braids better. These braids are thinner so they mimic the look of long, straight tresses. Some of the braids are pulled back and secured with clips. It's a common style for young girls to wear.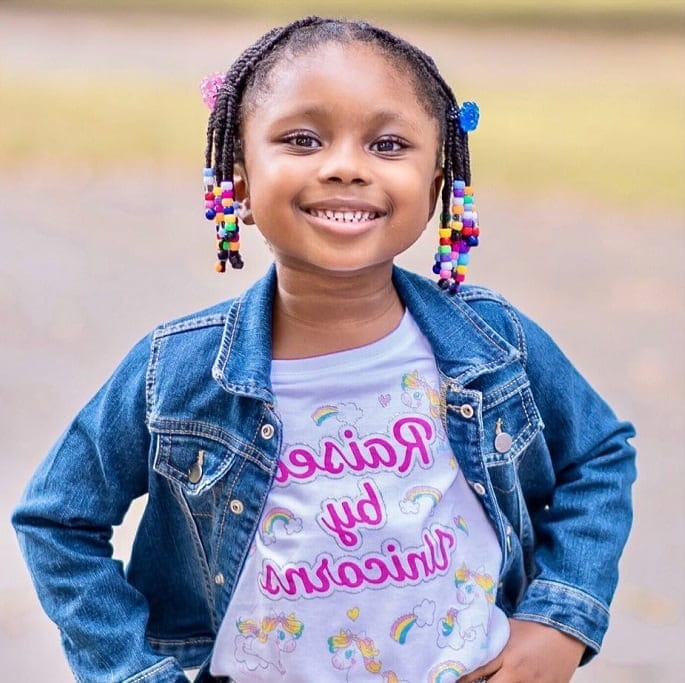 Adding beads to braids will help your daughter show off her personality. She can wear beads in all the colors she likes best. The beads mostly decorate the ends of each short braid. There are also larger accessories higher up in the hair.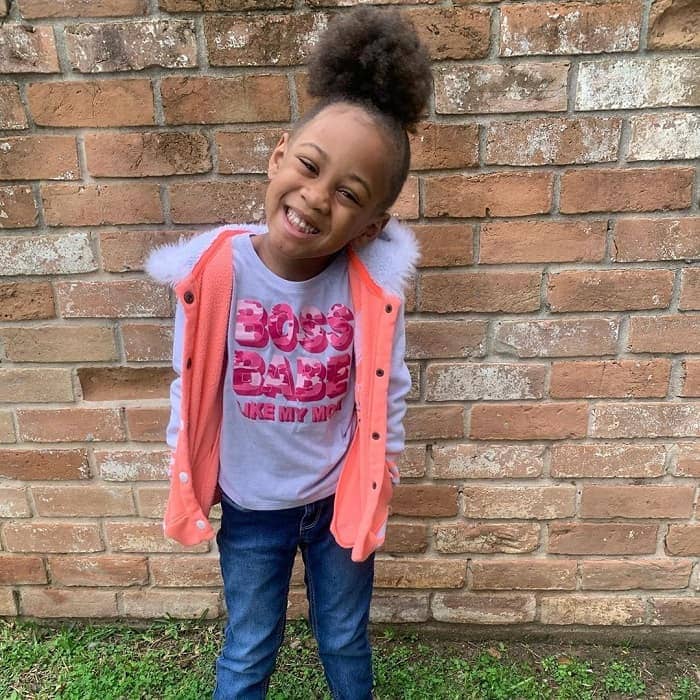 Ponytails made with little girls' natural hair always have a lot of volume. This is suitable for unbeat girls who don't mind envy from peers.
Secure the ponytail right on top of the head. However, put it a little to the side if you want to have more fun.
12. Pigtails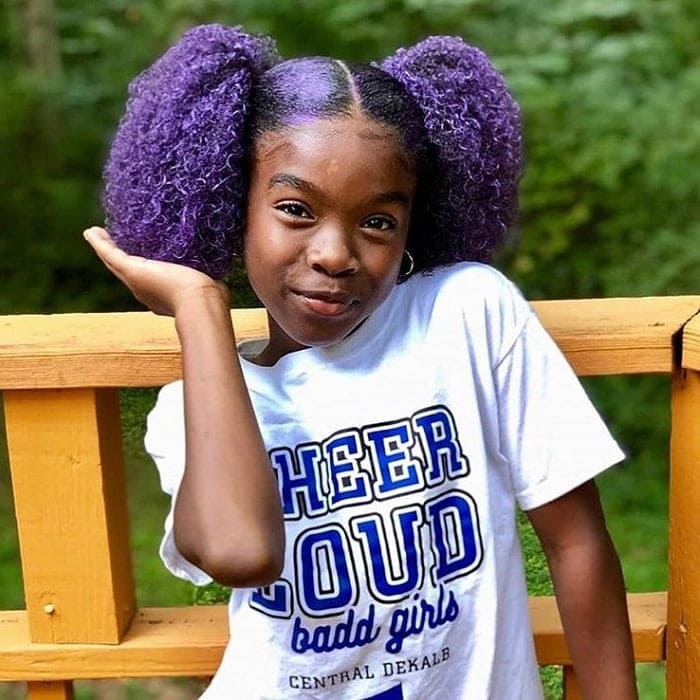 Pigtails constructed of dense curls are an eye-catcher. If your daughter would like to stand out more, then you should dye her hair. Purple is a subtle change from the natural dark brown/black hair she usually has.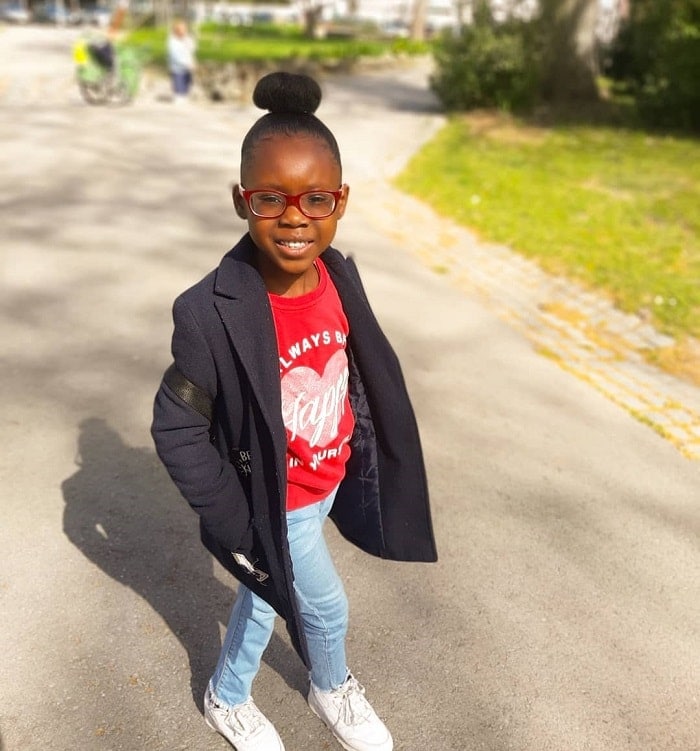 You'll never go wrong by putting your daughter's hair into a bun. It keeps the hair controlled and it will make her look very grown-up.
Slick all the hair up towards the top of the head. Wrap the hair around itself to create a round bun that's secured at the base.
14. Natural Hair Updo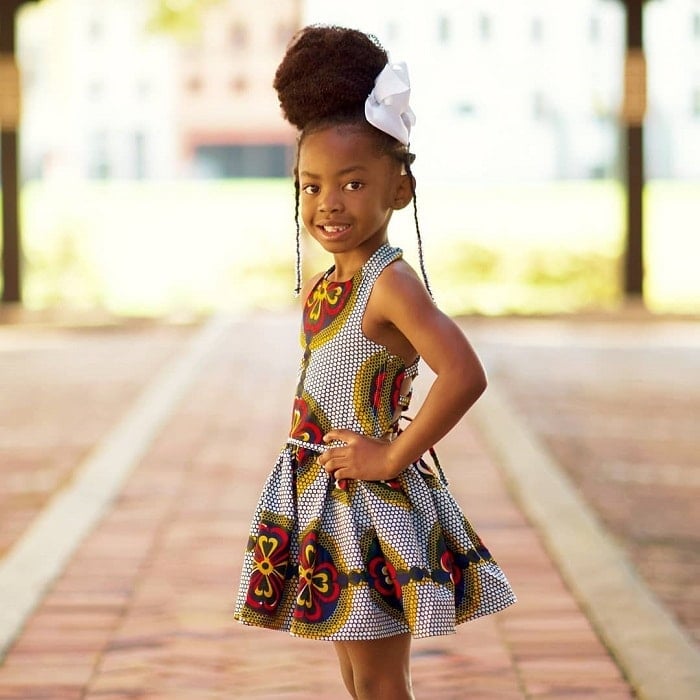 Are you going to some kind of event or party? Then updos are the best kind of hairstyles to wear. Form two little braids by the hairline to add depth to the look. Then, gather the long hair up. Form a large, rounded style with a lot of curly texture.
15. Bantu Knots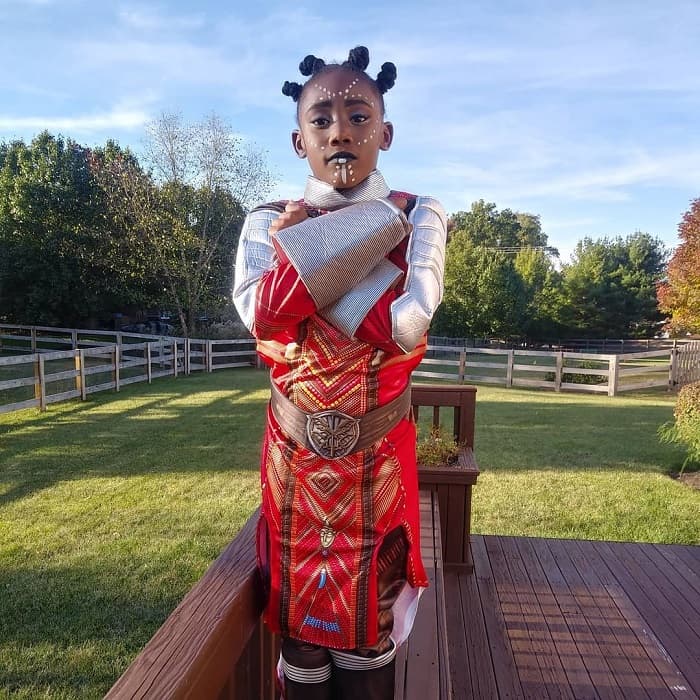 Bantu knots are very common. They can come in various sizes and they protect the hair well. Here the hair forms only four large knots. They sit right in the center of the head. This can be worn as a traditional or everyday hairstyle.
16. Space Buns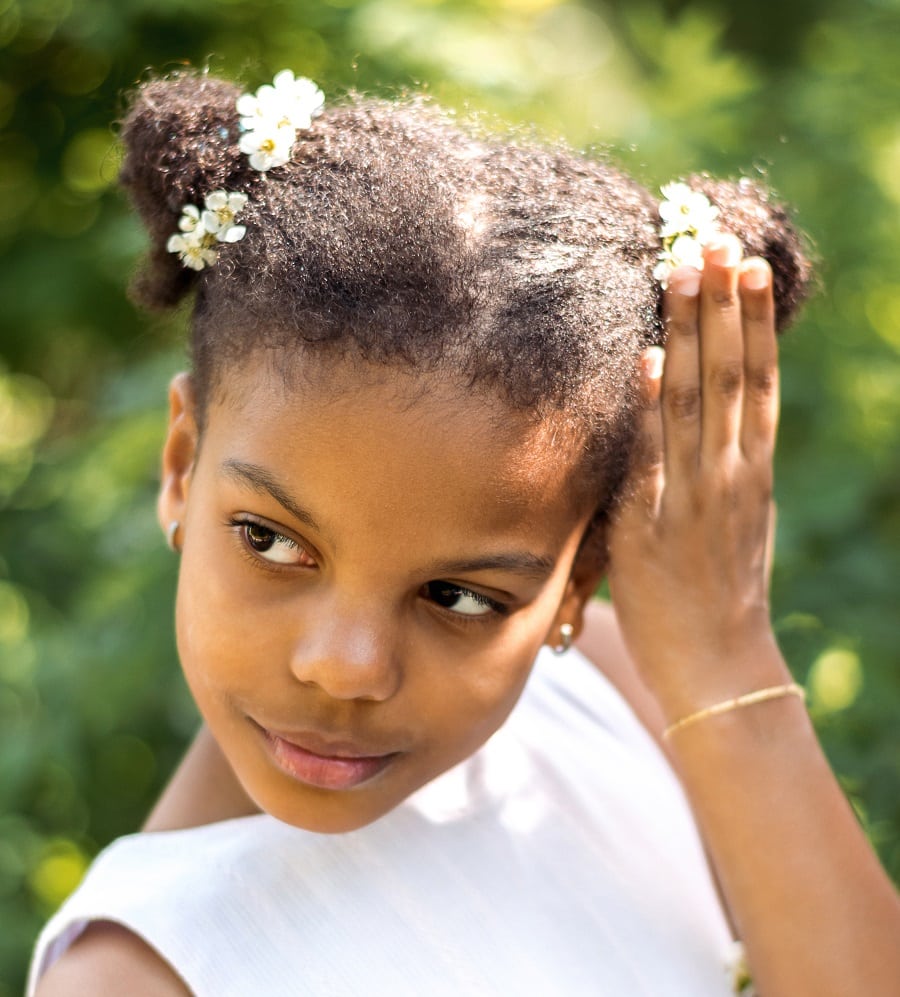 Every young girl loves space buns. You part the hair near the center of the head and create pigtails high on the head. From there, twist the hair to create little buns instead.
Keep the hair texture natural to make this hairdo easier to achieve. Add some flowers surrounding each bun if you'd like to create a spring or summer vibe.
17. Sectioned Pigtails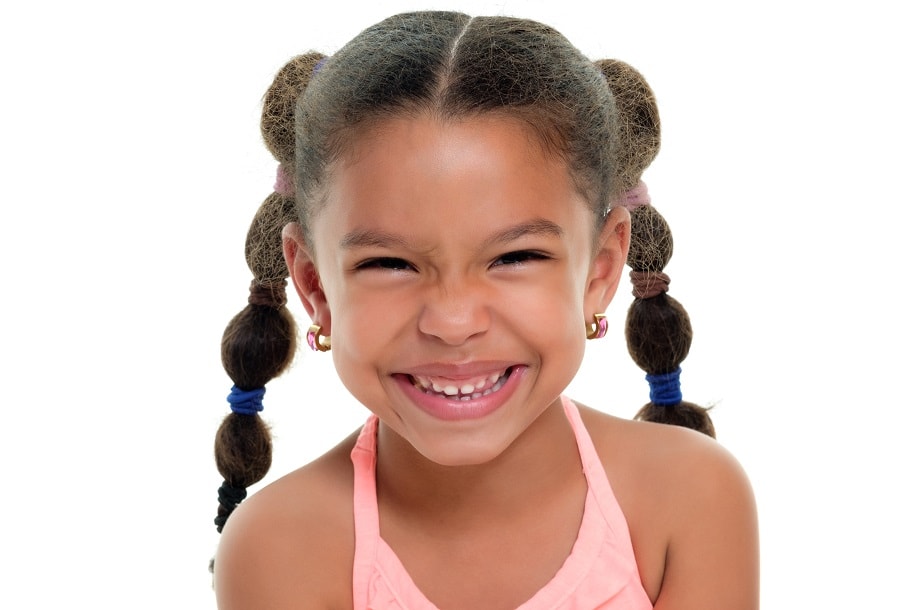 Pigtails and a center parting are an easy go-to style for everyday wear. However, sometimes your daughter might get tired of this look. You can shake it up by creating different sections in the pigtails.
Add hair ties at intervals along each pigtail. Gently tug on the hair between the hair ties to create rounded shapes.
18. Long Loose Curls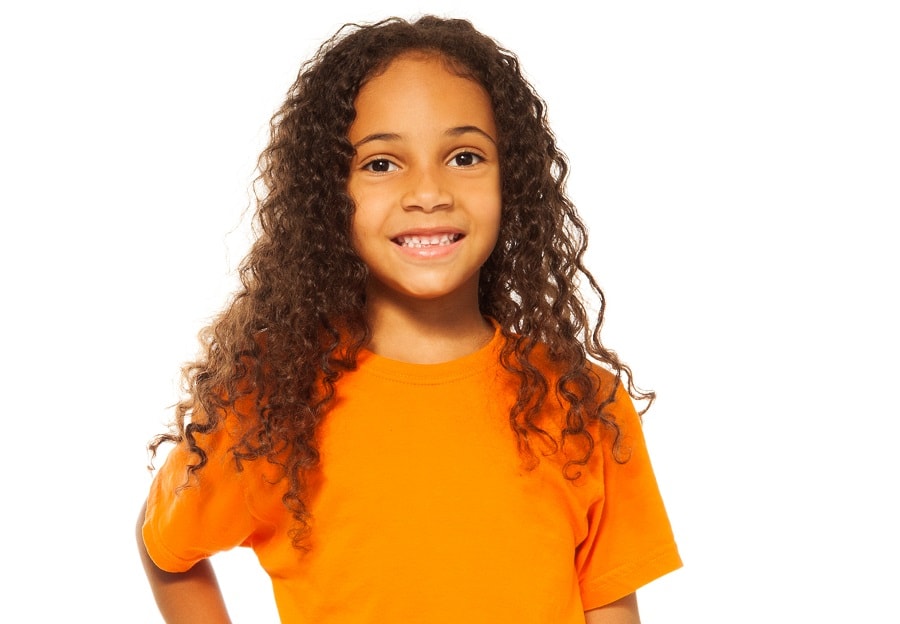 Sometimes the easiest way for little girls to wear natural hairstyles is in this style. Keep the curls loose. Make sure you use curly-hair products so they look their best.
Middle partings are easy and they let the hair frame the face. The length extends a few inches past the shoulders.
19. Medium Length Locks
Black hair tends to have a lot of shrinkage that makes it appear short. If your daughter wants medium-length hair, then gently tug the strands.
The strands will lengthen but they won't lose their kinky texture. There's often still a lot of volume on top when you perform this technique.
20. Long Elegant Braids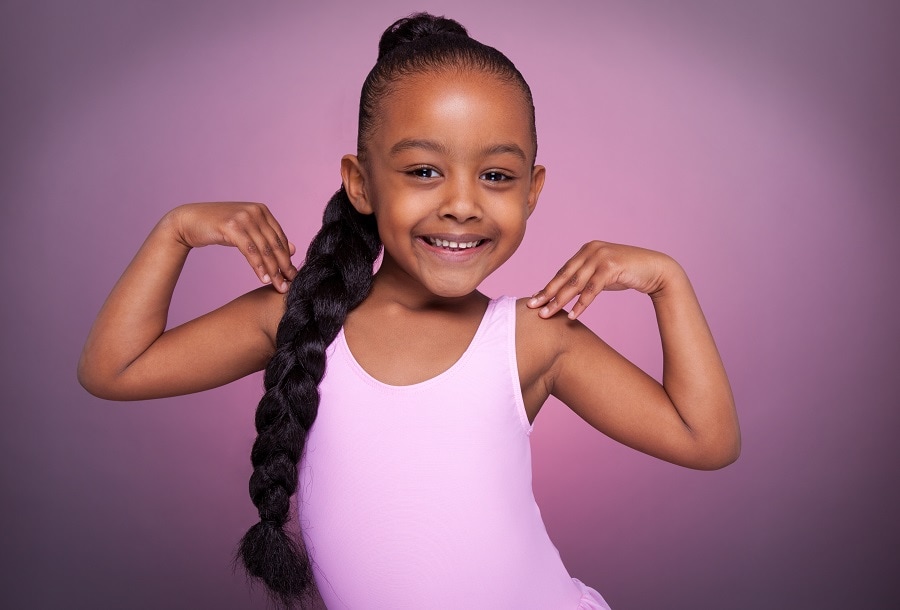 Braids are the perfect way to control and maintain very long, thick hair. Slick all the hair back to the crown of the head and secure it. Then create a large braid and tie it off at the end. This is perfect if your daughter's hair is so long that it goes past her waist.
21. Middle Part Look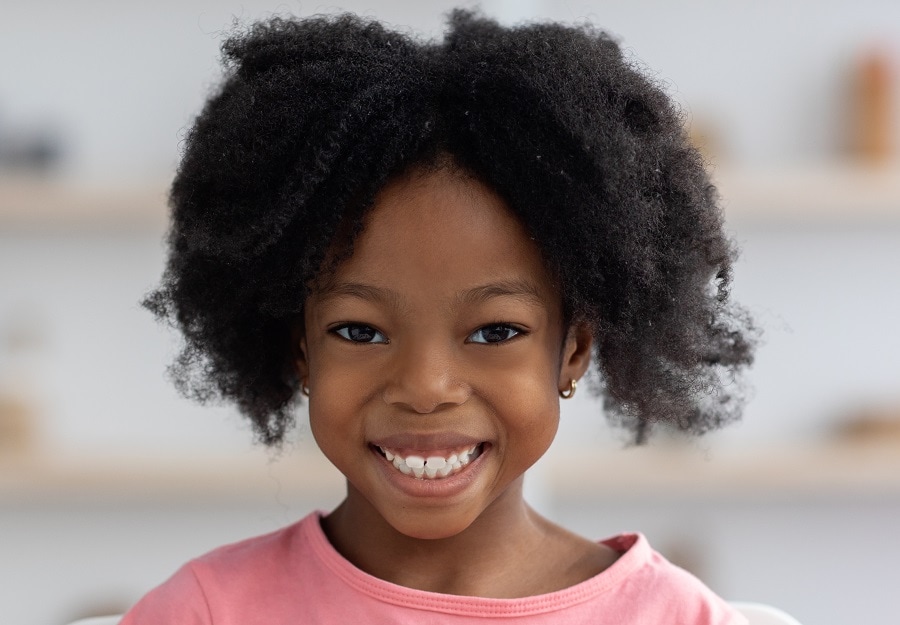 You can create a lot of volume on both sides of your daughter's hair by giving her a deep middle parting. Split the hair down the center then gently tease the hair upwards around the split. Let the rest of the hair fall naturally by her face to create a framing effect.
22. Curly Ponytail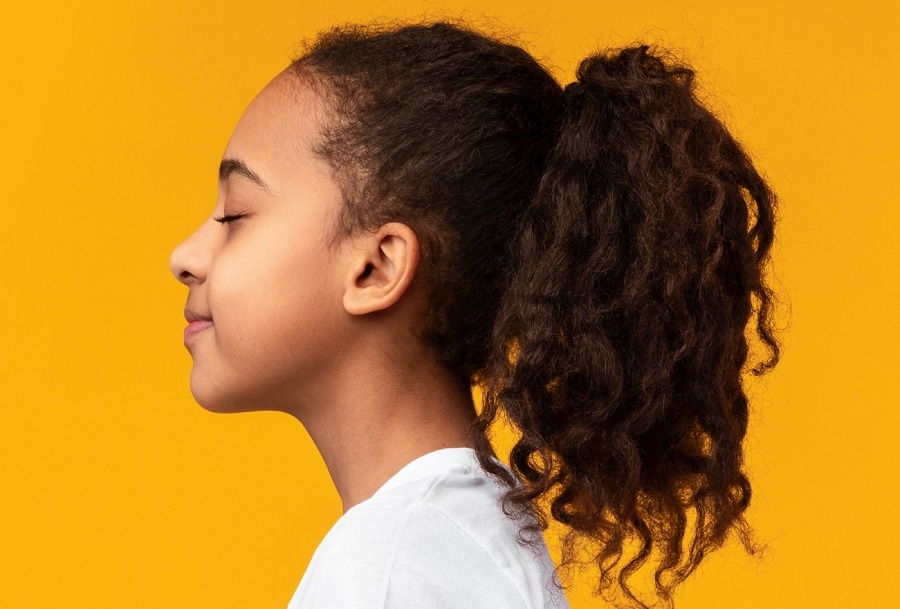 Girls with looser curls can more easily grow their hair long. Then, scoop their hair back into a ponytail on the crown of their head. The long and thick curls will fall almost to the shoulders.
Don't make the hair too slick when you pull it back. Leave its natural texture to show through. It will create visual interest in the style.
23. Tiny Afro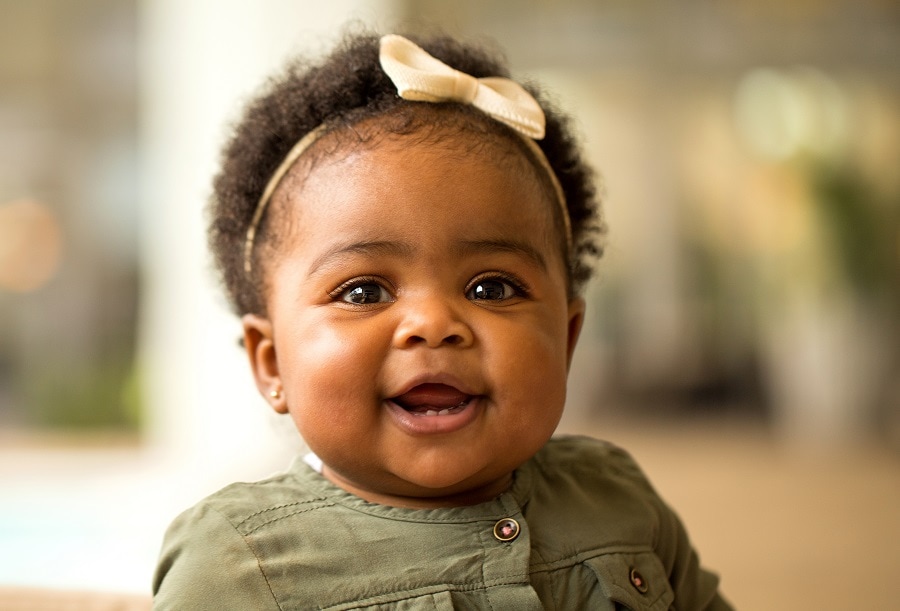 Little babies can grow their hair right out without much styling. It will create an afro-like style by default. You can keep it out of your daughter's face by adding a headband with a bow.
24. Half Braided Updo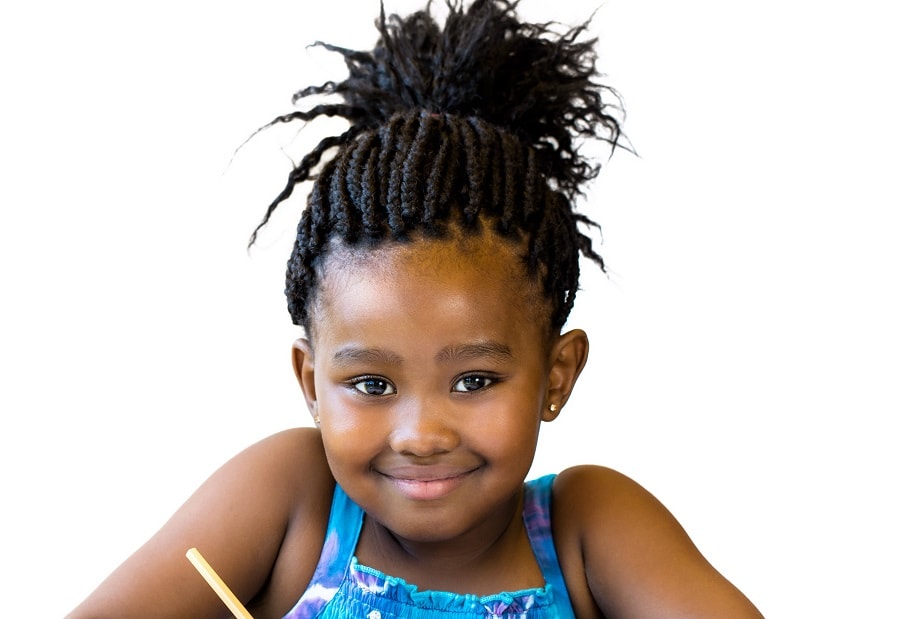 Braids don't always have to cover all of the hair. Sometimes the braids can be secured midway. The rest of the hair should be left loose.
Gather all the braids back and secure them near the back of the head. The loose strands of hair will create a voluminous ponytail-inspired look.
25. Thin Braided Ponytail
Younger girls often have thinner hair. Form braids to protect these fine strands. Pull all the braids towards the back of the head and form a ponytail with them. Add a cute hair tie to let your daughter show off her personality.
There are plenty of ways to make the most of your little girl's natural hair, hopefully, these ideas will spark your imagination and you'll realize just how much you can do. These natural hairstyles for kids are a mix of cuts, styling and smart things that can be done with accessories so there should be something for everyone's time, budget, skill and style.