No matter you are a mother or a son, you can express the inner love with these beautiful mother and son quotes. Quotes are an effective way to express how you feel about this relationship. It doesn't need to be a complicated quote – it can be a simple mother and son quote with a few words, but it can also be a long paragraph describing the love in this unique relationship.
Best Quotes for Mother and Son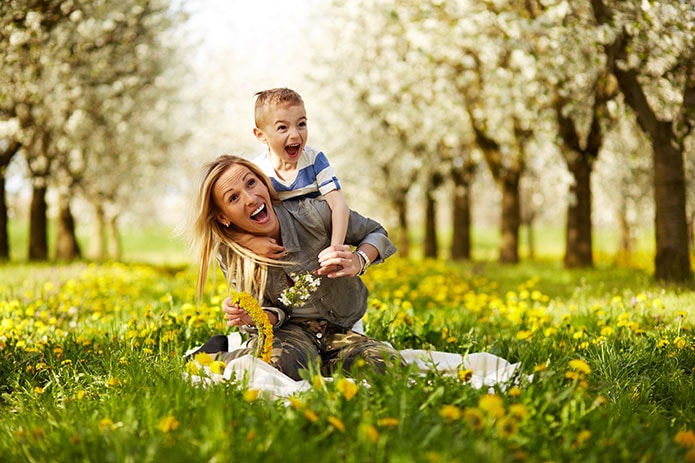 As the child grows up and leaves home, a mother's heart would ache with longing for her baby son to be back with her.
To those that are reading this, how many of you are mothers missing her young innocent boy? How many of you are sons that have yet to give a long-needed phone call or visit to your mum?
If you are looking for quotes that can perfectly describe how a mother and son relationship is like, you will definitely find something that fits into your current situation easily. Below, you will find 50 quotes about mother and son relationship and love that will touch your heart. Why not send your son or mother to show them that you understand their love and sacrifice?
1. She loved a young little boy so very much, much more than how she loved herself.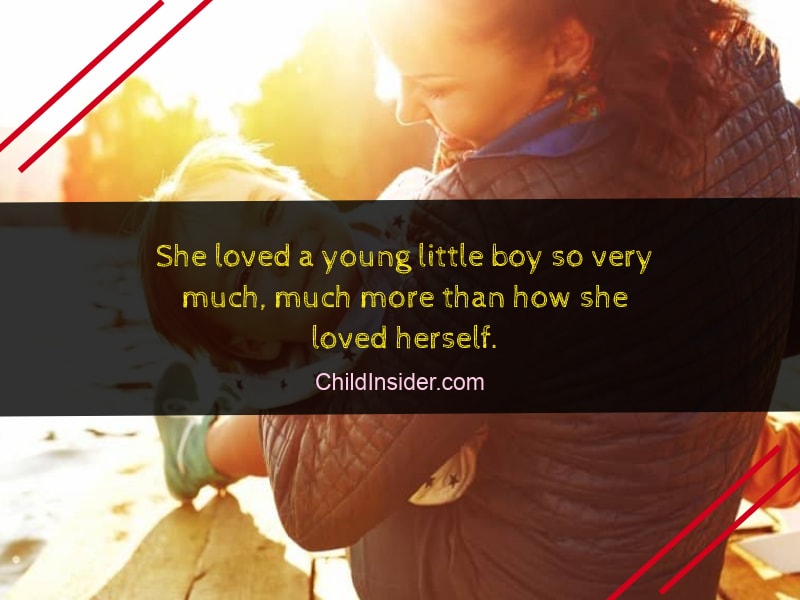 2. Raising a boy is so different from raising someone of her own gender, but a mother did it anyway, and she did it well.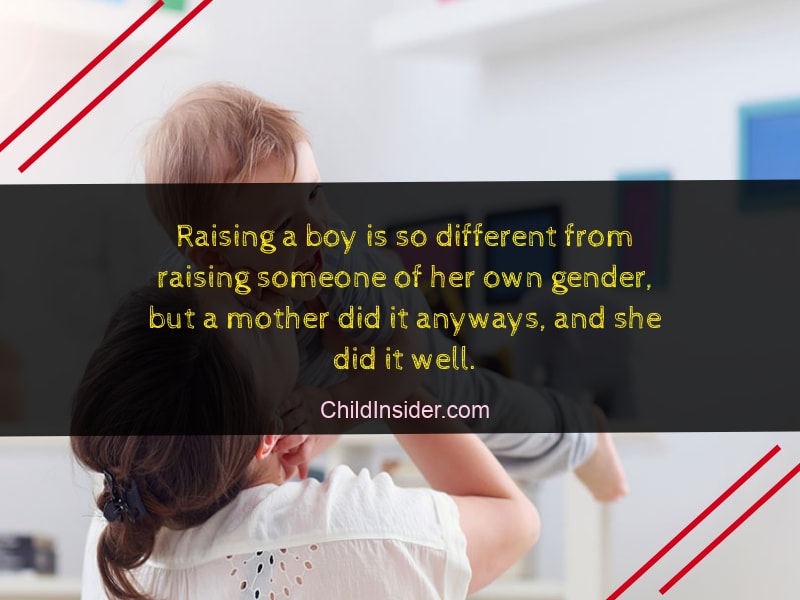 3.  It's a bond stronger than anything else – a son caring for his mother, and a mother loving her son in return!
4. Son keeps mother grounded and stronger, while mother gives son an idea of what love is supposed to feel like!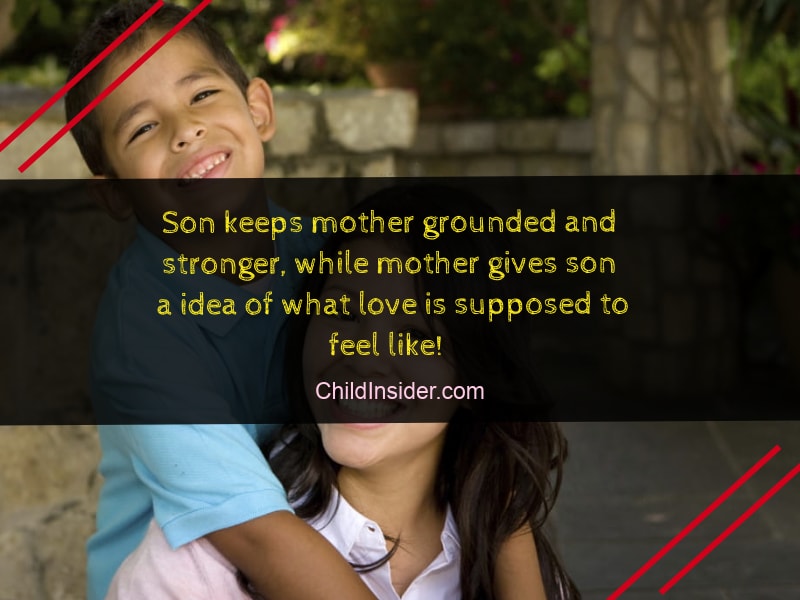 5.  Mothers, be thankful for raising sons who can appreciate the way you love and care for them!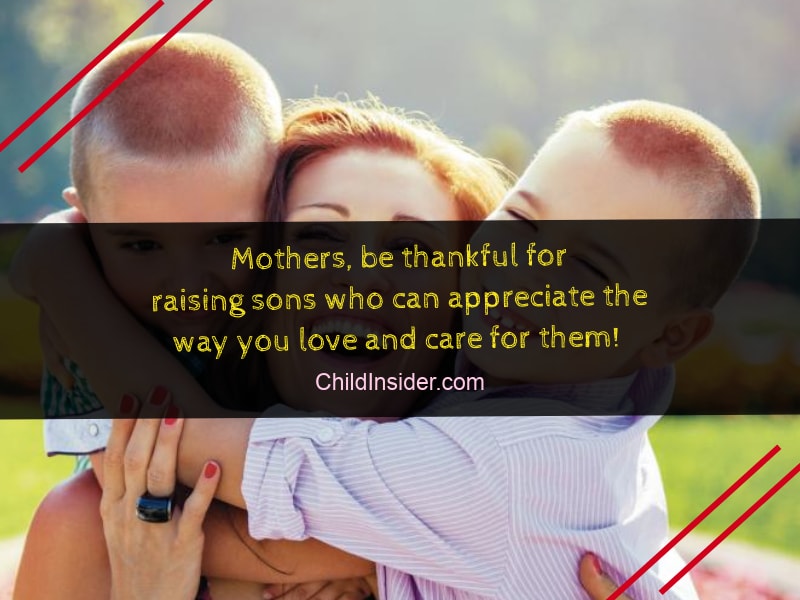 6.  From the day her son is born, a mother will make sure to become his biggest love, shelter and support system.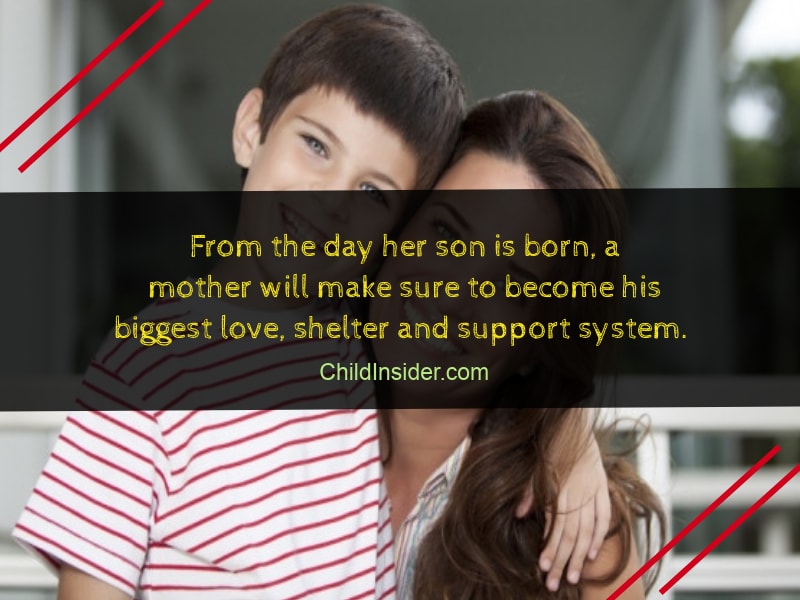 7.  A mother hopes that her son will find a wife that will love and respect him in the same way she does.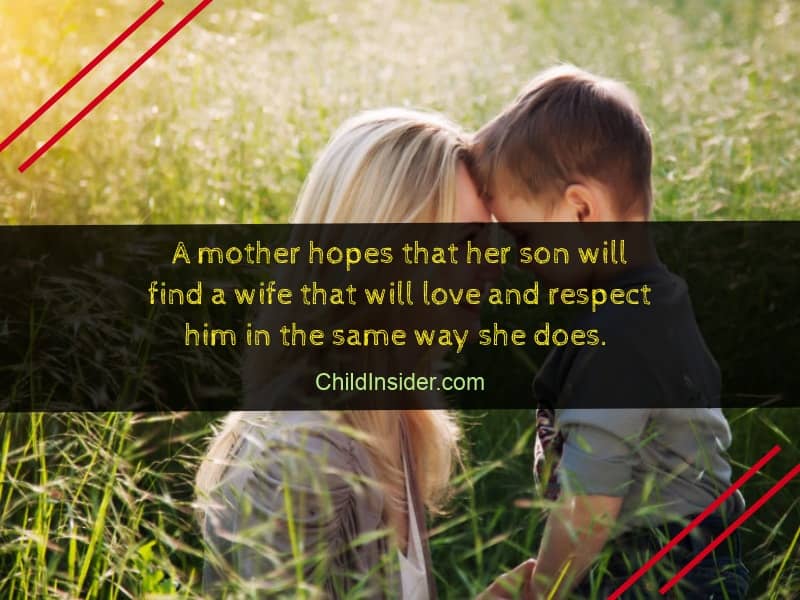 8.  If you want to understand the purest love of all, have a look at the way a mother loves her son!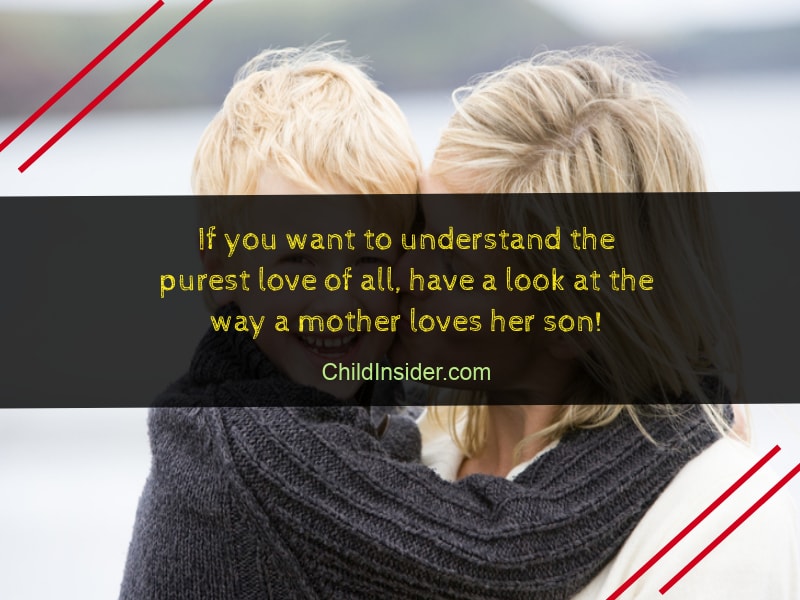 9.  Good mothers that it takes a sense of freedom and patience to raise their sons into fantastic men to be proud of!
10. Mothers will experience life and a new level of happiness through the eyes of her son!
11.  There is no bigger pride for a mother than knowing she raised an independent, happy and strong son, ready to conquer the world.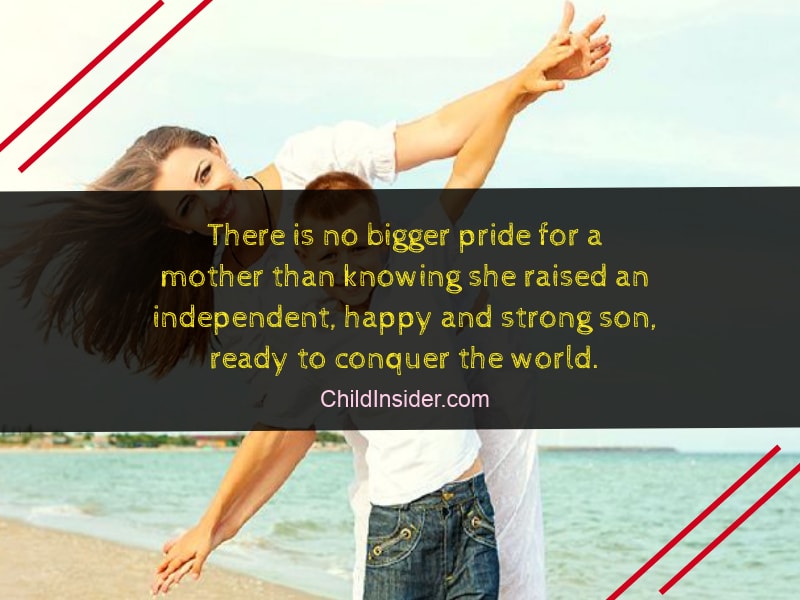 12. No one will ever love a son more profoundly and more sincerely than his own mother!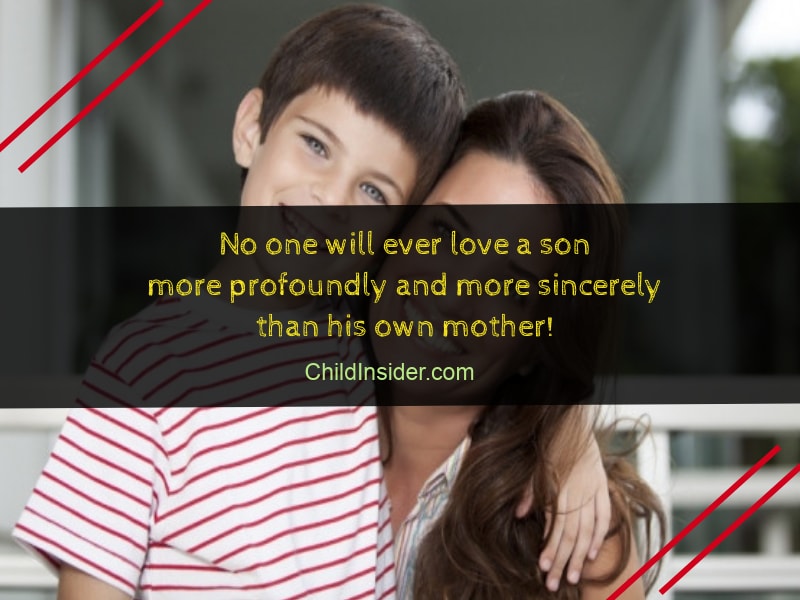 13.  A son will search for the ultimate love his entire love, but will finally realize it was within his mother all along.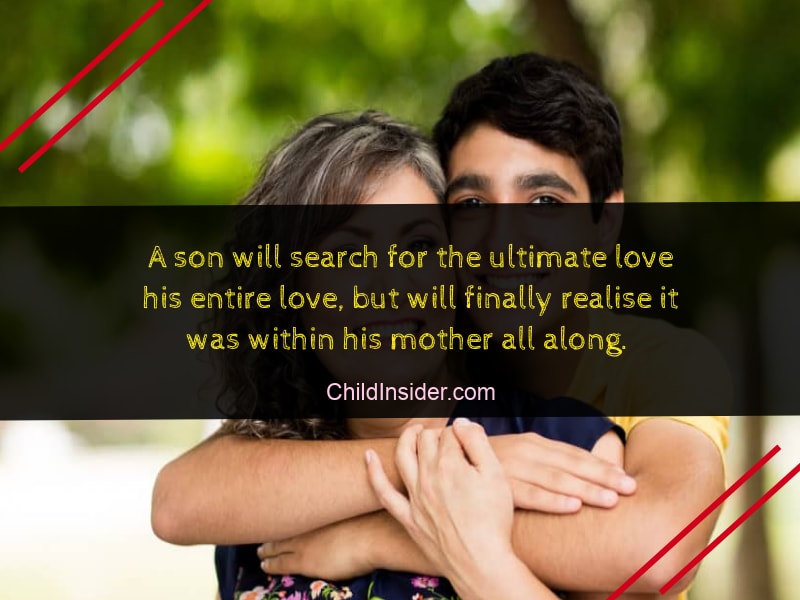 14.  A mother can do her son a big favour by simply loving him, standing by his side and having his back in everything he does.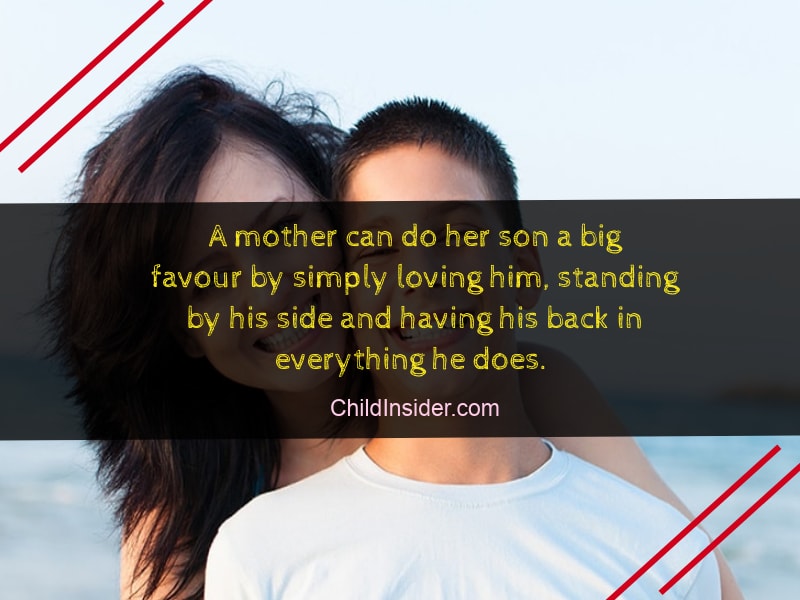 15.  Divine love is rare to find, and the perfect example of it can be found in the way a mother loves her son.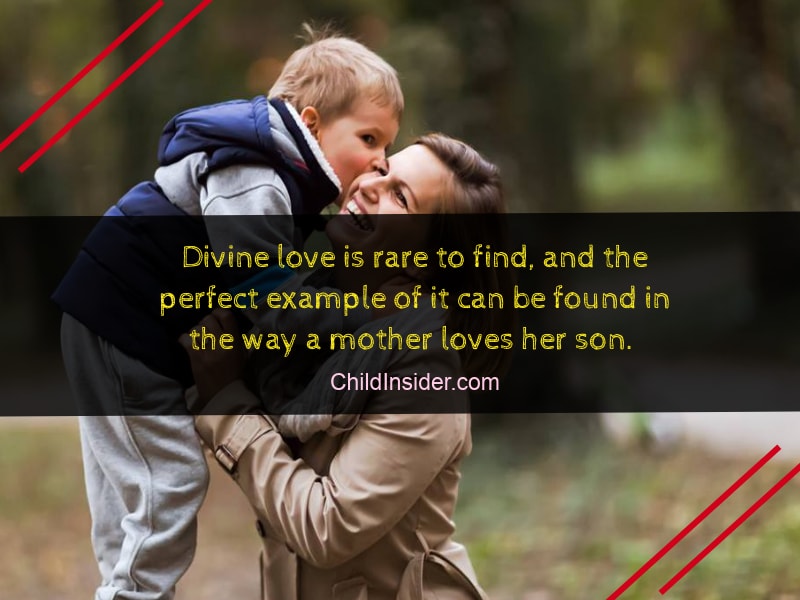 16.  A baby boy will forever change the way his mother looks at the world, and for that she'll love him and thank him forever.
17.  In a child's life, but no one is as influential and impactful as his mother.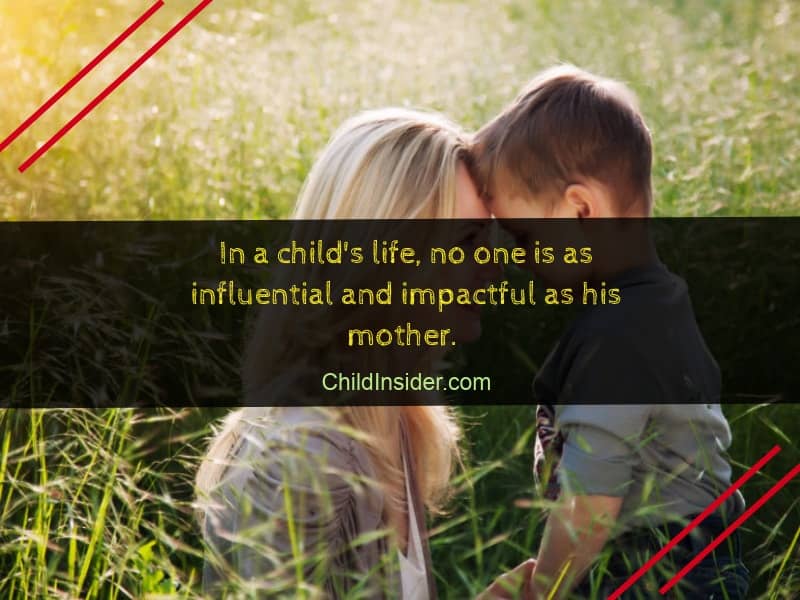 18.  Sons should take the time to hug their mothers and thank them for making strong person out of them.
19.  The role of a mom in her son's life is crucial, and it will continue to be one of the strongest family bonds that ever existed.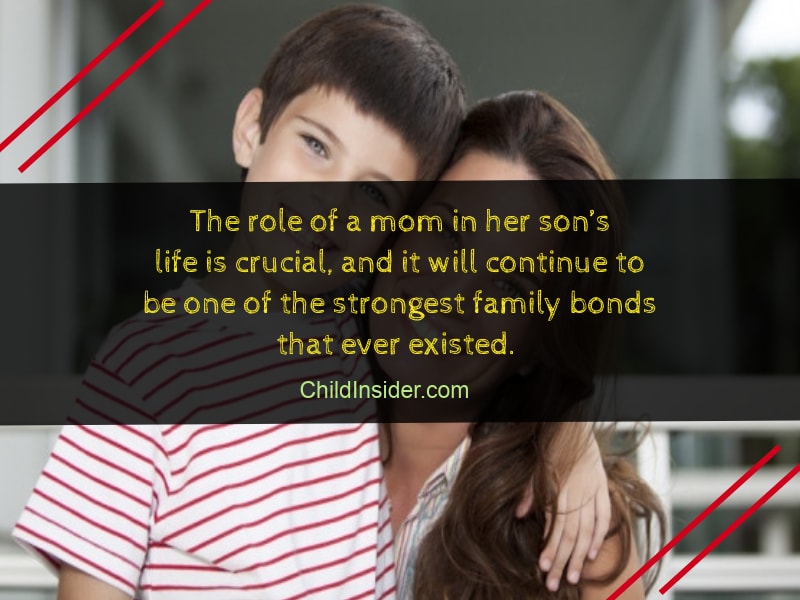 20. There will be no better teacher of life, love and relationships than a mother who raises her son to be a strong man.
Mother and Son Beautiful Quotes
A mother and son relationship is special – she would want to protect this child with all she can, and yet one day this same young boy will grow up to protect her just as fiercely if not more.
As old as a son grows, a mother will always perform her duties as one even as she grows old and frail. She will continue to care for him, to cook and to clean after him, even when there is no longer such a need or even when it might not be welcomed by her son. Even so, their bond is strong and unbreakable. A mother and son would love each other very much without needing many words for it, and that is the beauty of this relationship.
21. Every mother hopes to raise a son wise and strong enough to love and respect all women in his life.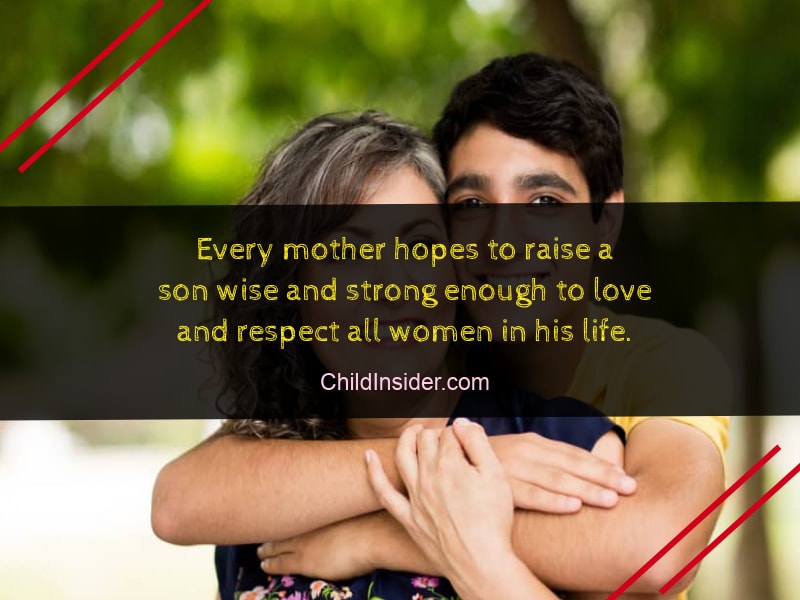 22.  What are mothers to their sons, if not a pure example of a woman's love, care and devotion?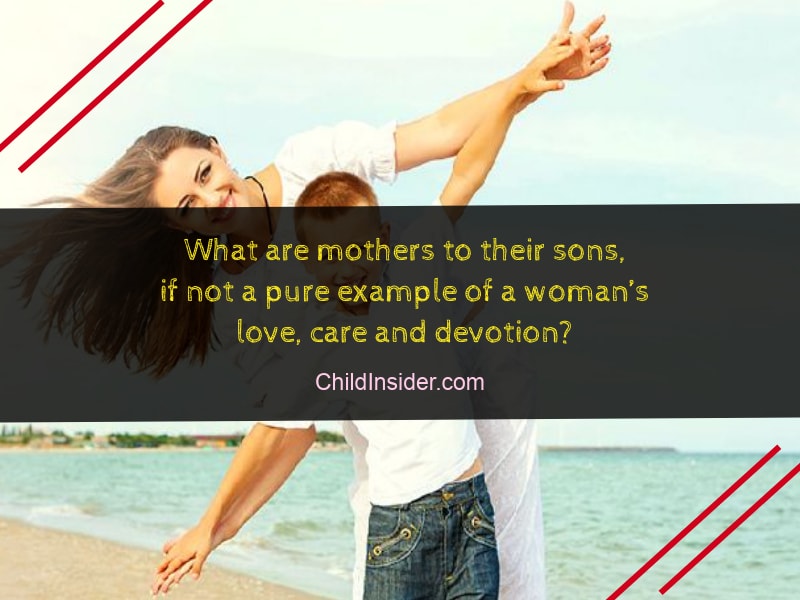 23. A son is a mommy's little boy when he's young, as he grows up her best friend is always her son.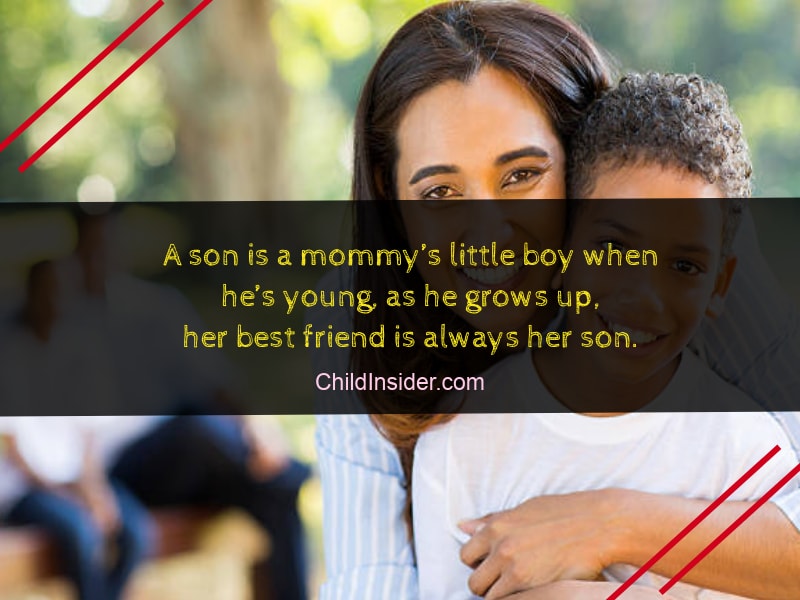 24. Only your mother can understand your tears without a single word and without judging you.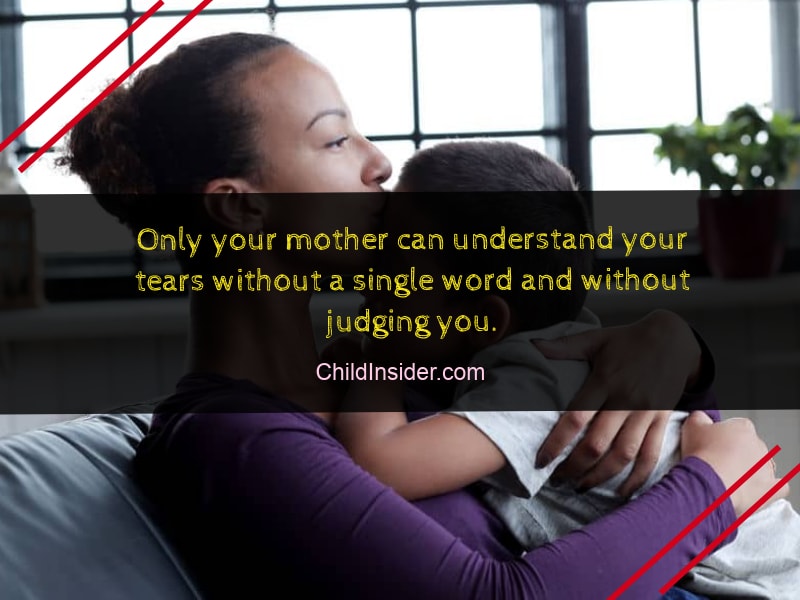 25. Your mother might not have raised you in the best ways but she always has the best interests for you .
26.  A dad cares for his son, but that amount of care cannot be compared to a mother's love for him.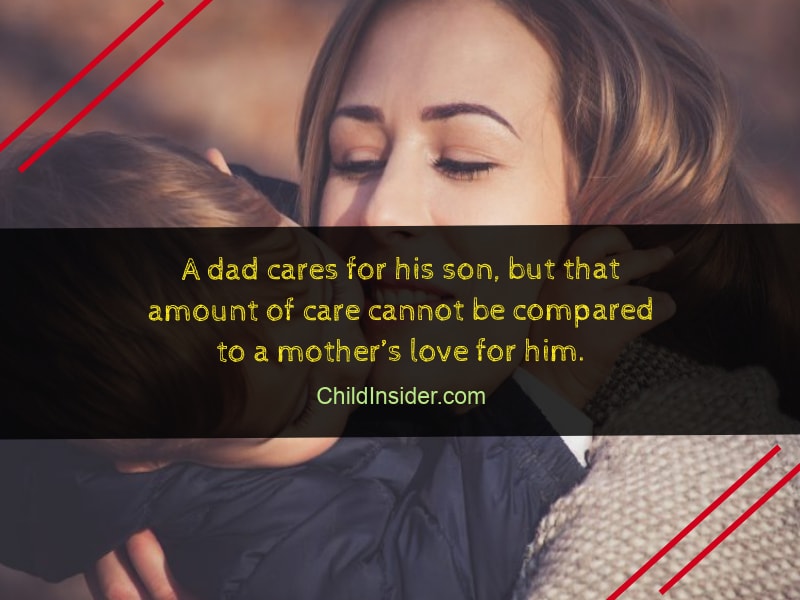 27.  It is only a son who can complete a woman's motherhood.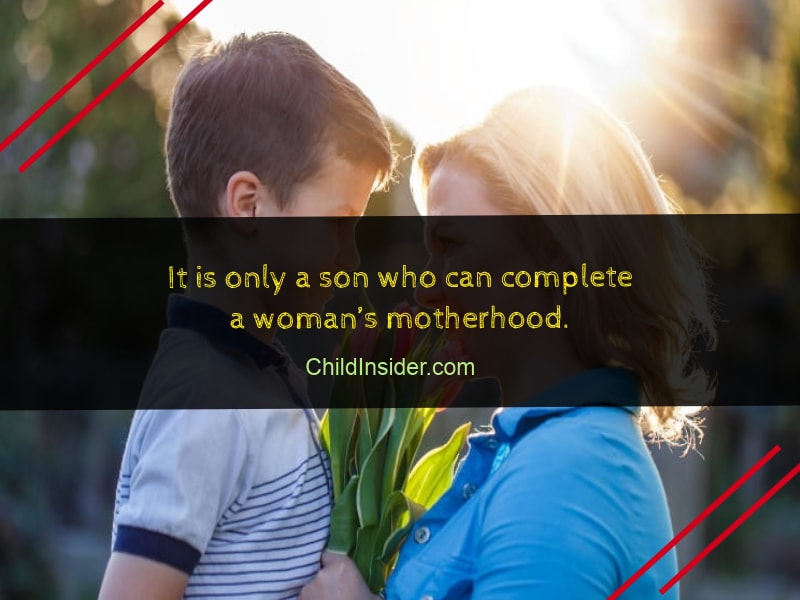 28. A son will always know that in his mother's eyes, he is the best son that a mother can wish for.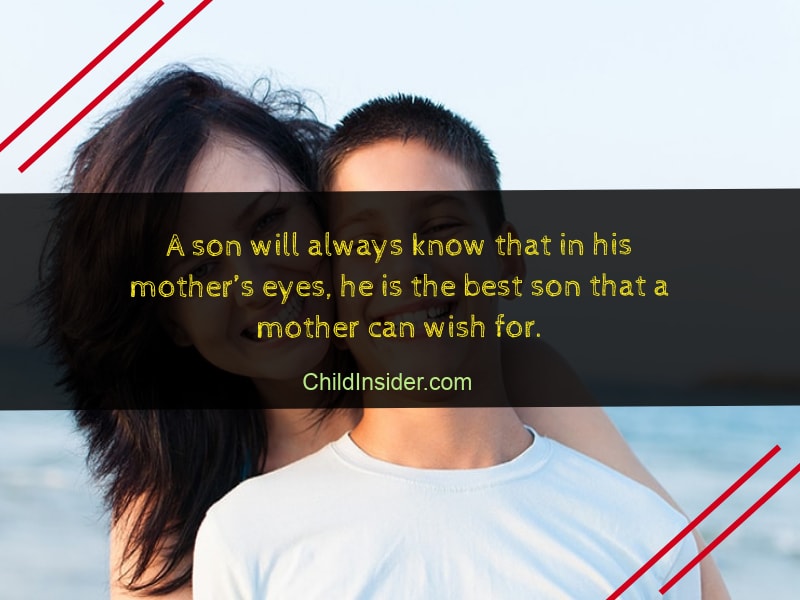 29.  A man will not be able to understand just how priceless and important a woman is if not for his own mother.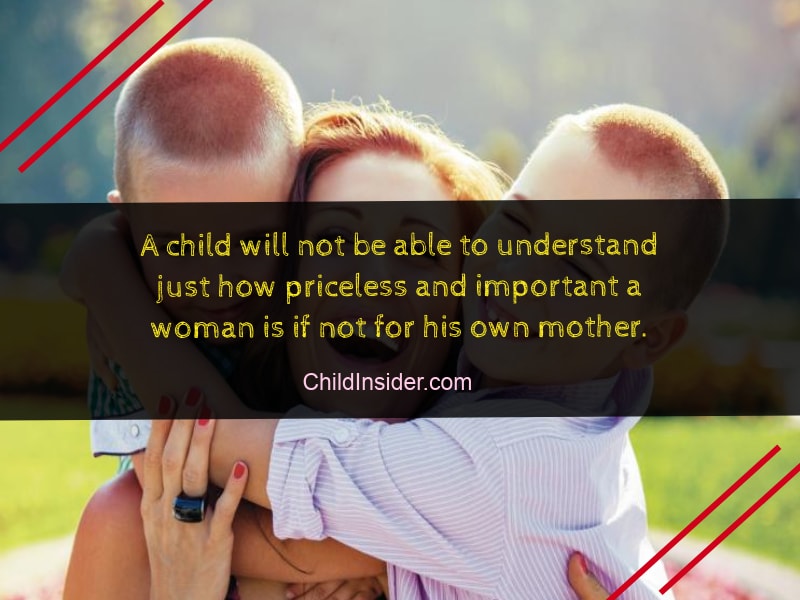 30.  A mother's wish is simple – for him to find a wife who can treat him just as good as she was to him.
31.  A son will always be a mommy's boy to the mother even as he grows up big and strong.
32. A mother would do everything to make sure that her son is alright.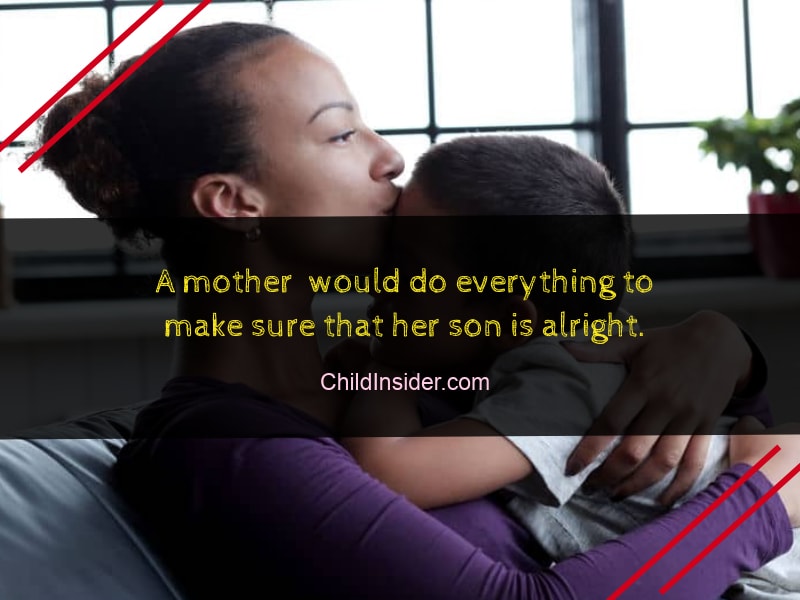 33.  It hurts the mother plenty, but she will teach her son to bite the bullet, and keep pushing on like a real man should.
34. A mother will be proud of her son for the simple fact that he is her son.
35.  A mother can have a very good relief from her problems simply by seeing her son's smile.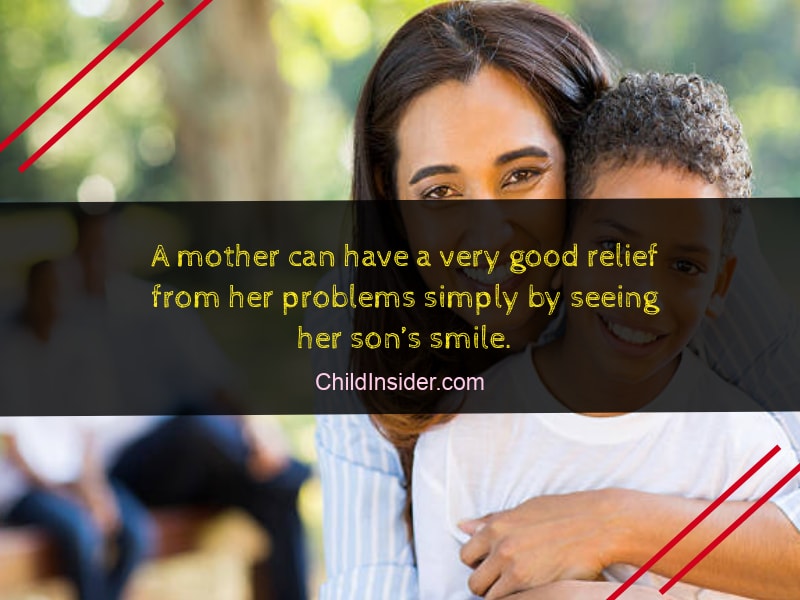 36.  Every mother that gave birth to a son has a chance to give a real man into the world.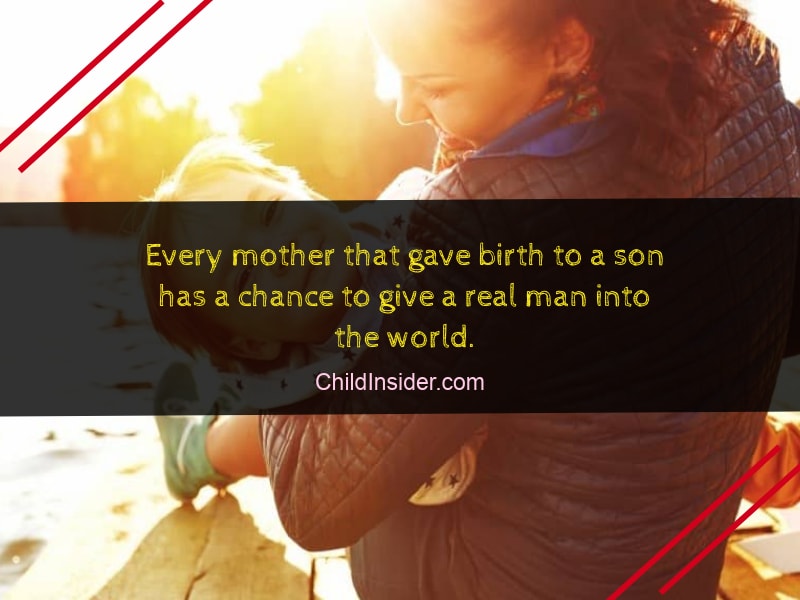 37.  If raised right, a mother who has brought up her son like a queen does will treat his own wife like a princess.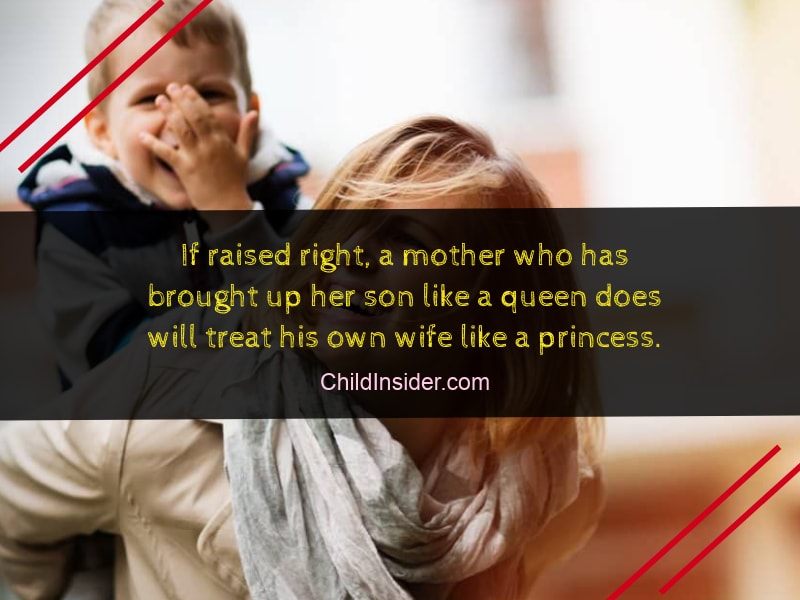 38.  A mother is a son's first love, just like how a son is a mother's entire world.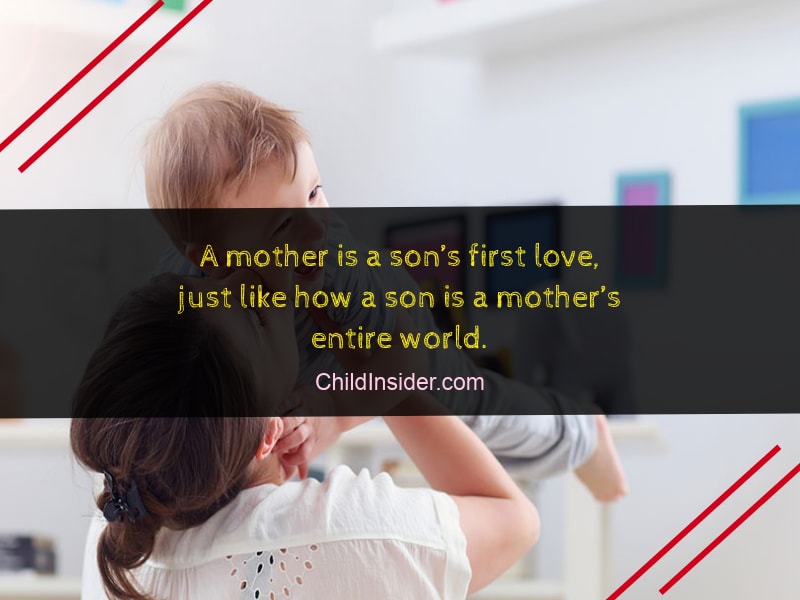 39.  It's a real mother who can make her son grow up into a real man.
40.  A mother is the perfect woman to teach her son to love.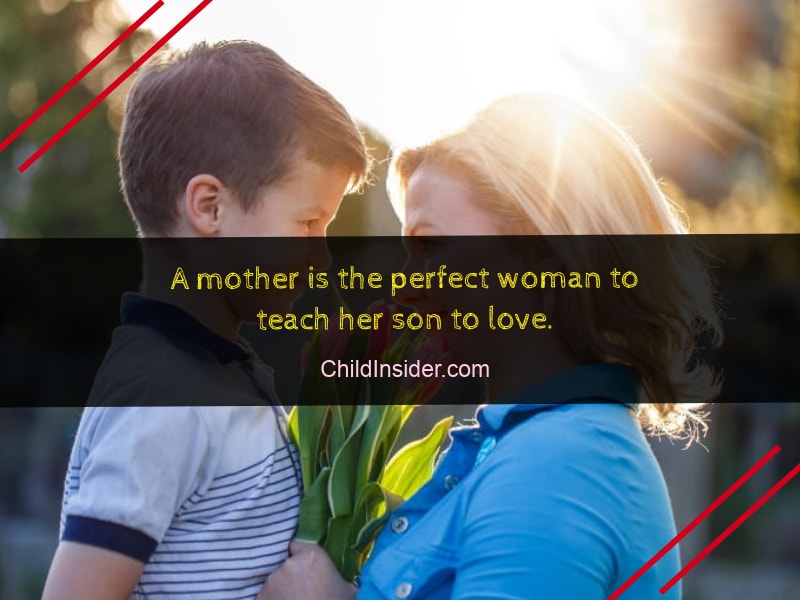 41.  Even as a young boy grows up to become a man and have his own family one day, this man will always need his mother's hugs, love and warmth.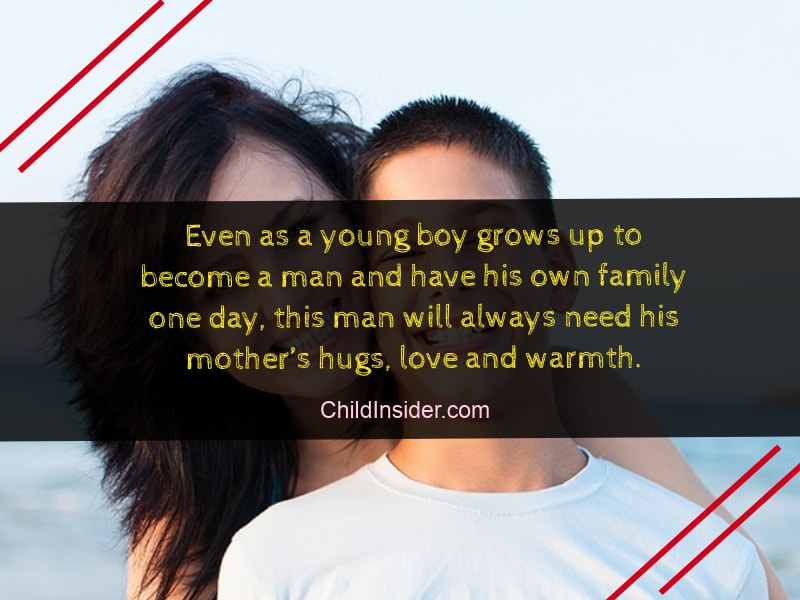 42.  Eternal love between a man and a woman does exist, but it's not between a husband and a wife. It's between a mother and her son.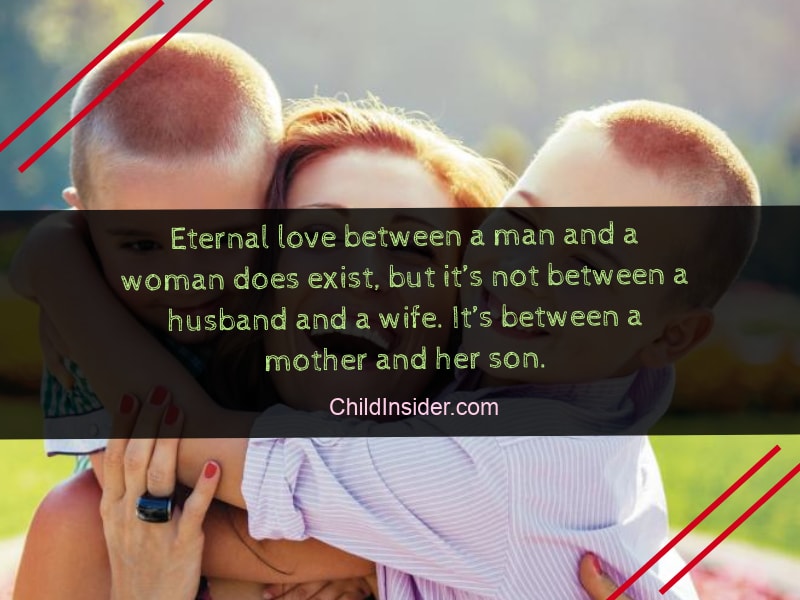 43.  There are only two men who can love a woman more than she loves herself – her father and her son.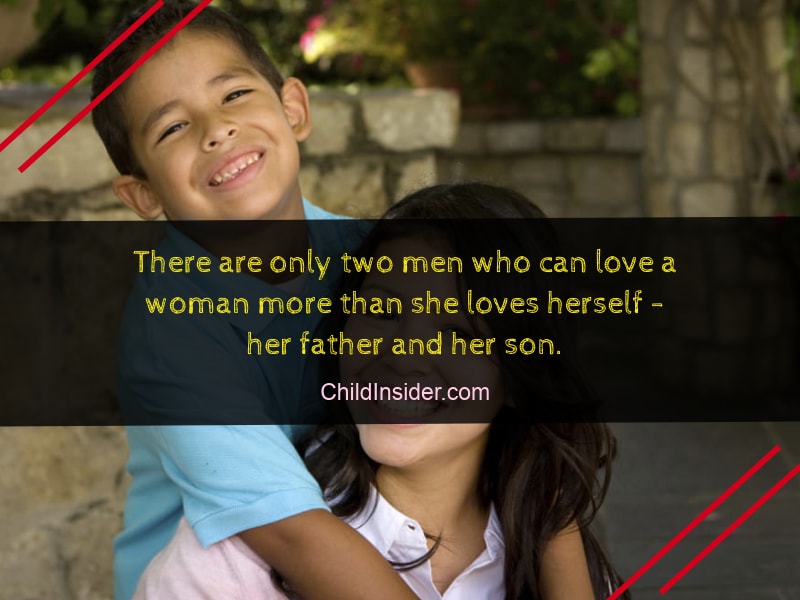 44.  The beauty of a mother's love for her son is that she does not need to request or ask for her love. It is unconditional, and he will always deserve her love.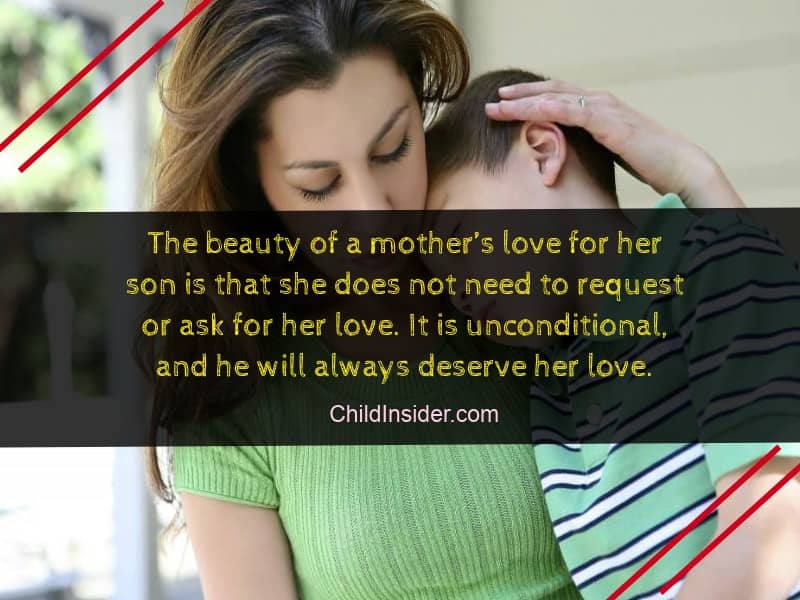 45.  A son might outgrow his mother's lap, but he will never outgrow the place that he has earned in his mother's heart.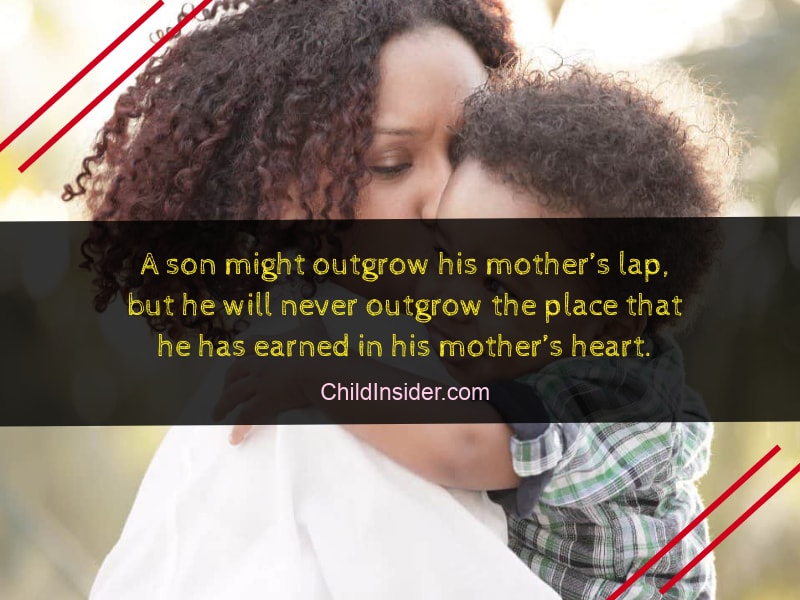 46.  A father would make his son learn and practice, while a mother steers her son to strive for greatness.
47.  Once a woman has given birth to her own son, she will find that there is no more space within her full heart to contain other men.
48.   A grown man would have many women that he loves throughout his life, but his love for his mother is the one constant thing that will always stay.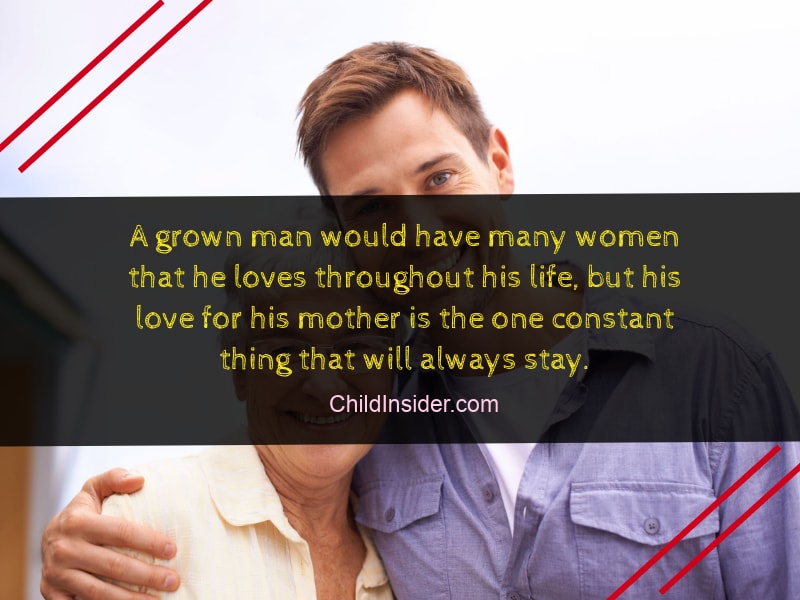 49.   There's nothing like a mother's love that can bring us sons to greater heights and greatness.
50.  When a son's faith in his mother goes unchallenged, he will find that he is a happy little boy.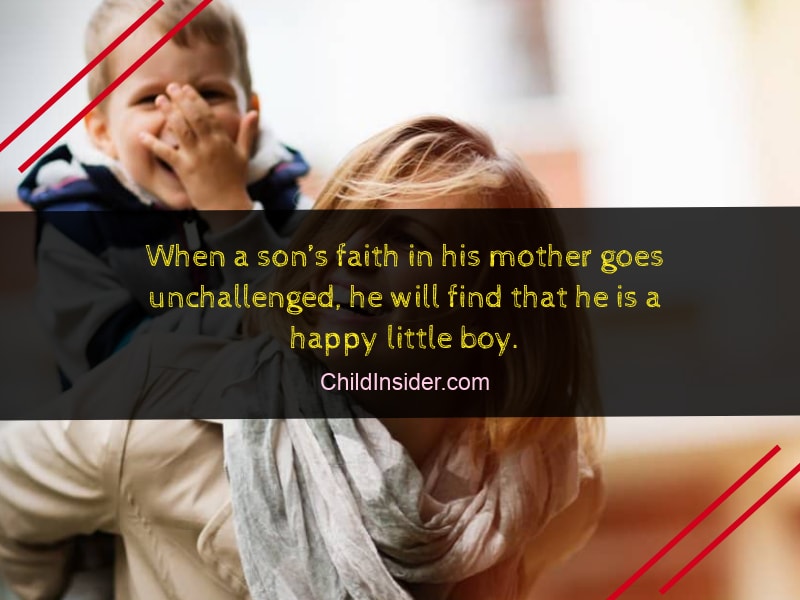 At the end of the day, no matter how hard a son's day might be, a mother will always be there to back her son up. We hope that you have found good mother and son quotes that have touched you deeply. Remember to share these quotes with your loved ones!