Biracial boys need to have a haircut that will show off the beauty, color, and structure of their hair so that they look and feel great.
These mixed boys haircuts are a great choice, as they are designed to help improve the way that a boy looks and give him a boost of confidence.
Coolest Haircuts for Mixed Boys
Boys are constantly on the go and need a haircut and style that will be easy for them to take care of and that won't get in their face or in their way when they are playing and learning.
Parents who want to make sure that their son looks and feels great will want to consider these wonderful haircuts for mixed boys.
1. Tight Braids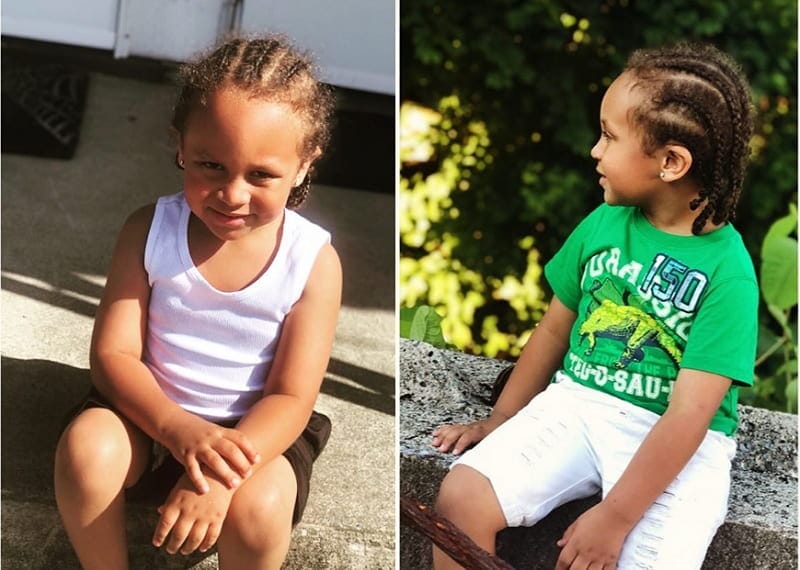 One of the best options in terms of ease is to braid a mixed boy's hair straight back from the forehead.
These boy braids can be as thick or as thin as needed to fully control the hair and keep it out of the way, making it a great option for any little boy who has a lot of curly hair.
2. Longer Curls with Undercut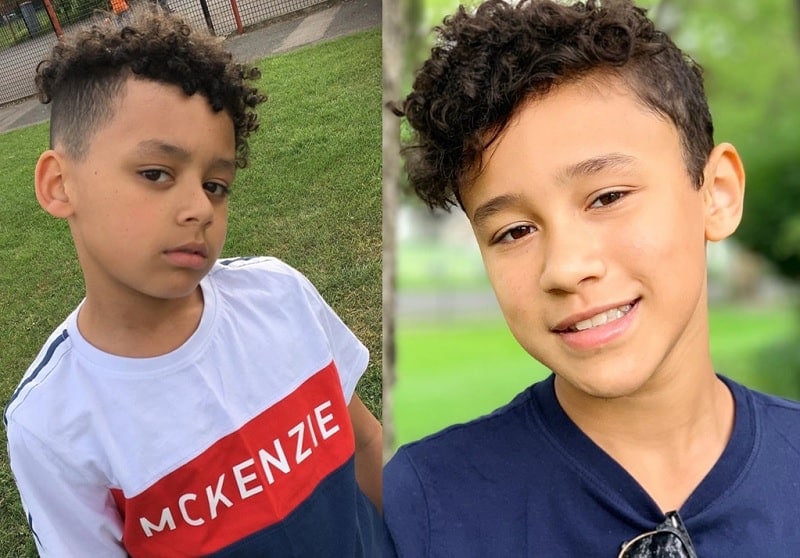 Boys look great when their curls are allowed to have plenty of volume and presence, and adding a slight undercut to the style is a wonderful way to make the longer curls on the top of the head really pop.
The undercut can be swapped out for a high fade, if desired and will still look great.
3. Top Bun with Long Curly Hair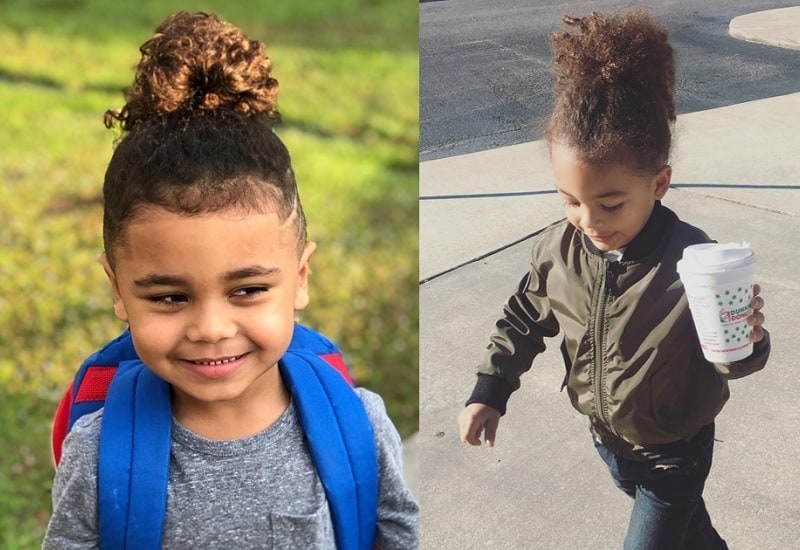 Mixed boys who have long hair and love the curls and length that it gives them will still need to keep it out of their way sometimes.
A top knot that fully controls all of the hair is a great way to keep the hair contained and still enjoy a longer length. This full look is great on all boys.
4. Shorter Sides with Full Curls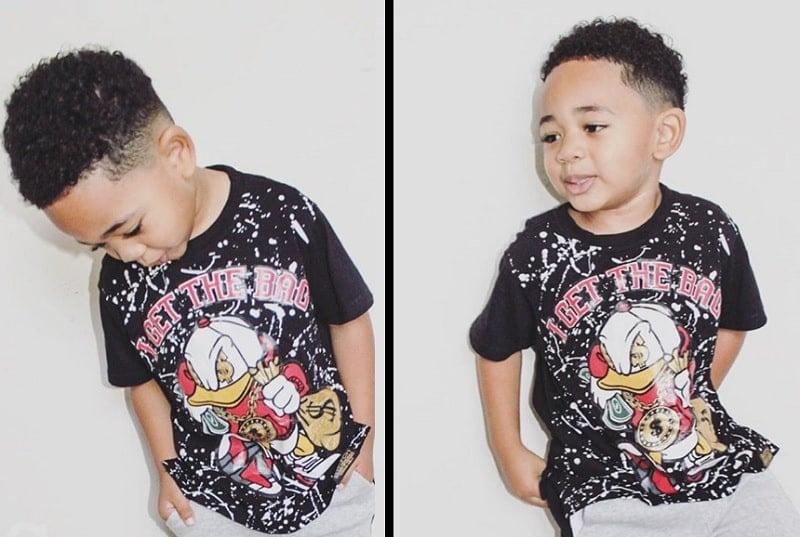 Shorter sides do a wonderful job showing off curly hair on the top of the head.
A medium fade that is up and over the ears, but not quite past the temples is a great way to showcase slightly longer hair that is really curly.
This fade haircut looks great when it is kept up and trimmed on a regular basis.
5. High Skin Fade with Long Curls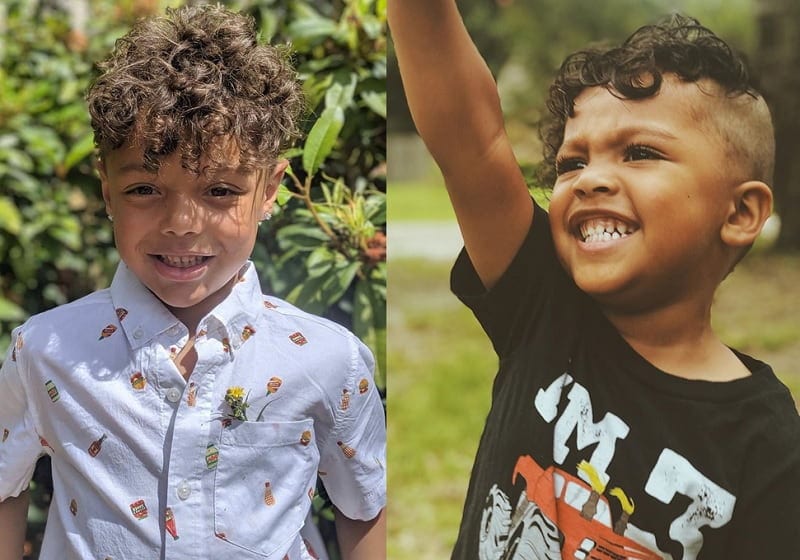 Skin fades are impressive on any boys, especially when they have full masses of curly hair on the top of their head.
These curls can be pushed to the side so that they are out of the way or allowed to hang down in front of the face for an interesting and modern look.
6. Loose and Free Curls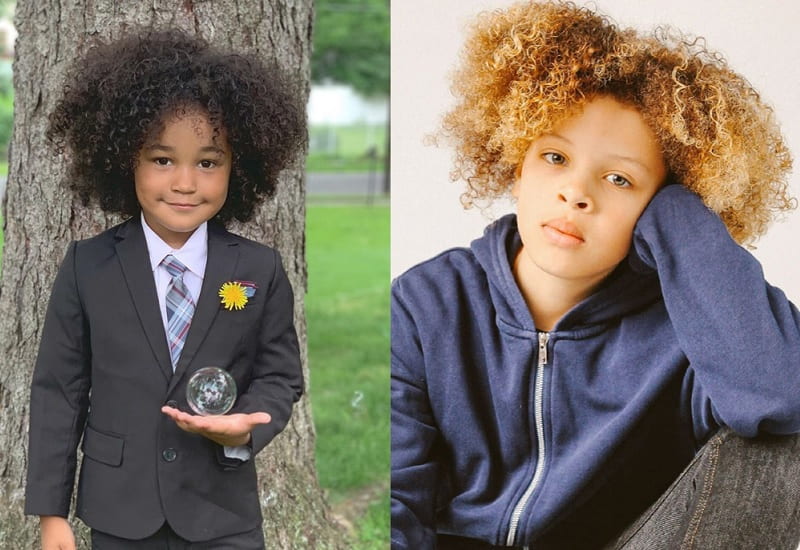 Loose and free curls that have tons of volume are one of the most impressive haircuts that biracial boys can choose.
This style requires trimming to reduce the possibility of any split ends and looks great no matter the hair color. Lots of volumes are key to making sure that this style looks its best.
7. High Top Fade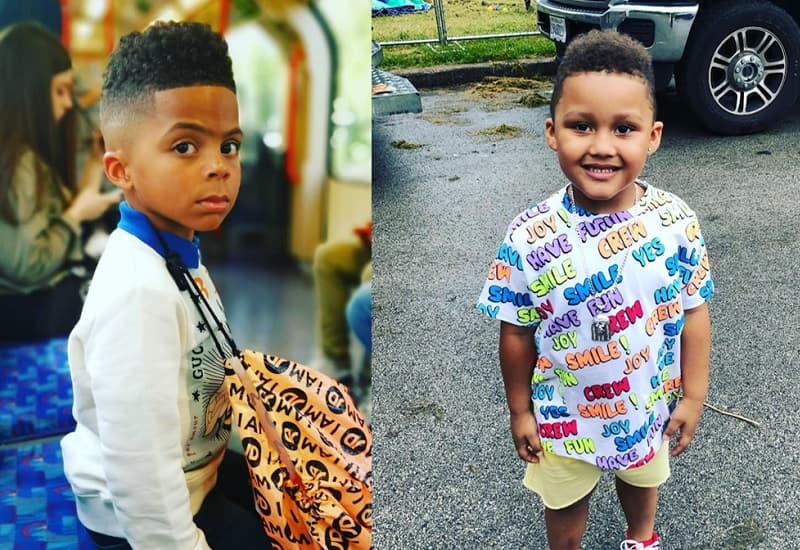 A skin fade is impressive when paired with a higher cut on top that is full and packed with curls. Instead of the curls being clearly defined, these have a ton of volume because they are packed so closely together.
The end result is very full and thick and makes any mixed boy wearing this curly hairstyle look older and more mature.
8. Messy Large Curls
Oversized ringlets don't need to be contained, they need to be celebrated, which is exactly what this style does.
The large size of the ringlets helps this look really stand out from any others, and the way that they fall gently around the head and even in the face makes this look really fresh and youthful.
9. Tight Ringlets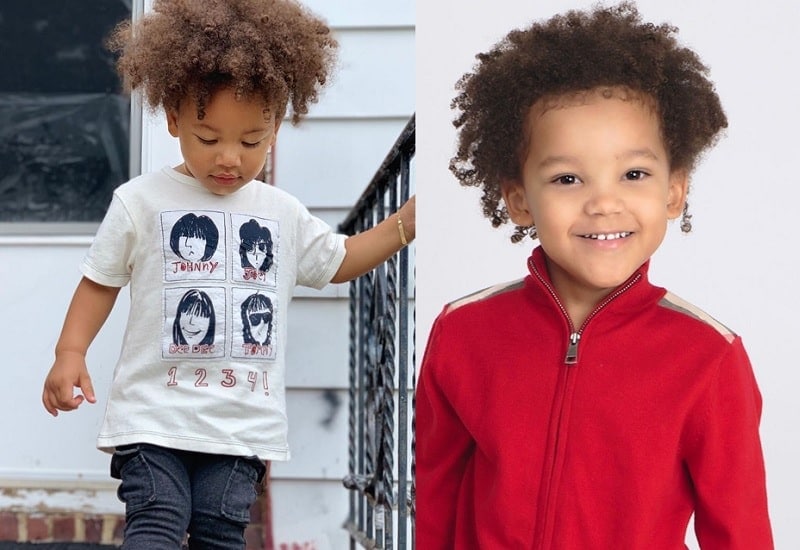 Tight ringlets look outstanding when they are paired with a high undercut. Rather than allowing the ringlets to become so full that they start to look like an Afro, this undercut helps to remove some of the volumes.
This allows the focus to be on the movement of the curls, not on how full the style is.
10. Topknot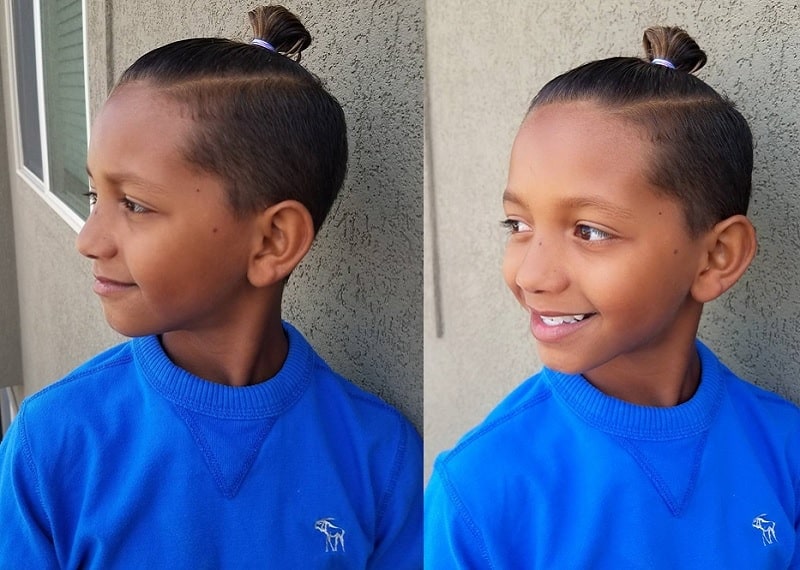 Some biracial boys have straight hair, which looks great when it is pulled back from the face in a topknot.
Keeping the sides much shorter and allowing the top to grow longer is the best way to create a look that is fresh and updated.
This sleek style is easy for boys to do on their own in the morning without much help.
Appealing Comb Over Styles for Boys
11. Long Curls in the Face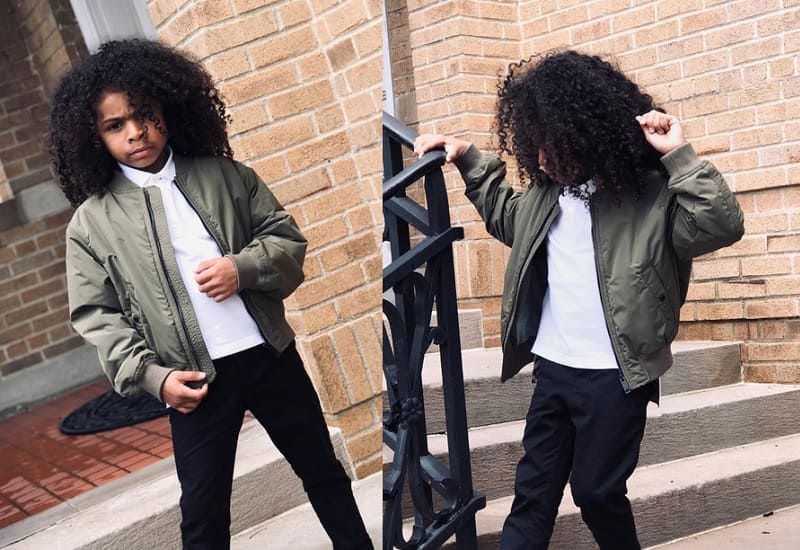 Boys who want hair that is a bit messier often won't mind their hair falling down in their face, which is why this is such a popular biracial hairstyle.
Rather than trying to control the curls so that they are neatly pushed away from the face, allowing them to fall down in the face makes a boy look carefree and very interesting.
12. Fauxhawk with Skin Fade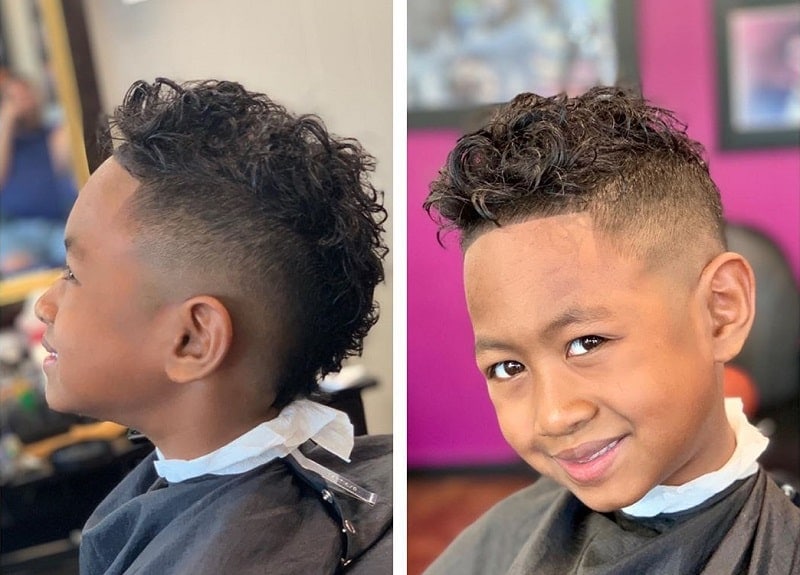 Fauxhawks look great on any boy, especially ones who are willing to embrace the natural curl that they have in their hair.
This fun look allows the movement of the curls to be the star of the show, but thanks to a high fade, also have plenty of room for design, if desired. The curls extend all the way down the neck.
Handsome Fohawk Styles for Little Boys
13. Tight Ringlets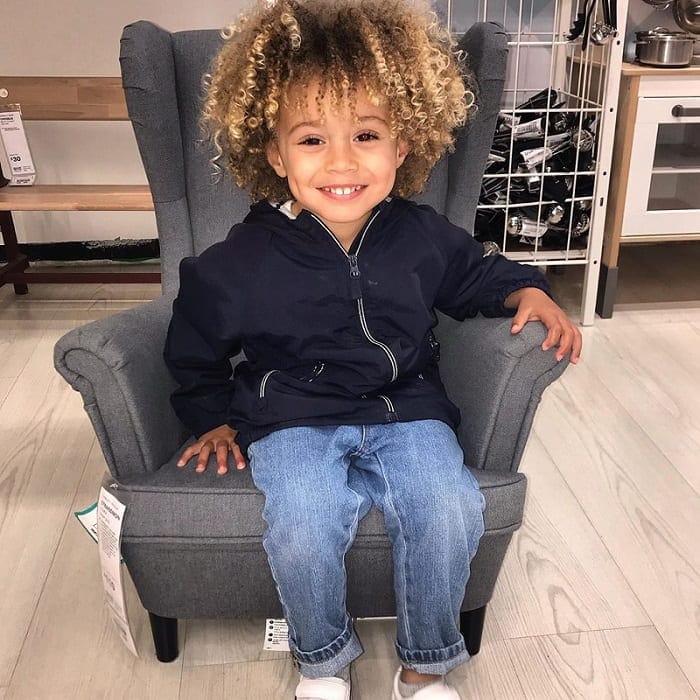 Tighter ringlets are one of the most common mixed boys haircuts, and for good reason – they look great and are relatively easy to take care of.
These ringlets have a lot of body and movement, and thanks to the lighter tips and the darker roots, look varied and interesting. They fall gently around the face for a relaxed look.
14. Blonde Highlights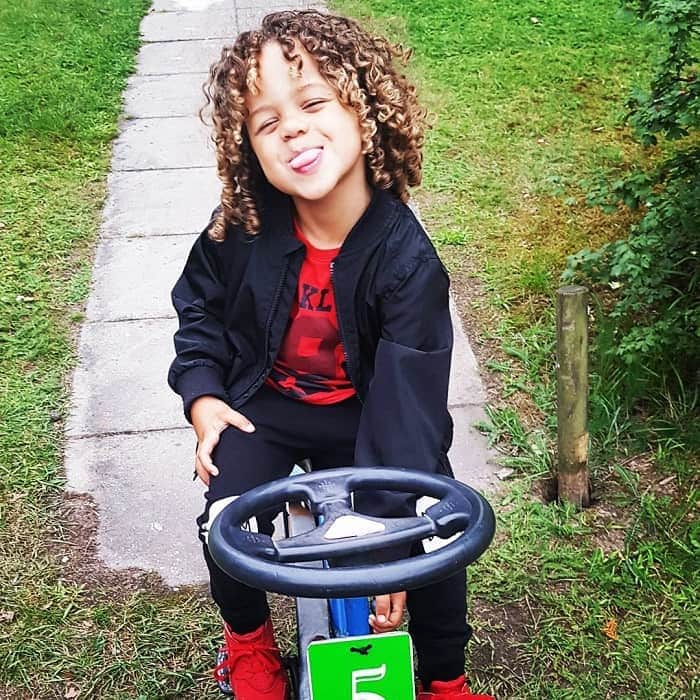 Longer ringlets can be very impressive, but not when they make it difficult for a little boy to see when playing and learning.
That's why parents will want to make sure that the ringlets are cut a bit shorter around the face so that they won't get in a boy's eyes, even when they are allowed to hang free.
15. All Over Twists
Twists all over the head control hair and add an interesting element to any boy's style.
These twists vary in length, but they are all the same width, which gives them a cohesive feel and prevents them from looking too messy.
Attractive Twisted Hairstyles for Black Boys
16. Free and Wild Curls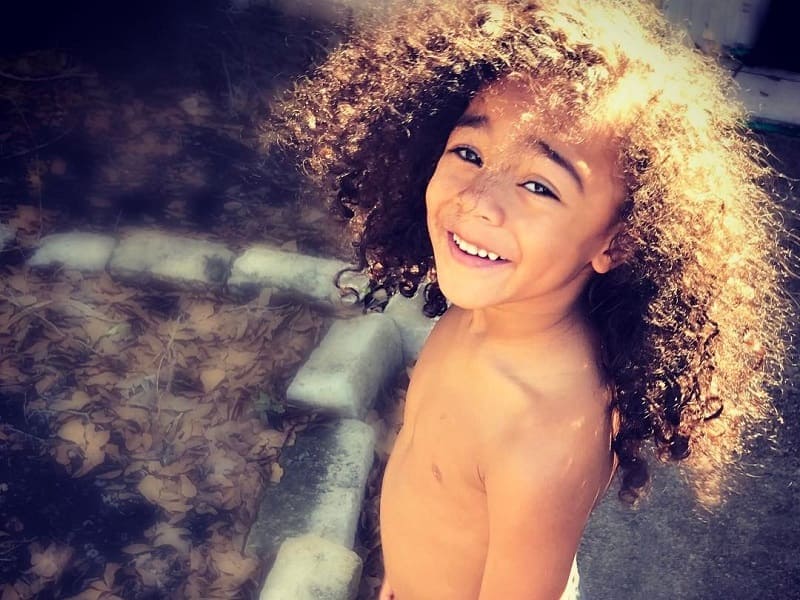 Free and wild curls are untamed, healthy, and gorgeous. Boys who want this style aren't going to worry too much about taming their hair, which is key to making sure that the curls are full and rich.
Regular trims are important, but otherwise, this look doesn't require a lot of effort to appear its best.
17. Tiny Twists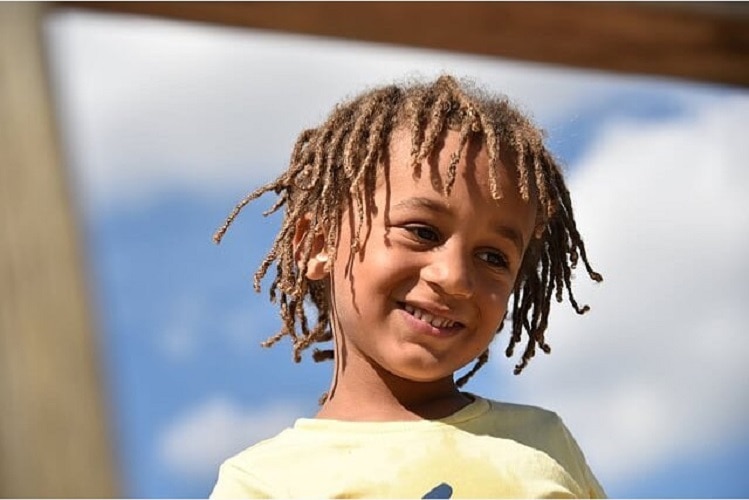 When boys want a lot of twists all over their head, then they need to make sure that they are smaller. This allows boys to have a full head of twists, which is a fun and interesting look.
The tiny twists are a great option for younger biracial boys, as older boys are more likely to want something with a bit more substance and width.
18. Loose and Free Afro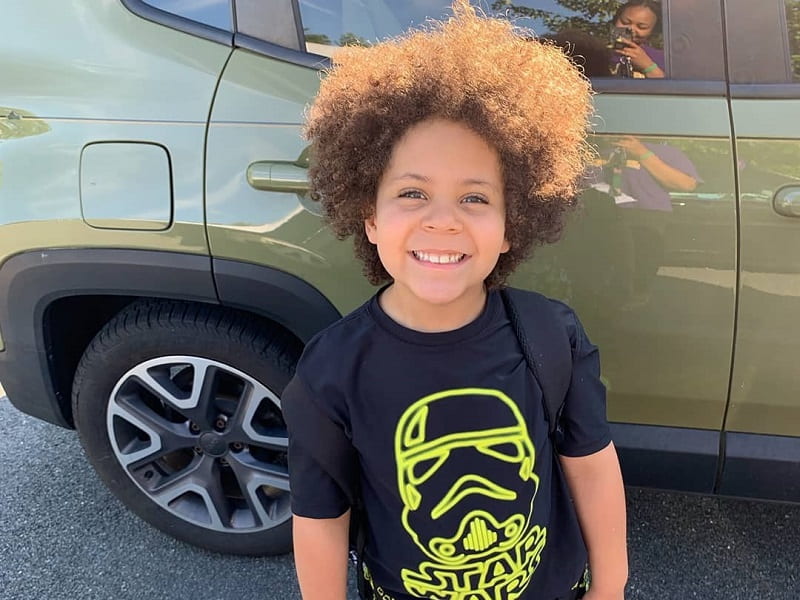 A loose and free Afro is a refreshing biracial hairstyle for any boy and looks great on boys of all ages.
Because this style is timeless and it's a wonderful option for boys with medium-length hair who wants to choose one style and then stick with it for as long as possible.
Healthy hair looks best, so regular trims are a must.
19. Thinner & Smaller Curls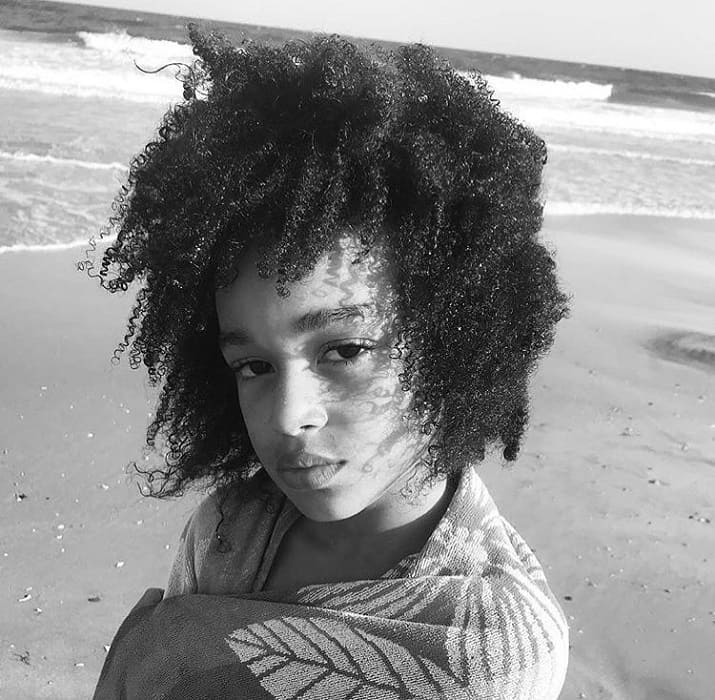 Smaller curls that have plenty of volumes make any boy look great. As far as haircuts for mixed boys go, this one is easy to take care of.
The curls can be left all different lengths to ensure that the cut has a lot of volume and movement, which will prevent it from looking too boring or average.
20. Blonde Curls Around the Face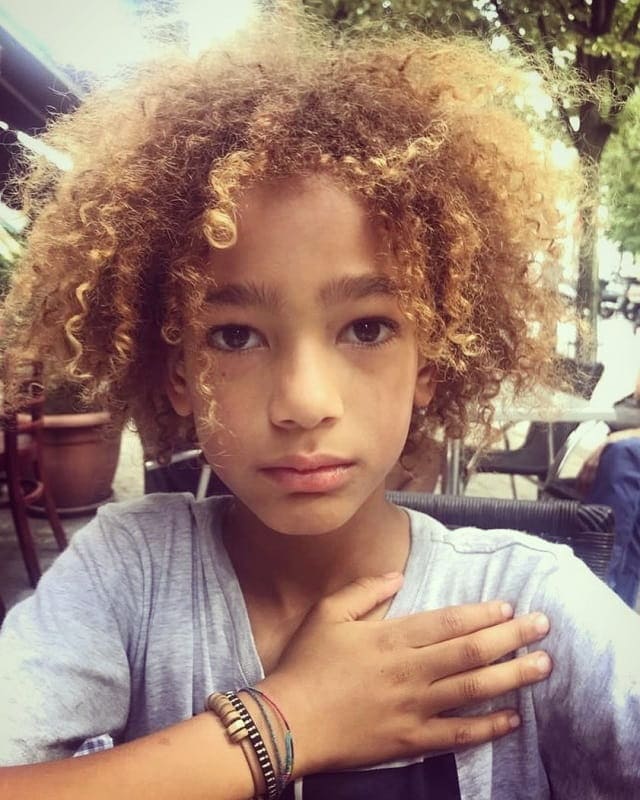 There's nothing quite as ethereal as softer curls that are allowed to hang and move freely around the face.
These curls are wider than normal, which adds to the movement and the body that they provide and makes them a great look for mixed boys of any age and with any color hair.
Exciting Hair Color Ideas for Boys
21. Fade with Designs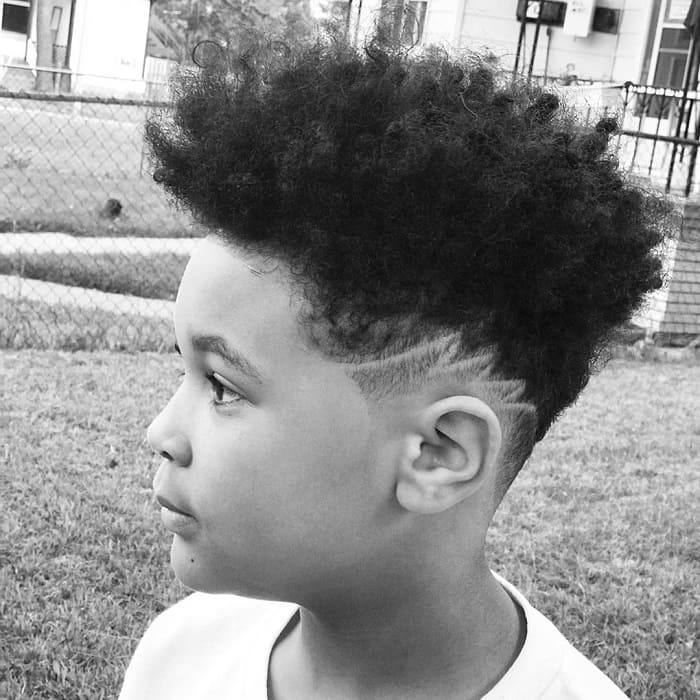 Great design is a fun way to update a normal style and make it personal. This fade is the perfect canvas for a fun design, and the full and thicker curls on top are a great contrast.
Allowing the hair to grow a bit longer ensures that the hair on top of the head has a presence.
22. Shape Up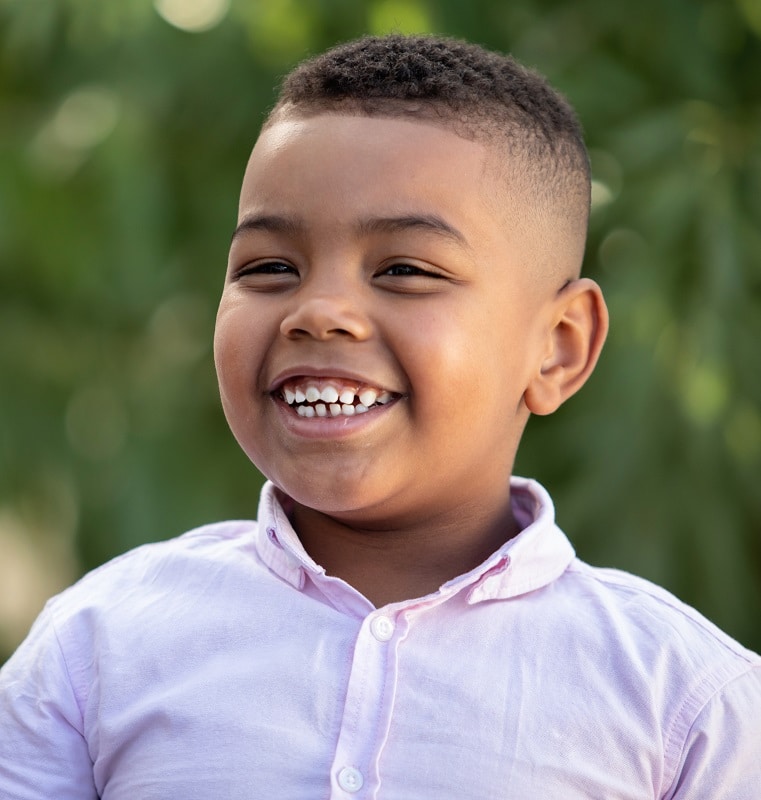 The shape up haircut is a handsome option for little boys. The forehead line is straight as are the sides and the top hair is fairly short, framed by a high fade.
23. Long Thick Curls
For little boys who prefer to wear keep their thick curly hair long, don't chop it off! Keep it trimmed up just so you can see his eyes, but that's all you have to do.
24. Tight Curls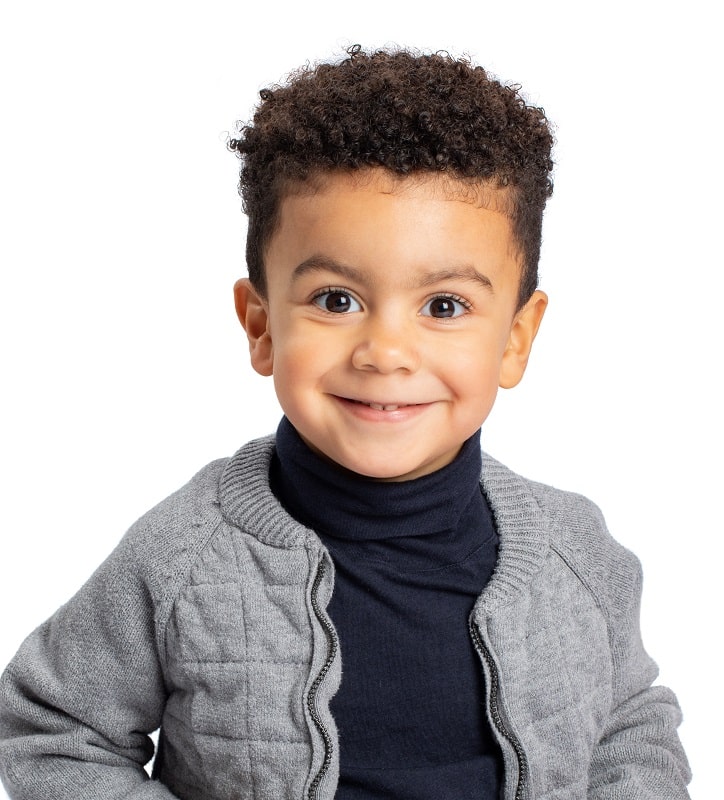 To avoid your little boy's hair looking like a mushroom, give it some shape with short sides and a long top. Longer length on top allows him to keep the curly locks you love and won't make him look too grown up.
25. Short Spiky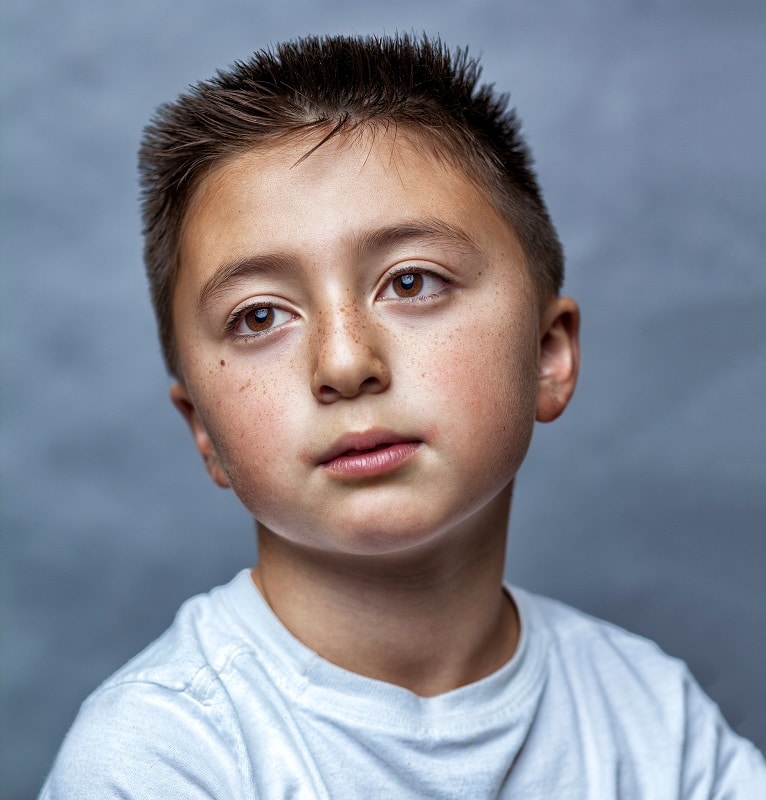 Mixed boys with thick straight hair can wear a short haircut like this perfectly. Trim it short so the spiky texture looks natural and maintain sides that are shorter than the top.
26. Kinky Curly
These super tight coils are popular on mixed boys. To help manage it, cut sides short. This will ensure hair doesn't look like a mop! He can wear the top hair down or put it in a ponytail with playing.
27. Short Mohawk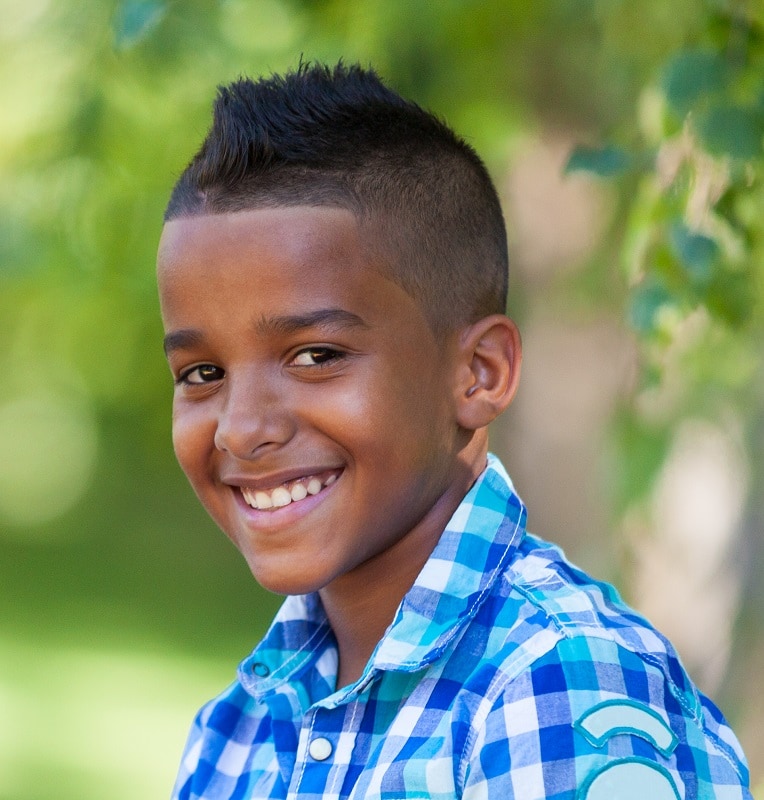 A fade and shape up liven up this short mohawk haircut for mixed boys. The biggest maintenance comes with the short sides. To get the middle shape, just use two hands with hair gel.
28. Hard Part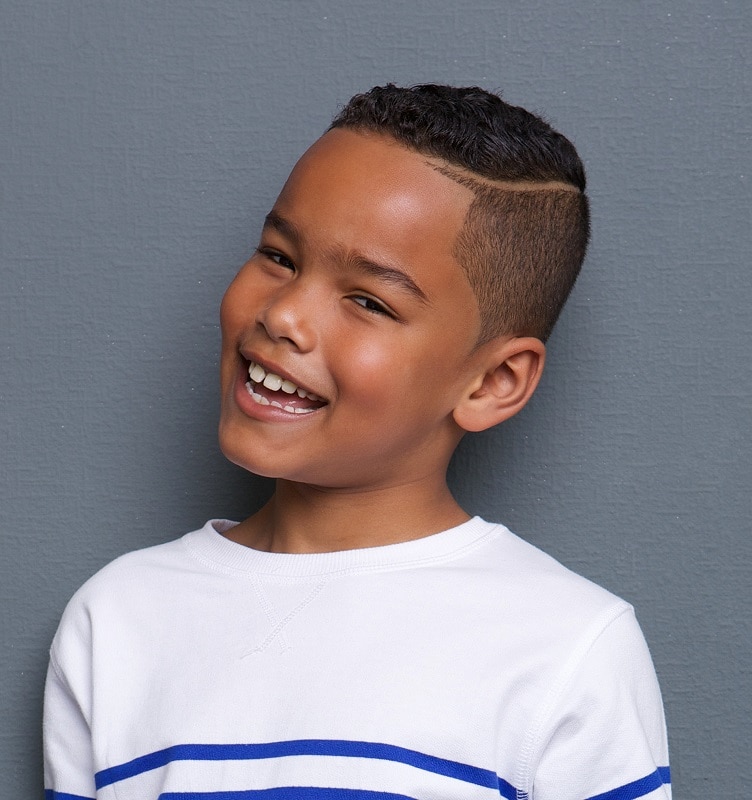 A hard part brings the freshness to a short haircut. There are varying widths of hard parts but for little boys, it's safe to stay with a fairly skinny one to avoid it looking too harsh.
29. Short Braids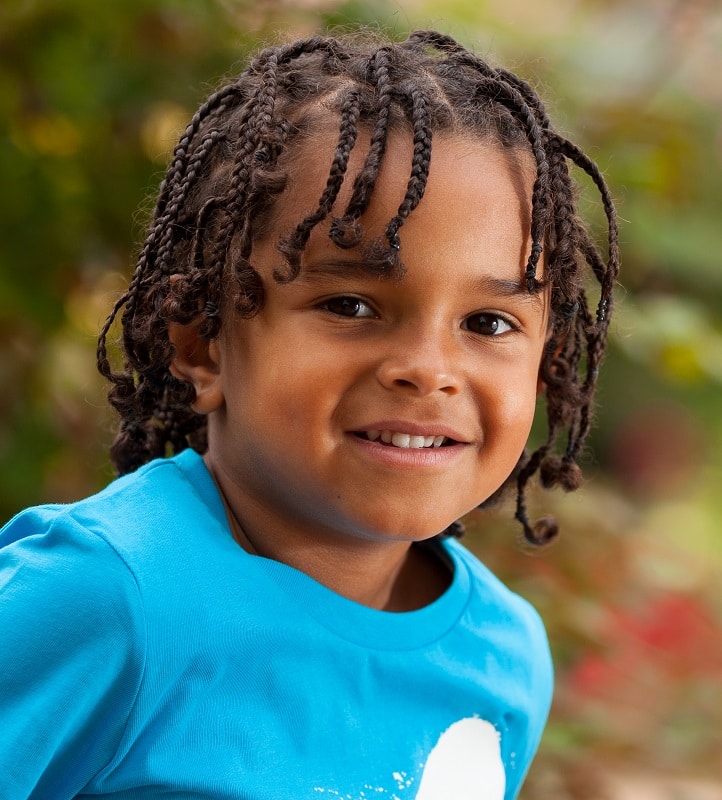 Mixed boys with curly hair will do well with a bunch of short braids. There's no rhyme or reason to their formation, but keep them all the same size for evenness.
30. Curly Kinky Mohawk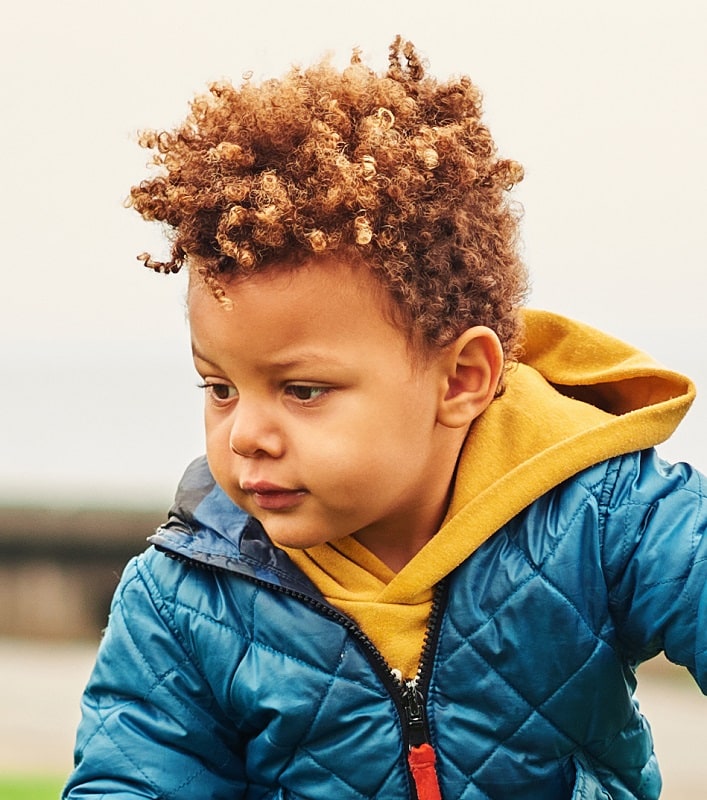 This little boy's haircut is almost mohawk-shaped, with the top middle being the longest part and the sides short. The subtle shape keeps the look soft and boyish.
31. Spiky Fade with Design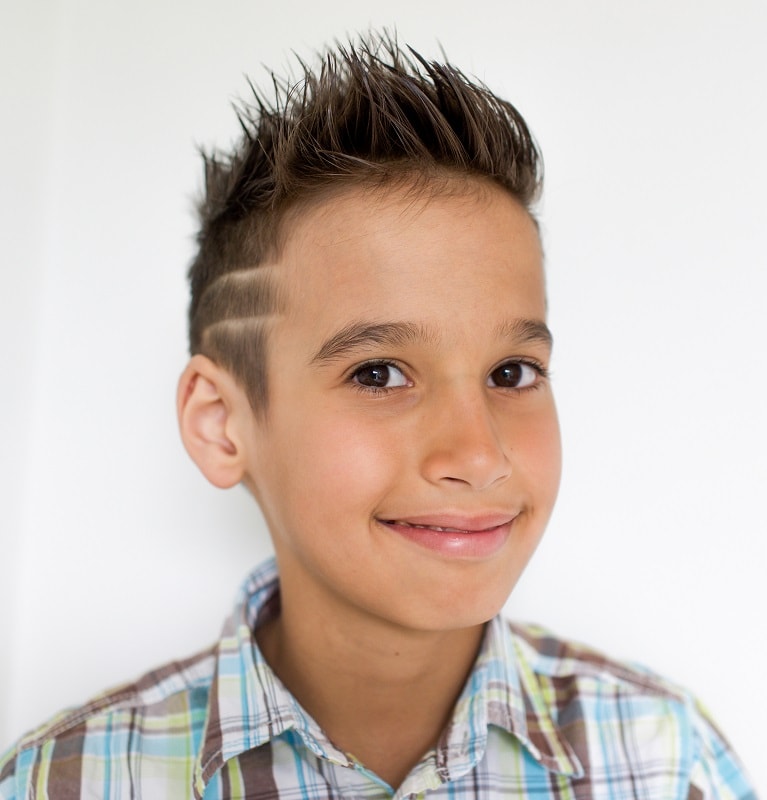 The spiky texture up top combined with faded sides and a shaved in design will make any little mixed boy happy with his new look.
Any of these biracial boy haircuts are wonderful options for parents and their sons to choose from. They're updated, trendy, and sure to make any boy feel and look great.
Since there are so many choices, every boy, no matter what type of hair he has or how thick it is, will be able to find a style that he is going to love.