Loss of a child quotes can hit close to home when this tragedy has happened to you or someone that you are close with. However, they are also one of the simplest and most effective ways that you can tell them, "Hey, I know what you are going through. I'm here for you."
Loss of A Child Sympathy Quotes
These quotes about the loss of a child that we are sharing with your below reflect the sorrow and mental agony experienced by these mothers. If you are one of the mothers in a dark place right now, we sincerely hope that you are getting all the support that you need.
Hopefully, the loss of a child quotes below will help you to feel better, knowing that there are people out there who understands your pain.
1. Parents should never have to go through the experience of burying their own child. I'm very sorry for your loss and may your sweet angel rest in peace up above.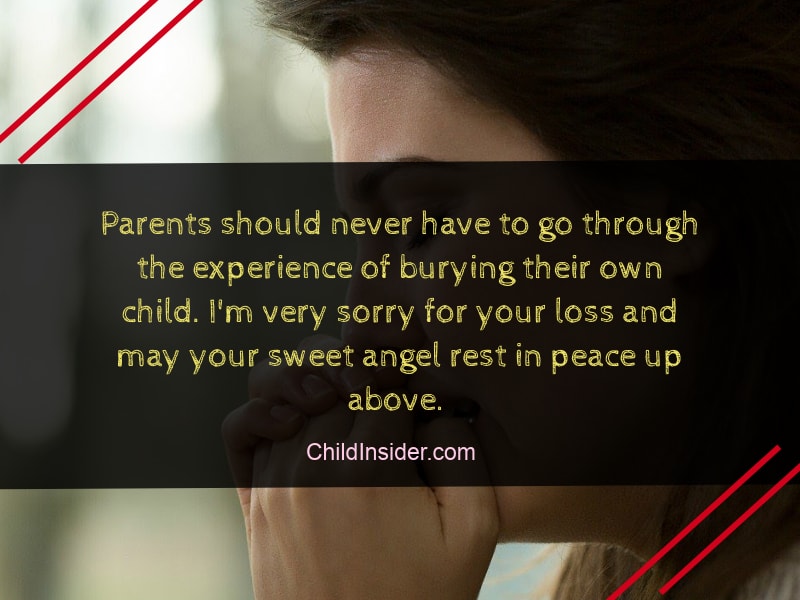 2. It's sad to see a child go before they even reach their prime time. However, your child is now safe forever in God's embrace, amen.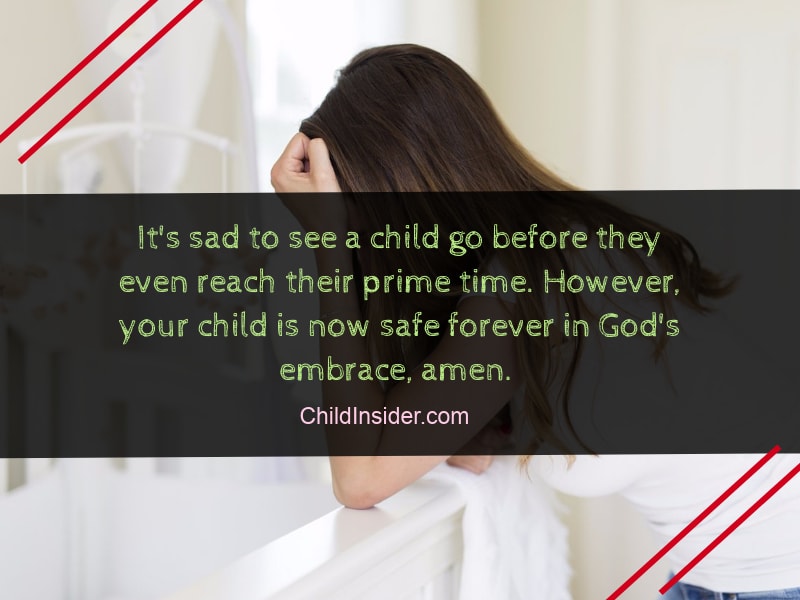 3. We wish you peace, comfort and strength to go through the dark days up ahead, and may the emptiness in your heart be filled again with love from those around you.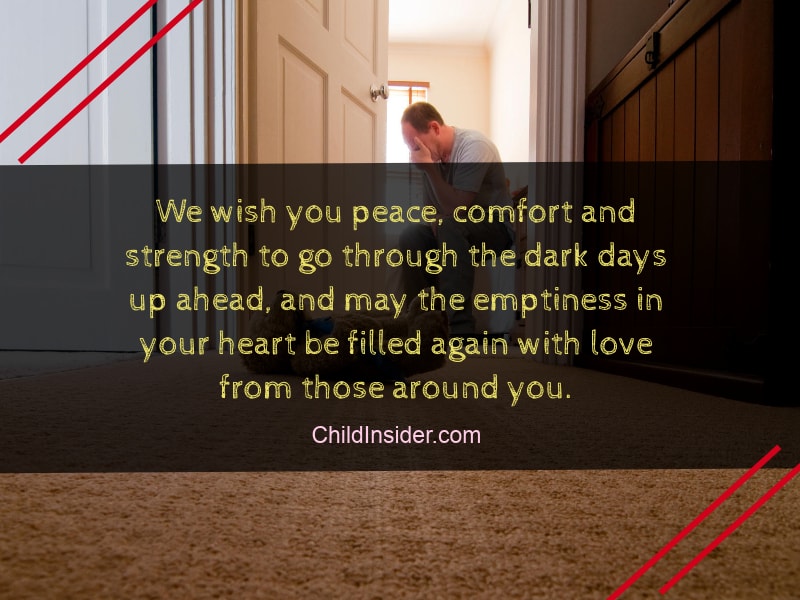 4. Your child was such a bright child loved by everyone. It's so sad to see him go. He will always be missed.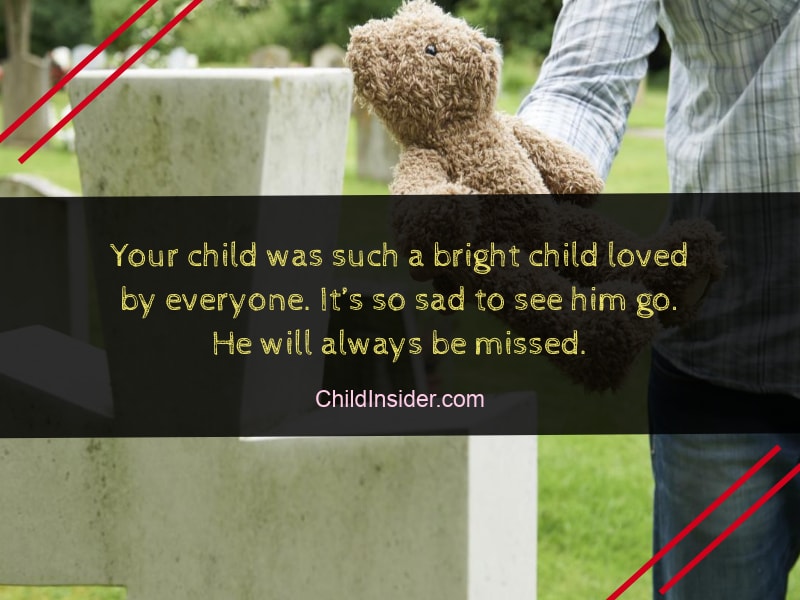 5. I cannot imagine the sadness that you must be feeling right now, and I know that nothing can ever make you feel the same again even after decades. Rest in peace, little angel.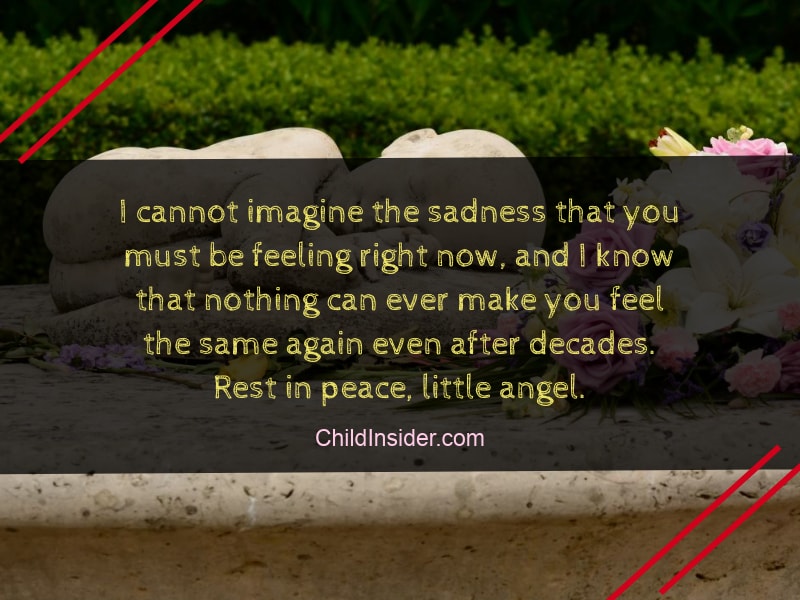 6. May your family be blessed with strength, love and peace knowing that there is plenty of support all around you.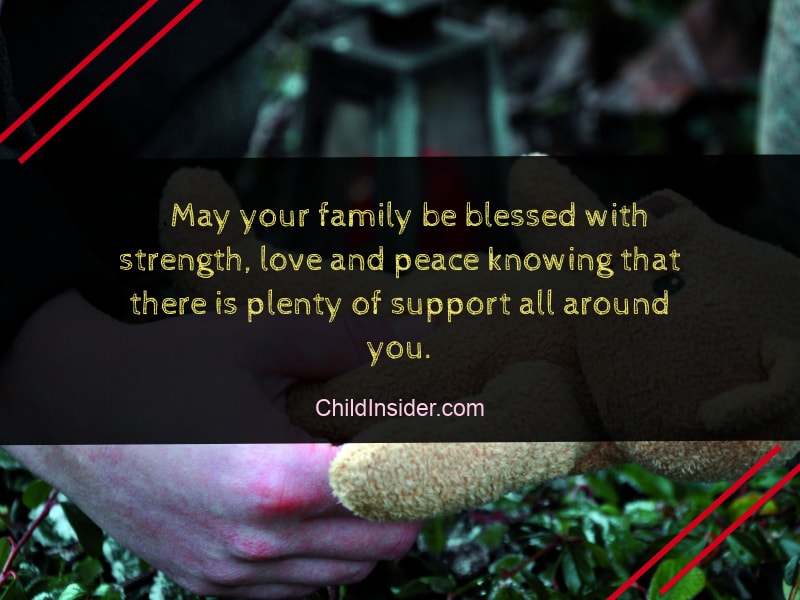 7. I too wish that I can bring your child back, but sadly, nothing can be done. However, if you need a listening ear, know that I'm here.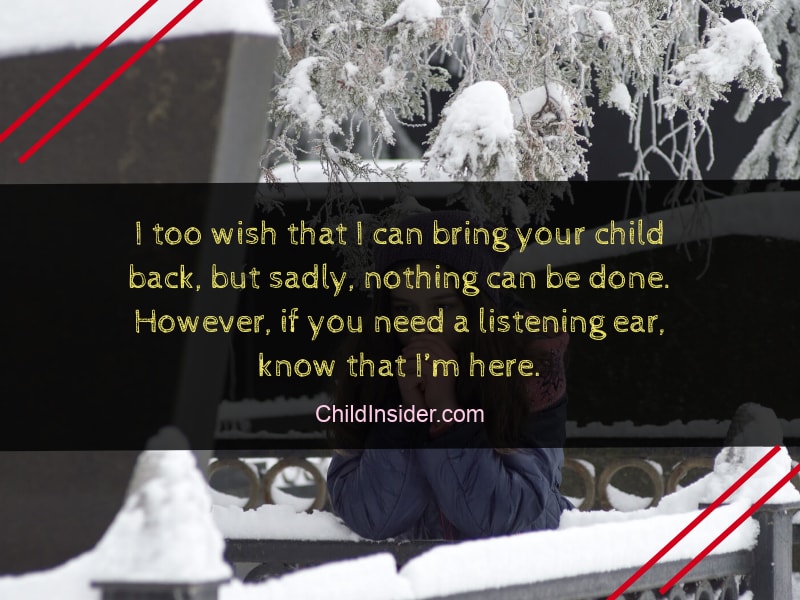 8. Your child was such as sweetheart to everyone, and everyone that has met him/her will definitely miss him/her so much.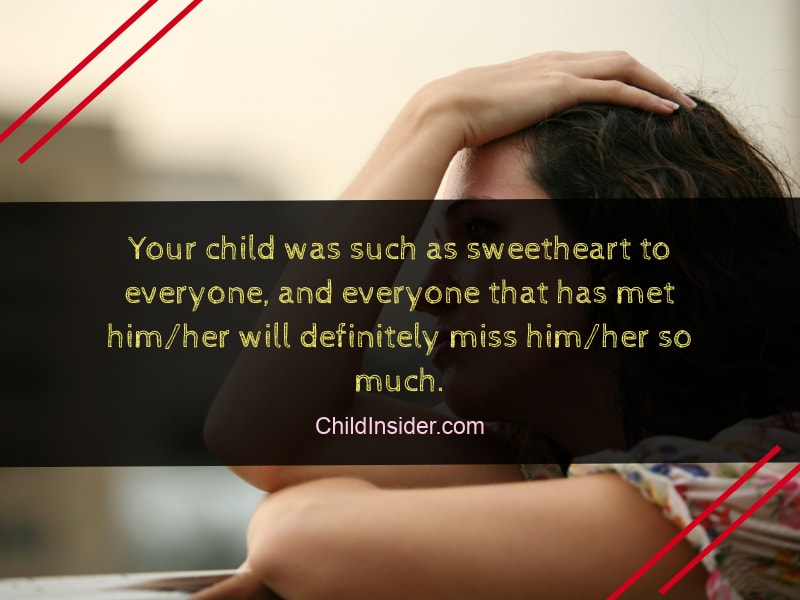 9. I wish I knew the right words to say, but there's nothing that would ever sound right. Know that you are in my prayers for the loss that you have gone through.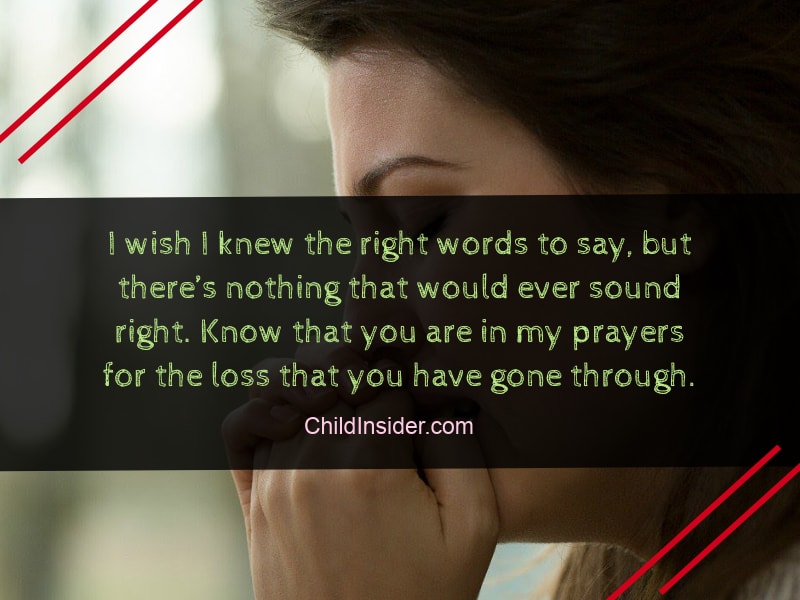 10. I would like to send you all my love and heartfelt sympathies for the demise that has befallen your sweet little angel.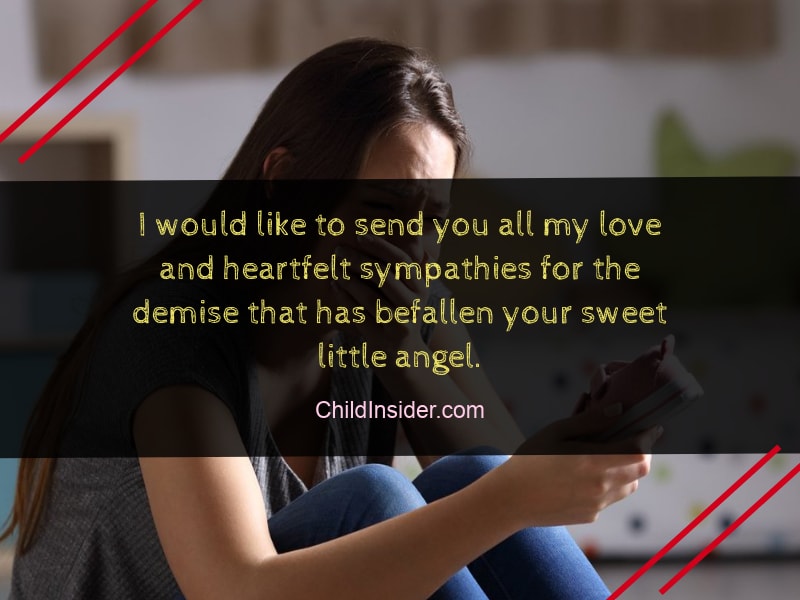 11.The loss of a child is one of the saddest things that you can endure. The memories of your young one will always stay in us.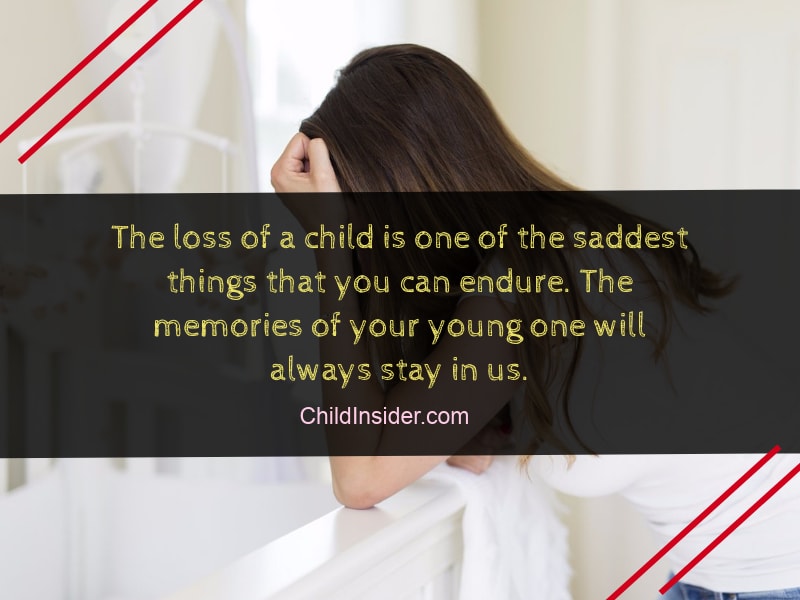 12. May your departed little angel rest in eternal peace. Healing will take time, but remember that God will be with you through your ordeal.
13. I don't know what to say when such a tragedy befalls someone so close to me. I know that this is very painful to you, but know that I'm with you, and so is God.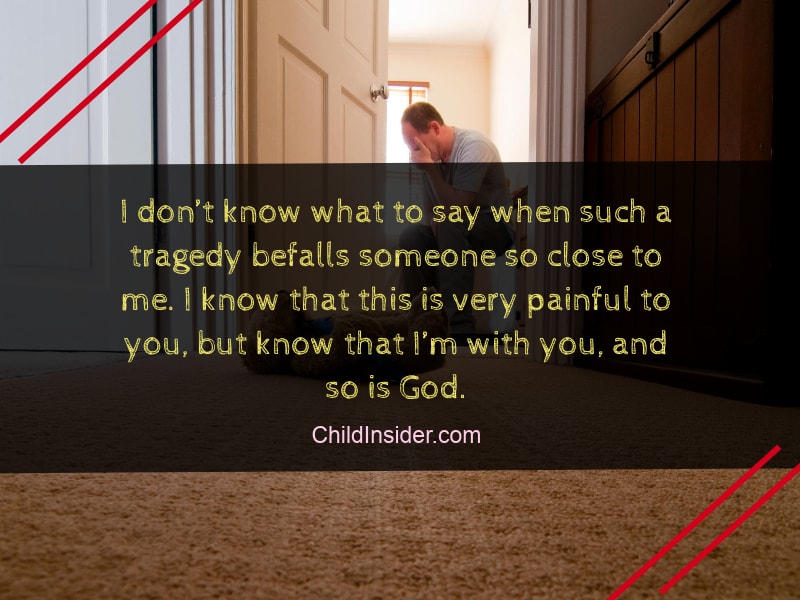 14.My deepest condolences for the loss of your precious child. He/she has brought so much radiance to us in his/her life, and we will miss her dearly.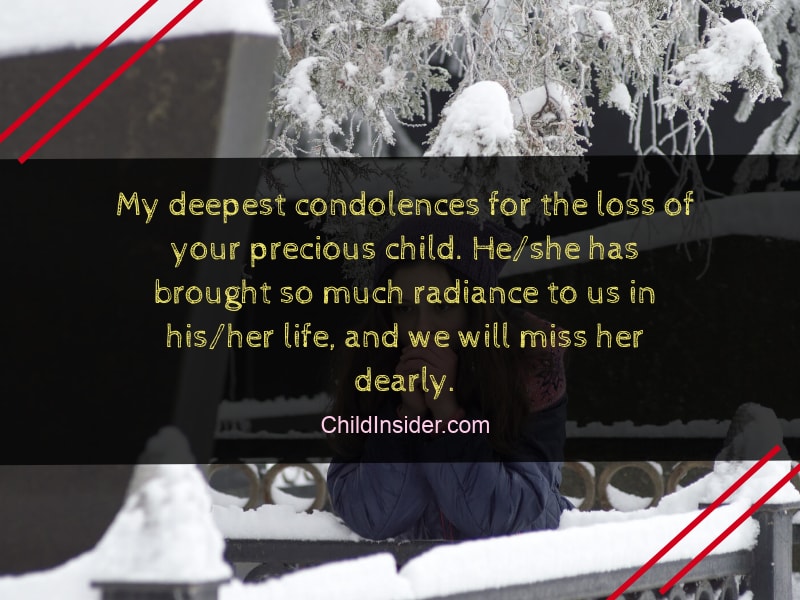 15. There is no greater pain than seeing your baby leaving this world before you. I am sending my sincere condolence to you and your husband.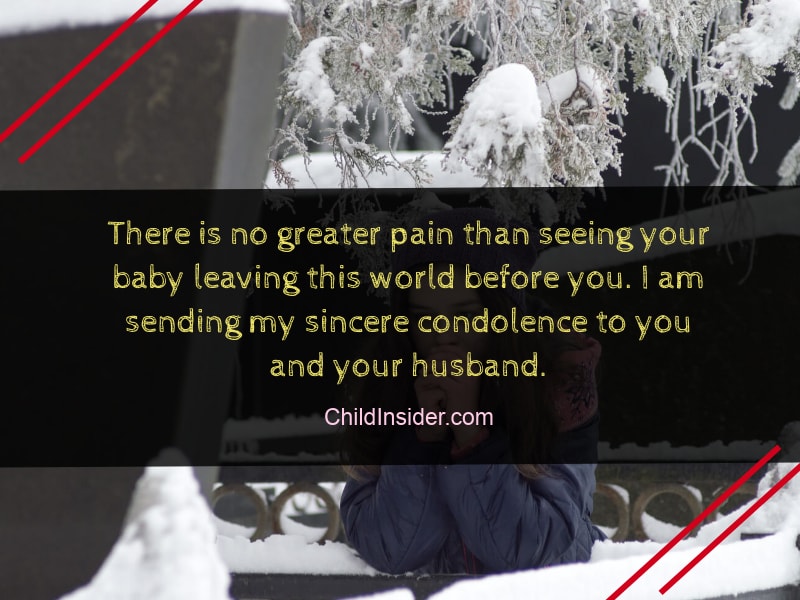 16. Losing a child is simply heartbreaking, and I can only hope you find the strength to endure this horrifying period.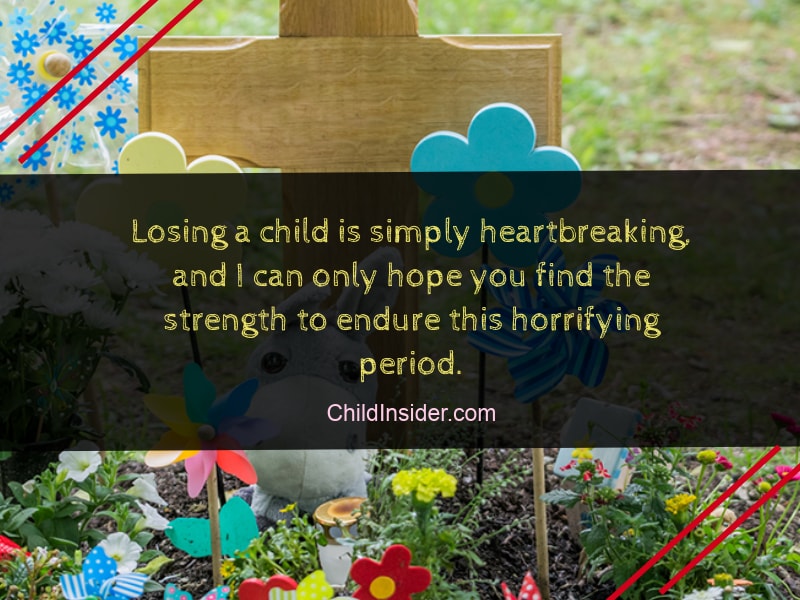 17. Your family lost a child and there are no reasonable words of comfort to make it all okay. Please accept our most profound sympathies.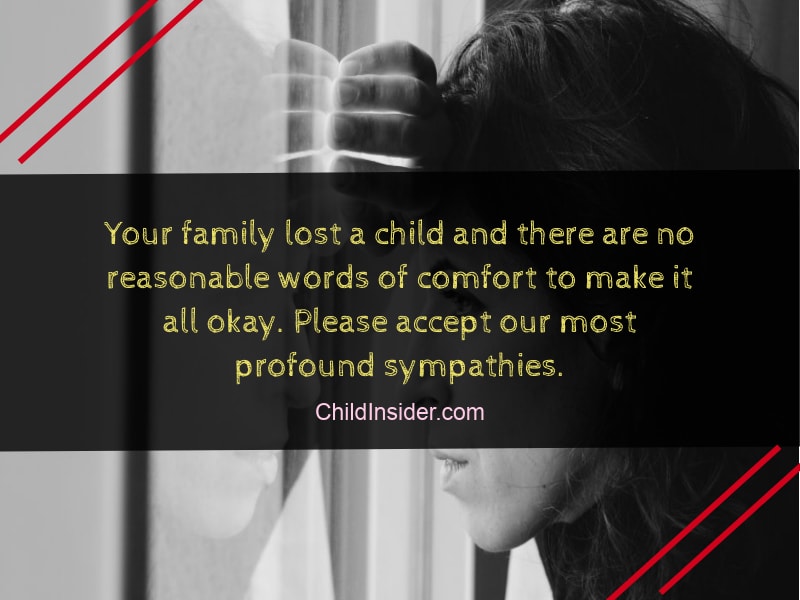 18. Your daughter was a true ray of sunshine, and we lost her too soon. My thoughts and prayers go with you and your family.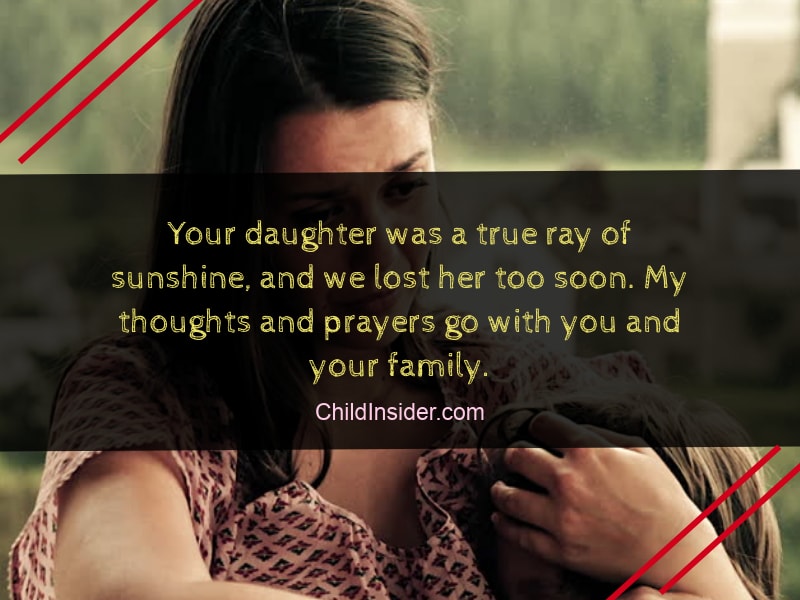 Inspirational quotes about the loss of a child
There will never be the right words in the entire world that will sum up how a mother feels when she loses a child. Similarly, words are only words when we offer them to these mothers. It takes so much more to have the mother feel even just slightly alright again after such an incident. After all, she was the one that gave birth to her baby, and all it took was one unfortunate incident for her to lose the baby she loved so dearly. Here are some comforting quotes about death of a child.
19. A parent's worst nightmare is seeing their child leave this world before they do! Sending our deepest condolences to you and your husband.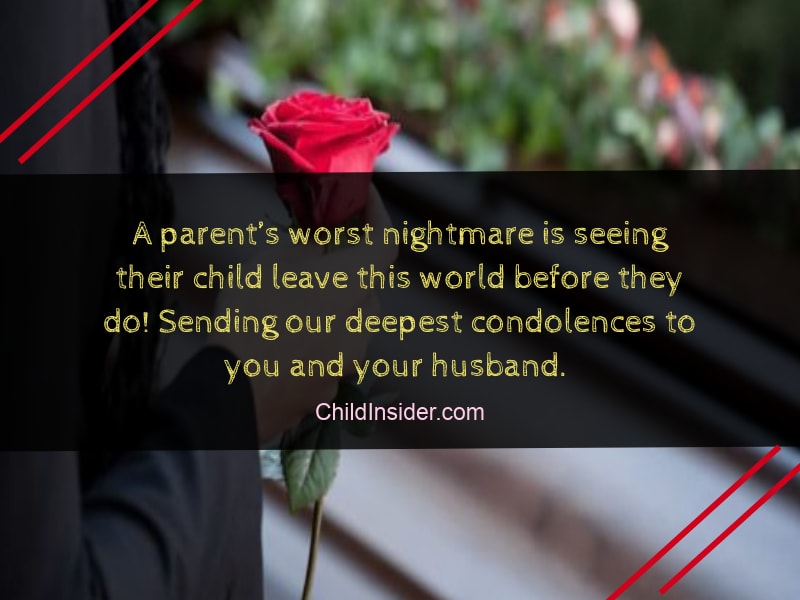 20. No pain compares to the pain of losing a child too soon. I pray that your family finds the power to push through this excruciatingly painful moment.
21. Your son was the epitome of kindness and love. Every ounce of support and sympathy goes to you and your family during these trying times.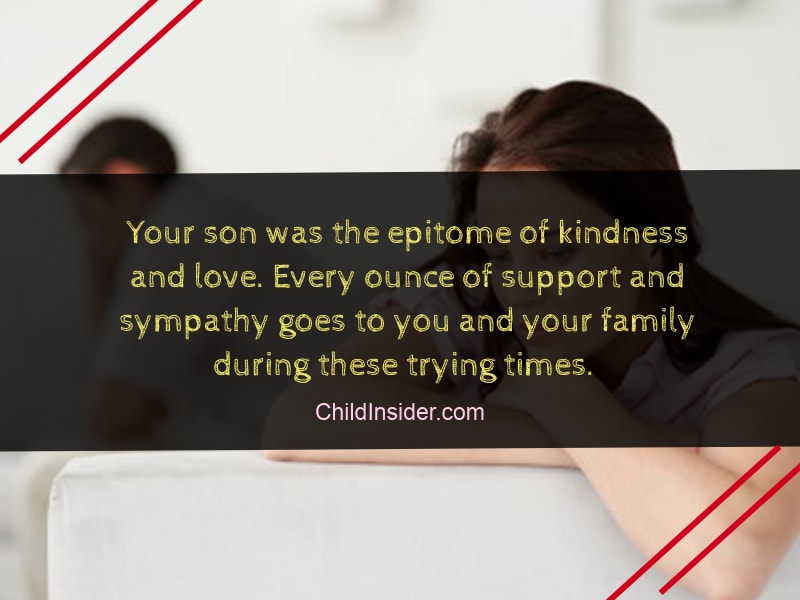 22. Illness asks no questions and knows no age. We are extending our deepest sympathies during these challenging and heartbreaking times.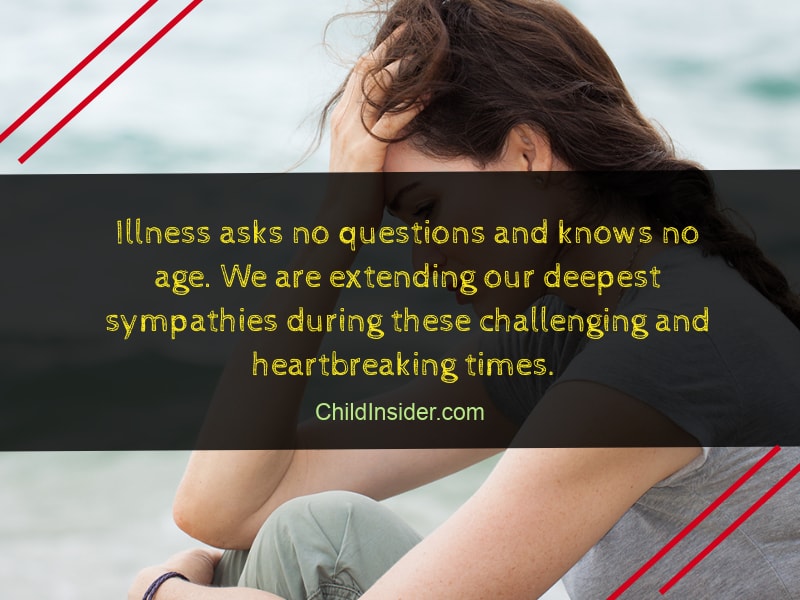 23. It is with great sorrow and heartache that we received the news of your child's passing. Know that you will forever have our support and love.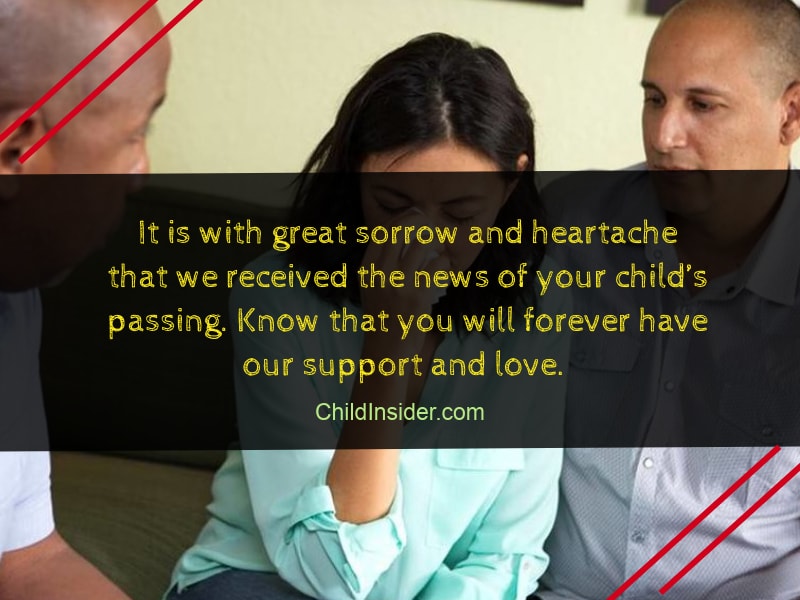 24. Life can be illogical and to lose a child is dreadful. Please know that we are by your side every step of the way.
25. To lose a child is dreadfully tragic. Please find the strength to be there for your children and cherish the memories you had with your baby.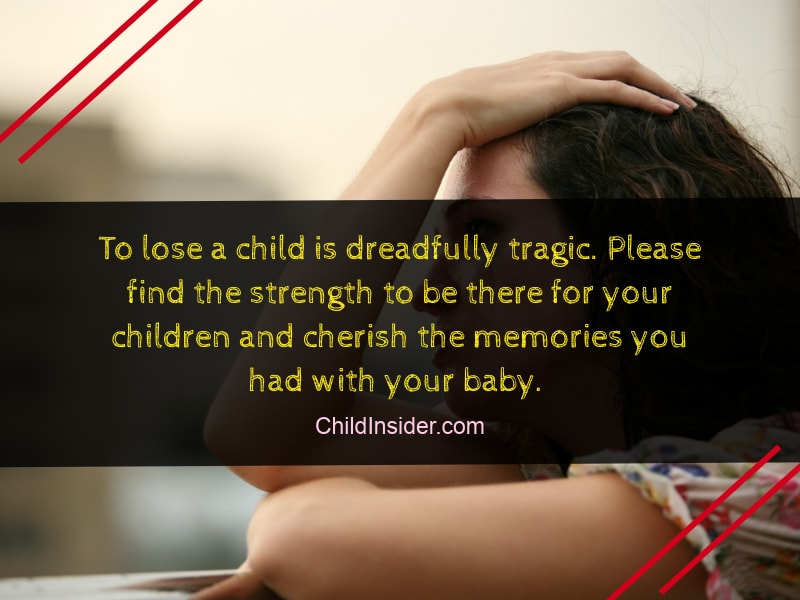 26. To hear about your daughter's passing is extremely disturbing, but know that your baby is now watching from heavens, keeping your family safe.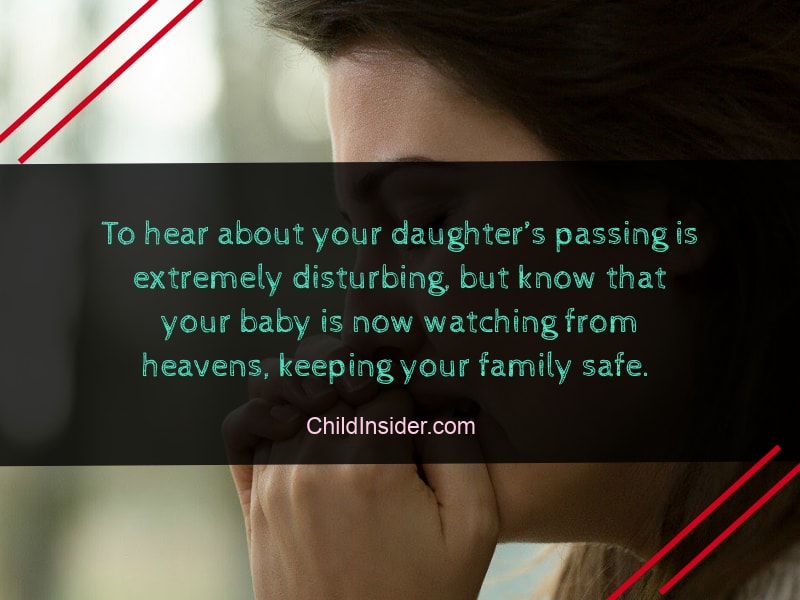 Sympathy quotes for loss of a child
Mothers who lost a child need more support than any other mothers in the world. They need to be reminded that the incidents are not their fault and that they should not be blamed. These mothers need to be reminded, again and again, that they are loved and their child will be safe with God. The pain of losing a child can't be comforted by quotes, that's the fact. But you can show the sympathy with those quotes about losing a child early.
27. Parents never imagine living a life without their children by their side, but death plays a dirty game. We are heartbroken and sending our sympathies.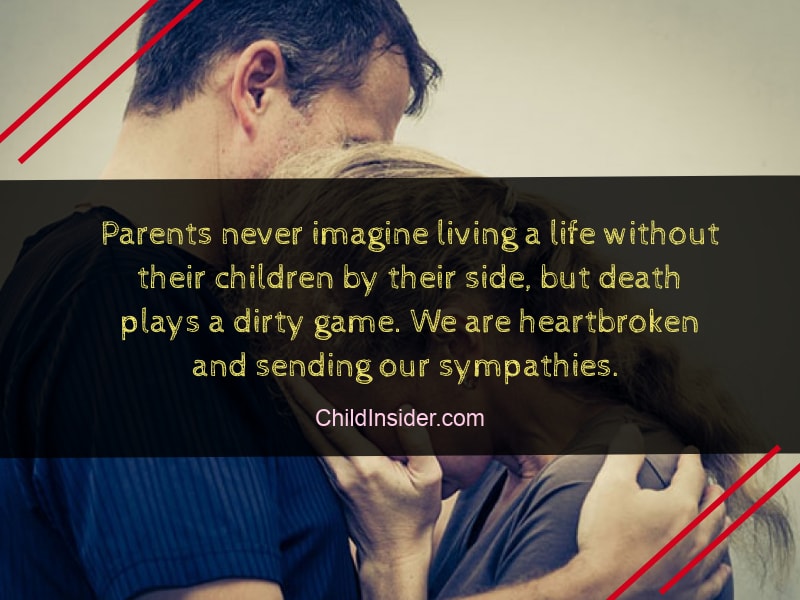 28. There is a time to be happy, and a time to grieve. Sending our most sincere condolences on the loss of your child.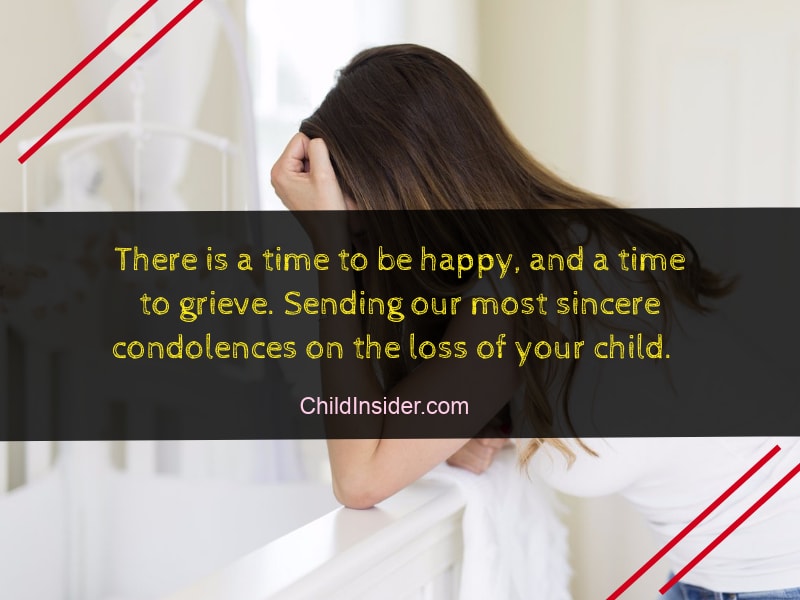 29. Keeping your faith after losing a child can be excruciating and unthinkable. We hope you'll find the strength to overcome these traumatic times.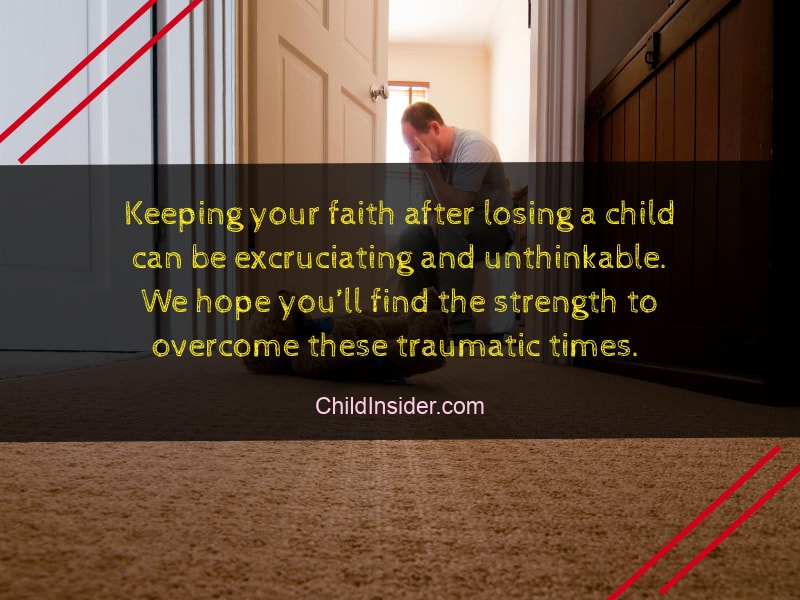 30. Sending our condolences, following the passing of your baby. Find solace in knowing she was loved and cared for by everyone.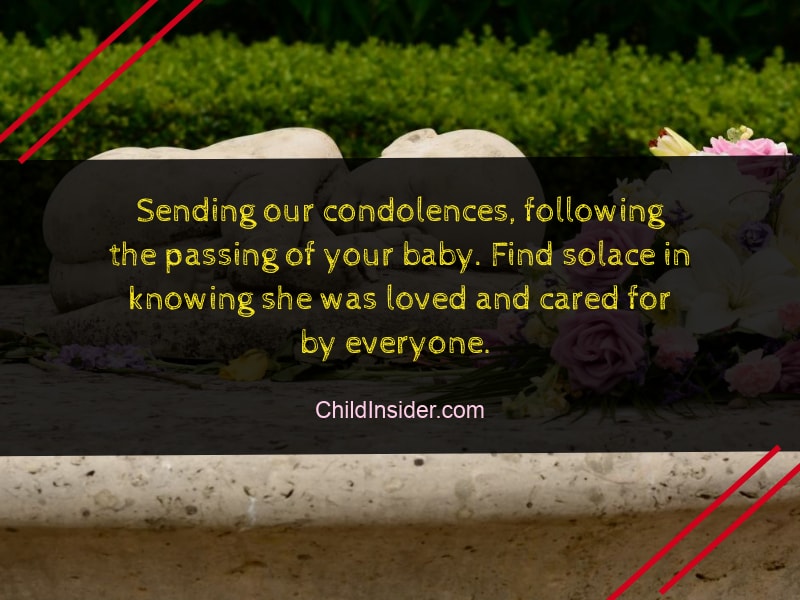 31. It is almost impossible to overcome the death of a child. Extending my deepest sympathies following the loss of your sweet boy.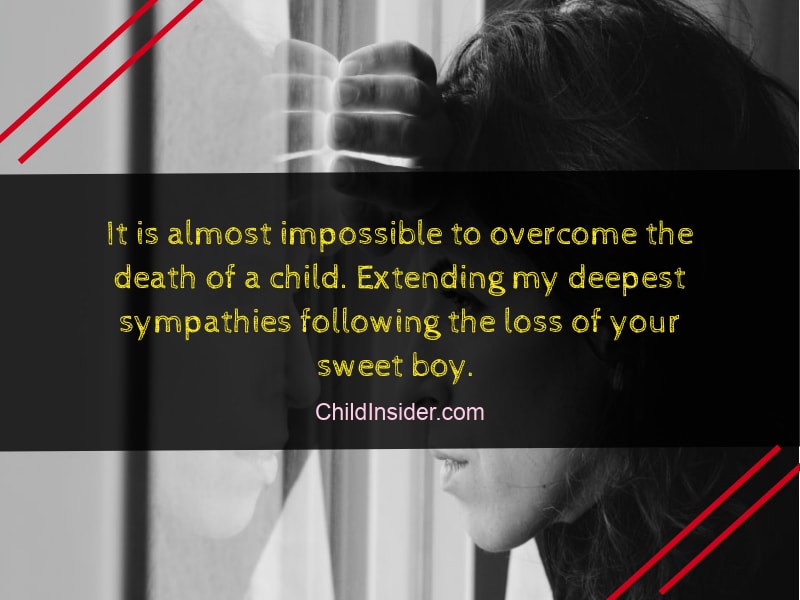 32. Sending our most profound condolences following the loss of your child. We are by your side every step of the way.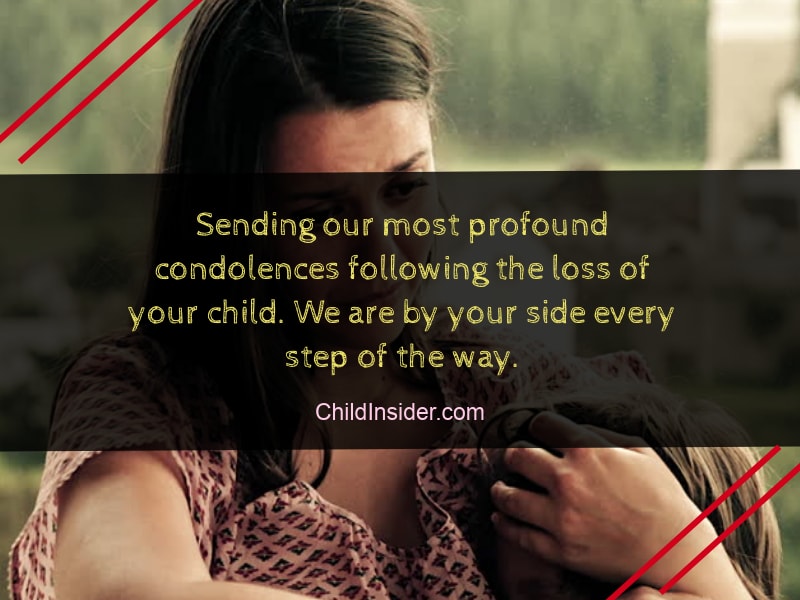 33. To lose a child is traumatizing to the heart and soul, but we hope you'll cherish the unbreakable bond you and your baby shared.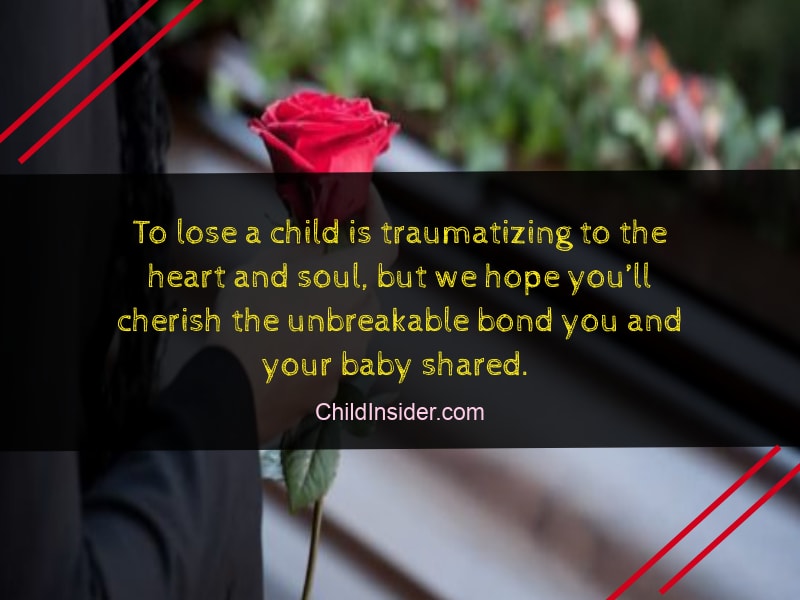 34. You lost your child, and there is no destiny harsher than that. Please accept our condolences and know we are praying for your family.
35. Losing a child is more than tragic, but please know that you did everything right and that we're here for you.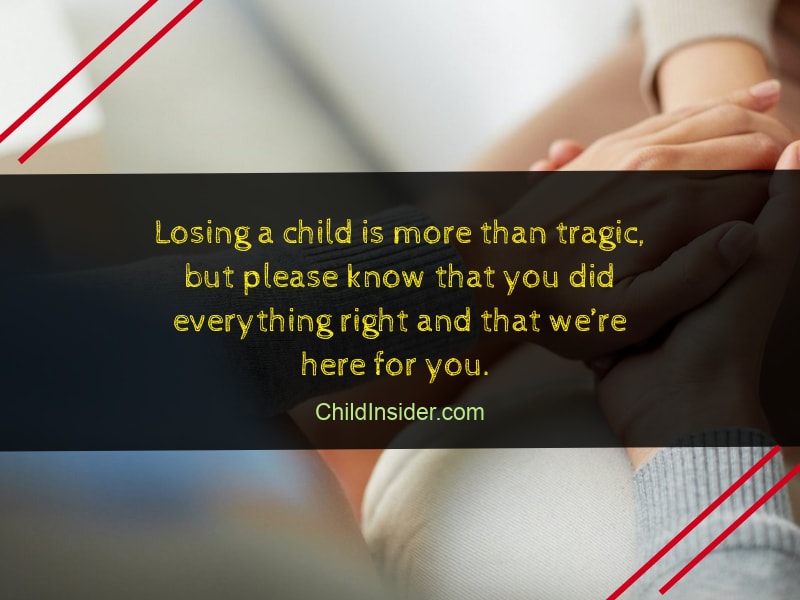 36. No one can know what you are going through, except for your family. Losing a child is excruciating, but please know that we are right by your side.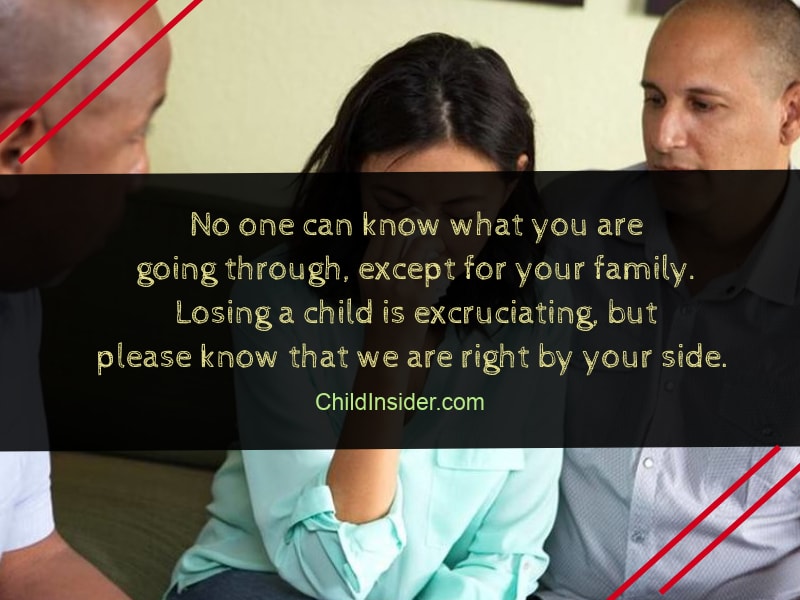 37. While no one can measure your loss, the love for your child will carry on to live forever. Sending our sympathies and condolences, with a prayer of brighter days ahead.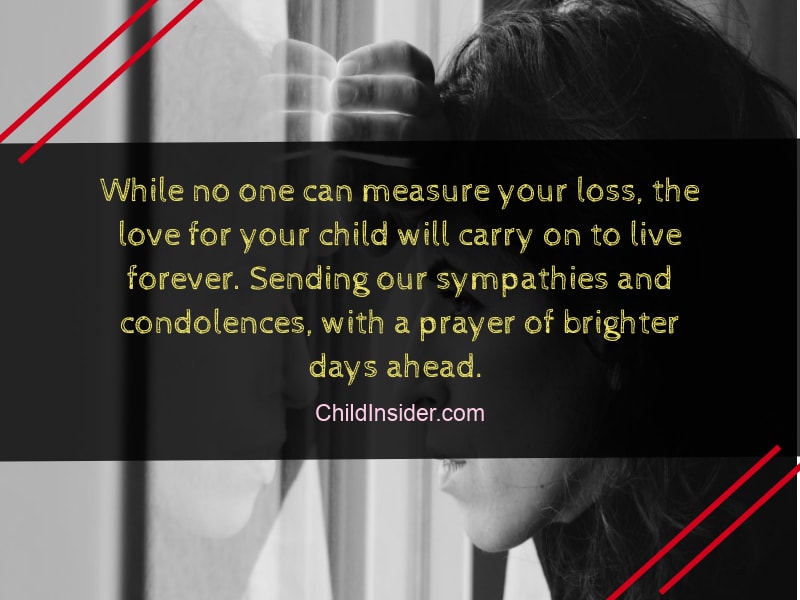 38. No one can really prepare you for the loss of your child, but please find comfort in knowing that baby is no longer in pain.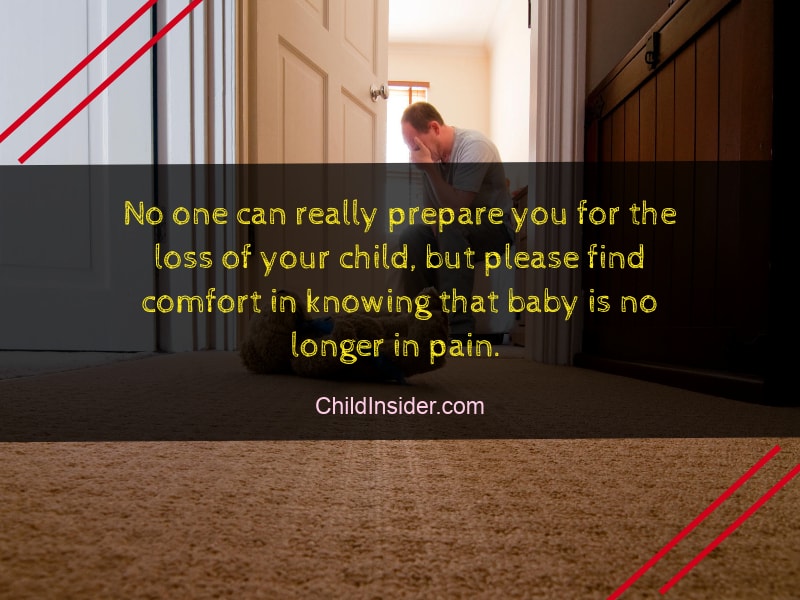 39. I cannot imagine your suffering after losing your daughter. Our thoughts and prayers go with you and your family.
40. The only solace for a parent who has lost their child early is that they are being taken care of by God somewhere up there, free of pain and worries.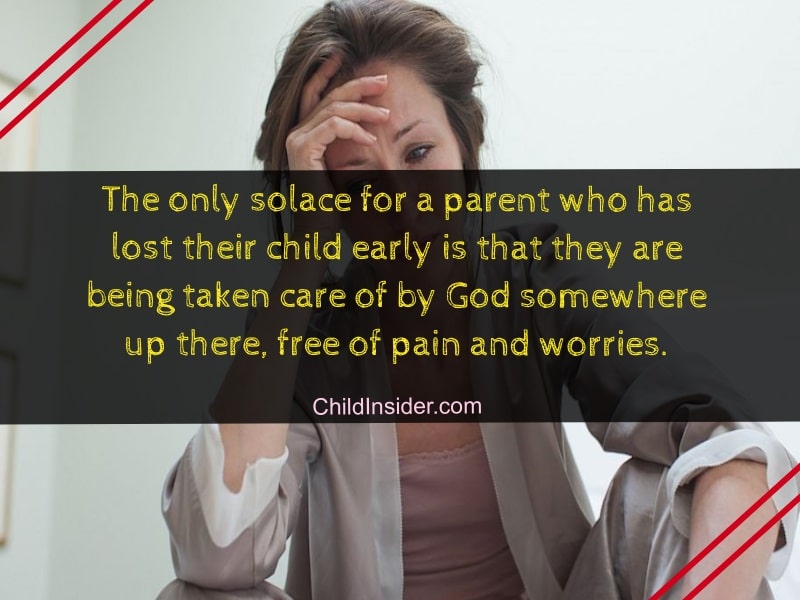 41. Whether it's a newborn or a full-grown adult, a parent will never be able to bear with the pain of losing their own child. It's an experience that no one should ever have to go through.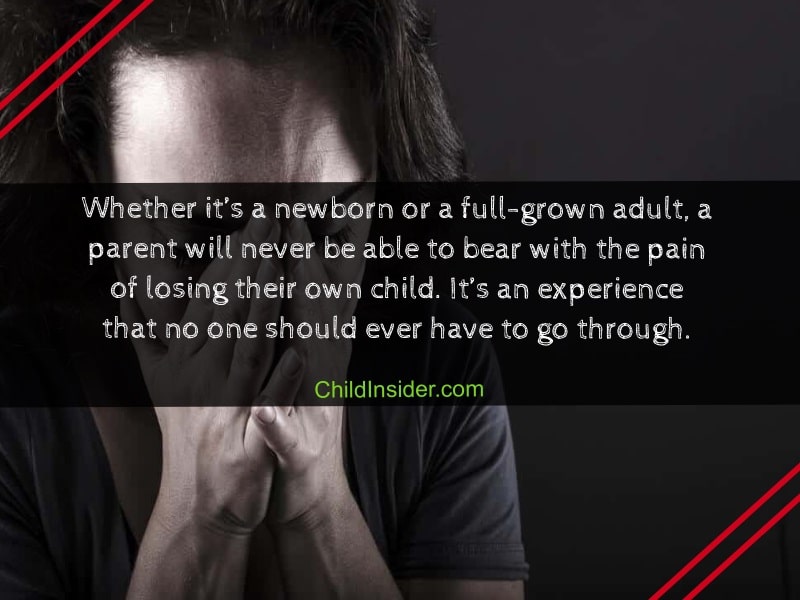 42. Hopefully, no one will ever have the mourn the loss of their child in the future. Hopefully, this pain will spread to no one. We can only hope, but how likely is that to come true?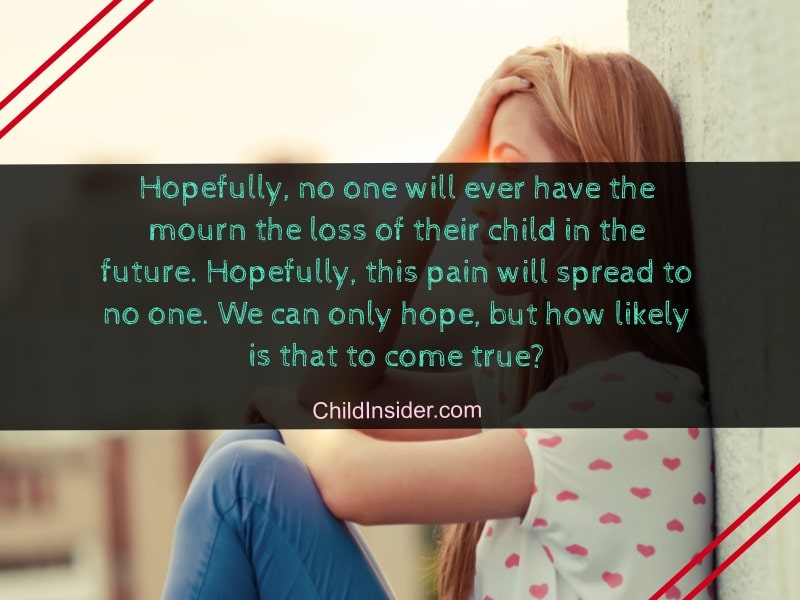 43. Don't try to console a parent who has just lost their child. There will not be any right words or actions. Just give them your presence, your companionship and any help that they need.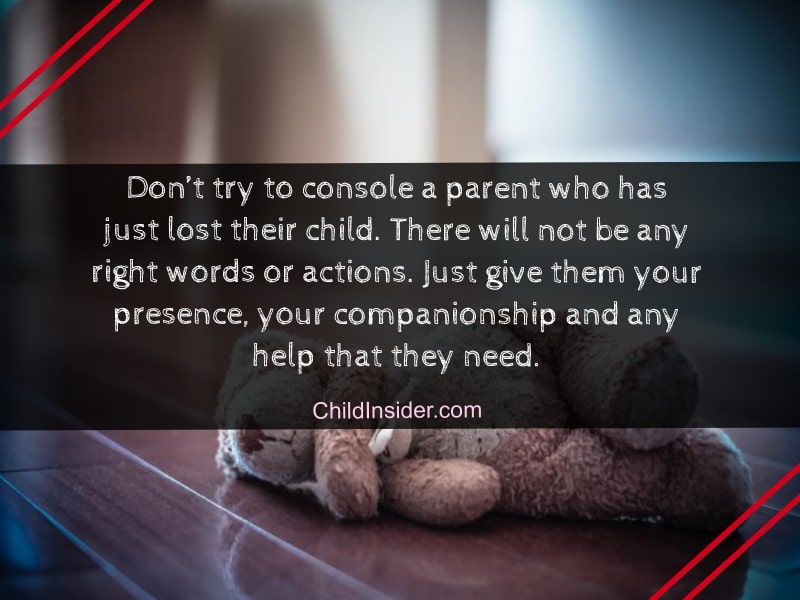 44. The loss of a child, no matter recent or long ago, will always leave a scar that cannot be removed for the parents. It's an experience so painful that it will stay for life, and rightfully so.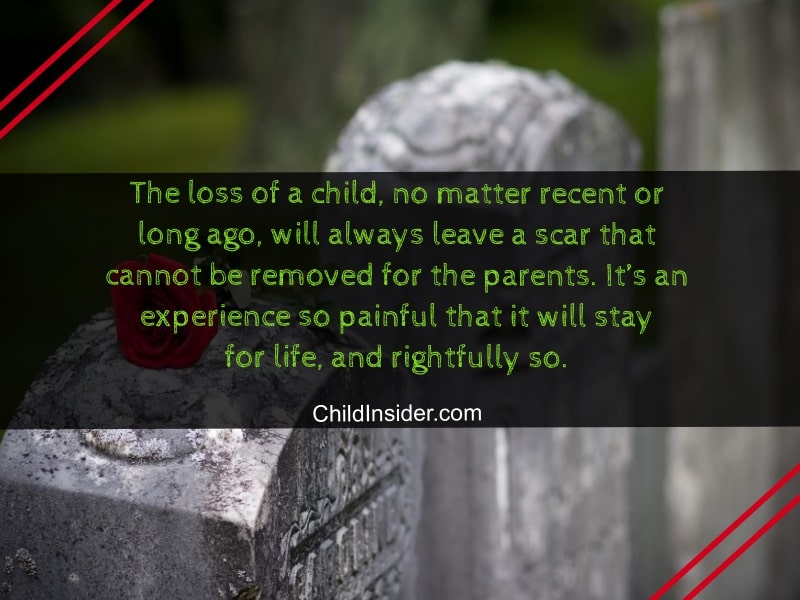 45. Take extra care of a parent who has just lost their child, for their minds will be clouded and their hearts dark, sad and inconsolable.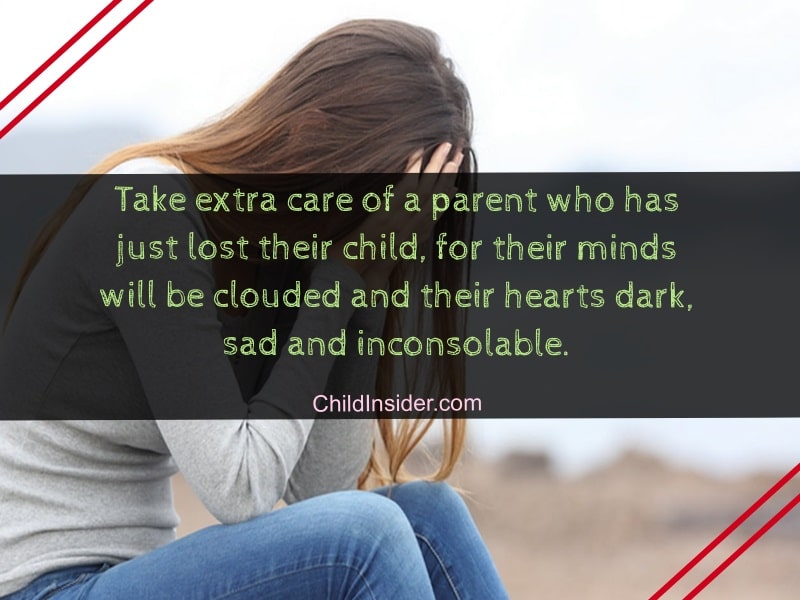 We hope that you never have to relate to these loss of a child quotes. However, if you do, we wish you nothing but the best in going through this tough time of your life. Always remember that you are loved, and God has His reasons for doing what He does.