Whether your little one is in the wedding party as a flower girl, bridesmaid, or an honoured guest, this list of beautiful little girl wedding hairstyles will come in handy when deciding what to do with her hair. With a range of difficulties, there's something that everyone can achieve for a perfect special occasion hairstyle.
Latest Wedding Hairstyles for Little Girls
Check these amazing little girls wedding hairstyles to choose one for your little lady all dolled up at weddings.
1. Fishtail Braid into Bun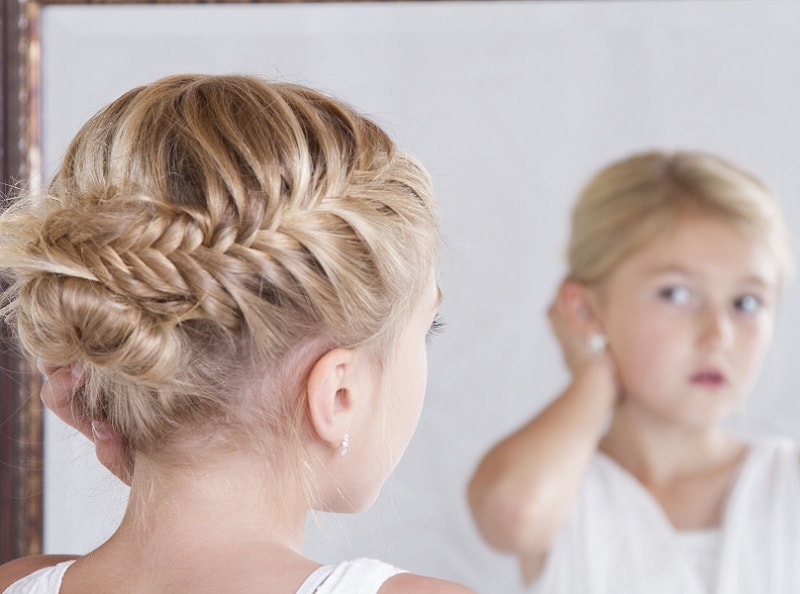 Fishtail braids, where the hair is braided in such a way as to be tucked in and under itself, always look neat and well put together. The bun is becoming an increasingly popular wedding hairstyle for little girls and is a great way to keep hair tidy and out of the way, for a wedding this is ideal!
2. Long Blonde Hair
Wavy long hair on little girls has an instant princess look perfect for special occasions such as weddings. Whether your little girl has natural curls you simply enhance, or you achieve them by using heat, braids or rollers, curls are a classic, timeless look.
3. Braid with Flowers
Flowers and little girl wedding hairstyles are a great mix! Little girls love the fairytale look of having natural or artificial flowers in their hair, and it's easy to match them up with the other wedding colours and flowers. Braids are great for weaving flowers into as they can hide supporting pins and clips quite easily.
4. Curly Chignon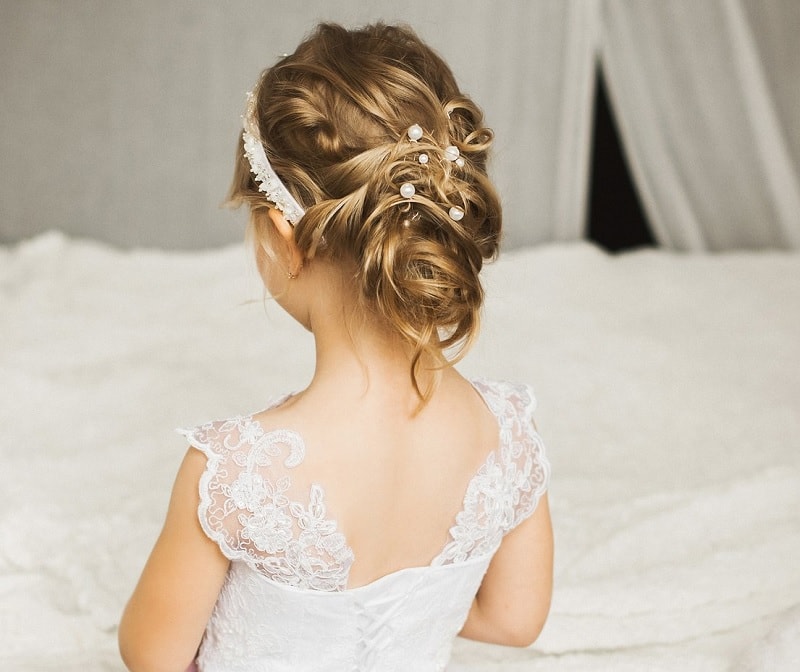 A chignon is a bun tied towards the nape of the neck. This loose chignon style has more of a relaxed look than a traditional bun and can be accessorised with embellishments that fit the look of the wedding for little girls.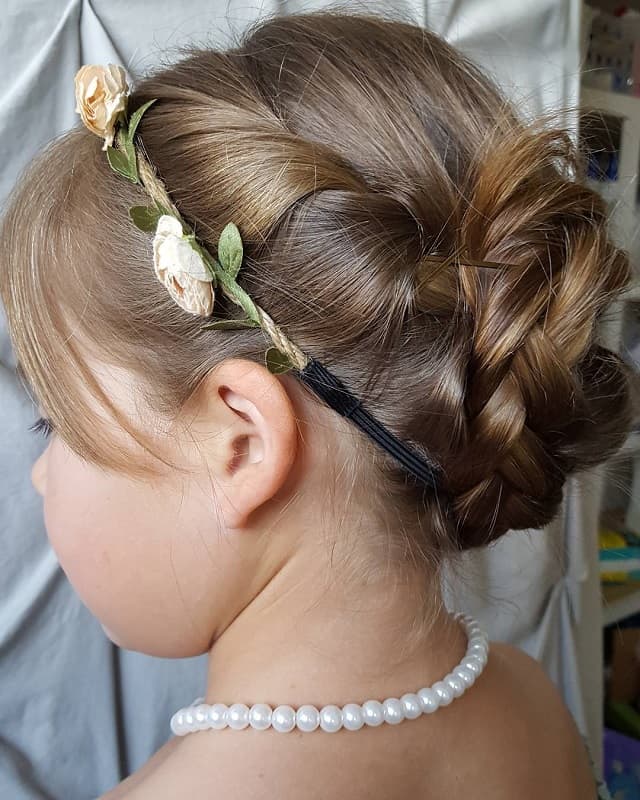 Using braids to add interest to an updo is a simple way to use braiding skills. Updos can be popular as little girls wedding hairdo for a variety of reasons but one of them is that often summer weddings can get very warm, especially the parties afterwards and little girls love to tear around; running, playing and dancing so an updo can help to keep them cool.
6. Big Buns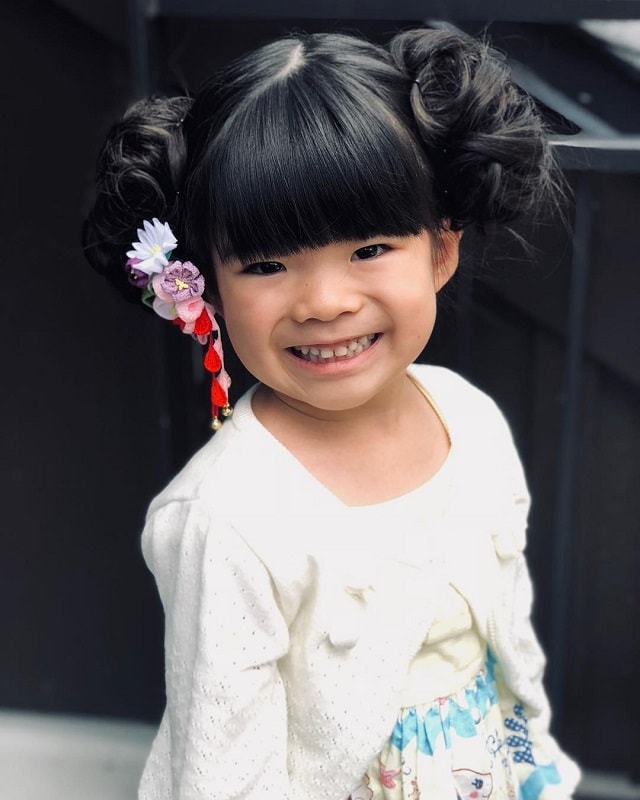 Big intricate buns look super cute on little girls and are pretty easy to achieve, no detailed weaving or braiding techniques are required, unless you want them to be of course! This look also has echoes of Princess Leia, perfect for Star Wars fans.
7. Half Braided Mohawk
Using cornrow braids to control and contain curly hair is a common technique when it comes to little girl wedding hairstyles, but this also makes the most of the hair by leaving some loose to show off its natural beauty. The best of both worlds!
8. Face Framing Braid And Curls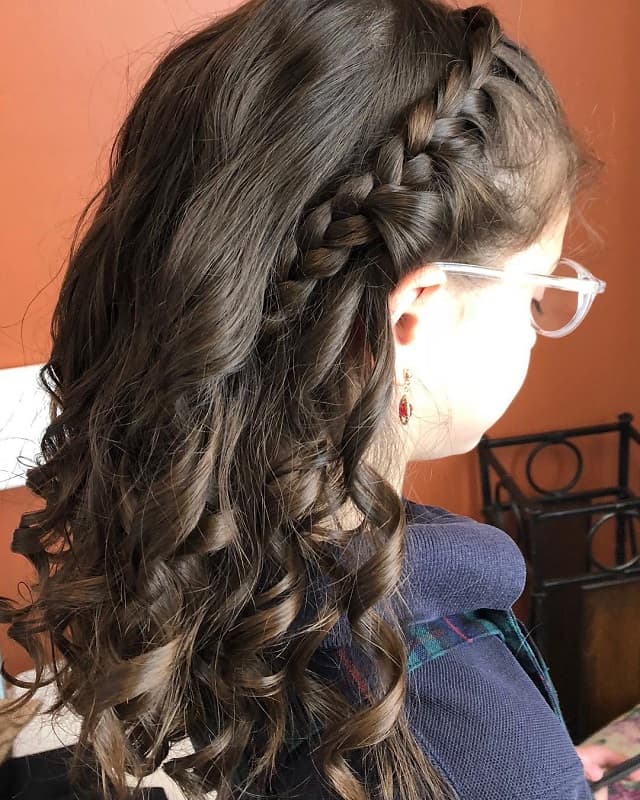 Using a braid to draw hair away from the face and create a 'frame' is a great, practical idea for adding a little interest to a loose, natural hairstyle. It allows the little girl to wear her hair loose, which looks adorable but keeps it neat and away from the face.
9. Hairband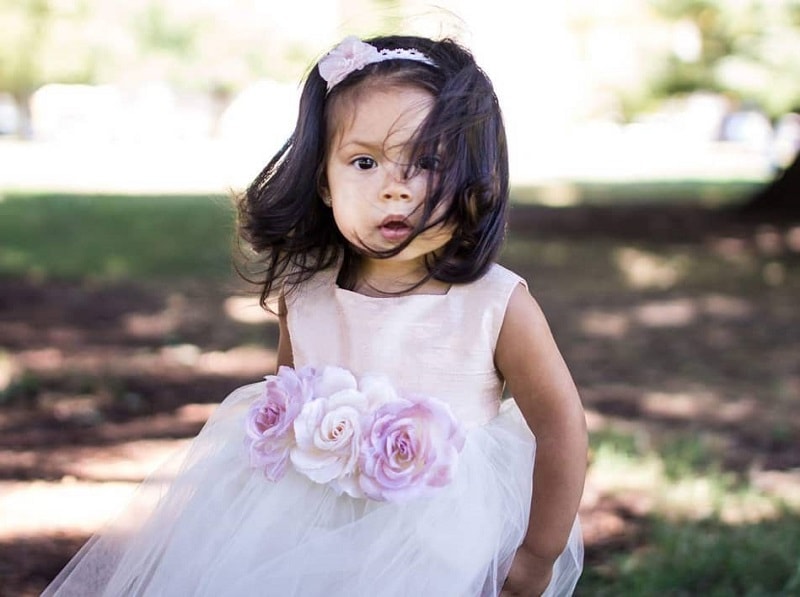 A hairband is another great wedding hairstyle option for toddler girls in particular. The hairband can be matched to suit the style of the wedding and match the little girl outfit and will keep the hair pushed back from her face without interfering too much.
10. Braid Crown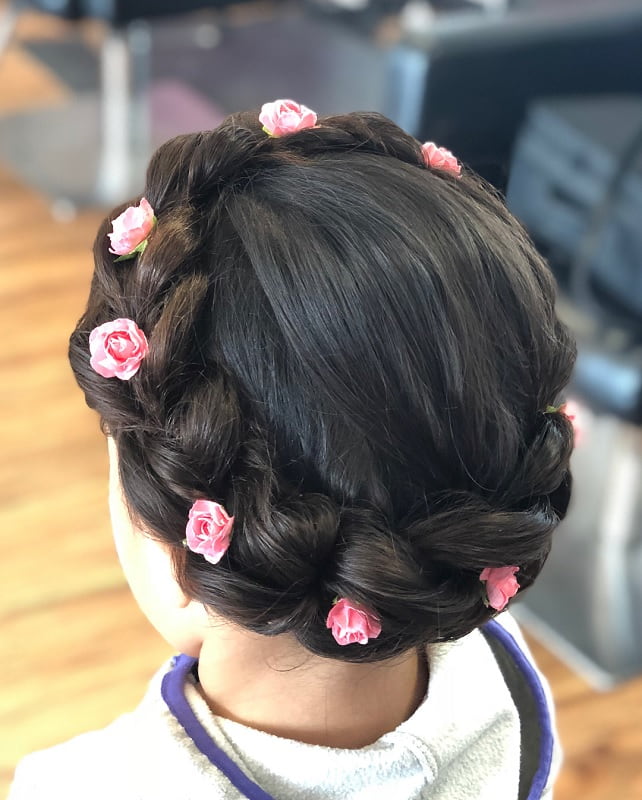 Using a braid around the head a crown is a classic little girl wedding hairstyle and with good reason! It is as practical as it is beautiful, keeping hair neat and contained, and little girls absolutely love it because it is such a regal, princess-like style.
11. Flower Crowns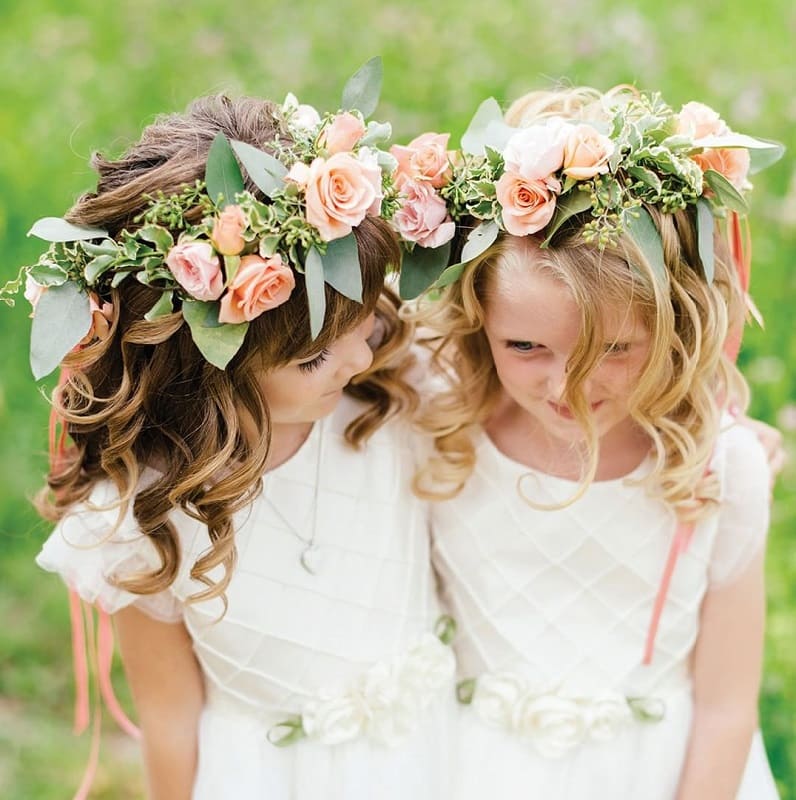 Another classic of little girls wedding hairstyle is the flower crown! Flower crowns have dipped in and out of fashion for older bridesmaids but have remained a timeless, classic for little girls.
Conjuring up images of both fairies and princesses they really suit earthy, boho-inspired weddings as well as elegant occasions as the flowers and the look of the crown can be specifically tailored to match.
12. Woven Flowers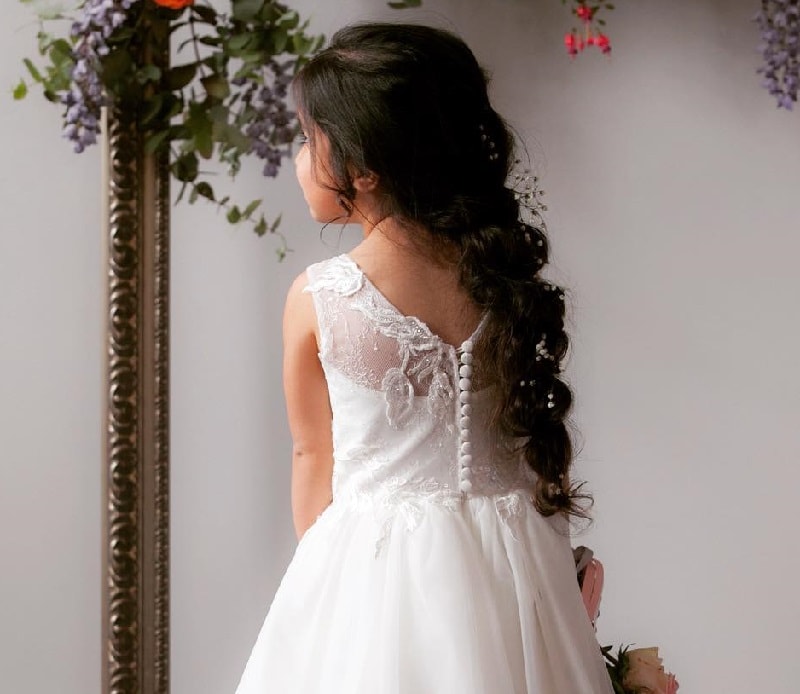 Weaving flowers through the hair add to the special occasion look. Different styles of weaving and flower placement can be used to suit the style of the wedding and the style, length and texture of the little girl's hair.
13. Head Jewellery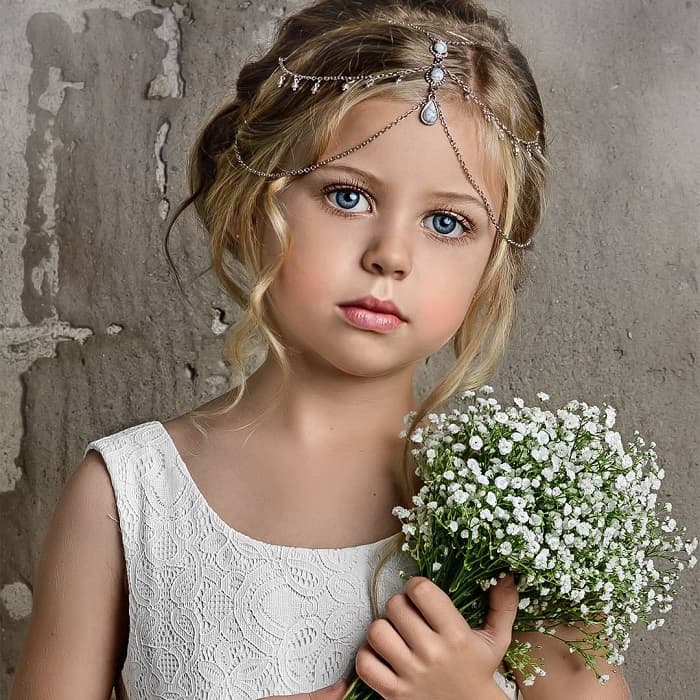 This is an extremely unique and striking look but certainly gives off a sense of occasion. Sparkly headpieces can be used on girls with all sorts of hairstyles to create this 80s hairstyle.
14. Dutch Braid to Bun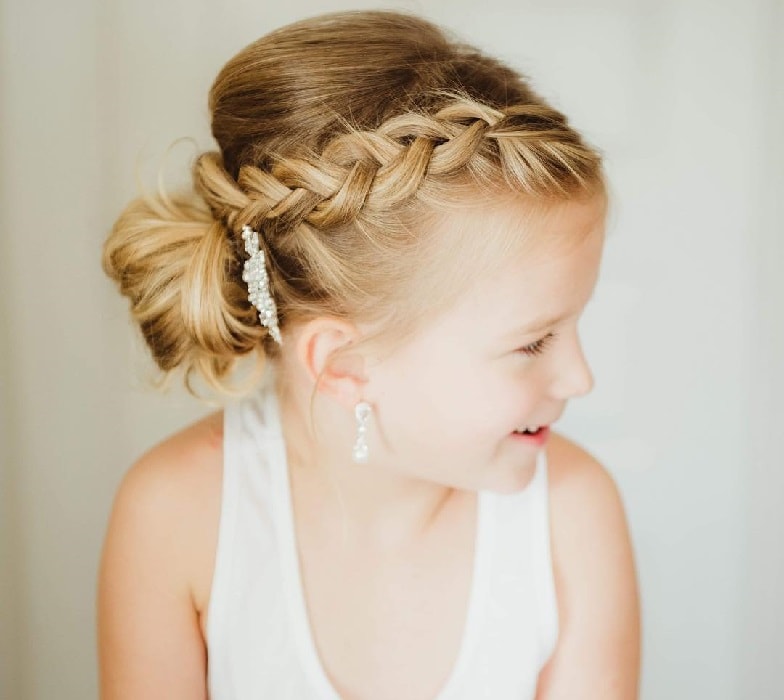 Dutch braiding is almost the opposite to French braiding, it uses a similar technique but causes the braided hair to sit up on top which really emphasises the braid.
The bun is becoming very popular with little girls in general but also in wedding hairstyles for little girls in particular, and used in this style gives a lovely finish to the look.
15. Braid Headband and Bun
Taking a braid across the front of the head, from one side to the other, creates the look of a headband. This gives a great focus point at the front whilst simultaneously keeping hair off the face. A braided bun also looks super intricate and worth of a special occasion whilst actually being pretty simple to achieve.
16. Braided Bun on Top of Head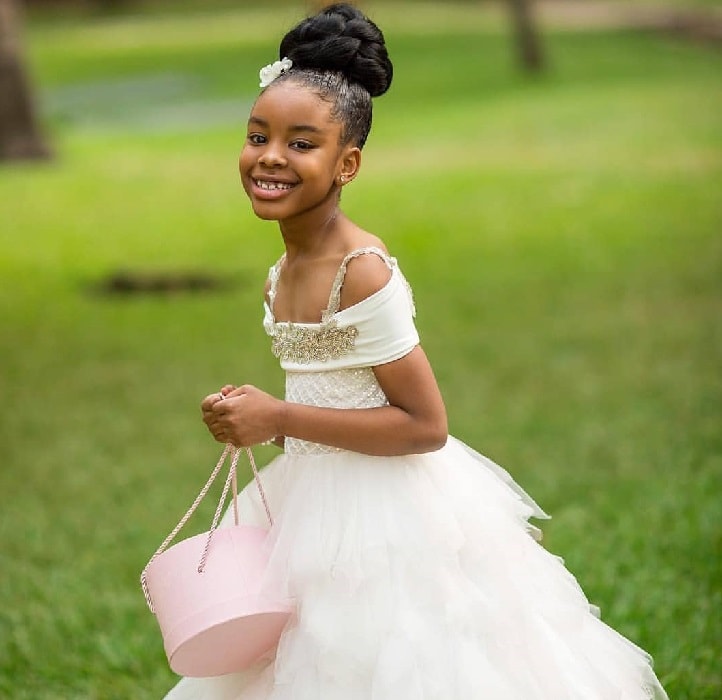 If you're looking to keep little girls cool whilst looking elegant at a wedding then this could be the hairstyle of choice. The braiding adds interest to the pun and having it up on top of the head adds instant elegance to the look.
17. Hair Corsage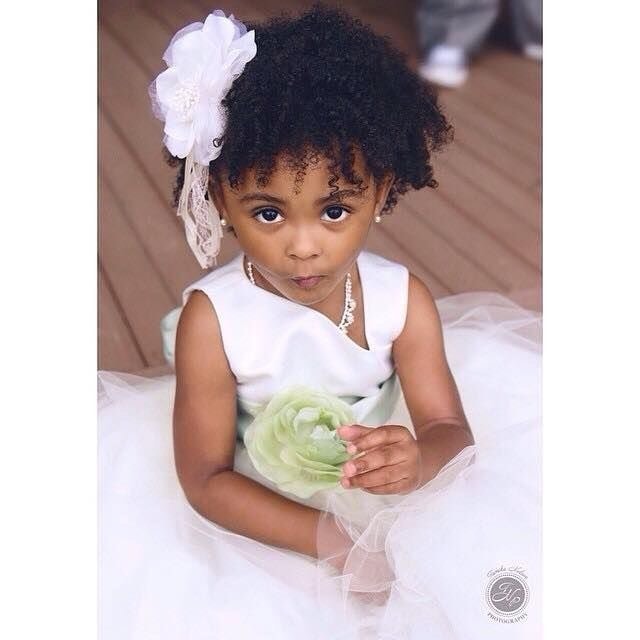 A clip in corsage whether made with fabric or fresh flowers is a great look for a wedding. It adds instant glamour to an outfit and hairstyle which is perfect for a special occasion.
It also allows you to leave the rest of the hair down and show off the natural style and texture, which is a great option for lots of little girls curly hair and especially those who don't like having their hair braided or tied back.
18. Loose Updo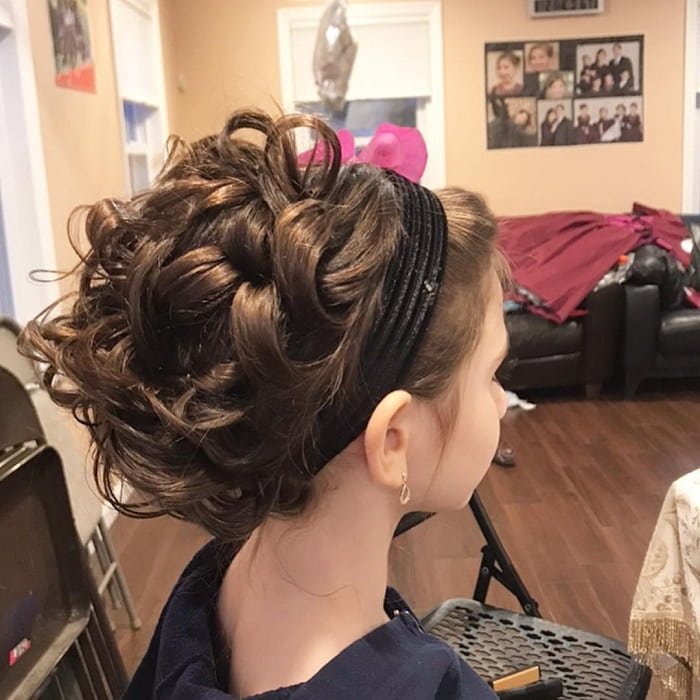 Little girl wedding hairstyles can borrow from women's occasion hairstyles to achieve very sophisticated looks, like this loose updo. Seeing these grown-up styles on little girls gives a real sense of importance to the occasion and many little girls love to have their hair done like this.
19. Braids with Ribbon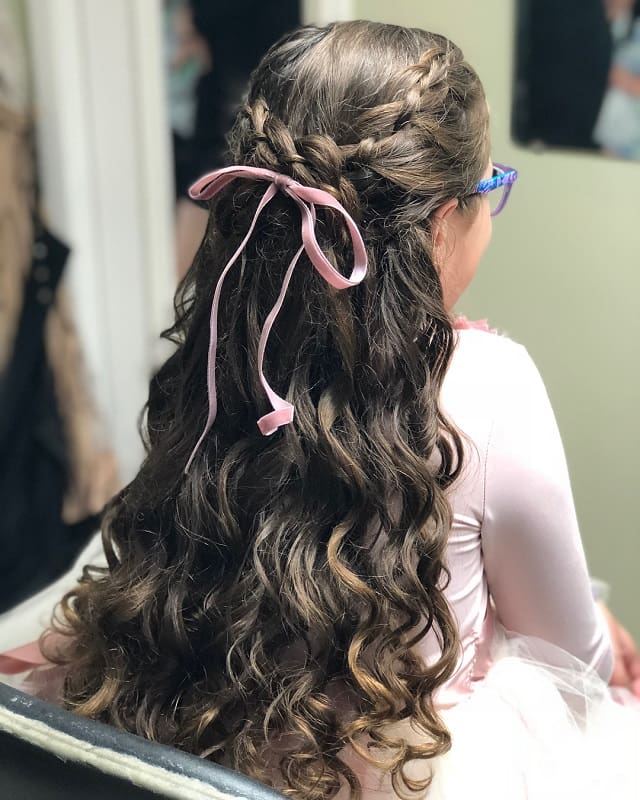 Two braids that come from the front of the hair and meet at the back is a great way to achieve a half up, half down wedding hairstyle.
The two braids add interest to the front of the hair, framing the face, but having the rest of the hair loose adds a more laid-back look and allows the little girl's natural hair to be shown off in all its glory.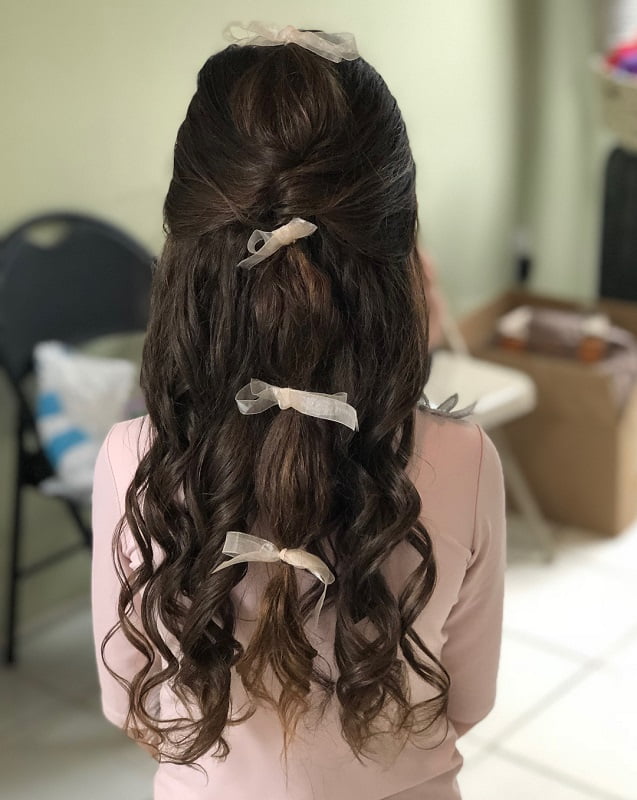 Half up and half down is popular in little girl wedding hairstyle lists and this twisted ponytail utilises a section of pipe braiding to give it a distinctive look.
Pipe braiding is a braiding technique that involves wrapping hair around itself to create a 'pipe' of hair. It can take a bit of practice but looks very effective, adding ribbons dresses this lookup making it perfect for a wedding.
21. Braided Double Buns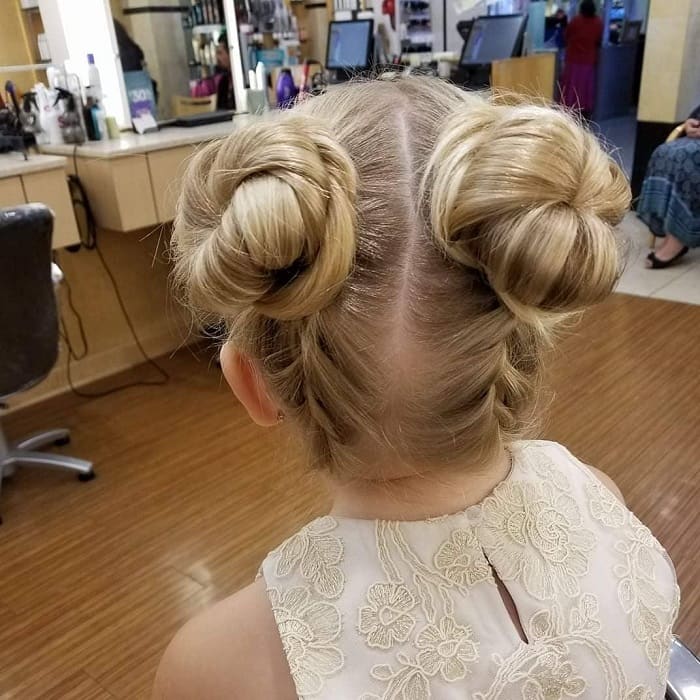 Two buns on top of the head, or 'space buns', is a very popular style for little girls and toddlers and is pretty easy to achieve. Using braiding underneath is a quick, easy way to dress the style up and make it suitable for a wedding or special occasion.
22. Half Up Half Down with Crown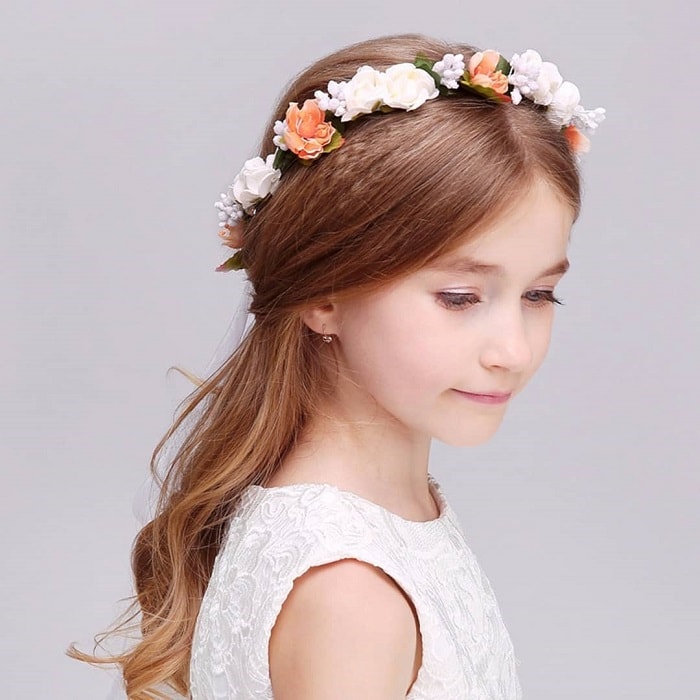 As we've mentioned, half up, half down styles are popular amongst little girls wedding hairdos and this is it in its simplest form. It can be dressed up with flowers, hairbands and ribbons to suit the style of the wedding.
23. Heart Braids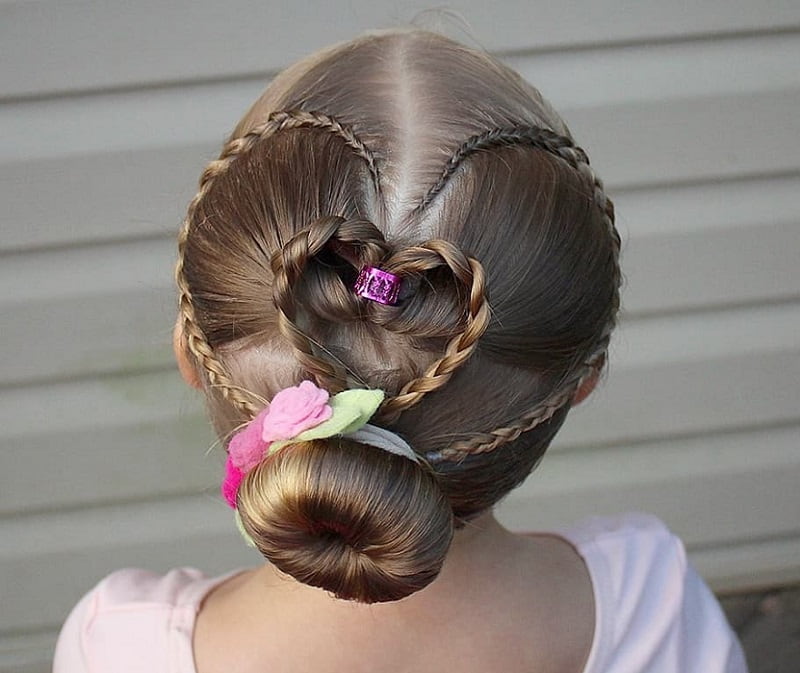 As weddings are a celebration of two peoples love why not symbolise that with this hairstyle! Using 2 braids to create two hearts and finishing with a super sleek bun this hairstyle is all about elegance and a polished look, perfect for a very classy wedding.
24. Braids into A Flower Bun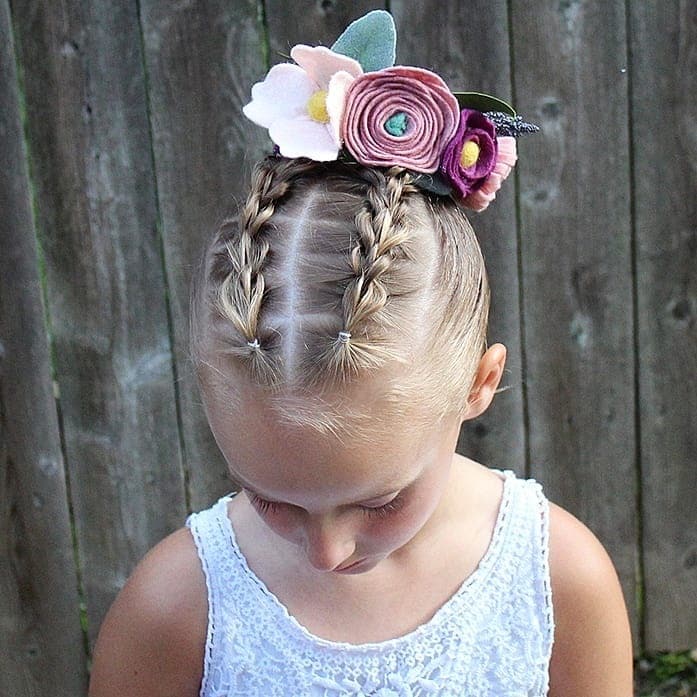 A dance class classic two braids from the front of the head lead into a super slick, neat bun. In this case, a pretty hair accessory has been used to dress the lookup by surrounding the bun.
If this is a look you already know how to achieve, simply dressing it up with accessories gives a great look for a wedding. One of the classic wedding hairstyles for fine haired little girls.
25. Rolled Chignon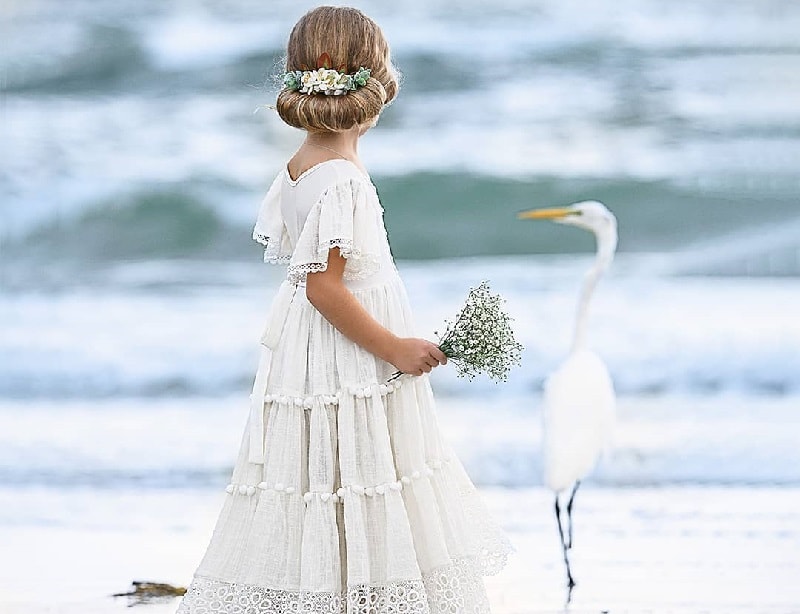 A rolled chignon bun is quite a grown-up sophisticated style but can look equally as good on a little girl. Dressed up with flowers or sparkly accessories it can be the perfect look for a wedding.
When it comes to little girl wedding hairstyles, we really are spoilt for choice! If you're looking for a hairstyle for members of the wedding party try to match it to the overall theme or style of the wedding.
If the hairstyle if for a little girl attending as a guest you can afford to tailor it more to her personality and style. With plenty here to choose from, there's sure to be one that fits your requirements.