Little girls love beads, and these little girl hairstyles with beads are fun, updated, and sure to please even the pickiest girl. With so many choices to choose from, it should be easy for any little girl to choose a hairstyle that both she and her parents can agree upon her wearing.
Trendy Little Girl's Hairstyles with Beads
Check out the following hairstyles with beads for little girls that are way too cute:
1. Braided Double Bun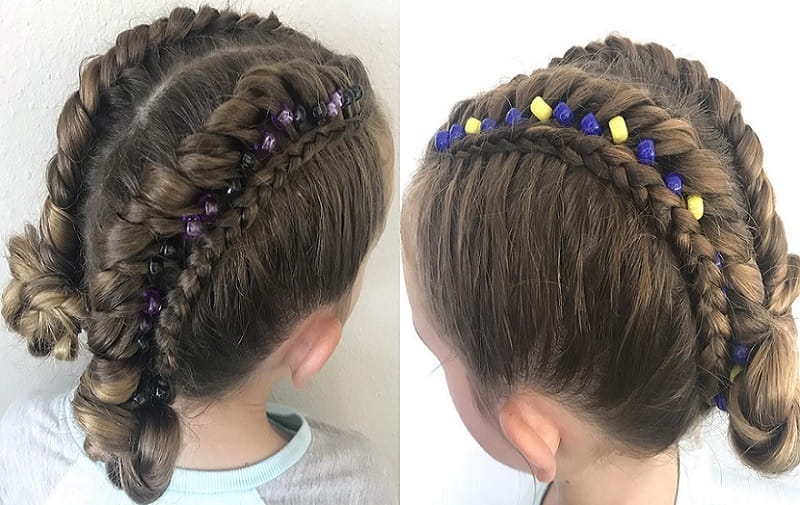 Braided bun looks great on their own, but braiding beads into the hair along the length of the style add a lot of interest and is a great way to add some color to the hair. No matter if the beads match the outfit or are a favorite color, this beads style on little girl hair is fun and festive, but still perfect for more formal events.
2. Space Bun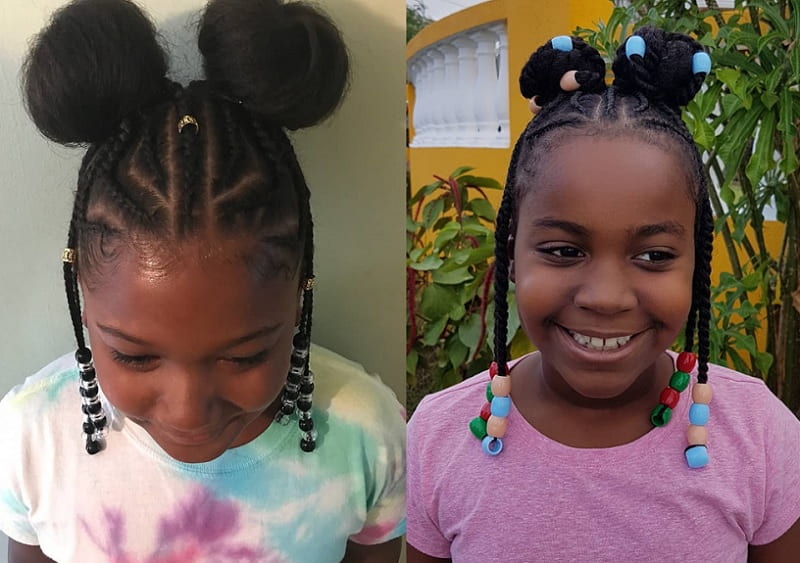 Space buns are always attractive, especially when paired with braids. Adding beads to the ends of the braids helps prevent them from looking too light or moving too much. And this is also a great way to bring attention to the complexity and design of the little girls hairstyle with beads.
3. Double French Braid with Gold Beads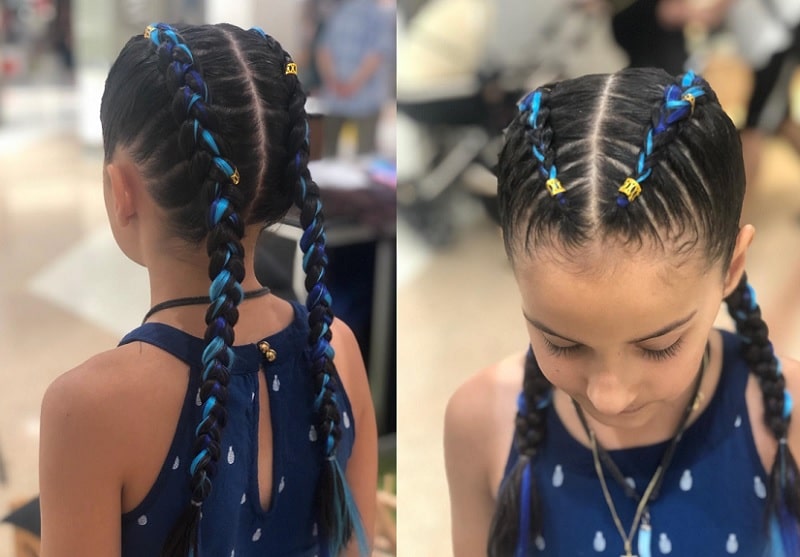 Gold beads really pop when put in darker hair, and these braids have gold beads that are tucked along its length for a really pretty style. Using just a few gold beads prevents the style from being overwhelmed by the beads and ensures that the style is just eye-catching enough to make people look twice.
4. Twisted Ponytail with Beads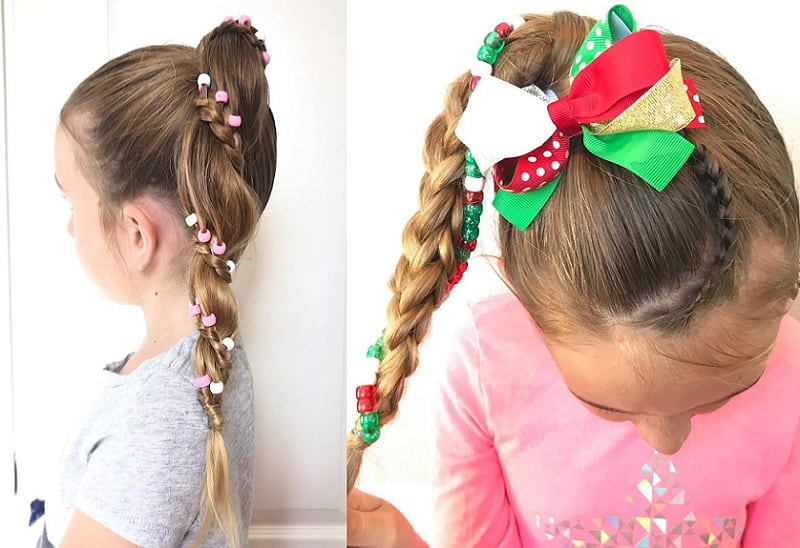 Lots of beads woven into long ponytails are a fun way to dress for the holiday and are sure to make any little girl excited to get prepared for Christmas or Valentine's Day. By choosing the colors of the holiday and then carefully weaving them into and around a ponytail, parents can make sure that the hairstyle with beads for little girls looks great and fits the season.
5. Short Twisted Hair
Larger beads are perfect for use on the shorter twist that may otherwise be too light that they stick out from the head. These beads are available in any desired colors, which means that girls can choose the ones that they like the best. The larger size gives them visual weight and prevents them from appearing like they are too light or insubstantial.
6. Showing Lots of Color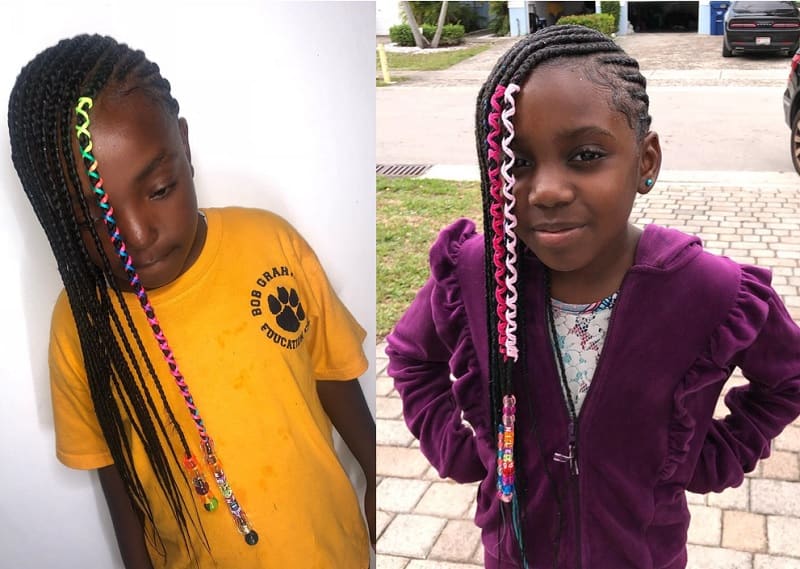 Bright beads are a fun and exciting way to end bright ribbons or thread that is woven into longer hair. Girls who aren't afraid of having color in their hair or on their outfits will appreciate the fun colors that they can choose from. By ending the bright weavings with colorful beads, it creates a unified hairstyle for little girls that look great.
7. Braided Pony with Beads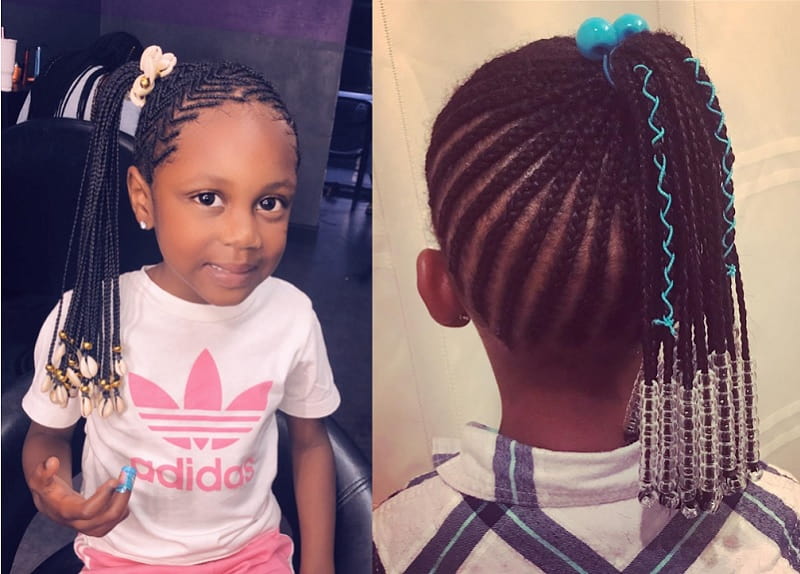 Even ponytails can benefit from some beading. These long braids are pulled back into a ponytail, which is great to keep hair out of the face. Ending each braid with a selection of fun beads ties together the entire style and adds some weight to the braid. Using shells in addition to beads makes this little girl hairstyle even more fun and unique.
8. Beaded Cornrow Pigtails
Another cute and fun little girl hairstyle with beads. Pigtails look great when they are made from cornrow braids that are pulled to the side, and finishing these braids with beads adds to the fun of the style. Beads can be any color and can even be put into the hair in a pattern, which is a fun way for girls to express themselves.
9. Skinny Braids with Beads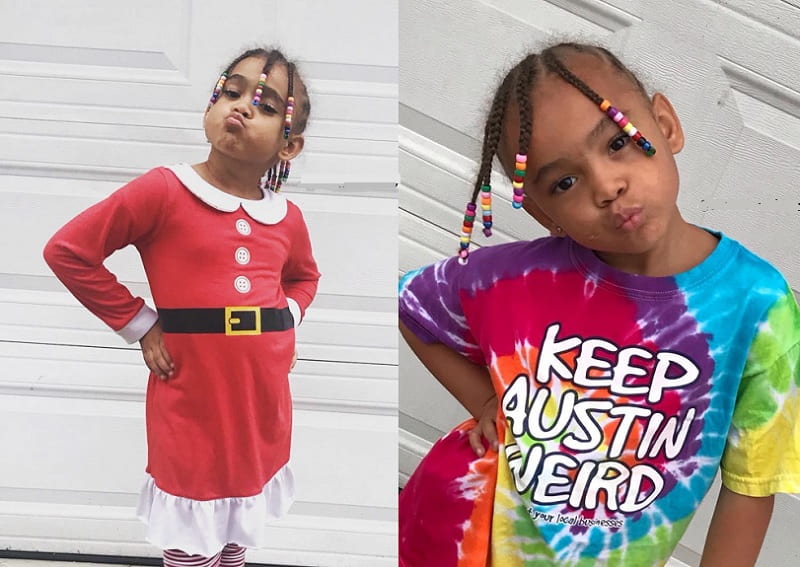 Girls who have thin hair will love the weight and volume that beads can add to their style. Rather than worrying about how their braids look and whether or not their hair is thick enough for the style that they have chosen, adding beads to thin braids helps girls enjoy fuller and more exciting hairstyles.
10. Holding Together Twists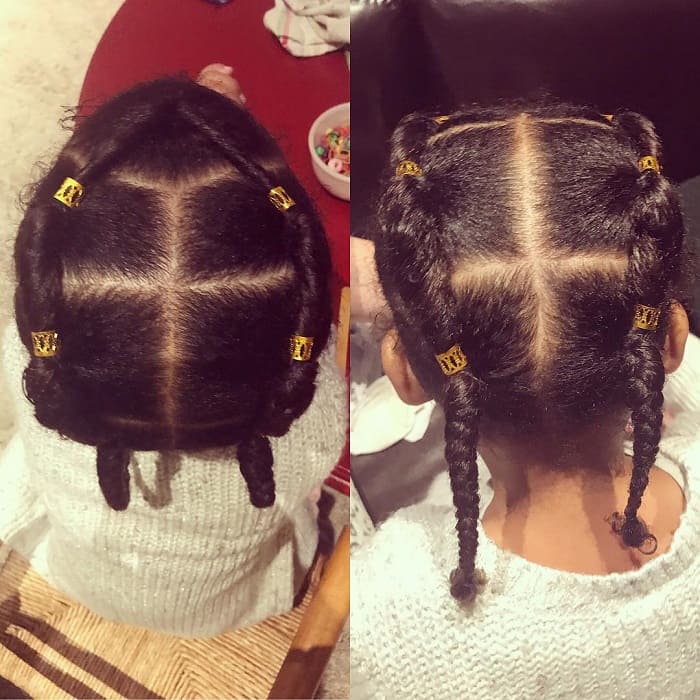 Twisted hair is a fresh alternative to braids, but it's important that the twists are held in place on the top and back of the head to ensure that this style looks the best that it can. Using beads to hold the twists can add definition to the style and gives you a fun and updated look. Opting for gold beads makes this little girl's hairstyle look a little more grown-up.
11. Accessorizing Three Row Braids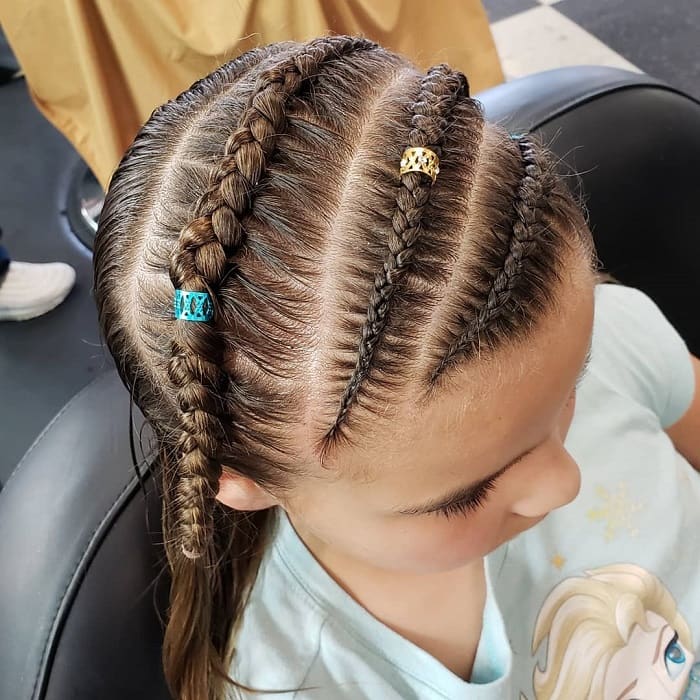 These braids running across the head may seem boring, but not when they are accessorized with strategically placed beads. These beads don't help hold the hair in place, but they are fun and bright pop of color that most girl will welcome in her hair.
12. Half Cornrow+Rainbow Beads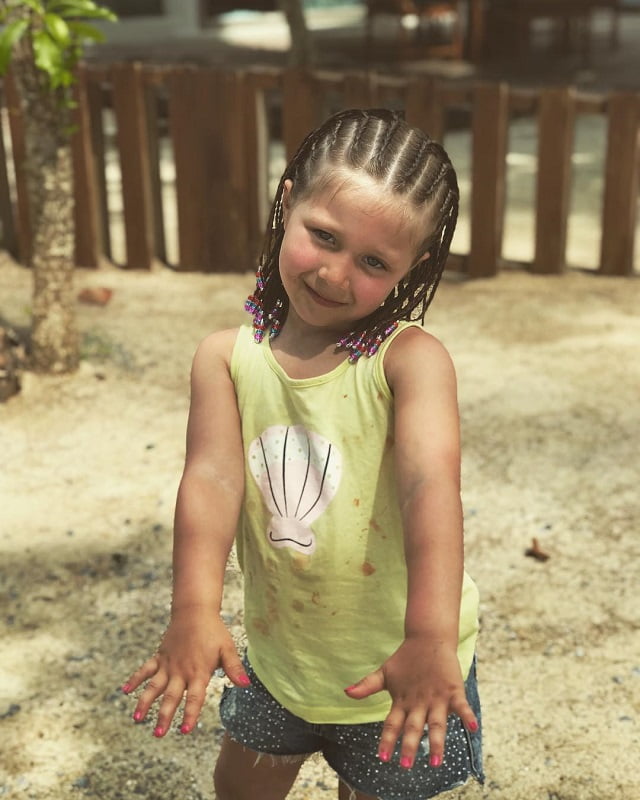 Using beads in all colors of the rainbow make a hairstyle really stand out. These beads are stacked much deeper than other styles, adding some extra weight to the cornrow and making the style look intentional and a bit more dramatic.
With plenty of beads in all colors of the rainbow, any little girl can wear this bead hairstyle without worrying about it clashing with her outfit.
A funky little girl's hairstyle with beads deserves bright and funky colors that stand out and contrast with the color of the hair.
This fun one-sided French braid is made even more visually appealing and interesting thanks to the addition of some shiny purple beads and other charms. Adding these beads and charms to the afro hair makes it a style that is fresh and updated.
14. Subtle Metallics Hanging Free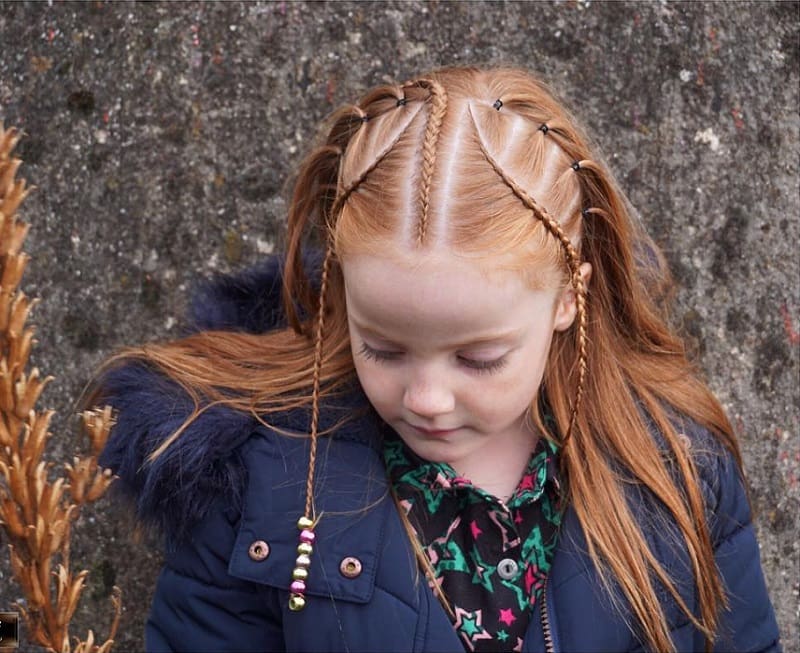 Metallic beads are a little more subtle than bright primary-colored beads. These beads can be used in any hairstyle, but will really catch the light and seem to shine when they are put on longer braids that are allowed to hang free around the face.
15. Small Knots and Mini Beads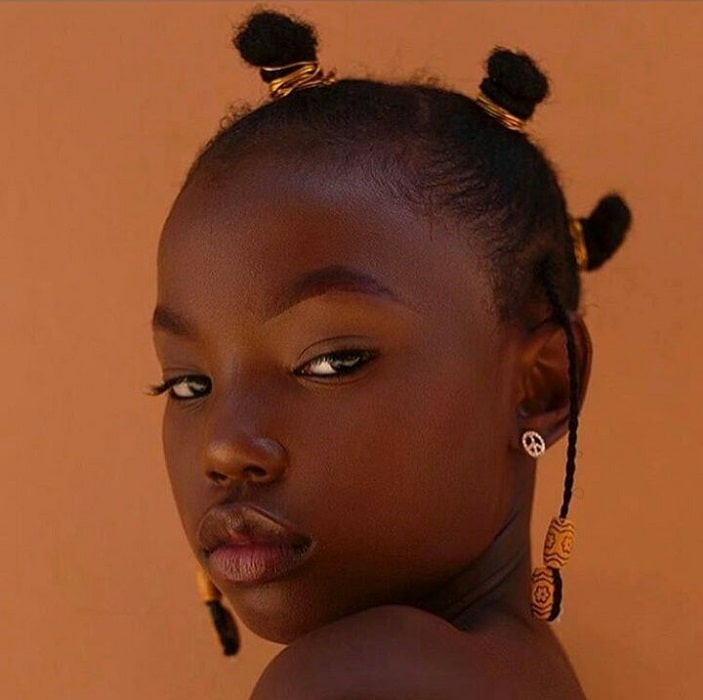 Tiny knots on the head are gorgeous, but any hair that is too short to be put into a knot needs to be controlled so that the little girl's beads hairstyle looks complete. Using intricately decorated beads on small braids helps to control any flyaways and ensures that this style looks complete and thought out.
Little girl hairstyles with beads are a lot of fun and add style and color to any outfit. Adding beads to hair is easy and fast and is a great way to make any little girl fall in love with her hair all over again.