Any of these great little girl haircuts are sure to be a hit at your home. The next time your daughter is ready for a new cut or style, you will want to consider one of these hairstyles for your little princess as they are updated, unique, and fun to wear.
Cutest Hairstyles for Little Girls
Following are the 31 most adorable little girl haircuts that you can explore with your princess.
1. Bob with Bangs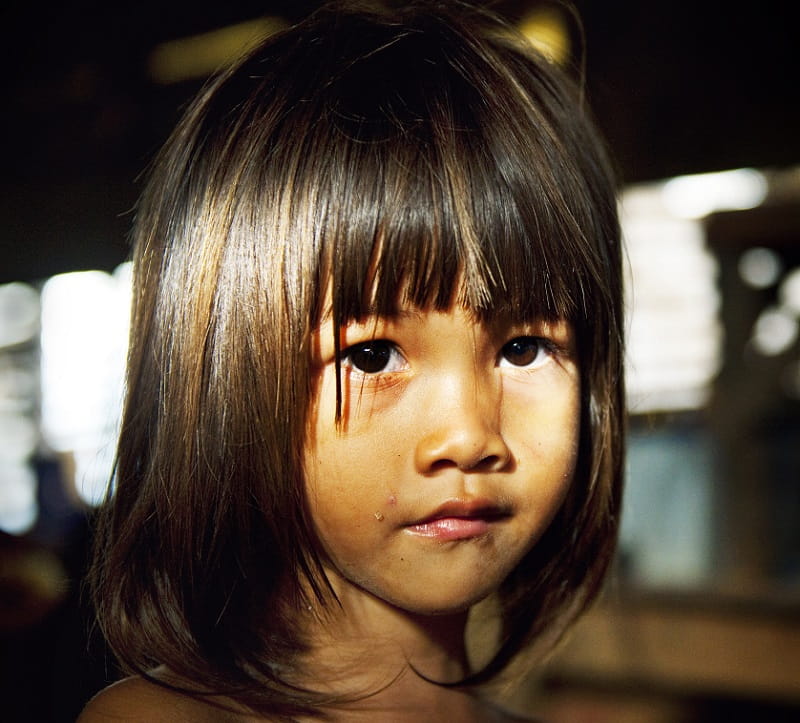 One top choice when you are looking for cute haircuts for little girls is a simple bob with bangs. The bangs can be almost any length, but as long as they are short enough to easily stay out of the face and eyes, then your little girl won't struggle with keeping her hair looking its best and seeing during play.
2. Curly Bob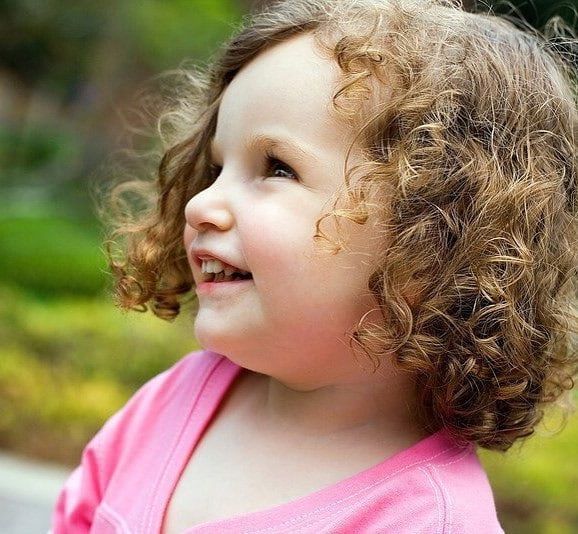 Naturally, curly hair looks great when it is cut into a bob, as it has a lot of movement and personality. With this haircut, there doesn't have to be a lot of work for styling the hair, as it will easily fall on its own and create a natural mass of curly hair that is cute and refreshing.
3. Loose Curls Off the Face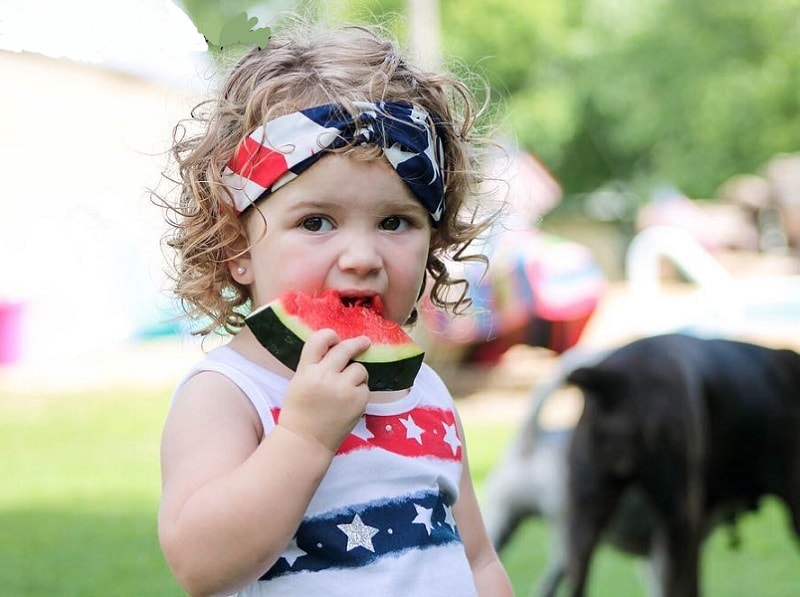 Keeping curls off of the face is important if the hair doesn't naturally fall like this. Using a wide headband is a wonderful way to style curly hair, no matter how short it is. This is especially beneficial for toddler girls who may otherwise struggle to keep their hair out of their face and away from their mouth.
4. Long Wavy Hair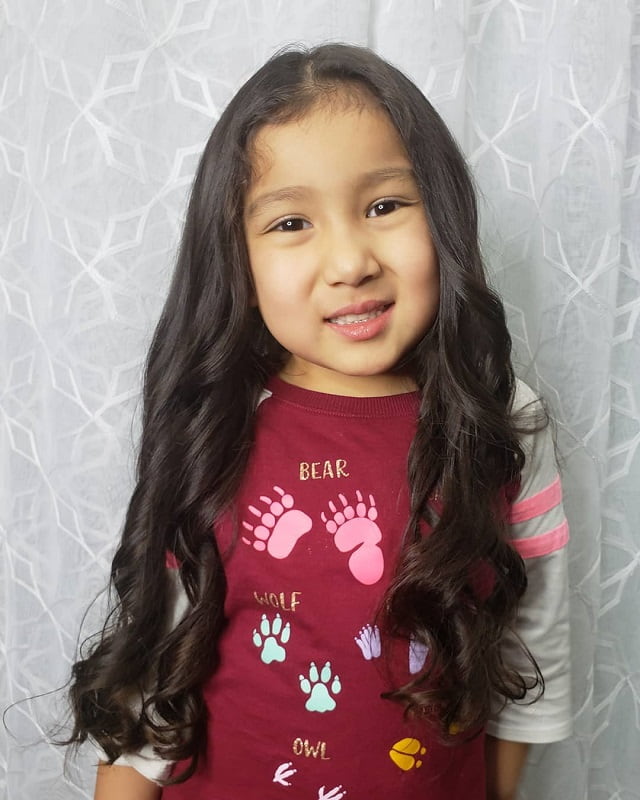 One of the most popular little girl haircuts is to leave the hair really long with lots of volume along its length and at the bottom. This long style is great when little girls have really thick hair and will allow her to showcase the length that she has.
5. Curly Bob with Highlights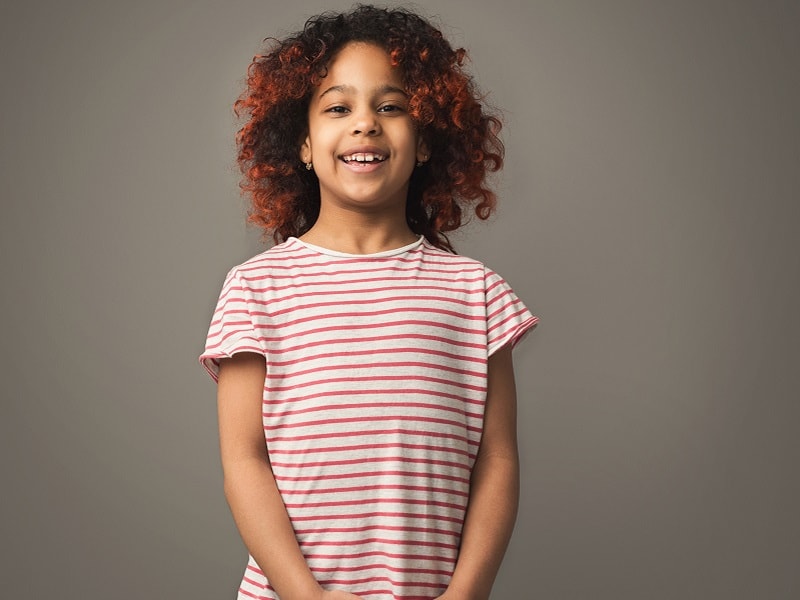 Curly bob looks great when the ends have a pop of color to add to the fun that they bring. They can be cut to frame the face and will easily add volume to the style. Adding some color is a fun way for kids to celebrate their hair and show off their favorite color.
6. Sleek Long Hair with Long Bangs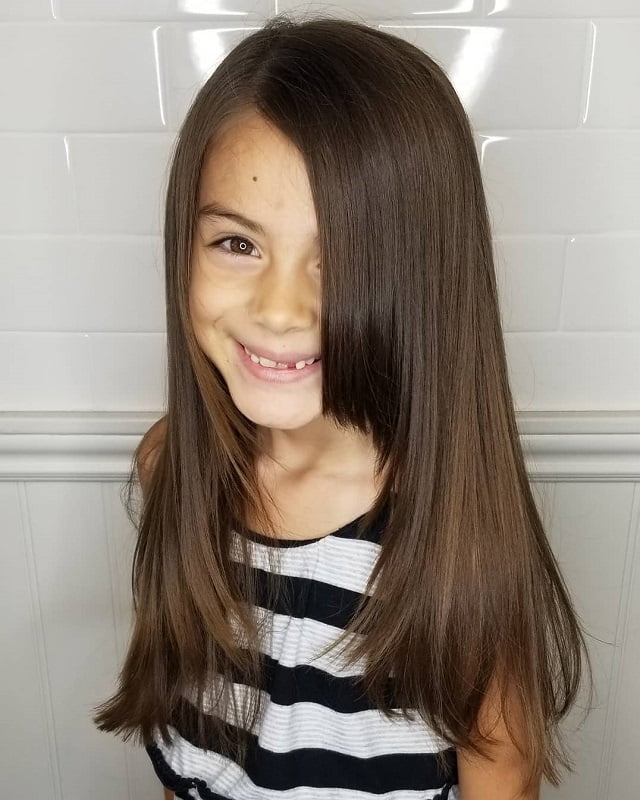 Long hair cut into layers has a lot of movement and tends to look great with longer bangs. Keeping these bangs long enough so that they can be pulled back and away from the face, if necessary, helps to update the look and give little girls a few different styling options.
7. Straight Blunt Bangs with Waves
Bangs cut straight across the face can look blunt and severe, but not when they are paired with long and loose waves. The movement of the longer hair offsets the straight look of the bangs and the result is very cute. This is a cute hairstyle for little girls with long hair.
8. Long and Fine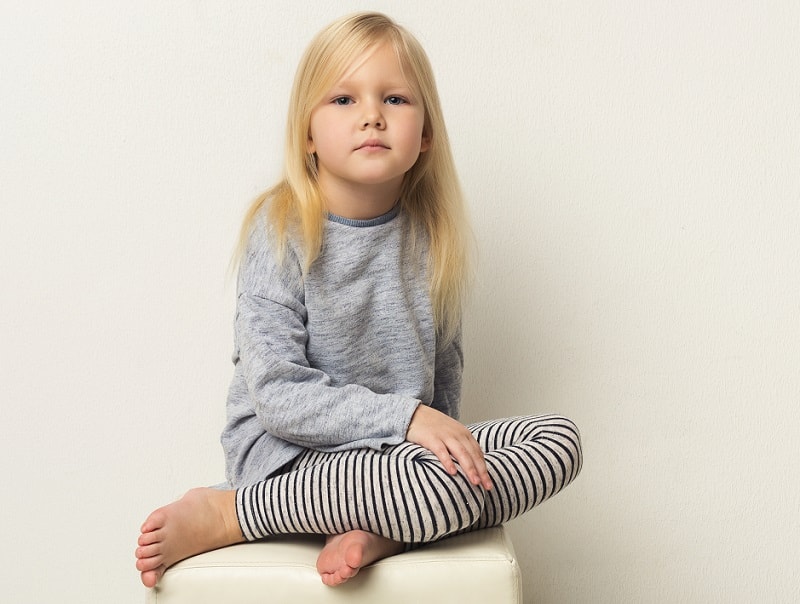 Fine hair doesn't have to be short, as long as the ends are trimmed regularly to help encourage healthy growth and to make the hair look a little thicker. Sweeping the front strands away from the face allows girls to wear this style without having to have bangs cut and helps the length of hair look great.
9. Blonde Bob with Wispy Bangs
Shorter hair that falls right around the face looks especially great with wispy bangs. This is a wonderful little girl haircut with bangs and is perfect to help combat the wispiness that some baby hair can bring to a style. No matter how thick the hair is, this style tends to look great.
10. Stacked in Back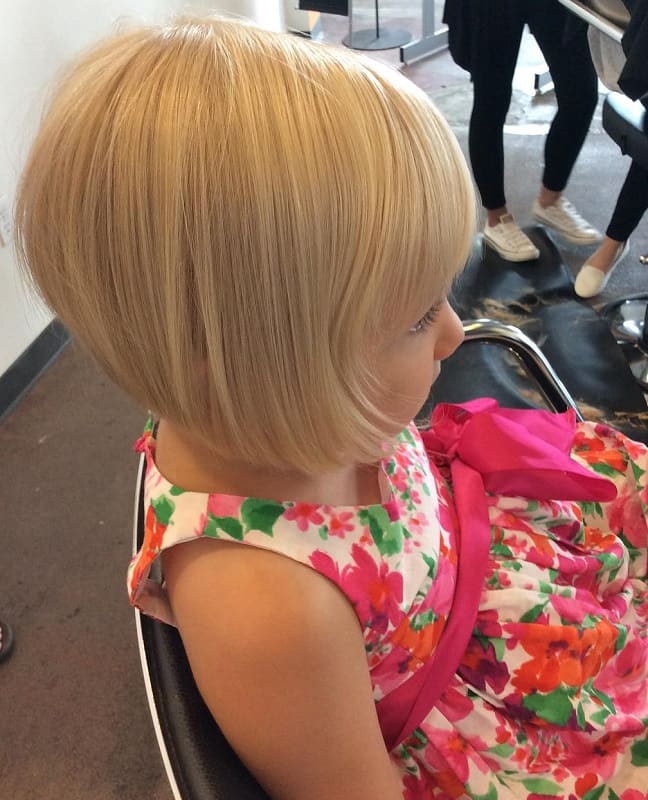 Really thick hair can benefit from having some of the weight removed, as this will make this cut more comfortable. Stacking the hair a little in the back is a great way to remove excess weight from a girl's hair and ensure that she won't be too hot in the summer. This looks great when paired with soft bangs.
11. Grown-Out Pixie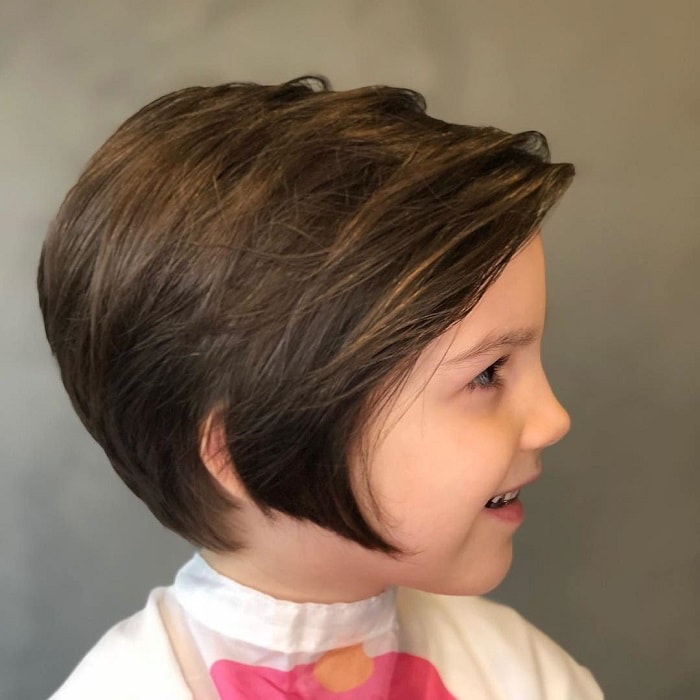 Pixie cuts are really popular, and a slightly longer cut that looks like a grown-out pixie is a fun short hairstyle for any outgoing little girl. This is easy to style and can be tucked behind the ears or embellished with fun clips if the style is looking a little boring or if the girl wants to coordinate with her outfit.
12. Asymmetrical and Buzzed
Really adventurous girls will love buzzing one side of their hair and leaving the rest long. Make sure to opt for long bangs that are a real statement, as they will fall dramatically across the face and help add to the weight and the length on the other side. This style is great for outgoing girls who are looking for something a little different.
13. French Braids to a Low Bun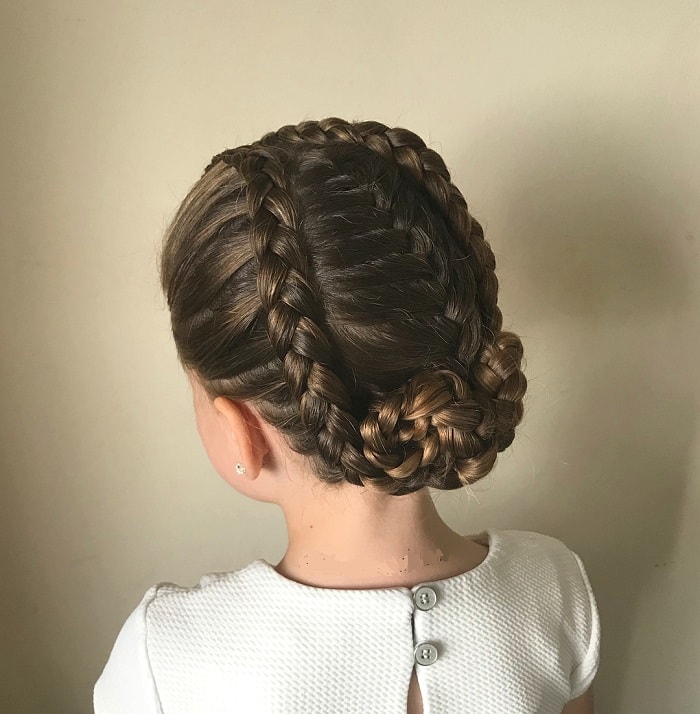 Double French braids that are pulled into a low bun are one of the most popular little girl hairstyles that you can opt for when you need something a little fancier. This is a great way to control hair and to ensure that the girl looks neat and clean, making it perfect for church, a wedding, or even a party.
14. Intricate Knot Braided Pigtails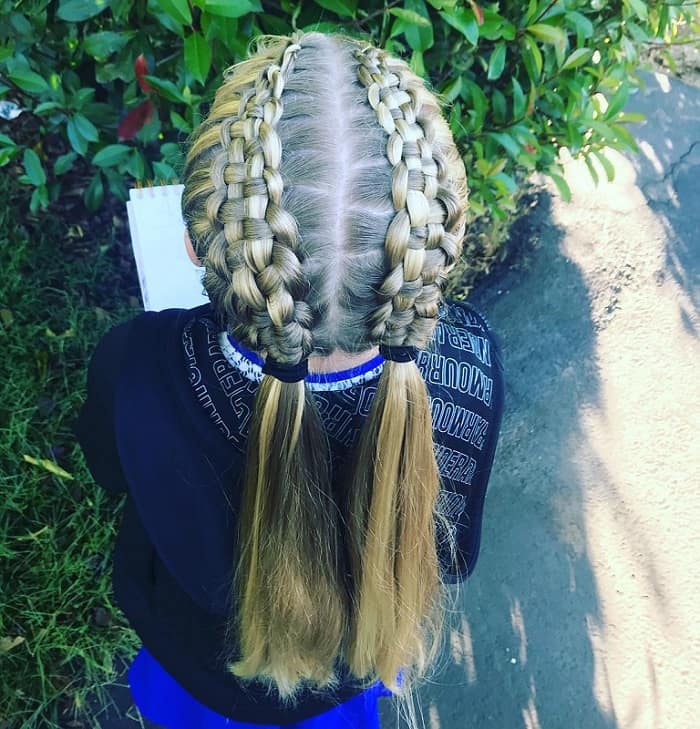 Pigtails can enjoy an instant upgrade with this impressive basket weave braid. This braided hairstyle is ideal for little girls who have really thick hair and whose hair is longer, as it will take a lot of length for the best results. Additionally, leaving the pigtails loose and free creates a great contrast in this style that makes it more visually interesting.
15. Long and Sleek Fishtail Braid
Pulling longer hair back into a low fishtail braid is a classic look that is perfect for any event. This is great for baby girls who have long hair and works equally well on thin and thicker hair. It's easy to add embellishment with a pretty clip if desired or to leave it alone for a modern and sleek look.
16. Bouncing Curls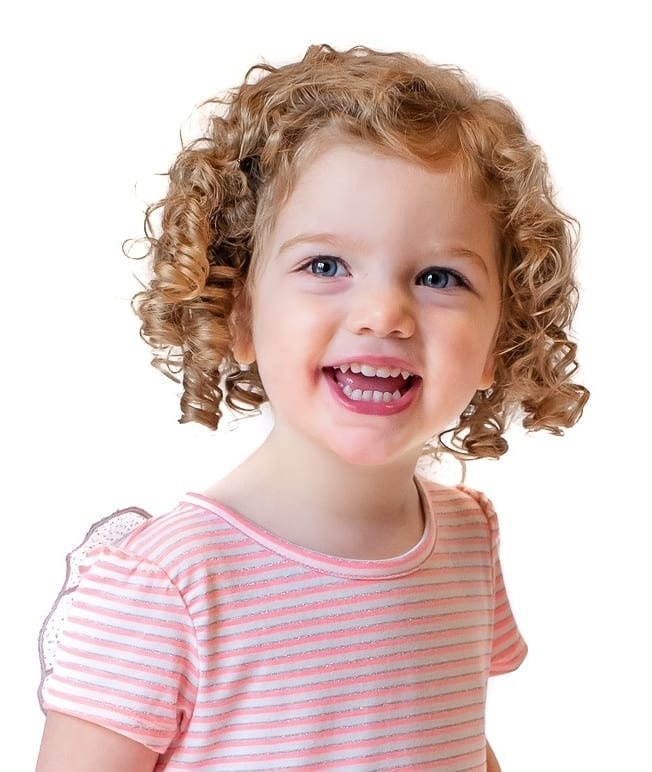 Bouncing curls have a life of their own and don't generally need much taming to look their best. This little girl bob haircut is incredibly natural and free and it is ideal for a princess who has a bubbling and bright personality. Because it is so wild, these curls don't need to be pinned back unless they are in the face and make it hard to see.
17. Twisted Top Knots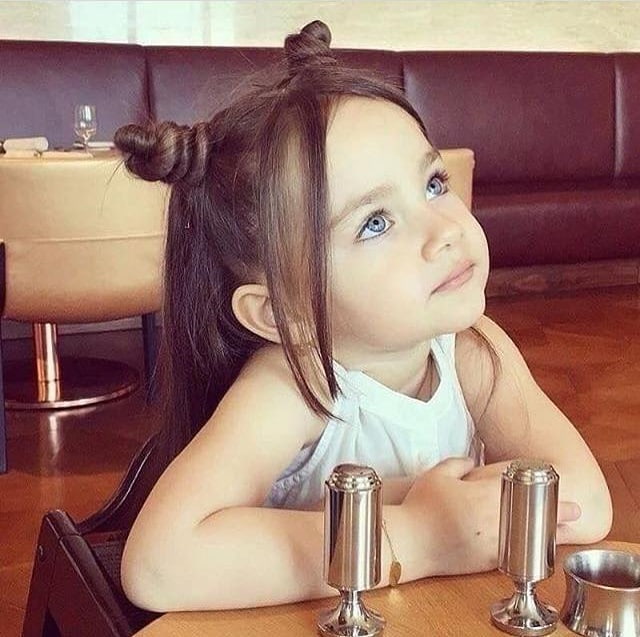 Top knots don't have to be boring, especially when they have twisted around on each other and some hair around the face is left hanging loose and down. Leaving hair down in the back helps to balance the fun design of the top knots and is a great way to make putting hair up in this style even faster and easier.
18. Sweet with Barrettes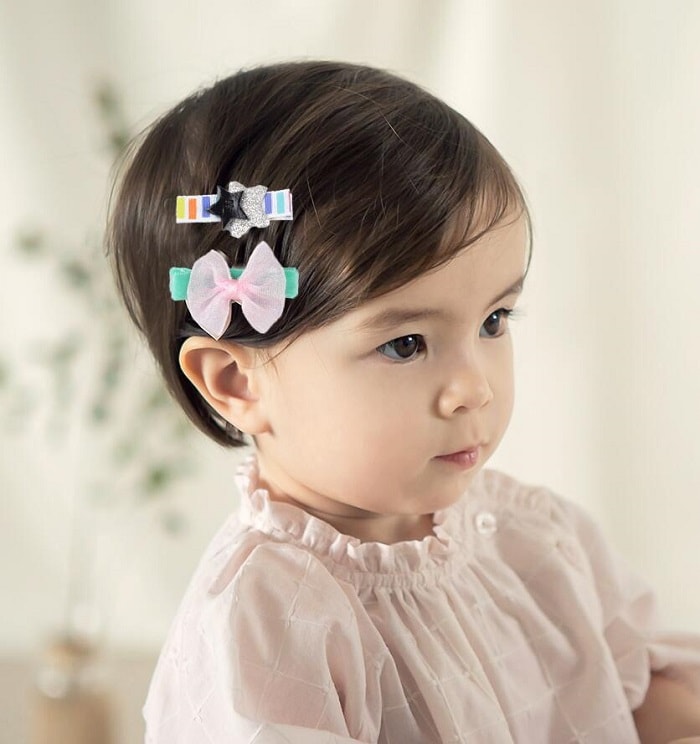 Sweet shorter hair can easily fall in the face of a toddler girl, but not when it is contained with little barrettes. These barrettes can be the favorite color of the young girl or can even match her outfit, depending on the occasion. This is a great short haircut for little girls who have thin hair and haven't been able to grow it very long yet.
19. Centered Top Pony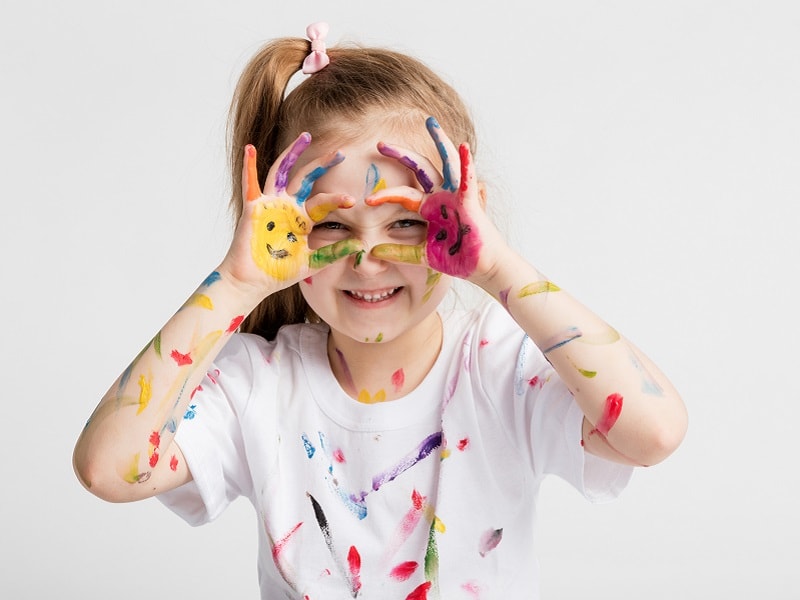 A top pony is a fun and fresh take on the traditional ponytail, and centering it on the top of the head makes it even more special. Girls need to have really long hair for this style to easily work and for the ponytail to have movement and motion rather than just sticking straight up from the top of the head.
20. Pigtails with Long Bangs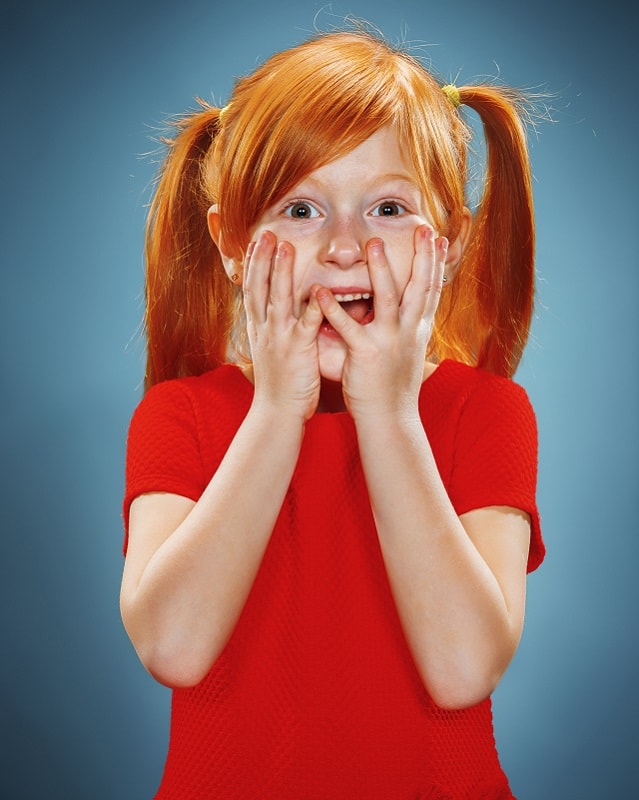 Regular high pigtails look great on their own but are really special when they are paired with long bangs that are swept to the side. These bangs are a fun way to add a little volume to the little girl hairdo and to prevent the pigtails from being the main focus.
21. French Braided Pigtails with Bangs
Reverse French braids always look great, but they look especially fun and unique when they are done as pigtails. This is perfect for girls who have thicker hair, as the French braids will really pop off of the head when there is plenty of hair to gather and to use. Shorter bangs can be left alone and don't have to be pulled back into the braids.
22. Upside Down Braided Buns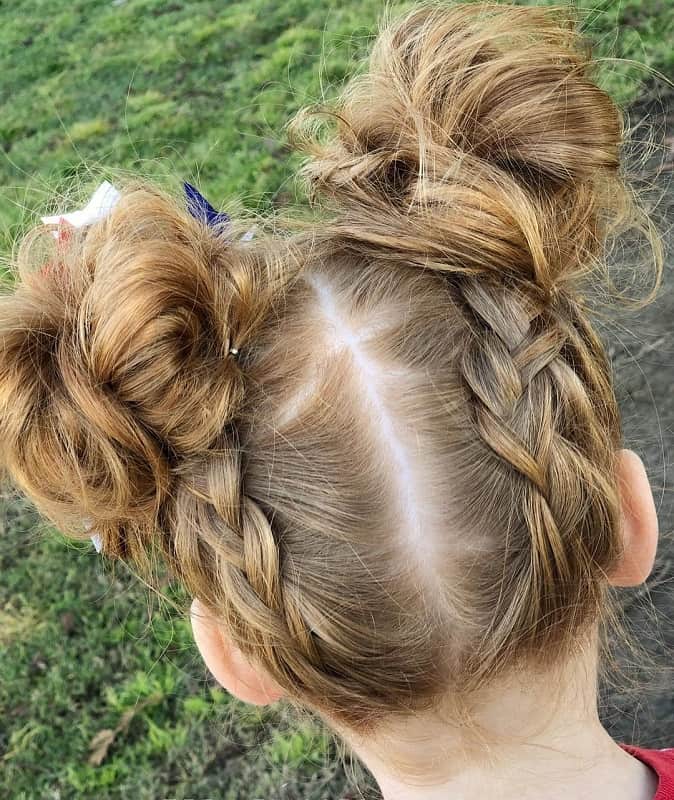 High braided buns are a lot of fun, especially when they are a little looser and have volume, but they really look great when the hair is braided up the back of the head to them. Doing so adds some more interest to the style and is a great way to capture any stray short hairs on the back of the head that may otherwise fall out of the pigtail buns.
23. Wavy Short Hair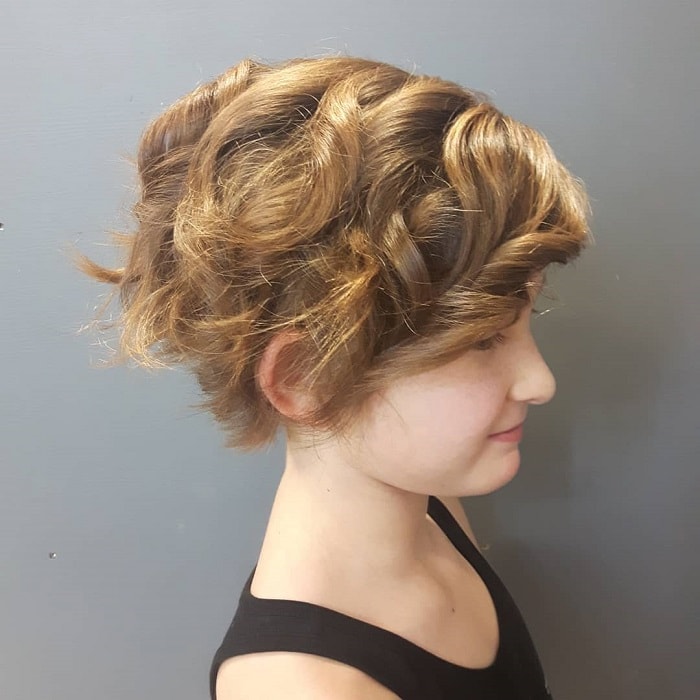 Girls who have wavy hair can still enjoy a shorter cut, especially when they opt for one like this that will allow the natural movement of the hair to shine. This little girl haircut is also a great way to style short hair for fancy events and looks attractive with clips or flowers pinned into the hair.
24. Bubbled Pigtails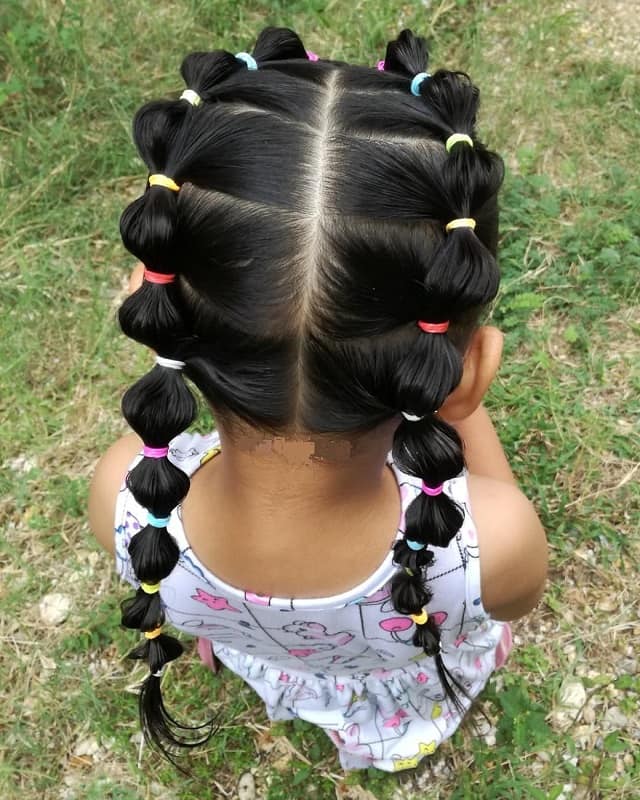 Pigtails are a fun style anyway, but adding bumps and bubbles to them by using rubber bands to do so makes this style even more exciting. The bright colors of the elastics really pop against darker hair, and most girls will love choosing the colors that they are going to wear in their hair, which makes this style even more exciting to plan and wear.
25. Long Braids in a Ponytail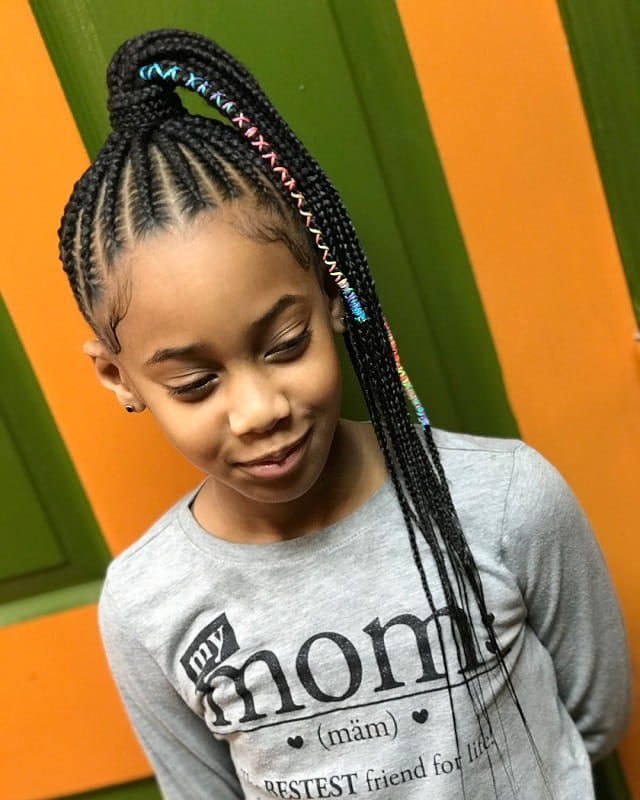 Long braids look great when they are pulled into a top knot and then allowed to hang freely down the side or the back. Using one braid to wrap around the top knot adds some volume to this hairstyle and helps to ensure that the hair will lift high above the head before it cascades down and around the shoulders.
26. Skinny Twists with Beads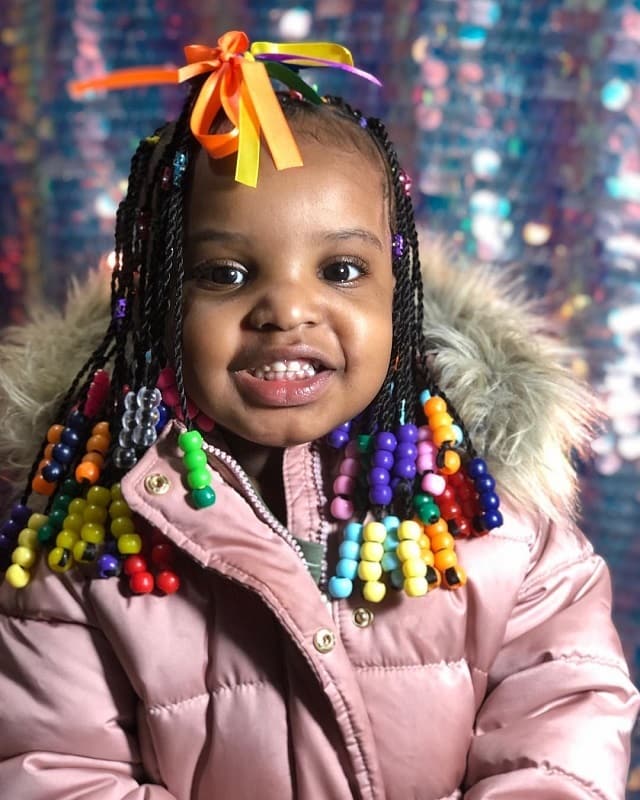 Really skinny twists are perfectly finished when there are brightly colored beads added not only along their length but also at their ends. Topping off this style with a bright bow really ties everything together and is a great way to match the hairstyle with beads to any outfit that the little girl is wearing. Since the bow is easy to change, updating this style is simple and fast.
27. Multiple Braids into a Bun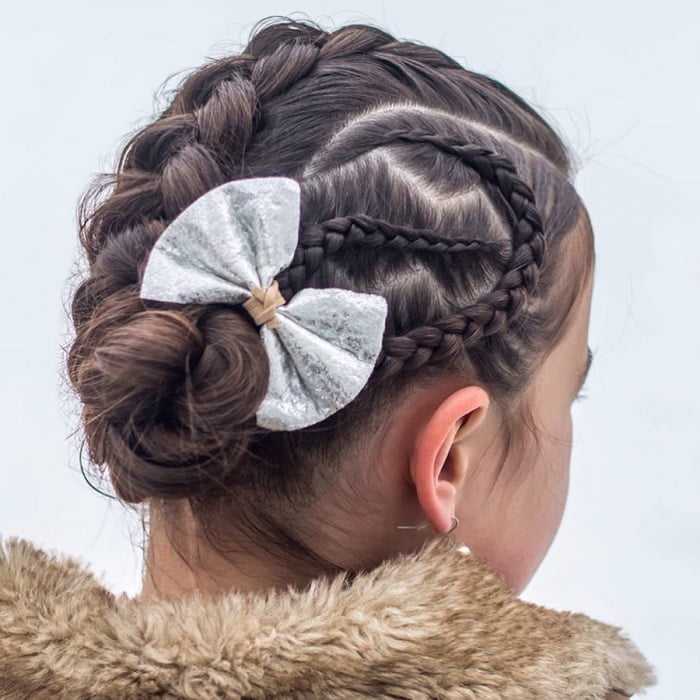 Lots of braids of varying sizes look stunning when they meet at the back of the head and are pulled into a bun. This is a very impressive updo that is perfect for baby girls who are at a wedding or taking part in a large event at church or at school. Adding a simple bow finishes the look without detracting from its beauty.
28. Front Braided Crown
A braided crown across the front of the head is a wonderful way to gather up and hold short bangs tight and out of the way. The rest of the hair can be left hanging loose around the face and shoulders, allowing the braid to really shine and the full length of the hair to be enjoyed.
29. Afro Pigtail Updos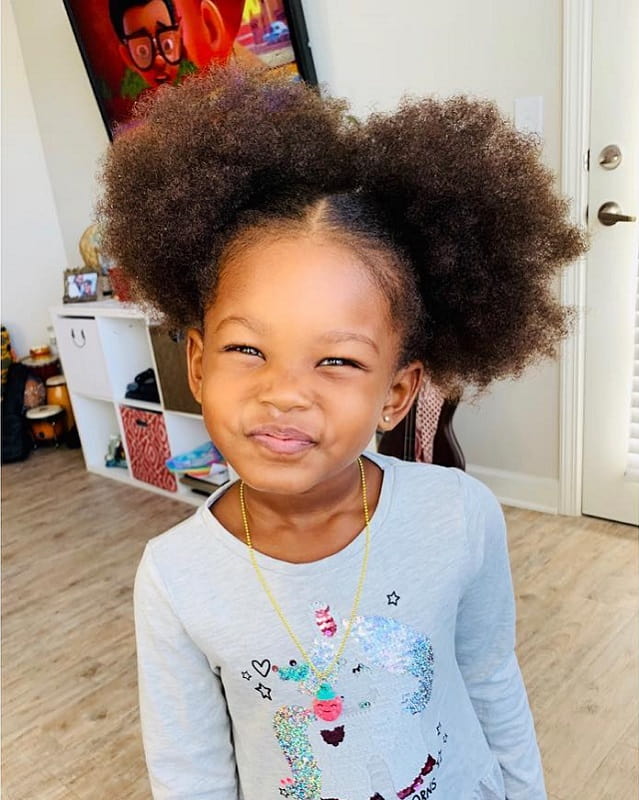 Full pigtail updos for black little girls that allow the hair to really pop from the head are fun and look great on any girl. The movement and curl of the hair are emphasized and adds to the fun and excitement of this style. It's a great way to keep shorter hair under control and out of the way so a little girl can play.
30. Circular French Braid to Bun
For little girls who have long hair, a circular French braid that circles the back of the head and ends up in a braided bun is an impressive look. This style is involved but is a wonderful updo that keeps hair contained and will be a showstopper for any fancy event.
31. Gorgeous Dreads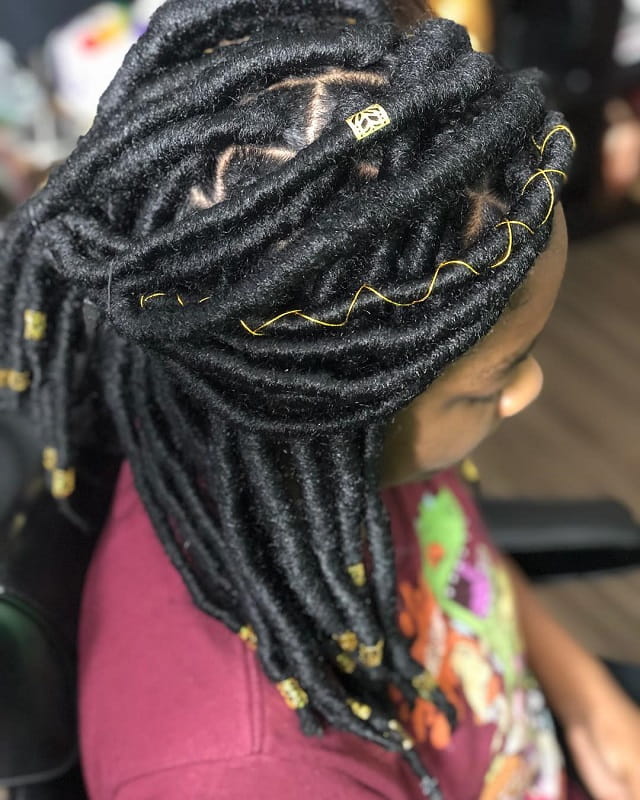 Long dreads look amazing, especially when they are accented with beads. Gold beads and gold wire wrapping around the dreads shows their thickness and adds touches of bright color to the style. Pulling the hair back from the face and into a half up, half down ponytail really showcases the design.
There are a lot of choices for cute haircuts for little girls, and any of these styles and cuts are sure to make your little girl feel and look her best.