If you are looking for little girl haircuts for fine hair, then you know how tricky it can be to find the best style. Any of these choices will help to add volume and style to a girl who has fine hair.
Amazing Little Girls Fine Hairstyles
Choosing little girl hairstyles can be trickier especially if they have thin hair. Our experts have curated a list of 25 lovely little girl haircuts with fine hair to make it easier for you. Have a look.
1. Soft and Around the Face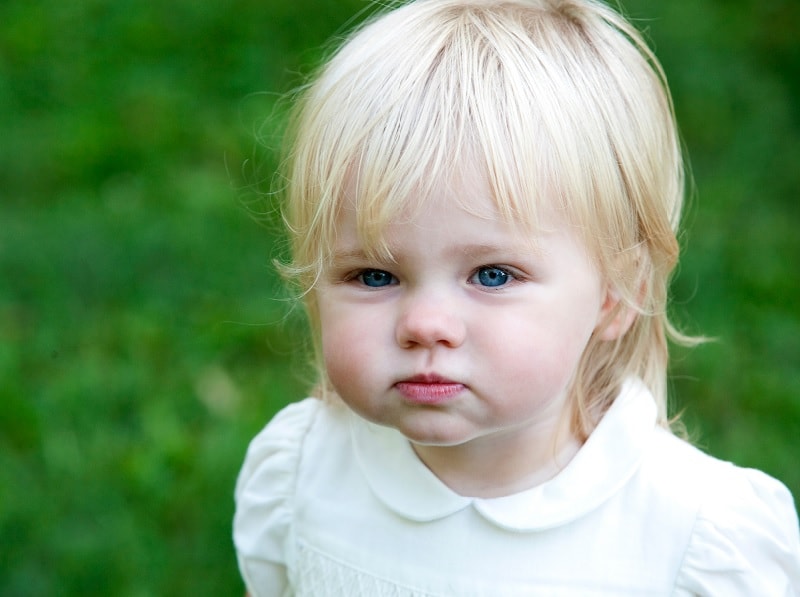 This is one of the most popular little girl haircuts for fine hair as it is easy to cut and doesn't require a lot of styling to look its best.
Shorter bangs keep the hair out of the eyes and allow the girl to easily see, and cutting the rest of the hair to fall softly around the face keeps it looking natural.
Cute & Adorable Toddler Haircuts for Thin Hair
2. Short Pixie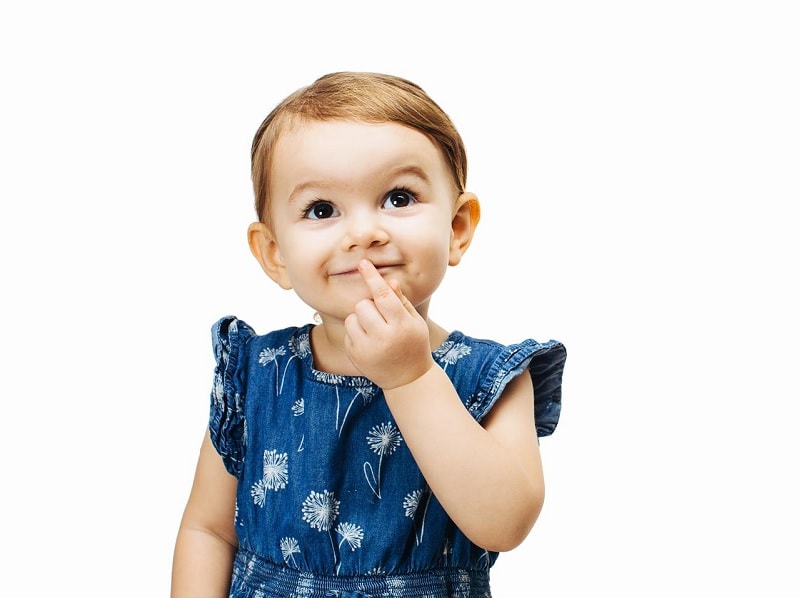 A short pixie is a fun style for any girl to try at some point in her life, and even toddler girls who have fine hair can wear this style.
It's especially great for the little girl on the go who doesn't want to have to worry about how she is going to style her hair in the morning.
3. Longer and Loosely Curled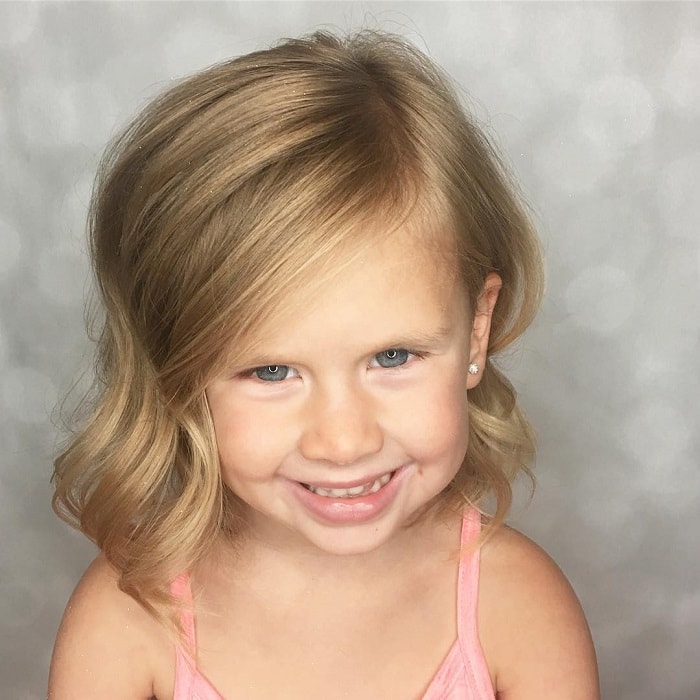 Longer hair looks great when tucked behind an ear and allowed to have a little curl. No matter if the hair is naturally curly or the curl is added, this is a wonderful way to add some volume to hair that may otherwise appear to be too thin for this style.
4. Bob with Bangs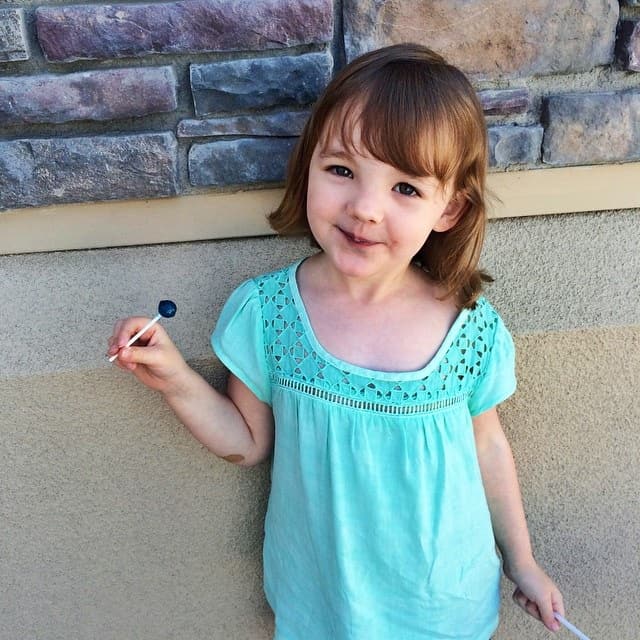 Short bobs that are above the shoulders look great with bangs that are swept a little to the side. This is a fun style that can be left alone or can easily be dressed up a little with a headband, a pretty clip, or a fresh flower, depending on what the little girl is going to be doing during the day.
5. Messy Pixie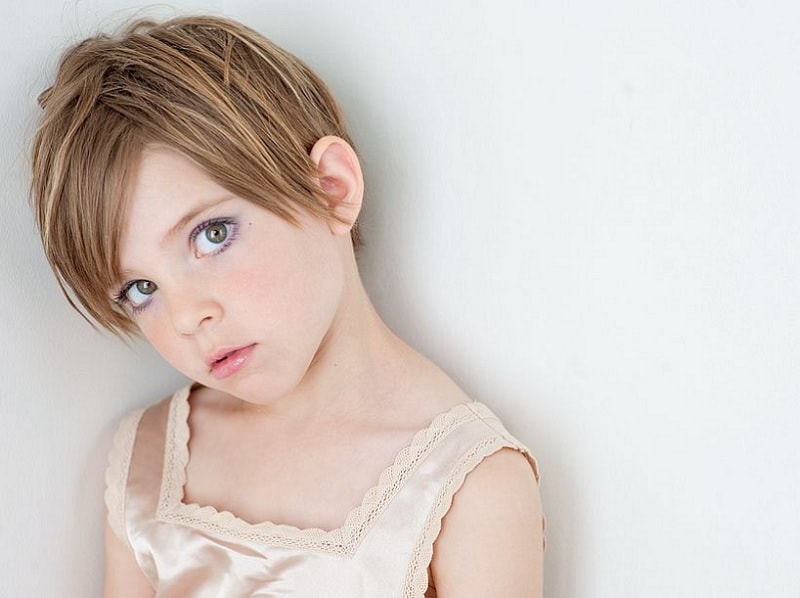 Straight pixie cuts are often worn by older women, but that doesn't mean that a little girl who has fine hair can't wear this style, too.
It's a great way to add a little length to the hair without it looking too weighed down or heavy and can be worn longer or shorter, depending on personal preference and face shape.
6. Back and Curly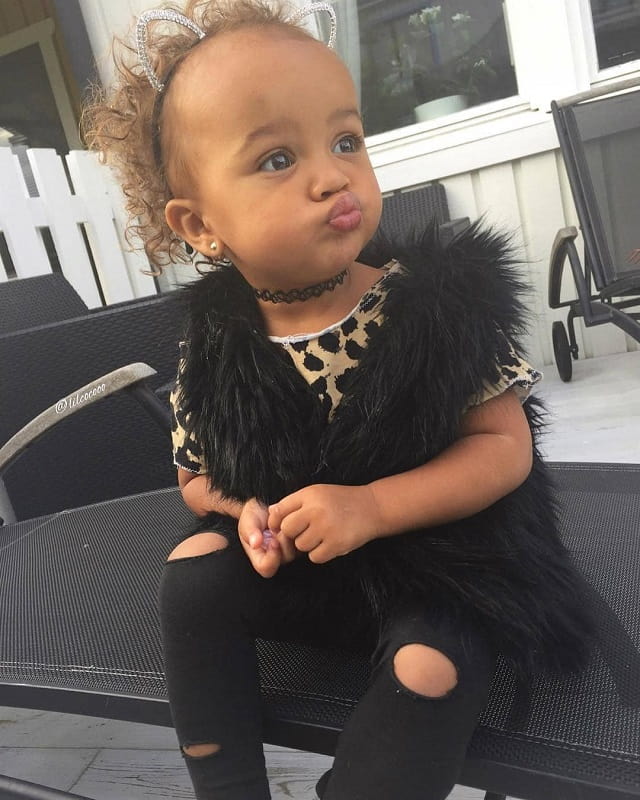 Pulling fine hair back from the face and allowing it to grow out so that the natural curls show is a wonderful style for any little girl.
This style is very natural and relaxed and does a wonderful job showcasing the incredibly thin curly hair that some little black girls have.
7. Chin-Length Bob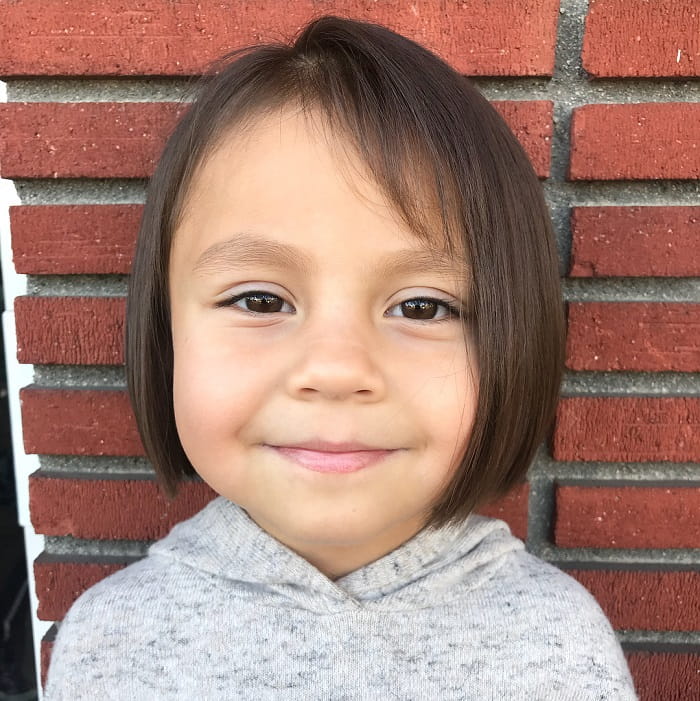 A bob cut right to the point of the chin in addition to some side bangs is a fun and exciting look that doesn't take a lot of daily work to look its best.
This little girl's haircut for fine hair looks great no matter the face shape of the girl and can easily be clipped back from the face if it gets in the way.
8. Longer and Straight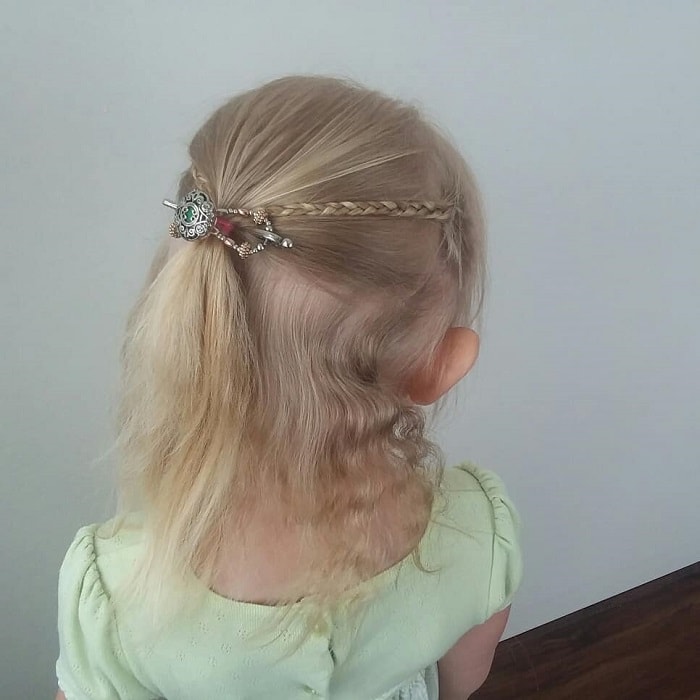 Longer hair can be left straight and will still look great as long as it is embellished a little for fancier events. Pulling the long hair back with braids and into a clip keeps it looking amazing and will hide the fact that the hair is thin.
9. Short and Spiky Pigtails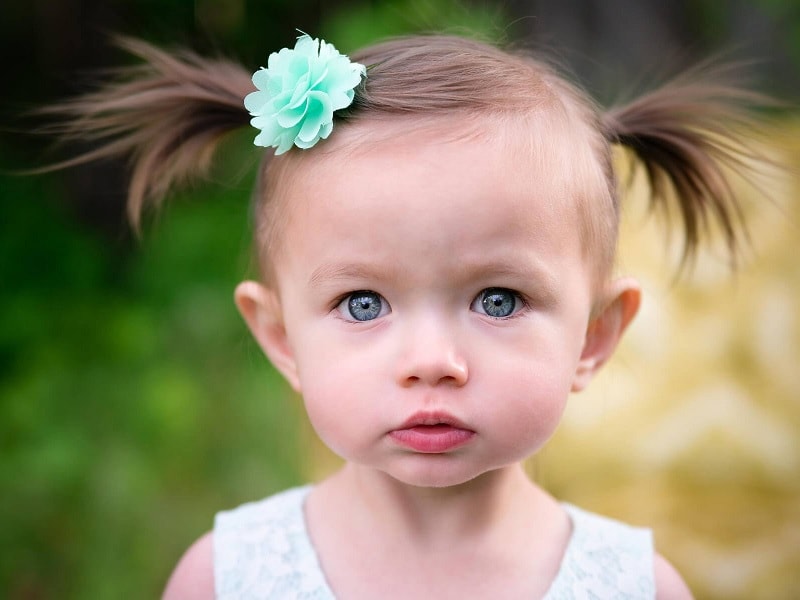 Short hair is one of the most popular little girl haircuts, and it works with fine hair, as well. In this case, the hair can easily be styled into short and spiky pigtails that stick out from the side of the head and add a lot of personality and excitement to the style.
10. Cut Close and Messy
Close cuts that are allowed to be a little messy take some of the stress off of the parent and allow the hair to fall however it will. Shorter bangs can be pushed to the side or left alone, and the little girl will still be able to easily see.
Additionally, this is a great thin hairstyle idea for any little girl growing out a pixie cut.
11. Straight Bob with Bangs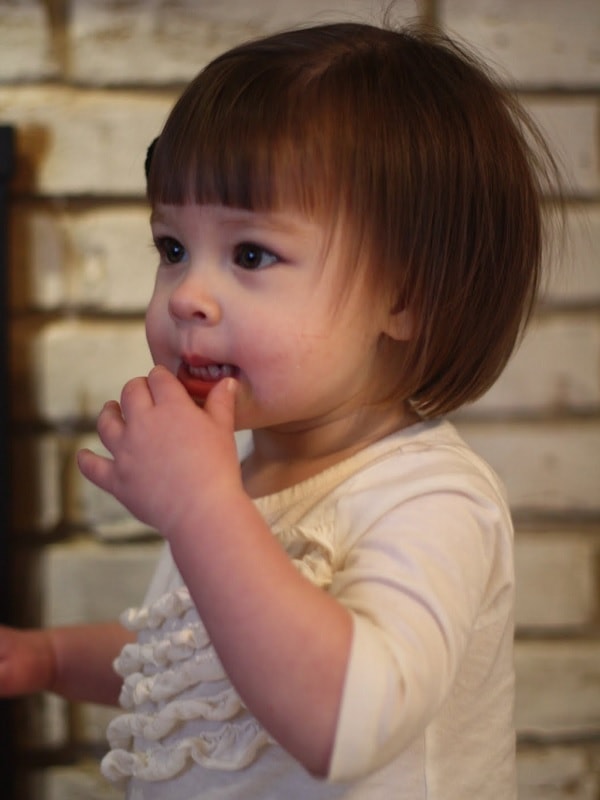 Bangs that straight across look very modern and updated, and combining them with a longer bob is a fun look for thin-haired little girls.
The bangs ensure that the hair isn't ever on the face, and the longer hair can easily be pulled back, if necessary, to add a little interest to the style.
12. Letting the Curls Go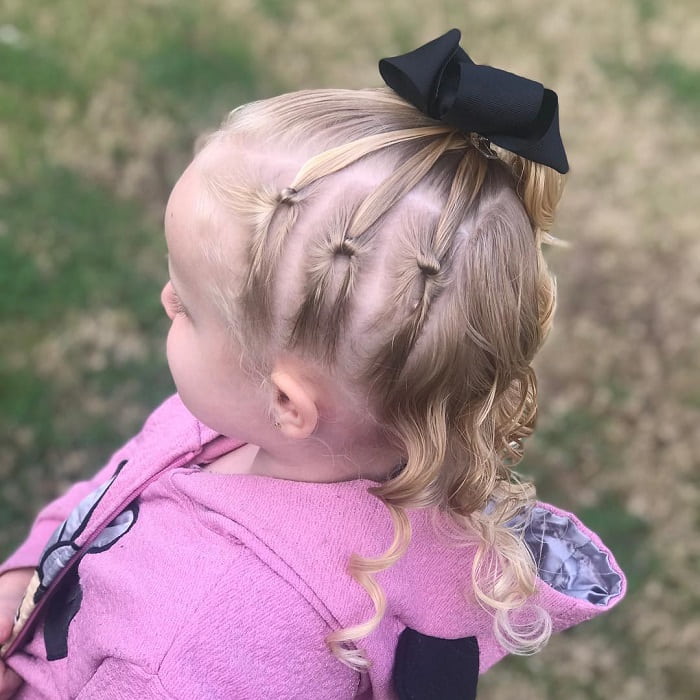 Curly hair is a great way to add volume to thin hair, and naturally, curly hair can be pulled back from the face and along with the head and then allowed to fall around the shoulders. This is a fun style that showcases natural curl and makes the hair look much thicker.
13. Long and Pulled Back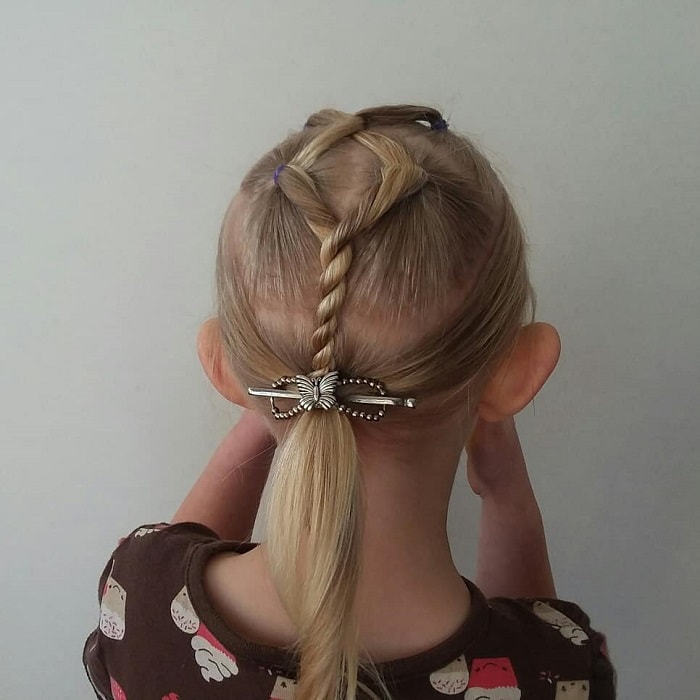 Little girls who want to wear their thin hair long often keep it pulled back to make it look thicker. This fun style combines twisted hair and an attractive butterfly clip that adds a lot of visual interest and some bulk to otherwise thin hair.
Choosing a clip that matches the interests and personality of the little girl helps to personalize this style.
14. Double Pigtails with Straight Hair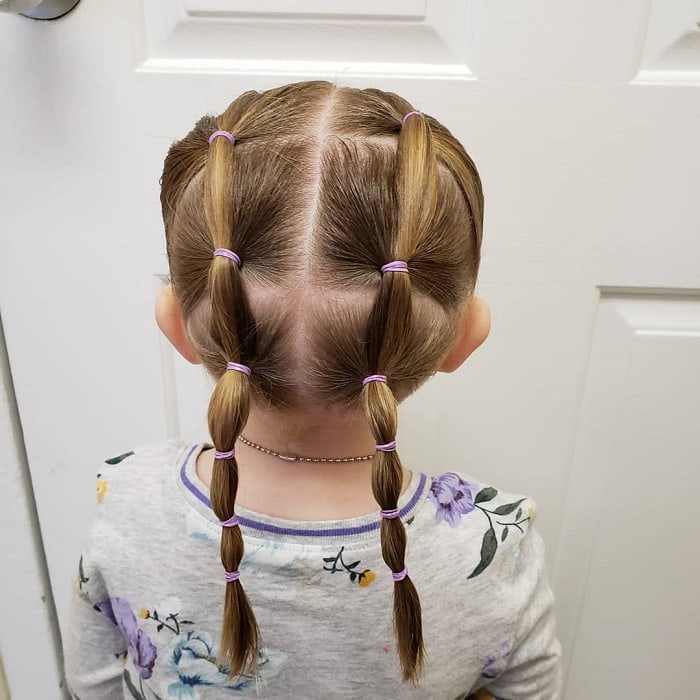 Double pigtails look great on any little girl, and they are a great way to keep hair contained. These pigtails are perfect for fine hair because they have a lot of elastics down their length which will help to keep the hair contained.
It's a very sleek and modern little girl haircut with fine hair look that can easily be personalized by changing the color of the elastics.
15. Side Braided Bun
Back French braided hairstyles look amazing when they are curved along with the head and then end in a fun and spiky side bun.
This is a great way to add interest to the back of a hairstyle and allow the front to be a little more subdued. Additionally, the fun bun can be sleek and smooth or have more volume, depending on the event.
16. Fancy Space Buns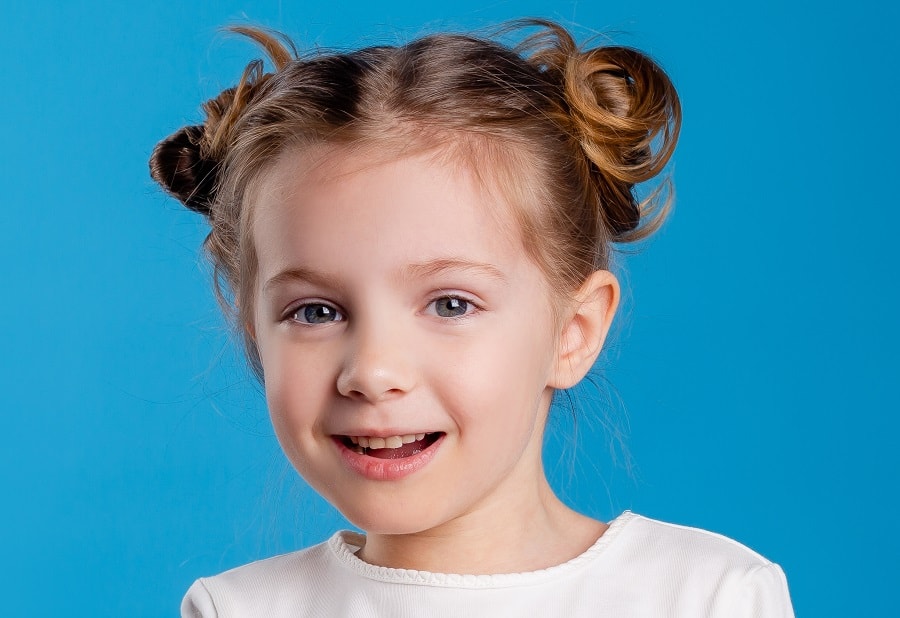 Babies with long hair will look absolutely adorable with this style. Start with an uneven center partition and divide the hair into two even halves.
Do two ponytails on both sides and twist the free tail into a voluminous bun. Pull out some strands from the bun to get a fuller look.
17. Tropical Braid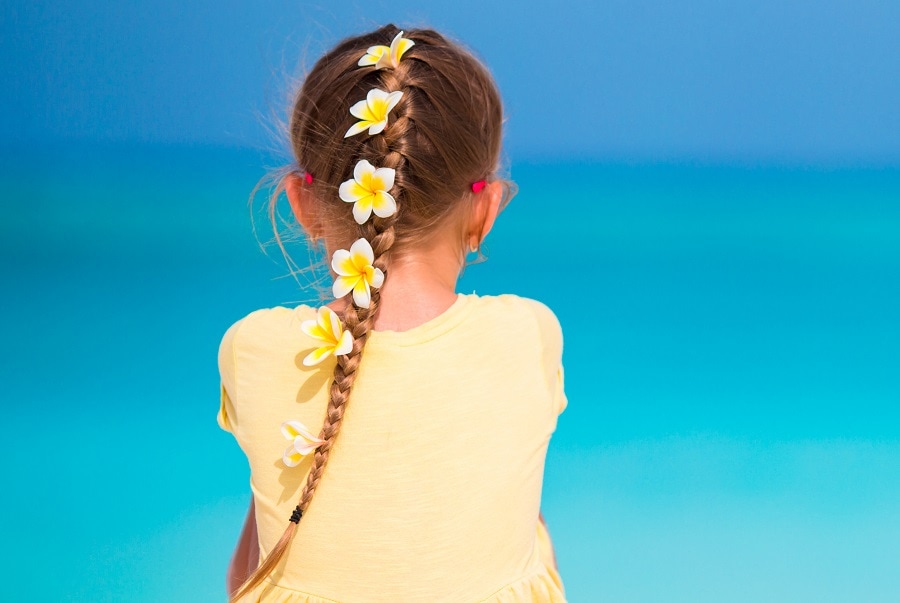 Decorative braids are the prettiest hairstyles for little girls with fine hair. In order to get your hands on this style, start weaving a three-stranded braid from the hairline of your girl's hair.
Take as many sections as possible while weaving to get a tropical vibe. Then secure the ends and add flowers into the braids to finish the look.
18. Sweet Toddler Style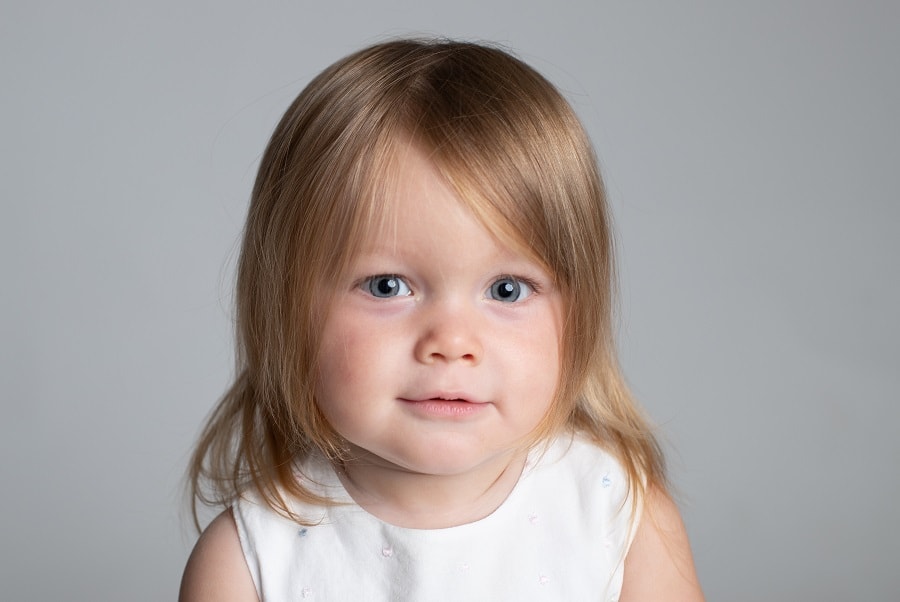 Toddlers with short haircuts look irresistibly cute and pretty. This simple and quick hairstyle for your little girl for a fun party.
The front is given a small fringe till the cheeks, and the hair is left sleek for a pumped-up look. You can add small clips to accentuate the look.
19. Long Wide Bangs
A simple yet cute hairstyle for your little girl. Wide bangs are the finest little girls' fine hairstyles.
An easy and hassle-free way to have your kid's hair in place. Pair up with bright-toned dresses for a cute summer look.
20. Messy Pony for Short Hair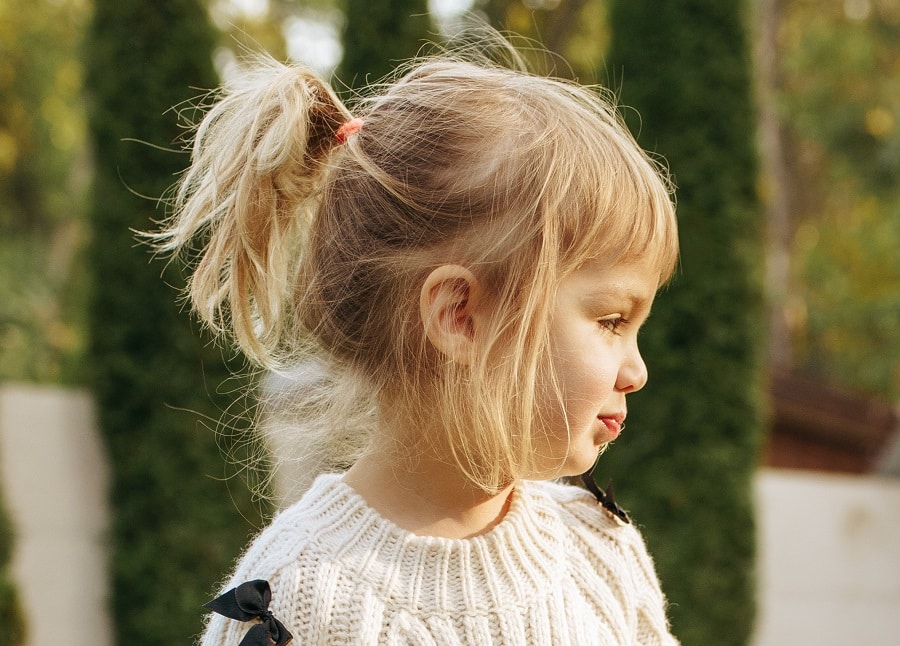 If your baby girl resists getting her hair done, check out this style. It's a simple and carefree style. Short bangs are added at the front, which serves as face framers, and the leftover hair is tied into an untidy ponytail.
21. Pompom Pigtails
Kids love pompoms. Here's a hairstyle that is simple and easy to do using pompom bands. Section the hair from the center and do pigtails on both sides.
Add pompom rubber bands or clips to finish the look. Everybody will adore your girl's pigtails as she wears them.
22. Mini Braided Bun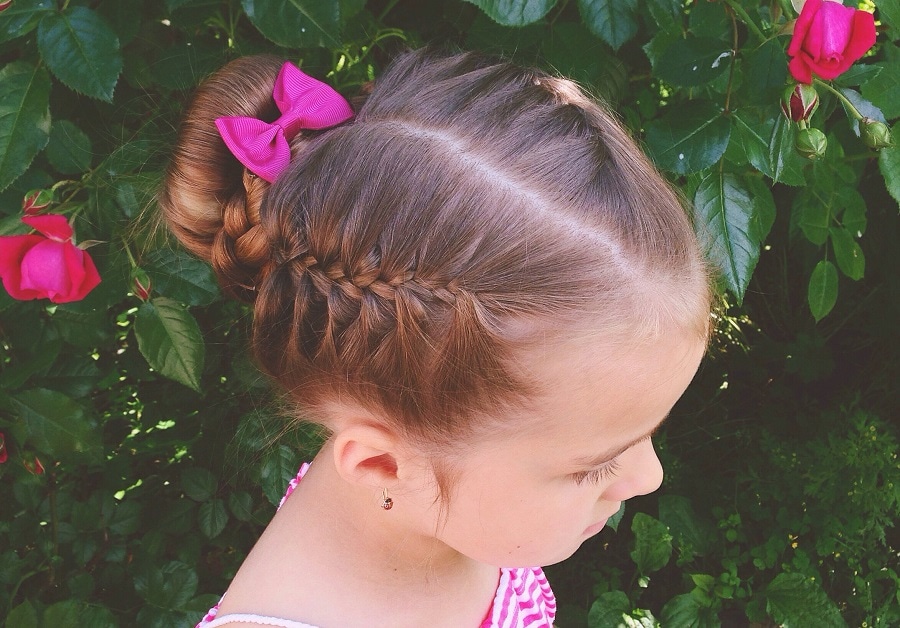 This style is perfect for flower girls. Side braids incorporated into the mini bun in the back are so pretty. Add a cute bow clip on the top of that cute mini bun.
Use smoothening gels while braiding the hair cause their scalps are sensitive and might cause severe pain.
23. Long Crumpled Style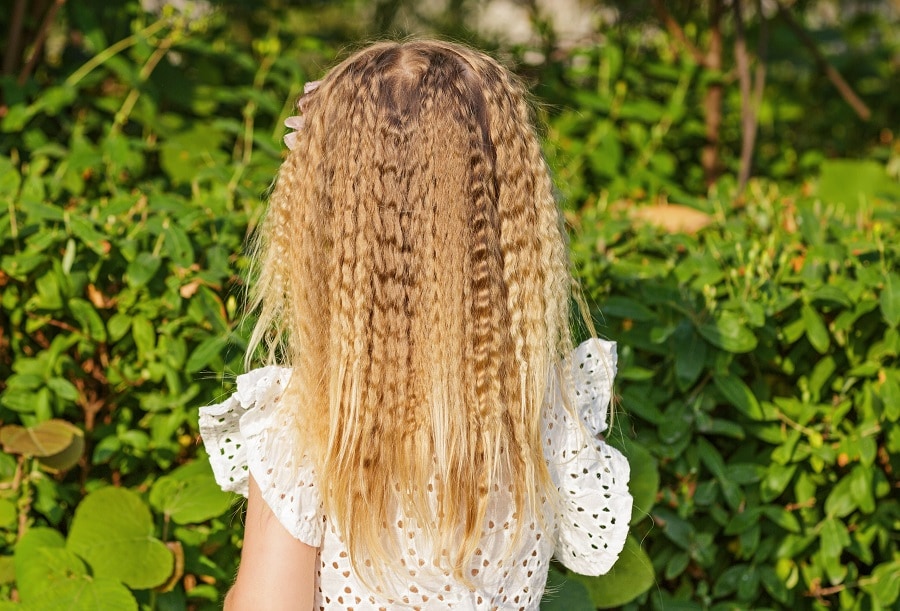 Try this style here if you plan a loose and free hairstyle on your girl's hair for a picnic. The long locs are crumpled using a crimper.
Do not forget to use heat protectant creams or sprays before the procedure. Finally, finish the look with a cute hair band or hair clip.
24. Baby Blonde Curls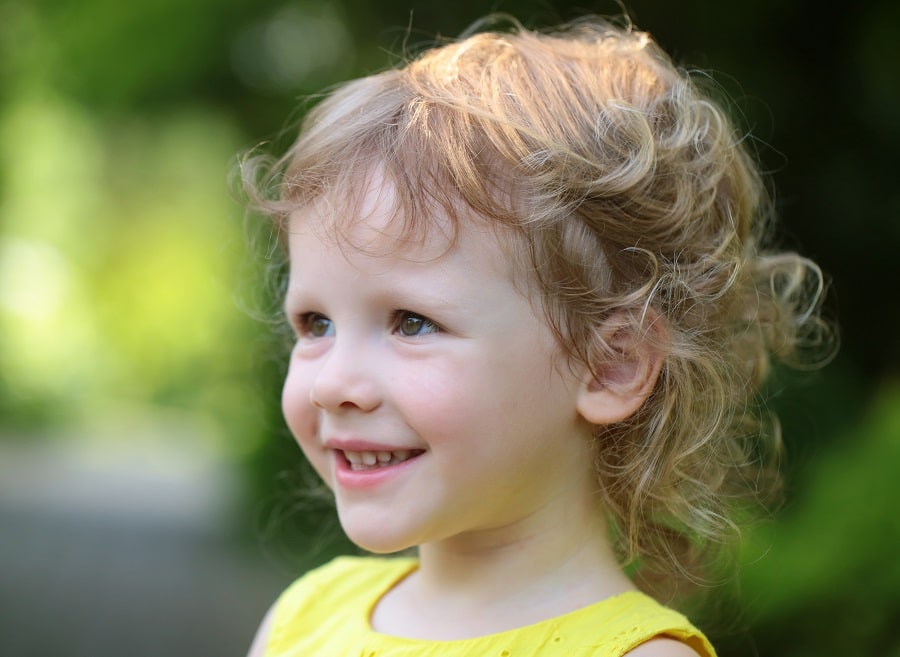 A very casual and tidy way to style your toddler's hair. This works well on baby girls with very thin hair. You can add hairspray to get a sleek style, but the carefree natural curls hit pretty hard.
Your kid can freely enjoy their playtime without any tension of messing up the hairstyle. Of course, you can add headbands to live up the look.
25. Elegant Braid with Bow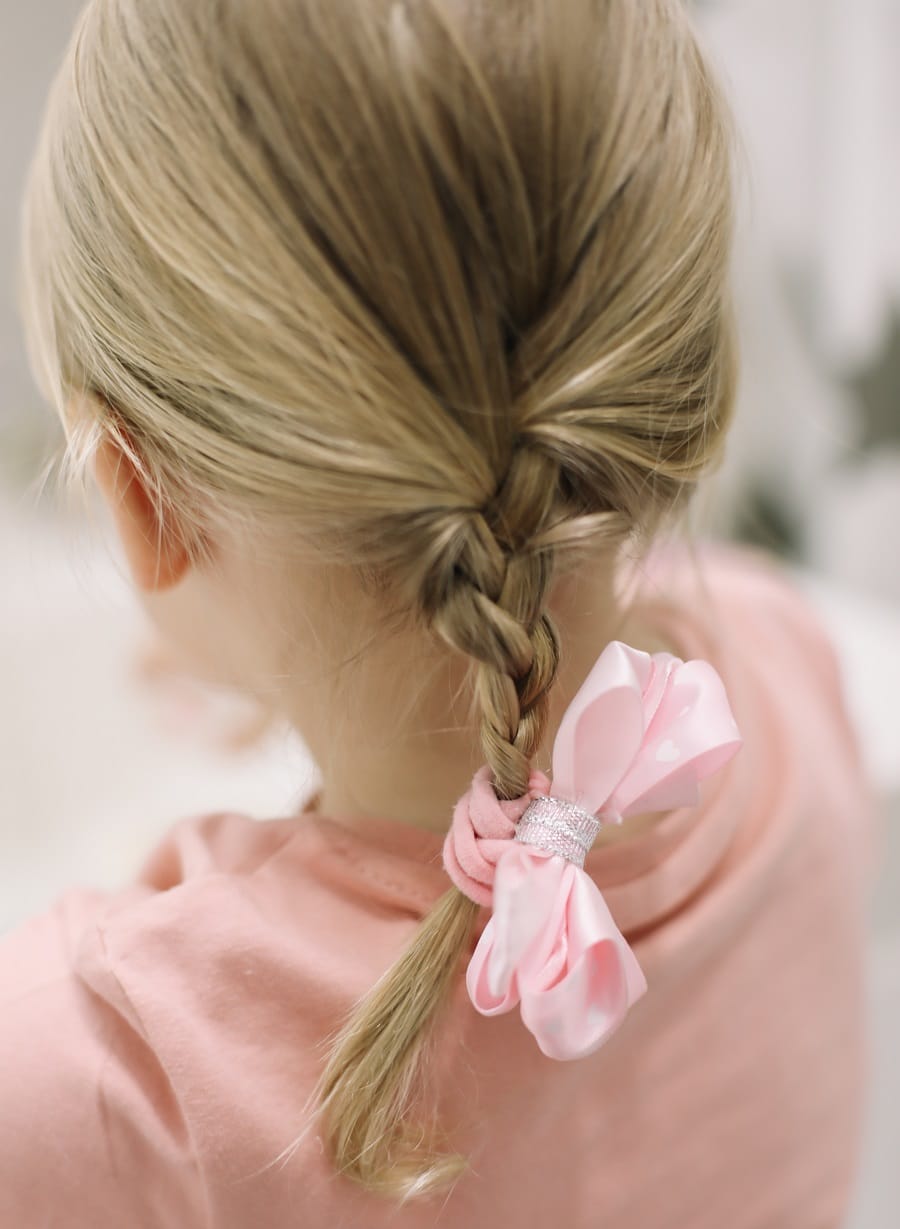 This is also a casual and elegant way to style your little girl's fine hair. Start halfway through the nape and do a three-stranded braid.
Add a big cute bow tie at the end and secure the braid tightly. You can also start from the lowest point of the hairline to get a loose braid.
These are all great little girl haircuts for fine hair and will make your little girl feel and look her best. Knowing how to cut and style fine hair is important for it to look its best.