If you are blessed with a little girl with curly hair, congrats! Nothing screams cute just like a set of ringlets on a little girl. Whether your little princess has natural curls or you want to add some curls to your little girl's hairstyle we have you covered.
Below are some of our favorite curly hairstyles for little girls.
1. Pigtails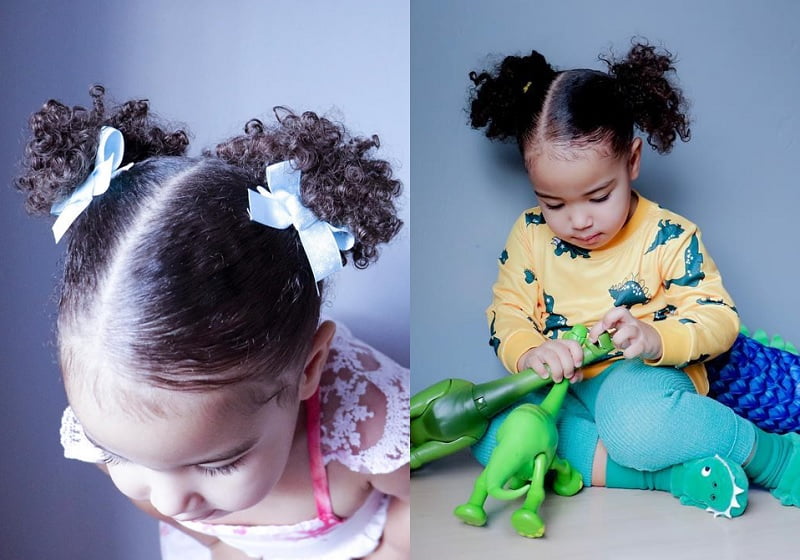 Pigtails are sweet on little girls, period. Yet, somehow, they seem extra cute on little girls with curly hair. This can be a great way of taming unruly curls too by tying them neatly back away from the face and the eyes.
Adding pretty accessories like bows can help to dress the lookup if needed, and match it with your little girl's outfit!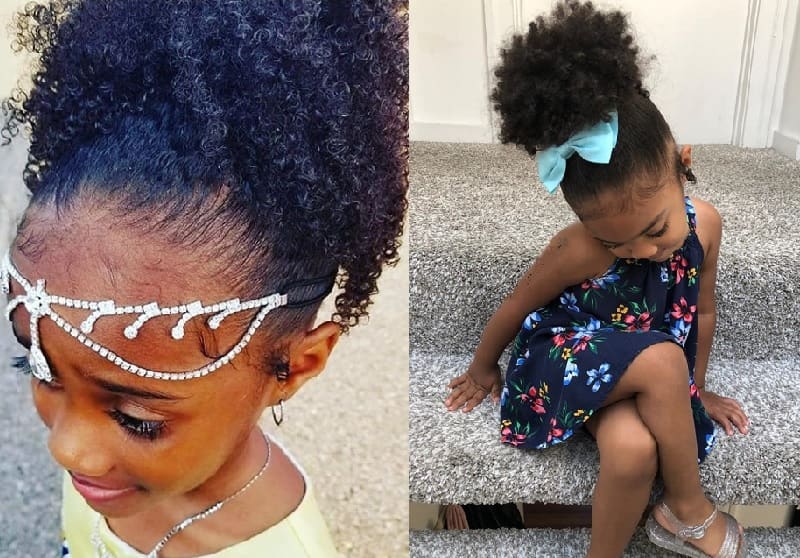 Whether a high ponytail results in long ringlets flowing down the back or a more vertical style such as that seen here it's a really practical solution to keeping curls neat whilst still showing off the unique texture and body of curly hair.
Accessories can do a lot for this look too, whether making it suitable for everyday wear or making it super glamorous for a special occasion
3. Bow Hairband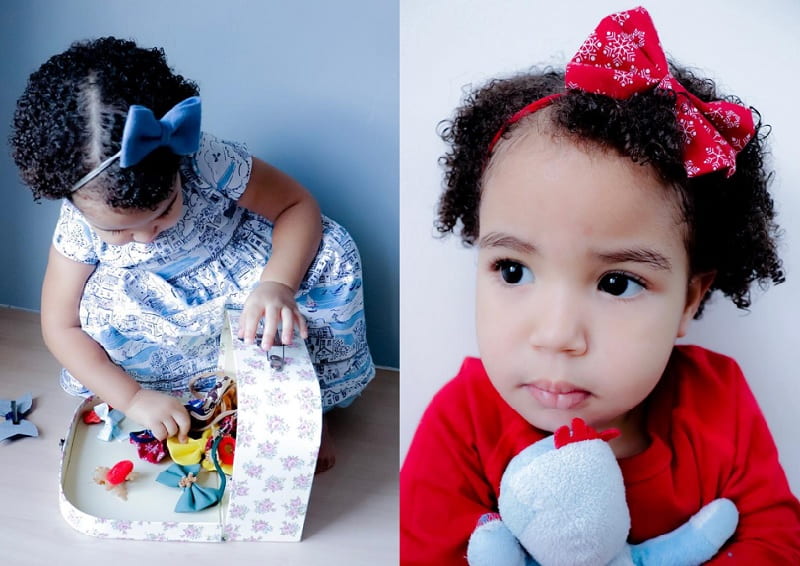 A simple accessory like a hairband can really be used to great effect with curly hair. It's nice to be able to show off little girls curly hair in all its glory but sometimes a look needs to just be pulled together slightly and a hairband can do that, choosing an accessory that suits your little girl's personality, outfit and the occasion is a great way to keep this look really personal.
Little girl curly hairstyles can be rather cutesy but this style shows that they can also veer right over to the edgier side! Whether you actually brave using the clippers on your little girl, or merely fake it with slicked down hair, a mohawk look is sure to grab attention!
5. Top Knot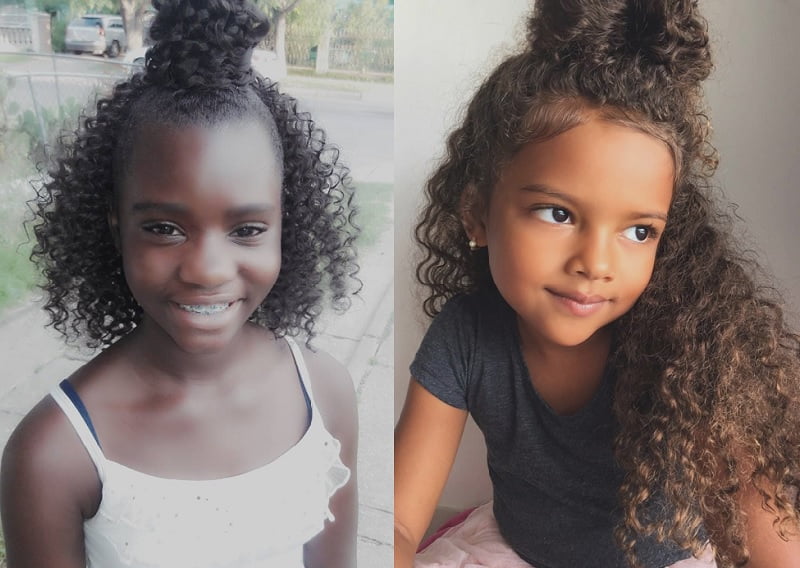 This style is so useful that men have adopted it! The top knot shows off hair in its natural glory whilst wrapping some on top of the head in a small bun to keep it out of the way.
As well as being practical and useful this curly hairstyle for little girls is also super quick and easy to achieve, saving valuable minutes in the mornings!
6. Au Naturale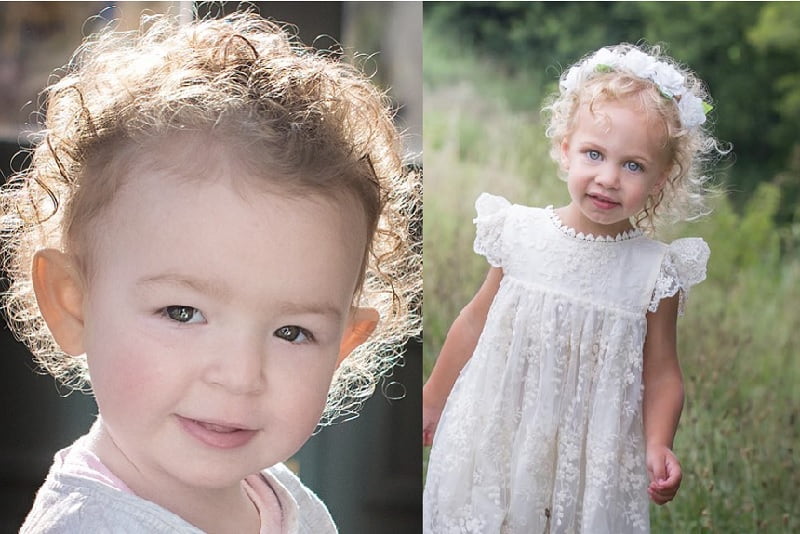 One of the glorious things about little girl curly hairstyles is that they speak for themselves and don't always need an excessive amount of styling.
If you can find a good hair care regime for your little girl then you can steer away from fancy styles in favour of the natural look. This is especially true whilst hair is still growing in and thickening up in the toddler years.
7. Headband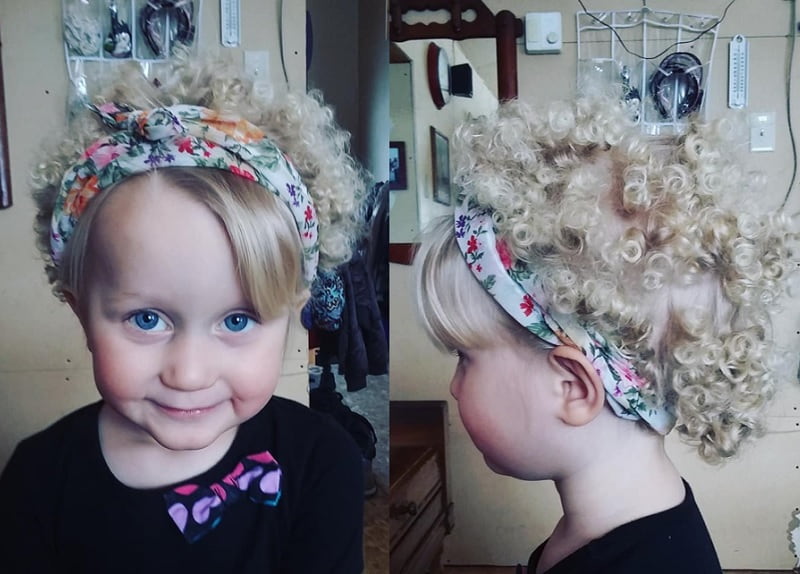 Headbands are seeing a resurgence in popularity and there are so many patterns, colours and materials to choose from. These can keep hair neat and pushed away from the face whilst allowing the natural beauty of curls to take centre stage.
8. Afro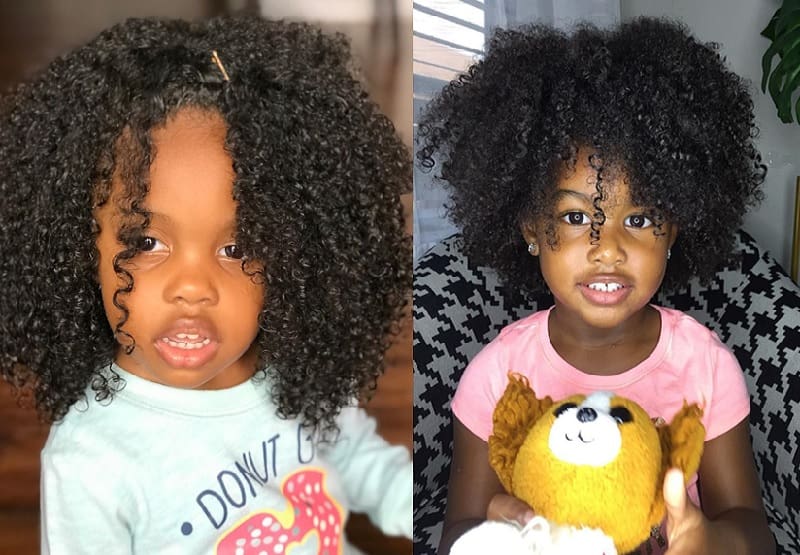 Natural afro hair is big, bold and beautiful and should definitely be embraced. If your little girl has natural curly hair then finding the right products and styling regime to keep it in top condition is key, but beyond that, leaving it as natural as possible is a great idea and a great look.
9. Long Curly Hairstyle for Little Girl
Little girls with curly hair don't come much more breath-taking than long, naturally curly locks. If your little girl is blessed with curls and wants to grow her hair out long you may hesitate thinking of the upkeep, and whilst it can be a bit of extra effort, the results are so worth it!
10. Criss Cross Patterns into Pigtails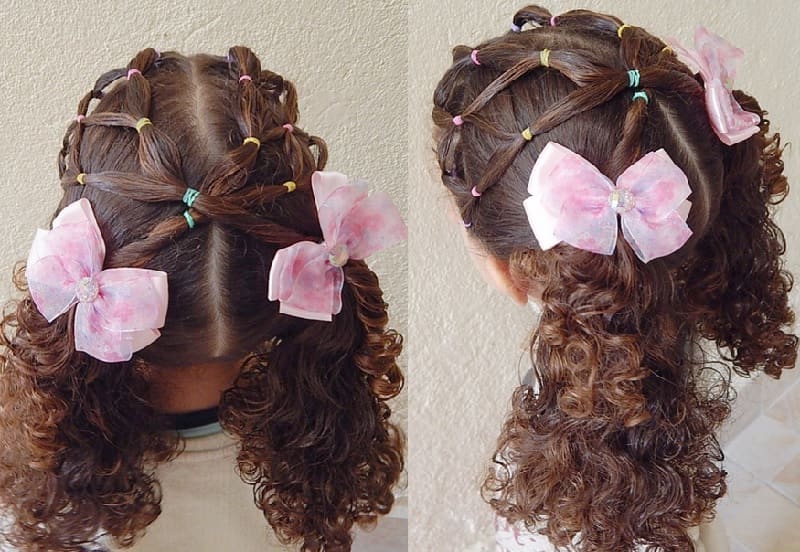 Curly hair can be harder to style, but styles like this criss-cross extravaganza use small elastics to keep hair taut and controlled before allowing it to flow down in pigtails. The contrast between the tight control and deliberate design of the criss-cross pieces and the wild natural curls really sets the look off.
11. Triple Ponytails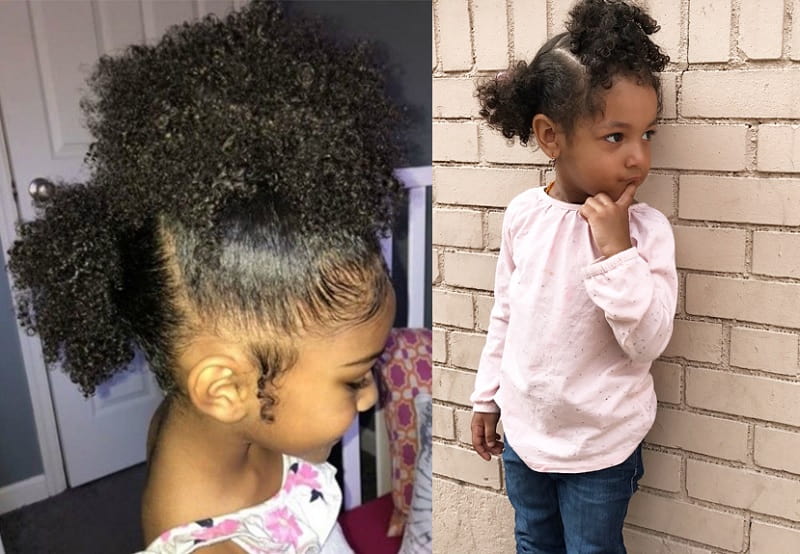 Sectioning and tying the hair into 3 ponytails has the advantage of working with the hair's natural shape and body whilst also keeping it under control and out of the way. It's a great way to show off curls, whilst keeping them off the neck and forehead; perfect for sports or summer days.
12. Little Girl Curly Bob
The bob hairstyle is very popular and little girl curly hairstyles can monopolise on what's popular for girls with straight hair too; it may take a more experienced stylist to cut curls well but a bob is certainly feasible for curly haired little girls and the result is adorable.
13. Braids with Ribbons
Braids are a great way to keep hair neat and under control and there are so many different styles to choose from. This style utilises a ribbon to twist the hair around and hold it in place. Product to hold the front down as you brush it back will give you a helping hand.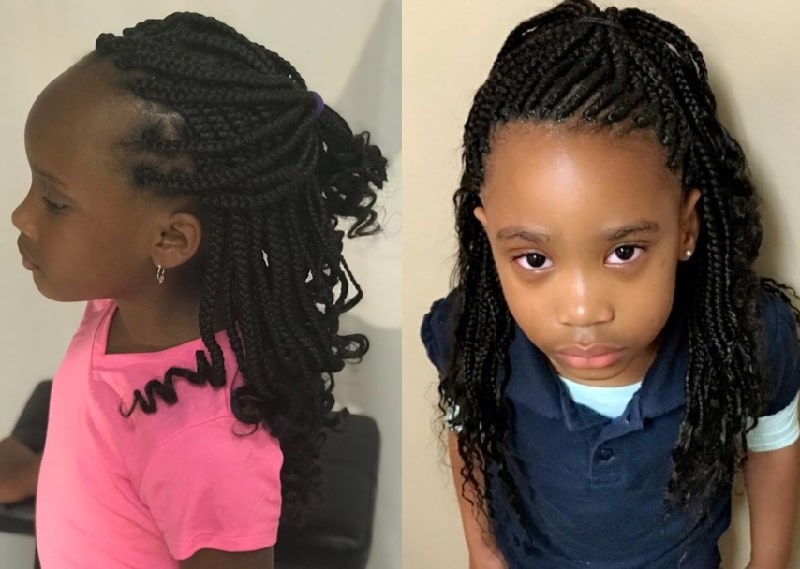 A full head of braids is a great way of keeping afro hair in check. The intricate braiding work takes practice but there are plenty of styles and finishes to choose from so there's sure to be something that will work for your little girl's curly hair.
15. Bob with Side Parting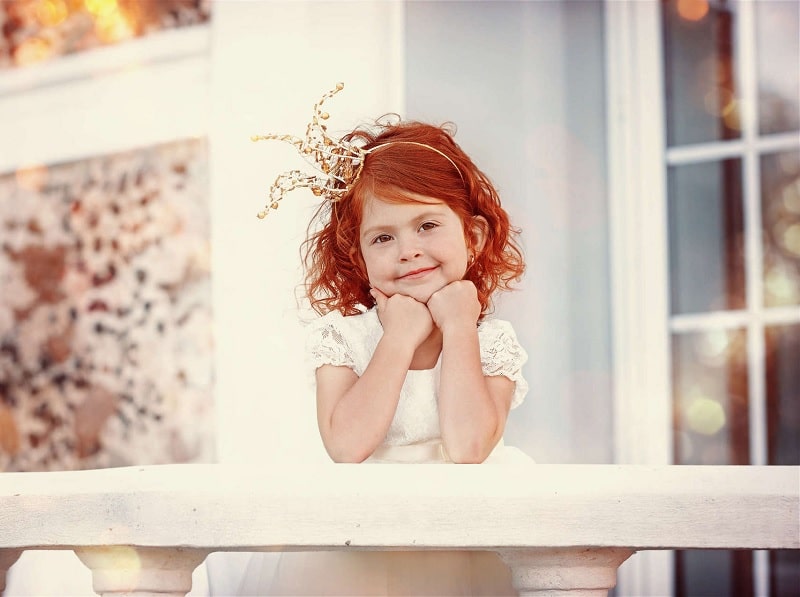 Side partings are actually more flattering on most people, the asymmetry of the hair can contrast with a symmetrical face to enhance the beauty and add interest to a look. Curly hair really benefits from styles that work with its natural growth rather than against it, so this could be ideal for your little girl's hair.
16. Three Twists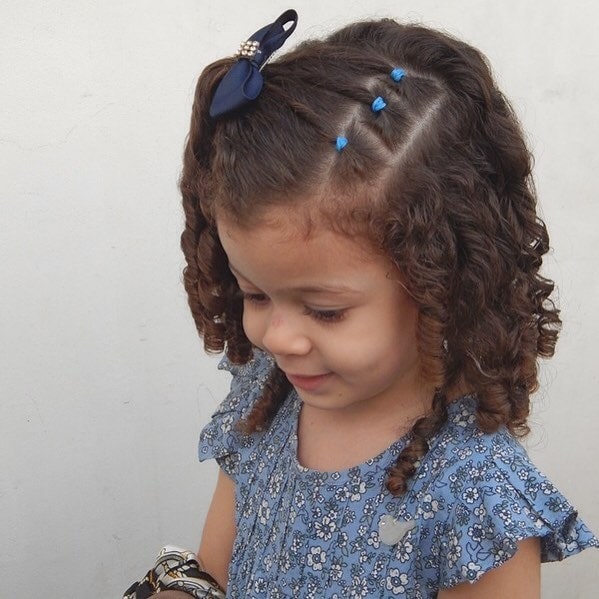 A really simple little style that avoids the need to braid but still adds a little pop of interest to your little girls curly hairstyle. 3 small strands are tied off with hair elastics, and then twists and brought into a thicker ponytail, whilst the rest of the hair remains loose to show off those delightful curls.
17. Dutch Braided Pigtails
Dutch braids are 3 strand braids that sit up on top of the hair, this style is dutch braids framed by Dutch braids! If you can master the technique and have it work on your little girl's hair then it looks very polished and is great at keeping hair under control.
18. Curly Ponytail with Heart Shape Design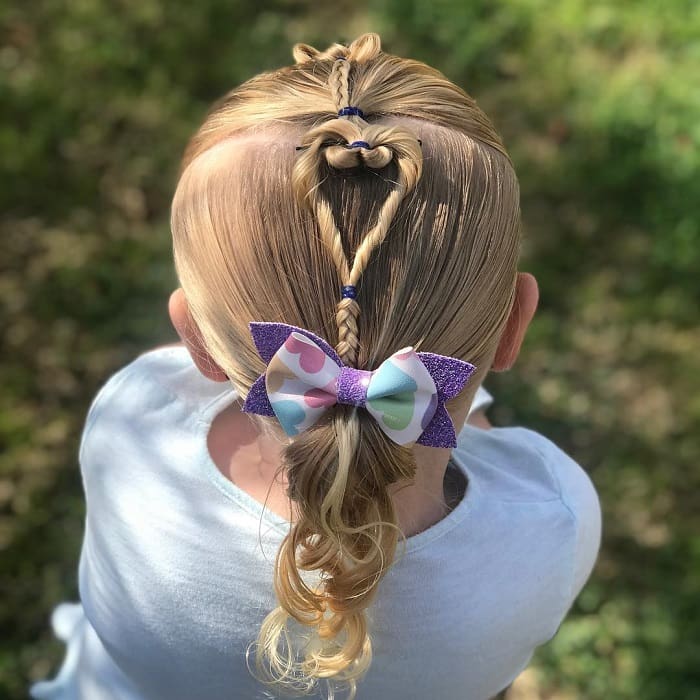 Using the hair to create shapes is a really sweet way to add interest to an everyday look, or celebrate a special occasion. In this case, braids and hearts create a really lovely series down the middle of the head before tying off at the nape of the neck and showing off pretty curls.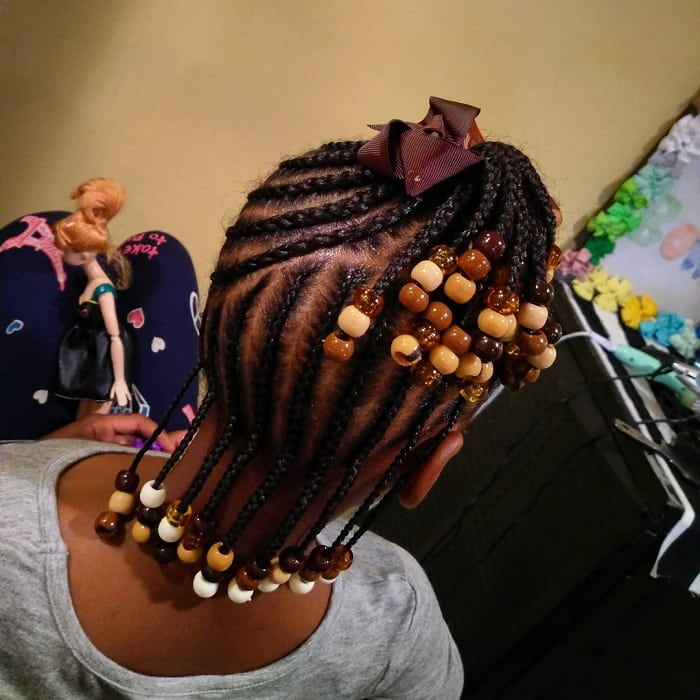 The great thing about this hairstyle with beads for little girls with curly hair is that by swapping out the beads you can completely personalize and customize the look. Bead colour choice can be based on your little girl's preferences, what will match outfits best or even the season.
20. Half Head of Braids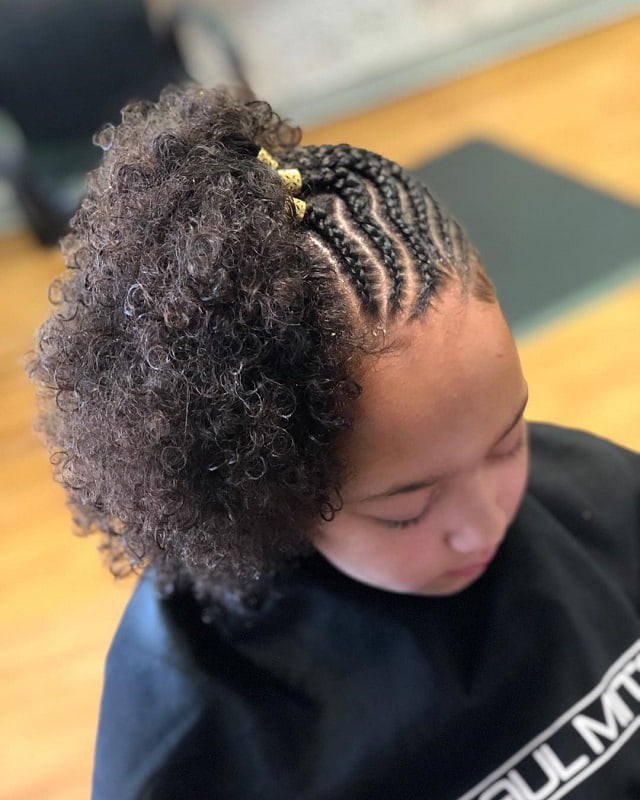 The tension with little girl curly hairstyles is between going for the natural look or being more trendy and this look combines both! Half the head is braided and then metal clips are used to hold the braids in place, and then the hair is allowed to be loose. Ideal as a compromise with your strong-willed little girl or as a look in its own right.
21. Heat Styled Curls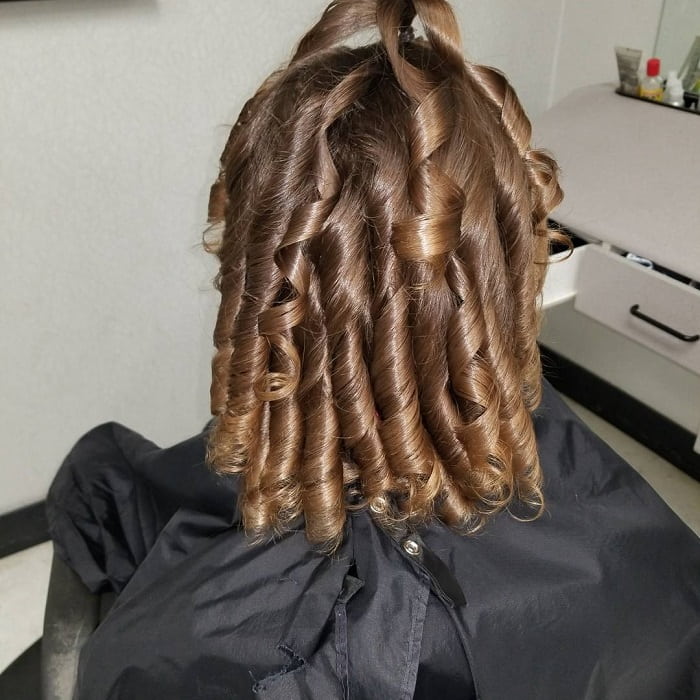 If your little one isn't blessed with curly hair but you still love the look then there are plenty of ways it can be achieved. Both with heat tools such as tongs and wands, or overnight curling using bendy rollers or rags, its just a case of what will work for you and your little girl.
The above curly hair looks aren't the only options for your little gal. With the right products and tools, they should all be achievable but only you can select the right hairstyle for little girls with curly hair, her lifestyle and the occasion.